Billingham S3 Camera Bag Review:
There are a lot of manufacturers making great camera bags these days.  Billingham is one of these fine manufacturers, and they have been making bags from England for what feels like forever to me.  In terms of price, they are definitely up at the higher end of the spectrum but in exchange, they offer bags that are extremely well-manufactured from some of the best raw materials out there.  They currently released a new line of bags called the S series, and I've alreadly reviewed the smaller version the S2, which can be found here.  Today, I will be talking about the middle one, the Billingham S3.
Billingham S3 Camera Bag Build Quality:
In terms of quality, the S3 is like any other Billingham bag in that it's made from the finest materials, and put together with the utmost care.  The stitching everywhere is absolutely perfect, there's no loose threading or excess material left over.  Brass fittings, and full grain leather trim are used throughout the S3.  In my opinion, this is seriously one of the most well-made bags currently out.  I'm really impressed.  The S3 even comes in several different colors, which are black canvas/tan leather, burgundy canvas/chocolate leather, and khaki canvas/tan leather.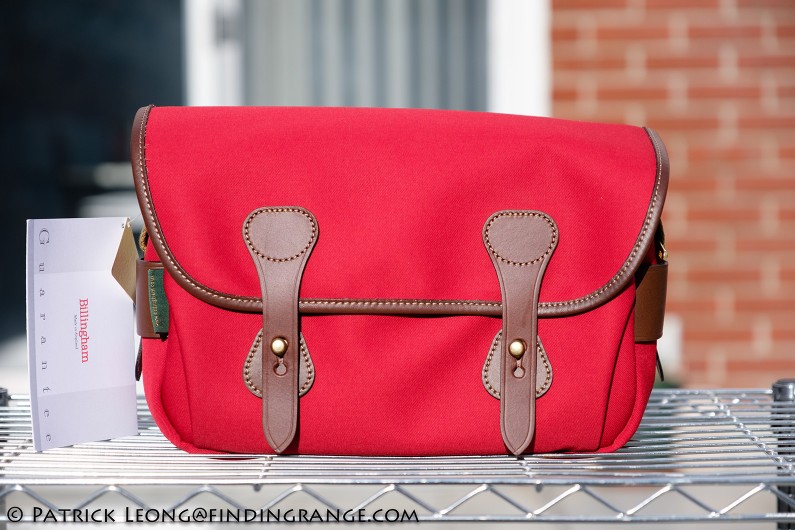 ↑ The Billingham S3 in burgundy canvas with chocolate leather.
There is also another color, which is sage/chocolate leather, and it is made from Billingham's FibreNyte material instead of their traditional canvas.  For those who don't know, FyberNyte is a synthetic material that is even more durable than the canvas option.  It holds up better to fading, it's more abrasion resistant, and it's still very supple.  It is slightly less soft than the canvas but it's also about 10% lighter.  Deciding between FibreNyte, and the traditional canvas can be difficult but in my opinion, there's really no wrong choice.  I've used both materials for years, and they both hold up great.  If you want something more traditional, softer, and something that will patina nicely over time, the canvas is a great option.  If you want something more durable, the FybreNyte might be a better choice.  I find that both materials are so good that I pick based on what color I prefer rather than by what material I feel is best.  For instance, if I were to by this S3, I would probably go for the sage color.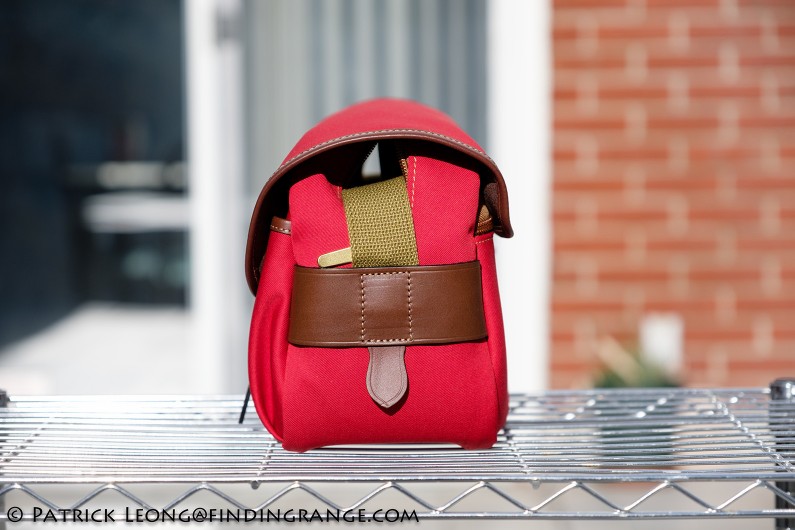 ↑ Here's a side profile of the S3.
Either way, both materials are designed to handle bad weather.  Snow, freezing cold, hot temps, etc. will not stop this bag from protecting your precious gear.  I know this from the experience I've had with Billingham bags in general.  I've been using these bags for over two decades, and I'm out at least four days a week all year round.  These bags just don't know when to quit.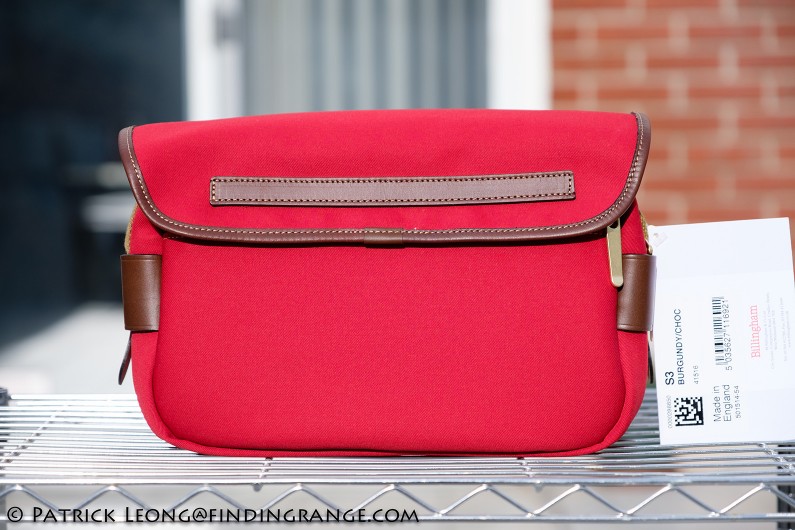 ↑ The back of the S3.
The best part is the FybreNyte and canvas are waterproof as well.  As I say in all my Billingham bag reviews, I've been in tropical rain storms where puddles would form on top of my bag yet everything inside was completely dry.  This isn't just the case for my newer bags.  I have a Hadley that's over 20 years old, and I still use it regularly.  My friends tell me all the time that I should get a new bag because after all those years of constant use, it definitely has its fare share of wear but its protective qualities are just as good as the first day I bought it.  It gets soaked all the time but it's still just as waterproof.
Now that we've discussed the outer shell, let's talk about the inner portion of the Billingham S3.  First off, there's a zippered back pocket, which is a nice touch, and makes use of all the available space.  As for the main compartment, and the front pocket, accessing them couldn't be easier.  You simply unfasten the two leather straps from the quick release brass clogballs, and lift the flap.  This design is very simple yet effective.  It's also very secure in two ways: it won't open accidentally, and you'll notice if someone is trying to get in your bag.  At the same time, it can be opened with one hand while walking, and it doesn't make any noise like velcro.  In my opinion, more bags should have a closure system like this one.  Once the flap is opened, if you want to access the front pocket, you simple unhinge the button.  The button works fine but I would've like a flap instead or maybe even a zipper for added security.  Still, I feel this is more about personal preference than an actual issue.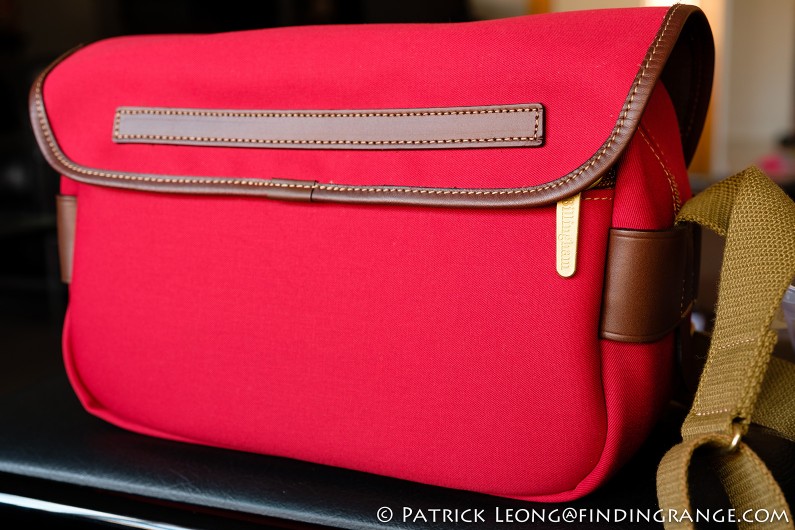 ↑ The S3 has a back pocket with a zipper enclosure.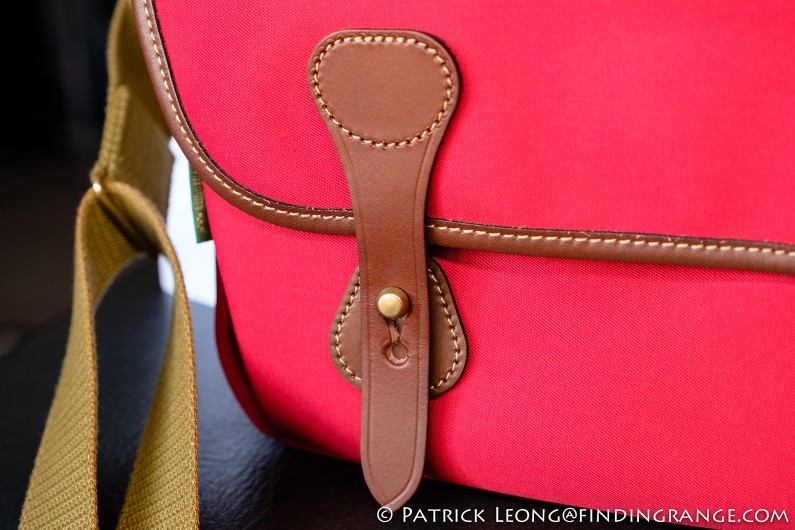 ↑ The brass Clogball enclosure system is very effective.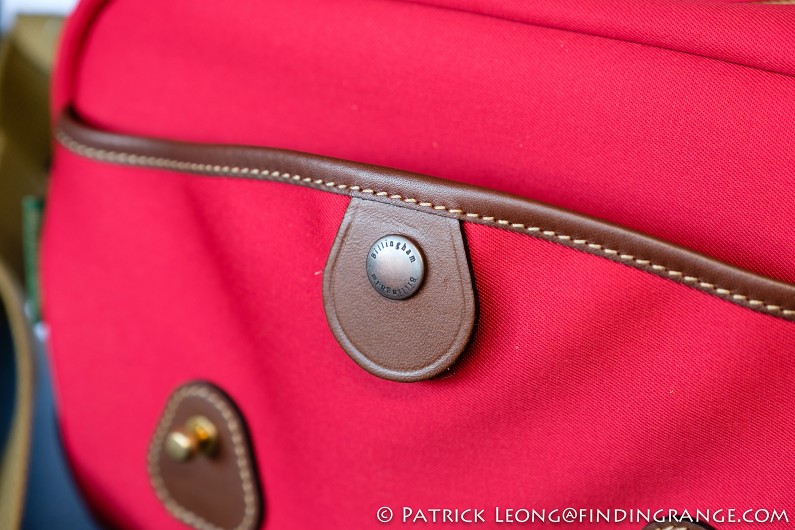 ↑ The front pocket has a button enclosure.
Unlike the front pocket, the main compartment is secured with a zip that has two zippers, which will open from either end.  When you unzip the Billingham S3, there is a TukTop feature that allows you to essentially tuck both sides of the main zipper behind the S3's internal front and rear dividers, which gives you easier access to your equipment.  This is a good design but the zipper does slow me down a bit, so I still prefer something like the Hadley where there's just a flap with no zipper.  However, as I said in my S2 review, variety is always good.  If the S3 was just like the Hadley, there would be no point in releasing a new bag.  Plus, I can't imagine that everyone feels the same way about the Hadley design even though in my book, it's one of the best bags available.  Some people prefer other designs.  This way, Billingham can appeal to a larger audience because some will prefer the zipper.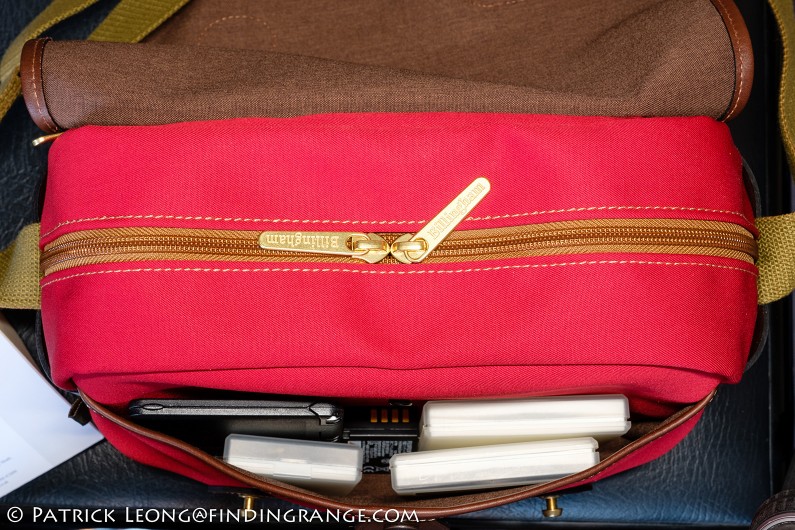 ↑ There's a zipper enclosure for the main compartment.
Now, let's actually talk about the main compartment itself.  Like every other Billingham product, the S3 has some of the best padding in the industry.  The padding is very thick, and it surrounds all four sides of the bag.  The S3 even has a removable 25mm fabric covered, deep foam base on the bottom, so your gear is essentially always on a nice, thick cushion.  There's also two padded dividers with velcro, which can be repositioned in whatever way you like.  Basically, if you want to pamper your camera gear, the S3 is a fantastic way to do it.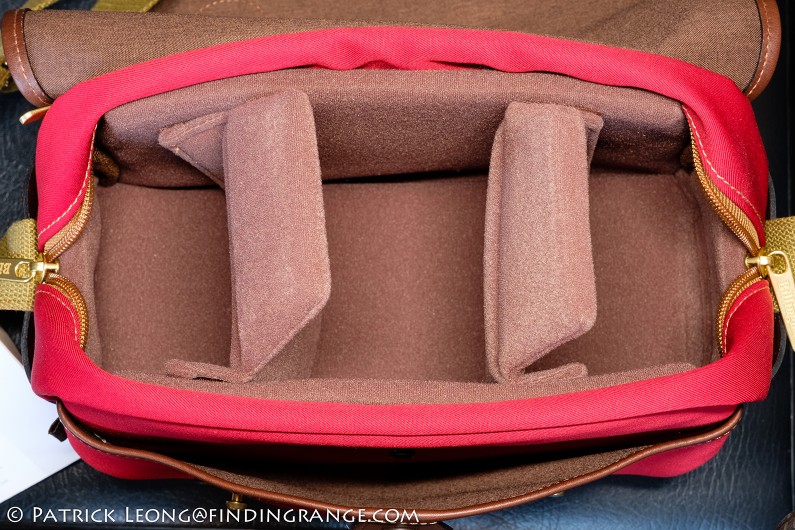 ↑ The main compartment has excellent padding.
What Will The Billingham S3 Fit?:
Unlike the S2, which concentrates more on the essentials, the Billingham S3 will comfortably fit a mirrorless camera with three lenses.  Notice I said comfortably because while I've shown in my S2 review that you can fit three lenses in it, it just won't be as easy moving things around.  In my opinion, the S2 feels best with two lenses and a body.  With the S3, there's more room, so you can comfortably grab your gear even while you're walking.  Depending on the size of your lenses, you may actually be able to fit four or five, if you stack or purchase another divider.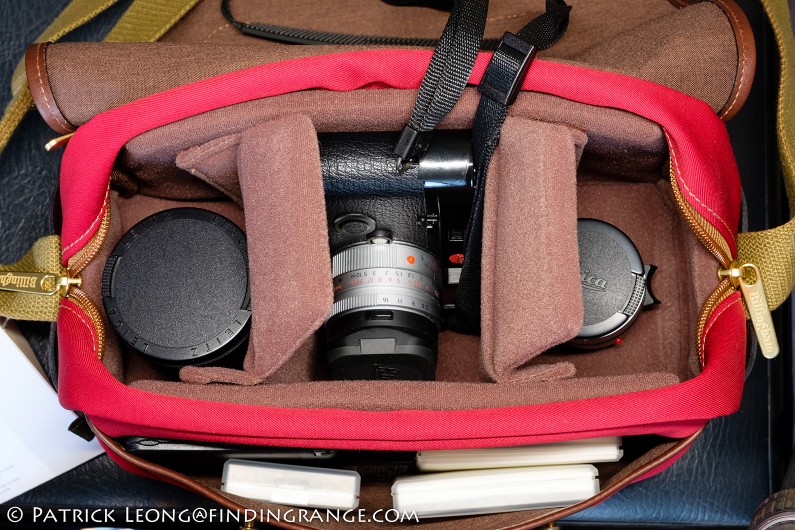 ↑ I find this bag best with a kit consisting of one body, and three lenses.  In this photo, I have my Leica M6 TTL Millennium, 50mm Summilux ASPH, 35mm Summicron ASPH, and 75mm Summilux.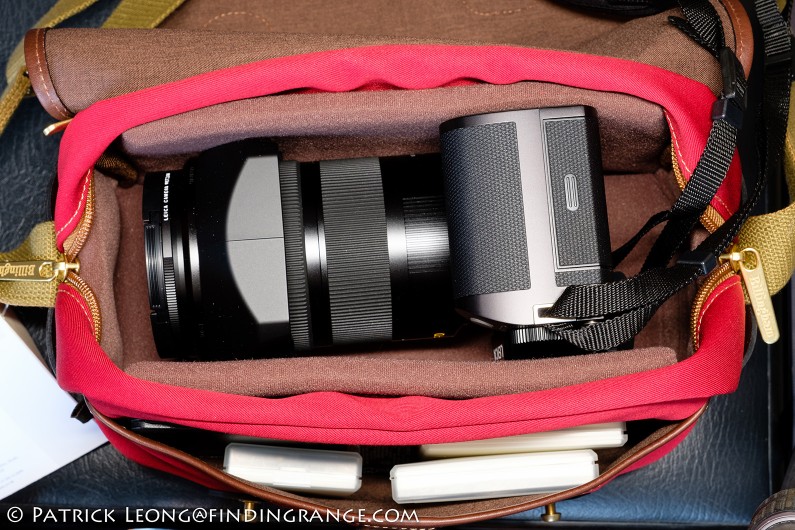 ↑ Here's a photo with my Leica SL in the S3.
Now, let's talk about the front and back pockets.  You won't be able to fit an iPad in the back but you can put papers, tickets, and passports in it.  As for the front pocket, you can fit various accessories like SD cards, filters, and extra batteries.  How many accessories that someone can fit really depends on the individual's preferences, and gear but if it helps, check out the picture above to see what I was able to put in the S3.
Billingham S3 in Use:
Overall, the Billingham S3 was very comfortable to bring along with me during my testing.  With so much padding, high qualities materials, and superb workmanship, one would think that it's heavy but on the contrary, the S3 really isn't heavy at all.  When I go out shooting, it's usually for a full day but not once did I ever feel tired or worn down from carrying the bag.  The S3 has more of a rectangular shape, and it has that thick foam base, so it won't wrap around your body like say the Hadley Pro, which is more of a messenger type bag but at the same time, I had no problems navigating through the crowded subways, buses, and streets of New York City.  I was never in anyone's way or anything.  In fact, because the S3 retains its shape better, it was actually easier to access my gear while walking than with my Hadley.  The strap, which can pretty much be found on all the other Billingham bags, is very strong, and thick yet quite flexible, and light.
The S3 is also a great looking bag, and before anyone says it's too noticeable or too flashy, just hear me out for a second.  From what I experienced with these bags, you just have to use them.  Once you wear them in a bit, they'll be like any other bags.  I was born, and raised in the city, and I've been walking around with Billingham bags all my life, and no one cares.  The only comment I ever got, which I'm actually quite proud of :), is when I was in the New York Photo Expo.  One of the reps saw my beat up old Hadley, and shouted out to me, "Now that's how you use a Billingham!"  Speaking of Hadley bags, I've seen people with Hadley Pro bags on the train but instead of camera gear, they use their bags for work.  I'll admit that the S3 in this review might be a different story because of the bright red but if you get something a little more conservative, it'll blend into the environment.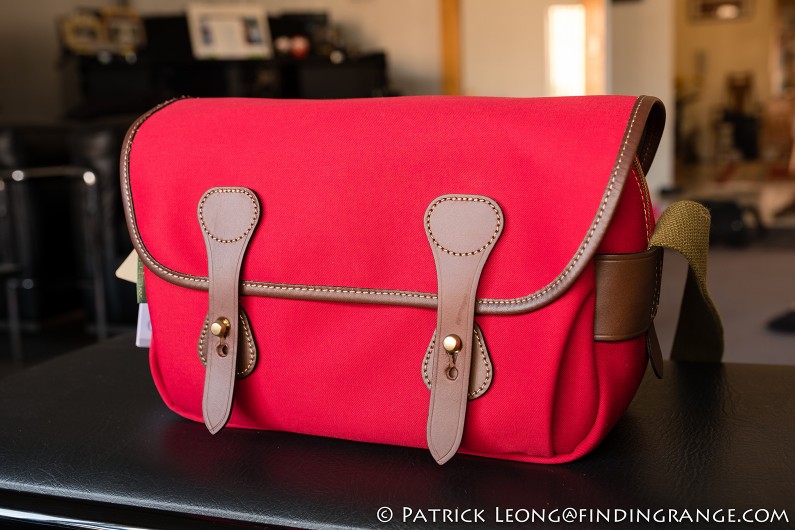 ↑ If I were to buy an S3, I would probably choose a more understated color but I have to admit that I am very tempted by the red with chocolate leather.  It looks pretty awesome :).
The great thing about the Billingham S3 is that it has an understated elegance to it.  It's a beautifully made bag, and actually a piece of art itself if you look closely where you can see all the intricate detail, and craftmanship but it's not one of those bags that shouts out to the whole world, "Look how amazing I am!"  Well, maybe this red one is a different story 🙂 but seriously, it's the type of bag that has nothing to prove.  This is the kind of bag you can take to an art gallery or a nice dinner but at the same time, you won't feel out of place when you're roughing it or walking around on the streets.  While I did not get the chance to break this bag in completely because it is a loaner, I know from past experiences with Billingham bags that they only look better with wear, so I always tell people to go out and use them!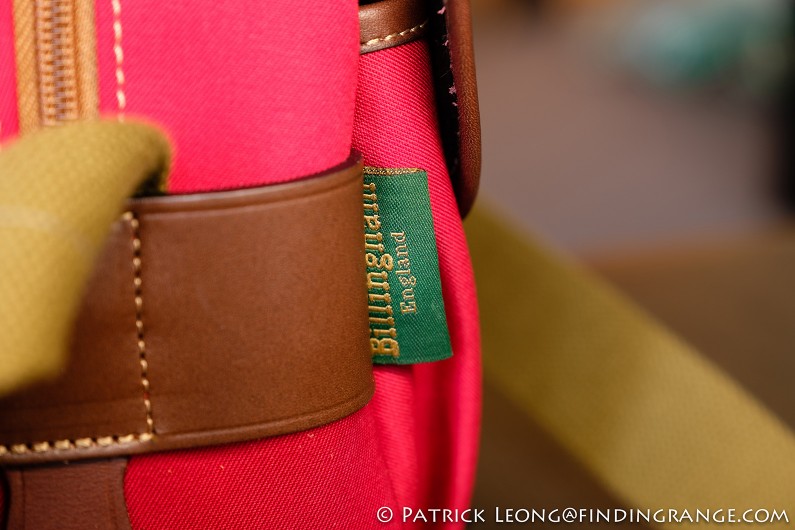 ↑ Overall, the S3 is not that flashy.  Even the logo is hidden here on the side.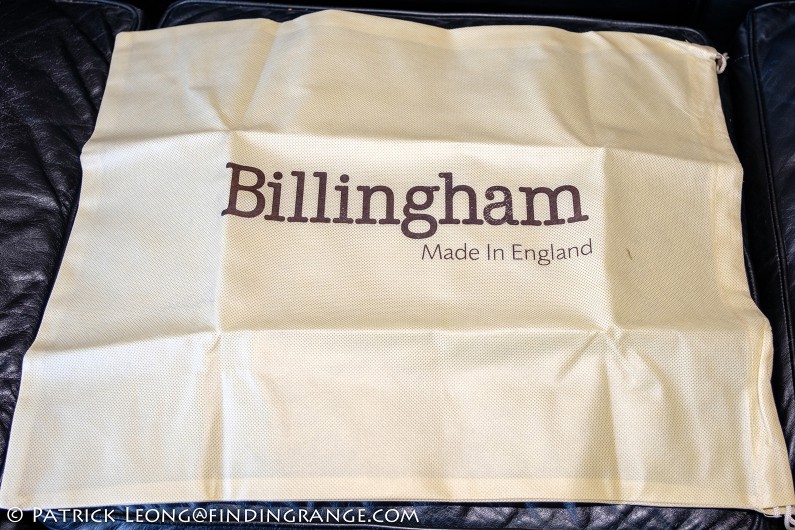 ↑ As with pretty much every other Billingham bag, one of these bags is included with your bag.
Billingham S3 Specifications:
External Dimensions: W310mm x D150mm x H220mm
Internal Dimensions: W270mm x D100mm x H160mm
Weight: 0.80 kgs (1.76 lbs)
Billingham S3 Verdict:
I expect a lot from my bags because gear is expensive.  It doesn't matter if it's a Leica M or a Canon Rebel, both still cost money, right?  I want something that I know will be a safe place for something like my Leica SL, which given the price, is something I do not want to replace or have to repair.  From what I've experienced, these bags are just plain out dependable, and the Billingham S3 is no exception.  It's almost like a mini vault for your camera gear.  The S3 not only has some of the best padding in the industry to protect gear from bad bumps and scraps, it has the weatherproofing to survive whatever Mother Nature has in store.  It's very comfortable, and while it's beautifully made, it's still understated enough where you won't feel uncomfortable walking around with it.  At $276, the S3 isn't a cheap bag but it's like one of those things where you'll only need to buy it once, and never again.  It's designed to last what feels like forever, and in my opinion, it's worth every cent.  So, if you're in the market for a camera bag that holds a decent size mirrorless kit or even a smaller DSLR kit, I highly recommend you take a closer look at the S3.
Thanks for taking the time to read my review!  If you're considering purchasing the S3, and my review helped you decide, please help support this site by purchasing from any of the links in this review.  It will not cost you anything extra.  Thank you for your support!
Billingham S3 at B&H Photo in:
Burgundy canvas/chocolate leather