Billingham 307 Bag Review: When Smaller Just Won't Do
I love those days when all I need is a body and maybe a lens or two but at least for me, those days don't come as often as I would like anymore.  I end up with a fully packed bag sometimes, especially when I have a bunch of different things to review for this site.  There are times I'm even carry two bags when I'm transporting stuff from one location to another.  So, for the days when carrying a lot of gear or even large gear is a must, Billingham's 7 Series may be just what the doctor ordered.  Thanks to Billingham, I had a chance to review one particular model in this series, the Billingham 307.  Here are my thoughts on it.
Billingham 307 Build Quality:
If you've been on my site before, you probably already know that I'm a huge Billingham fan.  Yes, they are expensive but when you compare them to other high end bags, they're not outrageously priced.  I've seen bags priced much higher that quite honestly, I didn't feel were up to the same level as Billingham products.  Plus, you really get your money's worth with Billingham bags.  These bags not only protect your gear extremely well, they last for what seems like forever.  They aren't just boutique bags that you take out on a sunny day.  They're meant to be used.  Over the years, I've slowly accumulated quite a few of these bags, and every single one of them has been not only by my side even in the most extreme weather but they've been essentially indestructible.  I'm still regularly using my original 20+ year old Hadley.  Yes, there is a lot of wear and discoloration after many years of hard use but it protects my gear just as well as it did the first day that I bought it.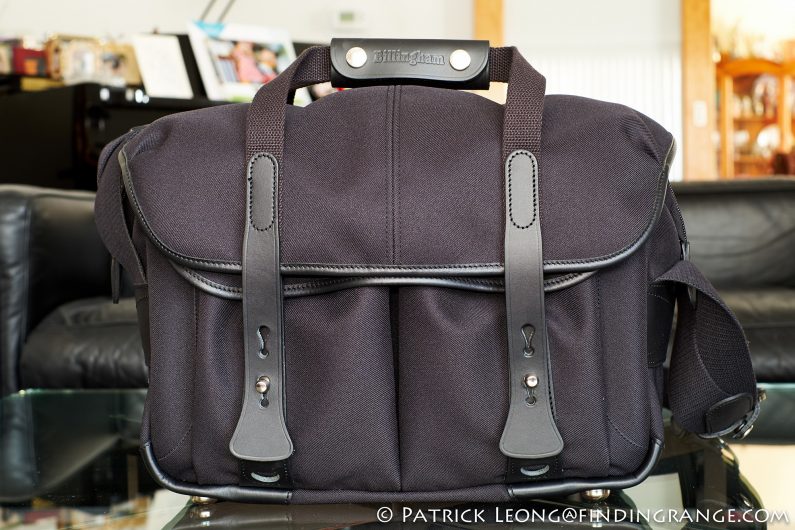 ↑ The Billingham 307 in black and black leather trim.
So, it should come to no surprise that the 307, being one of Billingham's most expensive bags, is made extremely well.  There are an abundance of rich materials, such as, full grain leather and solid brass fixings all over the entire bag.  The 307 is also impeccably stitched, and the materials are put together very neatly.  If you're a perfectionist like I am, this is probably the bag that you should be looking at more closely.
The 307 also comes exclusively in Billingham's synthetic material, FibreNyte.  For those who don't know, FibreNyte is similar to traditional canvas but it's more durable, lighter, and more fade resistant.  The trade off is it doesn't feel quite as soft as canvas but in real world use, there's really not much of a difference, at least to me.  I've reviewed, and owned bags that are made from both materials, and over the years, I've found myself only buying FibreNyte versions if there is a choice.  It really does feel like the traditional stuff but you also get all the benefits I just mentioned.  In terms of color combinations, in addition to the FibreNyte/black leather that you see here, you can also get the 307 in sage FibreNyte/chocolate leather or khaki FibreNyte/chocolate leather.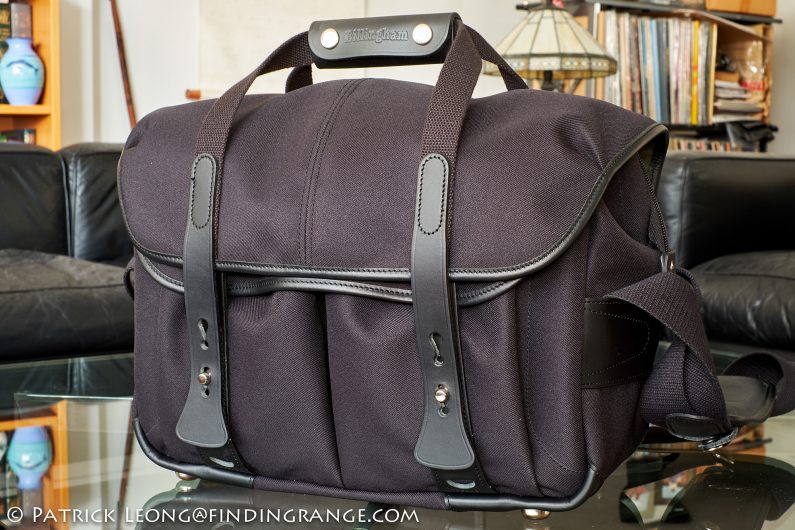 ↑ Here's a close up, so you can see the detail.
The 307 is obviously a very attractive bag appearance-wise but the way that it is manufactured, and the use of quality materials serves another arguably more important purpose: to offer superior protection for your gear.  Let's take a look at the weather protection of this bag for instance.  The 307 is designed to handle some seriously rough weather.  Whether its rain, sleet or snow, your gear and the entire interior of the bag will be completely dry.  In addition to the 307's fabric being bonded to butyl rubber for excellent wear and weather protection, the main flap has a central, double layered, waterproof seam, which also extends over the ends of the bag to provide excellent protection against the elements.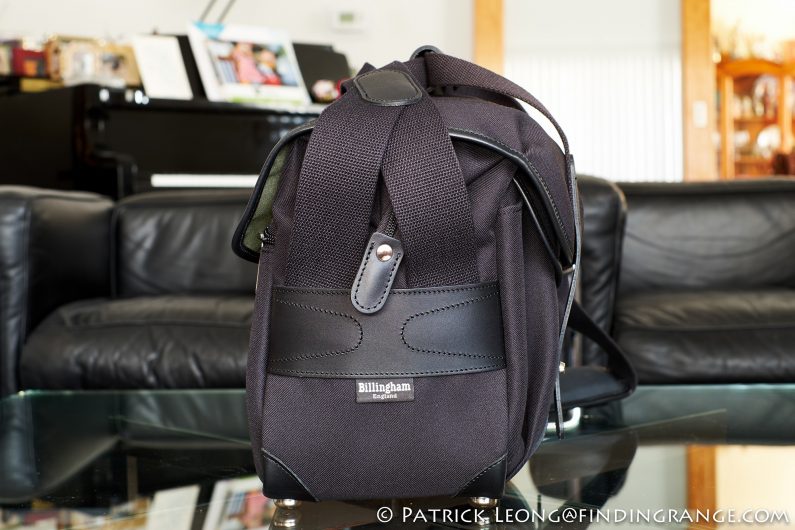 ↑ The side of the 307.
The weather was pretty bad in NYC while I was reviewing the 307.  There were some huge storms that brought tons of snow, sleet, and freezing rain.  In fact, it's snowing right now as I'm writing this review!  Anyway, since the 307 has been with me, it's been through some pretty bad weather but nothing phases it.  Of course, this isn't surprising to me in the least bit because Billingham bags in general are known for their downright fantastic weather protection.  I've had a bag where a puddle had formed on top of the flap during a huge rain storm but there wasn't even a hint of dampness inside.  It was my M Combination bag.
The protection for your gear does not stop there though because Billingham bags have some of the best padding in the industry, and the 307 is definitely no exception.  I can't praise the 307 enough for the padding.  All four sides are protected with very thick padding.  The bottom has an extremely thick, reinforced pad that since it's also removable, it can be replaced if you lose it or if it gets damaged.  It's basically a 25mm thick piece of foam attached to a wooden base.  With so much padding, there's never a question in my mind that my gear is well-protected once its in the 307.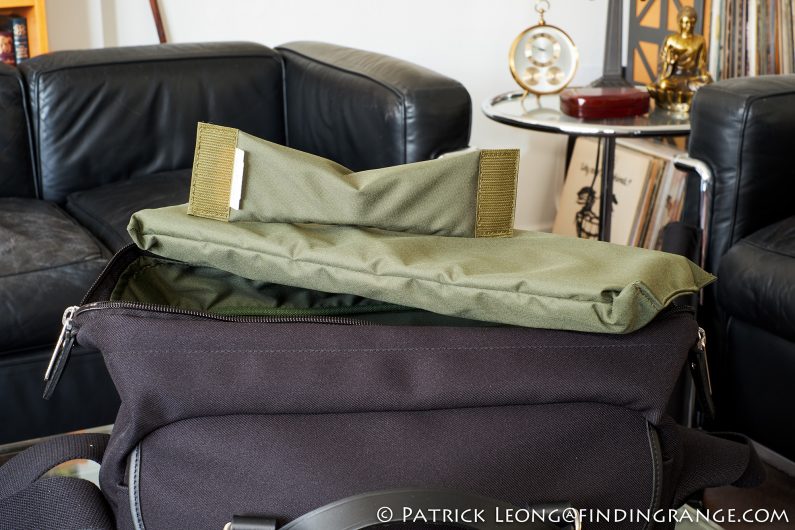 ↑ The pad on the bottom is 25mm thick, and it's attached to a wooden base.  The V-Bridge 15 is also in this photo, and I'll talk about that below.
The dividers are equally as impressive in terms of build and the protection that they offer.  There are three included: a SuperFlex 9-15, a SuperFlex 10-18 and a V-Bridge 15.  By the way, I love the names of these dividers :).  Anyway, the SuperFlex dividers actually have no base to them because they are designed to work with the padded base inside the 307.  The V-Bridge is made from high-density closed foam, and provides support for your lens when it is attached to your camera.  They all have velcro, so you can pretty much attach them all over the main compartment.  In this way, the 307 offers quite a lot of flexibility for each individual photographer.  You can really move the dividers around, and customize the interior to suit your particular needs.
↑ The Billingham 307 comes with a SuperFlex 9-15 and a SuperFlex 10-18.
Overall, the protection that the Billingham 307 offers may seem even excessive to some but the truth is, I'd rather have more protection then less.  Chances are, if you're thinking about purchasing this bag, you either have a lot of gear, large gear or both, which means you've invested quite a bit of money in photographic equipment.  For me, the 307 is my Leica SL bag.  If anything happened to my SL, SL lenses or my M lenses that would just plain out suck.  There's no other word for it.  What I particularly love about the 307 is the peace of mind I get knowing that once my gear is in it, all of it is completely safe not only from serious bumps and scrapes but also from the worst that Mother Nature can dish out.
Billingham 307 Carrying Capacity:
Now, let's discuss what you can actually fit in the Billingham 307.  Being that this is one of the largest bags that Billingham make, you probably expect it to fit a lot, and well, it definitely does!  In my case, I found this to be the perfect bag for when I need to carry a ton of Leica SL gear.  But of course, you can carry a variety of gear besides the SL system.  For instance, you can fit 2 full frame DSLRs with zoom lenses attached to each body, an extra lens, and even a full size flash.  You could also fit one DSLR body with zoom attached, a flash, and two lens with one of these lenses being a telephoto zoom.  The main compartment also has a front and back pocket.  In addition to the gear in the main compartment, there are holes incorporated in the main leather strapping to take Billingham's tripod carry straps.
What's also great about the 307 in particular is how it stays open.  Since you're most likely going to be putting a lot of gear or/and large gear in it, you want a nice, big opening to be able to put and pull things out of it.  Billingham has definitely got you covered.  You first lift the rain flap up, and unzip the main compartment zip.  But here's a feature that is actually distinct to the 7 Series bags, and just plain out really cool.  When you spread the bag open, it stays open thanks to the Billingham PressTop feature.
What is the PressTop feature?  Basically, there are two specially shaped fiberglass, and aluminum wands that shape the opening into a wide rectangular shape for easy access.  I think of it like one of those old-fashioned doctor's bags.  In my opinion, it is an absolutely fantastic idea, especially for a large bag designed to carry a lot of gear or large gear for that matter.
So, whenever I'm on location, all I do is place the 307 on the ground (it has solid brass feet), spread it open, and simply work right out of the bag.  If my location is dirty or basically an area where I don't want to put my gear down on, I use the 307 kind of like a table where I can change lenses, for example.  I don't have to fumble around with equipment in my hands, and drop something by accident or even place gear on the ground.  I can do everything in the bag.  It's simply a brilliant idea, and in my eyes, it makes the 307 even more worth its asking price because it took real thought to come up with such a unique feature.  Check out the photos below to see gear in the 307, and the PressTop feature.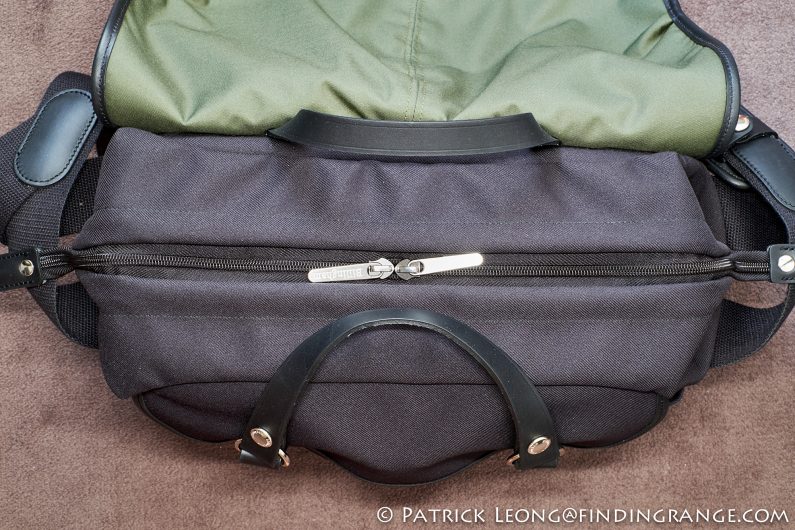 ↑ This is when the bag is closed.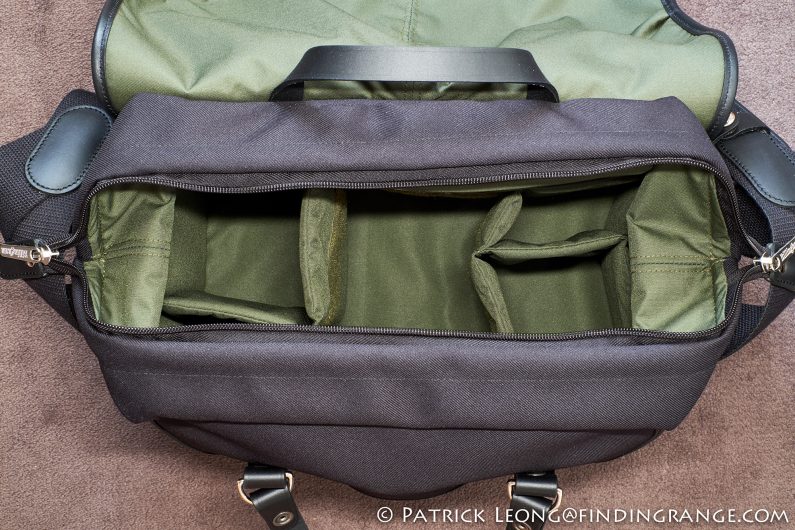 ↑ This is after you unzip the main compartment.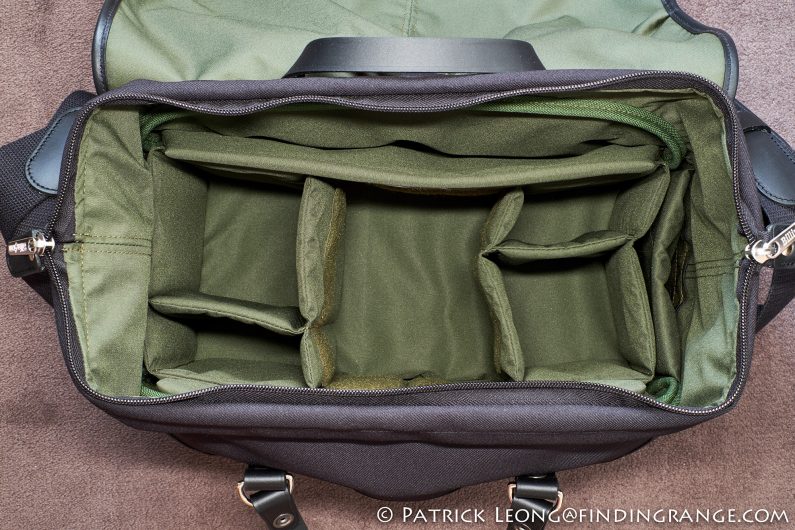 ↑ Simply spread the 307 open, and it stays open.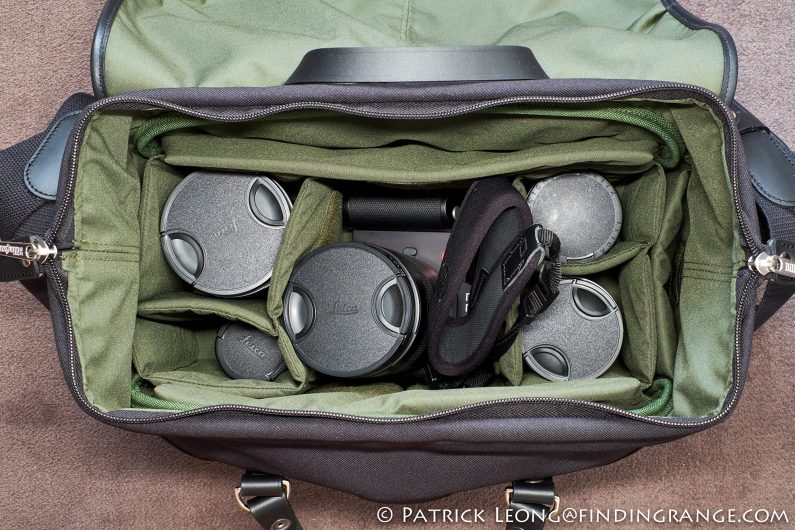 ↑ In this photo, I have my SL with 50mm Summilux-SL ASPH attached in the center.  On the left, I have my 24-90mm Vario-Elmarit ASPH, and my 50mm Summilux-M ASPH.  On the right is my new 90mm Summicron-SL ASPH, and my 75mm Summilux-M.  There are also pockets in the front and back of the main compartment.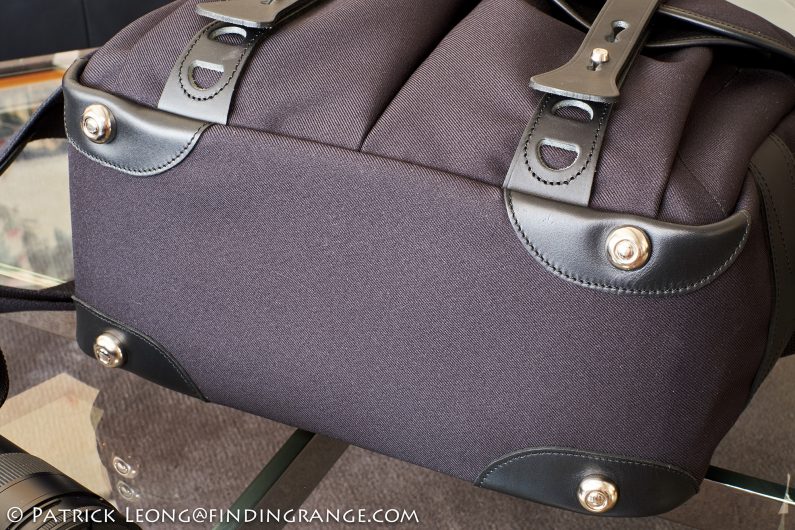 ↑ Solid brass feet on the bottom of the bag is always a definite plus.
In addition to the main compartment, there are other pockets found on the 307.  For instance there are two dump pockets in the front of the bag secured by a buttoned flap that hold quite a lot of stuff.  I actually use this bag a lot for studio and on-location work (I loved this bag so much, I bought it).  So, I carry my Pocket Wizards, and various other transmitters, filters, extra batteries, and charger in the dump pockets.  There's a pocket on the back that you can carry various documents.  I throw a bunch of model release forms there.  If you still need to store more stuff, you can purchase the Billingham Delta Pocket.  You can actually attach two of them.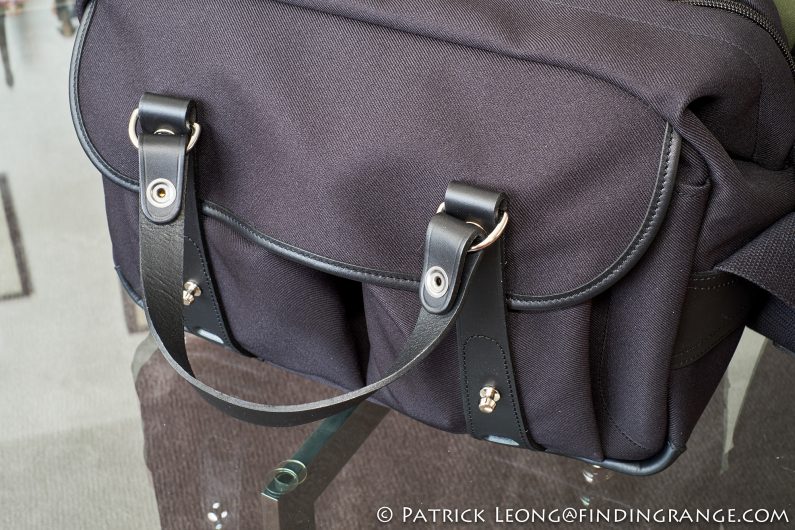 ↑ The dump pockets are covered by a buttoned flap.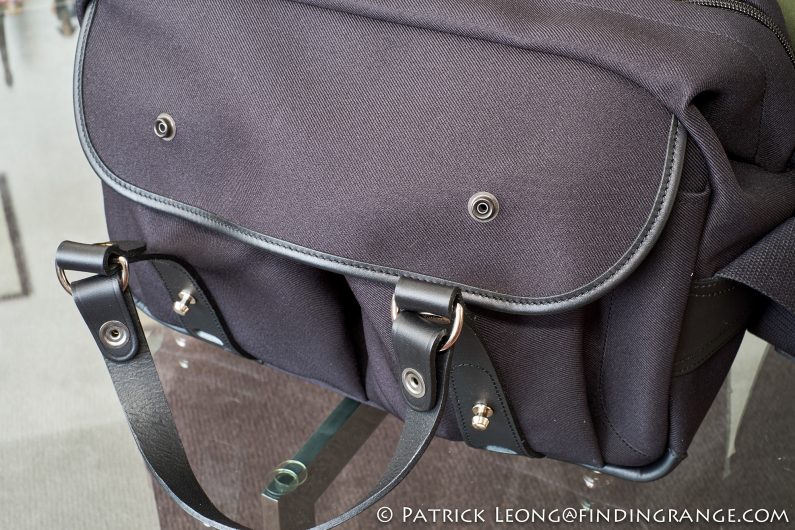 ↑ Simply unbutton, and lift the flap to get access to the pockets.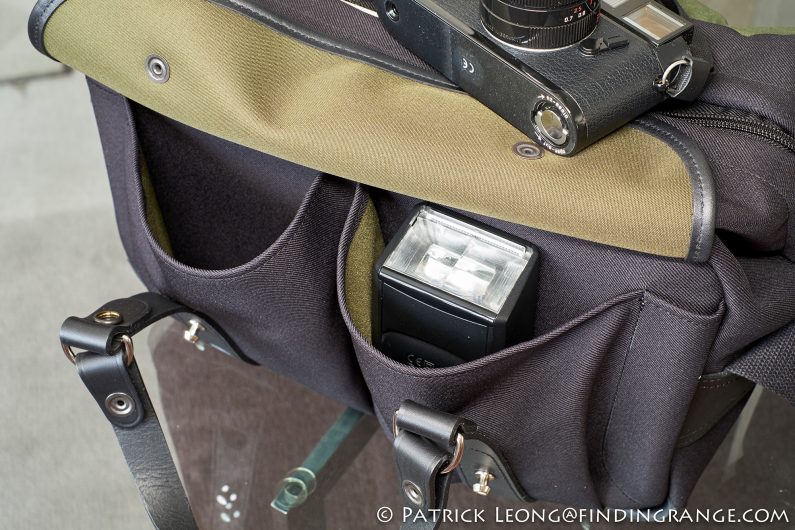 ↑ There's massive storage space in the dump pockets.  In this photo, I have my Leica SF-58 flash (which is a full size flash) in one of the pockets, and there's still room leftover.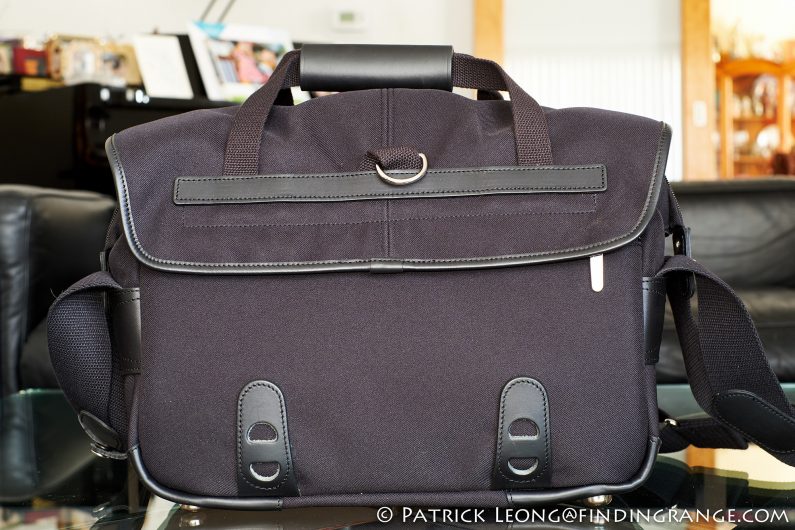 ↑ There's a zippered pocket on the back of the 307, which the flap protects against the elements.
Billingham 307 in Use:
When I write up a bag review, I often like to talk about how they actually feel and operate in the field.  It's great knowing that a bag is made well but let's face it, if it's not comfortable or you're attracting unwanted attention for example, you probably won't use it much.  So, let's first talk about how it feels like carrying the Billingham 307 around all day.
I'm not going to lie to any of you: this is not a light bag when you have tons of stuff in it.  BUT that is a given.  I don't think any of us was expecting the 307 to be light considering its massive storage space.  NO bag in this class can be considered light when packed full.
With all that said, the 307 has been surprisingly one of the most comfortable large bags that I've used, and there are several reasons why.  First off, if you thought Billingham bags were well-made, you should take a look at their shoulder pads.  These things are like the Bugatti of shoulder pads :).  They're works of art.  Not only are they extremely well-made from essentially the finest materials available, they offer quite a lot of extra support.
The 307 comes with the SP50 Shoulder Pad, and wow, this thing is absolutely wonderful!  It's like a little piece of heaven on your shoulders, especially when your bag is packed full.  I'm so serious.  It's grippy but not so much that it gets annoying, and at the same time, the cushion is soft yet offers just enough firmness, so that the bag doesn't feel like its pulling you down.  This may be hard to explain but just take my word for it, this is a great shoulder pad :).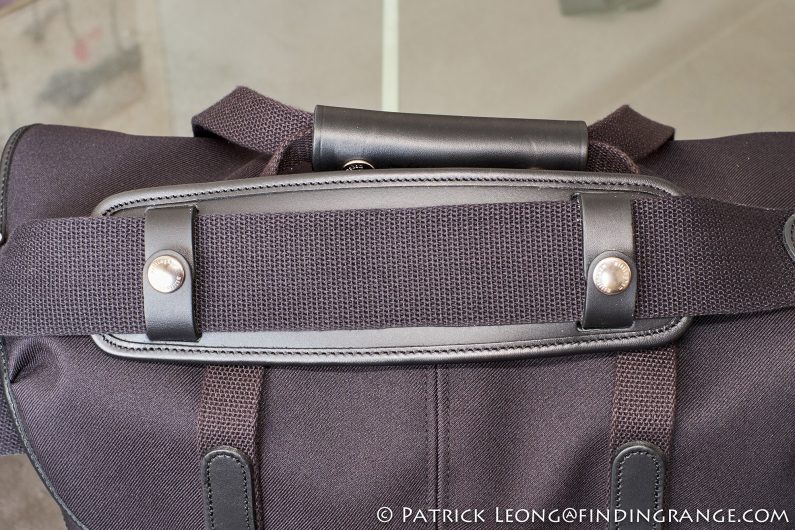 ↑ The SP50 Shoulder pad is definitely an essential part of the 307.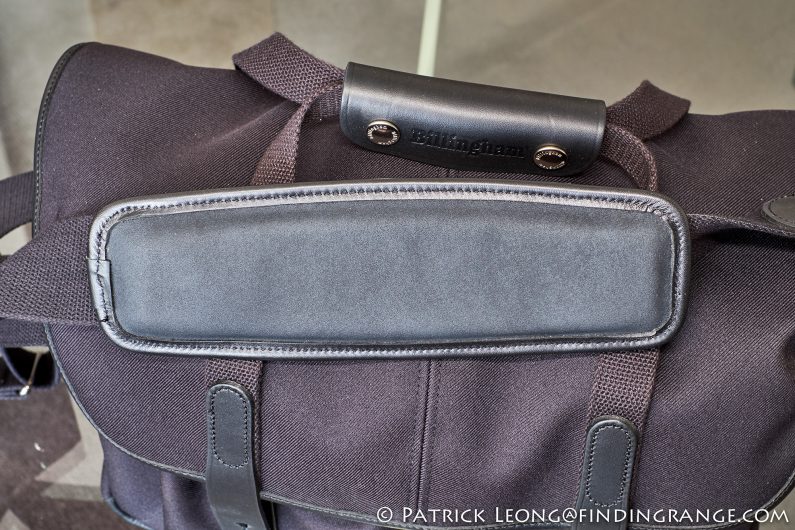 ↑ The cushion part of the SP50 is both grippy and very comfortable.
Also, there are plenty of ways to get a handle on this bag.  In addition to the shoulder strap, there is the top handle on top of the main flap.  When you lift the flap, there are another set of leather handles for you to grab.  I found these handles really useful because then I didn't always have to secure the flap again just to use the top handle on the flap.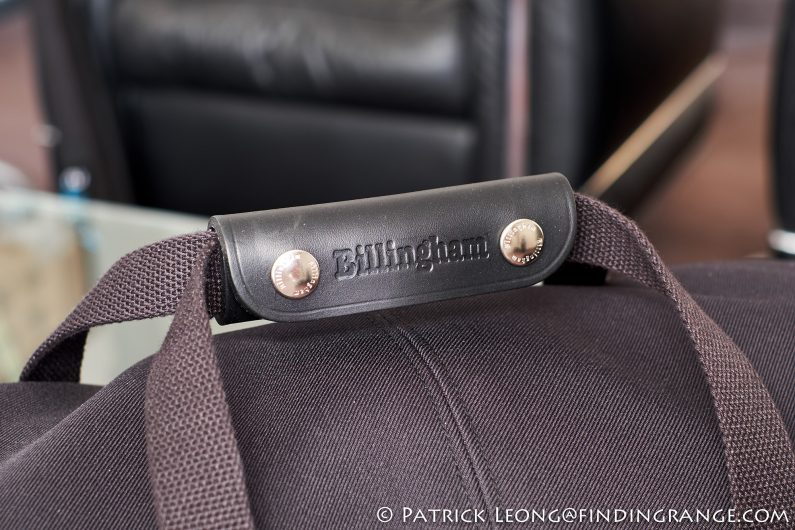 ↑ Top handle on top of the main flap.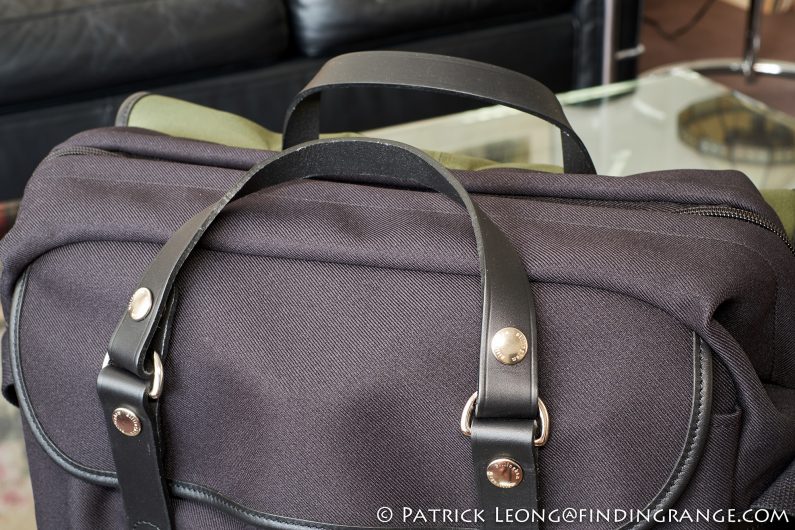 ↑ There are another set of handles once you flip the flap over.  Then you don't have to secure the flap every time you want to use the top handle.
One last feature that makes this bag so great to carry around is the inverted 'Y' shaped Delta Sling webbing of the shoulder strap's fixing points.  With large bags, especially when they are packed full, there's often a tipping or rolling motion as you walk, which can be quite annoying after a while.  Billingham's design basically helps prevent any tipping or rolling motion as you walk.  Believe me, it actually works.  For such a large bag that is also rectangular shaped, I was quite frankly a little shocked at how well it wrapped around my body.  I've been using the Billingham 307 a lot, and carrying a ton of stuff.  Each time, it stays close to my body, and feels like it's actually a part of me as opposed to something I'm just carrying or dragging along for that matter.  This has been extremely beneficial, especially in NYC where its often very crowded.  In this way, the 307 actually feels a little better than even my Hadley, which is basically an everyday bag.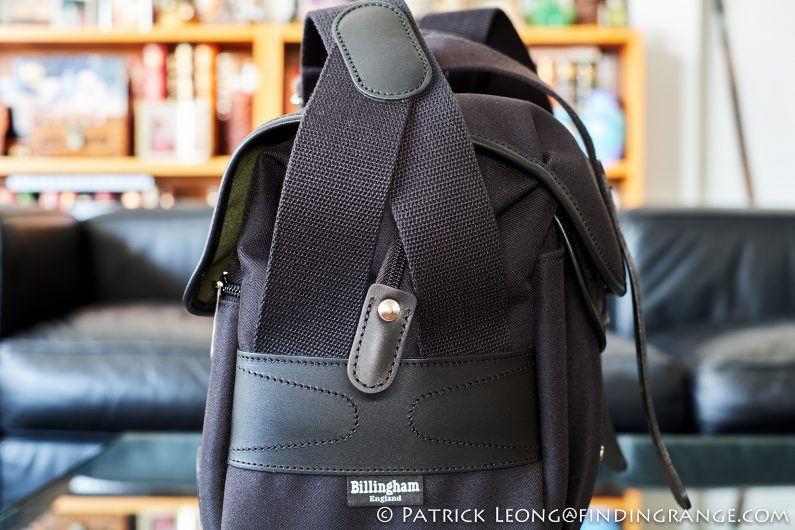 ↑ The inverted 'Y' shaped Delta Sling webbing of the shoulder strap's fixing points help prevent rolling or tipping motion as you walk.
As for attracting attention, like any large bag, it's not easy being inconspicuous.  With that said, people don't necessarily think I'm carrying camera gear either because like many of the other Billingham bags, the 307 doesn't really look like your typical camera bag.  It also doesn't have any large symbols or large name tags on it indicating who has made the bag.  It's got this little tag (in the photo above), and that's about it.  If you get the black version like my copy here, it's even more inconspicuous.
Billingham 307 Specifications:
External Dimensions

W390mm (14⅛") x D210mm (8¼") x H300mm (11⅞")

Internal Dimensions

W350mm (13⅜") x D150mm (5⅞") x H220mm (8⅝")

Capacity

11.2 litres (0.39 feet³)

Weight

2.01 kgs (4.43lbs)

Front external 'dump' pockets (2) W130mm (5⅛") x D60mm (2⅜") x H210mm (8¼")
Capacity (each) 0.75 litres (0.03 feet³)
Front internal pocket W140mm (5½") x D Nominal x H240mm (9½")
Rear internal pocket W320mm (5⅝) x D Nominal x 230mm (9)
Rear zippered pocket 320mm (12⅝") x D Nominal x H170mm (6¾")
Billingham 307 Verdict:
If you're finding yourself in need of more space to carry a large system, the Billingham 307 is an absolutely great bag to consider.  At about $500, it's certainly not cheap but in this instance, you're truly getting what you paid for.  The 307 has all the hallmarks that make it a true Billingham bag, such as, the use of high quality materials, and superb craftsmanship.  While the 307 does look good, it's also more than just a boutique bag; it offers superior protection for your gear, and it has no problems roughing it.  The 307 may have a high price tag but this is a bag that you can count on for when the going gets tough for many, many years I might add.  It's certainly cheaper than having to replace your bag several times.  Plus, if you look at Billingham's competition, the price is certainly not outrageous.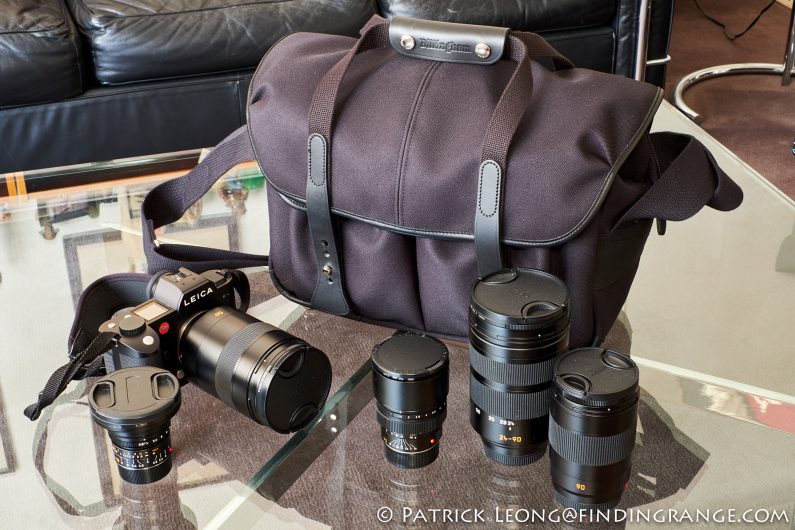 ↑ I found this bag indispensable when I wanted to carry a ton of SL gear.
Still, I know it's not easy to decide on what bag is best for you.  The truth is, there are a lot of other high end manufacturers that also make excellent products.  I definitely don't dispute that; but Billingham have the level of professionalism, and experience that can only come from craftsmen, and craftswomen who've been at this for several decades.  All of that knowledge and know-how is basically put into these bags, and the result is something like the 307, which quite frankly, has become one of my all-time favorite bags from any manufacturer.  Don't believe me?  Like I said before, I found the 307 so indispensable that I bought it.
I'm sure there are bags out there that use extremely exotic materials or whatever but when you add everything up as a whole, like craftsmanship, quality of materials, dependability, comfort, protection, and the life of the bag, Billingham products are simply hard to beat.  That's not an opinion, it's pretty much a fact.  Pound for pound, I feel Billingham products are the benchmark, and quite frankly, the 307 has only reaffirmed this to me, and therefore, I can not recommend this bag enough.
If you want more info on the 307, check out Billingham's official site!