My Settings For The Fuji X-Pro1:
Hey everyone, sorry for the lack of posts lately.  I've just been very busy with processing my vacation photos from Bermuda.  One of our fellow readers suggested I write up a post about my settings on the Fuji X-Pro1, and I thought that it was a great idea so here you are everyone.
General Settings For The Fuji X-Pro1:
In general, I try to keep everything as simple as possible, which is actually one of the reasons for why I love the Leica M9 or in this case, the Fuji X-Pro1.  They are cameras that are purposely built with a lack of electronic wizardry.  I find that sometimes the electronics just get in the way, and it's actually a bit liberating to use a camera in just its raw form.  It kind of reminds me of the film days :).
My ISO Settings For The Fuji X-Pro1: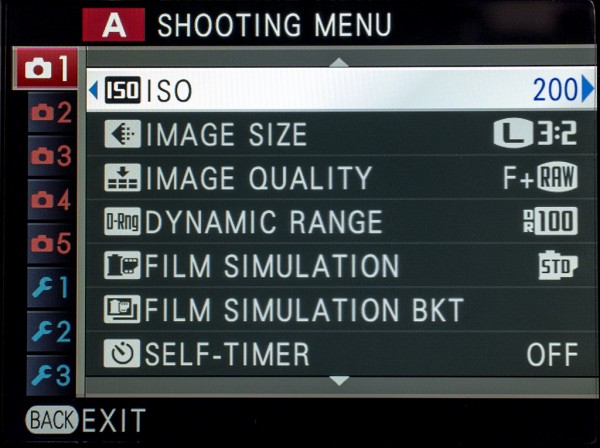 After saying that, I always like to choose my own ISO.  I know, the auto ISO can be very useful and quick but I'm use to choosing ISO myself, and I like total control of the camera.  I'm a bit old school when it comes to ISO.  I know that you can choose a shutter speed for when the ISO will begin to increase but situations are always different.  Sometimes you can shoot a photo at a lower shutter speed than you have set on your camera, and I like to be able to go with it.  It might only be a stop or two difference but still, I believe that it's worth it.  Even with cameras like the X-Pro1 that have such incredible high ISO capability, it's still always better to use as low of an ISO as you can for the sake of image quality.  That's why I will always try to push it, and I will always try to use the lowest ISO that I can get away with.
For those who say it can be slower to adjust your own ISO or you might miss the shot, I say just plan a bit ahead.  If I'm going to a concert or a wedding, I know generally what kind of conditions I'm probably going to shoot in.  I set my camera ahead of time, and fine tune it at the event or place.  On the M9, there's a dedicated ISO button so it's fast and simple, and on the Fuji X-Pro1, you can set the fn key to adjust ISO quickly.
Viewfinder And LCD Screen Settings on The Fuji X-Pro1: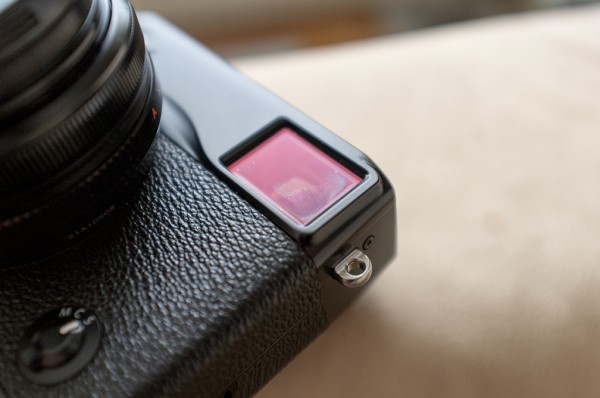 One of the great things about the Fuji X-Pro1 is that it offers a hybrid viewfinder.  Both the optical and the electronic viewfinders are great but in general, I usually shoot with the OVF.  I'm a bit old fashion, and I like to actually "see" the image in real life.  An optical viewfinder is one of the sought after features of any rangefinder, and while the X-Pro1 is not a rangefinder, it is no exception.  The OVF in the X-Pro1 is beautifully bright, and is a uncompromisingly perfectly working viewfinder.  In the mirrorless world, the bright optical viewfinder on the Fuji X-Pro1 is almost a rarity, and something that should be praised.  This viewfinder was NOT an afterthought, and it is one of the biggest reasons for why I bought the X-Pro1.  A good OVF is something that seems to be missing a lot these days, and I believe that it is really important to have a great OVF to compose pictures.  I make full use of it, and I only use the EVF when I'm in macro mode or if I need the electronic level in the camera, which BTW, is a great feature.
In terms of the back LCD screen, most of the time, I have it completely off, and I only use it to review my images or change the settings of the camera.  I keep it off because I don't like it glowing while I'm carrying it, and it also helps save battery power.  The only time that I really shoot with it is when I take macro shots with the X-Pro1.  Sometimes the LCD screen can be very convenient to use in this instance.
Fuji X-Pro1 Autofocus Vs. Manual Focus: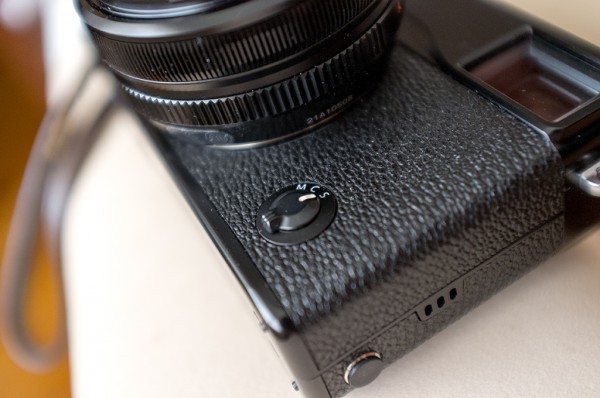 Some others might feel differently but for me, I strictly use autofocus with my X-Pro1.  When I'm focusing on my M9, I feel like I'm focusing a finely tuned precision instrument but manually focusing with the Fuji X-Pro1 simply does not give me any joy.  If you are a reader of this blog, you know that I am very fond of the X-Pro1 but In my opinion, it's a bit difficult to manually focus on the X-Pro1, and it takes too much work when the autofocus can do it more accurately and quickly.  Plus, the lenses have too much focus throw, and they have lack of feel when compared to purpose built manual lenses.
Fuji X-Pro1 Silent Mode: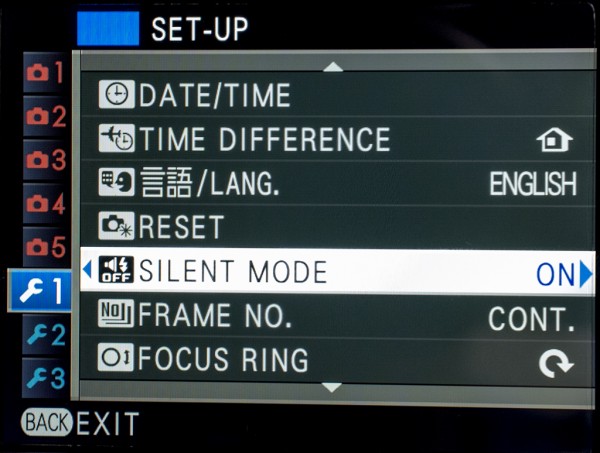 Silent mode is a feature on the X-Pro1 that I use all the time except for when I do flash photography.  With silent mode on, I don't have to worry about the annoying focus confirmation sound or the AF-assist illuminator coming on.  The AF-assist light can really be a moment killer at times.
How I carry My Fuji X-Pro1:
Lastly, in general, I don't really like to hang my cameras around my neck.  I usually wrap the neck strap around my wrist, and walk around like that.  I do this because the camera will always be ready, I have greater control over it, I can protect it against bumps, and I can hide it better.  For my X-Pro1, I tried something a bit different.  I still hold the camera in my right hand but I bought my first wrist strap, and I love it.  I bought a Black Label Bag leather wrist strap, and if you want, you can check out my review of it.
My Fuji X-Pro1 Settings:
I hope this information helps anyone who is currently using a Fuji X-Pro1 or considering purchasing one.  In general, I just like to keep everything as simple as possible, and leave as much of the electronics out of my photography as I can so that I can concentrate on just taking the photo.  I also find that in general, if I use less of the electronics, I have greater control over my image.  It's why I choose to shoot with an M9 or in this case, an Fuji X-Pro1.  I am no Fuji expert, and other people's setup may vary.  However, this is my setup, and for me, it works just fine.  If there are any questions, please feel free to leave a comment down below.  Thanks everyone for visiting here and take care!