Fuji X30 Compact Camera Review:
The high end compact point and shoot scene has certainly changed in recent years.  More and more manufacturers are introducing products with a list of improvements and features.  To combat this, Fuji has the X30, which is the third generation of this series of camera.  The X30 maintains many of the attributes and features that has made the X20 successful but it also introduces new features in hopes to remain competitive and viable in this category.
Fuji X30 Build Quality:
Like many of the other X Series cameras, Fuji decided to stick with the retro theme when designing the X30.  It comes in both silver and black, and to me, the rangefinder styled body looks like a mini X-E2.  For the most part, X30 is a very attractive camera, and the only issue I have with it is that it's getting bulkier.  But this often happens when there are even more features added.  Plus, it's not huge, it will still fit in a jacket pocket, and other manufacturers are doing the same.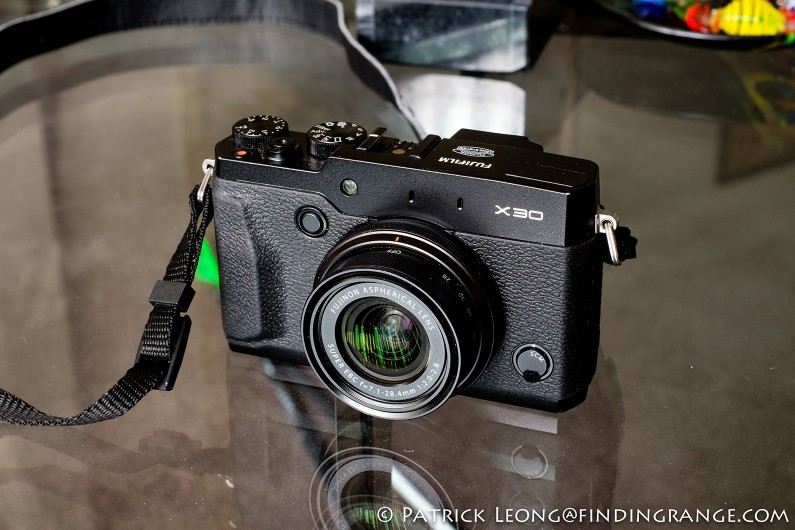 ↑ The Fuji X30 in black.
As for the controls, the X30 has all the cool little metal dials on top to make adjustments or change modes but it would've been nice to see some analog controls like a shutter speed dial or even an aperture ring on the lens.  I think it would've really helped complete the whole analog theme and experience that this camera has going for it.  Still, you do get an EV compensation dial, and the 28-112mm equivalent F2.0 – 2.8 lens has a manual zoom, which I am a big fan of because it's a lot quicker to zoom manually than to use a switch or a button and to zoom electronically.  It's also a relatively compact lens.  One of its competitors, the D-Lux, has a shorter range zoom, and while the lens is faster, it's also physically larger.  Back to the X30's zoom, it's also a way for you to turn the camera on and off: you simply turn the zoom to a chosen focal length, and the camera automatically turns on.  As for the battery, it will last up to 470 shots, which is excellent.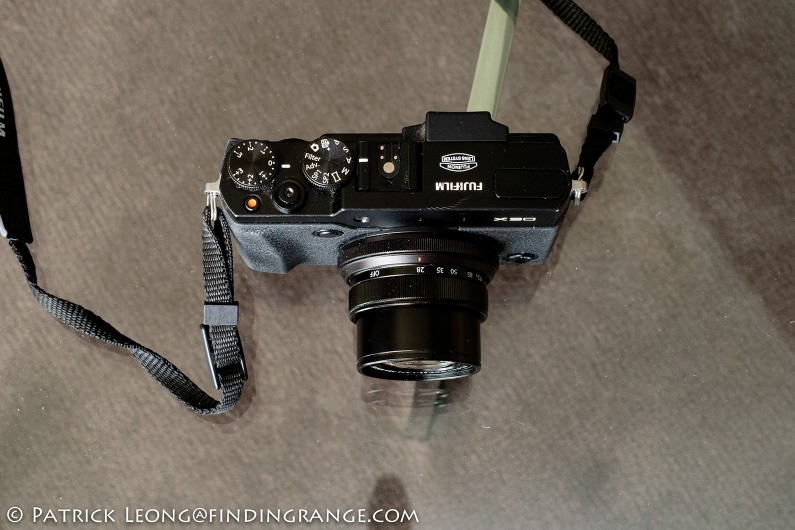 ↑ The zoom is pretty compact.  Here it is at the 28mm setting.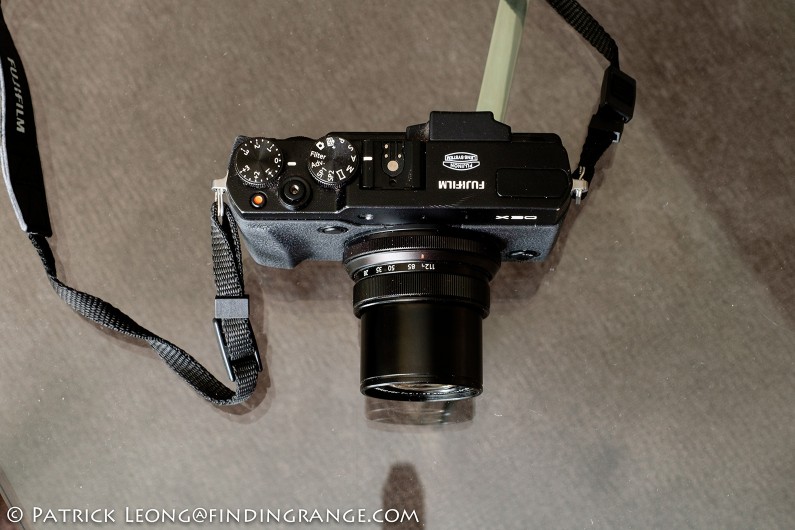 ↑ Here is the zoom at the 112mm setting.
I'm also happy to report that the Fuji X30 (B&H Photo/Amazon) is actually a very solid camera.  I think the build is one of the X30's best qualities.  Quite frankly, it feels just as solid as my X-T1, which costs a lot more then the X30, especially when you factor in a lens.  The body of the X30 is made out of magnesium, it comes with a 3.0 inch 920k dot tilt LCD screen, and the handgrip portion is great; this is probably one of the most comfortable point and shoots that I've ever held.  It feels like it was molded exactly for my hands.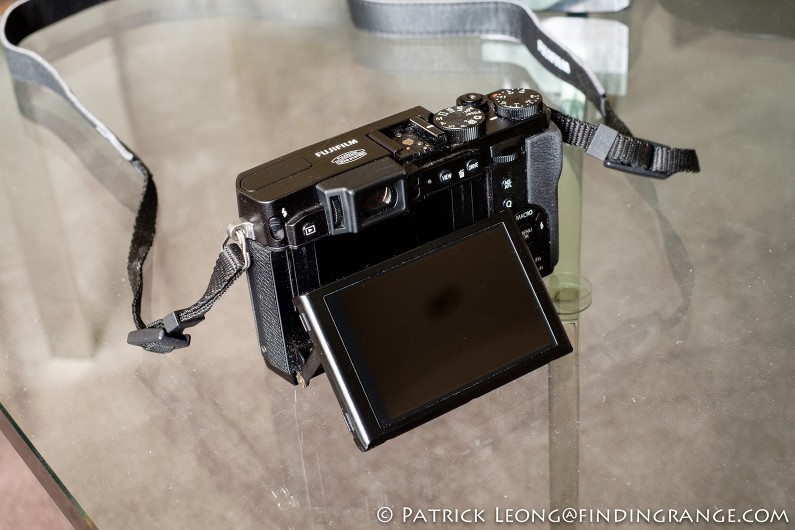 ↑ The tilt screen is very useful.
Unlike the X20, the Fuji X30 comes with a  2.36 million dot OLED EVF, and I think this is a great addition to this series of camera.  I never had a chance to try out the X20 but I did use the X10, and the viewfinder in that camera was a nice feature to have, especially when a lot of its competitors in those days did not have any sort of built-in viewfinder.  However, the X30's EVF feels literally light years ahead of the X10's optical viewfinder.  For one, it does not feel like an afterthought; it feels like Fuji took the time to design, and to put a real, functional, useful viewfinder in this camera.  It works great.  It's not there just for show or to add to a spec sheet.
Compared to the X20, the X30's viewfinder magnification has risen to 0.65x and it now gives 100% complete coverage.  What this means is the X30's viewfinder is very easy to look through; it's also clear, contrasty, and bright.  Overall, I really think this EVF is a key feature that transforms this series of camera by Fuji.  It still is a point and shoot camera but it no longer feels like you're just shooting with one, which is a good thing.  The only minor complaint is there's lag in very dim lighting but this is to be expected in a camera of this class.
Since I mentioned lag, I should say that the only time the autofocus had any real problems was when I was shooting in very dim lighting.  Then it would have some trouble locking on focus or/and show definite signs of lag.  But for the most part, the autofocus is pretty snappy, and accurate even though I do feel that the Leica D-Lux/Panasonic LX100 is better in this department.  There were still occasional misses but overall, nothing major to complain about.
Fuji X30 Image Quality:
The Fuji X30 (B&H Photo/Amazon) produces excellent images for its price range.  Sensor wise, it has a 2/3 inch 12MP X-Trans CMOS II sensor, and the X30 definitely does the most it can with it.  But I believe both the lens and the sensor were also found on the X20, which doesn't mean it's bad but the world of high end point and shoots has definitely changed in recent years.  For instance, the Leica D-Lux/Panasonic LX100 comes with a 4/3 sensor, and both those cameras really make the most out of that sensor as well.  But as I mentioned before, for its price, the X30 does decently.  Both the Leica and the Panasonic are more expensive.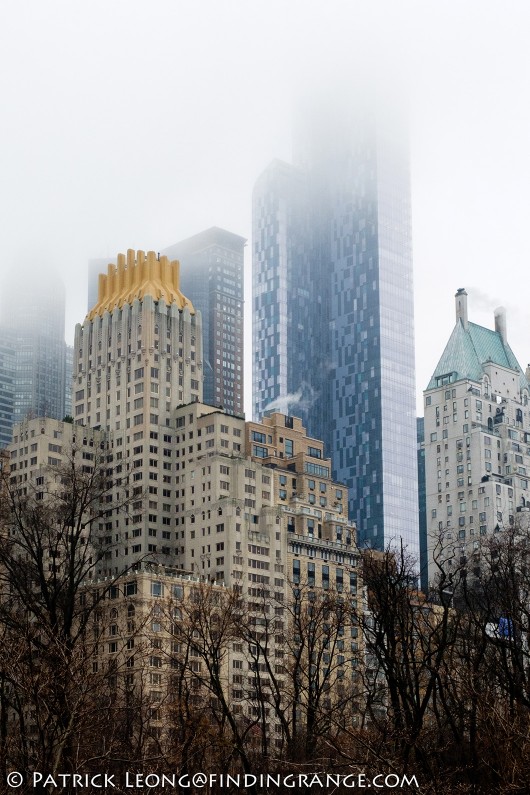 ↑ This was taken at 200 ISO at F8.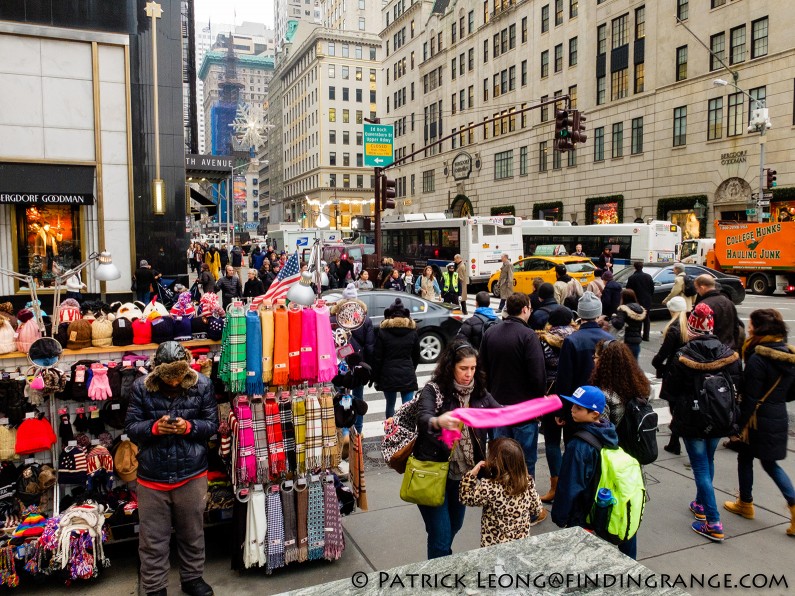 ↑ The colors are vibrant without but still realistic.  This was taken at 400 ISO set at F5.6.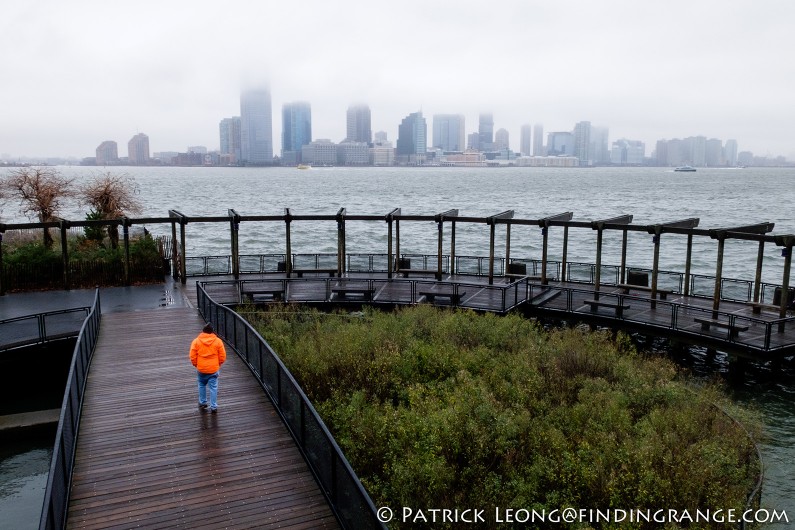 ↑ 200 ISO at F8.
For the most part, images from the X30 have nice contrast and saturation.  Photos look very realistic with nice depth to them, and colors are rich but not to the point where they look over-exaggerated.  They are also very sharp, especially since the sensor doesn't have a low-pass filter.  Overall, you should have no problems producing stellar images with this camera, especially at the lower ISO settings.  I only wish the time that I had the camera, the weather was better, so I could really get the most out of this camera.  I really did like what the X30 produced.  If you like to shoot in jpeg mode, you are in for a real treat because not only are Fuji out of camera jpegs fantastic, there are plenty of different Film Simulation modes that you can choose from, such as, Provia, Velvia, Astia, Sepia, Monochrome (+Ye / R / G FILTER), Pro Neg.Std, Pro Neg.Hi, and Classic Chrome.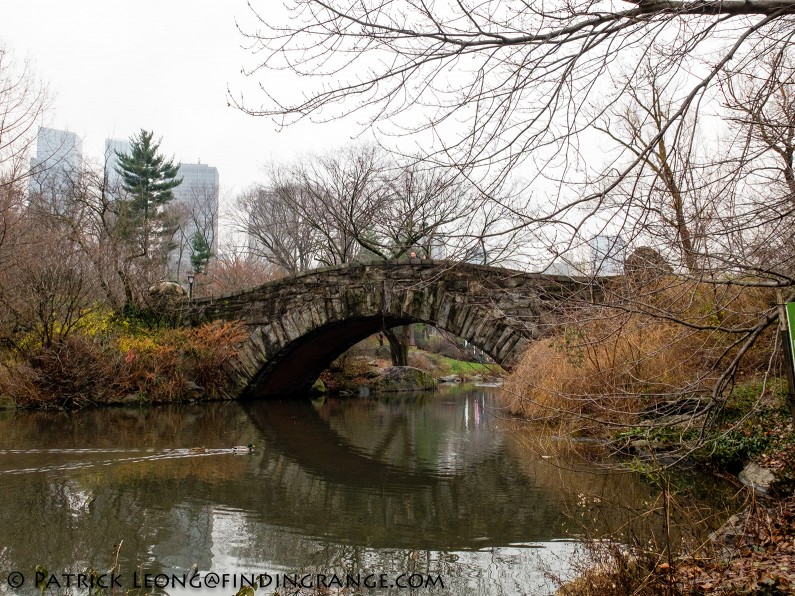 ↑ 200 ISO at F6.4.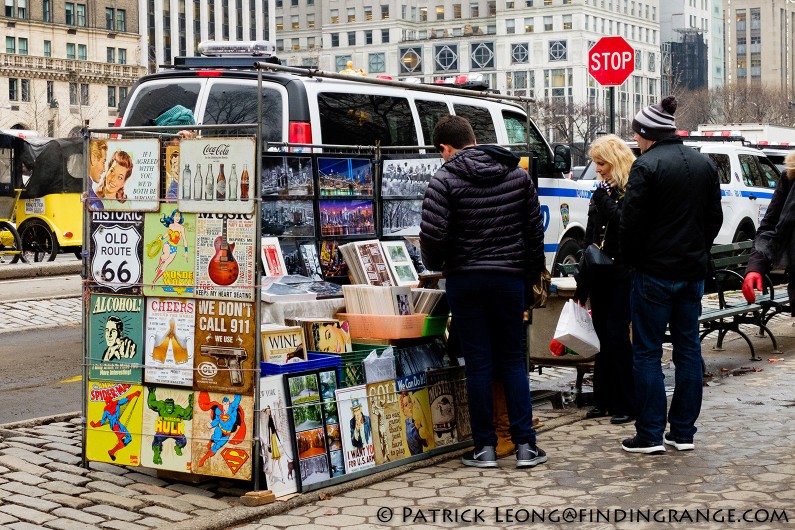 ↑ 400 ISO at F4.
As for the lens, the zoom range should also fulfill most street photographers' needs.  The X30's zoom should also serve well on vacation.  The wide open apertures of F2 to F2.8 makes this lens decently fast.  However, there is one issue concerning the aperture: Even though the fastest shutter speed is 1/4000, it can not be used in every aperture setting.  For instance, when the lens is set at F2, the max shutter speed is 1/1000.  As you stop the lens down, max shutter speed progressively increases but you'll have to wait until F9 to use 1/4000.  This can be a problem for those who want to use the largest aperture setting in bright daylight for example, especially since there is no built in ND filter.  But if you're using large apertures for the purpose of trying to produce shallow depth of field,  realistically, with the X30's sensor size and focal length, especially at the widest setting, there are limits to how shallow you can get the depth of field unless you shoot very close to your subject.  At least for me, I mainly used the widest apertures for when I need to shoot in low lighting.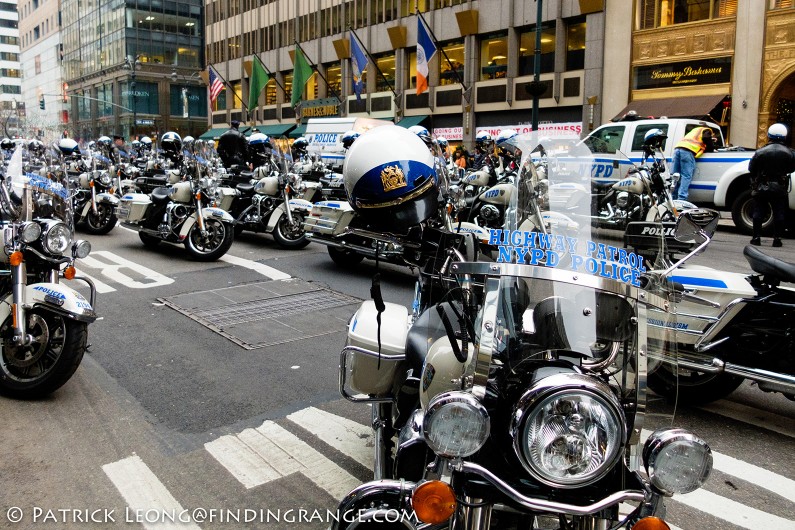 ↑ 400 ISO at F2.  This was taken pretty close, and as you can see, the depth of field isn't too shallow.
↑ This was taken at 200 ISO wide open but I shot this extremely close, which produced more shallow depth of field.
As for noise, the Fuji X30 (B&H Photo/Amazon) does well for this class.  I did see slight noise at 200 ISO but it's nothing that will ruin a picture.   Plus, you would have to really magnify the photo for it to be noticeable, and I mention it only because this is a review.  Once you start cranking up the ISO though, you will definitely see more noise and color desaturation.  But noise is still very well controlled, and one could still get decent images even at 1600 ISO, especially if exposure is nailed down correctly.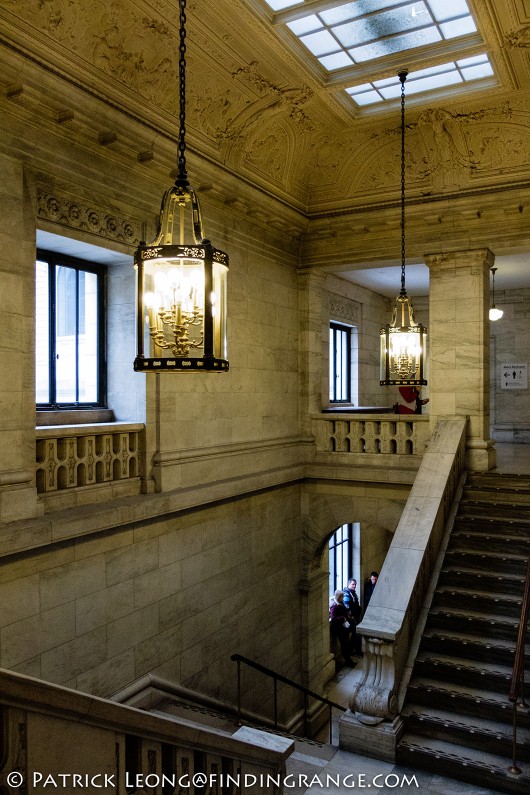 ↑ This was taken using 640 ISO at F2.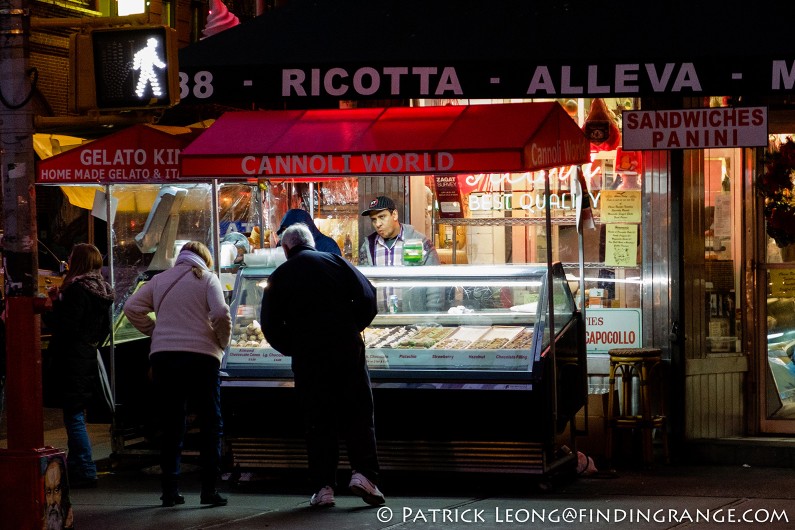 ↑ Here's a photo taken at 1250 ISO using F2.8.
This is how I feel about the X30: the overall image quality is excellent, and high ISO is decent for a camera in this class but the X30 has a lot of competitors in this category now that not only have larger sensors but also produce better image quality with greater high ISO capabilities.  You might say sensor size isn't everything, and I totally agree.  Sensor size isn't everything but it is part of it, and it should be pointed out as well, especially since a lot of these manufacturers including Fuji uses sensor size as a way to promote their product.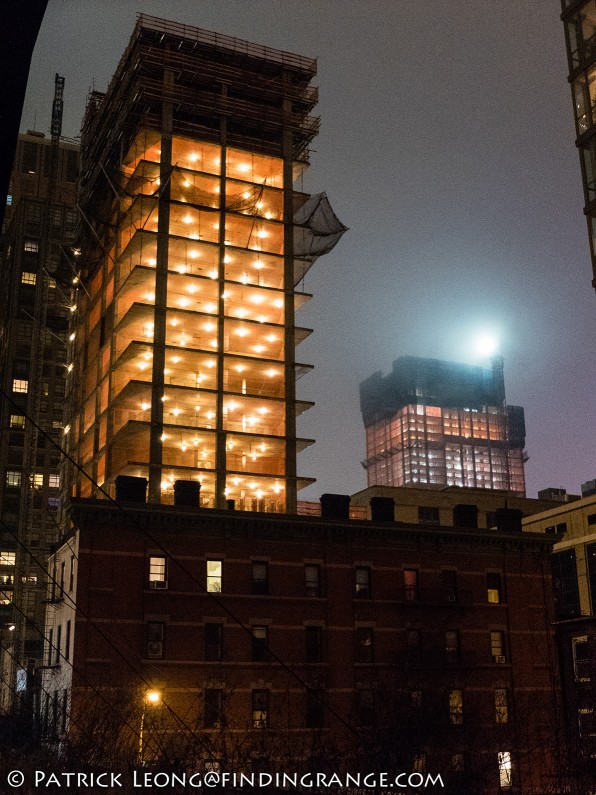 ↑ This is taken at 1600 ISO using F2.2.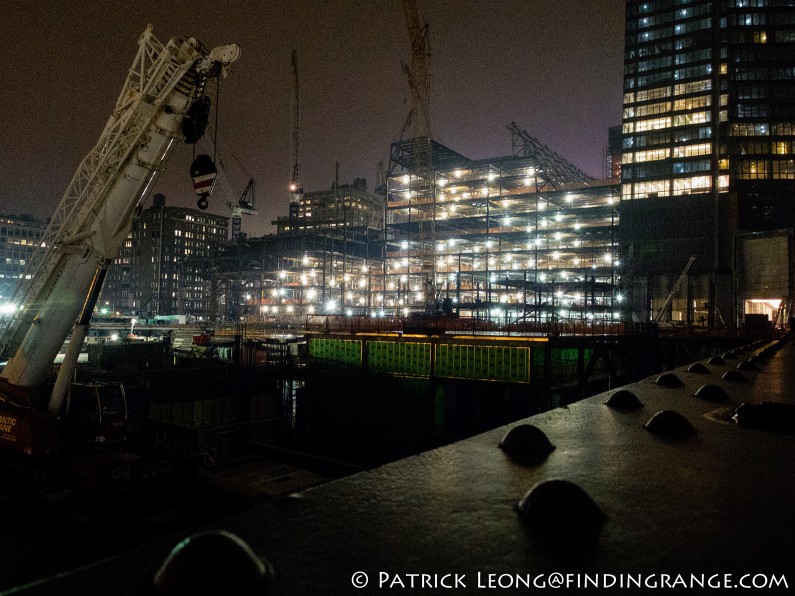 ↑ Here's a photo taken at F4 at 2000 ISO.
I recently bought a Leica D-Lux Typ 109 (B&H Photo/Amazon), and the image quality is superb.  The high ISO capability is also fantastic.  In the past, I would buy one of these high end compacts, and I knew there would be some compromises.  Even though these cameras are high end point and shoots designed for the enthusiasts, they are still just point and shoot cameras.  But the game has changed a lot over the recent years.  The D-Lux along with many of its competitors like the RX100 IV produce stellar results, and in my opinion, you really no longer have to sacrifice as much as you once did if you want a point and shoot.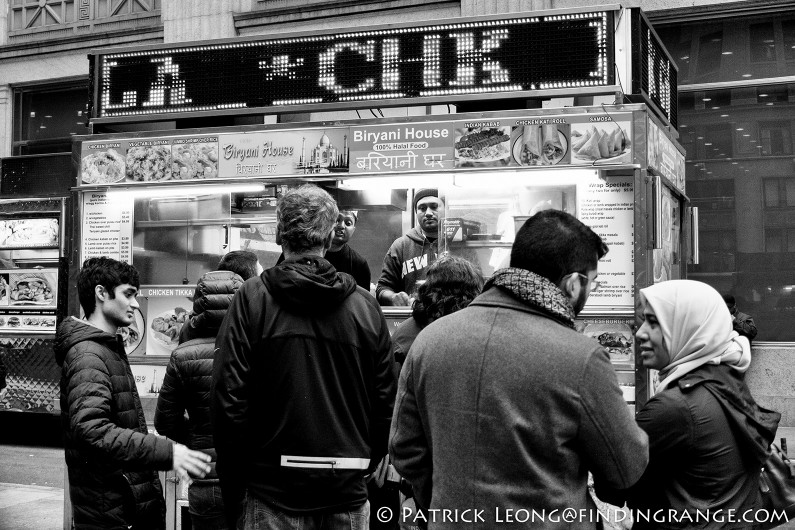 ↑ The X30 is very discreet.  This was taken at 400 ISO using F2.5.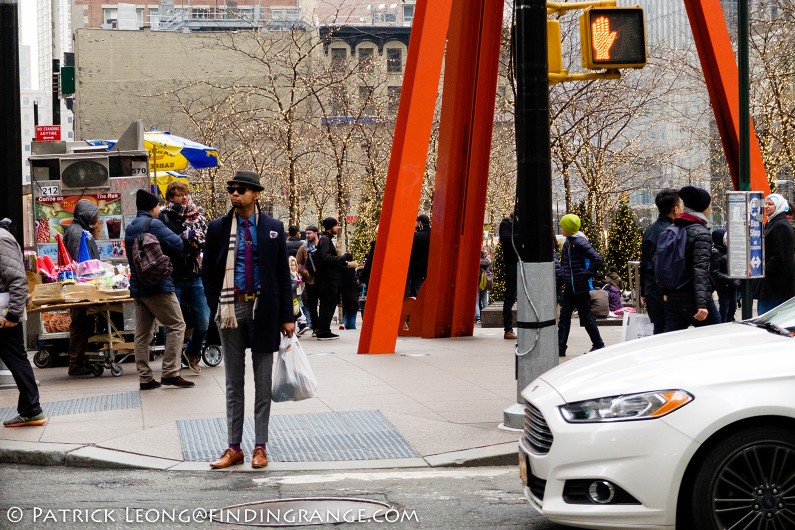 ↑ This was taken at 400 ISO using F2.5.
But to be fair, the Fuji X30 is a lot cheaper than both these cameras mentioned, and I think that's a very important quality that can be overlooked sometimes.  In my opinion, these kind of cameras have steadily increased in price to the point where it almost feels like they are expanding pass their category or class of camera.  It's just like cars nowadays.  Manufacturers come out with a compact category of cars and over time, these cars get to the point where the price and size have increased so much that manufacturers have to introduce a new compact category.  Fuji deserves a lot of credit for trying to maintain a certain price point here.  I previously owned a D-Lux 3, 4, and 5, and I remember paying around $400 to $600 (it's been so long, I don't remember the exact figures) for at least the 3 and the 4.  For the D-Lux Typ 109, I paid $1,095 for the solid gray version.  The image quality is significantly better than previous models, the features are amazing, and overall, it is like a completely different camera, and I'm actually very happy with it but the price has also jumped considerably.  This isn't only with Leica; this goes for many other manufacturers like Sony or even Canon too.  The X30's image quality isn't as good as the D-Lux but the X30 can still maintain it's general price for this series of Fuji cameras while also adding some fantastic features like the tilt screen, the solid build, and the excellent EVF.  It's not like the image quality is bad either; it still produces excellent results.
Fuji X30 Pros and Cons:
Fuji X30 Pros:
Attractive retro feel and appearance.
Battery can take up to 470 shots.
Extremely well built.
Great manual zoom.
Tilt screen.
Excellent EVF.
Priced very well when compared to its competitors.
Excellent image quality.
Overall, great all-in-one package for an excellent price.
Fuji X30 Cons:
Getting larger.
Other manufacturers are getting more competitive, especially in terms of image quality.
Sensor was considered a lot larger in the past but a lot has changed; competitors have even larger sensors now.
Can't use max shutter speed all the time.
Fuji X30 Verdict:
The fact is this class of camera has changed in recent years and competition has increased considerably.  There are some manufacturers that have exceeded the Fuji X30 in some key areas but the X30 is still a solid performer that has stayed competitive in this class for several reasons.  For one, it's beautifully retro themed body is appealing to many.  It still maintains a compact size yet it has excellent features, such as, a tilt screen, a 470 shot capacity battery, and a beautiful 2.36M dot OLED EVF.  Ergonomically, it is extremely comfortable to hold and use.  The build quality is up there with the best in this class.  Image quality is also excellent.  But the beauty of this camera to me is Fuji was able to combine all of these attributes and still keep the price within reason, which is not an easy task for any manufacturer.  What I'm basically saying is, while there may be others that are better in say the image quality department for example, what I find appealing, and what I think keeps this camera competitive is it may not be the best at everything but it's good at so many things for the right price.  It's also a lot of fun to use.  To be able to maintain a certain standard and still keep such a decent price is a pretty impressive accomplishment in my opinion.
Thanks for taking the time to read my review.  If you're considering purchasing the X30, and my review helped you decide, please help support this site by purchasing from any of the links below or around this site.  It will not cost you anything extra.  Thank you for your support!
Fuji X30 at B&H Photo: Black or Silver
Fuji X30 at Amazon: Black or Silver
Fuji X30 at Adorama: Black or Silver
Own the X30 or one of its competitors?  Thinking about buying one?  Feel free to comment below!