Billingham Combination Bag:
When I first became interested in the Billingham Combination bag for the Leica M (which can be found here at Amazon or here at Adorama), I could not find any real info on it.  I looked all over the web but there weren't many reviews on it, and I was really surprised because I know there are a lot of people who would like this bag.  The Billingham Combination bag greatly appealed to me because at the time, I was using a Billingham Hadley, and I wanted something smaller but I did not want to sacrifice too much space.  I know that there were other great bags made by other manufacturers but I wanted to stick with Billingham because IMO they make the best bags for cameras.  Yes they are expensive but Billingham bags last.  My Hadley has been my main camera bag for over 18 years, and it's still going strong.  It has been extremely dependable with absolutely no maintenance at all.  Come to think of it, it's been my only camera bag for the past 18 years.  Anyway, since I had trouble finding info on the Billingham Combination bag, I thought that I would share what I think of this bag, and what I got out of it.
What's The Quality Level of The Billingham Combination Bag?:
Like all Billinghams, the Billingham Combination bag is top notch when it comes to build quality and design.  The canvas material is beautiful and stays in shape for a very long time.  While bag color is unimportant, if you're paying this much for a bag, you should be able to choose the color that you want without anybody smirking at you.  The Combination bag comes in khaki and can be purchased here but I prefer the black one here.  The black bag is so discreet and elegant.  I kind of wished my Hadley was this color but at the time I bought it, the all black option was unavailable.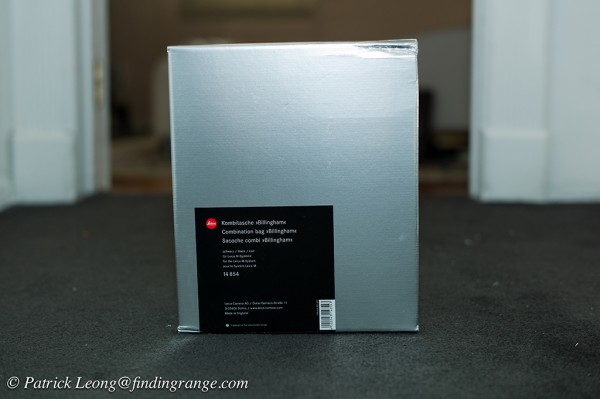 ↑ It comes in a nice Leica box :).  Here's where some of your money's going.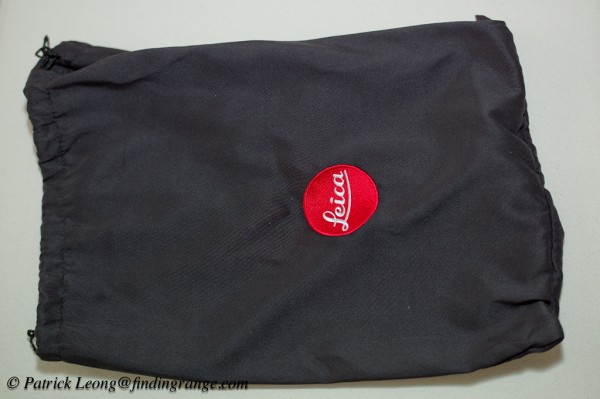 ↑ When you open the box, you will find your Billingham Combination bag wrapped in this cloth bag (for those who like that kind of stuff).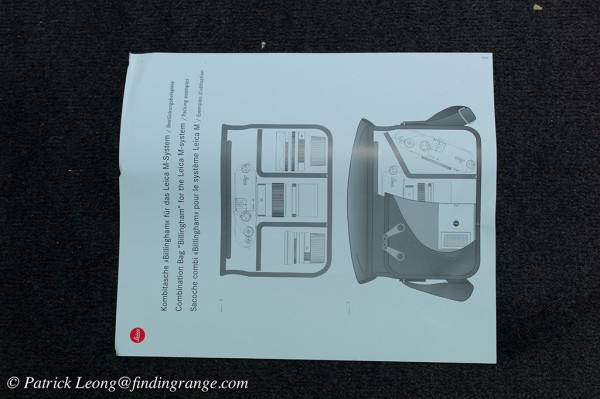 ↑ The Billingham Combination bag also comes with instructions which almost seem pointless.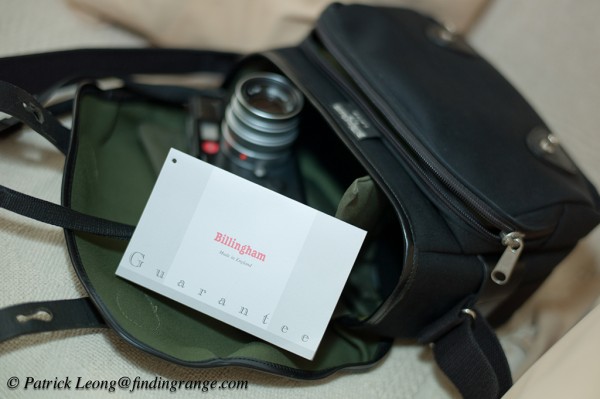 ↑ Of course, like all Billingham bags, you get a five year warranty.
What else?  You get a heavy duty shoulder pad but IMO, it seems like overkill for such a small bag.  I took mine off after a week of using my bag with it.  Getting back to the features, the leather is great like all Billingham bags, and the shoulder strap wraps completely around the bag for added strength.  My martial arts uncle says that bags like this are good because no one can rip it off your body.  However, I wonder if I would be better off with a bag that does rip off easily…I'd rather lose my equipment then lose my arm :).  That's why I insure my equipment, and I urge anyone else to do the same!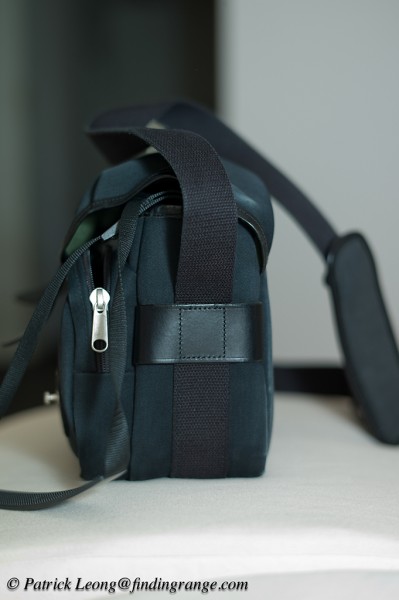 ↑ Here is a photo of how the strap wraps around the bag.
What else?  Well, the padding on the inside is great, and offers ample protection for your equipment.  This bag is extremely well padded inside.  I run around New York City with this bag, and my equipment has never been damaged.  Trust me, it gets bumped, crushed, pushed, and caught between subway doors, and everything inside is always in perfect condition.  There is also a piece of fiberglass on the bottom of the bag to help protect your Leica from any hard impact, and it also probably serves as a way to keep the rectangle shape of the bag.  Don't worry about the fiberglass hitting your equipment though because a nice thick, absorbent foam pad lies between your stuff and the fiberglass making sure to absorb any shock you may expose your bag too.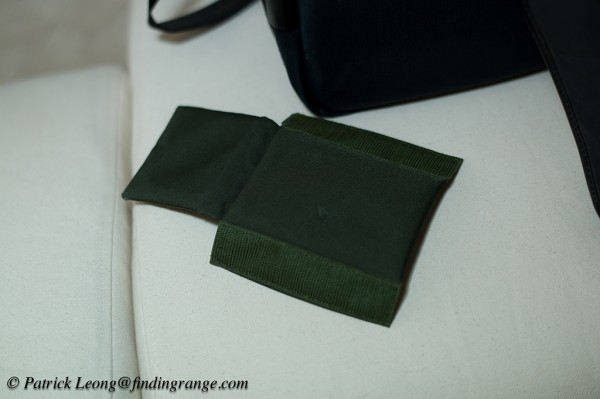 ↑ The Billingham Combination bag comes with two dividers, which can be easily moved around in the bag for a custom fit.  You can purchase more if you want too.
Another great quality that the Billingham Combination bag has is that it's waterproof.  I've been stuck in downpours in the Caribbean with no problems at all.  It rains here in New York a lot sometimes, and while I usually carry an umbrella, since my camera bag is usually behind me while I am walking, it gets completely soaked.  Even after being repeatedly soaked, this bag has not once ever been slightly damp inside.  The bag has been through snowstorms with no problem, and the funny thing is that since the Combination bag is so well padded, the insides actually stay warm :).  I see a lot of mint condition Billingham bags out there but if you buy one of these bags, I urge you to use and abuse it because Billingham bags can take it, and are built to take it.  Plus the patina actually adds character to this bag, and the wear actually makes the bag fit better onto your body.
 What Will The Billingham Combination Bag Fit?:
For such a small bag, this bag can fit a lot.  Let's see…I can fit my Leica M9 with a mounted lens, four additional M lenses (lenses can be stacked by buying additional foam pads to put between them), my M Compact Charger, eight memory cards put into two Gepe Card Safe Extreme Cases, two Leica M Lithium-ion batteries, and a variety of other small accessories.  It's a smaller bag than the Hadley but in my opinion, it can hold almost as much.  I can actually fit all of this with my Leica M9 lying flat on its base, not sideways.  If I have my M9 lying on its side, I can probably fit more equipment if I wanted too.  I'm not going to lie, with all this equipment in such a small bag, it can be a tight fit.  But it's not an uncomfortable fit, and it allows you to carry all your Leica M equipment in a very compact, tight, and versatile way.  Just don't expect this bag to hold your average DSLR kit.  There's a reason some refer to this bag as the M Combination bag.
These days though, I usually have my Billingham Combination bag set up to fit my Leica M9 with mounted lens, and space for one other M lens.  It's a great bag to carry around because it's so small and light but also offers superior protection.  I could get a smaller bag such as the Billingham Hadley Small or the Billingham Stowaway Compact (which I reviewed here) but the Combination bag is small enough that it almost seems like a waste just to buy another bag because you need something smaller.  The Combination bag is great because it is extremely versatile by serving as both a smaller bag and bigger camera bag.  The Billingham Combination bag is very comfortable all day on my body whether it's packed full or it's carrying a light outfit.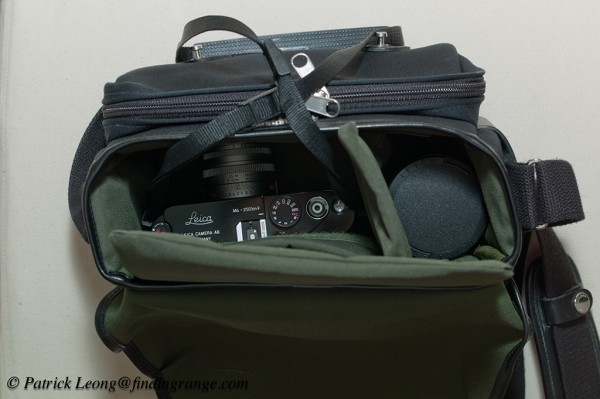 ↑ This is how I set my Combination bag up these days.  Notice how I lay my camera in this bag on its base not its side.  I usually only carry a camera with a lens mounted and one additional lens in this bag now.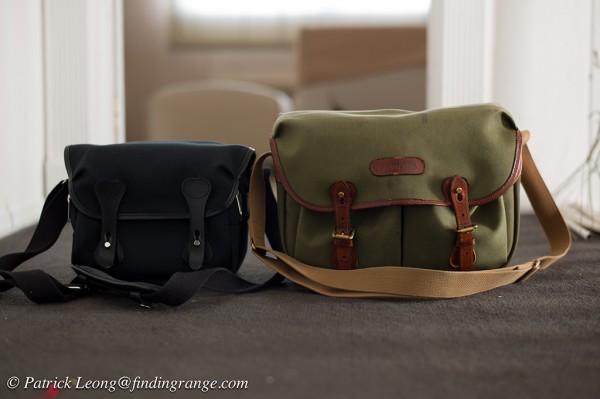 ↑ Here is a size comparison: On the right is my green Hadley, and on the left is my black Combination bag.  The Billingham Combination bag is a lot smaller but believe it or not, it hold almost as much stuff as my Hadley.
So Great Bag But What Are The Negatives?:
Well, one thing I wished this bag had were more compartments.  It has one big zippered compartment in the front of the bag but why not put smaller compartments inside this zippered pouch?  Everything inside this big compartment sometimes bounces around in there.  There's not even a pen holder inside.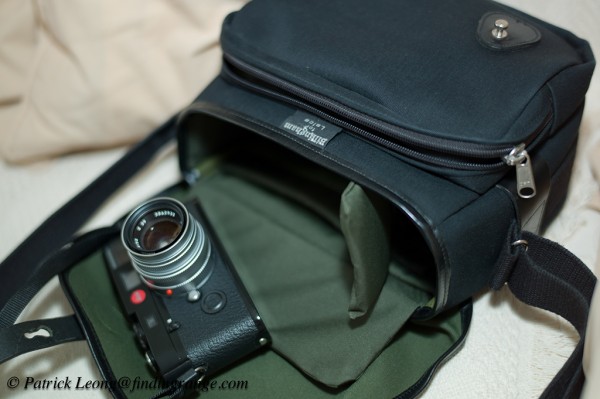 ↑ There is a large zippered compartment but I wished Billingham would have put smaller compartments inside this zippered part.  There's ample space to do so, I have no idea why they didn't do it. 
The other issue that some may have with the Billingham Combination bag (although this is personal preference) is that the bag is a little too square shaped for some.  With the Hadley series, they can easily pass off as messenger bags or even briefcases (I saw a businessman on the train using a Hadley as a briefcase).  But this bag looks a little more like a camera bag.  However, if you don't like the square shape you can always buy the Billingham Hadley Small, which offers a slimmer shape.  I wanted a bag with a wider shape so that I could put my camera in lying on its base with a lens like my 50 Summilux ASPH attached, which is a little longer.  I actually found the Hadley Small a little too small for my taste.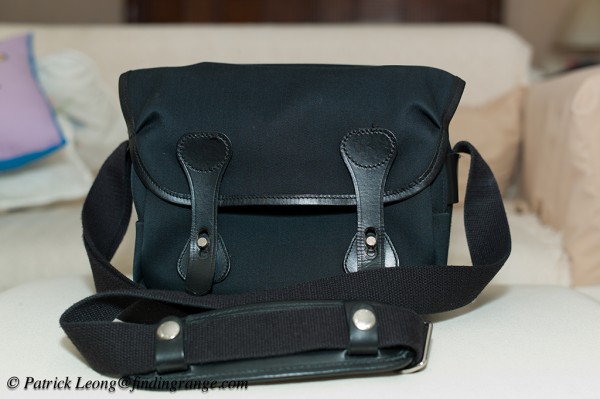 ↑ The Billingham Combination bag is rectangle shaped and might be uncomfortable for some.  I generally have no problem with it at all but once in a while, I kind of wished it hugged my body a bit better like a messenger style bag (for example: a Hadley). 
Last Thoughts on the Billingham Combination Bag:
Like every other Billingham bag, the Billingham Combination bag is a discreet, and classy camera bag that offers superior protection.  It's built with only the best materials out there, and assembled by master craftsman.  This bag goes for around $260 to $270, and while this may be expensive to some, it's worth it because this bag will last a very long time offering excellent protection.  Compared to what equipment the average potential buyer will put into this bag, it does not cost so much.  Plus you also have to remember: Billingham bags rarely change in design.  Even if you buy this bag purely for aesthetic reasons, you probably won't ever have to buy another bag because the chances of Billingham upgrading this bag's design is very small.  In other words, you probably only have to buy once as opposed to several times.  The Billingham Combination bag can be found here at Amazon or here at Adorama.  I don't buy Billingham bags just for aesthetic reasons.  I buy them because they really do protect your equipment. And personally, if I'm going to spend thousands of dollars buying Leica equipment, you better believe that I will buy a nice bag to protect all of it.
Specifications For The Billingham Combination Bag:
Material
Fine leather trimmed canvas
Capacity
Either two M cameras with two lenses, flash, film, accessories or one camera and three lenses, flash, film, accessories.  Also for Digilux 3 or any M rangefinder size systems
Type of Closure
Quick-releasing Press Studs
Colors Available
Exterior Dimensions
W x D x H: 10.5″ x 5.75″ x 7.75″ (266mm x 146mm x 197mm)
Interior Dimensions
W x D x H: 9.63″ x 4.25″ x 5.75″ (244mm x 108mm x 146mm)
Weight