Billingham Hadley Small Review:
The Billingham Hadley collection of bags are some of the most successful bags in the Billingham catalogue.  They are rightfully so because the combination of size, protection, durability, and dependibility of these bags are perfect for most photographers' needs.  I've had my original Hadley for well over 15 years, and it has not let me down once.  It has been crushed, been bumped around countless times, been through numerous rain storms, and to this day, it still protects my precious Leica equipment just as well as it did when I first purchased it.  But what happens if you want a Billingham Hadley but it's just too big for your photographic needs?  Well, Billingham has taken care of that need with their Billingham Hadley Small.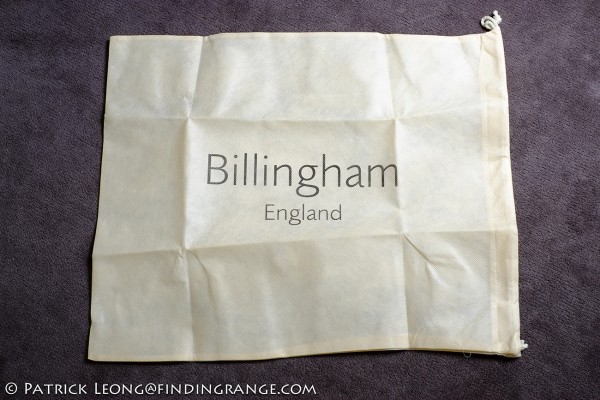 ↑ A bag for a bag :).
Billingham Hadley Small Build Quality:
When I opened the shipping box to this Billingham Hadley Small (B&H Photo/Amazon), I was very pleasantly surprised.  This bag is probably the most beautiful Billingham that I've ever seen.  It is simply gorgeous.  Seriously, I buy Billingham bags mainly for their protective capabilities but I really love how this bag looks.  The one that I'm reviewing here is Sage in color, and made out of Billigham's FibreNyte material.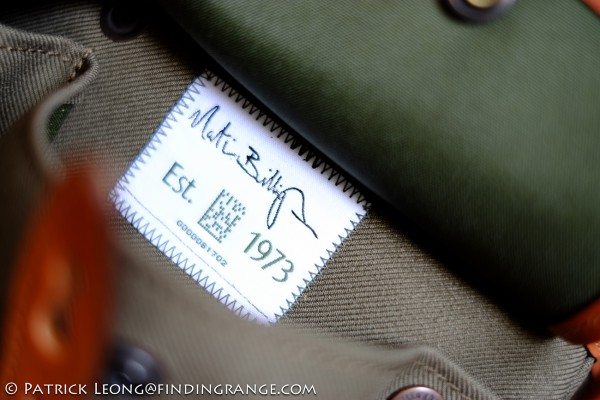 ↑ A cool little signature inside one of the pockets.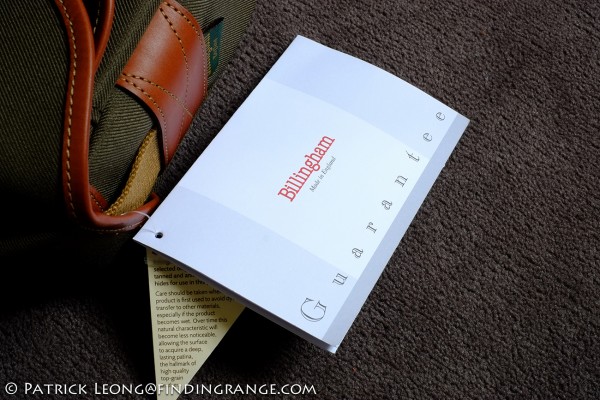 ↑ Billingham has a great warranty on their bags.
So what is Billingham's Fibernyte material?  It's a synthetic material that's tougher, and lighter than their traditional canvas material.  The fabric is abrasion resistant but it's still very supple.  According to Billingham, FibreNyte is a durable material, which is bonded to a polyester lining using Billingham's StormBlock butyl rubber, and it ways 10% less than their traditional canvas.  Lastly, FybreNyte is also more colorfast because the dyes can be bonded to the material more easily.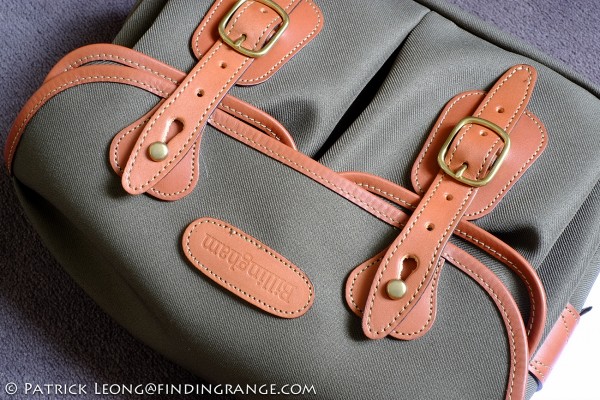 ↑ Front view of the Billingham Hadley Small.  I shot a close up so you can see the pattern of the material.
↑ Side view of the Billingham Hadley Small.
My take on FybreNyte is that it's actually pretty good.  It does feel slightly lighter, and I think the only thing that you'll be missing from the canvas is the slightly softer feel.  Although, I guess if you wanted a bag that showed more patina, wear or that's a bit more traditional, I would suggest you get the canvas instead.  As stated by Billingham, the dyes stay on better to the FibreNyte material therefore it is more fade resistant, and less likely to show wear.  The canvas will also probably give you more of the traditional feel often associated with Billingham bags.  I actually don't think that there is much of a difference between the two fabrics.  However, if I had to choose between the two, I actually prefer the FibreNyte material because this sage color is really attractive looking in person.  Plus, to me, the feel is still very similar to the canvas option, and it's also more durable.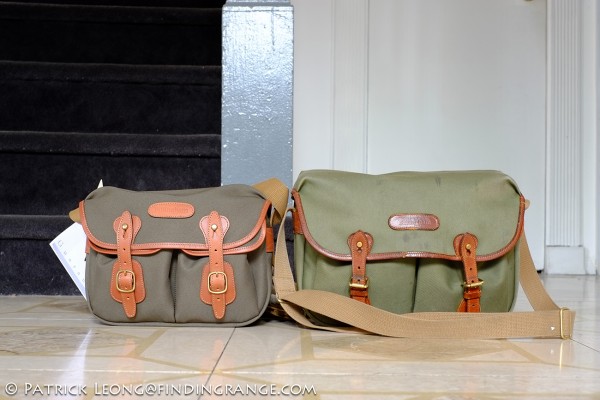 ↑ Billingham Hadley Small vs. Billingham Hadley original.  My original Hadley is made out of canvas, and you can clearly see that it has faded over time.  The new FibreNyte material used to make the Hadley Small should hold up a bit better.
Besides the FibreNyte, everything else is with the Billingham Hadley Small is the same as with other Billingham bags.  In other words, build quality is phenomenal as it should be for the price.  The main insert is fully removable so you can either use the bag by itself to carry other items besides photographic equipment or you can get a new replacement insert when yours wears out over time, greatly increasing the life expectancy of your bag.  This bag also features adjustable Quick Release Straps that go into brass buckles, bellowed front pockets with press-stud fastenings, and a double darted main flap which covers the mouth of the bag when closed protecting it from rain and weather elements.  The two front pockets can also be expanded a bit if you need the space by unbuttoning the press-studs.  Furthermore, the Billingham Hadley Small (B&H Photo/Amazon) comes with four velcro dividers, which can be placed pretty much anywhere in the bag.  Like all Billinghams, you will probably never need to buy another bag because this bag should last you a lifetime especially since you can replace the main insert if yours wears out over time.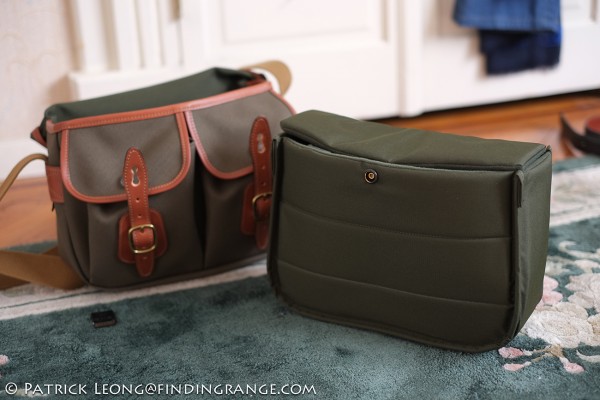 ↑ The Insert in the Billingham Hadley Small is fully removable.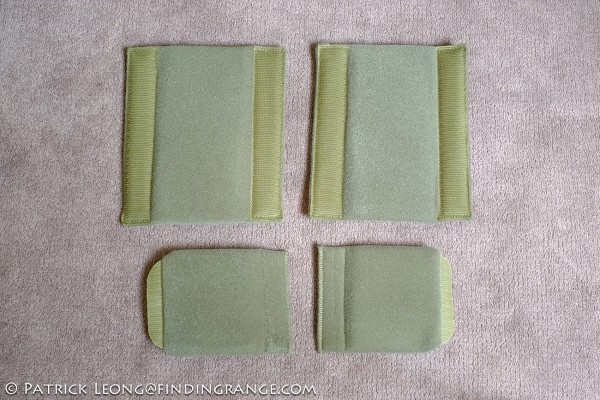 ↑ The Billingham Hadley Small comes with 4 velcro dividers.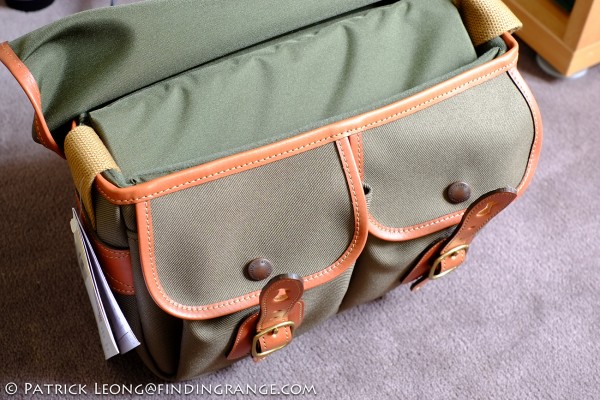 ↑ Once you open up the Billingham Hadley Small, there's a another flap on top of your equipment for added protection.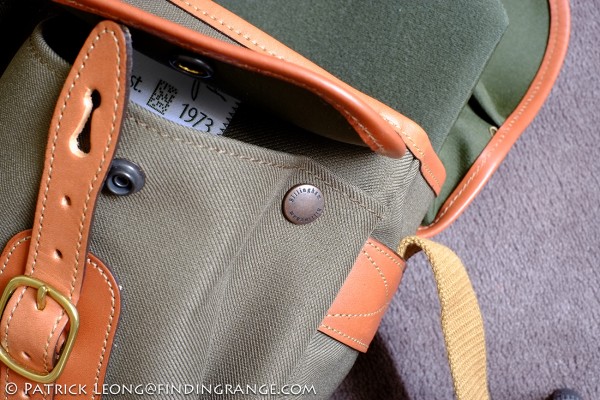 ↑ The two front pockets can be expanded a bit if you need more space by unbuttoning the press-studs.
What I can Fit Into a Billingham Hadley Small:
Don't let the small in Billingham Hadley Small fool you; on the outside it may look small but it can fit a lot, especially if you use smaller cameras, such as, mirrorless or rangefinders.  I was able to fit in a complete Leica M system, which includes: Leica M body with lens attached, 4 other different lenses, a Leica M charger, a roll of film in the carton, a Leica M battery, and a Giottos small Rocket Air Blaster.  If I wanted to, I probably could've put in one or two more lenses, and various other accessories.  With all that equipment, the bag feels completely fine.  It does not feel strained in any way, and it's completely comfortable, and supportive to carry all day long.  Everything in the bag feels completely balanced so there's less strain on the person carrying it.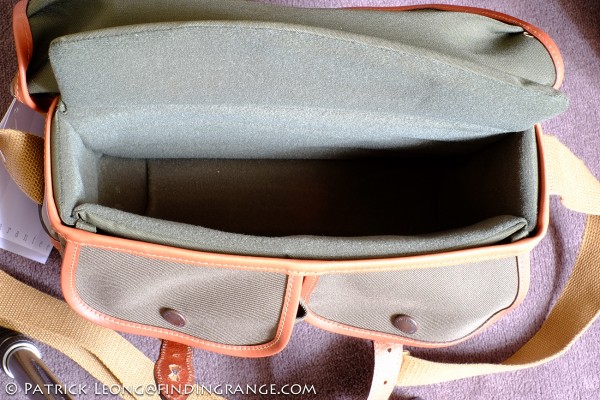 ↑ Inside view of the Billingham Hadley Small.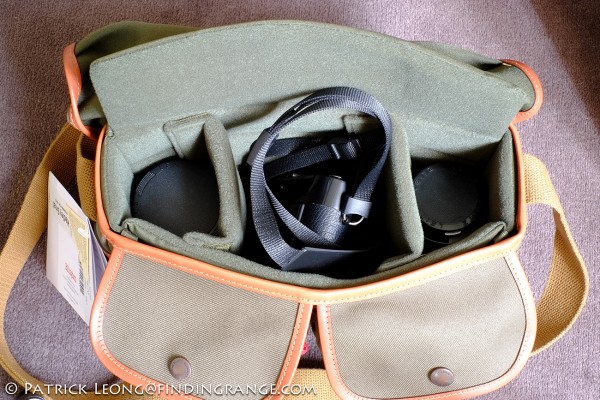 ↑ Inside view of the Billingham Hadley Small with equipment.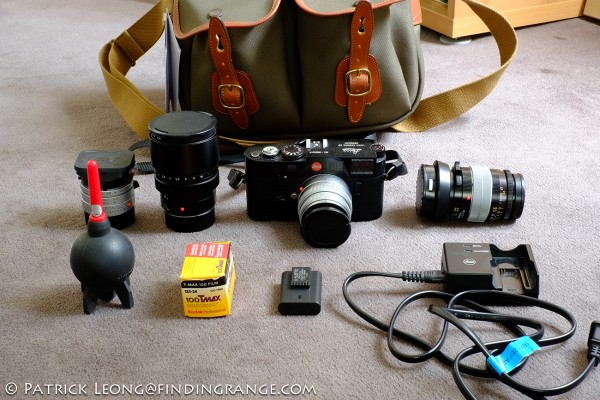 ↑ The Billingham Hadley Small might look small outside but it can fit a lot.
Billingham Hadley Small vs. Billingham Combination bag:
Some interested in the Billingham Hadley Small (B&H Photo/Amazon) might also be considering the purchase of the Billingham M Combo bag as well.  Well, I've been using the Billingham M Combination bag for quite some time, and I love it.  You can check out my review of the M Combo bag here.  The only thing that I don't like about it is that it's a little wider…or more square shaped.  The Hadleys are great because they wrap around the body a bit tighter, therefore, make them easier to navigate through traffic a bit without bumping into something.  Plus, the Biillingham Hadley Small does have two separate pockets as opposed to one big pocket with the M Combo bag.  This may be a good thing or a bad thing depending on your requirements from a bag.  I prefer the two pockets over the one.  Also, prices do vary a bit depending on where you buy these bags but I find that the Billingham Hadley Small is actually a bit cheaper than the M Combo bag.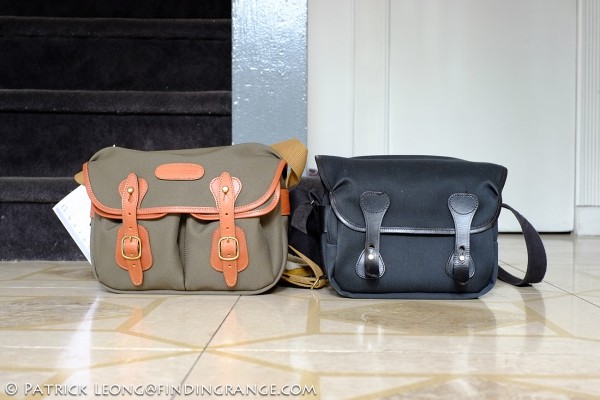 ↑ Billingham Hadley Small vs. Billingham Combination bag.
I will say one last thing that I do like about the M Combo bag that the Billingham Hadley Small does not have: I like the fiberglass plate on the bottom of the bag.  It's probably not such a big deal but the plate protects the bottom a bit, and it does help stabilize the bag a little when you put it down on the floor.  I will probably do a better comparison between these two bags in a future post.
Is The Billingham Hadley Small The Perfect Camera Bag?:
In use, the Billingham Hadley Small (B&H Photo/Amazon) is slim and nimble, so it's easy to walk around the busy streets of New York City.  It actually looks like a nice messenger bag rather than a full fledged camera bag.  I know that some might believe that people associate Billingham bags with expensive camera equipment but I found the opposite to be the case.  In fact, so far, I haven't met anyone who even knows what a Hadley Small is made for.  This goes with all my Billingham bags.  I went on a wedding shoot one time, and the bride and groom thought my original Hadley was just a messenger bag.  However, I do see other photographers carrying Lowepro bags or Crumpler bags being noticed quite a bit.  This is not an attack on people who use other camera bags as there are plenty of excellent alternatives to Billingham bags.  It's just that those bags are more common, and therefore, in my opinion, more associated with camera equipment.
This bag is seriously nice.  I actually have no complaints that I can think of with this bag.  I love my original Hadley but I  always wished that it was smaller.  Now it is :).  I can't say it's unattractive because I honestly think that this bag is the best looking Billingham out there.  The color is also really nice looking.  The padding in the Billingham Hadley Small is amazing.  I'm surprised at how small this bag is considering that it can fit so much gear, and be so well padded at the same time.  Seriously, this bag protects my equipment extremely well, and it also has two expandable pockets in the front as opposed to the one zippered pocket in the Billingham M Combination bag, which I like better.
The Billingham Hadley Small also feels a bit slimmer than the M Combo bag, which I prefer.  When you put these two bags together, it's hard to tell which one is actually bigger.  I think the reason the Hadley Small feels slimmer is because it's not so square shaped, and it doesn't have the fiberglass plate on the bottom like the M combo bag.  This allows the bag to wrap around the individual a bit better similar to a regular messenger bag.
For me, I think that the Billingham Hadley Small (B&H Photo/Amazon) is the perfect bag for my purposes.  Even if you're carrying minimal equipment, you can take this bag along because it is so light and nimble.  You don't have to be afraid of bumping around in crowded streets like the ones in Times Square because this bag is extremely well padded.  It's like a vault.  The flap is also very secure so it won't come off in a crowded street unless you intentionally unhinged the leather straps.  It never gets in the way in a crowded subway station or a busy street, and everyone thinks it's just a fancy messenger bag as opposed to a camera bag.  Plus its great to know that if a sudden downpour were to occur, your gear will be well protected.
Specifications For The Billingham Hadley Small:
Material
Exterior: FiberNyte is a reinforced, abrasion-resistant cotton canvas
Interior: Polyester lining using StormBlock butyl rubber, high-density, closed-cell foam
Trim: Tan leather trim
Type of Closure
Quick-release buckles
Solid brass clog bolt and harness leather locking system
Exterior Dimensions
11 1/2 x 4 3/4 x 8 1/4″(27.9 x 11.8 x 20.6cm)
Interior Dimensions
10 1/4 x 2 3/4 x 7 1/4″ (25.4 x 7 x 18.5cm)
Carrying/Transport Options
Adjustable shoulder strap
Weight
Billingham Hadley Small Final Thoughts:
Anyone who needs a small bag that can pack a lot, especially if you use a mirrorless or a rangefinder camera, should look no further because the Billingham Hadley Small (B&H Photo/Amazon) might be the perfect bag for you.  It offers superior protection for your equipment, the inserts are fully adjustable, and it looks good :).  Yes, the bag does look very well made but no one I ran into thought that it was a camera bag.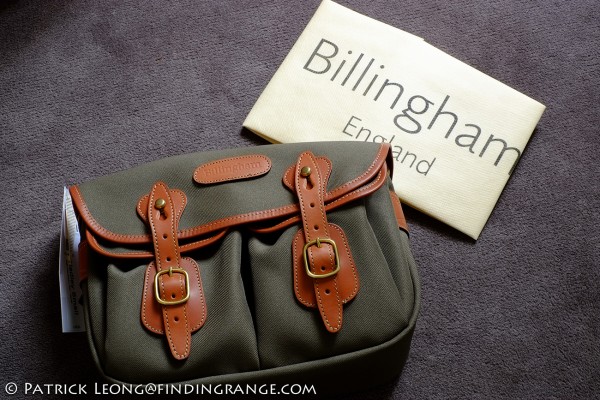 ↑ I love this bag! 🙂
While Billingham bags are expensive, I'm a firm believer in you get what you pay for; in this case, the Billingham Hadley Small (B&H Photo/Amazon) has been made with the finest materials, and I'm sure that it will last a lifetime.  These bags offer incredible protection, and they are insanely waterproof.  I've been through countless rainstorms with my other Billingham bags, and not once has my gear ever been wet.  In the long run, I find these bags cheaper because I don't end up buying multiple bags.  I use Billingham bags exclusively, and it's not because it's a fashion statement for me.  I like to buy things once, and I like to be completely happy with my purchase.  I'm willing to pay more for a product if I know it is completely dependible, and it gives me years of use.  These bags can handle whatever you throw at them, and you better believe that I will buy a good bag, whether it'd be expensive or not,  if I'm carrying a system where my camera body costs me $7000.  For a system like the Leica M, $200 to $300 does not sound like much to me, if it gives me a bit more peace of mind :).
If you're considering buying the Hadley Small, and my review helped you decide, please help support me by purchasing from one of the links below.  Thank you for your support!
B&H Photo:
Sage w/Tan Trim,  Khaki,  Black w/Black Trim,  Black w/Tan Trim
Amazon:
Sage w/Tan Trim,  Khaki,  Black w/Black Trim,  Black w/Tan Trim
Adorama:
Sage w/Tan Trim,  Khaki,  Black w/Black Trim,  Black w/Tan Trim