Billingham Hadley Pro Review:
There are plenty of decent camera bags out there nowadays.  Domke, Artisan & Artist, and Think Tank are just a few companies that come to my mind that make great camera bags but there are plenty more.  Billingham is another company that has been making great bags as well, and one series that Billingham has been producing for quite some time is the Hadley range, which is one of their most popular series of bags for several reasons: the Hadley range is made up of a bunch of bags that are extremely dependable, perfectly sized, comfortable, and built to last.  They make various models but one of their most popular bags in this series is the Billingham Hadley Pro (B&H Photo/Amazon).
Billingham Hadley Pro Build Quality:
If you're after a classic look, the Billingham bags are a fantastic option.  In fact, they almost never change in style (I've had my Hadley since the early '90's), which only adds to their classic appeal and timeless quality.  They're not flashy or pompous looking; in fact, I would argue that they are more subtle than some of the more expensive high end camera bags that are coming out these days.  To me, they don't even look like traditional camera bags, which makes them very discreet.  In fact, I've actually seen many people on the subway use the Hadley Pro as a regular messenger bag.  But while the appearance of these bags is nice, it's not the main reason for why I buy them.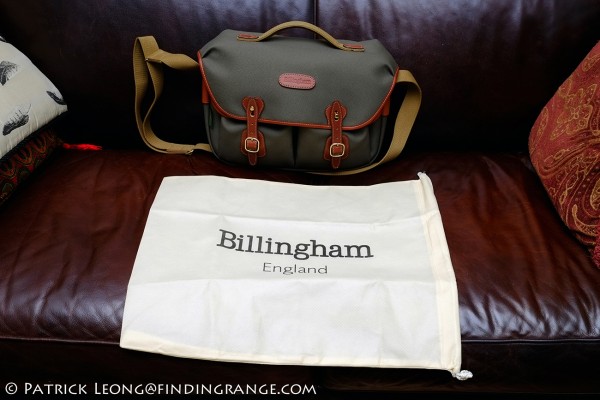 ↑ The Billingham Hadley Pro comes with a bag but I lost mine a long time ago.
Billingham bags are the camera bags that I recommend most because of their indestructible nature.  I've reviewed several Billingham bags in the past but bought only two (a Hadley and an M Combo) because there has never been a need for any sort of replacement for them.  From the the type of canvas chosen to the solid brass fittings used, Billingham bags last forever, and the Hadley Pro is no exception to this rule.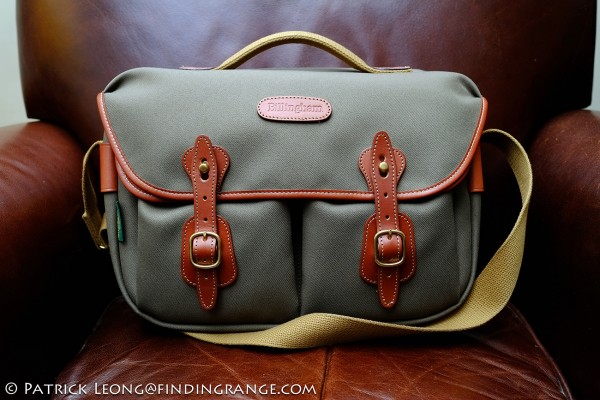 ↑ The front of the Billingham Hadley Pro
These bags are more expensive than some but in my opinion, worth every penny because they last so long, and they protect my gear so well.  I've had my original Hadley for over 15 years, and it has not let me down once.  My Hadley has not been pampered either: it's been through bumps, drops, scrapes, sand, snow storms, major tropical rainstorms, and worst of all, my organic chemistry class :).  I've had a puddle from a major rainstorm form on top of my bag that never soaked through.  All of my camera equipment stayed completely dry without even a hint of dampness inside.  There was even a time when I was shooting a wedding at Cayman, and I had to leave my M Combo bag out in a sudden downpour.  Again, everything was completely dry.  So, if you're wondering whether or not these bags are water proof, there's your answer :).  If anything, my Hadley has only gotten better with age because the patina adds a really distinct character to it.
Looking at the Billingham Hadley Pro (B&H Photo/Amazon), and comparing it to my original Hadley, I can see that the high quality craftsmanship is still top notch.  While Billingham bags are expensive, they are a classic example of the phrase, "you get what you paid for".  I say this because these are extremely well made bags, and the photos do not do them justice.  Only the best materials are used and the workmanship is perfect.
When you open the Hadley Pro, there is an insert, which is very versatile because it can be removed, so you can use the bag to carry other items besides camera equipment.  I've actually used my original Hadley as a school bag a few times when I was in college.  As I mentioned before, I've seen a few people use the Hadley Pro simply as a messenger bag on the train.  Another great feature about the removable insert is if it wears out over the years, you can easily purchase a replacement insert instead of buying a new bag.  I've already done this with my original Hadley.  The quick release leather straps, which are adjustable, can also be easily replaced when they wear out over time, although I have not changed mine yet.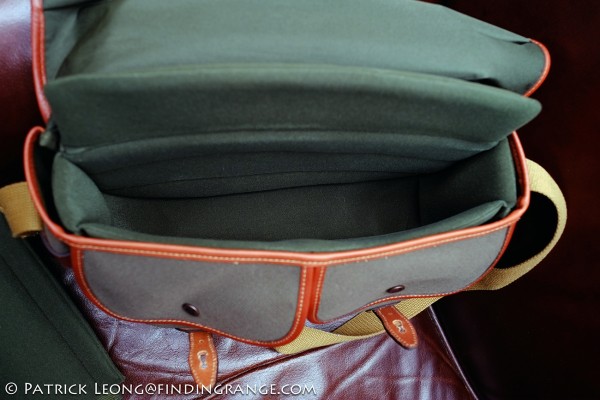 ↑ Inside the Hadley Pro with the insert in place.  The insert is secured in place with a press-stud.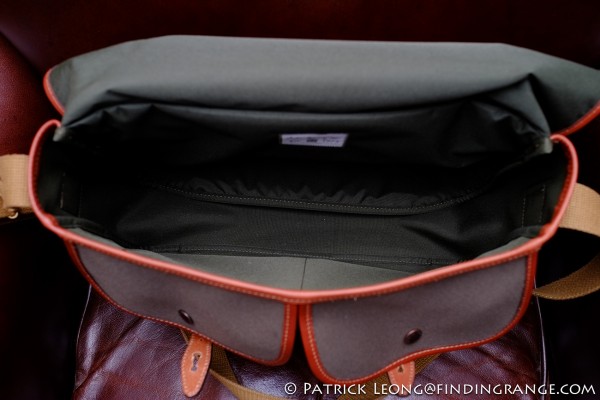 ↑ Inside the Hadley Pro without the insert.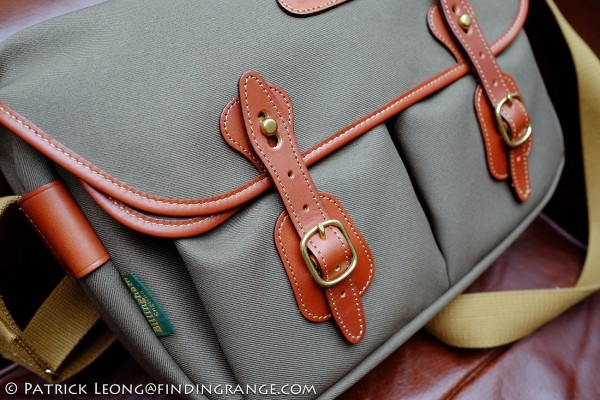 ↑ Like the insert, the quick release leather straps can also be replaced if they wear out over time.
Even the carrying handle on this bag is built to withstand years of use.  Instead of just attaching the carrying handle to the fabric of the bag itself, Billingham inserted a fiberglass stiffener on the top flap, where the carrying handle is attached.  By doing this, the weight of your gear won't wear holes in your canvas because it is attached to the fiberglass stiffener instead.  The fiberglass stiffener also adds support and shape to the bag.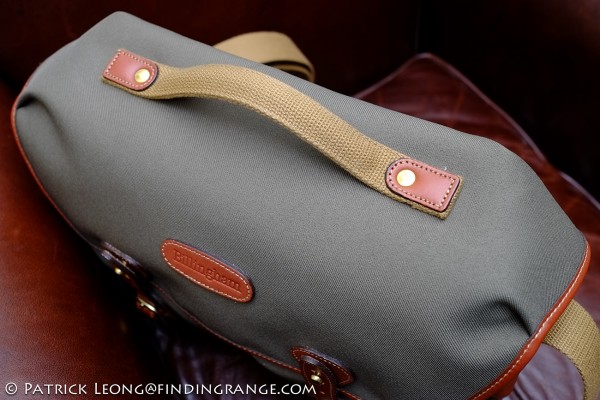 ↑ The main differences between my original Hadley, and the Hadley Pro is the Pro comes with a carrying handle, and a zipper portion on the back of the bag.
There are four dividers that come with the Billingham Hadley Pro, and since the entire insert is made out of cloth, there are many different ways that you can velcro the inserts for a very customizable fit.  The insert and the dividers provide very well padded protection for your gear, so you never have to worry about your equipment once everything is in the bag.  I want to emphasize that the padding is absolutely fantastic, and personally, I think this is really the main selling point of these Billingham bags.  You really never have to worry about your gear.  The whole bag can take some serious punishment but when you open it, everything is still in exactly the same place that you left it, and most importantly, there is no damage to anything.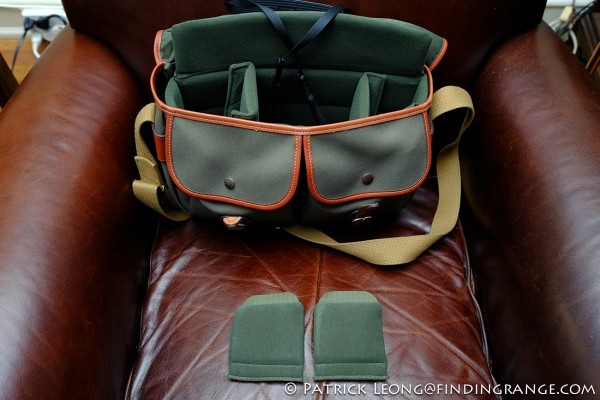 ↑ The bag come with two large dividers (which I already attached inside the bag), and two smaller dividers.
Leica equipment is insanely expensive but nowadays, most camera equipment is expensive in general.  Look at the Fuji: lenses use to cost around $600 but now, the new XF 23mm costs $900.  The Billingham bags are expensive but at around $250 – 260, it's a very decent price to pay for peace of mind, and in a way, insurance for expensive equipment whether it be Fuji, Nikon, Canon, Olympus or Leica.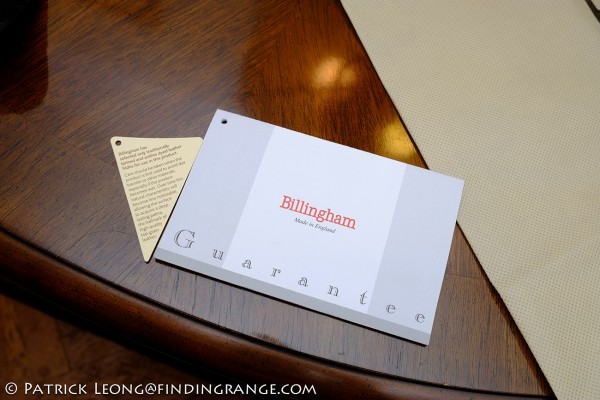 ↑ Billingham bags come with a great warranty.
What Can You Fit Into The Billingham Hadley Pro?:
The Billingham Hadley Pro (B&H Photo/Amazon) is not only a well built bag, it also holds quite a lot of photographic equipment, especially for a bag of its size.  The question should really be, how much strain are you willing to put on your shoulders?  I say this because you can really stuff this bag full, and it can definitely carry a lot of weight.  The only thing I recommend you do is if you do stuff your bag full, purchase is the SP40 Leather Shoulder Pad.
If you're a mirrorless or a rangefinder shooter, you could stuff your whole kit into this bag and more.  In the insert part of the bag, I've stuffed one M body, and five lenses.  Depending on the sizes of my lenses, I'm confident that I can stuff one or two more lenses in addition to the five that I've mentioned.  I can even stuff another M body.  The great thing about Billingham bags is you can buy additional dividers in all shapes and sizes, which I do, so I can fit even more without damaging my equipment.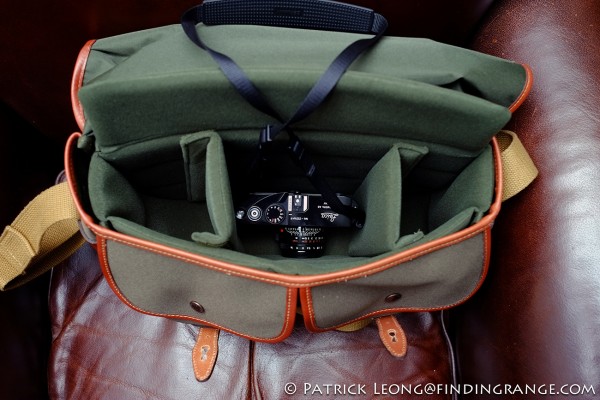 ↑ Here's a view of the inside of the bag with the two larger dividers and my M6.
In addition to the insert, the Hadley Pro has two additional front pockets that can be expanded by unbuttoning the press-studs.  I've put my Leica SF-58 flash, my camera battery charger, WhiBal White Balance Gray Card, a bunch of memory cards, a spare battery, and two Pocket Wizards in those pockets.  In addition to that, I have some papers, and a magazine that I slide behind the insert inside the bag.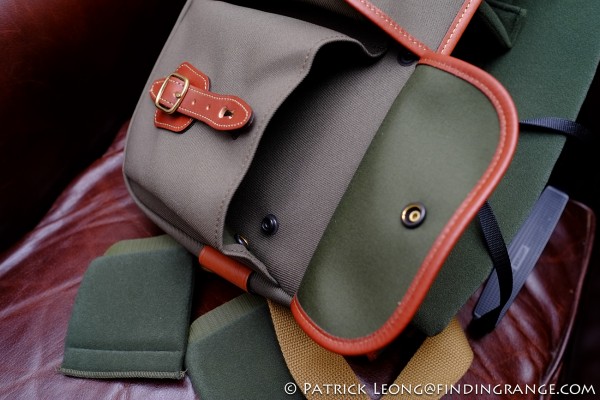 ↑ The front pockets can expand by unbuttoning the press-studs.
On the back of the Hadley Pro, there's a huge pocket with a zipper that's protected from the rain, which I can put an Ipad in.  Now, that's just me.  Depending on your equipment, you could potentially hold even more in this bag.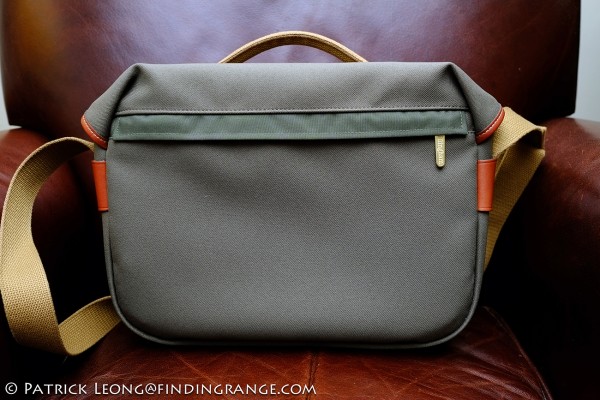 ↑ The back of the Hadley Pro has a pouch with a zipper where you can put flat materials, such as, magazines, papers, and an Ipad.
While the Hadley Pro can hold a lot, it's also equally adept at carrying one camera with one lens because the bag itself really isn't that big.  The bag feels perfectly fine with such a small amount of equipment, and in no way, does it get in the way or feel cumbersome and heavy.  In fact, the bag doesn't weigh much at all.  The Hadley Pro retains it's general shape very nicely yet it also wraps around your body very well allowing you to retain a slim profile making it very easy to cut through the massive crowds on the streets of New York City.  It's a really easy , and most importantly, a comfortable bag to carry around all day.  While you might be better suited getting the Billingham Hadley Small for such a purpose, it's great to have that versatility in a bag that can carry so much.
Billingham Hadley Pro Specifications:
External dimensions (excluding handle):
W390mm (15.") x D120mm (4¾") x H260mm (10¼")
Internal dimensions:
W340mm (13.") x D80mm (3.") x H230mm (9″)
Capacity:
Weight:
Front 'dump' pocket
W130 to 170mm (5." to 6¾") x D40 to 60mm (1½" to 2.") x H200mm (7.")
Capacity:
1 to 1.25 litres (0.03 feet³ to 0.04 feet³)
Rear zippered pocket:
W320mm (12.") x D Nominal x H220mm (8.")
Capacity:
Billingham Hadley Pro Verdict:
The Billingham Hadley Pro (B&H Photo/Amazon) is a no-nonsense workhorse of a bag that is extremely adaptable.  It can carry a lot of photographic equipment yet it's equally happy just carrying the basics without causing you many of the inconveniences of a large camera bag.  It is also extremely comfortable to carry around all day.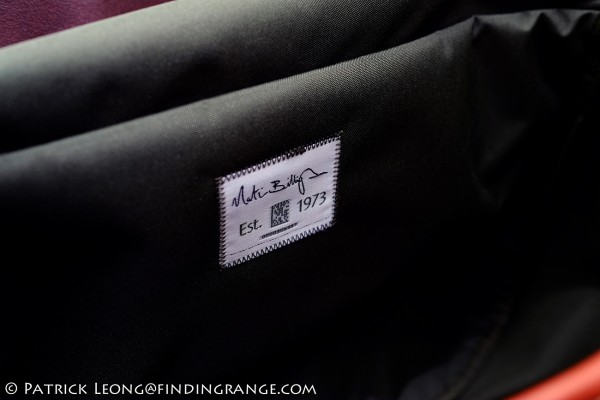 In addition to its versatility, the Billingham Hadley Pro offers, in my opinion, the best protection for your photographic equipment.  Gear is expensive whether it's Leica, Nikon, Canon or Fuji, and for around $250, the Hadley offers an extremely well made, and well protected place for your equipment.  It feels like a bank vault at times.  The padding is excellent, and the outer portion of the bag is not only made with the finest materials, it's also weather proof, and designed to last many years.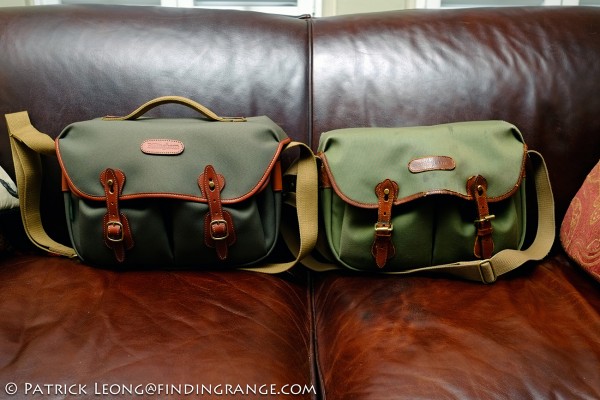 ↑ The Hadley Pro on the left, and my original Hadley on the right.
As I said before, there are many great bags out there but from what I've experienced from my original Hadley and my M Combo bag, I'm afraid that I probably won't buy any other manufacturer's bag anytime soon.  I have absolutely nothing against any other bag.  In fact, I really like the Think Tank Retrospective series, and I've owned several Domke bags in the past.  It's just my original Hadley has served me extremely well over the years, and has really left a huge impression on me.  If I recall correctly, the price of my original Hadley was somewhere around $200-250 but over 15 years later, and after several different camera systems ranging from Leica, Mamiya, and Fuji, my original Hadley is still going strong today.
That's it for my review.  Thanks for taking the time out to read it!  If you're considering buying the Billingham Hadley Pro, and my review helped you decide, please help support this site by purchasing from one of the links below or any of the links on this blog.  These are places I shop at myself, and it will not cost you anything extra.  Thank you for your support!
Billingham Hadley Pro at B&H Photo:
Billingham Hadley Pro at Amazon:
Billingham Hadley Pro at Adorama: