Billingham Hadley One Camera Bag Review:
I consider the Billingham Hadley Pro a classic.  Even though the basic design has been around for what feels like forever, it's still one of the most popular bags that Billingham produces.  It's a great fit for a broad range of photographers.  It's one of the most well-manufactured bags out there, it offers superior protection against the elements, and it's extremely versatile in terms of what kind of a camera system it is able to fit.  But let's say you need something a little larger but at the same time, you love the overall design of the Hadley Pro.  Maybe you want some space for a laptop.  It wouldn't hurt if you could also fit a tablet as well.  Where do you turn to?  Well, that's where the new Hadley One comes into play, and thanks to Billingham, I was able to get one in to review.
Billingham Hadley One Camera Bag Build Quality:
For those who don't know, Billingham bags are not cheap but the phrase, "You get what you pay for", really is true when it comes to these bags.  Like the rest of the Billingham line, the Hadley One is impeccably made.  Every little detail is accounted for from the brass fittings to the full grain leather, which can be found throughout the entire bag.  The stitching is absolutely perfect, the materials are immaculately put together, and overall, it just feels like a high quality product.  It is true that there are a lot of new high end bag manufacturers nowadays, and some of them make outstanding products.  There is a lot of choice out there but one thing that Billingham has over many of them is the experience that comes from a company that has been at this for many years.  They have a proven formula, and quite frankly, it just works.  It's also worth mentioning that even after all these years, the quality never drops.  If anything, it only gets better.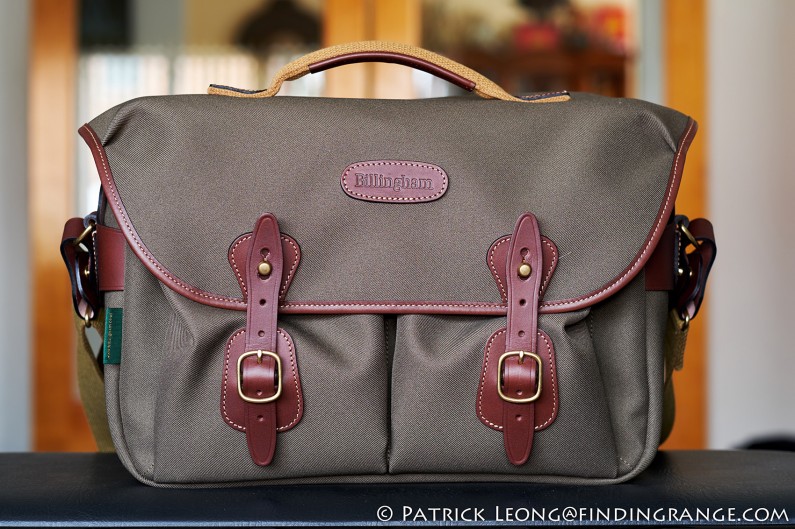 ↑ The Billingham Hadley One bag.
Now, some may label the Hadley One as just another boutique bag, and you really can't blame them because it does look absolutely gorgeous.  However, there is so much more to the Hadley One.  The truth is, this bag offers some of the best protection that you can get for your camera gear.  I know this from personal experience because I've been a Billingham user for decades, and trust me when I say to you that I am not easy on my bags.  I'm nice to my cameras 🙂 but I expect quite a lot out of my bags.  I throw them around, I drag them, I squeeze into crowded subway cars with them, and I go through insane weather with them.  These bags have no problems keeping up.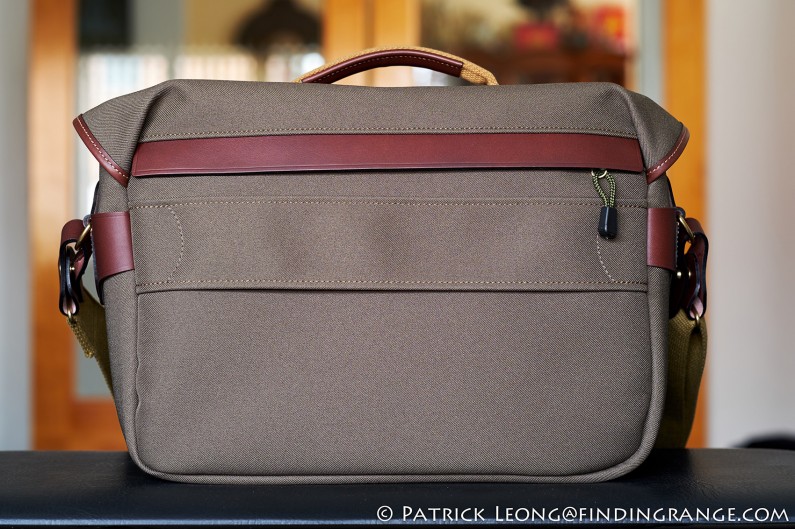 ↑ The back of the Hadley One.
It starts out with the outer material, which in this case, is FybreNyte.  In fact, this time around, Billingham has chosen to make the Hadley One exclusively out of this material.  It comes in three color combinations: black/black leather, tan/chocolate leather, and sage/chocolate leather.  This synthetic material is nearly as soft as the traditional canvas that can be found on other Billingham bags but with the added benefits of being lighter, more durable, and more fade resistant.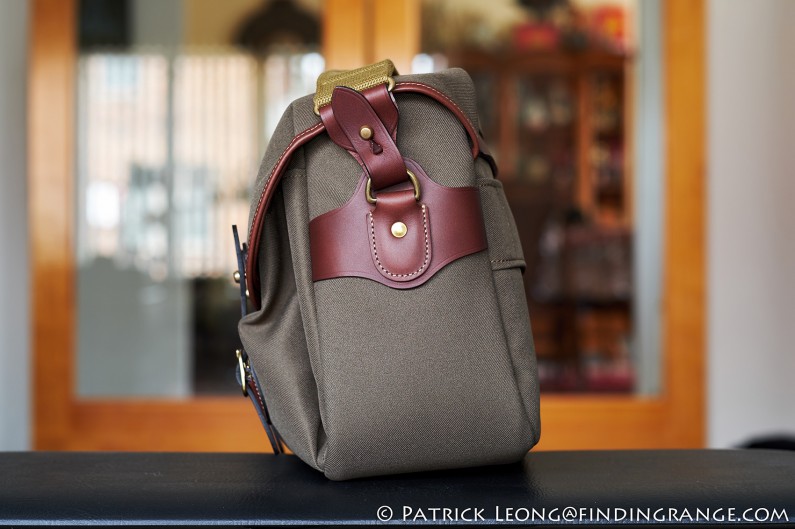 ↑ Here's a photo of the side.
For those who are new to Billingham, and aren't sure about the FibreNyte, maybe what I've experienced with this material will help.  Over the years, I've accumulated quite a few Billingham bags made from both the traditional canvas, and the synthetic FibreNyte.  Back in the day, I didn't really care whether my bags were made of canvas or FybreNyte.  The truth is, the FibreNyte really feels like the canvas, so I made my choice based on color.  But as the years progressed, I've found myself purchasing bags that were only made from their FibreNyte material because while the canvas does hold up quite well, the FibreNyte holds up even better.  I absolutely love the material because it's extremely durable.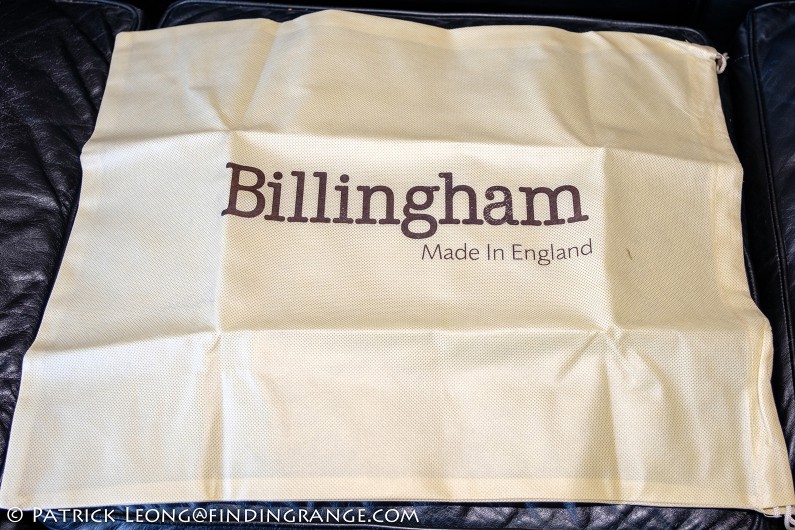 ↑ The Hadley One even comes with a nice bag to store it in.
In addition to the ultra resilient FibreNyte, the Hadley One is design to take whatever Mother Nature has in store.  Has I mentioned earlier, I'm out in some crazy weather at times, and from what I've experienced, quite frankly, I don't think you can get better weather protection than this.  If you look at the bag, the entire flap completely encompasses the main compartment including the two front dump pockets.  Snow, sleet, freezing rain, and minus wind chills are nothing for these bags.  I've had puddles form on top of my bags from major rain storms in the tropics.  There was one time I was shooting at a wedding in Cayman, and my Billingham M Combination was outside when all of a sudden, a crazy thunderstorm came along.  It was the first time that I was seriously a little nervous but guess what?  There was nothing to be nervous about because all my gear stayed completely dry.  In fact, there wasn't even a hint of dampness inside the bag.  These bags are seriously amazing when it comes to going out in harsh weather, and you know what the best part is?  I've actually never had to treat the fabrics with any additional waterproofing either.
Moreover, the Billingham Hadley One will definitely protect your gear from some serious impacts.  Unlike the Hadley Pro, which just has the padded insert, there is a thin layer of padding on the sides, the bottom, and the back of the Hadley One.  The back is a little thicker because it is dual layered, so you can slip your laptop in between them.  Then there's the insert that comes with the bag.  The insert by the way, has some of the best padding you can get from any manufacturer.  It's ultra thick, very soft, and literally cradles your gear.  The divider that comes with the insert attaches by velcro, and it's equally as impressive.
Overall, the inserts of the Hadley Pro, and Hadley Small have always added to the versatility of the bags because they can be fully removed allowing one to use the bags for different purposes, and it's no different with the Hadley One.  In fact, the idea seems to be improve upon further.  The Hadley One's insert is pretty unique for Billingham.  Instead of a full insert that fills the entire bag, it's essentially a half insert, and I actually really love this idea.  The Hadley One is already a big bag that's actually larger than the Hadley Pro, so half of the bag will still fit a lot of gear, which I will talk more about soon.  This leaves the other half of the bag for non-photo related items along with a laptop in the back.  Because of this, the Hadley One makes a great travel companion.  For some, it may even be a replacement for carrying two bags because you no longer have to carry a dedicated camera bag, and another bag for non-photo related articles.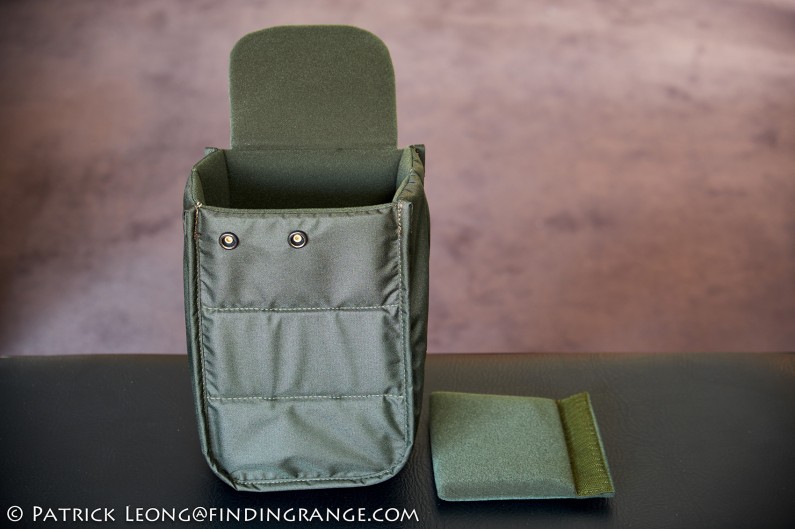 ↑ The half insert for the Hadley One.
As I said before, the insert is fully removable, so if you want to use the entire bag as say a work bag for instance, it's totally possible.  During my time in college, I actually used my original Hadley to carry my books.  I have a friend, who's a professor at a university, and he uses a Hadley Pro to carry his work to his classes.  I even saw another person riding the train with a Hadley Pro one time, and I saw him pulling out his work documents.  Like the Hadley Pro and Hadley Small, the insert for the Hadley One is held into place by press studs.  There are several press studs that line the bag, so you can actually move the half insert around, and secure it in your chosen position.
Another benefit to having a fully removable insert is that it adds longevity to the bag.  If the insert begins to wear over the years, you can easily purchase a replacement insert instead of buying a brand new bag.  I've already done this with my original Hadley.  So far, my Hadley has been in constant use for over two decades, and it's still going strong.  It's also worth mentioning, since we're on the topic of longevity, that the quick release leather straps, which are fully adjustable, can also be removed.  So, it they wear out over time, you can get those replaced as well.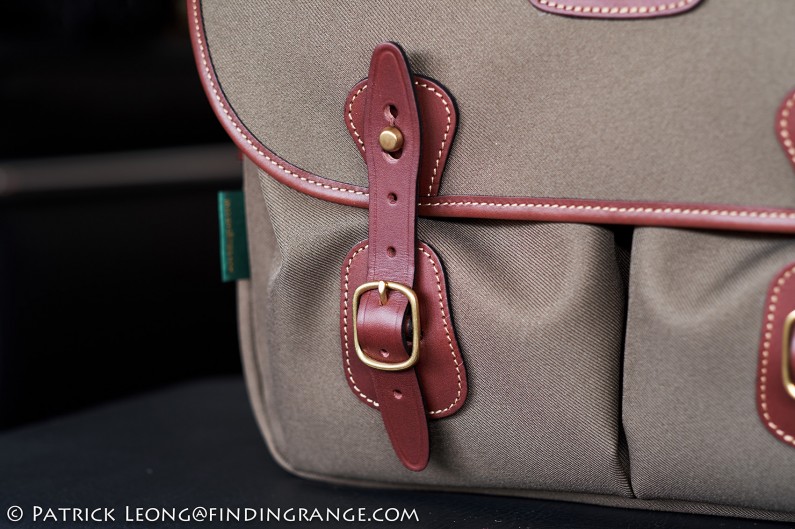 ↑ The leather straps are actually quite thick.  They won't wear out anytime soon.
Besides the half insert, there are actually quite a few other differences between the Billingham Hadley One, and the Pro even though on the outside, they look pretty much the same.  For instance, the Hadley One has a luggage trolley strap retainer, and of course, the 13 inch laptop holder I mentioned.  The shoulder sling is not only fully adjustable but now is also removable, and the top handle has been re-engineered for better comfort versus the one on the Hadley Pro.  The zippered back pocket with a rainproof zip also seems to be improved upon.  It now has a nice, thick piece of leather covering the zipper.  Furthermore, the flap actually opens up a lot easier than my original Hadley, and Hadley Small making access to the bag even easier while I'm walking.  The flap has a similar designed to my F-Stop 1.4 bag, which I really like.  The only feature that is missing from the Hadley Pro is the ability to expand the front dump pockets by unbuttoning the press studs.  Still, the front pockets hold quite a lot of stuff, which I'll demonstrate below.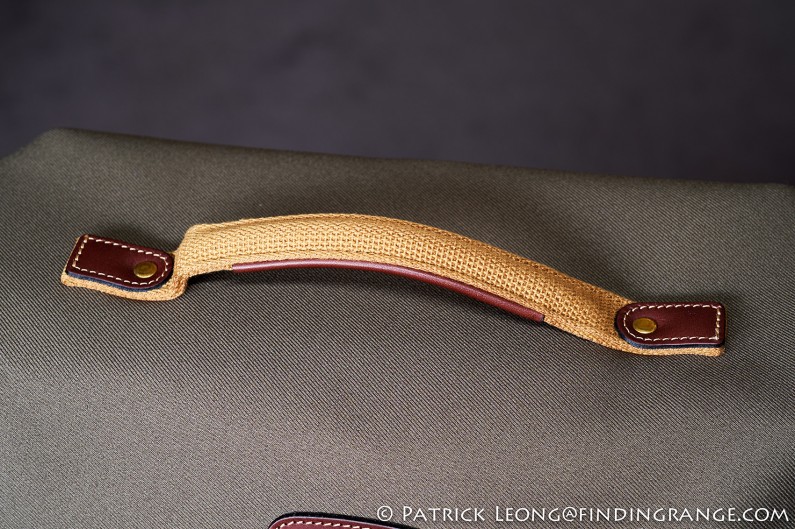 ↑ The top handle has been redesigned for better comfort vs. the one on the Hadley Pro.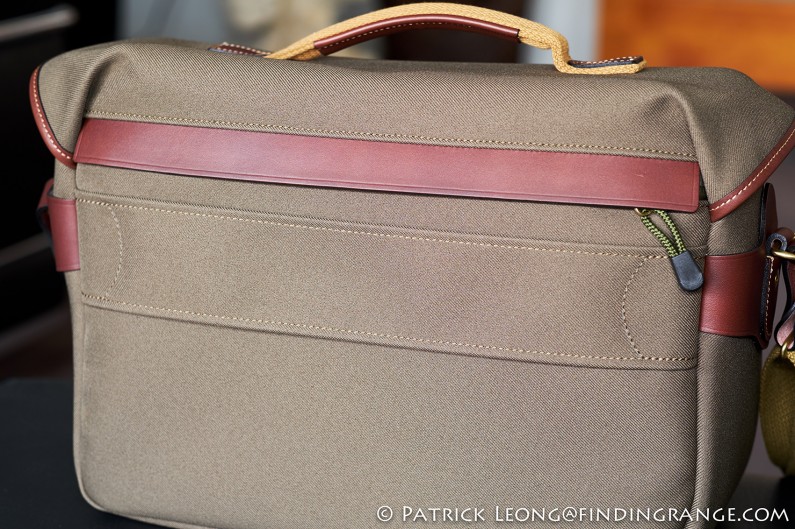 ↑ An ultra thick piece of leather protects the zipper for the back pocket.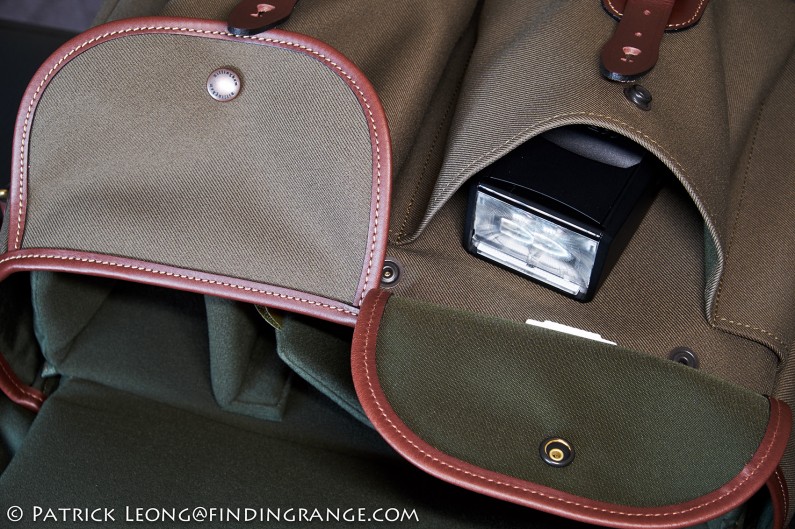 ↑ These dump pockets can hold plenty of stuff!
Billingham Hadley One Carrying Capacity:
Now, let's talk about how much gear the new Hadley One is actually able to carry.  Some will compare the Hadley One to the Hadley Pro because they look similar but know that the Hadley One is definitely a larger bag.  Therefore, it is able to hold quite a lot more.  Below are some pictures of the Hadley one with various kits to give you an idea of what it is able to carry, and how you would be able to configure things.  I was sent three different inserts (2 halves, and one full insert) but only one half insert with a divider is included.  The others can be purchased separately although right now, the full size insert that you see in these photos is a prototype.  It comes with two long dividers, and two short ones.  Billingham mentioned to me that the prototype's sizing may be slightly off but they sent it to me, so we could see how it would look in the bag.  Truthfully though, if they didn't tell me it was a prototype, I would've never guessed it because it seems to fit perfectly.  Again, this stuff is coming from a company that has ultra high standards.
Leica SL kit: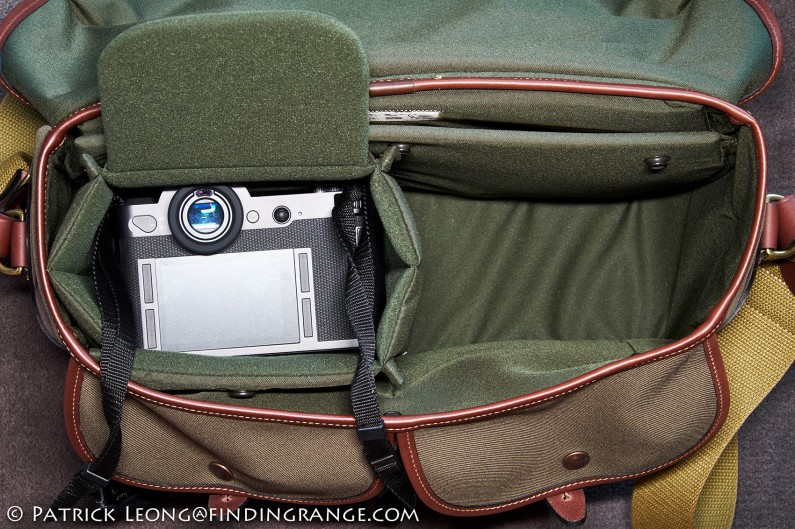 ↑ The half insert fits my entire Leica SL with my 50mm Summilux-SL!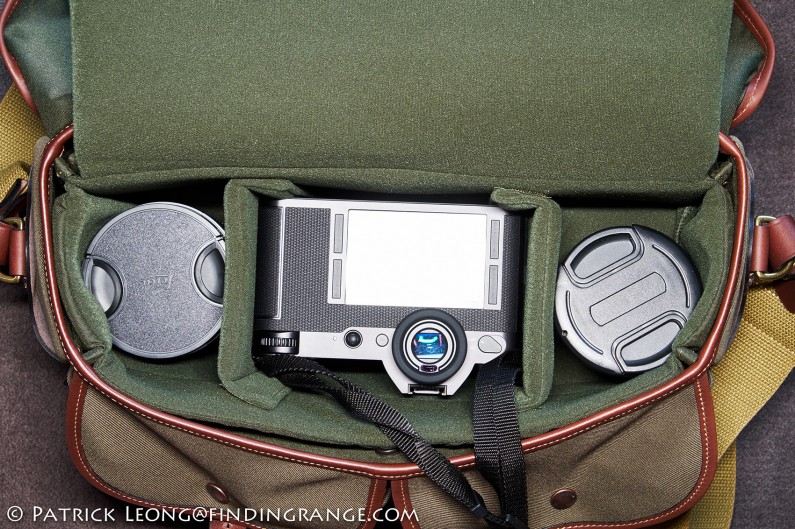 ↑ In this photo, I'm using the optional full insert.  I have my 18mm Super Elmar ASPH stacked on top of my 75mm Summilux (on the bottom of the small divider) on the right.  On the left is my 24-90 Vario-Elmarit.  In the middle is my SL with 50mm Summilux-SL attached.
Leica M kit: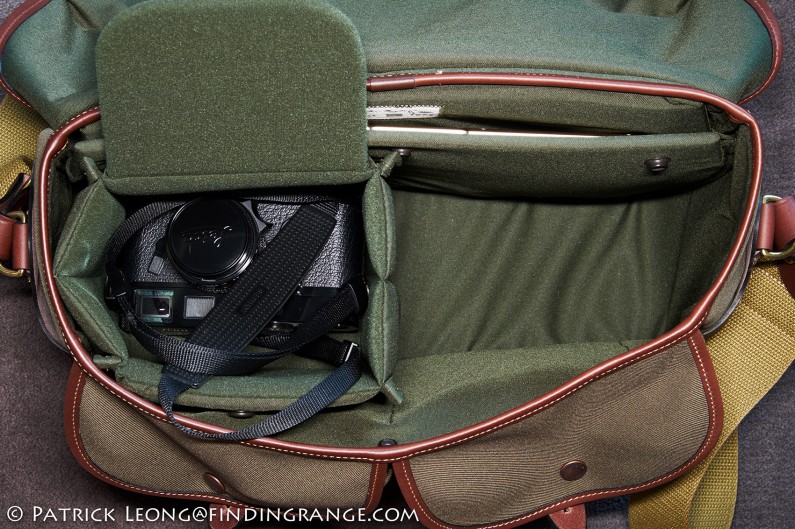 ↑ In this photo, I have my 18mm Super Elmar ASPH on the bottom, and on top of the divider is my M6 TTL Millennium with my 35mm Summicron ASPH.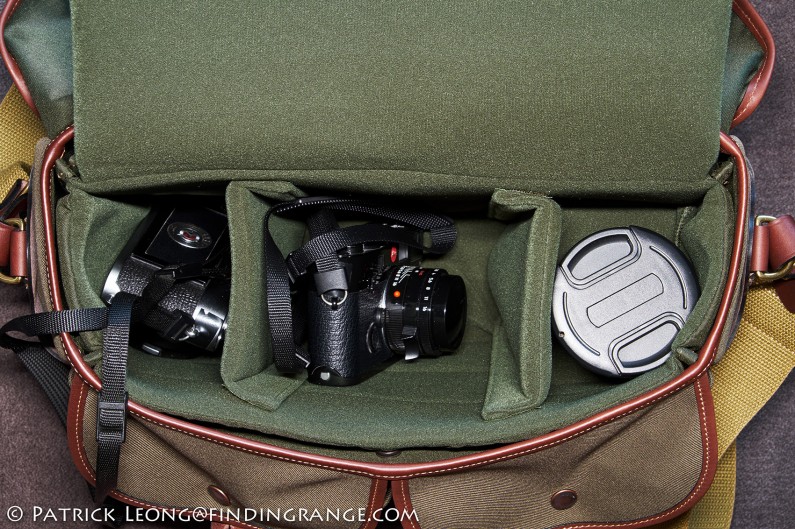 ↑ Here I am using the optional full insert again.  On the right of this photo, I have my 75mm Summilux (which is covered by a small divider), and 18mm Super Elmar ASPH stacked on top.  In the middle is my M6 TTL Millennium and 35mm Summicron ASPH.  On the left is my M3 with a 50mm Summicron.  Do you want to stack an extra lens?  Check the photo below.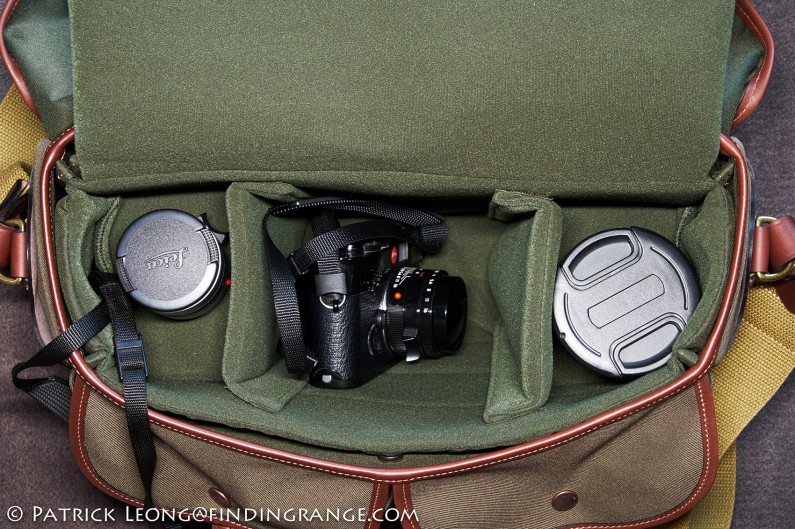 ↑ So, I have the same gear as the photo above with the addition of a 50mm Summilux ASPH on the left, which is stacked on top of my M3 and 50mm Summicron.
Leica M and SL Combination Kit: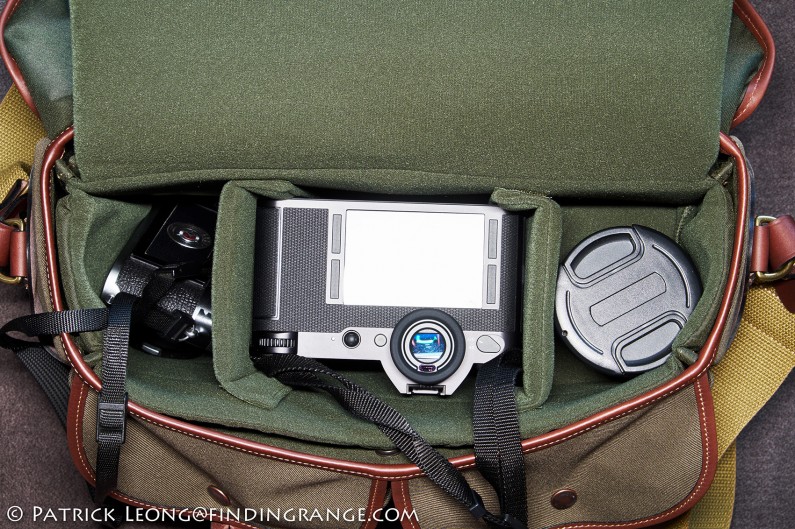 ↑ Do you own an SL and M system?  If you do, this is a great bag for both.  On the right of this photo, I have a 18mm Super Elmar stacked on top of a 75mm Summilux (on the bottom of the small divider).  The middle houses my SL with 50mm Summilux-SL attached.  On the left, I have my M3 with 50mm Summicron.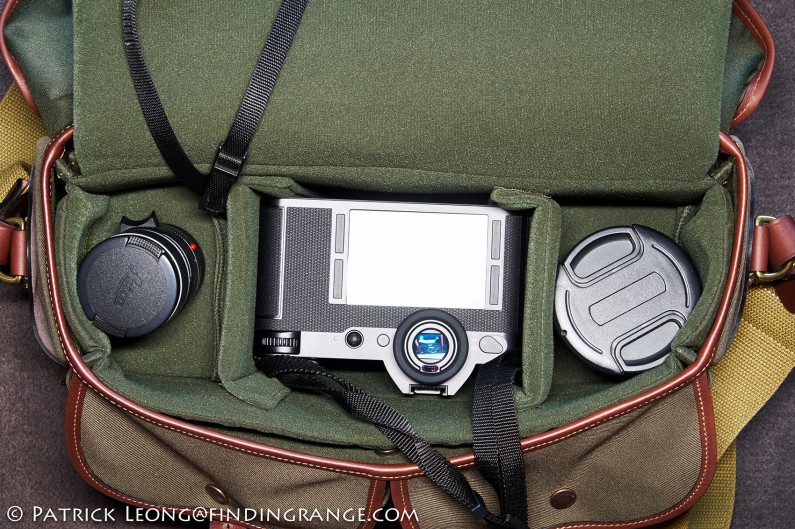 ↑ I have the same gear as the photo above with the addition of my 50mm Summilux-M ASPH stacked on top of my M3 with 50mm Summicron.
In each of the photos, I only changed the gear in the main compartment.  I always had a Macbook in the laptop slot, and an iPad Pro 9.7 inch in the back pocket.  The left dump pocket held my Leica SF-58 flash.  The right pocket held a charger with cable, and extra battery.  Both dump pockets however, still had room leftover for filters or other small accessories, if I wanted to add more.  The laptop slot is actually a decent size as well.  It's designed to hold a thicker laptop like the Macbook Pro 13″.  As for the back pocket, it wasn't a tight fit for my iPad Pro 9.7.  There was still room left over for papers or documents.  The leather strip that covers the zipper is a nice touch.  However, it does make it a little more difficult to access the back pocket.
As you can see, the Billingham Hadley One fits quite a lot of gear, and it's versatile in the way that it can be configured.  As I mentioned earlier, I love the half insert idea.  When I go on vacation, I bring my camera bag but often times, it can be difficult finding room for my non-photo related items.  I really don't like to bring two bags with me, so I either leave certain items at home, or they get crammed into any areas that I can find.  This is really so much better.  If anything, I would probably buy an extra smaller divider to see if I can add an extra lens into the half insert.  If you're carrying mirrorless or rangefinder gear, there's definitely space for another lens.  Then I could carry three lenses and a body, if I use my Fuji or Leica M system.  One last thing that I would like to mention is that since the Hadley One is able fit a lot of gear, when you fill it up completely, it will be heavy.  But this is with any bag carrying this much gear.  So, my advice to you is to purchase the Billingham SP-50 Shoulder Pad, if you plan on maxing it out.  You're shoulders will thank you :).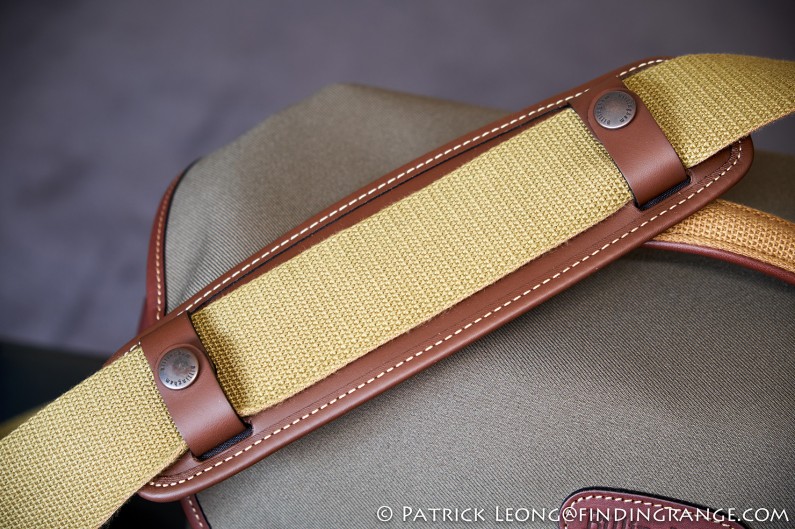 ↑ The SP-50 Leather Shoulder Pad is just as beautifully made as the Hadley One.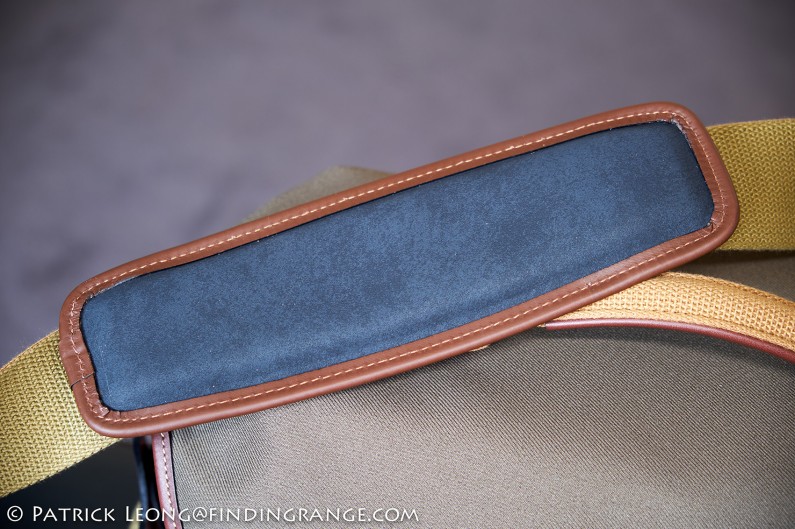 ↑ As you can see, the padding is very thick.
Hadley One vs. Other Billingham Bags:
To give you a better sense of the Hadley One's size, I thought I'd post a few pictures of it with various other Billingham bags that I currently have around.
Hadley One vs. Hadley: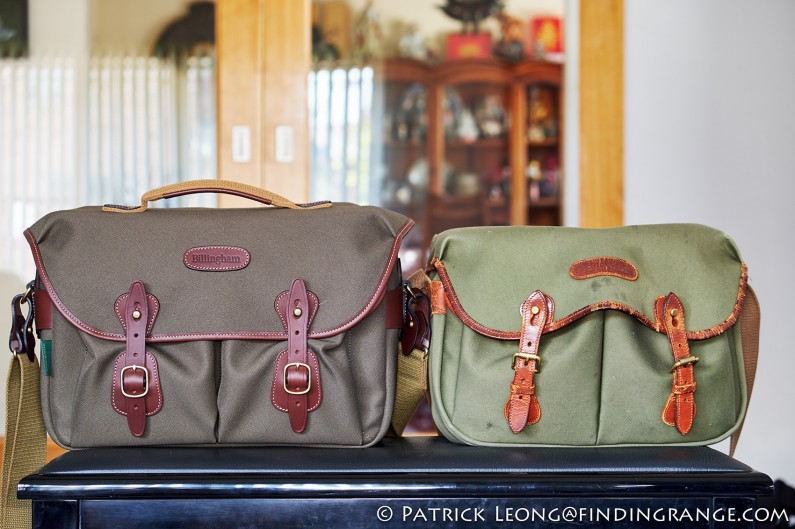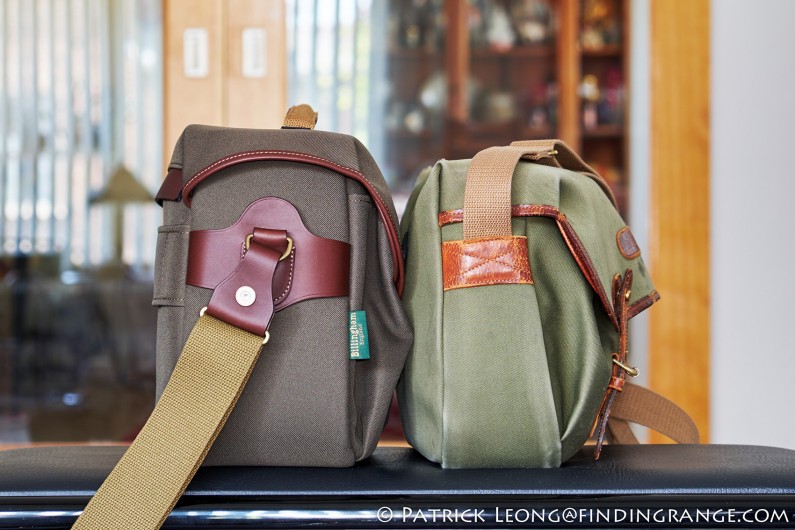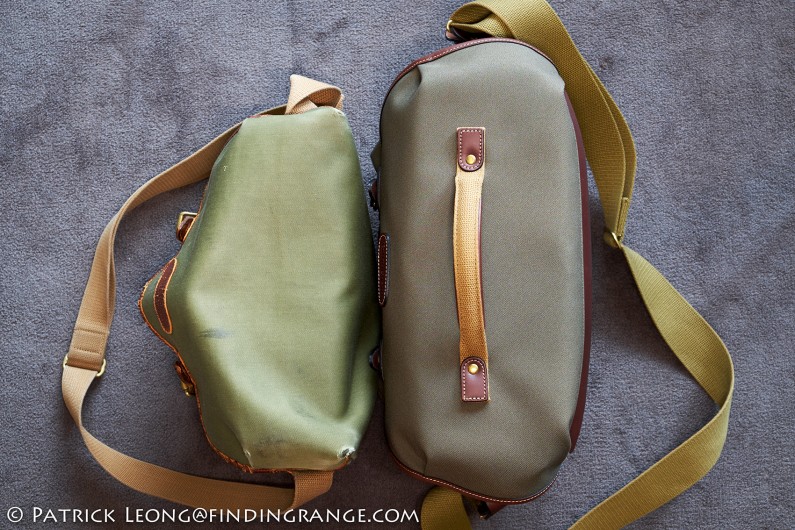 I couldn't get my hands on a Hadley Pro in time for this review, so I did a comparison with my original Hadley, which is about the same size.  As you can see in these photos, The Hadley One is definitely larger.
Hadley One vs. F-Stop 1.4: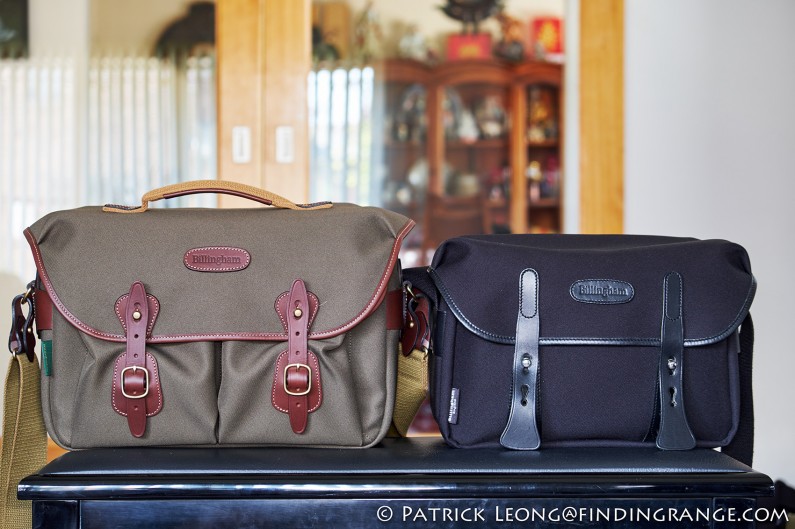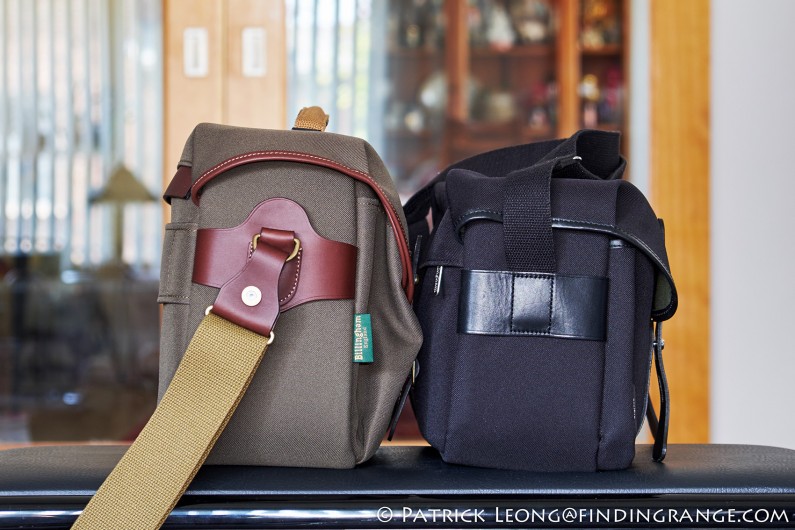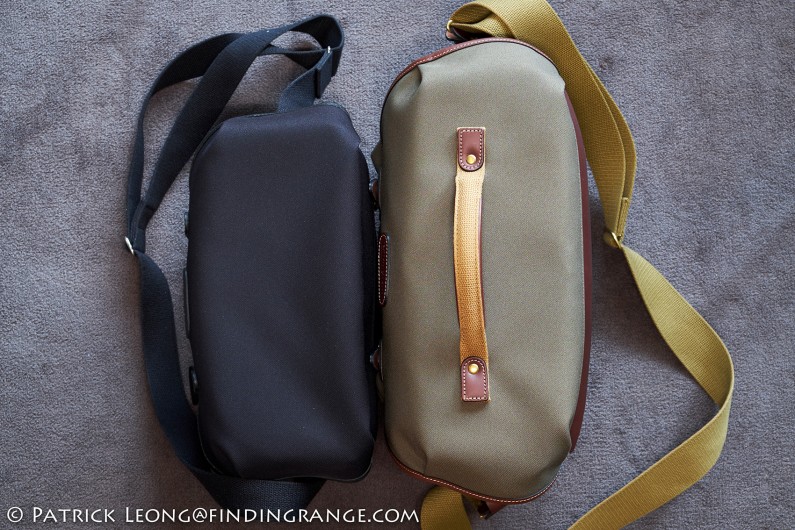 The F-Stop 1.4 is another bag that has similar dimensions to the Hadley Pro, so I thought I'd compare it with the Hadley One as well.  This is my Leica SL bag.  I love it.  Again, the Hadley One is larger.
Hadley One vs. Hadley Small: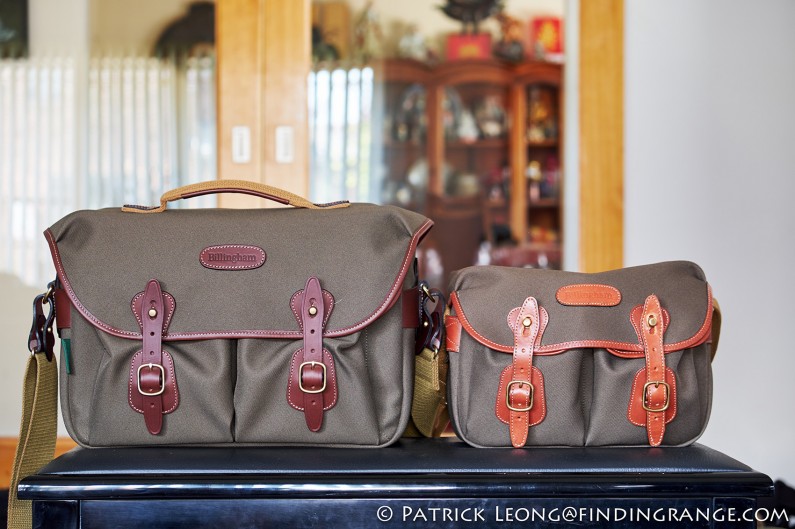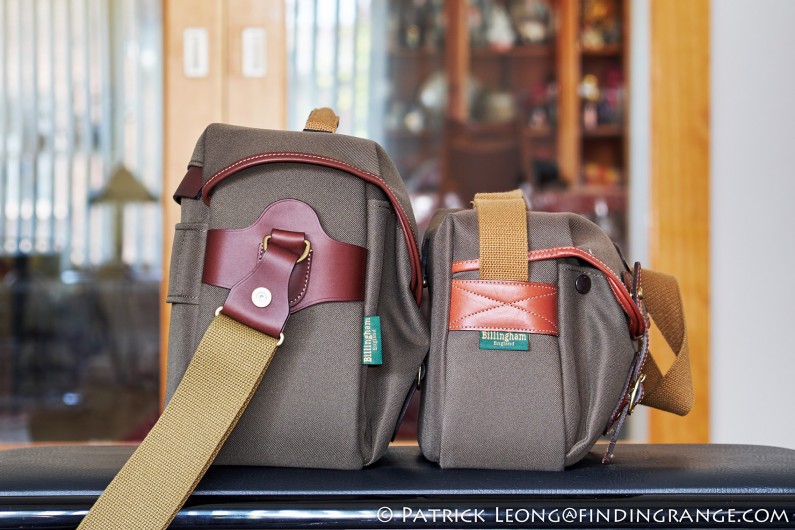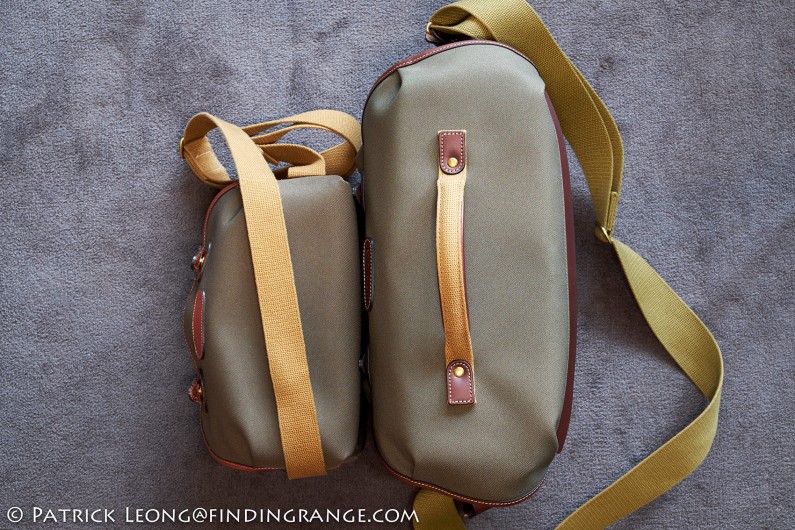 I know that if you're in the market for a Hadley One, you're probably not looking at a Hadley Small but just in case you have a Small, at least you can see the difference in size when it's compared to the Hadley One.
Hadley One vs. M Combination: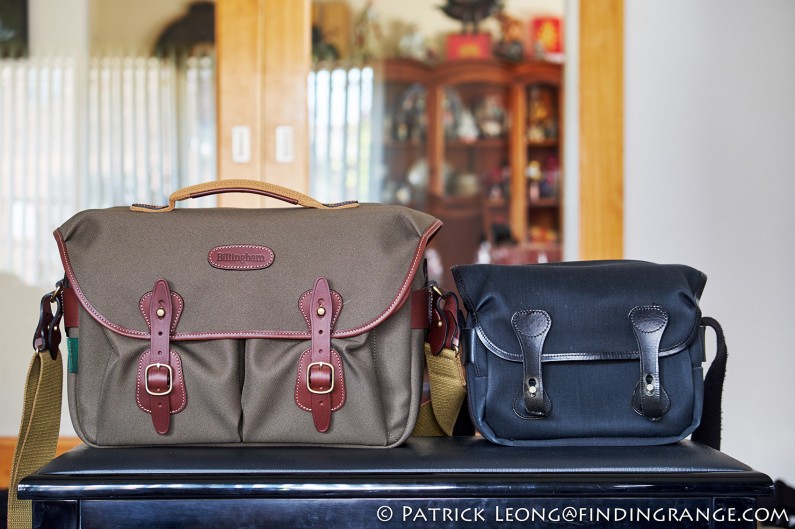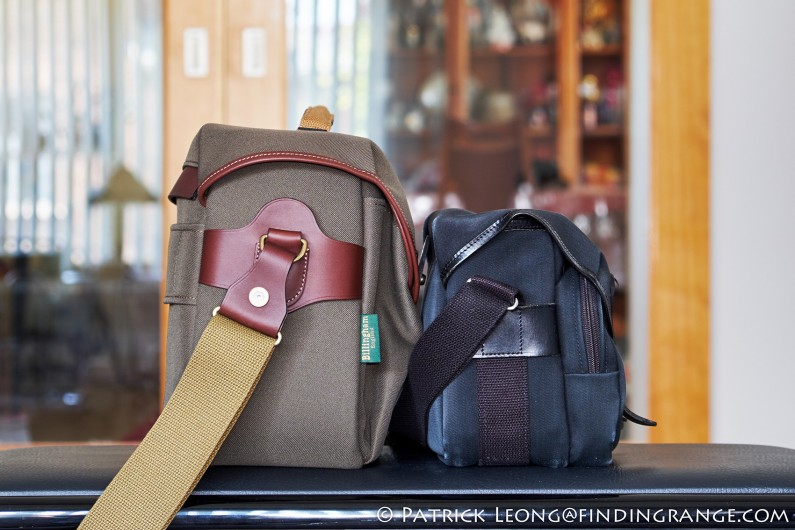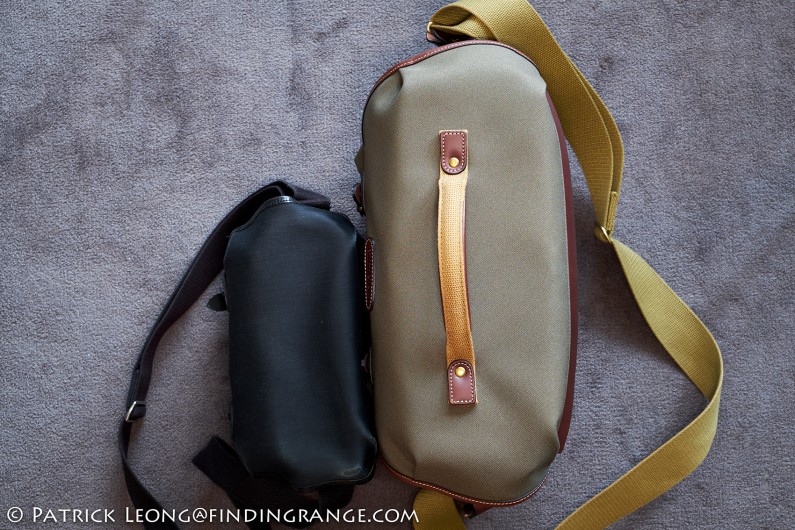 Here's another smaller bag for comparison sake.
Hadley One vs. 307: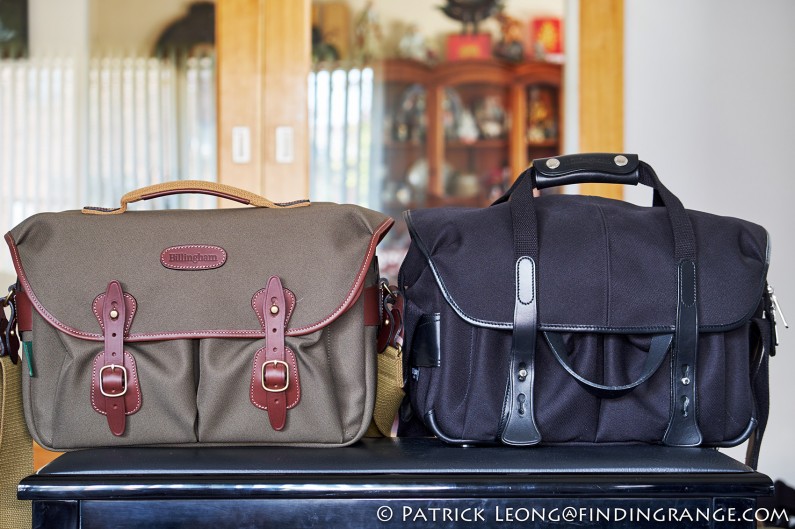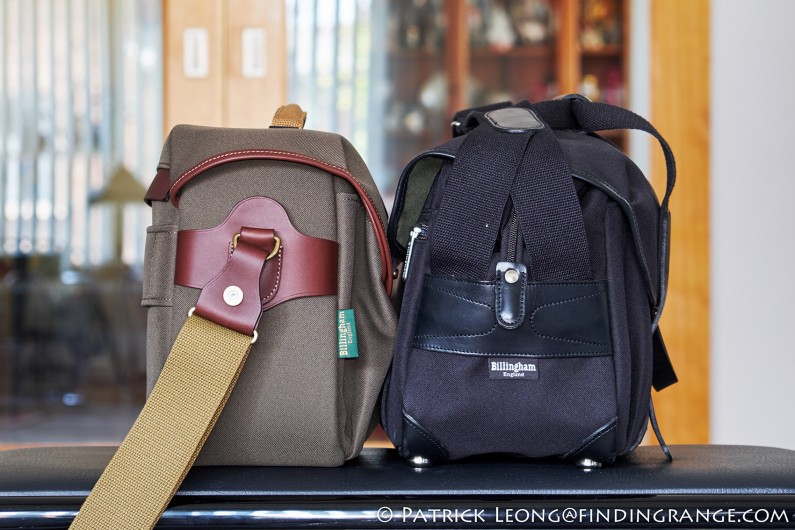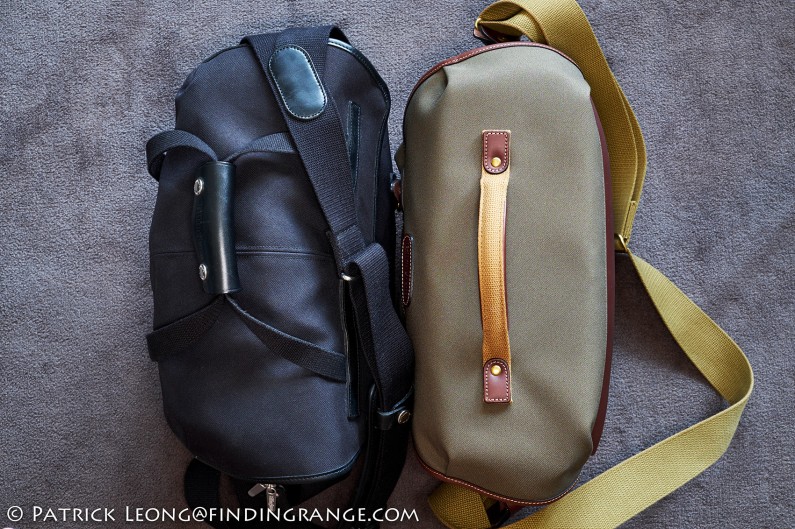 I thought I'd compare the Hadley One to the 307.  The 307 is bigger in this case.  It's configured quite differently too.
Bilingham Hadley One in Use:
Since the Billingham Hadley One is larger than the Hadley Pro, you're obviously going to feel the difference in actual usage.  If you fill this bag up to its maximum capacity, trust me, it'll be heavy.  But that's the case with any large bag.  If you need the space, and you have to carry a lot of gear, there's no way to really get around it.
With that said, the Hadley One doesn't feel hugely different than the Hadley Pro when it's not maxed out.  Considering it's size, and it's carrying capacity, I'm actually surprised at how slim, and nimble the Hadley One does feel while walking around.  The Hadley One weighs 1.38 kg, which is roughly 3 pounds but truthfully, it feels lighter than the specs suggest.  In fact, I would've never guess it's weight.  When I'm out walking, I usually do it at a fast pace, and this bag has no problems keeping up with me while I'm navigating through pedestrian filled streets, crowded buses or jam-packed subways.  Of course, remember that it's not going to feel like a smaller bag but with that said, it is one of the most comfortable bags that I've used for this size.  In fact, I've tried some bags that are smaller than the Hadley One, and they do not feel as nice.  The shoulder strap offers plenty of support, and the weight is nicely distributed.  At a cost of $459, you're awfully close to price of the Billingham 307 but unlike that bag, the Hadley One feels, and operates just like a messenger bag all while still having an incredible capacity to carry huge amounts of gear.
One reason why many choose the Hadley Pro over say the Billingham F-Stop 1.4 is they prefer the way the Pro wraps around or hugs the body like a typical messenger bag.  I can definitely understand that but there is a downside to it.  I've noticed that it can be difficult to pull gear out of a bag that hugs around the body while walking, especially larger gear.  That's why I actually prefer to use the F-Stop 1.4 over my Hadley for my Leica SL system.  It's more rectangular, and it holds its shape better, so it's easier to retrieve or put gear back into my bag while I'm walking.  With the Hadley One, the thin layer of padding that can be found on the sides, bottom, and back of the bag add enough structure that the bag still wraps around the body but at the same time, it keeps more of its shape than the Hadley Pro.  I found this to be actually a good compromise.  The easier opening flap is also extremely helpful.
As for appearance, I know that there are some that might worry that Billingham bags are often associated with expensive camera gear but I don't feel this way.  Just because a bag is expensive, it doesn't mean it will automatically announce to the world that it's carry high priced gear or any photographic gear for that matter.  The Hadley One is definitely an attractive bag.  It has a classic appearance, and an understated elegance to it.  However, it doesn't look like a typical mainstream camera bag.
Of course, if you're carrying a new bag, you'll attract more attention but any new bag is going to attract more attention, not just the Hadley One.  Once you use it more, it'll be fine.  I've personally been using Billingham bags for over two decades, and never attracted unwanted attention.
The truth is, I see people all over New York City carrying bags that have a similar appearance to some of these Billingham bags but instead of using them for photo gear, they are using them for work or recreation.  If you use the Hadley One as your work bag, for example, it won't be out of place.  That's the beauty of the Hadley One by the way.  It can be taken to work but at the end of the day, you won't feel out of place going to a nice dinner.  At the same time, it has no problems roughing it when you want to use it for photography.
Billingham Hadley One Specs:
External Dimensions:
Internal Dimensions:
W350mm x D120mm x H250mm (of the bag without padded insert) W150mm x 120mm x H240mm (inside of the padded insert)
Weight:
1.38kg (including removable sling and padded insert)
Pockets:
3 (plus sewn in padded 13 inch laptop area)
Additional Information:
Front 'dump' pockets (2): W140mm x D30 to 80mm x H210mm
Rear zipped pocket: W330mm x D Nominal x H200mm Capacity Nominal
A Hadley Pro insert can be used as an alternative for those who want to store more photographic gear than one insert. This is a little smaller than the available space inside the bag.
A Packington insert can also be used. This provides a bit more space than the Hadley Pro insert, however the 'clips' will not match up – although this is unlikely to be an issue for most users.
NOTE: The bottom of the bag is deeper (front to back) than the top. So internally it is 100mm deep at the top, but 120mm deep at the bottom.
Billingham Hadley One Verdict:
Like I mentioned in the beginning, the Hadley series has always been one of the most popular line of bags in the Billingham collection with good reason.  All the bags in this line are not only expertly crafted to the highest degree with only the finest materials, they are extremely versatile, durable, and dependable.  They'll be your constant companion even in the harshest weather, and the padding is some of the best in the industry, so all your precious, and often times, expensive gear will be well-protected.  The Billingham Hadley One continues on with this tradition of quality, versatility, and dependability but also adds a whole list of new features that quite frankly, make it even more capable of tackling the needs of the world we live in today.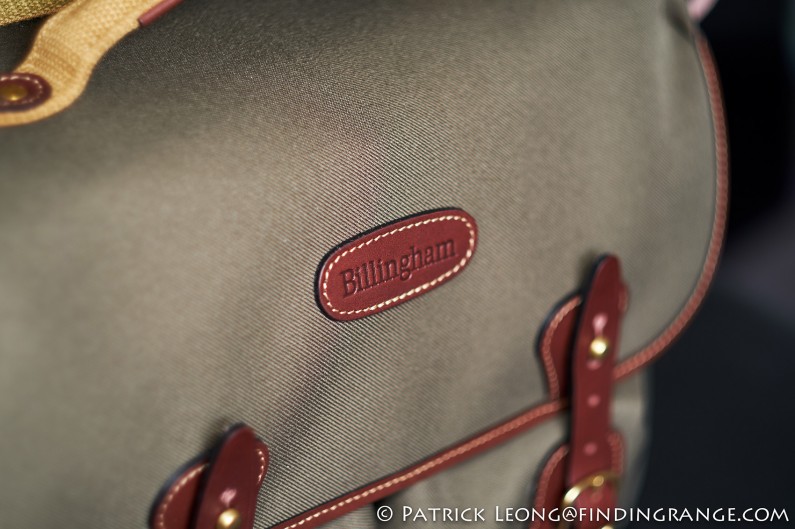 For one, unlike the rest of the Hadley line, the Hadley One comes with a new half insert instead of a full one.  Since the bag is larger than the Hadley Pro, a half insert still fits a lot of gear but this allows the user to store non-photographic items as well making the Hadley One capable of being a truly multifunctional bag that would be great for travel.  Another excellent feature is the laptop holder, which nowadays, is even a requirement for some.  I know as a photo blogger, I would be lost without my camera and laptop.  Other features like the removable shoulder sling or the luggage trolley strap retainer for example, only make this bag even better.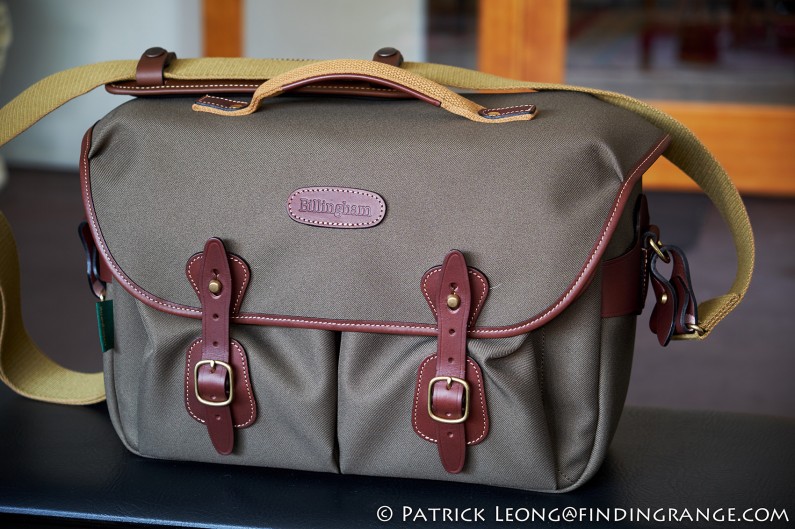 I imagine it isn't an easy task to make another bag for the Hadley line because all the bags in this series are classics in my opinion.  Given the popularity, and versatility of this line, there's a certain standard that needs to be achieved.  These bags can stand the test of time because they truly fit the needs of many photographers, and are built to last.  Therefore, my expectations were almost unrealistically high when I first heard about the Billingham Hadley One but after using it, my expectations have definitely been met.  To say that I love this bag might even be an understatement.  The new Hadley One has many great features, and improvements that only make the Hadley line more capable but at the same time, it doesn't take anything away from it.  At the end of the day, it's still like an old friend; it still feels like the Hadley that's been by my side for over two decades.
Thanks for taking the time to read my review!  The Hadley One is coming to the US July 1st!  If you want more info you can take a look at Billingham's Hadley One page.