Fujifilm Instax SHARE SP-2 Printer Review:
Instax film is loved by many, and there are plenty of good reasons for this.  For one, you get a tangible print nearly instantaneously.  Unlike digital, there's an air of unpredictability when shooting with Instax making it lots of fun, especially with friends.  Lastly, in this world of increasingly ultra technical cameras, something this lo-fi is just plain out refreshing if you ask me.  So, it makes sense that Fuji have taken it a step further by making the Instax SHARE SP-2, which is a printer that allows its user to use a smartphone, tablet or even select Fuji cameras to print from the popular instant film format.  I have to admit, I absolutely love the SP-2, and here's why.
Fujifilm Instax SHARE SP-2 Printer Build Quality:
The overall design of the Fuji Instax SHARE SP-2 makes it quite easy to use.  Controls are simple.  There's a power button, and a reprint button.  There's also a LED indicator, which tells you how many prints you can make, and how much battery life you have remaining.  Speaking of the battery, it's a rechargeable unit that lasts approximately 100 shots.  That's pretty good if you think about it.  That's about 10 film packs.  There also a charging port built into the SP-2, so you don't even have to remove the battery.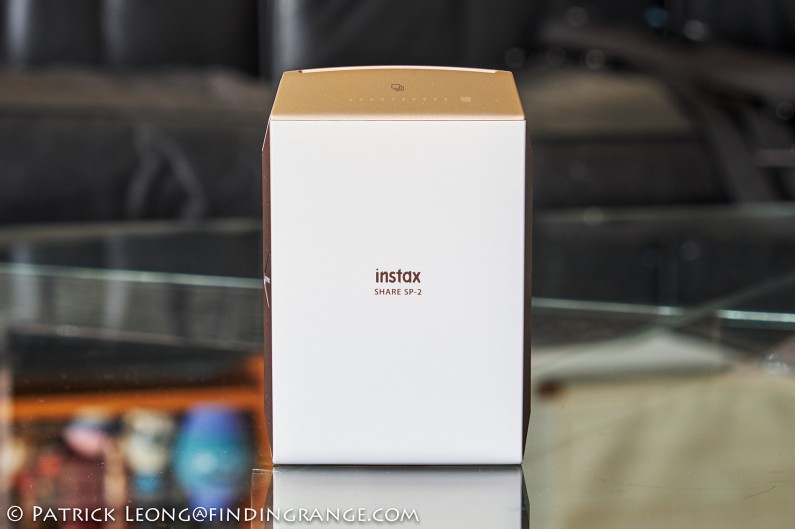 ↑ The Fuji Instax SHARE SP-2 Printer in gold.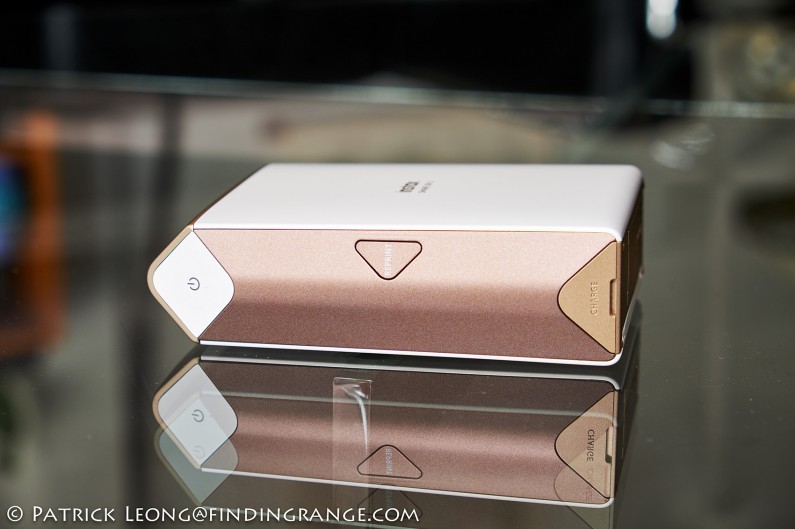 ↑ Power button, reprint button, and charger plug.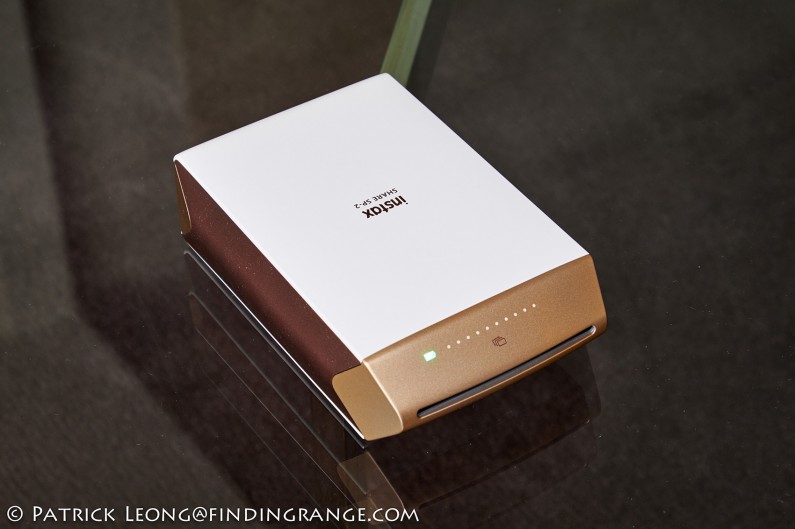 ↑ A simple LED strip give you battery info, and the prints you have left.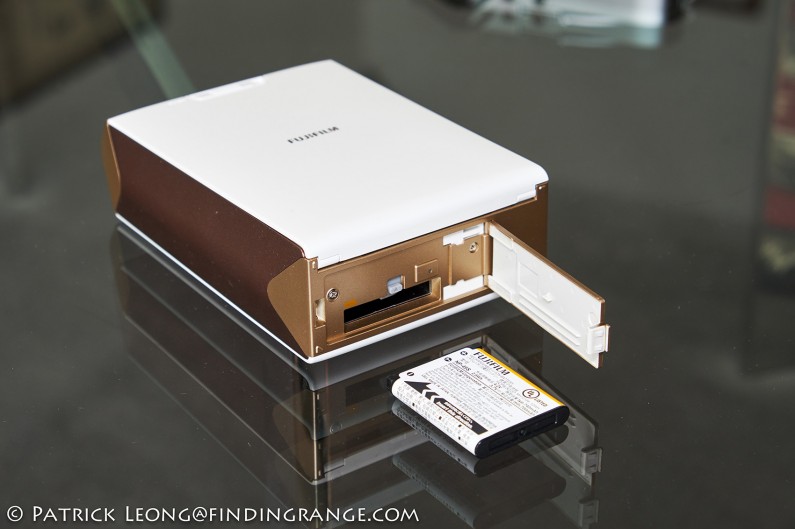 ↑ The battery slot is on the bottom.
While the SP-2 is not exactly pocket size, it does fit easily in a bag's accessory pocket or backpack, and at 250 g (without film pack, and battery), it's not a burden to carry around all day.  The SP-2 may look pretty slick in terms of design but the sides are rubberized to give you a better grip.  The SP-2 also come in two colors, which are gold and silver.
As for loading the film, it couldn't be simpler.  You open the back cover, and place a film pack in the SP-2 in the correct way.  Afterwards, you close the lid, and when the SP-2 ejects a plastic sheet from the film pack, you are ready to go!  It only takes about 10 seconds to produce a print, which is definitely an improvement over the SP-1's 16 seconds.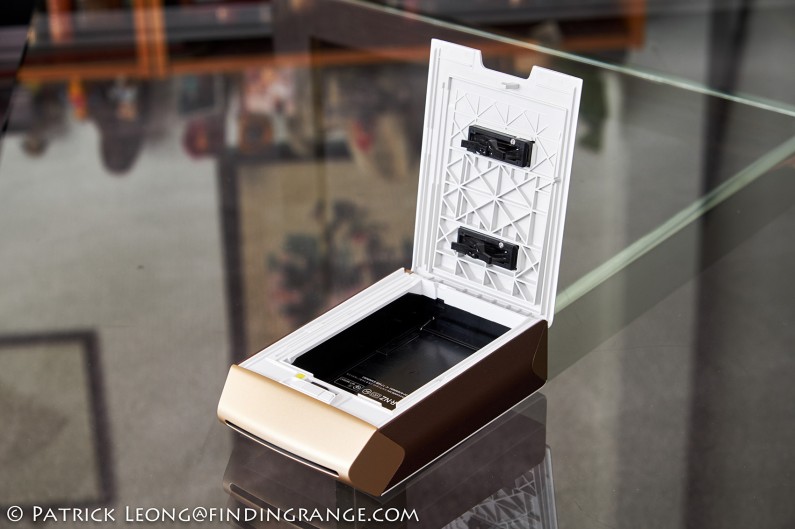 ↑ Simply place a film pack in the SP-2, close the lid, and you are ready to shoot!
Fujifilm Instax SHARE SP-2 Printer Image Quality:
In terms of picture quality, you're getting images with 800 x 600 pixel resolution at 320 dpi.  It's a nice bump from the SP-2's predecessor, the SP-1, which produces images with 640 x 480 dots at 254 dpi.  The color rendering is actually quite good, and the photos do come out pretty sharp.
Still, don't expect world class quality here; it's still Instax film after all but with that said, part of the charm of Instax or generally any instant film is the lo-fi effect.  Also, I found the quality from the SP-2 is consistently better than using an Instax camera because you can see the image before hand, since you are printing from your smart phone, tablet or camera.  This is another reason why I love this printer.  You can still get that retro styled, lo-fi look but at the same time, you have control over the the image that is being printed, so you won't get stuff that is blown out or too dark for example.
Fujifilm Instax SHARE SP-2 Printer APP, and Fuji cameras:
While Instax is popular, it isn't for everyone.  The truth is, while some love the lo-fi analog nature of it, others may not see any reason to spend money on it.  When I reviewed the Leica Sofort, I had tons of fun with it.  In fact, I enjoyed it so much, I was tempted to buy one myself but in the end, I loved the idea of instant film but I didn't always like the results.  Sometimes the results were a little too unpredictable for me :), and I couldn't see how it would be added to my existing photo gear effectively.  But it's quite different with the SP-2 because you can still get the instant film touch but with more control because as I said earlier, you are getting your images directly from your tablet, smartphone or select Fuji camera.  In this way, not only is it a great mix of the lo-fi nature of instant film, and ultra modern digital, I can actually see a place for it in my more serious photo gear.
How would I add this to my existing gear?  Well, here's an example.  Say you take a stranger's image on the street, and you want to give them a photo.  Imagine then having the ability to make a print with the uniqueness that Instax film offers right there instead of doing what is more common, which is just offering to send a jpeg.  In my opinion, having the ability to print someone a tangible, cool little retro print anywhere, and wirelessly no less, is going to make a bigger impact.  It's a great conversation starter.  The Fuji Instax SHARE SP-2 is a plain out fun item.  People are going to want to know more about it even those who are not that interested in photography, at least from what I've experienced.  It's a great way to network or get your name out there if you ask me.
To print from a Fuji camera couldn't be easier too, so you won't be left standing there looking like you have no clue what you're doing :).  All you have to do is simply review your images in your camera, and when you find an image that you want to print, click on the menu button.  Search for "Instax Printer Print", and click on it.  The file is sent to the SP-2 instantly.  As I said before, the SP-2 isn't even that heavy or bulky, so you really can take it out shooting with you.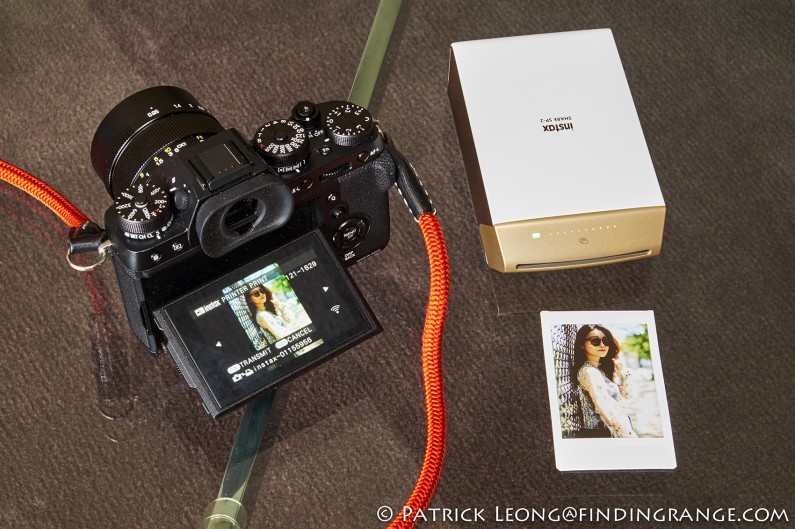 ↑ You can print directly from select Fuji cameras, such as, the X-T2.
If you want to print an image from a tablet or smartphone, it is also quite easy to do.  First, download the Instax SHARE app, which is free.  From the app, you can pick images in your library, you can take a photo with the app or you can even use images from your social media platforms like Instagram and Facebook.  There's a host of editing features within the app as well.  You can add filters, templates or customize yourself.  You can even add a real time template, which gives you the date, place, and temperature.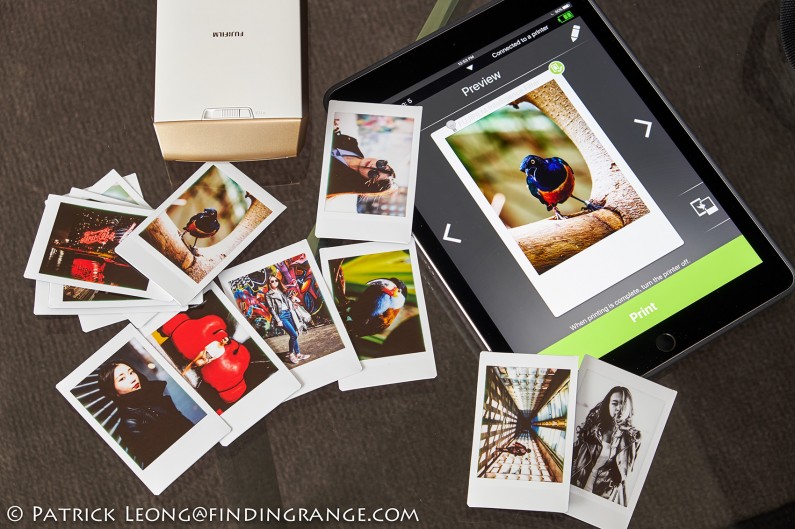 ↑ You can also print from a tablet or smartphone.
Fujifilm Instax SHARE SP-2 Printer Verdict:
Overall, the Fuji Instax SHARE SP-2 is a really cool product that offers its users another great way to share memories using instant film.  In my opinion, the asking price of $160 isn't all that bad when you consider what you're getting for it.  It's hassle free, it prints from multiple sources, it's fast, it's simple to use, and the fun factor here is a sky high 10 out of 10.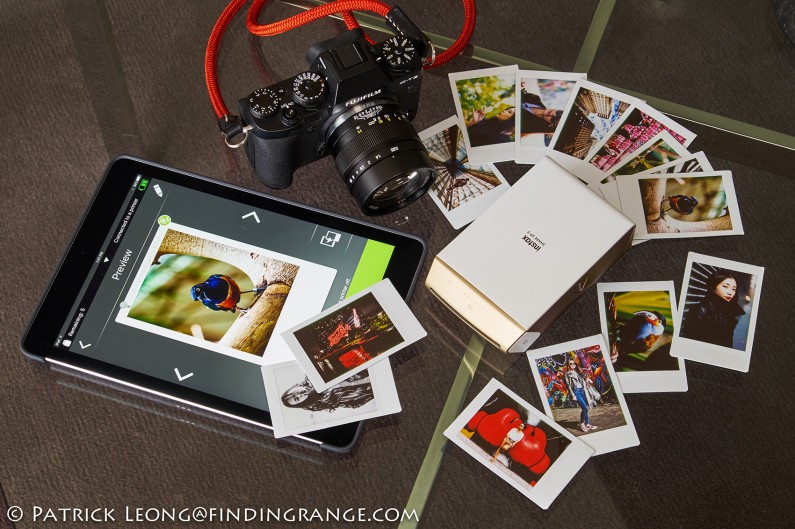 ↑ The SP-2 is a lot of fun :).
As for the film packs, they can add up over time but to help with the cost, you can actually purchase the Fuji Instax Film Value Pack, which contains 60 prints for a little over $30.  That's what I did.  I also noticed that I do use less film when using the SP-2 because unlike an Instax camera where the outcome can sometimes be wildly unpredictable (at least from my experience), and therefore, I would have to reshoot more often, I often times get a better quality print from the  SP-2 because I'm able to see the image before hand on my smart device or camera.
So, whether you're already invested in the Instax system or you're just curious about it, this is a great accessory to consider.  I was really surprised at how much I enjoyed using it.  If you want something truly fun, and maybe a little less serious, the SP-2 is highly recommended.
Thanks for taking the time to read my review!  If you're considering purchasing the SP-2, and my review helped you decide, please help support this site by purchasing from any of the links in this review.  It will not cost you anything extra.  Thank you for your support!
Fuji Instax SHARE SP-2 at B&H Photo in Silver