Domke F-5XA Camera Bag Review:
There are definitely days when we need to carry a lot of gear but for the days that we can carry just the essentials, there are a lot smaller cameras bags to choose from to help us out.  One of these bags is the Domke F-5XA.  This is a bag that I've actually wanted to review for a long time because it's not only a really nice size for when you don't need to bring a lot of gear with you, appearance wise, it's a nice, stealthy looking bag.  At around $60, it's also relatively easy on the wallet.  Let's take a closer look.
Domke F-5XA Camera Bag Build Quality:
What I particularly love about the F-5XA is that it follows in the same tradition as other Domke bags as being a no frills, no-nonsense bag where everything that is designed into it serves an actual function for the photographer.  For instance, the F-5XA is made from a thick water-resistant cotton canvas, which isn't just light, it's very durable, so it should last many years.  It comes in several different colors that aren't particularly flashy either, such as, black, sand, and olive drab.  My favorite color is definitely the olive drab, which is what you see here.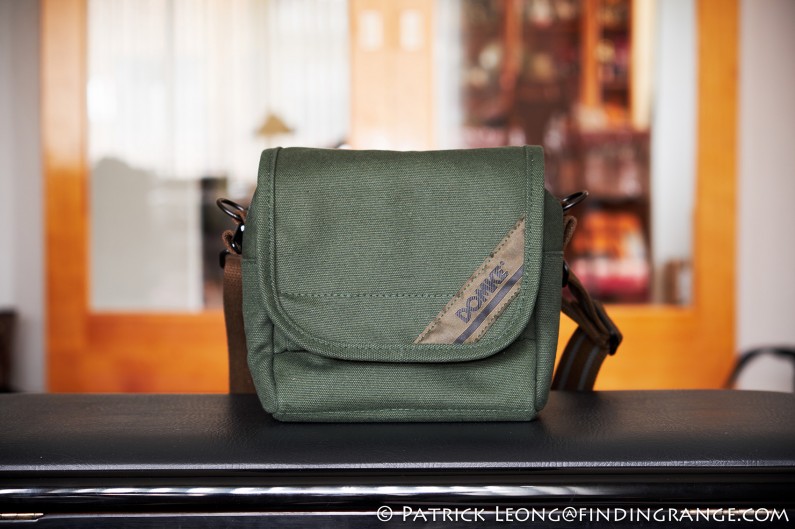 ↑ The Domke F-5XA in olive drab color.
The shoulder strap is also designed to be highly functional as well.  It's a really nice, thick strap that won't wear out anytime soon.  It's comfortable, and what's really cool is it also has two rubber strips that are embedded into the threads of the strap to give you that extra grip, making sure it stays on your shoulders.  The shoulder strap can also be removed simply by unclipping the metal clips, which by the way, are really heavy duty.  These metal clips look like they can take plenty of abuse.  Anyway, getting back on topic, why would I want to remove the shoulder strap?  Well, the F-5XA actually has a belt loop in the back, so you can attach it to your belt if your prefer.
↑ There's a belt loop on the back of the F-5XA.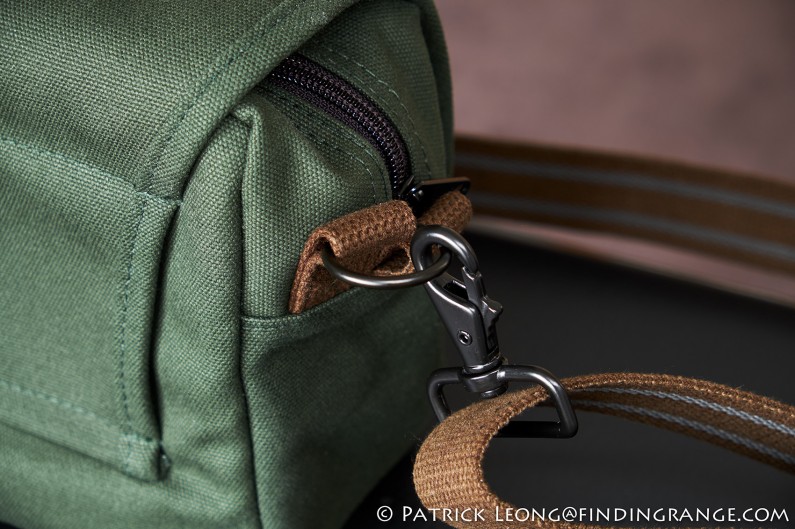 ↑ The shoulder strap can be removed.  The metal clips and rings are super heavy duty!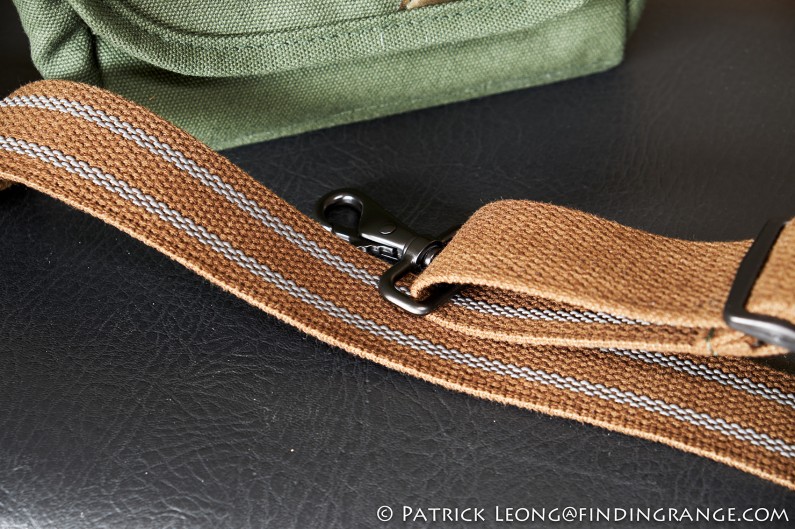 ↑ There are rubber strips embedded in the shoulder strap for added grip.
To access the main compartment, you simply lift the main flap.  The flap is held by velcro, so you don't need to be fiddling around with any kind of clasp or anything like that.  However, the downside to Velcro is the noise.  The Domke F-5XA is a very discreet looking bag, so I just feel Domke should've chosen another type of closure system or maybe they could've gone with Velcro silencers like what you would see on Crumpler bags.  This way, you can use the Velcro silencers for when you need to be discreet at say concert.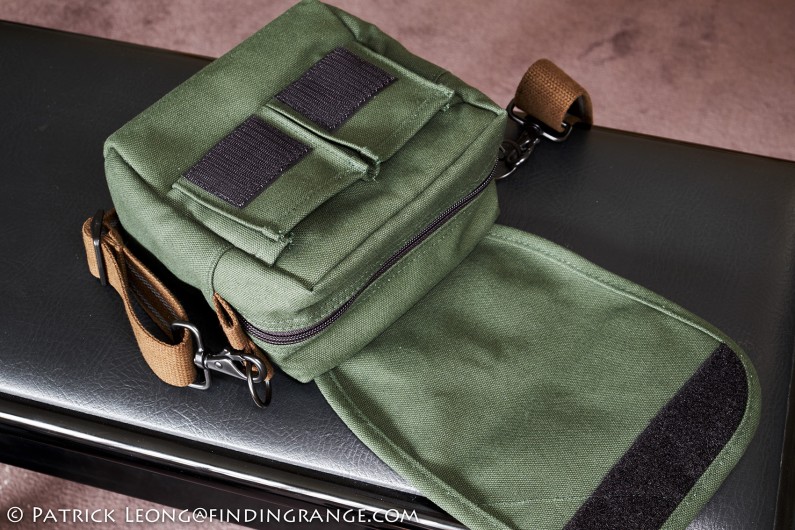 ↑ The flap is held by Velcro.
As for pockets, there are two, and they are located in front of the bag.  You can access them once you open the main flap.  The pockets are small; they fit smaller accessories like a battery or memory cards but this makes sense.  Don't forget, the F-5XA is a small bag for only essential equipment for daily use.  It's a bag for the minimalist photographer.  The pockets are perfectly fine for the size of the bag but one thing I would've really liked to see is some way of closing the pockets.  It would've been nice to see flaps for the pockets.  Nothing fell out of them when I was using the F-5XA but it was always in the back of my mind.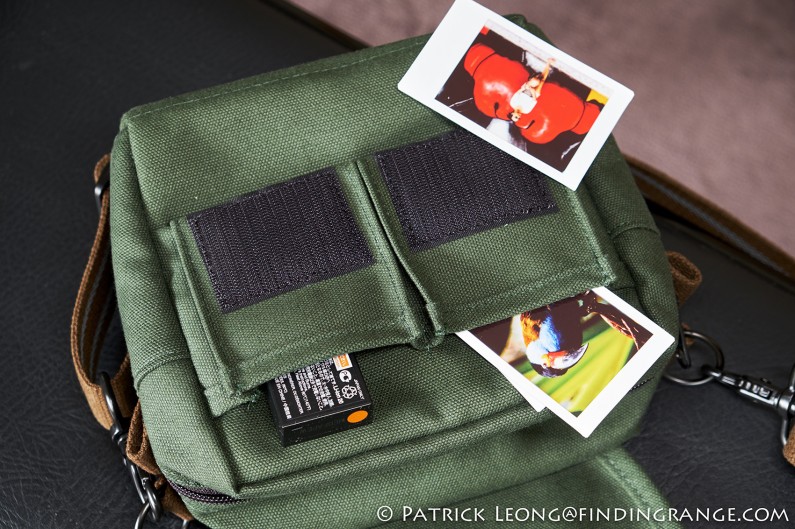 ↑ The pockets hold small accessories like batteries.
Let's now talk about the main compartment.  It is literally the perfect fit for a mirrorless camera with two lenses (one lens attached to the camera body).  It will also fit a smaller DSLR.  There's actually a zipper enclosure to get into the main compartment, which some may or may not like.  My preference would be to have no zipper.  However, the zipper is a high quality one.  The padding in the main compartment is good, and there's actually some sort of hard material on the bottom of the bag, so you're gear will definitely be protected in the Domke F-5XA.  There's one padded divider, which has velcro strips, so you can move it around the entire main compartment or even remove it completely.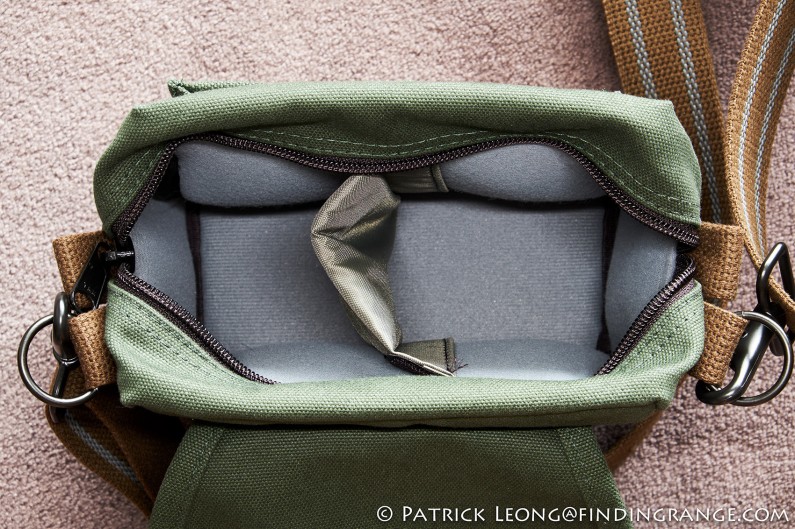 ↑ Inside of the F-5XA.
Domke F-5XA Camera Bag in Use:
The Domke F-5XA is such a great little bag overall.  It was an absolute joy to use daily.  One of the reasons is that I really love the size.  In fact, I find it just about perfect for a small kit.  It comfortably holds a body, and two lenses but at the same time, it doesn't feel like too much when I just want to carry a body with just one lens.  I think that's a pretty hard balance to find if you ask me.  I've used other smaller bags before, and some are either too big for a camera body and two lens set up or too small where everything just feels crammed in.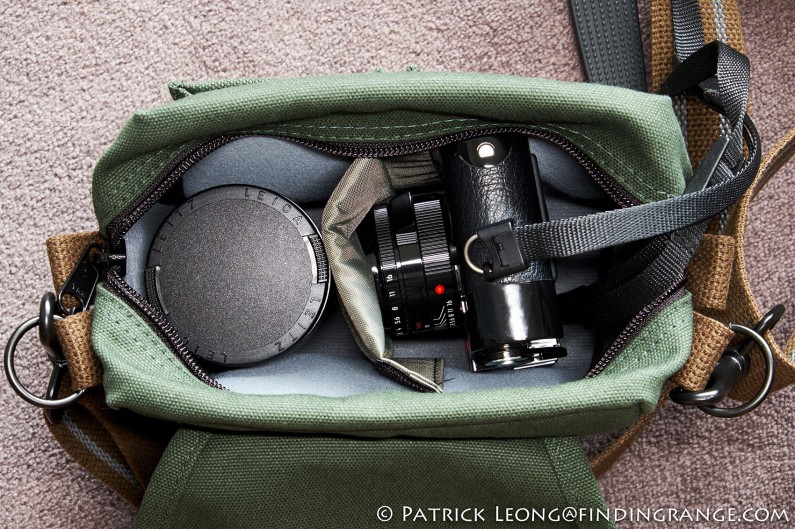 ↑ I have my Leica M6 TTL Millennium with the 35mm Summicron ASPH attached.  My 75mm Summilux is on the left.  Notice that there is still some space left over.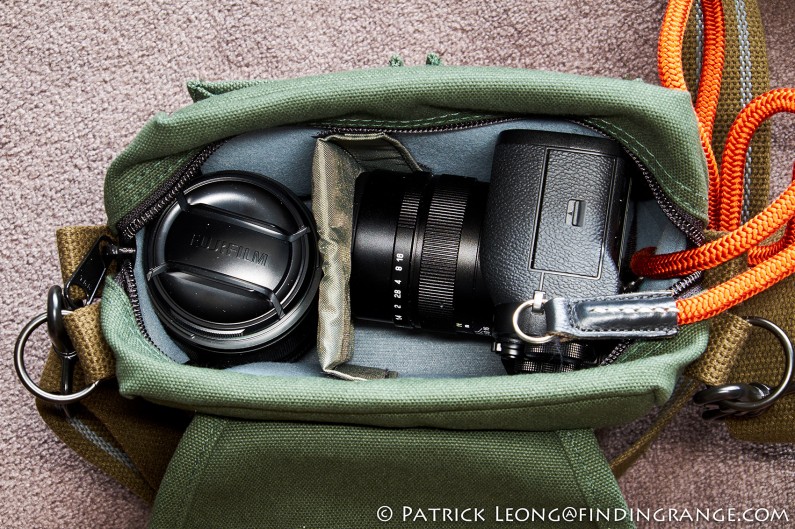 ↑ In this photo, I have my Fuji X-T2 with the Mitakon 35mm f0.95 attached.  On the left is the XF 56mm f1.2.
I also love how discreet this bag looks.  The colors aren't particularly bright, so it seamlessly blends into its environment.  There's nothing flashy on the bag except maybe the Domke label but even then, it's not bad at all.  The truth is, if someone knows what Domke products are, they don't need a label to tell them anyway.  If you want to though, you can remove it pretty easily.  The F-5XA also doesn't scream camera bag either.
This bag is basically all business if you get my drift.  There are no frills or anything that would be considered unnecessary yet it gets the job done quite effectively.  The materials used in this bag are clearly heavy duty, and designed to last.  The F-5XA is definitely well-padded but at the same time, it's light, so you won't have any issues carrying it around all day.  Like I just mentioned, it's discreet, so you don't attract any attention to yourself, and it's even water resistant.  What really tops it off for me is the price, which is around $60.  It's not a huge investment for a bag that's this rugged, and designed to last a very long time.
Domke F-5XA Camera Bag Specifications:
Weight: 1lb. 1oz.
Warranty: 2 years
Material: Canvas
Exterior Dimensions: 8″W x 4.5″D x 7.25″H
Interior Dimensions: 7.5″W x 4″D x 6″H
Domke F-5XA Camera Bag Verdict:
Overall, the Domke F-5XA is in my opinion, a fantastic bag for when you want to carry a small kit or for daily use in general.  It's really great to walk around with it all day.  It's quite comfortable, and does what it's supposed to do very effectively.  It's not perfect though.  There are things that I would've liked to see, such as, a closure system for the two front pockets, and something other than Velcro for the main flap but these are minor issues.  If you consider the size, build, materials used, overall designed, and of course, price, the F-5XA is definitely a winner in the small camera bag category.
Thanks for taking the time to read my review!  If you're considering purchasing the F-5XA, and my review helped you decide, please help support this site by purchasing from any of the links in this review.  It will not cost you anything extra.  Thank you for your support!
Domke F-5XA at B&H Photo in Black, Sand or Olive Drab