The Billingham Stowaway Compact:
Let me start out by saying that I am a huge Billingham fan.  I've used bags from Tenba, Tamrac, and Domke but I've always come back to Billinghams.  In fact, I have a Hadley that I've been using regularly for over 18 years.  So when I got the chance to review a new Billingham Stowaway Compact bag (found here at Amazon or here at Adorama), I jumped at it.
Quality:
Solid construction, high quality materials, classic design, and long life have built a solid reputation for Billingham bags.  The Billingham Stowaway Compact is no exception.  The Stowaway Compact is built to the same standards as more costly Billinghams.  There is ample use of fine leather, brass parts, and enough padding to make anyone get that nice and warm feeling that their camera equipment is perfectly safe.  Pictures of this bag do not do it justice…if you are serious in purchasing one of these bags, I urge you to go and see it in person.  The quality is amazing.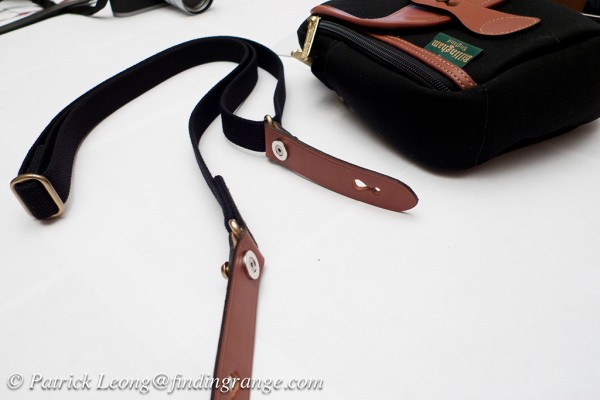 Another great thing about Billingham bags is that they are waterproof.  I've been caught in many intense rain storms and downpours with Billinghams, and the interiors of those bags ALWAYS stayed dry.  There wasn't even a hint of wetness.  In my experience, Billingham bags are as waterproof as you can get!  These bags are designed for one thing in mind, and that's to protect your gear.
What Will The Billingham Stowaway Compact Fit?:
This bag is designed for any small compact or rangefinder camera such as the Leica M9 or the Fuji X100.  It's designed for days when you want to bring the bare minimum but with the same protection that bigger billinghams bags provide.  The Stowaway Compact looks small but it can easily fit a rangefinder with a lens mounted, and another lens or small flash along with a variety of accessories.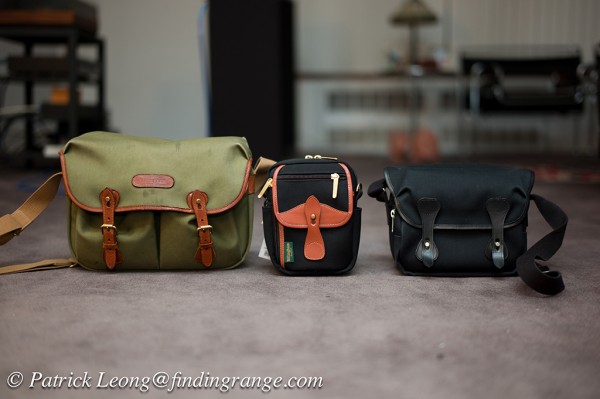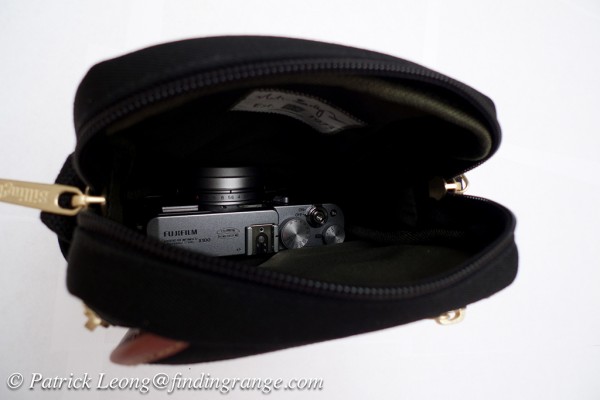 ↓ The accessories fit in the many small pouches found in and around the bag.  A large opening in the back can easily fit a brochure or some important papers.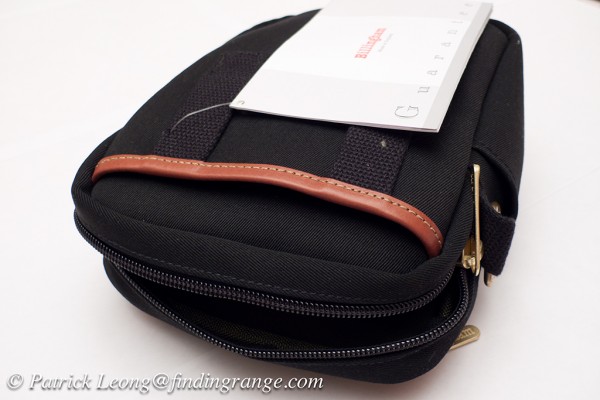 ↓ There are also small pouches on both sides of the Billingham Stowaway Compact.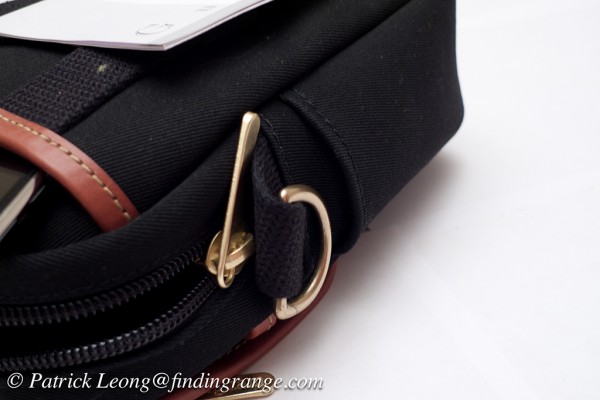 ↓ On the front of the bag, there is a small section that has a zippered pouch that can fit things such as memory cards.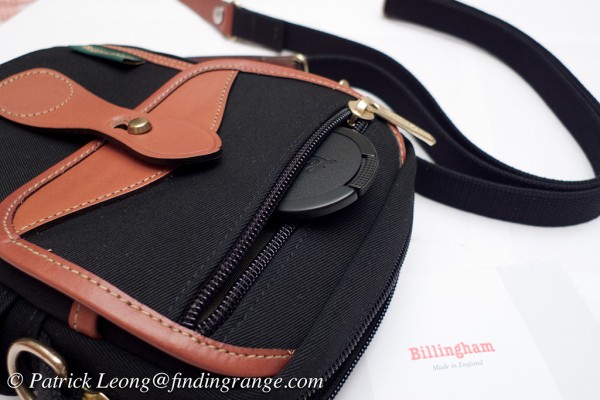 ↓ If you open the flap, which is held down by a brass and leather buckle, you will find a pouch that can fit something like a cell phone or a lens hood.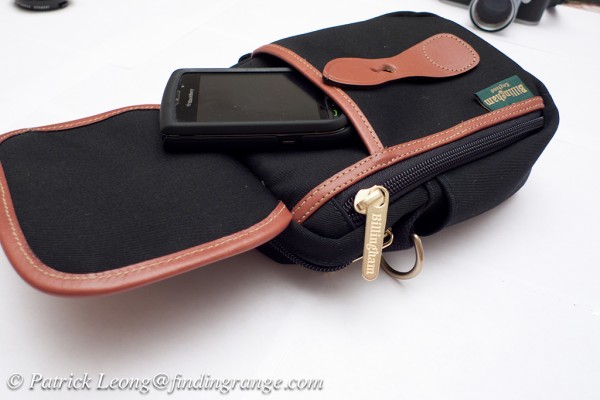 ↓ There is another zippered pouch on the side of the bag that allows you to fit bigger items such as a Gepe Card Safe Extreme case (which I reviewed).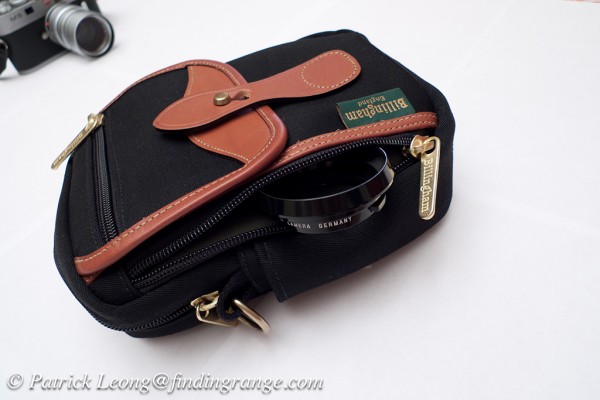 Conclusion:
I think the Billingham Stowaway Compact is one of the best bags in it's class on the market.  It's supremely well built, and any camera gear you put in it will be thoroughly protected from the elements, and any other possible dangers.  The cost of one of these bags is not cheap: The price is anywhere from $120 to $130.  However, if you want the best in protection, I highly suggest this bag. they can handle being thrown around or bumped.  Some people say that these bags are a little too expensive but if you have a sizable investment in camera gear, it might pay to get a bag with a little more added protection.  Also remember this; Billingham bags are made to last forever so in the long run, IMO they're not as expensive as one thinks.  If you would like to purchase the Billingham Stowaway Compact bag, you can purchase it here at Amazon or here at Adorama.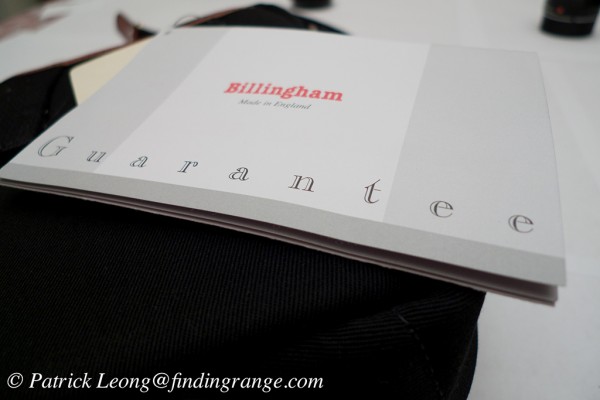 Specifications for the Billingham Stowaway Compact:
Material
Exterior: Stormblocker dual laminate waterproof canvas bag
Interior: High density closed cell foam
Compartments
Pockets
Large zipper front
Zippered pocket on outside of flap
2 Outside slip pockets
Rear slip pocket
Type of Closure
Zipper
Solid Brass clog bolt and harness leather locking system
Exterior Dimensions
6 1/4 x 2 1/2 x 8 1/4″ (15.88 x 6.5 20.96 cm) (W x D x H)
Interior Dimensions
6 x 2 x 7.5″ (15.24 x 5.08 x 19.05 cm) (W x D x H)
Weight