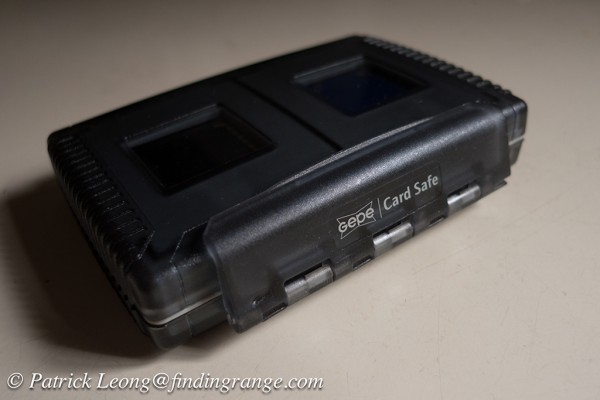 Back when film was the main medium for photography, I used Gepe slide mounts for my medium format slides all the time.  The slide mounts  were extremely well constructed, and they presented my work behind their Anti-Newton glass  in a very professional manner.
Nowadays, I shoot mainly digital with the wonderful Leica M9 (which I reviewed recently) so I don't really need those slide mounts anymore.  But I realized that I was steadily obtaining more and more memory cards with no place to put them, and always constantly misplacing them.  So I looked online, and was actually glad to see that Gepe was still in business, and now making cases for memory cards.
Gepe makes several types of cases ranging from cases that can hold two memory cards to cases that can hold four memory cards.  The one in this review is called the Gepe Card Safe Extreme (found here at Amazon and here at Adorama), which can hold up to four different types of cards ranging from Compact Flash, Memory Stick, SM and SD.  The Gepe case protects your cards from dust, humidity, shock, and electrostatic charge.  It is also climate proof, water proof, and it floats.
These cases come in a variety of colors ranging from onyx, rosso, iceblue, and neon so if you wanted, you could get two different colors: one for memory cards that are full, and one for blank cards.  It closes with a very solid and secure snap, and my cards are always very well secured and protected in these cases.  In fact, I feel that you can probably run these things over with your car, and not break them although I do not recommend that!  Each compartment in the case also has a window so you can easily tell what card is in it.  This helps you save time but not having to open the case.
Complaints?  Well, I guess the only thing I don't like about this Gepe case is that it's a little bulky.  However, considering that the case is so well constructed, and resistant to so many things, I can deal with a little bulk.  Overall, IMO these are highly recommended.