Artisan & Artist DCAM-7200 Bag Review:
There are some great camera bags out there these days from many different manufacturers.  My personal favorites are the Billingham bags, which I've been using pretty much all of my photographic life.  I have a Hadley that's over two decades old, which I'm still using today.  Other excellent bags come from Think Tank, Fogg and Domke.  Those are just the ones off the top of my head.  Artisan & Artist is known for making excellent camera straps but they also make camera bags.  Generally, my everyday bag is the compact Billingham M Combo, so I'm always looking out for cool, small bags that are great for daily use.  One bag that I've been eyeing for quite some time is the Artisan & Artist DCAM-7200, which is what I'm reviewing today.
 Artisan & Artist DCAM-7200 Build Quality:
In terms of build quality, it should come to no surprise to anyone that the Artisan & Artist DCAM-7200 is beautifully made and clearly built to last for many years.  The padding is excellent; it's just as good as something you would find in a Billingham.  However, unlike the traditional canvas materials used on Billingham bags, Artisan & Artist went a different route; materials used to make this bag are a combination of drip proof leather and nylon.  A waterproof zipper is used for the front pocket.  Whether you like the design of this bag or not is a different story.  If you ask me, I prefer the look of my M Combo more but that's my personal preference.  But whether this design suits you or not, it's clear that Artisan & Artist took the proper time to design this bag and paid close attention to the little details.
For instance, I love the fact that the DCAM-7200 comes with a hand strap.  A lot of smaller bags don't have hand straps, and maybe it's because it just adds more bulk to a smaller bag but with the DCAM-7200, the hand strap is removable.  If you don't like it or it gets in your way, just take it off.  At least the option is there.  It's something that I feel is missing on the Hadley Small and the M Combo bag.  There's also a nice shoulder pad and small flaps on the sides of the bag that help repel the elements when you close the main flap although I prefer the main flap to actually cover the entire bag like the one's on the Hadley series or the M combo bag.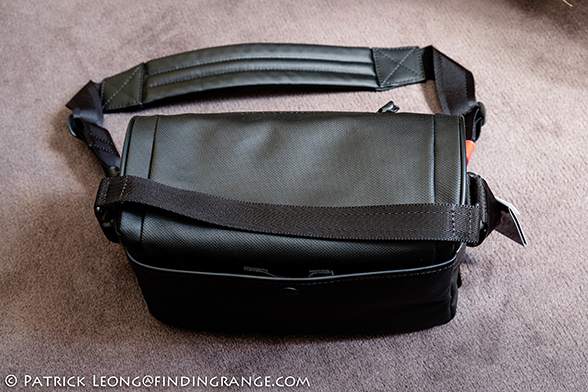 ↑ The hand strap is removable on the DCAM-7200.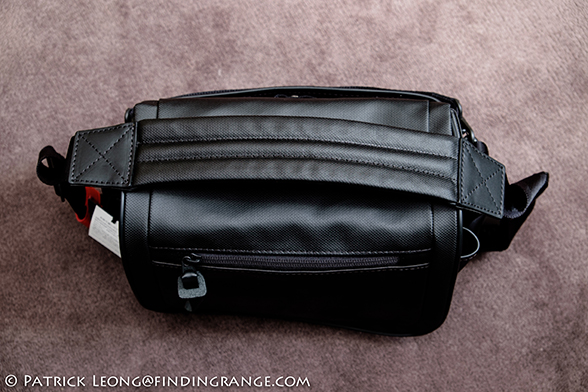 ↑ Here's a look at the shoulder strap.
Artisan & Artist DCAM-7200 Storage Space:
I would imagine that small camera bags such as this one are often hard to design because you want the bag to be as light and least cumbersome as possible but you also want it to be useful.  In other words, you want it to be flexible: light and compact for all day shooting yet also having the ability to store more if you need it.
For those comparing the Billingham M Combination or Hadley Small bags with the DCAM-7200, know that the Artisan & Artist bag will not fit as much as either of those Billingham bags.  Both those Billingham bags excellent choices because they're compact yet they also fit quite a bit of stuff.  Check out my reviews of both those bags if you want to see what I'm talking about (Hadley Small review/M Combo review).  But I think if you're leaning towards the DCAM-7200, you're probably looking for a bag that is slightly smaller than either of those Billingham bags.  The good news is that Artisan & Artist put a lot of effort into making the most out of the DCAM-7200's compact size.
For instance, there are a lot of pockets for a camera bag of this size, especially when compared to the two Billingham bags mentioned.  On the front flap, there's a zipper pocket where you can fit smaller, thinner items like memory cards or lens cleaning cloths.  On the back of the bag, there's a pocket that snaps close where you can actually fit an iPad Mini.  That's pretty amazing for a camera bag of this size.  The only thing I worry about is whether or not that button used to close the back pocket will damage my iPad over time because as I'm walking, the bag is bouncing on my hip, which causes the metal button to bounce against my iPad.  Maybe velcro might have been a better option.  But the point is you're still able to fit an iPad mini in such a small bag.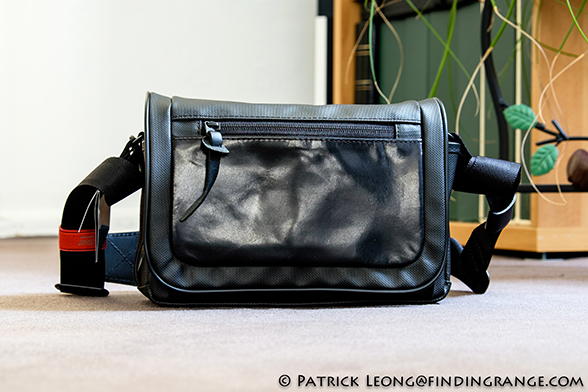 ↑ The front of the DCAM-7200.  There's a zipper portion to store smaller items, such as, lens cleaning clothes.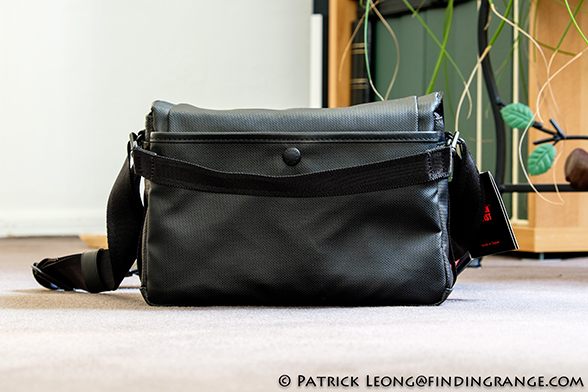 ↑ The back pocket of the bag has enough space to fit an iPad mini.
When you open the bag, there's a cool little netted pouch on the inside part of the flap.  This kind of reminds me of the old Tamrac bags that used to have the same type of netted pouch but it was held on by velcro, so it was removable.  This is a great place to store film if you're a film shooter.  If you don't shoot film, you can store other small items, such as, an external EVF or a couple of filters.  There's also two pockets in the front of the bag, which you can store a charger and other larger items.  However, the front pockets are not as big as ones found on the Hadley Small.  I'm sure this bag was designed to be more compact than the Hadley Small but I think what would've been a great idea was if Artisan & Artist incorporated expandable pockets like the ones found on the Hadley Small.  Also, I don't like the fact that there are no flaps with closures for the front two pockets.  Often times, I grab stuff out of my bags while I'm walking, and the last thing I want is to have something accidentally spill out or left behind.
This bag serves its purpose extremely well but it can also be used as a small messenger.  The liner is removable, which makes the bag very versatile.  In terms of how much the liner fits, the DCAM-7200 was really designed for one camera body and two lenses but if you're using a camera with really compact lenses, such as, a Leica M, then you can actually fit a camera body with three lenses (one lens attached to the body).  You would have to stack the lenses though.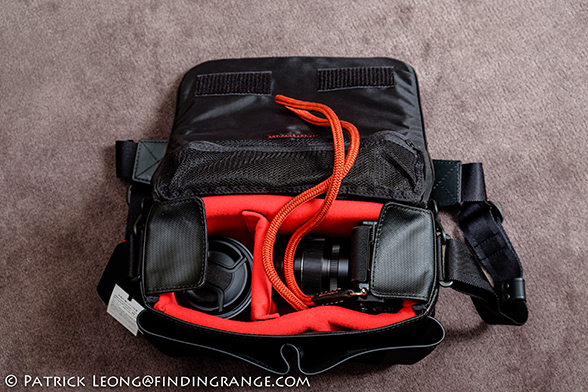 ↑ Here's how it looks like with the X-Pro1, the XF 18-55mm zoom mounted on the camera, and the Zeiss Touit 12mm in the separate compartment.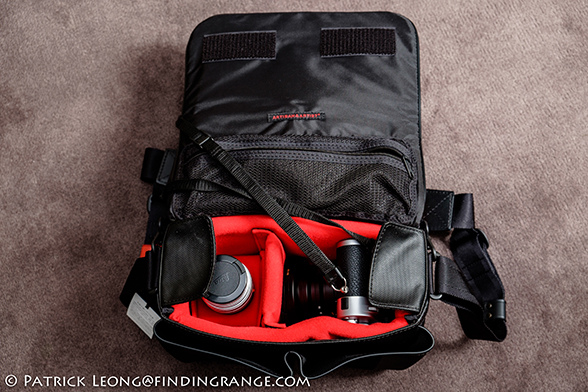 ↑ Here's how it looks like with the Leica M 240 with 18mm Super Elmar mounted, and two lenses in the separate compartment: the 50mm Summicron is stacked on top of the 35mm Summicron ASPH.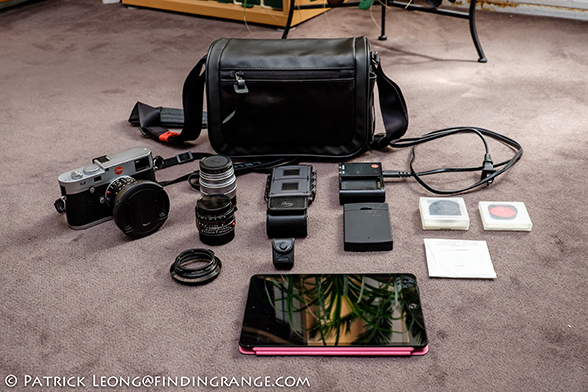 ↑ This is about how much I can fit in the Artisan & Artist DCAM-7200.  Keep in mind that all of this is a tight fit.  The camera and lenses fit perfectly fine but the rest of the accessories add bulk.
Artisan & Artist DCAM-7200 in Daily Use:
On my daily walks, I normally walk around with just a body and one or two lenses, so in terms of size, the Artisan & Artist DCAM-7200 is pretty much perfect for me.  I've actually been looking for a bag exactly this size for a long time, and I'm sure I'm not alone in this thought.  It's extremely compact and light without being completely useless.  It's also exceptionally well made, and very well padded, so your gear will definitely be protected.
One of the things that I like about the DCAM-7200 is that it retains its shape pretty well when it's around my body.  The DCAM-7200 is a very compact bag, which means that you're dealing with tight constraints.  A bag that retains its shape makes it a lot easier to pull stuff out of, especially when you're walking.  I love the Billingham Hadley Small but one of the reasons why I chose to buy the M Combo instead was because I found the compartments on the Hadley a little tight to get into, especially since the Hadley Small wraps around my body more like a messenger bag.  Normally, I try to make my walking as efficient as possible, so for me, it's important that it's easy to access items in my bag while I'm walking briskly (it's probably the New Yorker in me 😉 ).
However, I'm not a huge fan of the velcro used to close the flap of the bag.  First off, velcro make noise.  But that's not the major issue for me.  I just don't feel like using velcro is as secure as say the straps on the Billingham bags, which are not only noiseless in operation but also quite easy to open and close quickly.  I'd feel better about the velcro if there was perhaps a clip on the bag as well, so when I'm just transporting my equipment, I can clip it shut for more peace of mind.  I've had instances where my bags have been flipped over before, and I just don't want my stuff spilling out accidentally.
Artisan & Artist DCAM-7200 Price:
But overall, this is an excellent bag for anyone who considering a camera bag of this size.  This is a review, so of course, I will be doing some nitpicking.  From personal experience, the Billingham M Combination bag and the Hadley Small are also great alternatives but as I mentioned before, those bags are slightly larger.  This bag is absolutely perfect for a two lens or even a one lens kit.  I'm tempted to buy one myself.  But the price can definitely be a concern for some.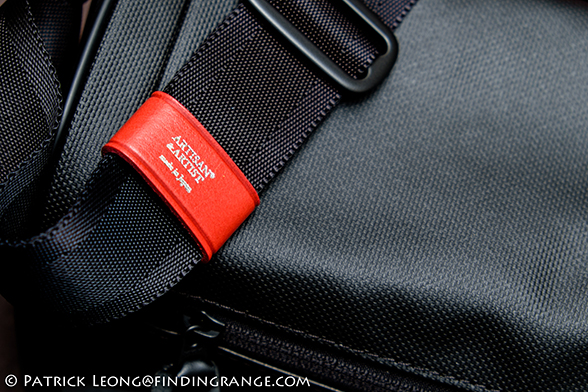 After testing the DCAM-7200, there's no doubt in my mind that this bag will take whatever punishment you want to dish out at it for many years.  It's extremely well made but it will definitely cost you; I've seen this bag listed from $260 to a whopping $450.  However, $450 is at the extreme end, and I don't recommend anyone buying it for that price.  The two Billingham bags that I've mentioned are around the mid $200's as well (prices for all three bags fluctuate) but they offer more space, and while they are larger, they aren't significantly larger than the DCAM-7200, so they still make great daily bags for a small kit.  I use the M Combo almost daily, and I'm perfectly happy with it.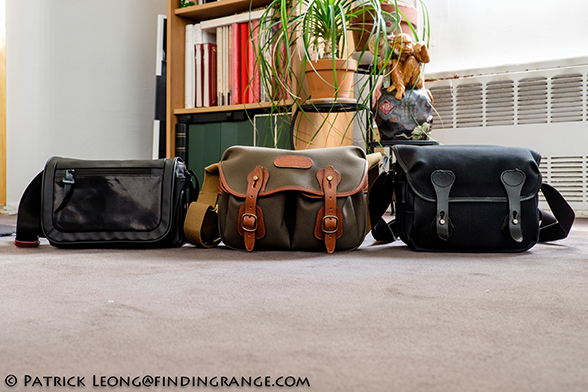 ↑ Here's the Artisan & Artist DCAM-7200, Billingham Hadley Small, and the Billingham M Combination bag line up, so you can compare.  I will probably do a three way comparison soon, so stay tuned!
But in general, this is how I look at it: I normally don't mind paying more for a bag because of several reasons.  I don't change bags often, so I don't mind paying more to be completely happy with my purchase; when I buy a bag, I use it until it literally disintegrates.  Plus, since photographic equipment can cost thousands of dollars, especially Leica gear, I want peace of mind.  As I mentioned before: I've owned my Hadley for over two decades, and it's been through a lot.  It's been dropped, bumped, burned, and unfortunately, it's been through my organic chemistry lab :).  I've had puddles form on top of the flap while I was in tropical rainstorms but I never once worried about my equipment inside.  If I need to protect my gear, I just put it in my bag, and I have the utmost confidence that nothing will happen to it all.  It's like a portable vault for my camera gear.  So, as far as I'm concerned, I got my money's worth and definite peace of mind.
Does that mean a less expensive camera bag isn't good?  Not at all.  One of my absolute favorite bags of all time is a $30 Tenba bag that fit a small M system absolutely perfectly.  Seriously, it was such a great bag.  It was the perfect size and very discreet.  Unfortunately, I misplaced it, and it's been years, so who knows where it is.  The DCAM-7200 is expensive but to be fair, I can see why.  This is a very high quality bag, and it's a bag that I think many will be satisfied to keep for a long time if not for life.  If I owned this bag, just like my Billingham bags, I don't think I would ever feel the need to upgrade to something else unless I needed a different size bag.  It's manufactured extremely well, it's obvious that Artisan & Artist paid close attention to the little details, and the materials used, especially the padding, are top notch.
Artisan & Artist DCAM-7200 Dimensions:
Size:
Outer: W 270 x H 180 x D 125mm
Inner: W 220 x H 140 x D 70mm
Weight:
Artisan & Artist DCAM-7200 Verdict:
The Artisan & Artist DCAM-7200 might just be the perfect bag for you, if you are looking for a small day bag for a one or two lens kit.  It's light, it's relatively low key, extremely well built, and most importantly, offers excellent protection for your gear.  I'd be lying if I told you that I didn't want one.  In terms of size, this bag is perfect for me, and it's so well manufactured.  It's also arguably one of the more attractive bags in the Artisan & Artist lineup at least in my eyes.  It's main drawback for some is probably the price but it's a high quality bag that's extremely functional, and practically perfect for a small kit.  If you're tired of constantly replacing bags, and you want something nice that you'll be completely satisfied with, this really might just be the bag for you.  The good news is, the DCAM-7200 is built to last a lifetime.
That's it for my review of the Artisan & Artist DCAM-7200.  Thanks for taking the time to read it!  If you're interested in this bag, there a few great places to get it but you can also contact Bob at Bergen County Camera.  If you're not sure if you should get one of the Billingham bags instead, stay tuned; I'll probably write up a three way comparison.  For now, you can check out my Hadley Small review or my M Combination bag review.  Thanks for stopping by!