Billingham AVEA 3 And AVEA 5 Review:
Bags like the Billingham Hadley Pro are great for daily photo walks.  However, sometimes no matter how much we want to keep things as light as possible, we all need just a little bit more room.  Upgrading to a larger bag isn't always the best option because something like the Billingham 207, while a superb bag, may have too much room.  No one wants to carry something larger and heavier if there is really no need for all that extra space.  Plus, it can be expensive.  Well, Billingham have a great solution for those wanting just a little bit more room from their smaller shoulder bags: they have the AVEA 3 and AVEA 5 pouches.
Billingham AVEA 3 And AVEA 5 Build Quality:
Let's first talk about the cost: each pouch is cost around $75, and that may sound kind of expensive for pouches but here the thing: these pouches are built to the same exact standards as Billingham's bags, which means they will last probably forever.  Furthermore, unlike some manufacturers out there, Billingham bags and accessories are classic and timeless in design, which means not much is going to change if anything at all.  You won't have to play that game of constantly upgrading every few years just so you don't have something that looks dated.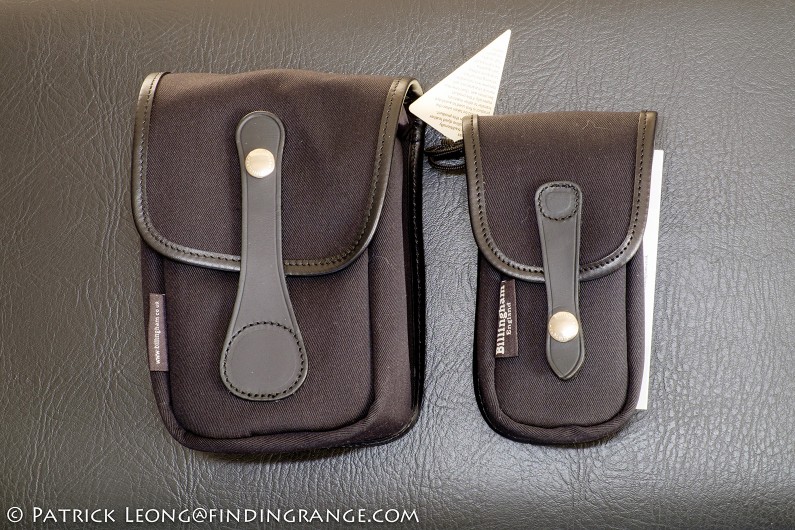 ↑ The Billingham AVEA 5 (left) and the AVEA 3 (right).
Like their bags, these pouches come in several different colors, so can find one that matches your existing bag perfectly.  They fit the Hadley Digital, Hadley Pro, the fStop series, and L2 bags.  You could even mount them on your belt.  They also come in either the traditional canvas or their synthetic material, Fibrenyte.  The canvas is slightly softer but the Fibrenyte is lighter, and a bit more wear resistant.  Personally, I like both materials, and I don't really have a preference.  I make my choice based on color.
Whether you choose the canvas or the Fibrenyte, both materials are very tough and waterproof.  I've had my original Hadley for over two decades, and trust me when I say that I am not at all gentle with my bags.  It's been through bumps, scrapes, drops, freezing temps, extreme heat, snow, sleet, and rain but my gear has always stayed safe in my Hadley.  I've even had puddles form on top of it from sudden tropical rain storms yet my gear always stayed dry.  My dear old Hadley has taken so much abuse over the years but it's just as tough as it was the first day that I bought it.  The color has faded, and there is some patina but it's been such a dependable bag that I've actually grown a sentimental attachment to it; even if I was offered a new one, I wouldn't trade it in.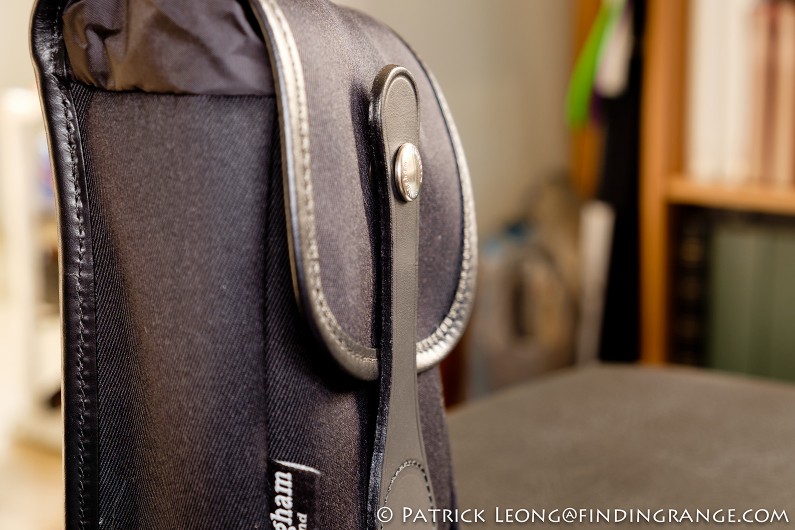 ↑ As you can see, the AVEA pouches come with quality materials inside and out.  Notice how thick the leather strap is in this photo.  It's built to last.
The canvas and Fibrenyte are not the only similarities these pouches have with the bags; the pouches also have fine leather trim with beautiful stitching.  They are extremely well-padded, so you shouldn't have any issue putting your more expensive accessories in them.  Each pouch has a leather strap with a press stud, so it's easy to open and close the flap.  You can do it with one hand.  What I particularly like is the draw string top that maximizes protection against the elements.  The draw string enclosure is great because it allows the AVEA pouches to be more flexible, and adaptive to whatever gear you have to get the best closure.  On the back of each pouch, there are two leather straps with press studs, which are used to attach the pouches to your chosen bag or belt.  All you have to do is pass the two leather tabs through the shoulder sling's leather reinforcement patch on the side of your bag or your belt, and then secure them with the press studs.  It's as simple as that.  The press studs are heavy duty, so the pouches will not come off accidentally.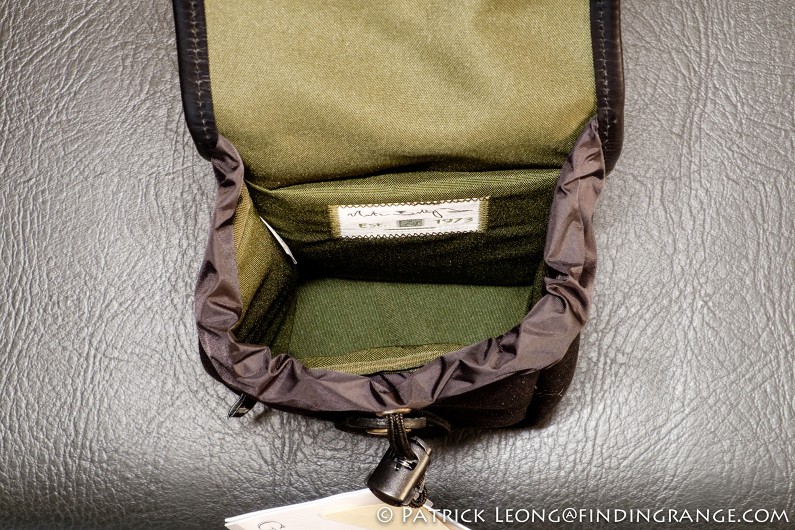 ↑ The pouches are fully padded inside.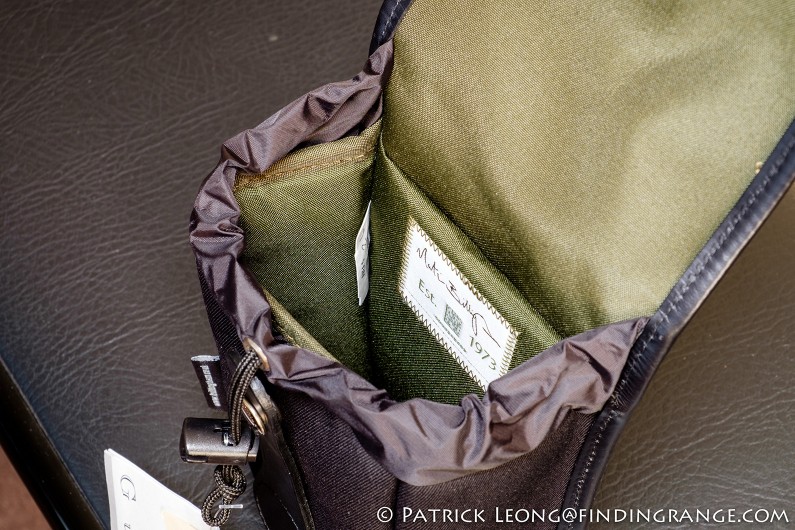 ↑ Here's another view of inside, so you can see the padding.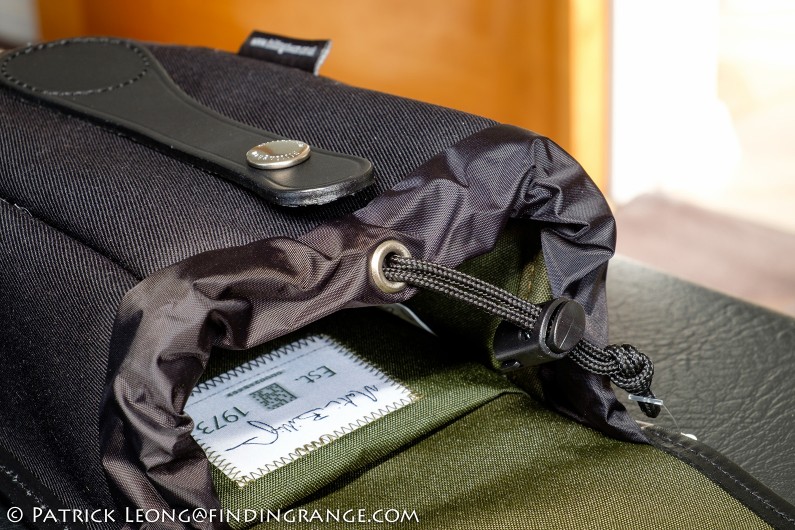 ↑ The AVEA pouches come with drawstring tops to further protect your gear from the elements.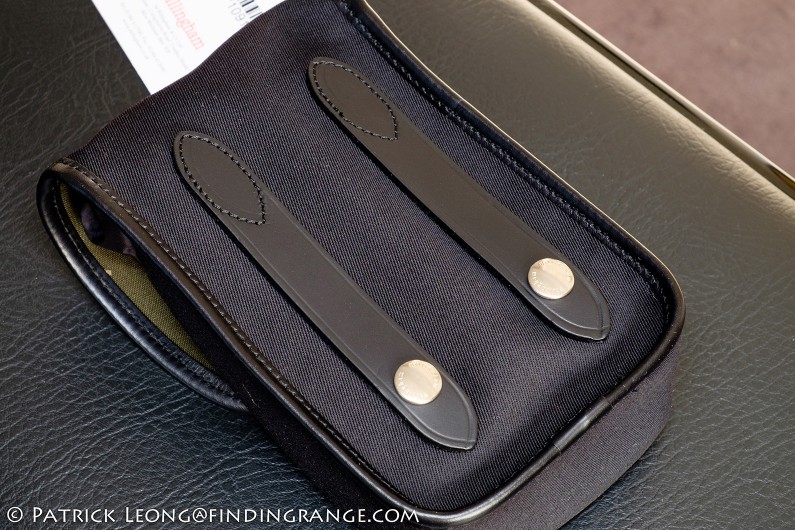 ↑ On the back of the pouches there are two leather tabs with press studs that attach easily to whatever bag or belt you own.  They stay very secure, and are also very quick to remove.
Billingham AVEA 3 And AVEA 5; Which Pouch is Best For You?:
Now, some of you may be asking, which AVEA pouch is best for you?  Well, it really comes down to what you plan on carrying with these pouches.  Personally, I prefer the AVEA 3 pouch because of its size.  However, I was only able to fit smaller accessories in it, and if I were to buy one of these pouches, I would want it to carry maybe my Leica D-Lux Typ 109 or even one of my M cameras.  Truthfully, I had trouble fitting even a Sony RX100 III.  So, while I prefer the 3, I would go for the AVEA 5.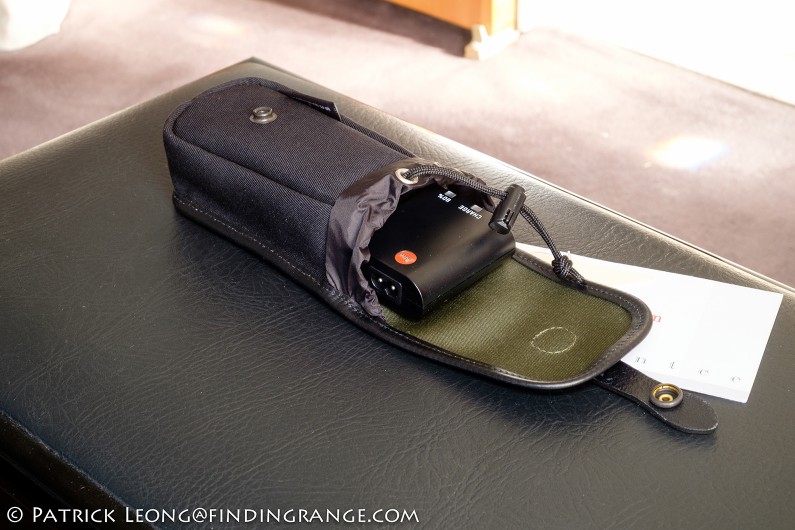 ↑ Here's the AVEA 3: It's designed for smaller accessories.  It's great for spare batteries, a phone or in this case, my Leica M 240 charger.
The AVEA 5 is perfect for a point and shoot, a mirrorless camera, a rangefinder or even a flash.  As you can see in the photos, I was able to fit my Leica M 240 in it with a 35mm Summicron.  The only downside is the size; it just looks really big, especially on smaller bags.  But I look at it this way: I would much rather carry a Hadley with an AVEA 5 attached then to lug around a bag that is significantly larger like a Billingham Packington or even a Billingham 207, when I don't need all the room that those two larger bags offer.  Plus, unlike the larger bags, I can remove this pouch when I don't need the extra space making my bag smaller.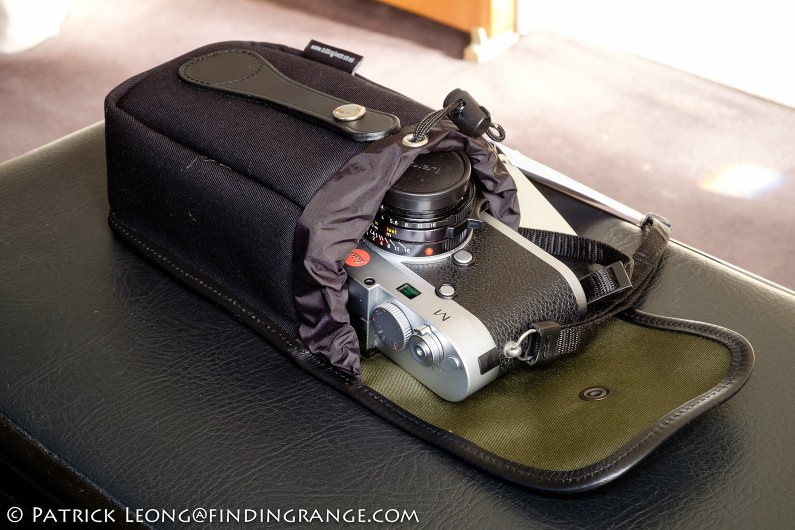 ↑ Here's the larger AVEA 5 pouch: it can fit a mirrorless camera or even a rangefinder.  In this photo, I have my M 240 along with my 35mm Summicron in it.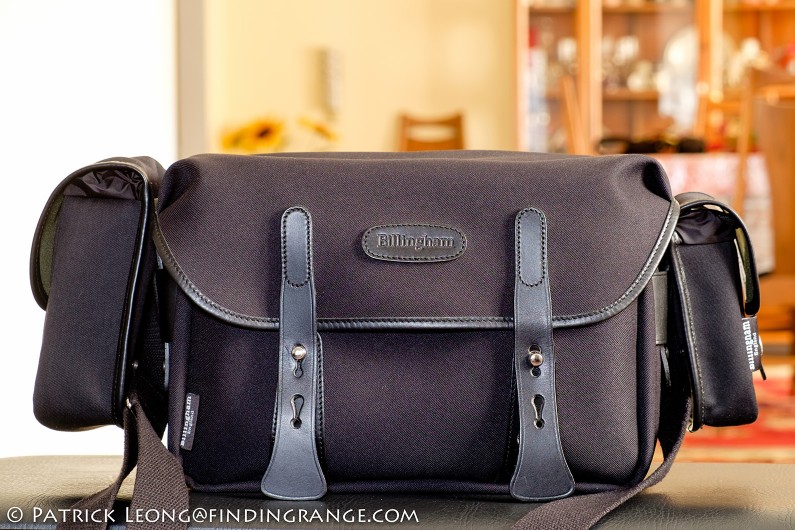 ↑ Here are the AVEA pouches attached to my fstop 1.4 bag.  The 5 is on the left and the 3 is on the right.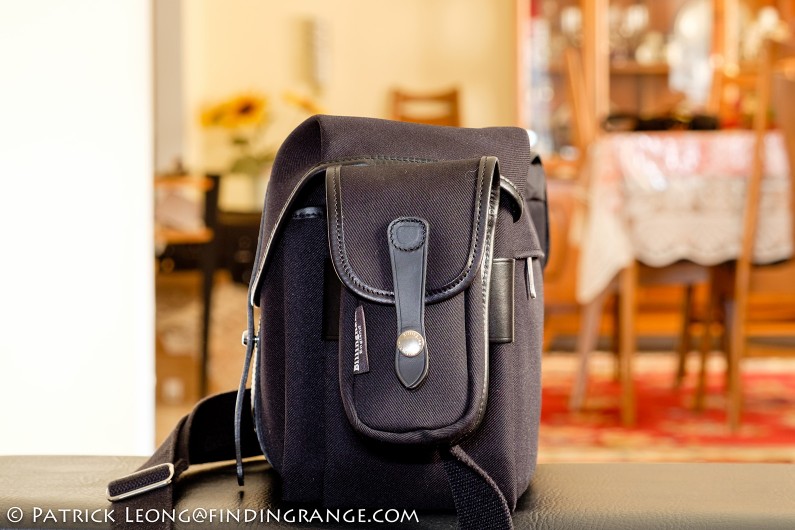 ↑ Here's a side profile of my fstop 1.4 bag.  This is a photo of the AVEA 3 attached to it.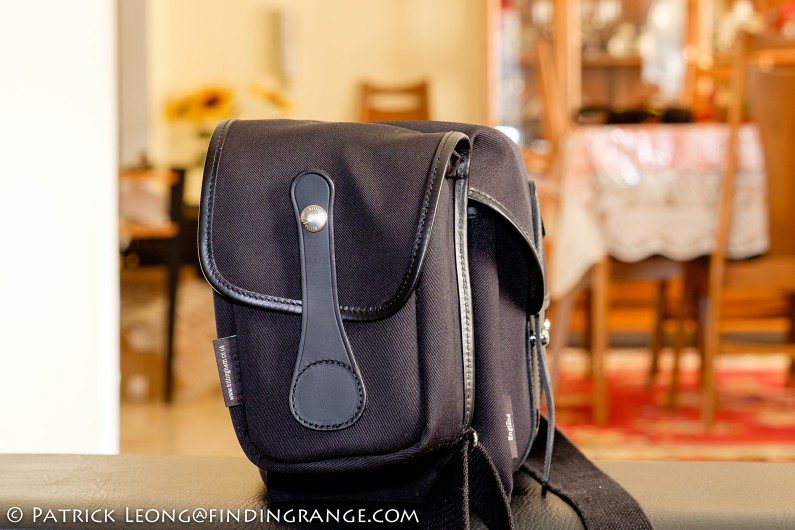 ↑ Here's a side profile of my fstop with the AVEA 5 attached to it.
Billingham AVEA 3 And AVEA 5 Specs:
Billingham AVEA 3 Specs:
External Dimensions

W80mm (3″) x D40mm (1.5″) x H150mm (6″)

Capacity

0.32 litres (0.01 feet³)

Weight

0.1Kg
Billingham AVEA 5 Specs:
External Dimensions

W125mm (5″) x D65mm (2.5″) x H180mm (7″)

Capacity

1.00 litres (0.03 feet³)

Weight

0.2Kg
Billingham AVEA 3 And AVEA 5 Verdict:
Overall, if you're looking for a little bit more room but you don't necessarily want to buy another bag or you just don't need a lot more room that a larger bag may offer you, the AVEA pouches are a great alternative.  At around $75, they could be considered expensive for pouches but these are high quality products.  The materials that Billingham use are all top notch, and not only will these pouches offer extreme protection for whatever you use them for, they will also most likely last forever just like Billingham bags.
Thanks for taking the time to read my review!  If you're considering purchasing the AVEA pouches, and my review helped you decide, please help support this site by purchasing from the links below or any mentioned in this review.  It will not cost you anything extra.  Thank you for your support!
Billingham AVEA 3 at B&H Photo