The New York Transit Museum With The Fuji X-Pro1:
I'm not a big fan of the hot weather in New York City during the summer.  In my opinion, it's humid, nasty, crowded, and smells a bit funky lol.  Don't get me wrong.  I love the outdoors…I just don't love it in New York City in the summer :).  So in general, I usually check out a few more indoor scenes.  The other day, I went to the New York Transit Museum, and it was pretty cool.  I brought along my Fuji X-Pro1 with all three lenses.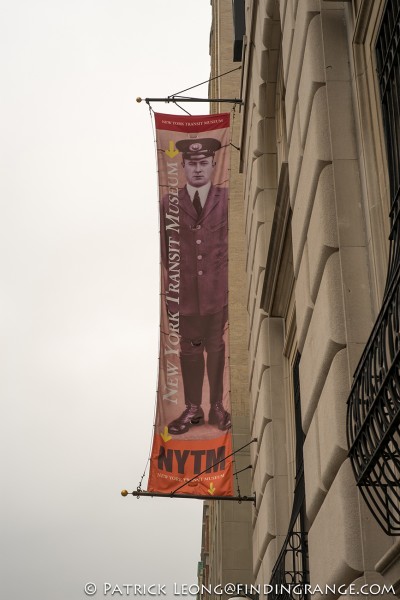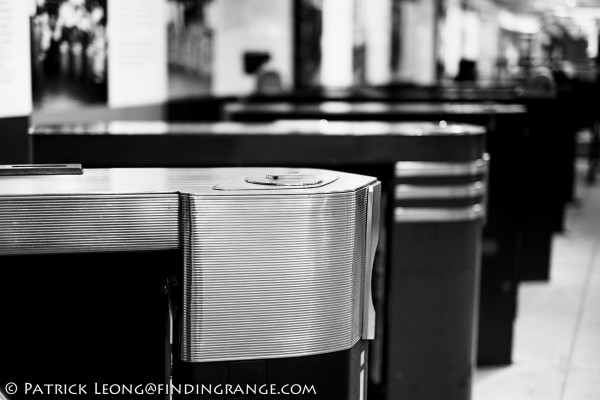 ↑ I remember using coin turnstiles back when I was in high school.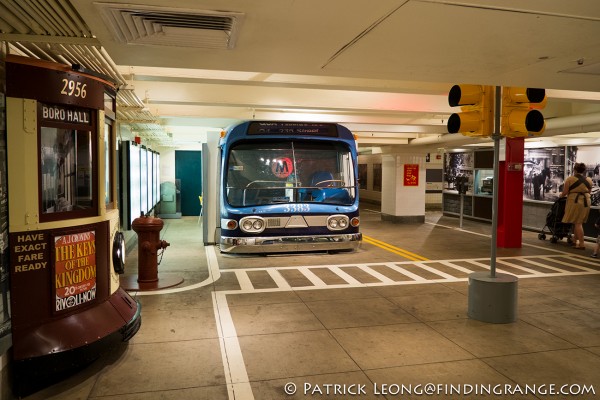 As I said, the New York Transit Museum is pretty cool.  It's located, and housed in a historic 1936 IND subway station in Brooklyn Heights.  It's also an easy train ride over there.  I didn't even have to transfer because I took the R directly from Bayridge to Court St. but you can take several other trains.  It's only $7 per person, and of course, it's cheaper for seniors and children.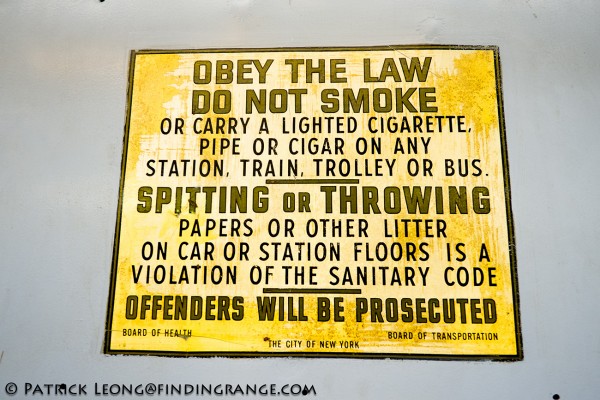 ↑ Plenty of cool subway signs were on display.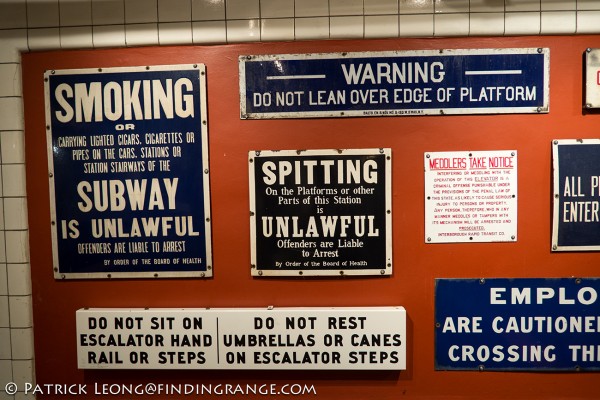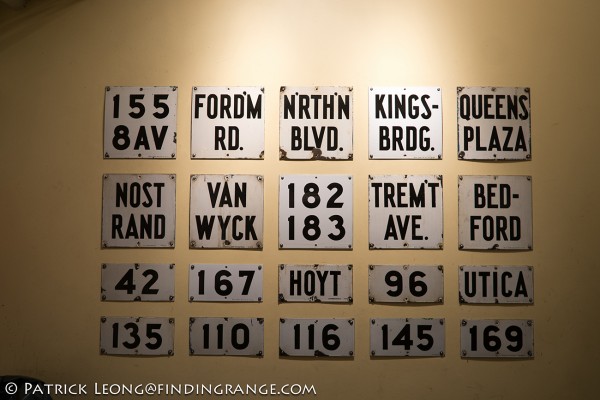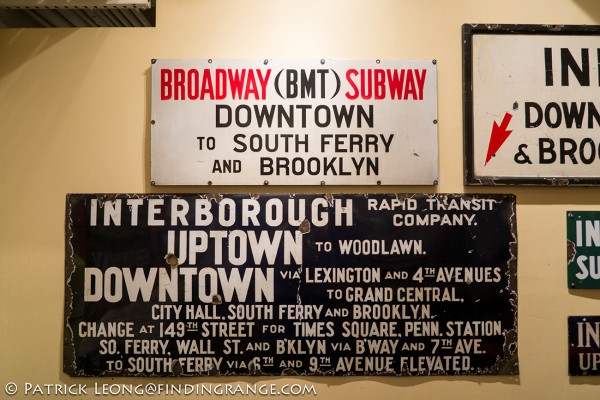 The museum something different than the average museum in New York City, and the great thing is that the New York Transit Museum wasn't even that crowded, especially on the Saturday that I went on.  It was really comfortable, and a great way to relax, and see some interesting, and in my opinion, a very important part of New York City's history.  If you ever visit New York City or live here but never checked the museum out, you should go.  Bring your X-Pro1, M9 or whatever you prefer, and just go crazy with it :).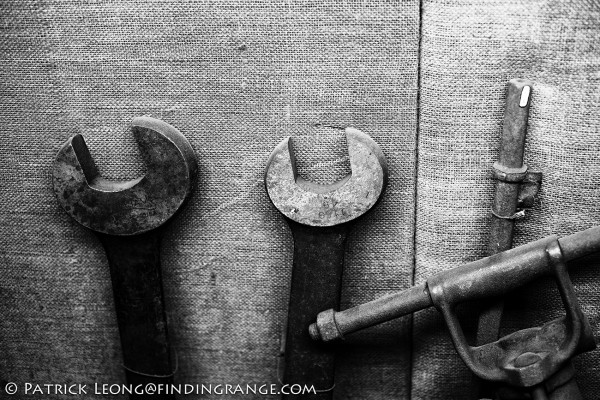 ↑ This is an insanely sharp and detailed photo thanks to the X-Pro1 and the XF 35mm F1.4 lens.  This was shot at 1000 ISO.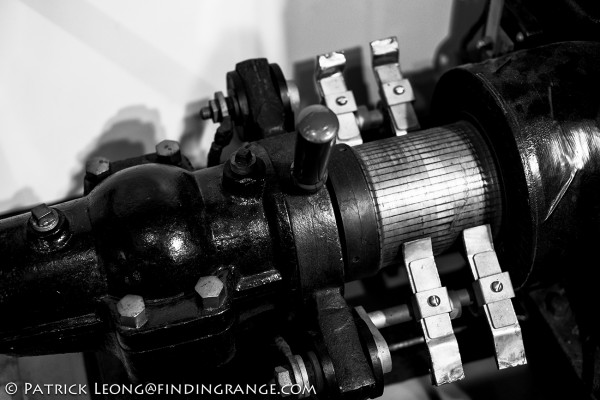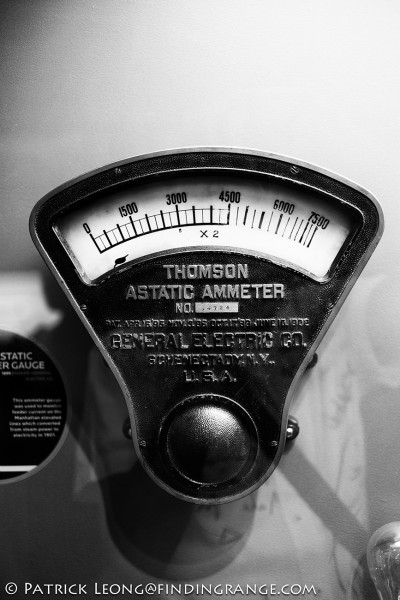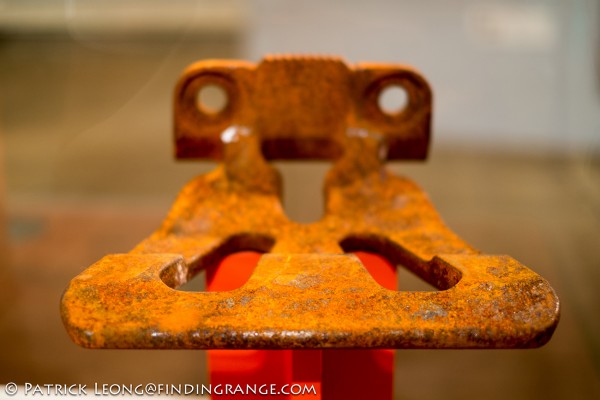 ↑ A shot taken at F1.4 with the XF 35mm F1.4.
I brought along my whole Fuji X-Pro1 kit but  I didn't use the XF 60mm F2.4 R macro lens at all.  Who cares because it's not like it weighs much anyway (great thing in the summer:) ).  My most used lens was the XF 18mm F2.0 R lens because I was in a lot of tight quarters, and I wanted to get as much as I could.  Plus, the dramatic features of something like a 28mm equivalent make for some cool images.  I will be interested to see how the new XF 14mm F2.8 R lens will perform when it is released.  So far, I love my XF 18mm F2.0 R lens, and it's only gotten better with age.  It's a really cool lens.  What else?  Well, I shot a lot of high ISO shots but that's no problem for the X-Pro1.  You can check out the rest of the photos below.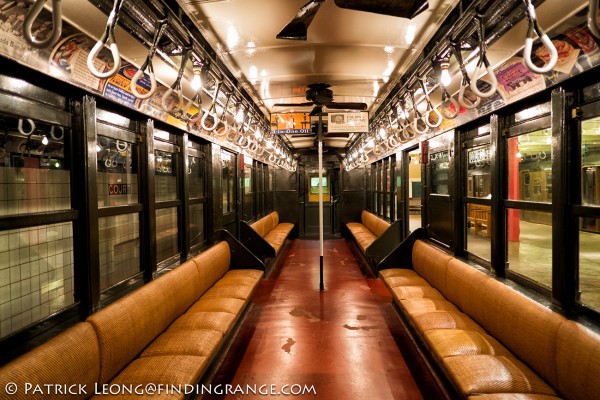 ↑ I'm really loving the X-Pro1 XF 18mm F2.0 combo.  The 18mm is small and handy.  This was taken at 1250 ISO.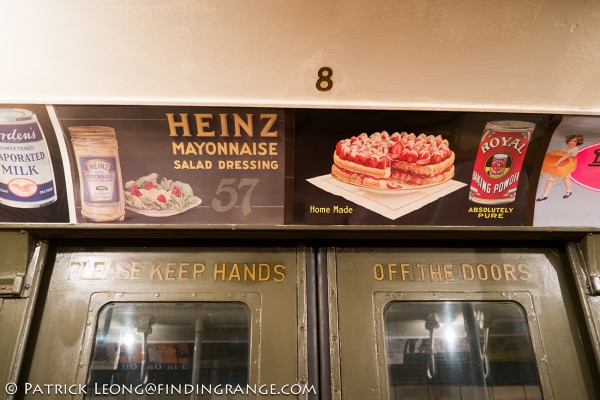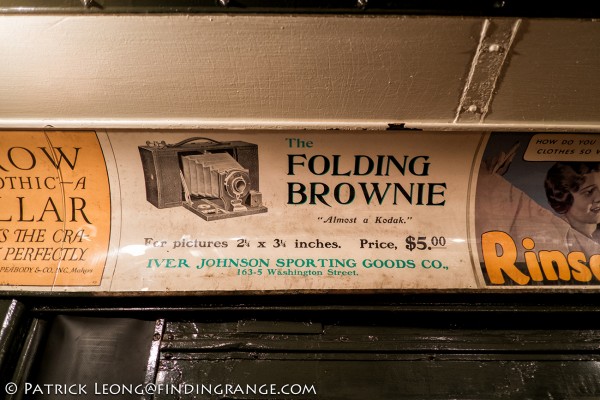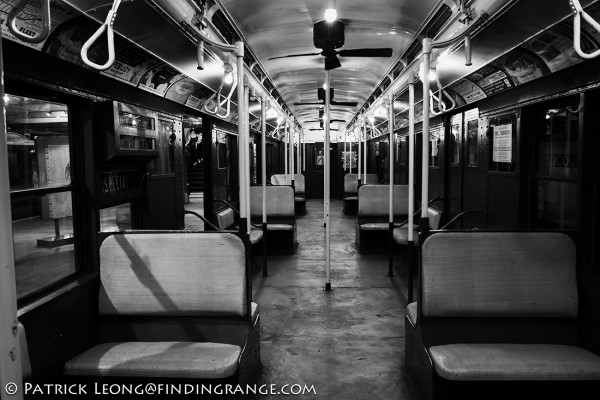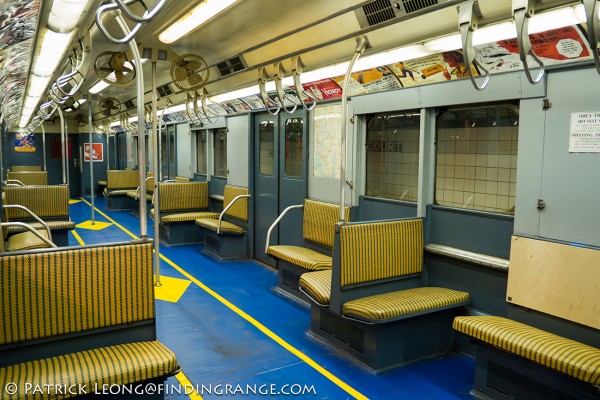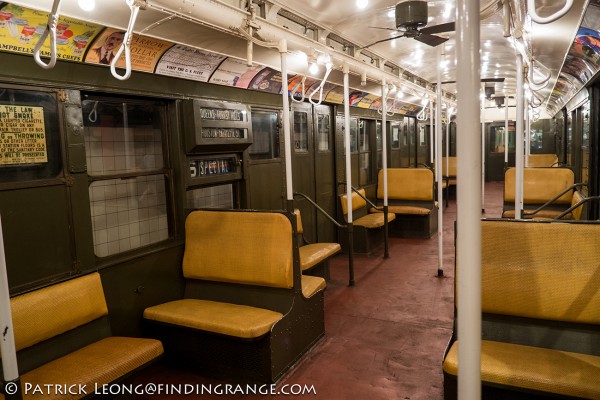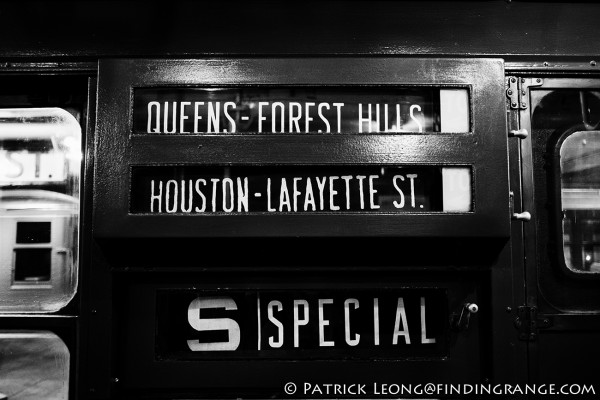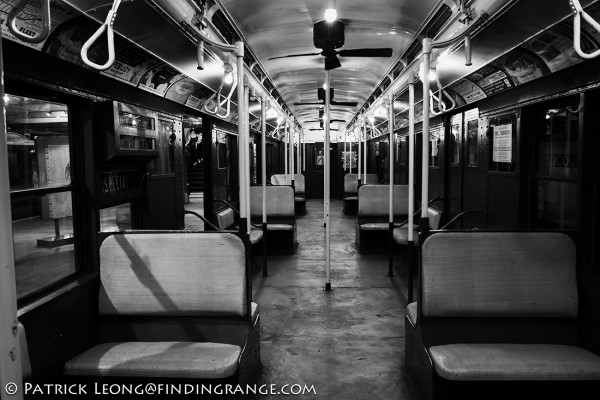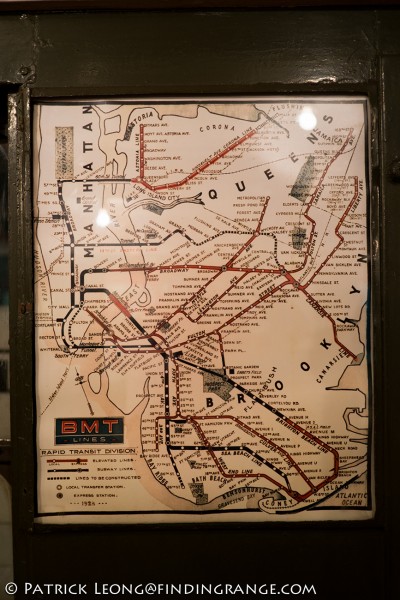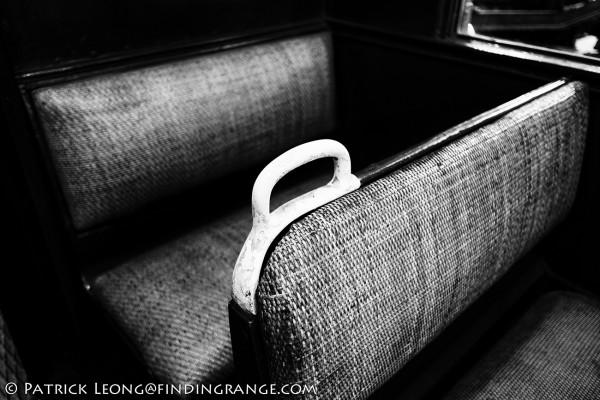 ↑ This was taken with the X-Pro1 and XF 35mm F1.4 combo.  This lens is ridiculously sharp.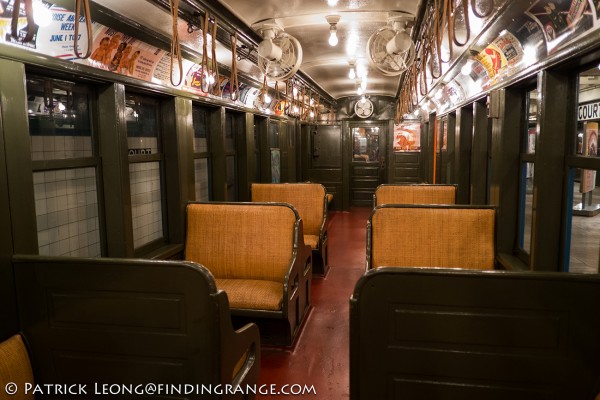 ↑ Wow, I couldn't believe that they had benches facing each other back in the day.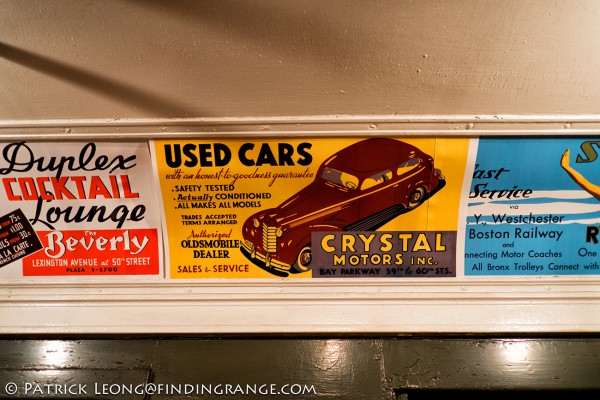 ↑ I look at subway ads all the time when I'm on it.  But some of these past ads are actually pretty nice looking and distinct.
I don't know, I think it's the round windows but for some reason, I feel like I'm in a submarine/star trek starship in the train :).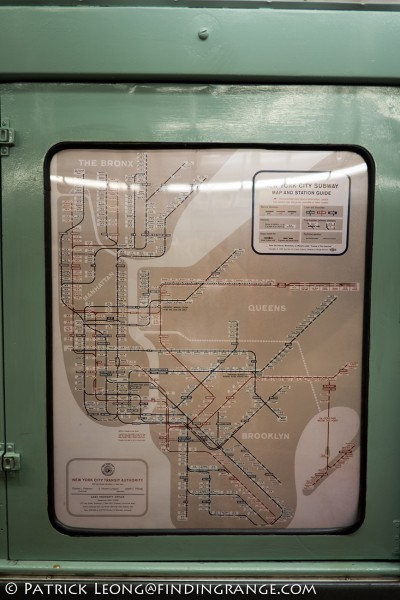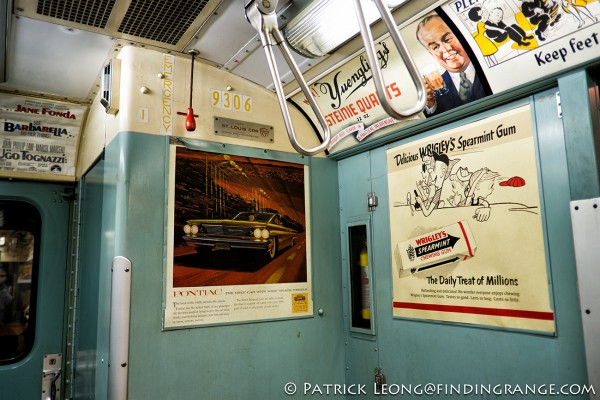 ↑ Ads on the train were so much better in the old days.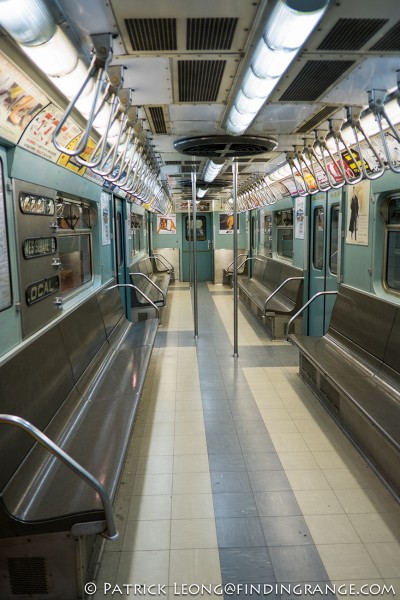 ↑ It seems the more modern the train, the more sterile it feels to me.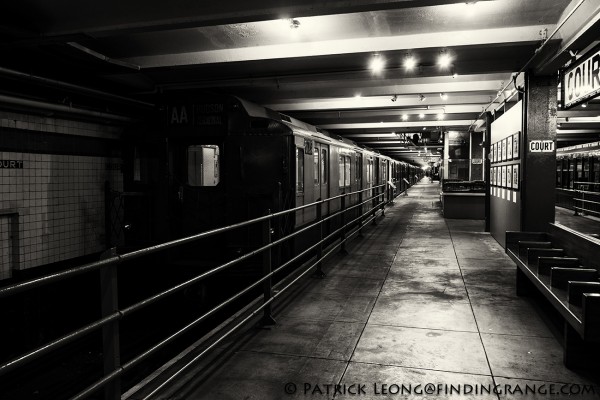 ↑ This was taken with the X-Pro1 and XF 18mm F2.0 R lens combo at 1600 ISO. 
I hope that you enjoyed the photos.  If you ever get the chance, you should check out the New York Transit Museum.  I liked it a lot.  Stay tuned for some more stuff coming soon.  I will also have a three way comparison with the Fuji X-Pro1.  Thanks for stopping by and take care!