Cotton Carrier Skout Sling Style Camera Harness Review:
A neck strap is great, and it does come with most cameras you buy these days but it isn't always the best way for some to carry a camera.  If you do lot of biking, hiking or you just have a more active life style in general, having your camera swinging around your neck just isn't ideal.  You could get a wrist strap but it is not hands free, which leads me to what I'll be talking about today.  We're going to take a closer look at the Skout, which is a sling style camera harness.  The Skout is designed to carry one camera (or binocular depending on the version you order) securely and in an unencumbered way all while also giving you easy access to it.  Cotton Carrier, the manufacturer of this harness, was kind enough to send me the Skout to review, and here are my thoughts on it.
Cotton Carrier Skout Sling Style Camera Harness Build Quality:
Since the Cotton Carrier Skout is specifically designed for someone to use when their out doing more vigorous activities, it should be well made to handle the abuse it's probably going to have to endure, and in this department, it definitely does not disappoint.  I've been using this harness for a while now, and I've had no issues with it.  It's been extremely reliable, and in addition to the excellent workmanship, the materials used, such as, being made of Kodra Synthetic canvas with DWR coding, are top notch.  Even the hub that secures to your camera's tripod mount is made of hard anodized aluminum.  It's even secured with a slotted hole to allow a little adjustment to help you avoid blocking the battery door, if you have one on the bottom of your camera.  It's also worth mentioning that there is a threaded hole on the hub that allows you to still use your tripod.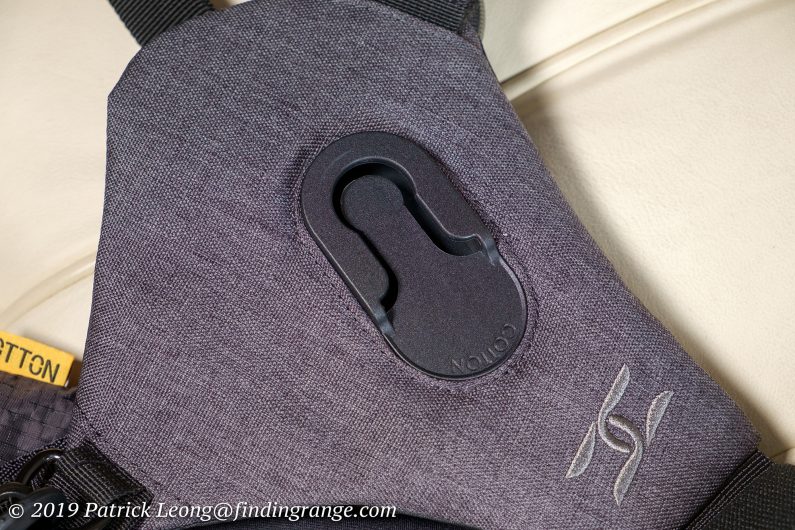 ↑ You simply slide the hub into the Skout's harness receiver.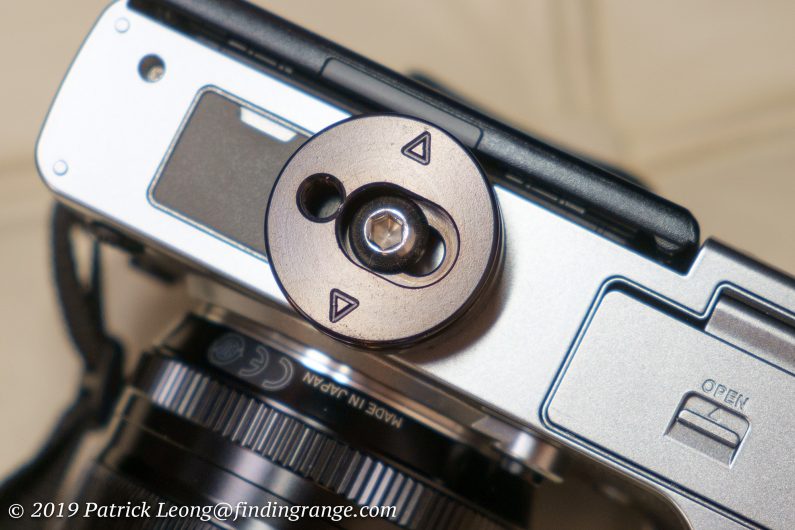 ↑ The aluminum hub allows for a little adjustment to prevent you from blocking the battery door.
Bottom line is everything here is obviously made to offer you a worry free way of carrying your camera while your out biking, hiking, fishing or whatever it is that you want to do where you just want a hands free way of carrying your camera securely.  Since many people are probably going to use the Skout while they're in the outdoors, you can also get it in Realtree Xtra Camo in addition to the Charcoal Grey that you see here.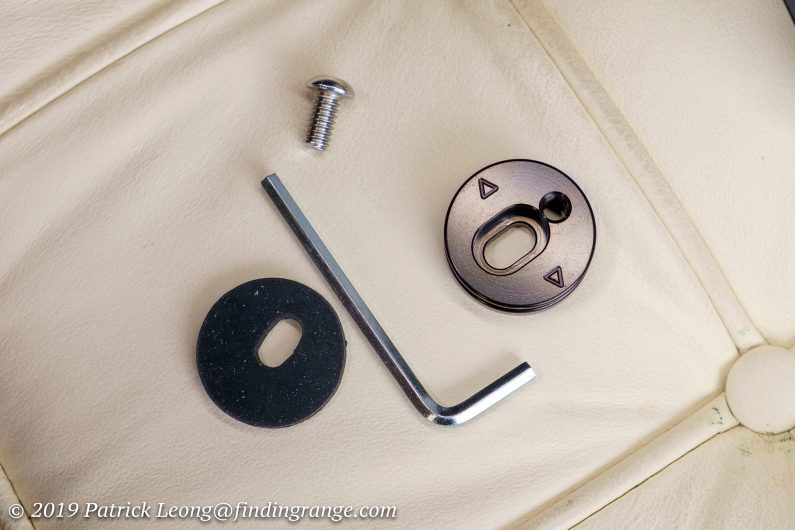 ↑ The parts that come with the Cotton Carrier Skout: allen key, rubber washer, screw, and aluminum hub.
Cotton Carrier Skout Sling Style Camera Harness in Use:
So, now that we discussed the build quality, let's talk about how it is to actually use the Cotton Carrier Skout.  I think the best part of the Skout is how easy it is to live with.  I'll admit I have those days when I have major gear acquisition syndrome 🙂 but in the end, I do have pretty good self-control, and I usually buy stuff I can see myself being able to live with for a long period of time, and stuff that just doesn't get in the way of how I shoot.  If you're looking for a camera harness with these qualities, the Skout is definitely something that you should look at more closely.
First off, the Skout is not cumbersome for a harness.  It may seem like it since it is a harness but it really isn't.  I talk about using the Skout when you're outdoors but the truth is, it wouldn't be out of place for even street photography or for shooting weddings because it's not a big, complicated harness where you need to constantly adjust it to get it to fit right, and where everyone will notice it a mile away.  It's compact, and doesn't really monopolize your entire body like some other harnesses, so it really doesn't get in the way or look outright obnoxious while you're walking around.  Plus, because it's small, it's not hard to find a place to store it when you don't need it.  Lastly, the Skout is comfortable to wear and in terms of weight, it's very light.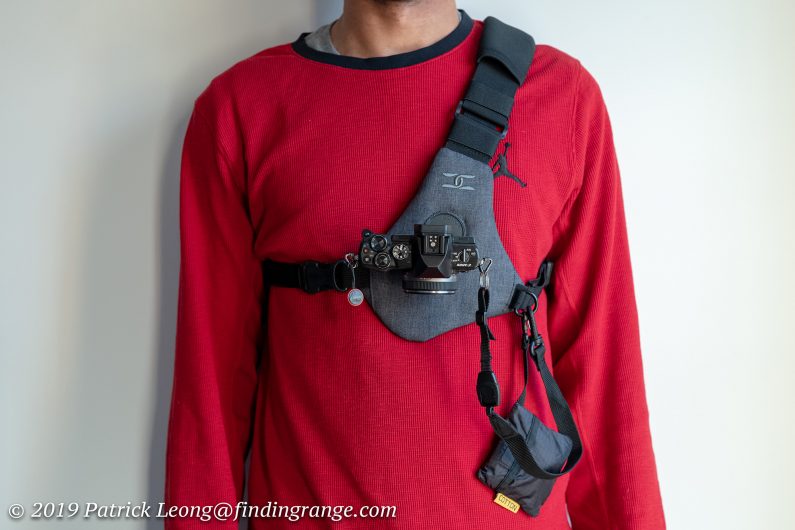 Here's the Skout with the Olympus OM-D.
↑ Here's the Skout with the Fuji X-T3 (all these photos were shot on different days and times, so colors don't necessarily match).
As for actually putting the Skout on, it couldn't be simpler.  When I received the Cotton Carrier Skout, I have to admit that I thought it might be difficult to figure out how to put it on but in reality, it took me less than a minute to figure it out right out of the box, and after that, it was like second nature to me.  It simply slips over the shoulder, and then you snap a clip around your torso.  It's that simple.  The Skout is also fully adjustable, so it fits all body types.  In addition to me using it, I also let two of my friends, who have different body proportions to each other and me, try the Skout.  The pictures in this review are of them, and both were able to adjust the Skout to fit their bodies comfortably.  The guy in the red shirt is very tall; the girl in the pink sweater is short, and I'm about right in the middle of them in terms of height and overall size.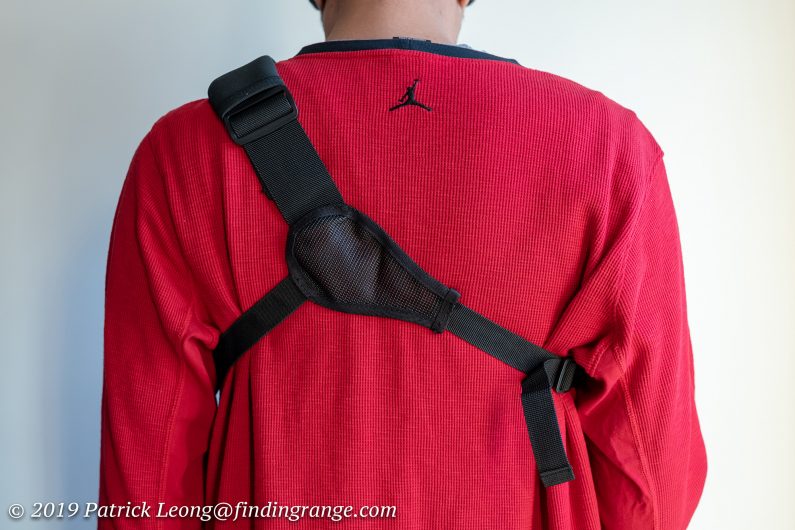 ↑ The back of the sling style harness.
Best of all, the way that you attach, and remove your camera with the Cotton Carrier's patented Twist and Lock feature is not only very secure, it's just plain out cool that it locks in so effortlessly.  First, you attach the hub to your camera in a specific way, which is clearly shown in the instruction manual.  After that, simply insert your camera with the hub attached at about 90 degrees into the harness receiver on the Skout, and twist, so the lens is facing down.  It's now securely attached to the Skout in a quick and hassle free way.  Removing your camera is just as easy.  What's also great about the Twist and Lock feature is that it has no mechanical parts, so there's nothing that's going to fail, be unreliable or slow you down in any way.  It also means that there isn't any clicking sound or noise when attaching or removing your camera, so you can stay discreet while your out shooting.  This is particularly useful during street, wedding, and nature photography.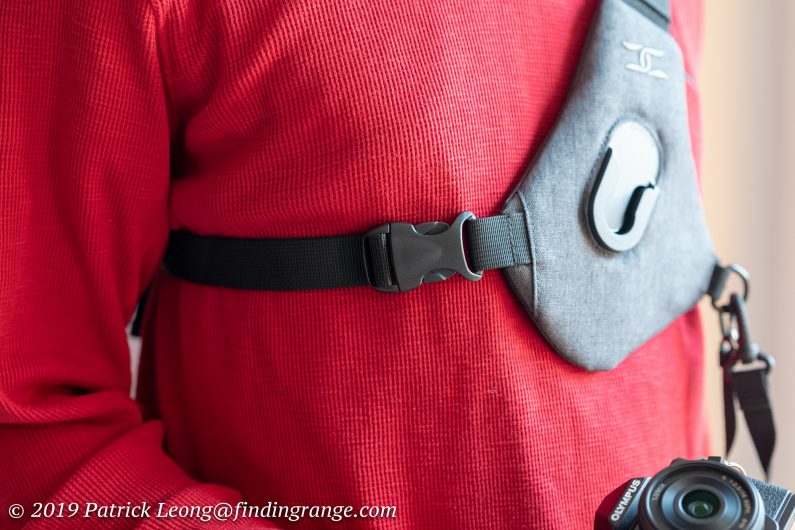 ↑ The harness clips on here.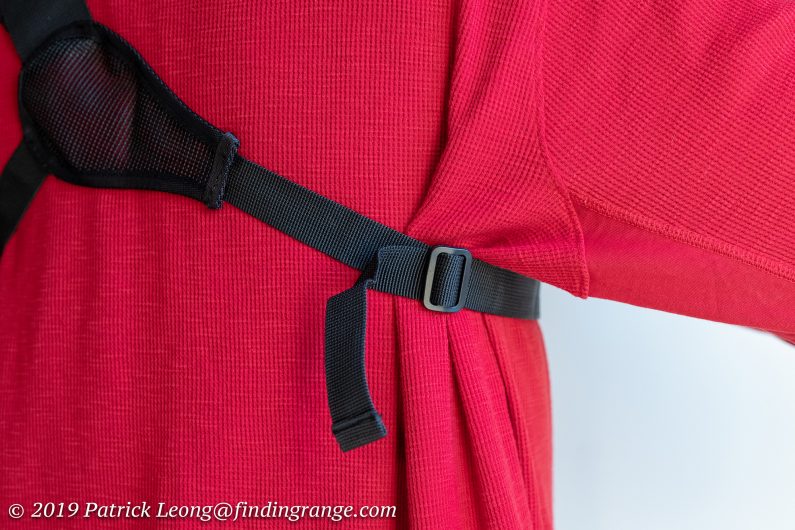 ↑ You can adjust the harness here.
As for the cameras that I used with the Skout, they were all mirrorless: I had the Fuji X-T3, the Pen-F, and an OM-D to test with the Skout.  All of them felt nicely balanced when attached.  If you have a larger camera like a DSLR, the Skout should have no issues supporting it as well.  The shoulder strap area of the Skout has plenty of padding, so heavier systems shouldn't strain the user.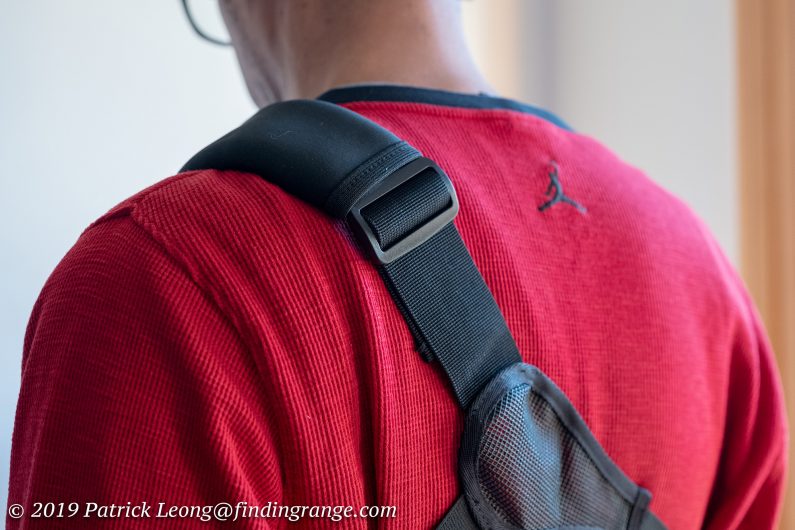 ↑ The shoulder pad offers plenty of support.
Lastly, there are a few cool features that I want to mention.  For one, there is a weather cover for your camera but I didn't use it much since my X-T3 is weather sealed.  There's also a zip-up pocket where you can store smaller miscellaneous items, such as, the Allen key that you would use to remove the aluminum hub from the base of your camera or even a phone.  Lastly, there is a quick release tether that you attach to your camera to prevent accidental drops.  If you don't like the tether, you can completely remove it or if you just need your camera to be off leash but you don't want the entire tether to be attached to the camera, there's actually a clip near where you would attached the tether to the camera.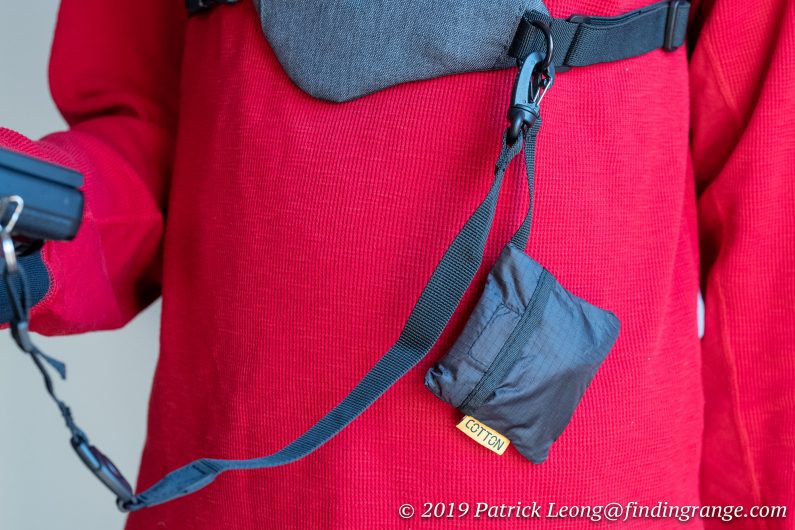 ↑ There is an included weather cover for your camera.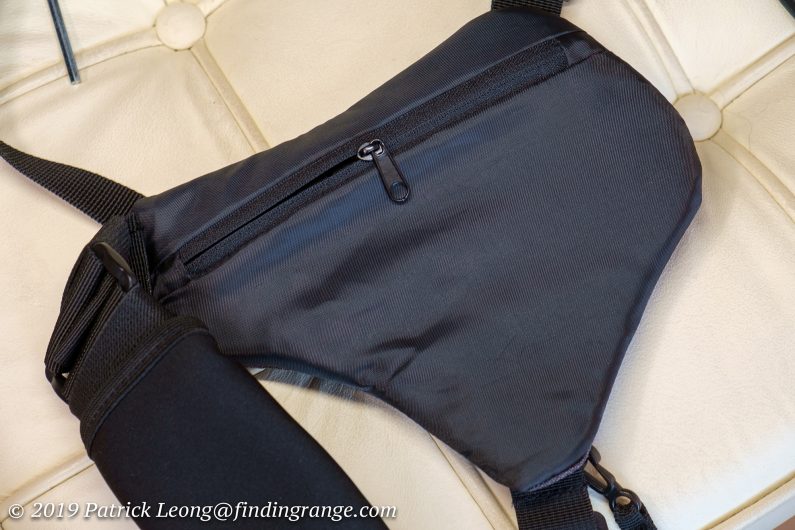 ↑ There is a pocket where you can store things, such as, the included allen key or your phone.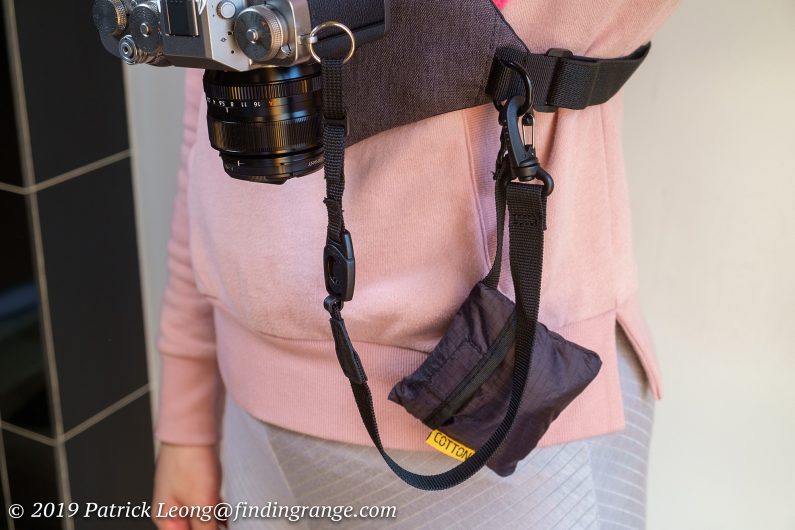 ↑ There is a quick release tether.
↑ You can clip the tether off here to remove it completely or clip it off near the camera.
Cotton Carrier Skout Sling Style Camera Harness Verdict:
Bottom line is, if you're looking for a a harness type carrier to hang on to your camera securely, especially if you do a lot of vigorous activities, the Skout sling style harness by Cotton Carrier might just be the answer.  During my time with it, I found it to be very easy to live with, well-made, and comfortable.  Everything is well-thought out from the ways that you can remove the tether to even adding a zip pocket (maximizing what you can get out of the compact harness).
Honestly speaking, I never thought I would like using a camera harness because I thought it would get in the way but the Skout never cramped my shooting style.  I do a lot of photo shoots, and I brought the Skout with me on several occasions, and it did make those shoots a lot easier for me.  I like shooting on locations versus studio, and it's just easier to have the camera hugging tightly against my body all while having both hands free to actually do things like adjusting my strobes or change lenses.
As for the price, the Skout currently goes for $79.00, which I don't think is asking too much considering this is a quality product that simply works the way that it's suppose to without any fuss.  If you think about it, there are some neck straps out there that cost even more.
So, if you've been looking around for a hands free sling style camera harness that's small, comfortable, well-made, and works really well, I suggest you take a closer look at the Skout by Cotton Carrier.
You can get more info on the Skout by checking out Cotton Carrier's website.
The Cotton Carrier Skout can also be found at:
B&H Photo: Charcoal Grey or Realtree Xtra Camo
Amazon: Charcoal Grey or Realtree Xtra Camo