Lance String Loop Wrist Strap Review:
Hey everyone!  I have another strap review for you all today.  This time it's not an Artisan & Artist strap but something a bit easier on the wallet! :): Here is the String Loop Wrist strap by Lance Camera Straps.  I heard of these straps before but I did a little more research on them after someone commented on my Artisan & Artist ACAM-301 Woven Silk Cord Review, and mentioned that he uses the Lance neck straps.  Curiosity got the better of me, which lead me to check out their site, and wow, I was pleasantly surprised.  This wrist strap that got my attention only costs $25 with $3 shipping!  So, I decided to buy it, and see what it's all about.
Lance String Loop Wrist Strap Build Quality:
For $25, the Lance wrist strap looks, and feels really well made.  Seriously, I was pleasantly surprised when I opened the box because in my opinion, this wrist strap definitely feels like it should cost more.  I was quite surprised at the thickness of this strap.  It can easily hold something like a DSLR.  The straps are made from premium polyester, and are about 8mm thick in diameter.  Now, this might sound awesome but one complaint that I have is after using this cord for a bit, I found it a bit too thick and stiff for my tastes.  When I compare this cord to my Artisan & Artist ACAM-301 woven silk cord, there is a big difference.  The Artisan & Artist cord is just more flexible, and it's not nearly as thick.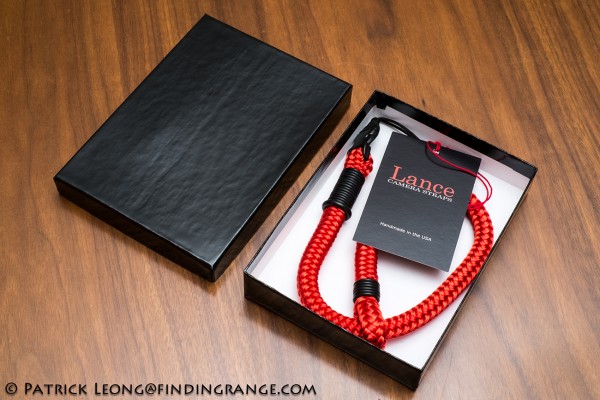 ↑ My Lance String Loop Wrist strap in red with black rings.
But unlike the Artisan & Artist straps, when you buy a Lance strap, there are a lot of ways that you can customize it.  For instance, you can choose different cord and ring colors.  With my wrist strap, I was able to choose from black, burgundy, red, beige, dark blue, olive green, and grey for the cord.  For the rings, I was able to choose from black, red orange, white, yellow, blue, green, purple, dark green, and turquoise.  That's a lot of colors to choose from, and this is only a $25 strap!  The wrist strap pictured here has a red cord with the black rings.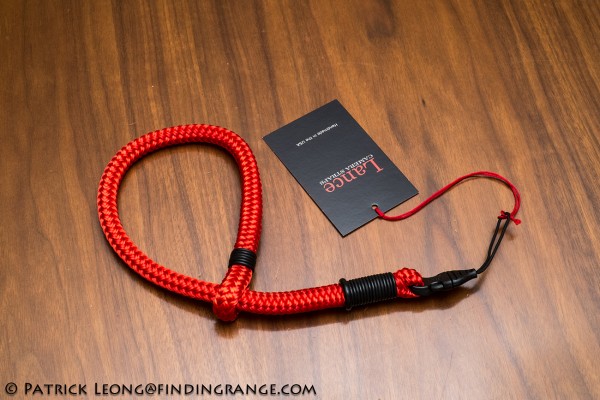 ↑ Lance makes a really nice looking wrist strap, especially for $25.  I admit my silver X-E1 might look a bit flashy with my bright red wrist strap but who cares :)?
Besides the fact that this strap was so reasonably priced, there was another reason for why I really wanted to try this strap out.  You can get the wrist strap with the metal rings that will fit into your lug nuts like the ones on Artisan & Artist straps or you can can get the wrist strap that uses a string that loops into the lug nuts.  I got the string one because it allows you to easily switch from neck strap to wrist strap or vice-versa by detaching side buckles.  It basically solves my problem of sometimes wanting a wrist strap or sometimes wanting a neck strap.  Some of you may have already found a unique way of doing this with your existing straps but it's nice to see the manufacturer thinking of this.  It really shows that this manufacturer is thinking about different ways to really benefit the photographer.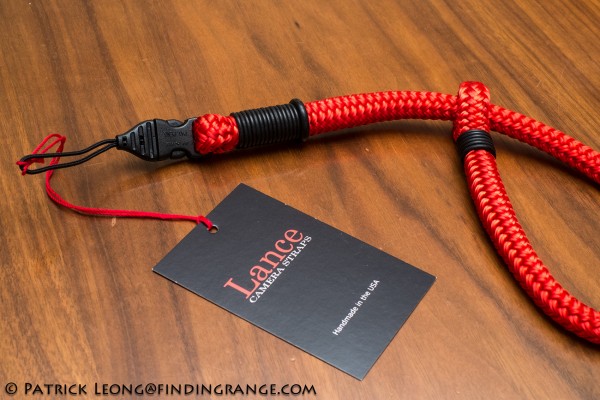 ↑ That thin black string loops into the camera lug nut, and the buckle in the photo detaches if you want to swap to a neck strap quickly.  
The Lance String Loop Wrist Strap in Use:
Overall, I find the Lance String Loop Wrist strap to be great in real world use.  I've been using the Lance strap for a bit with my Fuji X-E1, and I have no doubt that it can take a decent amount of punishment.  It can probably take more punishment than I'm willing to dish out on it.  The thin string that goes through the lug nut on the camera worried me a bit but if you go to their Durability Test page on their site, you'll see how much that little string can hold, and let me tell you, it is quite impressive.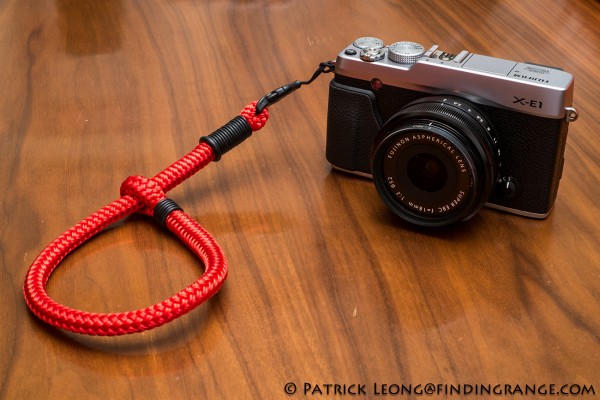 ↑ My X-E1 with the Lance wrist strap attached.
The one complaint that I have, I already mentioned before.  I think the cord itself is a bit thick, especially if you're using it as a wrist strap for something as light as a Fuji X-E1.  The cord is light but it's just a little cumbersome and stiff.  I was just expecting something more flexible.  I even find  it sometimes gets in the way when I'm trying to grip the camera.  I really think they need to offer a smaller diameter cord for people with lighter, and smaller cameras.  But overall, this is a really nice strap, and the quality is excellent.
The Lance String Loop Wrist Strap Final Thoughts:
Lance Camera Straps makes a great little wrist strap here.  The String Loop Wrist strap is built very well, and the materials used are of very high quality, especially for the asking price of $25.  You really can't go wrong here.  There's also a lot of customization, which I think is awesome.  What's the best feature of the String Loop Wrist strap to me?  It's the ability to swap from wrist strap to neck strap or vice versa with a simple detachment of a side buckle.  I love that idea.
Is the Lance String Loop Wrist strap perfect?  No.  As I mentioned earlier, I seriously think that they should give you the option of a thinner diameter cord, especially for mirrorless cameras.  The cord for me is too thick, especially when it's used as a wrist strap.
But again, this is one complaint that I have out of many positives.  In fact, some can look at the thick cord as a good feature.  It's better being safe than sorry, right?  For the asking price, it would be pretty difficult to find another manufacturer that will allow you this much customization in a cord, and give you this much in a product, in terms of quality.  If you're looking for a high quality strap, and you don't want to spend too much, the Lance String Loop Wrist strap is an excellent choice, and with so many different color options and combinations, this strap should fit anyone's style.  Oh, and by the way, most importantly, your cameras will be well protected from accidental drops because this cord is really tough, and it will not break.