Gitzo GT2542 Mountaineer Review:
I've been using my tripod a lot more often in recent years.   I've also noticed that over time, my needs have changed, so while my old tripod has given me many years of faithful service, it was time for an upgrade.  There are some great tripods out there from a lot of different manufacturers but since I've been using Gitzos for what feels like forever and I've had nothing but great experiences with them, I knew I wanted another Gitzo.  Gitzo has one of the best reputations in the photo industry and I definitely think their praise is well-deserved.  My last Gitzo was extremely reliable, survived through everything I threw at it, and gave me nothing but trouble free service.  But since there are quite a few tripods in the Gitzo line and buying a decent tripod set up can be pretty expensive, it took me many months to finally decide on which one to purchase.  In the end, I found the Gitzo GT2542 Mountaineer Carbon Fiber tripod was the best fit for me.
Gitzo GT2542 Mountaineer Build Quality:
Since I wasn't going to replace my new tripod anytime soon once I purchased it, I needed to make sure I got exactly what I wanted in every way.  A good tripod is not like a digital camera; it will last an extremely long time unlike cameras that are often times replaced much more frequently, especially in the digital world.  One of my Gitzo tripods was purchased in the late 1980's and I am still using it.  So to me, it really makes sense to buy the right tripod and a great one that will fit my needs exactly.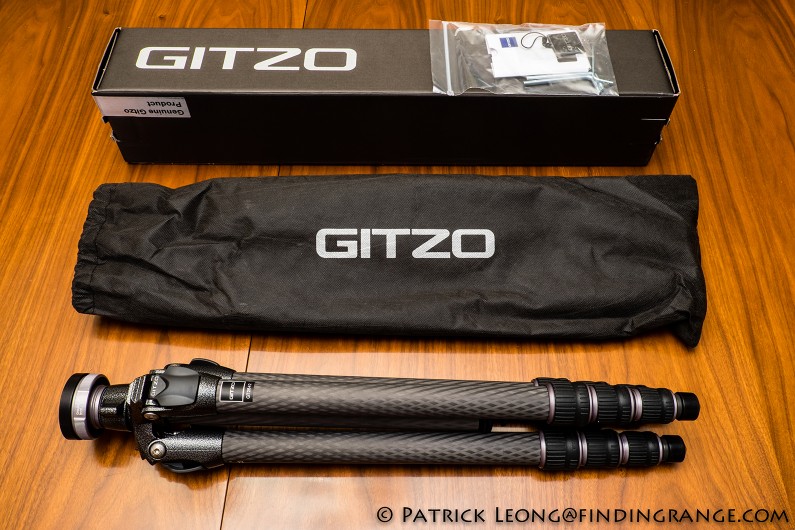 ↑ Here is everything that comes with the Gitzo GT2542 Mountaineer 2 Series Carbon Fiber tripod.
This time around, I still wanted something relatively compact and light but my main concern was stability in bad weather and for long exposures.  With my Leica and Fuji gear, I could use an 0 Series Gitzo, which would be the lightest and most compact choice.  However, I needed more in the vibration absorption area and for windy conditions.
I chose the Gitzo GT2542 because it was a 2 Series tripod and it's max load capacity is near 40 lbs.  This might sound like overkill especially for the gear that I'm using but is there really such a thing as overkill when you're looking for an extremely stable and rigid platform for your camera?  I paid a lot for my Leica gear, and it would all be a waste if I didn't have what I feel is one of the most rigid and steady platforms out there to get the maximum image quality from all that gear.  I can probably be perfectly fine with using a 1 Series Gitzo but a 2 Series is more rigid.  I wanted something that would really handle some windy weather conditions.
Plus, since the GT2542 is a 2 Series tripod, I felt better choosing a 4 section as opposed to a 3 section version.  Generally, the fewer sections there are on a tripod, the more stable the tripod is because the bottom legs won't be as thin.  However in this case, since a 2 Series tripod has thicker legs than a 1 Series, it would make up for the fact that I chose to go for the 4 section version, especially for my type of gear.  If any of you are still worried about buying the GT2542 because it is a 4 section tripod, don't; there is absolutely no flexing of any kind on the smallest bottom tubes.  Also, being that the GT2542 is a 4 section tripod, it is only 22″ long when folded.  While my main concern is stability, I still want a tripod that I can live with.  At 22″ in length, I can still walk around New York City with it and have no problems taking it on the bus and subway.  Thanks to the new Carbon eXact tubes and the magnesium castings, it only weighs 3.7 lbs. which isn't heavy at all for a tripod in this class and what it's capable of supporting.  In fact, it's actually quite a bit lighter than many tripods out there that can't support nearly the weight that the GT2542 is able to do.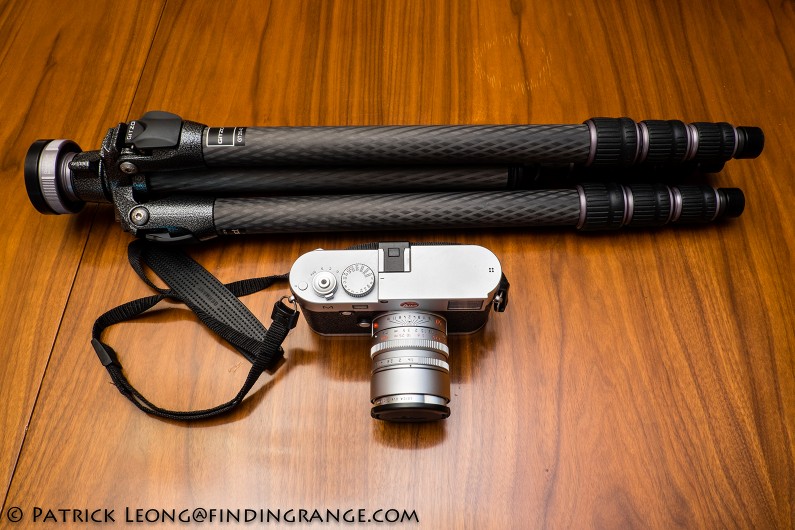 ↑ Here's a picture of my Leica M Typ 240 next to the GT2542 to give you all an idea of the size.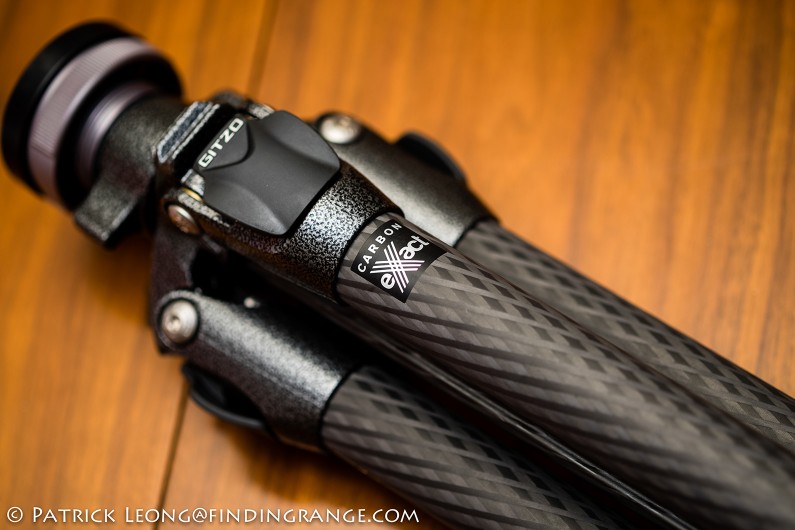 ↑ The Gitzo GT2542 uses the newer Carbon eXact tubes.
In terms of the build quality, you really can't ask for more because the Gitzo GT2542 feels simply indestructible, and that's important not only because you want a stable platform but also because you don't want to put your expensive camera gear on top of a tripod that can fall apart easily.  The GT2542 inspires confidence; everything feels very solid, strong, rigid, and well made.  My old Gitzo survived through everything.  I never had it in a bag, so it was exposed to the elements, it was bumped around a lot, and dropped a few times (mostly by people who I loaned it too).  It's been through all types of weather and travelled with me everywhere.  It was built to last a lifetime, and I'm glad to see that the GT2542 follows in this same tradition.  The GT2542 is so solid, I'd be surprised if I could even dent it.  There is nothing flimsy about the GT2542.  Only the highest quality materials are used to make this tripod.  When the GT2542 is fully extended (it's actually quite tall when fully extended, and would be actually well suited for people who are even taller than 6 feet), it feels solidly planted to the ground.  Gitzos are expensive but I definitely feel I'm getting what I paid for; everything just screams top quality product here.
For the updated Mountaineer Series, Gitzo introduced the G-lock Ultra, which is a redesigned version of Gitzo's previous leg lock system, G-lock.  It's smoother in operation, it has better ergonomics, better resistance to the elements, and it is better at preventing dust from entering the system.  In use, it works great: all it takes is a simple short twist of the G-Lock Ultra, and you can pull the legs out quickly and smoothly.  The leg locks have ample rubber grip, so even if you're wearing gloves, it's quite easy to twist them.  It doesn't take much time to fully extend all the legs.  Once the leg locks are tightened, they will not slip.  According to Gitzo, a 2 Series tripod can hold up a DSLR with 200mm lenses to a maximum of 300mm.  However, I wouldn't be surprised if this is just an understatement because the GT2542 feels so strong and solid.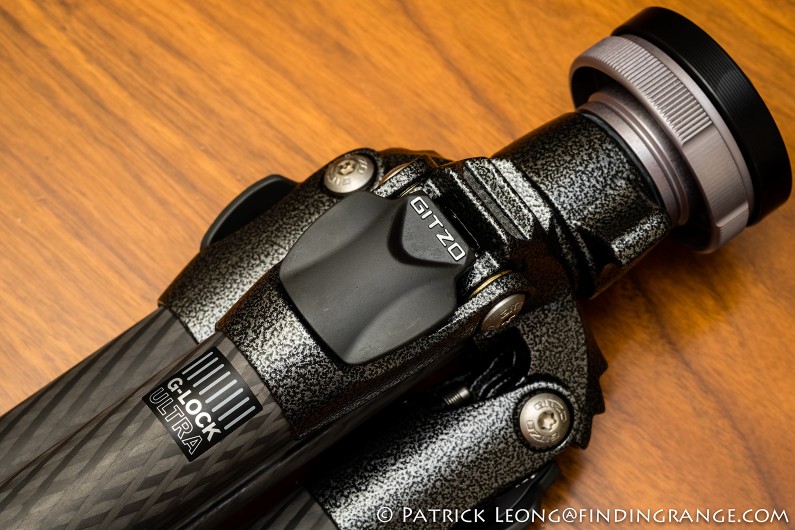 ↑ The new G-Lock Ultra are easy to use and work great.
The carbon fiber has also been updated from previous versions.  As I mentioned before, the GT2542 uses Gitzo's new Carbon eXact tubes versus the older Carbon 6X tubes.  It's still just as light as the previous Carbon 6X tubes but they're now even stiffer maximizing rigidity and image stability.  Carbon eXact optimizes the fiber composition for each tube size, using high modulus carbon fiber in the narrower tubes to make them stiffer.  According to Gitzo, the tube diameters are also optimized: the final leg section of a 4 section Series 1 tripod is now 22.5% thicker than its predecessor.
I've owned the GT2542 for a couple of months now,  and I can tell you that this tripod has incredible strength and stability.  The ball head that I have attached to the new upper disc (which ensures a solid connection with the head) of the GT2542 is the Arca Swiss Monoball Z1 dp (which has an incredible weight capacity of 130 lbs.).  This time around, I wanted a tripod setup that really meant business, and this setup is so heavy duty that it feels like I can place my whole body weight on top of it, so having my compact Leica and Fuji cameras is not work for it at all.  Everything is overbuilt, designed to be used a lot, and last forever.  Shooting with a set up like this actually makes everything so much easier for me, since this set up can support a greater amount of weight than I need.  I can angle my camera in many different ways, and know my tripod setup will be able to support it even in the windiest of conditions.  I know that my pictures will come out tack sharp and I feel secure in the fact that my camera will always stay in place without the tripod straining in any way.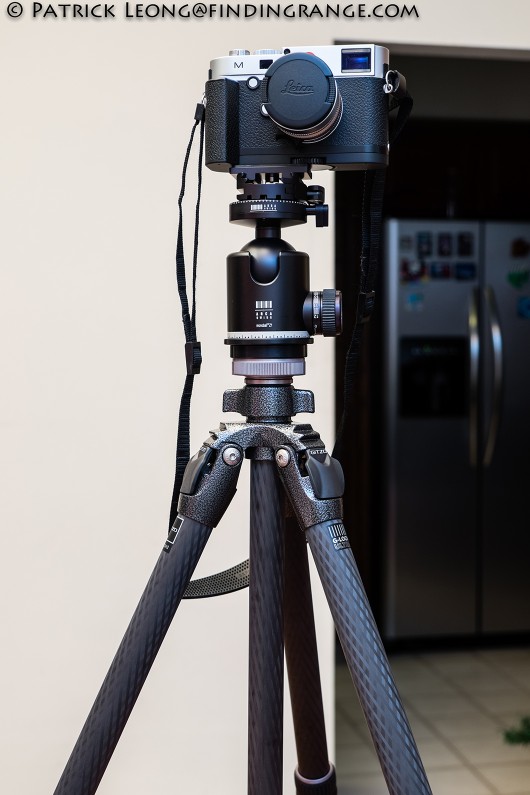 ↑ My M 240 on the Gitzo GT2542.  I am currently using an Arca Swiss Monoball Z1 dp with the Flip-Lock quick release.
The Versatility of The Gitzo GT2542:
In addition to being well built and offering a rock solid platform, the Gitzo GT2542 is also extremely versatile.  It's one of the reasons why I chose the GT2542 over some of the other Gitzos.  It's a well-rounded tripod with a lot of different features:
Ground Level Set:
For instance, if you need to shoot from a low angle or get down low for some macro photography, it's not a problem with the GT2542.  The rapid column can be easily removed by twisting the unlocking ring, which is located under the column's upper disc.  This allows the column to be removed while still keeping the upper disc solidly in place.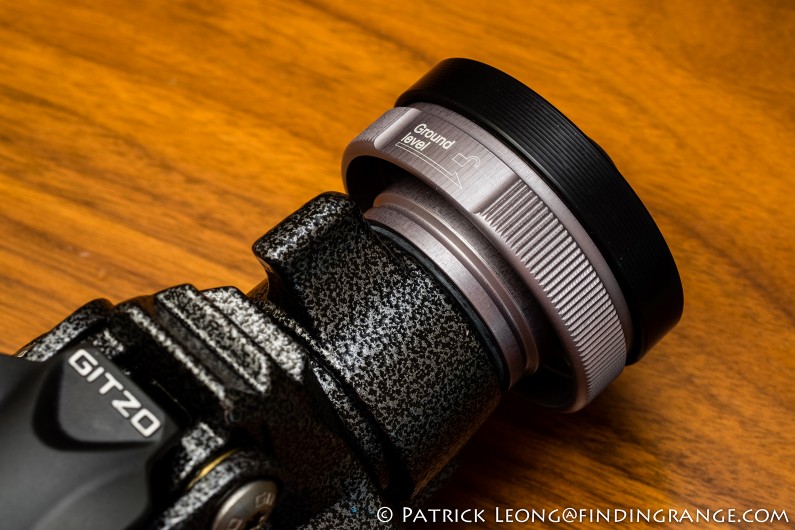 ↑ A simple twist of the unlocking ring, and you will be able to remove the center column.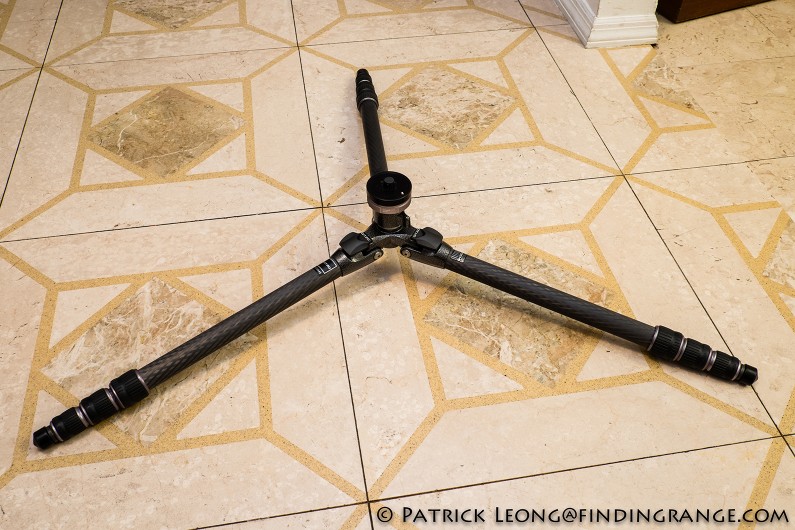 ↑ The GT2542 without the center column.
Reversible Rapid Column:
If you need to get lower than what the Ground Level Set feature offers, the rapid column is also reversible.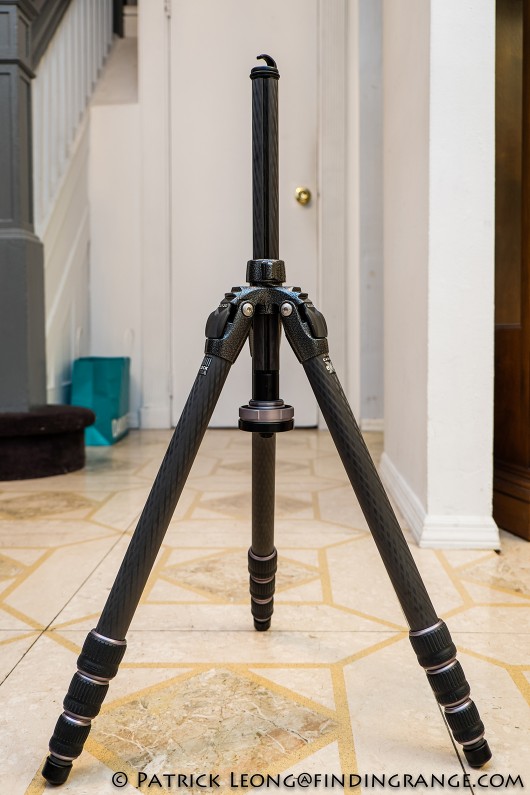 ↑ The GT2542 with its center column flipped.
Counterweight Hook:
To help further stabilize the GT2542, there's also a built-in hook on the center column where you can attach some sort of stabilization weight like sand bags or your camera bag.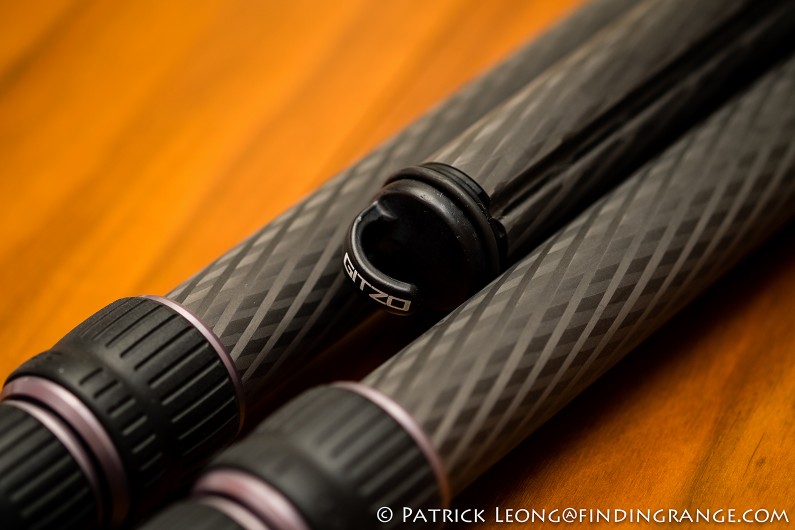 ↑ The built-in hood can be unscrewed when you want to flip the center column.
Leg Angles:
The leg angle selectors now offer more grip space, which make it easier to engage and disengage.  There's also a built-in spring to help speed up switches between the 3 leg angles.  You will no longer have to push the leg angle selectors back into place because they will automatically spring back.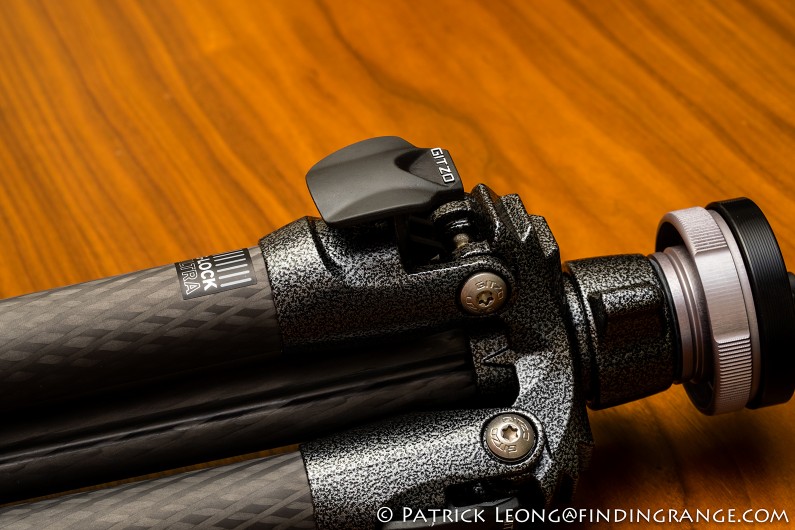 ↑ The built-in springs definitely make things more convenient.
Leg Ends:
The feet are removable so they can be easily replaced in the future or you can choose to use different types of feet, such as, spiked feet or big feet.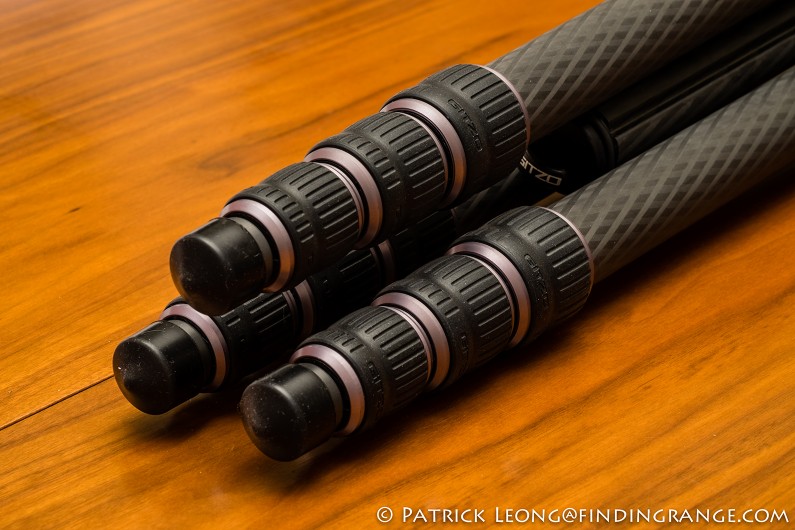 ↑ The feet offer perfectly adequate traction but depending on the environment that you're shooting in, you may want different feet for your tripod, and if so, it can be changed easily.
Other Tripods I Considered Besides The Gitzo GT2542:
I'm sure many of you who are interested in purchasing a new tripod are considering plenty of different options.  As I said before, I knew I really wanted a Gitzo but even then, there are a lot of options in the Gitzo line, which is why it took me a long time to decide which one was best for me.  As I mentioned earlier, I was considering a 1 Series Gitzo at first but this time around, I really wanted something that was extremely rigid and stable.  Gitzo states that the 1 Series is recommended for DSLRs with 135mm lenses to to a maximum of 200mm, which means it should be just fine for my Leica and Fuji gear but for me, I found the 2 Series offered the perfect balance of weight and rigidity.  The 2 Series is more rigid than a 1 Series but at the same time, it isn't so bulky and heavy that I wouldn't want to take it with me.
I was also considering the Gitzo GT2542T, which is the travel version but while the GT2542T is an excellent tripod, in order to make it more travel friendly, there are going to be some compromises.   That's why they make two versions.  It won't be as rigid or as stable as the full size version.  It doesn't have all the features of the GT2542.  The GT2542T also doesn't extend as high or go as low as the GT2542, and the GT2542T has a weight capacity of 26.46 lbs. versus the GT2542's 39.7 lbs.  Plus, the travel version uses the older Carbon 6X tubes, and I figured since I'm buying this now and I plan on keeping it for a long time, I might as well get Gitzo's latest carbon fiber material.  Lastly, it's not like the full size version is that much larger.  At 22 inches when folded, the GT2542 is still travel friendly.
Another reason why I didn't want the GT2542T was because every tripod I've owned was either a travel version or something that was very portable.  I was always looking for the lightest gear possible, which is part of the reason why I like shooting with Leica and Fuji gear.  This time around, I still wanted something that was light and compact, which is why I chose carbon fiber and a 4 section tripod but I also wanted the stability and rigidity that came with a tripod that didn't have to make the compromises a travel version would require.  I've been using a tripod so much more in recent years that it made sense for me to really invest in a decent tripod setup.  If I was in the market for a travel tripod for hiking say, I would definitely consider the GT2542T.  Not only is it 2.93 lbs versus the 3.7 lbs. of the GT2542, it folds down to an impressive 16-17 inches.  But if I were to go to the travel route, then I would probably buy the GT1542T instead, which is the 1 Series version because if I'm going as light as possible, I might as well go for a smaller series.
I was also considering the Systematic Series but I felt the GT2542 was a better fit for me in the end for several reasons.  First off, the Systematic Series is really designed for heavier gear than I'm currently using.  The carbon fiber versions of the Systematic Series range in weight capacity starting from 55.12 lbs. to 88.18 lbs.  Second, as I mentioned before, since I was going to keep my tripod for a long time, I wanted the newer Carbon eXact tubes instead of the 6X tubes.
Third, I wanted a center column.  Gitzo does make different types of center columns as optional accessories for the Systematic Series but then the tripod would be heavier.  For those who still aren't sure if they would like a center column, from my experience, once the GT2542's center column is tightened, there is absolutely no movement or even the slightest wobble.  Plus, since I bought a 2 Series, which is a heavier duty tripod than I really need, it should make up for any slight loss of stability or added vibrations due to the center column, if there is any loss at all.  If there's still concern about using a center column, don't forget, weight can be hung on the built-in hook to further stabilize the tripod or the center column can be easily removed.
Also, some have reported that they couldn't see a difference in image quality when they compared the new Mountaineer Series to similarly rated Systematic Series tripods.  I'm not here to prove or disprove this statement, especially since I don't have both tripods with me.  Personally, I think it really comes down to the type of gear your using, weather conditions, and environment.  For instance, if I was using gear that was a lot heavier, things might be different.  All I know is that with the light gear that I'm using, I don't believe the Systematic Series would really make much of a difference if any because so far, especially since I'm using a 2 Series, I have not encountered any destabilization issues whatsoever with the GT2542.  So, I'd rather have the slightly more portable Mountaineer Series.  For my needs and the gear that I'm currently using, the GT2542 is extremely stable and works great.
Overall, I believe a lot of this comes down to personal preference.  All these tripods that I've mentioned are so good that you really can't go wrong, which is part of the reason why it was so hard to decide which tripod suit my needs best.  You may find that the Gitzo GT2542 is not the best choice for you but that's okay because our gear, environment, and type of photography might be different.  Even our personal preferences might be different.  For instance, I want a center column but there are those who swear by tripods with no center column.  While I like the GT2542 best, I'd be happy with any of the other tripods I've mentioned as well.  The point is, all these tripods will give you many years of service, and will offer you a very stable platform for your camera.
Gitzo GT2542 Specifications:
Attaches By

1/4" and 3/8" screw attachment type

Leg Angles

23°. 55°. 83°

Level

standard

Series

2

Material

Carbon Exact

Center Column

rapid

Leg Sections

4 number

Maximum Height

65.75 in

Maximum Height (with Center Column Down)

54.72 in

Minimum Height

5.91 in

Closed Length

22.05 in

Weight

1.68 kg (3.7 lbs.)

Load Capacity

39.68 lbs
The Gitzo GT2542 Verdict:
A good tripod can make a huge difference in photography.  I've used some mediocre tripods before, and trust me, you'd be surprised at how much of a difference a good tripod can make to your photographs.  In short, the Gitzo GT2542 tripod is one of these good tripods.  It's actually an absolutely fantastic tripod.  I wish there was something negative that I could say since this is a review and I want to be fair but the truth is, I'm completely happy with the GT2542.  I couldn't ask for more.  Is it expensive?  Most definitely but this is the type of equipment that you buy once and keep for life, so in my opinion, it's better buying right the first time if possible.  To me, the GT2542 is worth every penny.  It's built to a very high standard, it's light thanks to it's carbon fiber tubes, it's sturdy, and it's currently the most stable tripod I've ever used with my gear.  You'd be surprised at how firmly planted this tripod is…it really is quite amazing.  Combine all of its great qualities with its amazing versatility and you have a top of the line tripod that is built to last a lifetime, which is why I give the Gitzo GT2542 Mountaineer my highest recommendation.
If you're considering buying the Gitzo GT2542 Mountaineer Carbon Fiber Tripod, and my review helped you decide, please help support me by purchasing from any of the links on my site or the ones below.  Thank you for your support!