Artisan & Artist ACAM 7100 Camera Bag Review:
Finding a decent, comfortable camera bag to use daily that fits everything I want in my own little way without dragging me down all day is not always something that is easy to find.  I'm sure that I'm not the only one that feels this way.  I am a minimalist when it comes to carrying camera gear, and for a while now, I've wanted something that is a bit lighter, and slimmer but not to the point where it becomes useless for my needs.  I still want something that can fit two or three lenses when I need it to but also feel just as comfortable if I only had one lens and camera body.  I definitely want something with decent padding as well.  This is how I found my way to the Artisan & Artist ACAM 7100 (B&H Photo/Amazon) or as some call it, Oskar's One Day Bag.
Artisan & Artist ACAM 7100 Build Quality:
The ACAM Classic Series is my favorite series from Artisan & Artist because to me, the bags in this category are all about simplicity.  There are no bells and whistles, just no-nonsense camera bags that are light, comfortable, and well-padded to protect your gear.  But this simplicity does not mean that the ACAM 7100 is poorly made; on the contrary, it's actually extremely well-made.  The craftsmanship is up there with the best of them, the stitch work is excellent, and the canvas material that covers the entire bag serves several purposes: it gives the bag a discreet, simple, and understated appearance yet it's highly water and stain resistant.  Everything on this bag overall is made to last.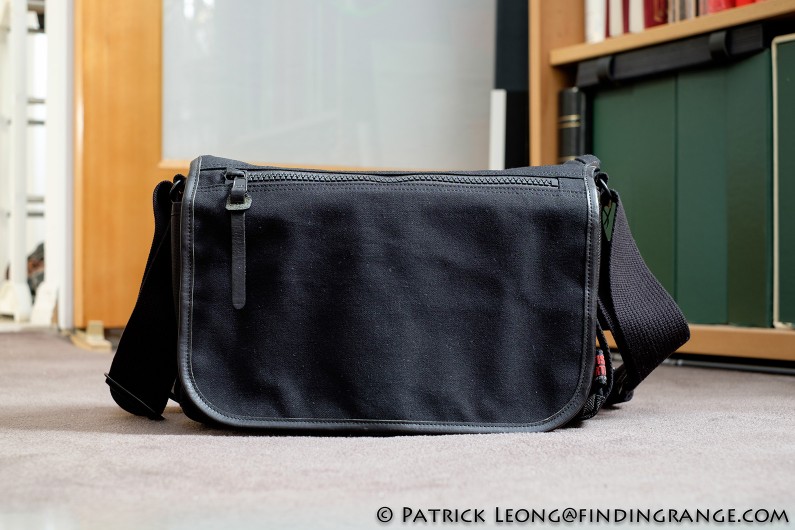 ↑ The Artisan & Artist ACAM 7100 looks like a typical messenger bag.
↑ There's a large back pocket on the ACAM 7100.
So, let's talk about the some of the little details like the shoulder strap, which is fully adjustable with a shoulder pad that features a non-slip grip.  The shoulder pad is not removable like the one that comes with the Billingham M Combination Bag but it's also not as large, so there's no reason to really remove it.  I think I've mentioned this in a review once: the shoulder pad that comes with my M Combo bag is definitely nice to have if you're carrying a lot of gear.  However, a bag of that size, isn't always designed to carry that much gear.  You can definitely fit a lot in the M Combo but usually, if I need to bring that much equipment, I will probably use a larger bag.  Then I wouldn't have to pack the M Combo so full, and it would be more comfortable and easier to retrieve my gear in a larger bag.  So, most of the time, I find the shoulder pad that's included with the M Combo bag a little overkill, and therefore, I don't use it much.  It's extremely well-made (it even has brass buttons) but because of its quality, it can be kind of heavy.  The shoulder pad on the ACAM-7100 really fits the theme of this bag, which is a light, well-made bag designed to carry the light equipment needed on daily walks.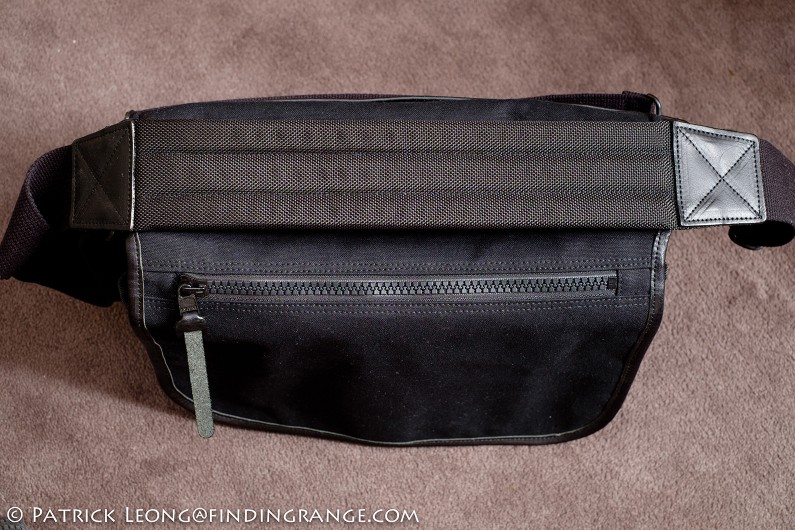 ↑ Shoulder pad of the ACAM 7100.
↑ The back of the shoulder pad has a non-slip grip.
Another great feature of the ACAM 7100 is it also comes with a hand strap.  I think this is such a great quality to have, and something manufacturers should include more often in bags of this size.  I'm assuming most manufacturers are thinking you probably won't store that much in a smaller bag but nevertheless, it's still useful.  Like the ACAM 7100 itself, the hand strap is simple and understated but it's also light, and out of the way.  In fact, if you wanted, you can fully remove it.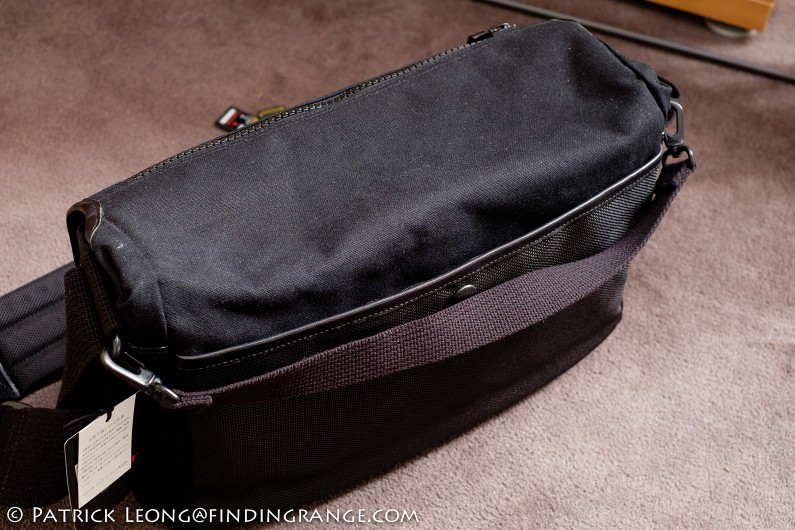 ↑ The ACAM comes with a hand strap that is fully removable.
As for the flap of the bag, which also has protection on the sides to prevent water and the elements from getting into the Artisan & Artist ACAM 7100 (B&H Photo/Amazon), it is secured by velcro and a quick release buckle.  The velcro is great because you won't even need to clip the bag shut most of the time, which makes it quicker to retrieve or to place gear back into the bag even while walking.  This is particularly important to me because I am a fast walker, especially when I'm in the city, and I usually don't like to sit down or even slow down much to take my gear out one by one.  With the ACAM 7100, I don't even have to look at the bag to retrieve items.  I can keep my eye focused on the path that I am on, open the bag quickly, and easily pull and put things back into the ACAM 7100.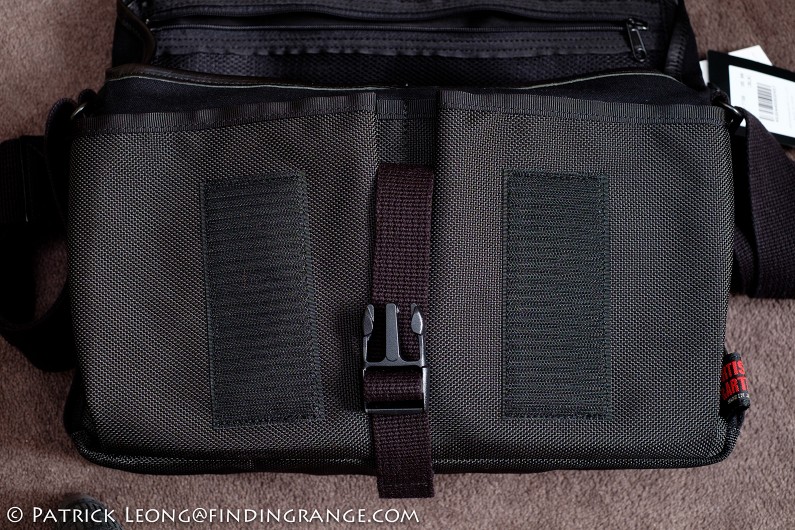 ↑ The ACAM 7100 uses a combination of a quick release buckle and velcro to keep its flap closed.
The only issue I have with the velcro is that it does make noise.  Therefore, it would've been nice to see Artisan & Artist employ velcro flaps that act as velcro silencers on their bags like Crumpler does with their bags.  This way, if you needed to silence the velcro for an event or concert, you could utilize the velcro silencers and just rely on the buckle to secure your bag shut.
As for the quick release buckle, in addition to securing the flap, it can also be used to help maintain the shape of the Artisan & Artist ACAM 7100 by connecting to the back of the bag inside the main compartment.  This would also help alleviate that feeling of things pouring out if the bag is overfilled, which happens to almost every satchel type bag.  This is actually a very unique idea, which I haven't seen employed much.  Another point I want to mention is that the buckle is made out of plastic but I believe this is actually a good quality.  This way, if the buckle accidentally hits some of your gear, it won't cause any damage.  It's also lighter than using metal, and nowadays, they make plastic buckles that can withstand plenty of abuse.  Perfect examples are backpacks that are designed for hiking, hunting, and mountain climbing.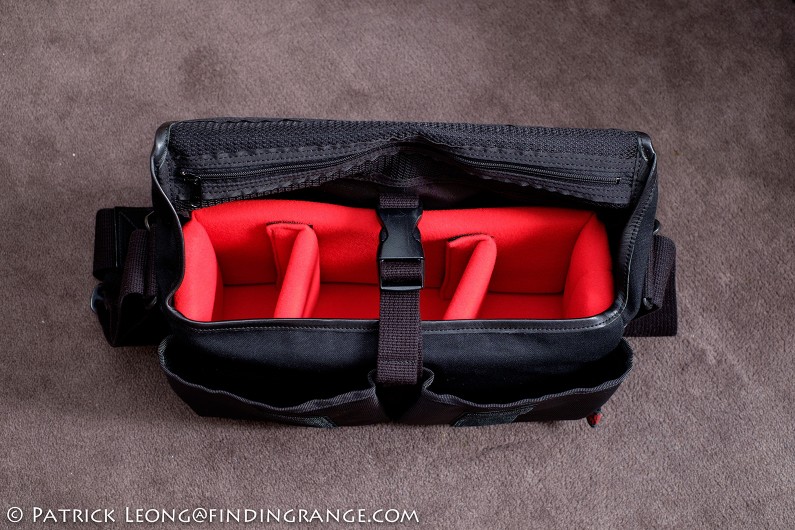 ↑ The quick release buckle can be attached to a connector on the back of the ACAM 7100 inside the main compartment to help maintain its shape if the bag is packed full.
As for pockets, there are actually quite a lot of individual storage compartments for a bag of this size, which definitely helps keep things much more organized.  There is a zippered pocket on the outside and one zippered mesh pocket on the inside of the flap.  Both are excellent places to store a cleaning cloth, business cards, pens, and some memory cards.  There's also a pocket on the back of the bag that can be secured with a snap button.  There are two main pockets on the front of the ACAM 7100, which offer a decent amount of room for a bag of this size although I wished there were buttoned flaps for the pockets.  While it hasn't happened yet, I worry that larger items like my Leica M charger might fall out of one of those pockets while I'm trying to retrieve something else, so having a flap would not only give me added security but also peace of mind.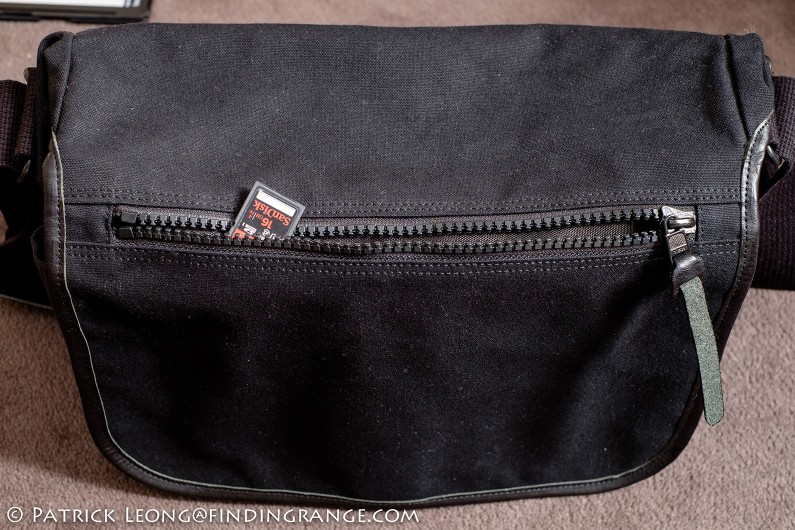 ↑ There's a zippered pocket on the front of the flap.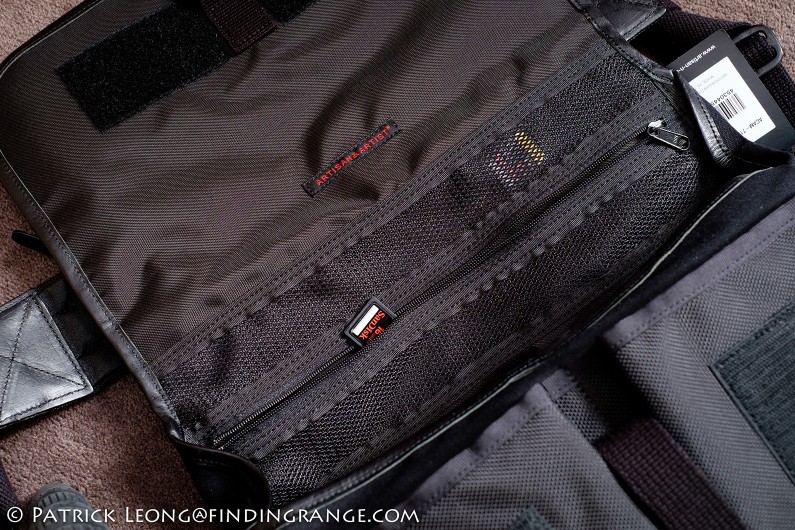 ↑ There's another zippered pocket once you open the flap.
Once the Artisan & Artist ACAM 7100 is fully opened, you are greeted with an extremely well-padded main compartment.  The padding in the main compartment really is superb; it's easily up to Billingham standards, which to me, is some of the best padding out there.  It's ultra soft, yet it's very thick as well, so your gear will definitely be well-protected in this bag.  It's all fully removable making it easy to rearrange to fit your needs perfectly.  In fact, if you want, you can even remove all the padding and just use this bag as a regular day bag to work or even to school.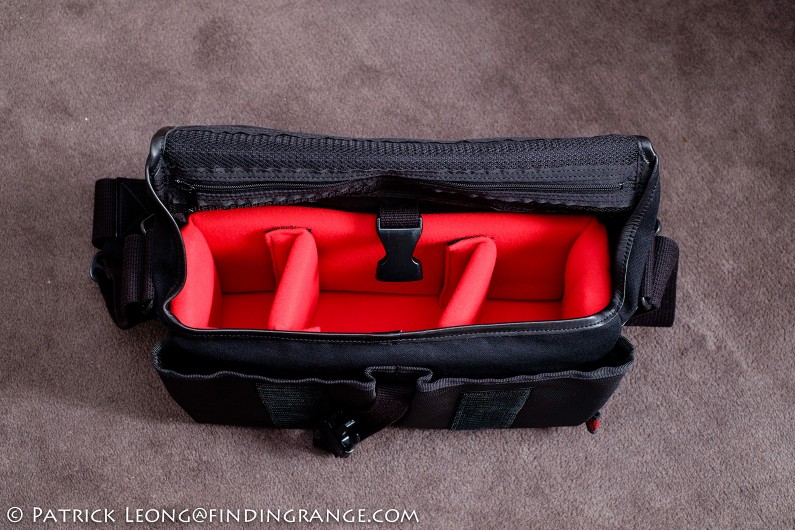 ↑ The padding is excellent and will keep your gear safe.
Artisan & Artist ACAM 7100 in Daily Use:
To me, the Artisan & Artist ACAM 7100 (B&H Photo/Amazon) is nearly the perfect camera bag for the daily user who wants a light and flexible bag for a small kit.  This bag is designed for three lenses and a compact camera like a mirrorless or a Leica M yet if I carried less, it doesn't make me wish for a smaller bag.  In other words, the ACAM 7100 feels right at home whether you're carry three lenses or one.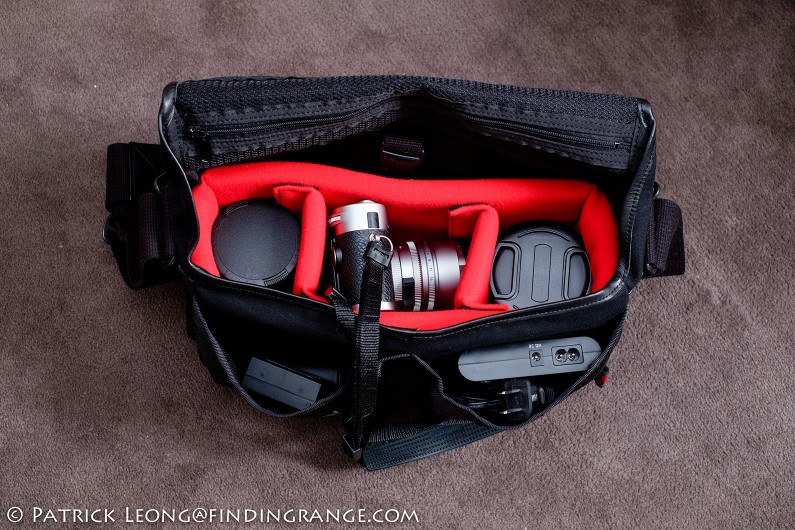 ↑ Here's the ACAM 7100 packed with my Leica M 240, 50mm Summilux ASPH, 75mm Summilux, and 18mm Super Elmar.  In the two front pockets, I have my EVF2, extra battery, and charger.
Furthermore, it's comfortable to have around your shoulders, especially on streets that get super congested in New York City.  It hugs my body well, and because of its slim, satchel-like design, it's easier to navigate through crowded subways or areas like Times Square because the bag never gets in the way.  As I mentioned earlier, even the flap is designed for quick and easy access on the run.  Since it's partially held by velcro, the ACAM 7100 can get away with just one plastic buckle to secure the flap.  This makes it quicker for you to unclip the flap because you don't have to unclip two buckles.  But most of the time, I don't even use the buckle because the velcro is secure enough on the street that I don't worry about my bag opening up accidentally.
In my opinion, another characteristic that the ACAM 7100 has going for it is it isn't particularly flashy.  It's discreet and unassuming; from a distance, this may look like any old work bag, especially after it wears in but only on closer inspection will you see the little details that make this bag such a high quality product.  Each component on this bag also serves a real purpose, and isn't there just to make the bag look better.  For instance, the bag has both velcro and a quick release buckle to keep the flap close, it has multiple pockets to help you keep things organized, and you can attach the quick release buckle to the back of the bag in the main compartment to help it maintain its shape better for when it is packed full.  Those are just a few examples I have listed.  Everything is designed to have some sort of function to make the photographer's life a little easier.
The price of the Artisan & Artist ACAM 7100 fluctuates but a decent price in the U.S. is around $230 to $250.  It's an expensive bag but I don't think it's outrageous.   It's priced competitively with it's competitors like the Hadley Small, and all bags in general now are steadily increasing in price.  There are bags out there in the same class that cost even more.
I keep my bags for many years, so it's worth it for me to find a decent one, and one that I particularly like as well.  I've had the ACAM 7100 for almost a year now with no problems.  I'll probably be keeping this bag for as long as my Billingham bags, and if that's so, it is definitely going to be worth the price.  As I said earlier, I've had my M Combo for 7+ years.  I've owned my Hadley for over two decades.  They are relatively expensive bags but they are also high quality bags, and in the long run, it came out cheaper to own them than if I were to buy a new bag every year or so.
Artisan & Artist ACAM 7100 Specifications:
Weight: 750g
Body size: W300 x H200 x D100mm
Inner size: W270 x H140 x D80mm
Material: No. 10 Canvas, Nylon, Leather
Capacity: 3 lenses and a mirrorless or rangefinder body
Artisan & Artist ACAM 7100 Verdict:
Over the years, I've tried a lot of different camera bags but I am usually very critical as to what type of bag I actually end up purchasing.  Judging by the fact that I've had my Hadley for 20+ years and it's still being regularly used, I think it's particularly important to be completely happy with whatever bag I choose.  Now, when I want something a bit lighter, I will go to the Artisan & Artist ACAM 7100.  To me, this is absolutely the perfect bag for a small Leica M kit or a mirrorless system like the Fuji X Series.  The ACAM 7100 almost feels like a blend of the classic and awesome Domke F-802 Reporter's Satchel with the padding and protection of a Billingham.  It fits everything perfectly, it's beautifully understated, and it protects my gear extremely well.  At least for me, I couldn't ask for a better small kit camera bag.
Thanks so much for taking the time to read my review! I hope you've all enjoyed it, and it has helped some of you.  If you're considering buying one, and my review helped you decide, please help support this site by purchasing from the links below or any of the links on this page.  These are places I shop at myself, and it will not cost you anything extra.  Thank you for your support!
Artisan & Artist ACAM 7100 at B&H Photo
Artisan & Artist ACAM 7100 at Amazon