Cecilia Gallery Leather Wrist Strap Review:
I bought a new Leica D-Lux Typ 109 in the solid gray color, and I've been looking around for a wrist strap for it.  This time, I really didn't want one made out of leather because I wanted something very flexible considering the camera is both compact and light.  I also wanted a cord end instead of a metal O ring because it adds to the overall flexibility of the strap but I needed a cord that could withstand a lot of abuse because I did not want my camera to snap off.  So, after an extensive search, I finally found a strap that fit my needs: the Cecilia Gallery leather wrist strap.
Cecilia Gallery Leather Wrist Strap Build Quality:
Now, I realize that I mentioned I did not want a leather strap yet I still ended up with one but first hear what I have to say.  For anyone who does not like leather straps because sometimes they can be either stiff or not as flexible as a cloth strap, take a look at the Cecilia Gallery straps because the leather used in my all black wrist strap is some of the softest, and most flexible that I've ever come across.  It's also not that thick, which means it's light and also helps with the flexibility.  It's pliable, soft, and it's kind of flat in color giving it a beautifully understated appearance.  It's very comfortable to wear, especially for an extensive period of time.  I absolutely love it.
↑ The Cecilia Gallery leather wrist strap is beautifully understated and very functional.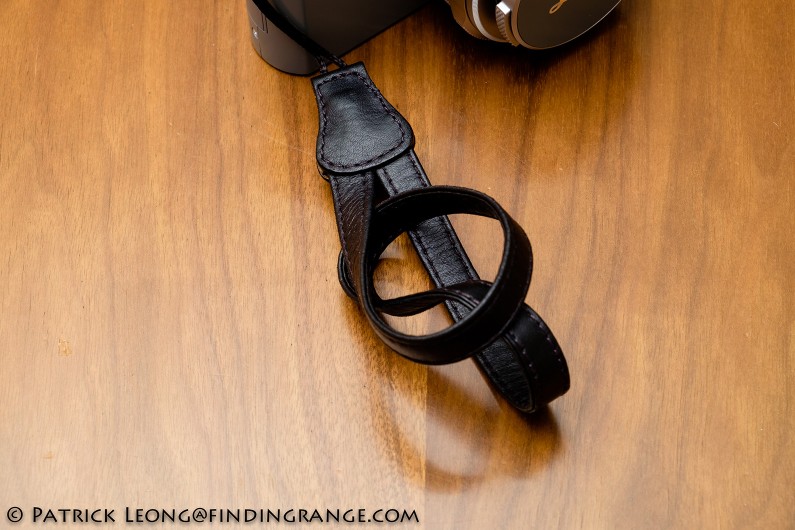 ↑ This wrist strap is also very flexible and the leather is very soft.
As for the connecting end, I was able to get a cord end instead of a metal O ring but if you prefer, you can actually choose the O ring instead.  Now, I was originally worried about the cord because quite frankly, I do not want my D-Lux to break off.  However, the cord is actually 130lb test braided Dacron line.  So, there's not much to worry about since I most likely will never put that much stress on the strap, and now I have the flexibility of a cord.  I couldn't ask for more.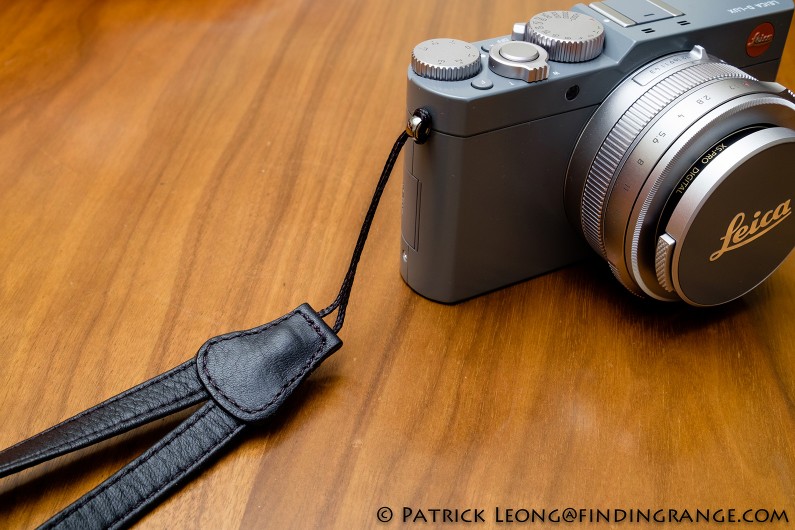 ↑ I chose the Dacron cord instead of the metal O ring.
As for color colors, there are actually a lot of different combinations to choose from.  I bought a simple all black version but you can choose a different color, and you can even add different color combinations of alpaca wool to a strap.  For instance, check out the Cecilia Gallery sand baby alpaca wool black leather wrist strap.  It offers a little more contrast in the strap but personally, my choice, since I prefer darker colors, would be to get the Cecilia charcoal baby alpaca wool black leather wrist strap.  It is absolutely beautiful and if I had more time to wait (I wanted the strap in time for my trip), I probably would've bought this one instead of an all black design.  Maybe I will get one for my Leica M or Fuji in the future.  These straps are really well-designed and clearly well-made.  More importantly, they are unique from the rest out there but they never overdue anything.  Their designs are always classy, functional, and understated.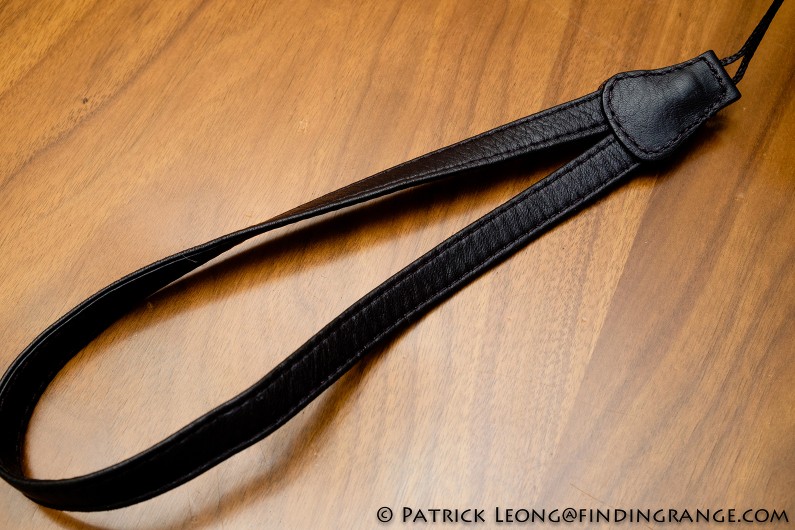 Here's a close up of the wrist strap.
For those who are curious as to where the raw materials come from, the leather is sourced from Argentina, and the wool is Peruvian alpaca fiber.  Several of the models are also handmade in New York City.  Best of all, the price of my strap was $36! the ones with wool that I mentioned are $42.  For high quality leather wrist straps, those prices very reasonable.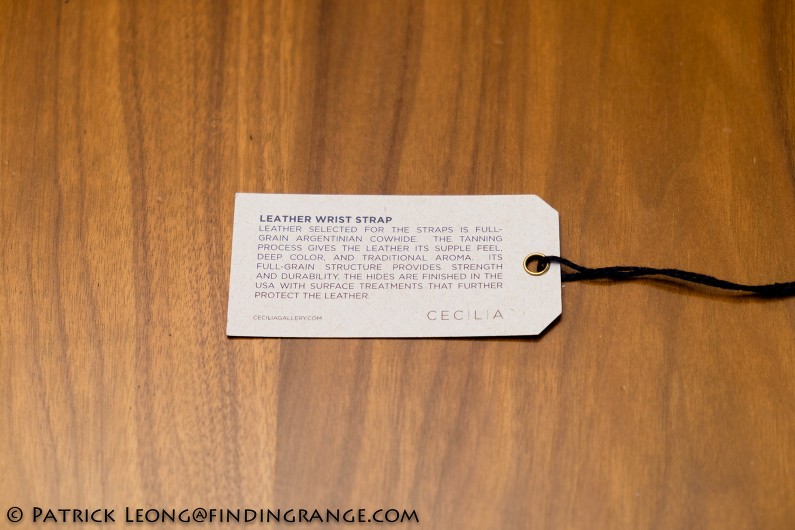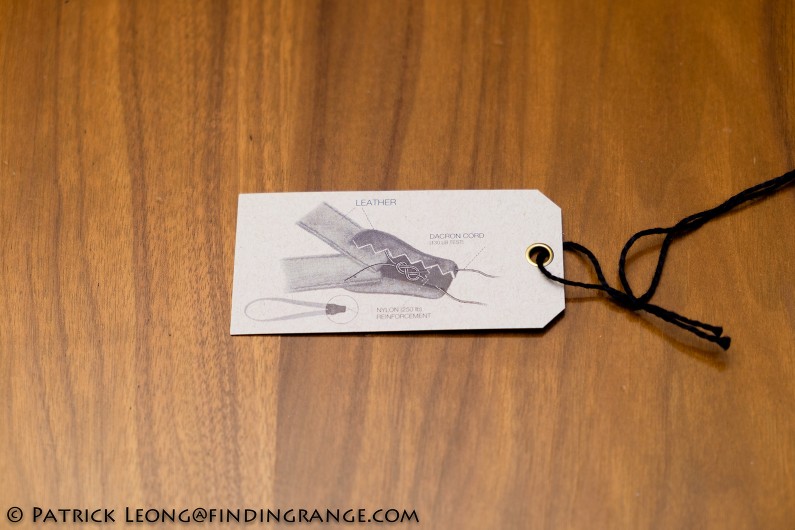 Cecilia Gallery Leather Wrist Strap Specifications:
Dimensions:
Length and width: 14 in. x 0.5 in. (35 cm x 11 mm)
Cecilia Gallery Leather Wrist Strap Verdict:
Cecilia Gallery has made a wonderful wrist strap here, and I can't actually think of anything negative to say about it.  At $36, even the price is completely reasonable.  I've used straps costing three times more that don't offer the same level of quality that this wrist strap offers.  The leather is just so soft, and I love how flexible and light it feels.  I don't know if any of you have experienced using a bad wrist strap but some can be quite annoying and bothersome around one's wrist.  This one barely feels like it's there.  So, if any of you are looking for a decent leather wrist strap, I highly, HIGHLY recommend you check out the stuff that's coming from Cecilia Gallery.
Thanks for taking the time to read my review.  If you're considering buying the one of these wrist straps from Cecilia Gallery, and my review helped you decide, please help support this site by purchasing from the link below.  It will not cost you anything extra.  Thank you for your support!
Cecilia Gallery Straps at B&H Photo
Thinking about purchasing the this wrist strap or already own it?  Feel free discuss it down below in the comments section!