Fuji X-Pro2 Review:
The Fuji X-Pro1 was a special camera because of several reasons.  First, it played a huge role in starting a brand new interchangeable lens system that in a relatively short amount of time, has grown into one that is prominent, and one that has helped Fuji firmly establish a place in the mirrorless world.  It was also the answer for many people who were looking for a rangefinder styled camera that performed superbly but also was decently priced.  However, a lot has changed in 4 or 5 years.  While the X-Pro1 is still a great camera, it has started lagging in some key areas.  Seeing this, Fuji finally released its successor, the Fuji X-Pro2 (B&H Photo/Amazon).  The specs look pretty good on paper, and it seems that Fuji has fulfilled a lot of the wishes and demands that users of the X-Pro1 have been asking for.  But its rivals are even more competitive nowadays, so are the modifications and improvements made to the X-Pro2 enough to keep it competitive in the market?  Read on and find out!
Fuji X-Pro2 Build Quality:
I've shot with almost every X Series camera, and to me, the X-Pro1 was the most well-built out of them all.  The X-Pro2 is clearly no exception.  It's not even that Fuji advertises this; hold one in your hands and you will feel the difference.  I'm currently an X-T1 user, and while the build quality of the X-T1 is excellent, the X-Pro2 is slightly better.  It's the first thing that I noticed when I took the X-Pro2 out of its packaging.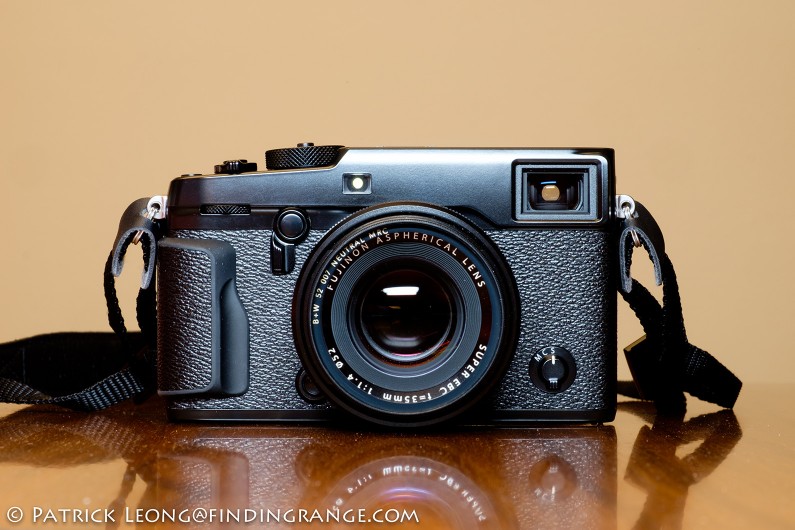 ↑ The classic rangefinder styled Fuji X-Pro2.
The reason why the Fuji X-Pro2 (B&H Photo/Amazon) feels like its predecessor is because it is coated in the same semi-gloss paint and it's made from magnesium alloy.  Of course, there are a few little details that are different, like the excellent rubberized thumb rest but for the most part, a lot of it is the same.  For instance, the fantastic analog dials that were used to adjust shutter speed, ISO, and EV compensation on the X-Pro1 are still present on the current model.  These are milled from aluminum and give that satisfying click when you rotate them.  The analog controls are one of the major reasons to buy into the X Series in my opinion.  Nothing feels more direct and intuitive than analog dials, especially when you are making important adjustments like focus, aperture, and shutter speed.  It's why some swear by manual transmission in cars.  One can really feel a connection with the camera just like one would feel more of a connection with the car or road while using a manual setup.  You feel like an active participant.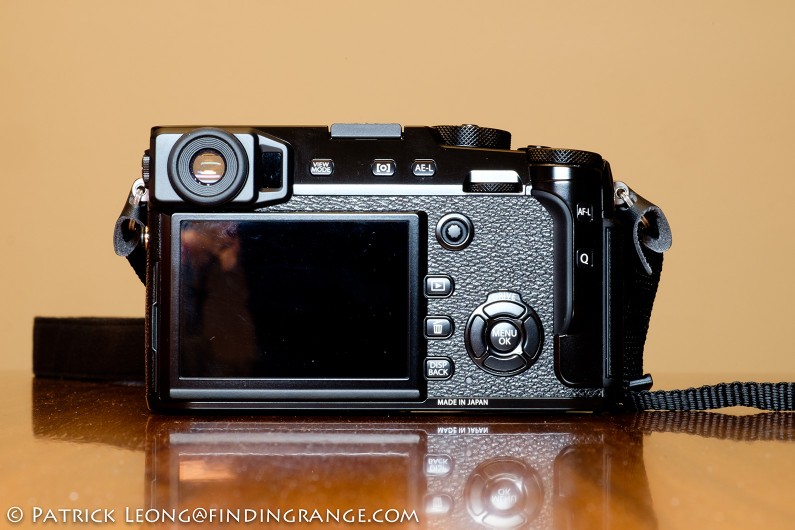 ↑ The back of the X-Pro2.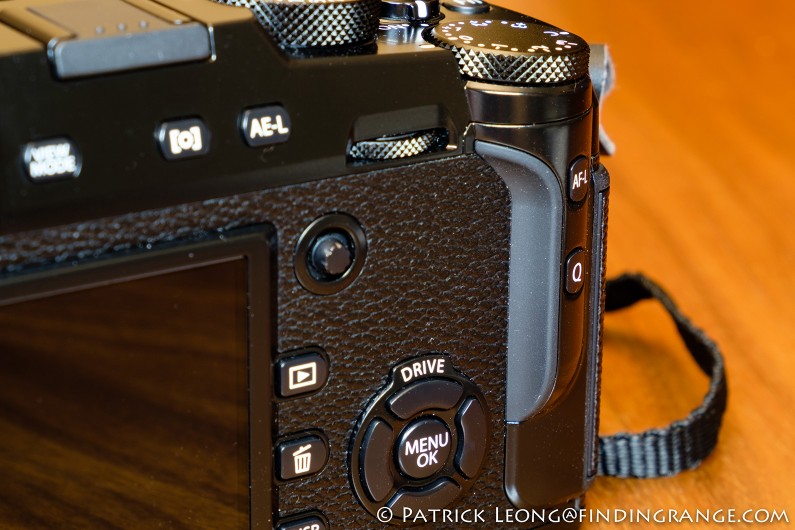 ↑ The rubberized thumb rest is a nice touch.
There is only one slight issue that I have with the X-Pro2's body: I was hoping that this time around, we would see a slightly smaller frame.  When the X-Pro1 was first released I thought it was amazing because we finally had a rangefinder styled camera that performed well, and was relatively reasonably priced.  However, after a while, Fuji started releasing cameras like the X-E1 and X-E2, for example, that were not only smaller but also offered many of the same features as the X-Pro1.  I owned an X-Pro1 but ultimately gravitated towards the X-E bodies (and now to the X-T1) because I preferred the slightly smaller frames.  I realize that the X-Pro2 has a hybrid viewfinder but I just can't imagine that Fuji couldn't shrink the body just a little bit.  Technology has moved forward a lot in the past few years.  However, this is just my opinion, and the size of the body isn't a major issue.  The X-Pro2 still isn't a big camera.  I'm nitpicking because this is a review.  Overall, I'm very happy with it, especially with the many new features.
Fuji X-Pro2 New Features:
What new features are there, you may ask?  Well, here's a list of ones that I think are particularly noteworthy.
Dual Card Slots:
This time around, the Fuji X-Pro2 comes with dual card slots, which really comes in handy.  In fact, according to Fuji, the X-Pro2 is the first mirrorless camera to have this feature.  Slot one is compatible with UHS-II standards, and there are three recording methods to select from: sequential, backup, and RAW/JPEG shooting.  This really makes my life a lot easier. I'm able to store more photos because once one card fills up, it automatically goes to the other.  For times when the photos are of particular importance, I can designate one card as a backup.  The only thing that might make this even better is if the X-Pro2 came with a larger battery.  Just like I don't have to swap cards out as much now, it would be nice not to have to swap out dead batteries as much.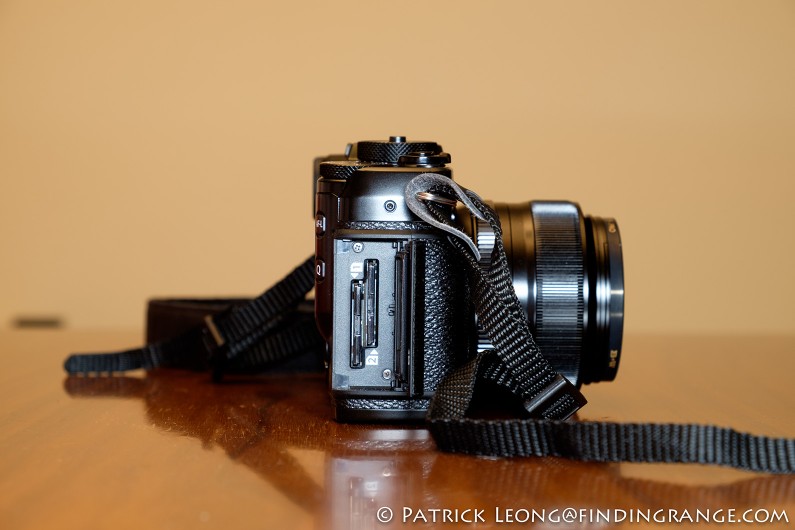 ↑ Dual card slots definitely comes in handy.
Dual-Function ISO Dial:
One feature that I've always loved about the X-T1 is the ISO dial.  I'm old school in the way that I think when it comes to photography, so I like full control of my camera.  Therefore, I still like to adjust my ISO manually.  So, it's great to not have to go through the menu each time to change my ISO speeds.  Since it's analog, it can also be adjusted while the camera is off.  Like the X-T1, the Fuji X-Pro2 has an analog ISO dial now, but it's slightly different.  Its ISO dial is located on top of the shutter speed dial reminiscent of older cameras, and I think it's pretty neat.  It not only makes the camera feel more retro, it actually made operations quicker for me.  You adjust ISO by simply pulling on the outer ring of the shutter speed dial, and then turn it until you reach your desired ISO speed.  In practice, I actually found this easier to operate than the one on my X-T1.  It's quick, there's no fuss, and it's easier to do with gloves on than with the one on the X-T1.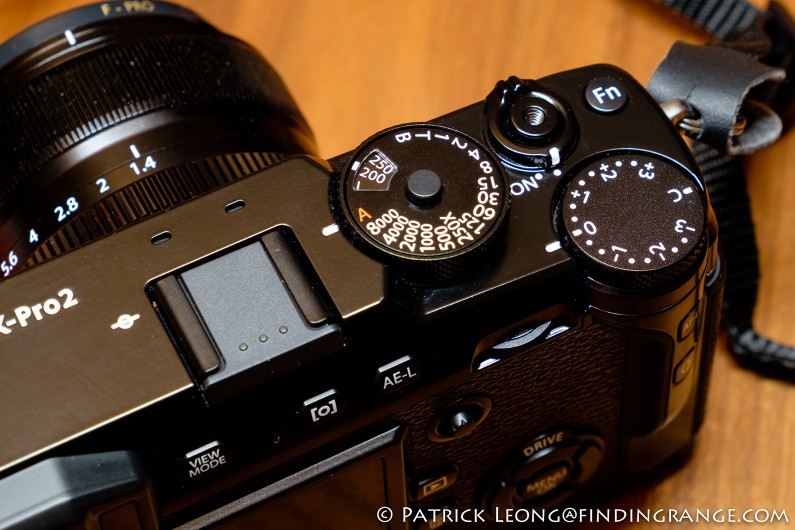 ↑ I like the new ISO dial.  I find it more convenient than going through the menu.
Shutter:
Being that the X-Pro2 is Fuji's current flagship model, they really wanted to up the X-Pro2's game, so they made the camera a lot more durable.  For instance, the focal plane shutter now boasts a durability of 150,000 shots, and has a maximum mechanical shutter speed of 1/8000 of a second with a flash sync of 1/250 of a second.  Shutter lag time is also just 0.05 seconds, which I don't doubt because it feels near-instantaneous.  It sounds absolutely great as well.  It's smoother, quieter, and causes less vibration than the one on the X-Pro1.  In addition, there's also an electronic shutter that is, of course, near silent, and allows for a maximum speed of 1/32,000 of a second.  If you use fast lenses, which I'm sure many of you do, these higher shutter speeds from the mechanical, and of course, the electronic shutter are a huge plus.  It means we have a greater ability to use maximum apertures in bright conditions without wasting time screwing on ND filters.
Weather Sealing:
In addition, the X-Pro series is finally weather sealed!  The Fuji X-Pro2 (B&H Photo/Amazon) sports 61 weatherproof seals around its body making it finally resistant to dust and water.  The camera can also be operated in temperatures as low as -10ºC.  At the time that I had the camera, it wasn't that cold out but it was raining quite a bit.  The X-Pro2 handled the rain like a champ.
Exposure Compensation Dial:
Another great feature is the exposure compensation dial, which of course, was also on the X-Pro1.  However, the dial is larger now, which is okay but here's the thing: I would've liked a lock on it maybe similar to the one on the shutter speed dial.  I've been shooting with the X Series since the beginning, and after all these years, I still move this dial accidentally.  It's funny because I would think it's a lot harder to move the shutter speed dial by accident yet there's a lock on it.  For instance, I never accidentally moved the shutter speed dial on the X-E2, which does not have a lock.  Anyway, the exposure compensation dial can be adjusted ±3 stops, and there's a new C mode where you can adjust up to ±5 stops with the help of the Front Command Dial.
Focus Lever (Focus Stick):
The Focus Stick or joystick is a great little feature that allows one to move the focus area.  I love this feature because I found it to be a lot easier and quicker to move the focus area in this way.  I also didn't have to take my eye away from the viewfinder.  It can be used during MF mode as well to move the enlarged display area when using MF assist.  You can also choose to turn it off or lock it just so you don't move it accidentally.  You see, Fuji?  That's what you need to do with the exposure compensation dial ;).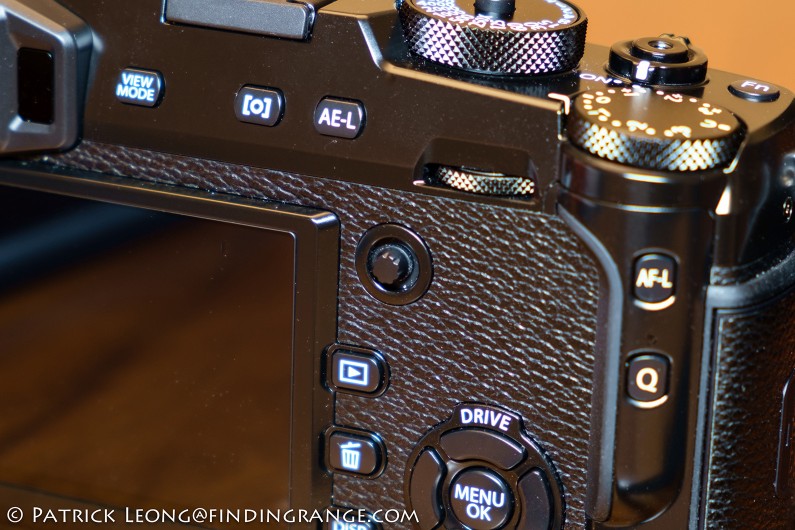 ↑ The focus lever is a great little feature.  I don't even have to remove my face from the camera.
Fuji X-Pro2 Autofocus:
Since we were just talking about the new focus lever, we might as well start discussing the autofocus system, which by the way, is a huge improvement over the X-Pro1.  In fact, it currently has the fastest and most capable autofocus system of any X Series camera.  According to Fuji, focusing speeds are as fast as 0.06 seconds.  There can be up to 273 focus points with phase detection AF pixels covering nearly 40% of the imaging area now, which means focusing speeds, especially with fast moving subjects have improved significantly.  Furthermore, in addition to single point AF, the X-Pro2 offers Zone and Wide/Tracking modes as well.
I'm sure many of you have already read all the little details about the autofocus, so I'm not going to bore you with all of that, and I will just bottom line it for you: the autofocus has improved significantly enough that for most situations, it's a non-issue for me.  In other words, I didn't even worry about it.  Is it the fastest autofocus system out there?  Probably not but it's no longer the major Achilles' Heel of the X Series system.  I used the X-Pro2 in many different environments, and the autofocus never slowed me down or prevented me from taking the picture that I wanted.  It works great.  In most situations, the Fuji X-Pro2 (B&H Photo/Amazon) almost feels like it gives me near-instantaneous response, especially with with the extremely short shutter lag.
Fuji X-Pro2 Electronic Viewfinder and LCD Monitor:
In addition to all the new features, the Fuji X-Pro2 (B&H Photo/Amazon) still retains the awesome signature hybrid viewfinder but it has definitely been upgraded.  It now has a 2.36 million dot EVF, and if you're shooting in high performance mode, the display speed improves from 54 fps to 85fps with a blackout time after release of only 150ms, which will significantly help reduce image delay while tracking a moving object, for instance.
Fuji, of course, have not forgotten OVF users: the EVF can be simultaneously displayed as a small window in the lower right hand corner while using the OVF.  It allows the user to check focus, the angle of view, exposure, and white balance in real time.  It will also allow for precise manual focus using the OVF.  You can display the EVF window in 100% field of view, 2.5x magnification, and 6x magnification.  I really think Fuji deserves a lot of credit here, especially when it seems a lot of manufacturers are dumping OVFs for EVFs nowadays.
The 3.0 inch 1.62 million dot LCD display is also an upgrade when compared to the one on the X-Pro1 but there are two things I'm not sure why Fuji didn't change.  For one, I'm not sure why there isn't a tilt screen.  A lot of other cameras that compete with the X-Pro2 have this feature.  Even other X Series models have tilt screens.  I actually know a couple of people who were quite interested in switching from their current systems to the X Series when they heard about the new X-Pro2 but said they decided not to because they really wanted a tilt screen.  For me, it's not that big of an issue where it would prevent me from purchasing this camera but I can certainly understand where they are coming from.  It's easy to get used to a feature like a tilt screen.  Even with me, I have to admit that I got used to using one shooting with my X-T1, and other X Series cameras that I've reviewed before.
I'm also a little surprised that the LCD isn't a touch screen.  This really isn't a huge issue at all but I just thought with the Fuji X-Pro2 (B&H Photo/Amazon) being the current flagship and all, it would have a touch capable screen.  Even the X70, which as some of you know is more consumer based, has a touch screen display.
Fuji X-Pro2 Image Quality:
In terms of image quality, I've always been impressed by X-Series cameras.  In the past, Fuji have always made some amazing medium format film cameras, so it's really no surprise that they would bring their tech and know-how to digital.  Up until now, Fuji has been using essentially the same 16MP X-Trans II sensor in pretty much all of their X Series cameras.  With the Fuji X-Pro2 (B&H Photo/Amazon), we finally get something different: we get the new 24.3MP X-Trans CMOS III APS-C sensor.  With this sensor, we essentially get 50% more resolution when compared to the older 16MP sensor.  To top that off, Fuji has omitted the low pass filter in this sensor as well, so you get that extra bit of sharpness.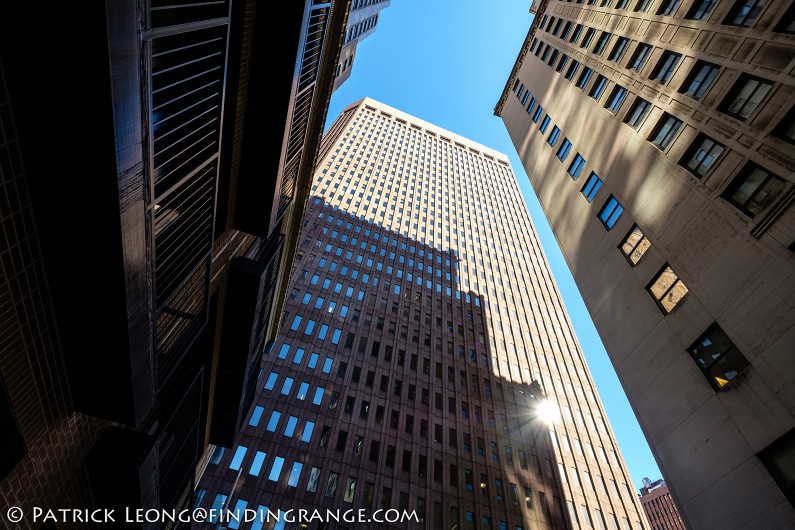 ↑ I always like taking pictures of buildings in New York City looking upwards for some reason :).  This was taken with the Zeiss Touit 12mm at F5.6 using 200 ISO.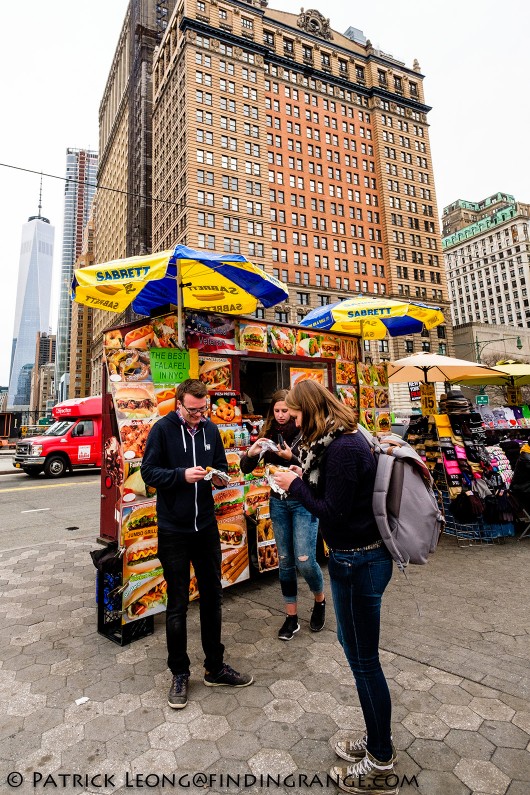 ↑ Here's another taken with the Zeiss at F5.6 using 1000 ISO.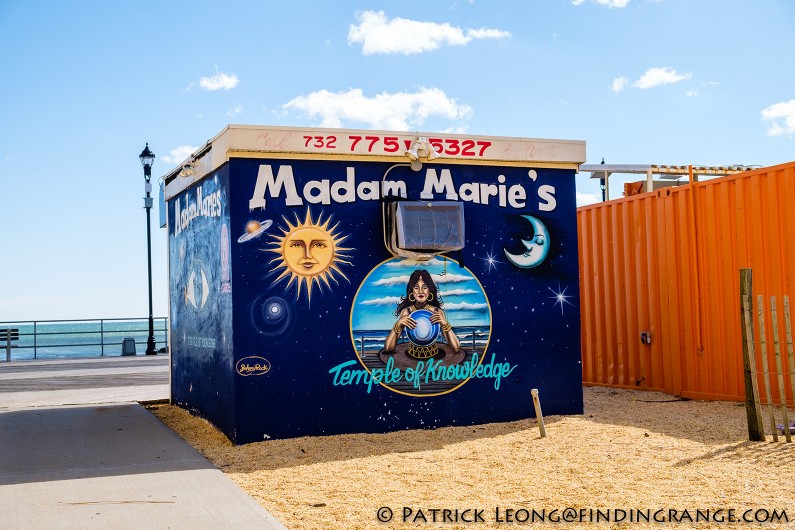 ↑ Here, I'm using the XF 18-55mm F2.8-4, and my settings were 200 ISO using F5.6.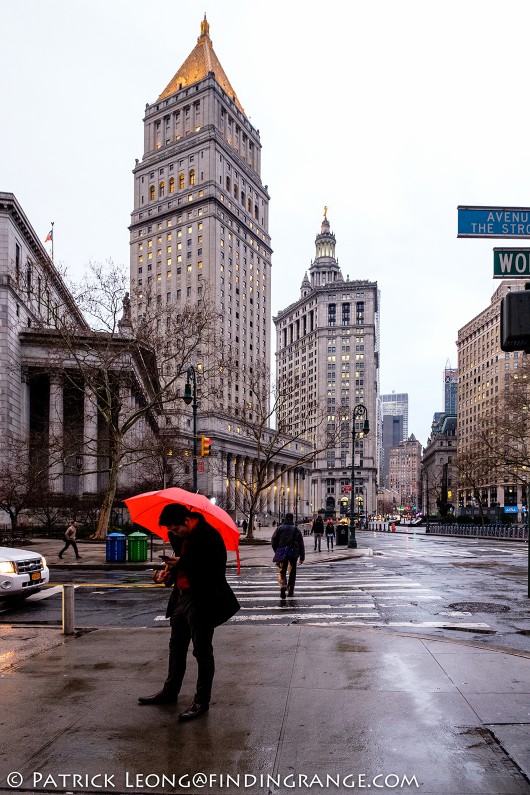 ↑ Some would probably say it's better to have a few rainy days than snow ;).  This was taken with the Zeiss Touit 12mm at F4 using 1600 ISO.
So how does this sensor really perform?  In my opinion, it is phenomenal.  Seriously, I am in love with what the Fuji X-Pro2 (B&H Photo/Amazon) delivers!  Colors are punchy, vibrant, bright, and rich but not to the point where they look over saturated or fake.  Images are crisp, three dimensional, and have such a nice clarity to them.  This is what we've been waiting for in terms of getting the most out of those excellent Fuji lenses.  Best of all, dynamic range is clearly better and I noticed right away that recovering highlights is much easier.  I am waiting for the X-T2 body but I have to tell you, it gets harder and harder to resist the X-Pro2 simply because I just love what comes out of it.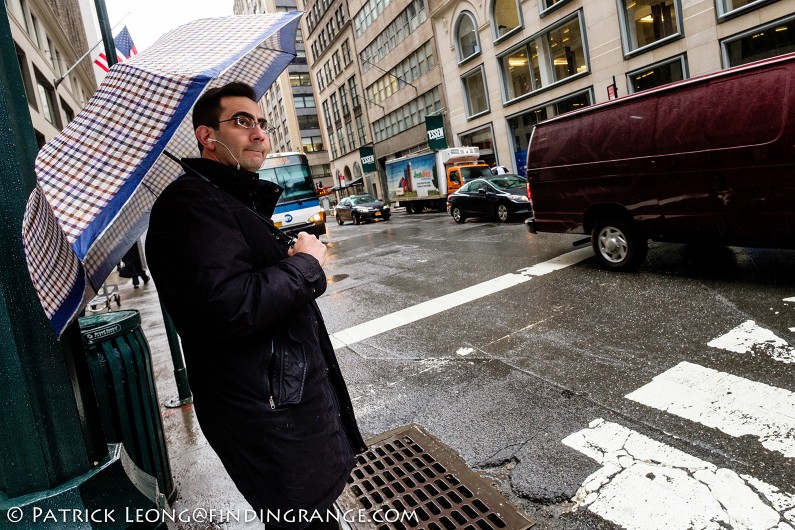 ↑ It rained quite a bit while I had the X-Pro2.  This was taken with my Zeiss Touit 12mm F2.8 at F5.6 using 1250 ISO.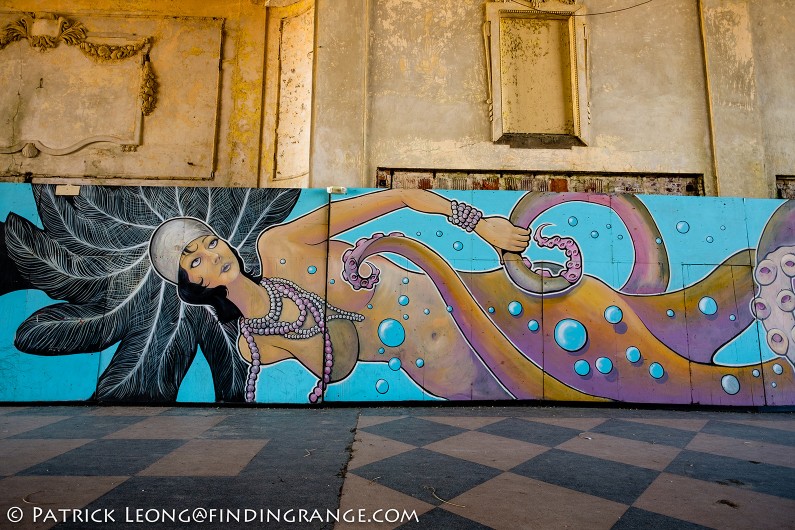 ↑ This was taken with the Zeiss Touit 12mm at F2.8 using 200 ISO.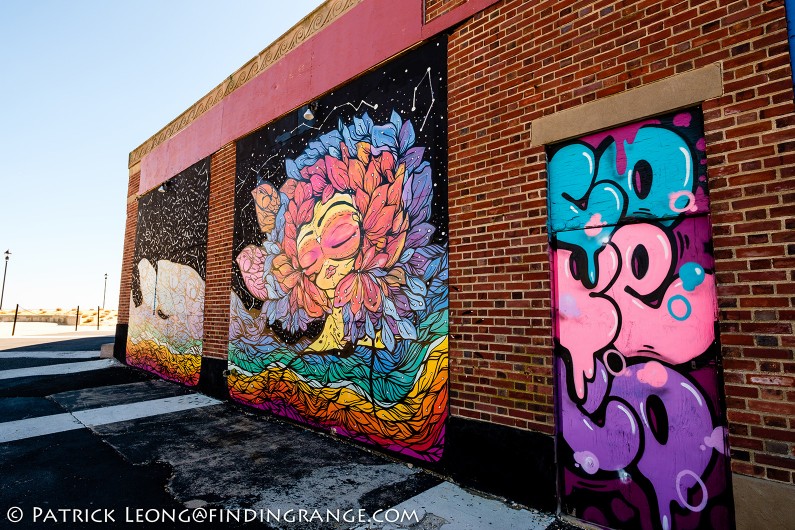 ↑ Here's another with the Zeiss taken at F5.6 using 200 ISO.  I love how the color is rendered in this photo: it's deep, it's bright but it never gets out of hand.  It stays true to the scene.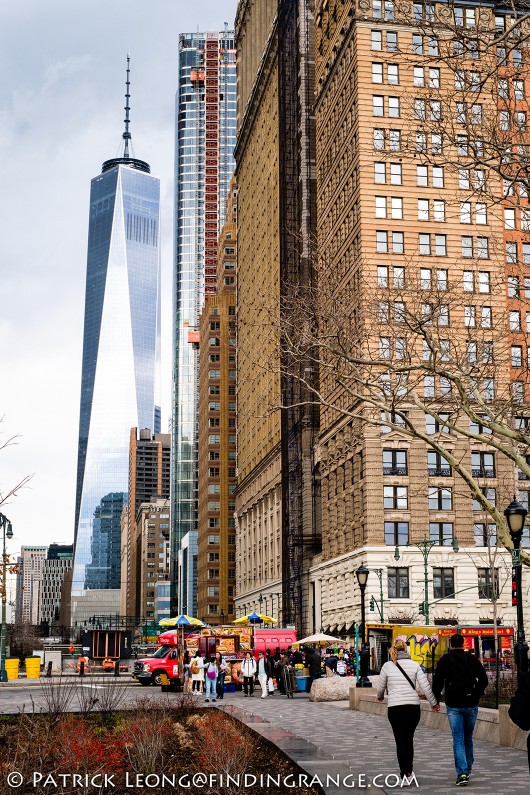 ↑ This was taken with one of my favorite lenses, the XF 35mm F1.4 R lens.  My settings were F8 and 1000 ISO.
In addition, the ISO across the range, of course, is excellent.  You can shoot the Fuji X-Pro2 at 6400 ISO and get great results.  Noise levels are low, and while the older sensor also had very low noise, there was some desaturation at the higher ISO levels.  With this new sensor, desaturation is kept at a minimum even at a range as high as 6400 ISO.  ISO ranges from 200 to 12,500 ISO (extended output sensitivity as low as 100 ISO and as high as 51200 ISO).  Furthermore, you can shoot RAW files throughout the ISO range, which was not the case with the older sensors, and there's now an option for uncompressed or lossless compressed RAW files.  For those who don't want to bother with RAW files, the out of camera jpegs are superb.  I bet there will be a few that will never feel the need to shoot RAW files given the quality of the jpegs that come out of the X-Pro2.  Fuji's out of camera jpegs are some of the best in the business.  Throughout my review, you'll see images taken at all different ISO settings but the photos below are specifically high ISO examples.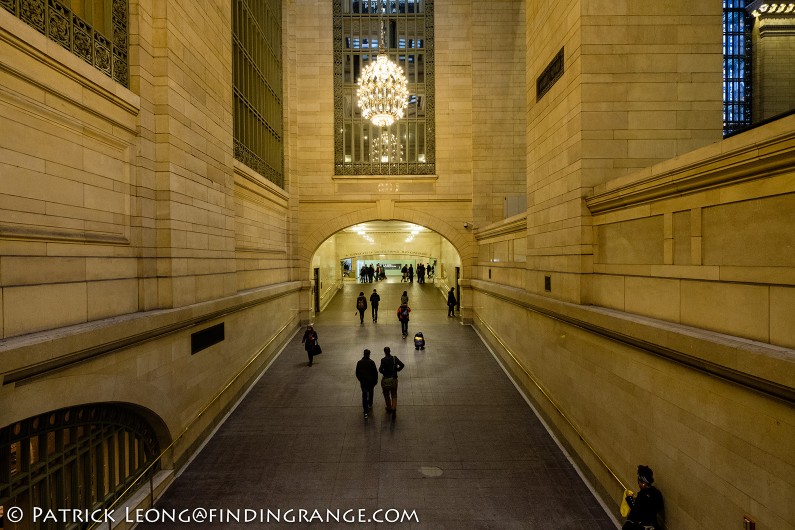 ↑ The Zeiss Touit 12mm F2.8 is my most used Fuji lens.  I love the focal length and I love the results from it.  This was taken in Grand Central Station.  My settings were F4 and 2500 ISO.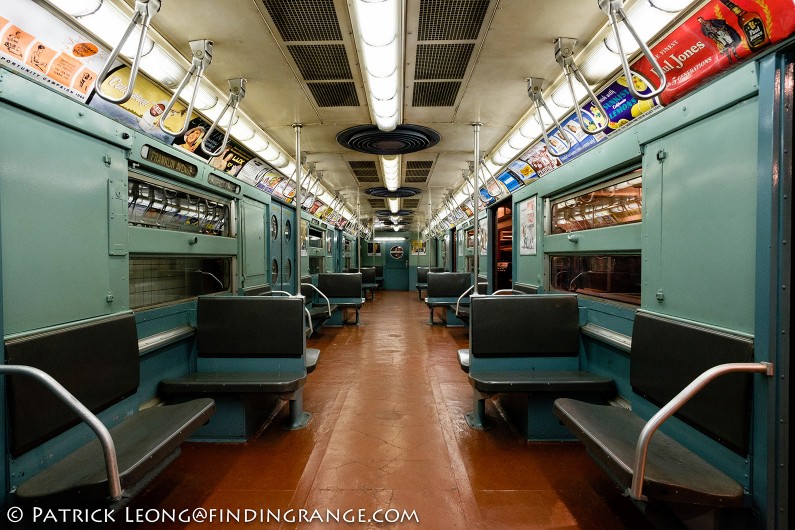 ↑ Here are some photos from the NY Transit Museum.  I thought this place was a good area to test the high ISO.  This was taken with my Zeiss Touit 12mm at F5.6 using 3200 ISO.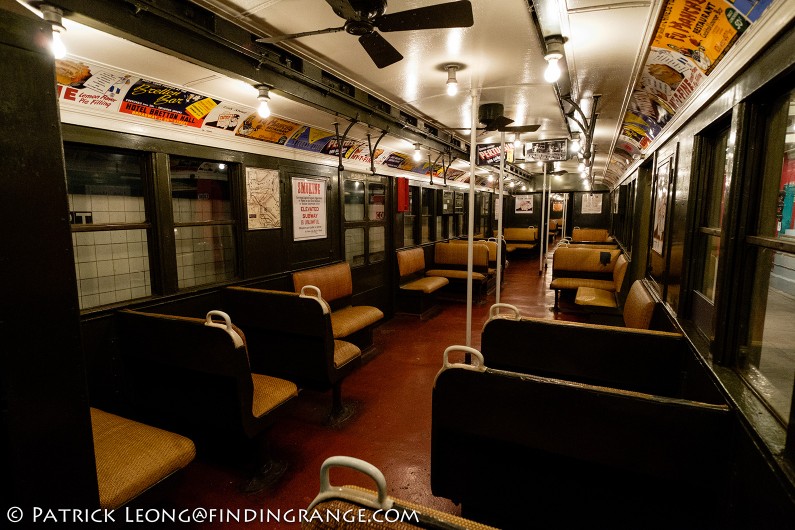 ↑ Here is another taken with the Zeiss set at F4.  I used 6400 ISO.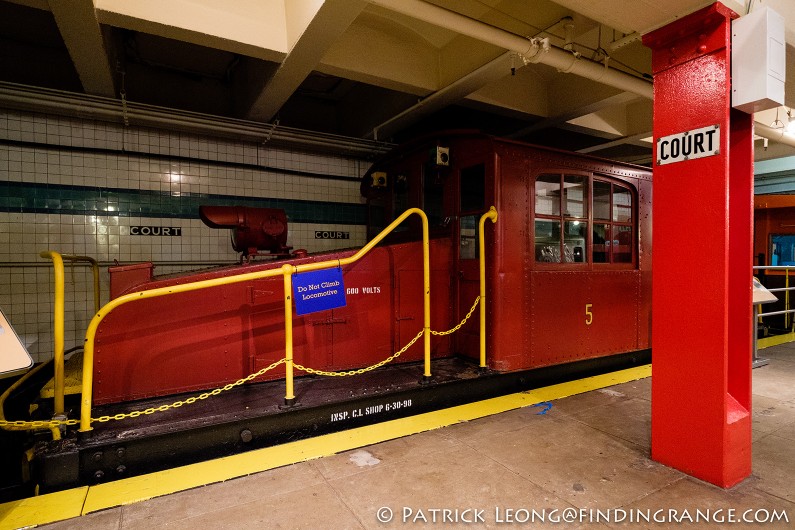 ↑ Here is another at 6400 ISO.  I used the Zeiss again set at F4.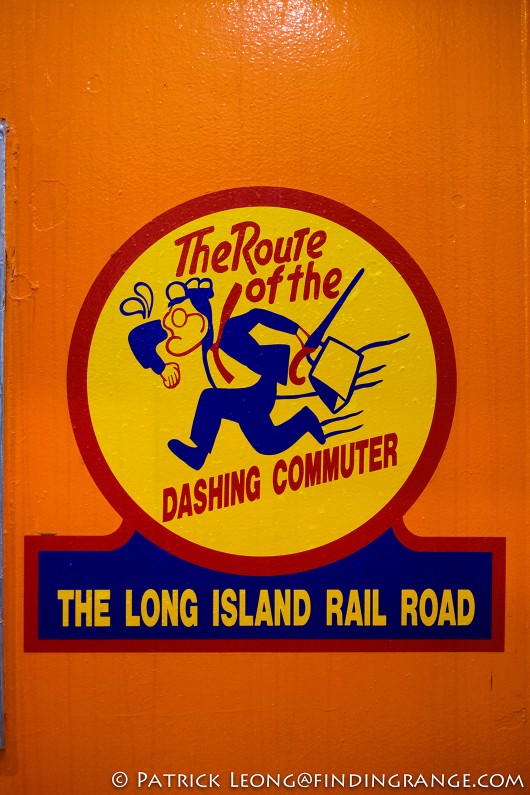 ↑ Here is one taken with the XF 35mm at F1.4 using 1600 ISO.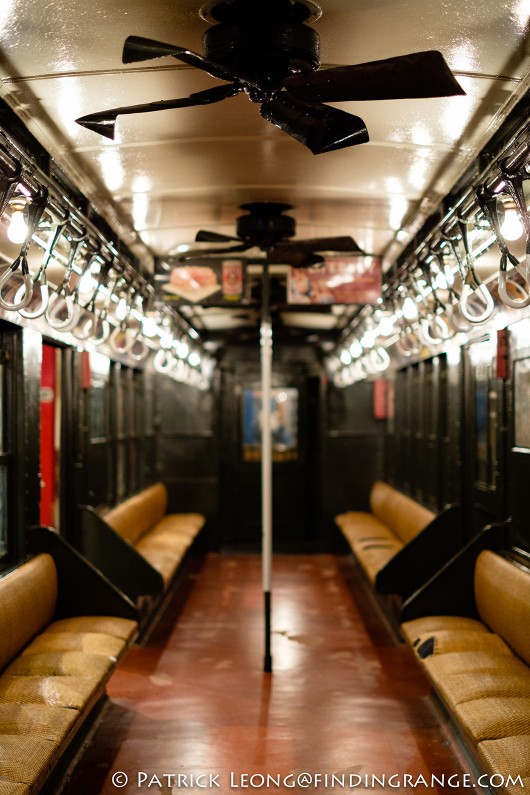 ↑ This was taken with my XF 35mm set at F1.4.  I used 800 ISO.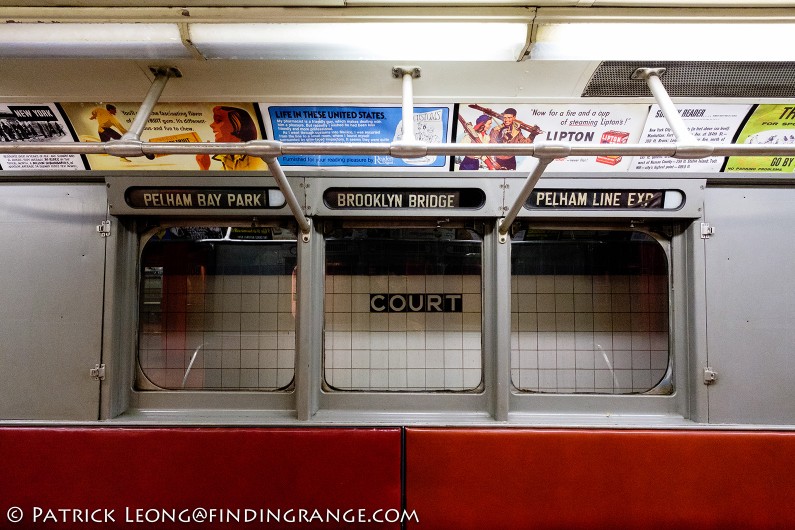 ↑ This was taken with the Zeiss at F5.6 using 6400 ISO.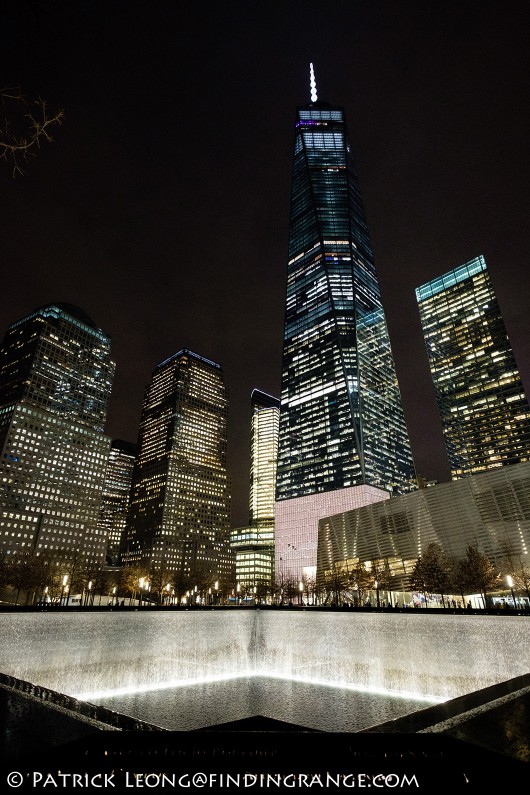 ↑ This was taken at 3200 ISO using my Zeiss Touit 12mm set at F2.8
Fuji X-Pro2 vs. X-T1:?
As you can see, the Fuji X-Pro2 has been signicantly improved over the X-Pro1 but how does it compare to the X-T1?  Which camera is better for you?  Well, I thought I would do a quick comparison with just the main reasons why I think one is better than the other.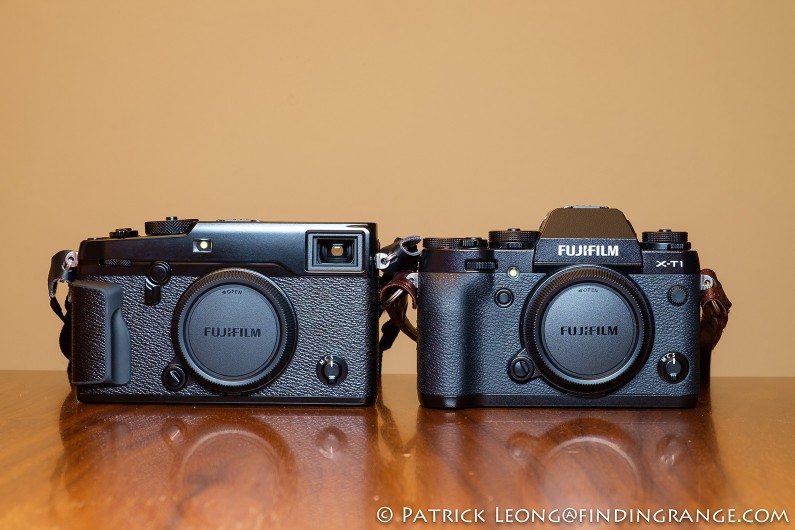 ↑ Fuji X-Pro2 vs. X-T1.
First off, there isn't a significant difference in build quality but if I had to pick one, the X-Pro2 would win in this category.  With it's new sensor, it also produces better image quality.  The X-Pro2's autofocus is better as well but the X-T1 is no slouch.  The autofocus capabilities are also excellent and in practice, I don't feel like the difference in performance is anywhere near as large as say the difference between the X-Pro2 and X-Pro1.  Lastly, the X-Pro2 gives you more of a rangefinder way of shooting, comes with a hybrid viewfinder, and I love the dual card slot feature.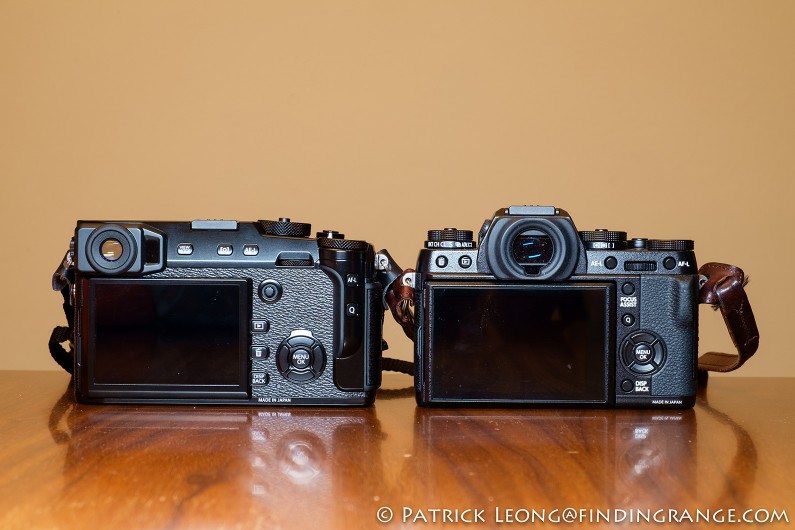 ↑ Here's how they look from behind.
With that said, the Fuji X-T1 definitely has a lot going for it as well.  For one, the X-Pro2 can not beat the X-T1's larger viewfinder magnification ratio.  In my opinion, there is a huge difference here.  I love my X-T1's viewfinder.  I've been so used to my X-T1's viewfinder magnification ratio of 0.77x that when I first looked through the X-Pro2's viewfinder, it actually felt a little constraining.  Furthermore, the X-T1's body is more compact, and in my hands, more comfortable.  To me, it also feels better balanced when I have larger and longer lenses on it.  While it does not have a hybrid viewfinder, the X-T1 does come with a tilt screen.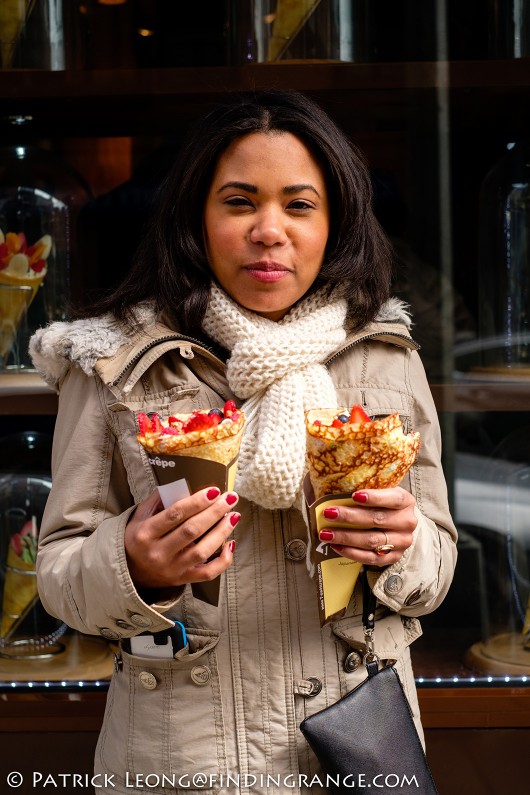 ↑ I normally don't like crepes too much but this place was really good.  This was taken with my XF 35mm F1.4 using F3.6.  My ISO was set at 200.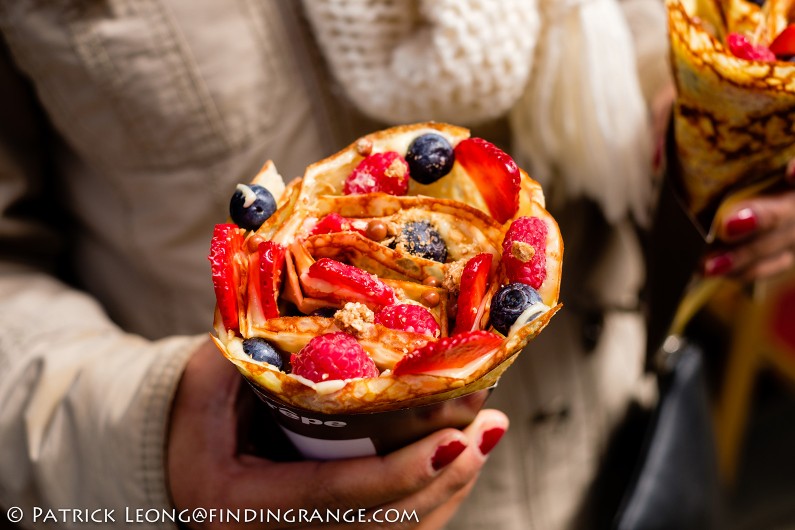 ↑ I thought I'd shoot a close up to show you the beautiful, rich reds.  This was taken with my XF 35mm wide open.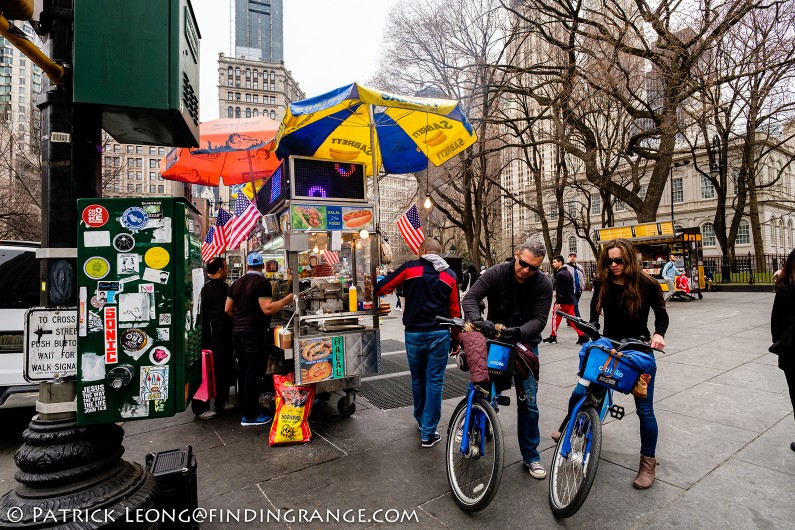 ↑ Here's another from my Zeiss set at F5.6 using 640 ISO.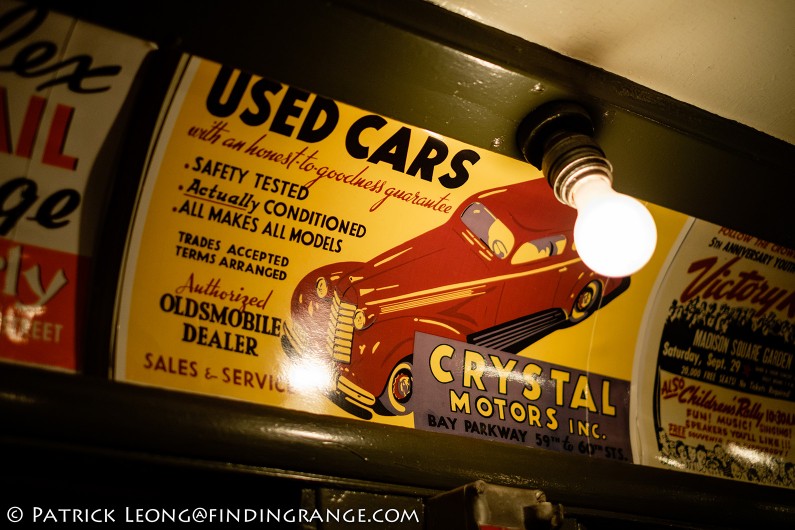 ↑ This was taken with my XF 35mm at F1.4 using 800 ISO.
In my opinion, both these cameras are fantastic, and you really can't go wrong.  I think it really comes down to the individual's needs and style of shooting.  I chose to stick with my X-T1 for basically all the reasons mentioned above.  I love the rangefinder styled X-Pro2 because I am a huge fan of rangefinders in general.  I basically started my site because of rangefinders.  But, the truth is, I have my Leica M for my rangefinder needs.  So, for me, I feel better serve with something a little different like the X-T1.  I feel like the X-T1 would compliment the rest of my gear better.  I would sure like that new sensor along with some of the new features in the X-Pro2 but the X-T1 also produces superb images, and the overall performance is still fantastic, so my plan is to wait for the X-T2.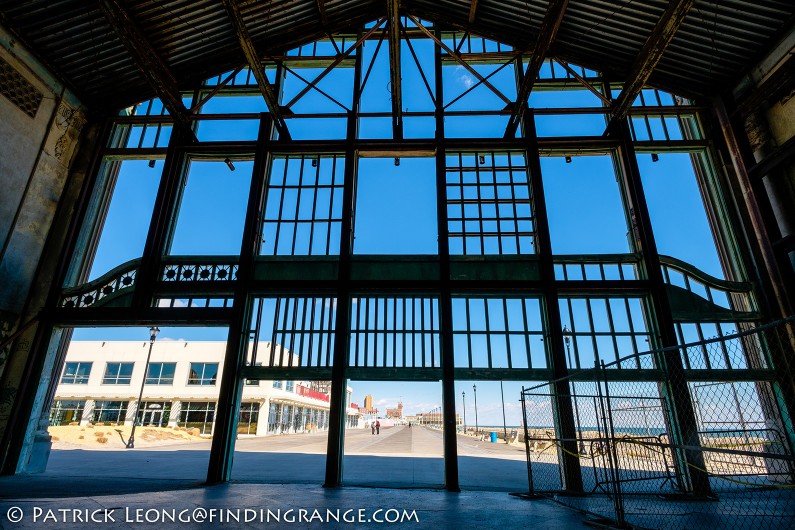 ↑ Here's another from the Zeiss Touit 12mm.  My settings were F8 using 200 ISO.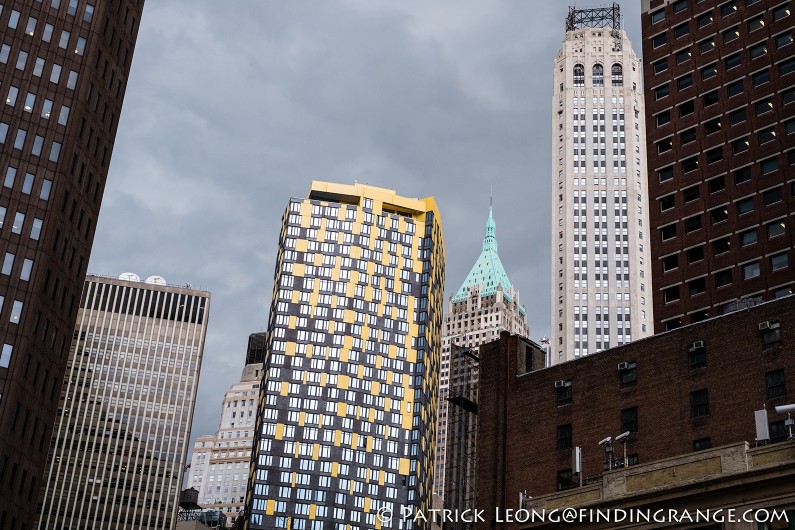 ↑ This was taken with the XF 35mm F1.4 using 400 ISO.  The lens was set at F5.6.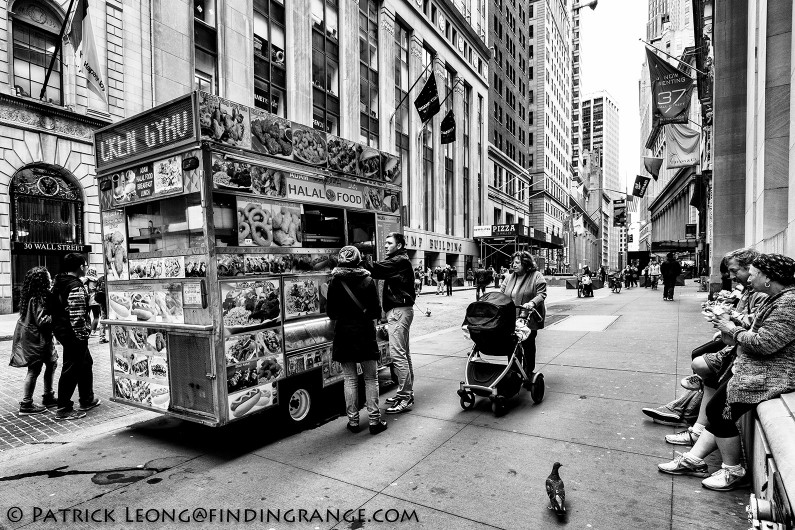 ↑ This was taken with the Zeiss Touit 12mm at F5 using 800 ISO.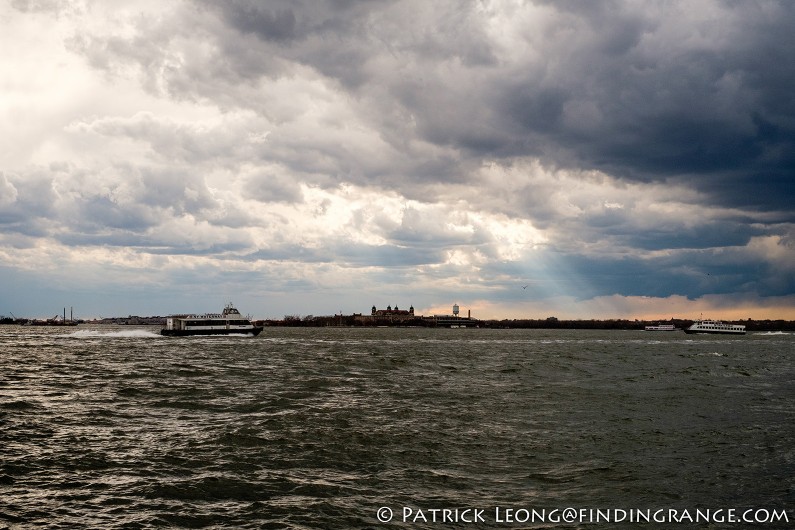 ↑ Here is another from the XF 35mm F1.4.  My settings were 1000 ISO using F9.
Fuji X-Pro2 Pros and Cons:
Fuji X-Pro2 Pros:
Extremely solid frame.
Currently the best built Fuji X Series body.
Excellent rubberized thumb rest.
Analog controls are both a joy to use and involve the photographer in the photographic process.
Rangefinder style body.
Dual memory card slots.
Cool, retro ISO dial that actually speeds up process.
Higher mechanical shutter speed.
Electronic shutter speed.
Shutter sound is improved.
Near non-existent shutter lag.
Weather Sealing.
Focus lever.
Autofocus system significantly improved; currently the best in the X Series system.
Best of both worlds: hybrid viewfinder.
Image quality is superb.  Extremely happy with what comes out of this camera.
High ISO is excellent.
Excellent out of camera jpegs.
Fuji X-Pro2 Cons:
I wish the body was a little more compact.
No lock on the EV compensation dial.
No tilt screen.
No touch screen.
I would like a larger battery.
Fuji X-Pro2 Verdict:
Fuji have clearly made huge strides when redesigning the X-Pro series.  They took the X-Pro1, which was already a great camera, and basically gave it a huge overhaul.  It's funny too because in my eyes, they didn't really make any huge changes.  They made these small changes but important ones, and together, they all made a huge difference to the camera.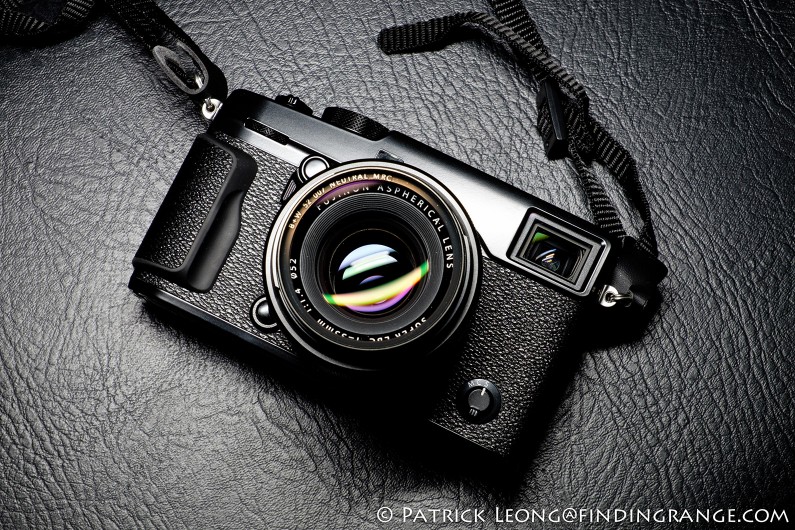 ↑ For some, the Fuji X-Pro2 may be the perfect camera.
The Fuji X-Pro2 (B&H Photo/Amazon) is such a better and more complete camera than the X-Pro1 but the best part is, it never lost the character of its predecessor.  It has the great hybrid viewfinder, and the same analog controls for quick and decisive inputs.  It still has its rangefinder-like handling and appeal.  Most importantly, it is just as involving as the X-Pro1; yes, it can be used professionally, and therefore, it lives up to its "pro" name but it's also still a camera for someone who just loves photography and want to be fully involved in the photographic process.  In other words, it's one of those cameras that brings the fun back to photography.  The list of new features and improvements just help the X-Pro2 be more user friendly and competent.  Overall, it was worth waiting 4 years for the X-Pro2 because in my eyes, this is one of Fuji's best and most complete cameras.
Thanks for taking the time to read my review.  If you're considering purchasing the X-Pro2, and my review helped you decide, please help support this site by purchasing from the links below or any mentioned in this review.  It will not cost you anything extra.  Thank you for your support!