Sigma sd Quattro Mirrorless Camera Review:
I have a confession: I review a lot of different cameras but the Sigma sd Quattro has been one camera that I've particularly had my eye on for quite some time.  The reason for this is in many ways, it really stands out from the rest of the mirrorless world.  Not only does it have, shall we say, unique aesthetics, it also has Sigma's Foveon sensor technology.  Plus, at $799, the price is quite reasonable when compared to the competition.  They'll even throw in a 30mm f1.4 lens in a kit for $999.  Of course, like many other Sigma cameras, the sd Quattro also comes with its fair share of quirks.  In many ways, you'll really have to work for your image but in the end, it is most definitely worth it.
Sigma sd Quattro Mirrorless Camera Build Quality:
First off, let's talk about the overall build quality, and let me get the bad out of the way.  As you can see from the photos, the sd Quattro is one large mirrorless camera.  In some ways, it actually feels like a DSLR.  At 625 g, it's also on the heavier side, and that's without SD card and battery.  Furthermore, to say that this camera looks different from the rest is definitely an understatement.  There's nothing quite like how this camera looks, and you either love it or you hate it but truthfully, most people that I showed this camera to weren't exactly fond of its appearance.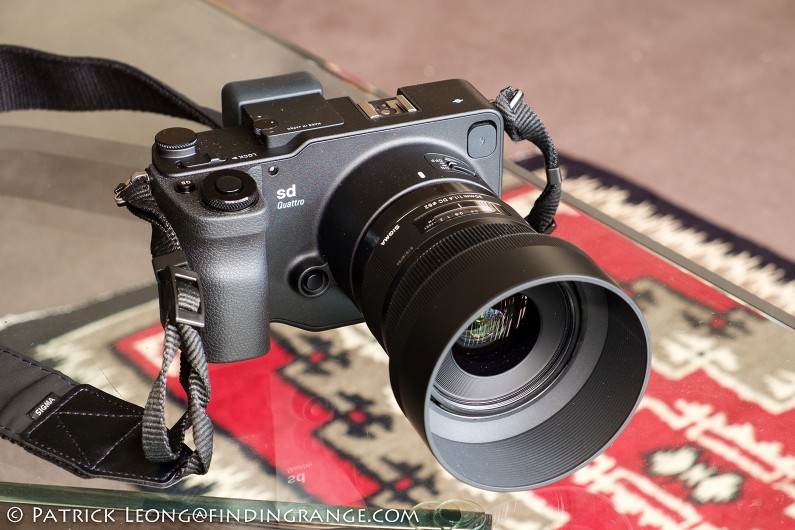 ↑ The Sigma sd Quattro definitely doesn't look like your typical mirrorless camera.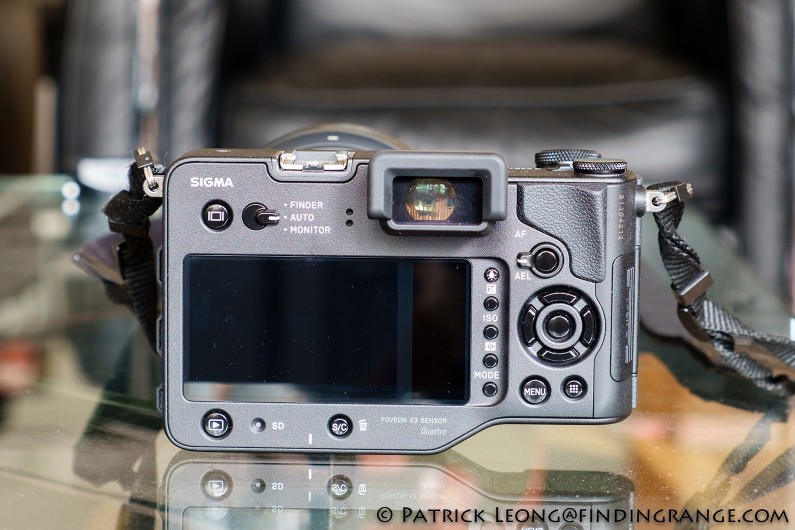 ↑ The sd Quattro's layout is nice and clean.  There is nothing unnecessary.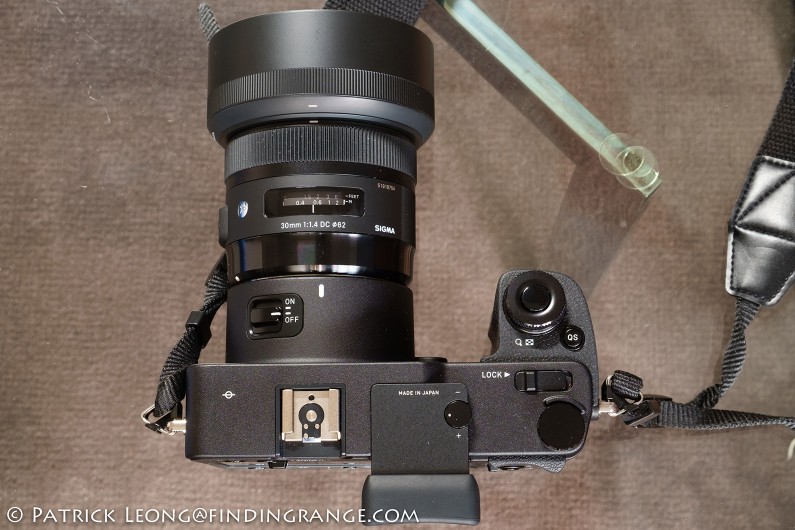 ↑ The top plate of the sd Quattro.
But with all that said, the Sigma sd Quattro is actually a very comfortable camera to hold and use.  It fits in my hands well, and the grip most definitely gives adequate support.  The support along with the overall balance of the sd Quattro, which is very good with the 30mm f1.4 by the way, makes even holding the camera vertically very easy.  I didn't once feel like I needed a vertical grip.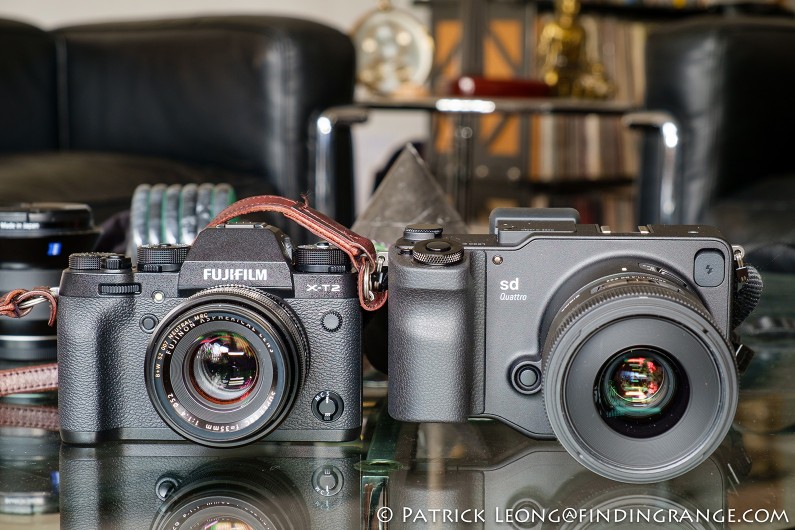 ↑ Here's how the Fuji X-T2 compares in size to the sd Quattro.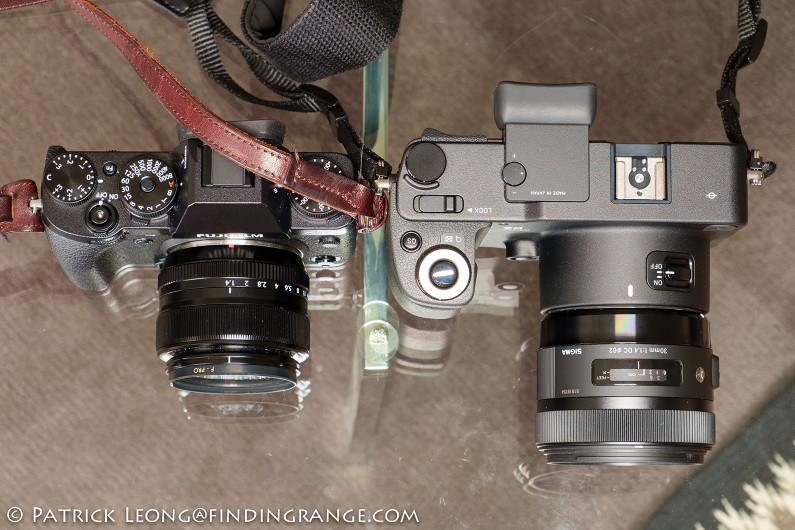 ↑ As you can see, the sd Quattro is a rather large mirrorless camera.
To top it off, the sd Quattro is also one of the best built mirrorless cameras that I've come across.  All the dials and buttons feel sturdy, and the whole camera in general feels very solid.  Everything is clearly well-assembled, and all the seams are tight.  The body is made of magnesium alloy, so it can definitely handle its fair share of abuse.  Even the door for the battery compartment feels overbuilt.  For some reason, opening and closing it kind of reminds me of how one would open and close a door on a submarine.  What I like about the battery door is it's located right under the grip, so you can still access it if you have the sd Quattro mounted on a tripod.  Accessing the SD slot is also possible when the camera is mounted on a tripod because it's on the side of the grip.  Lastly, the sd Quattro is also dust and weather resistant.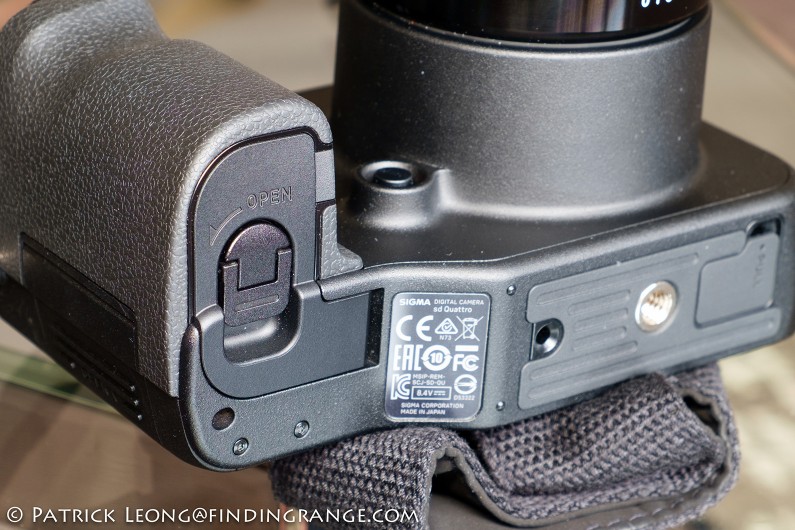 ↑ The battery compartment.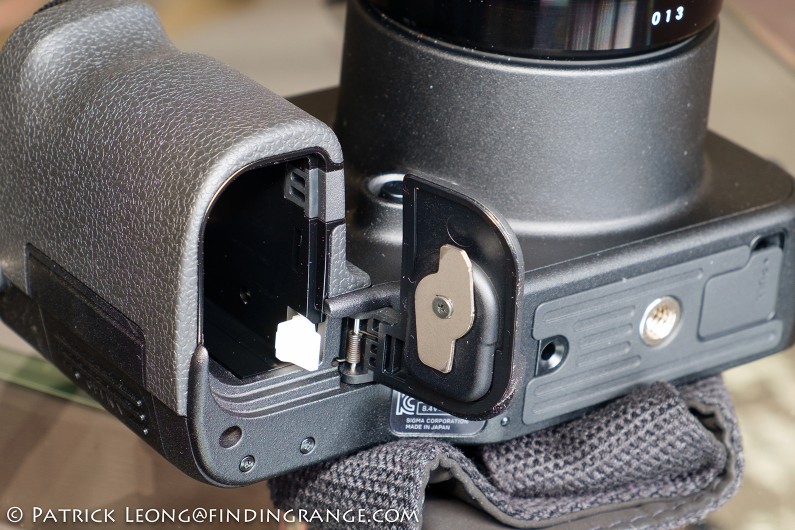 ↑ As you can see, it is weather sealed.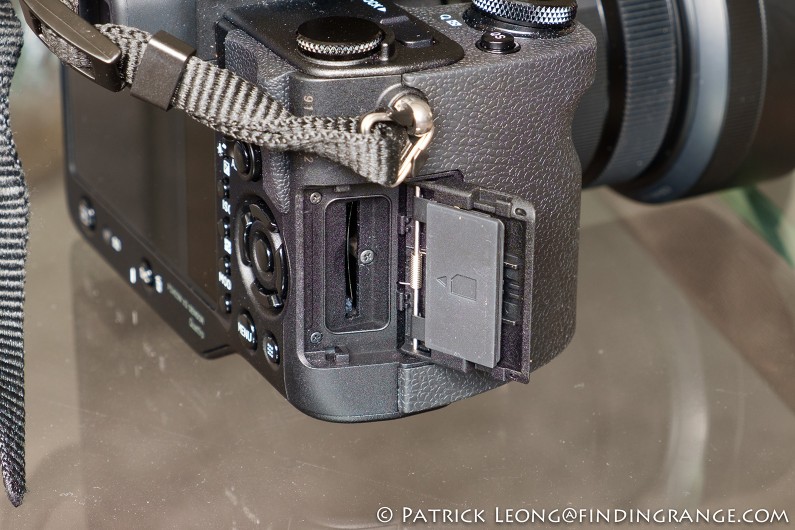 ↑ The sd card slot.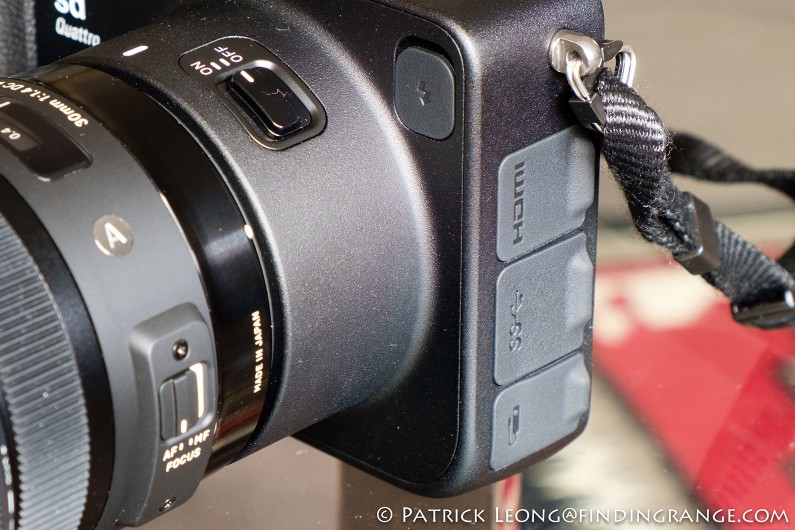 ↑ More ports.
Sigma sd Quattro Mirrorless Camera LCD Display and EVF:
Spec wise, the LCD screen and EVF sound very good.  For instance, the 3 inch LCD monitor has approximately 1,620,000 dots resolution but truthfully, it just wasn't great when I was using it.  For the resolution, images didn't look particularly that good on the screen.  There's also a second monitor to the right of the LCD display, which shows important info like the exposure compensation, ISO, metering mode, and the shooting mode.  I found this to be particularly handy.  The menu is also very easy to navigate, which is always a huge plus but of course, the sd Quattro doesn't quite have as many features as something like the Fuji X-T2.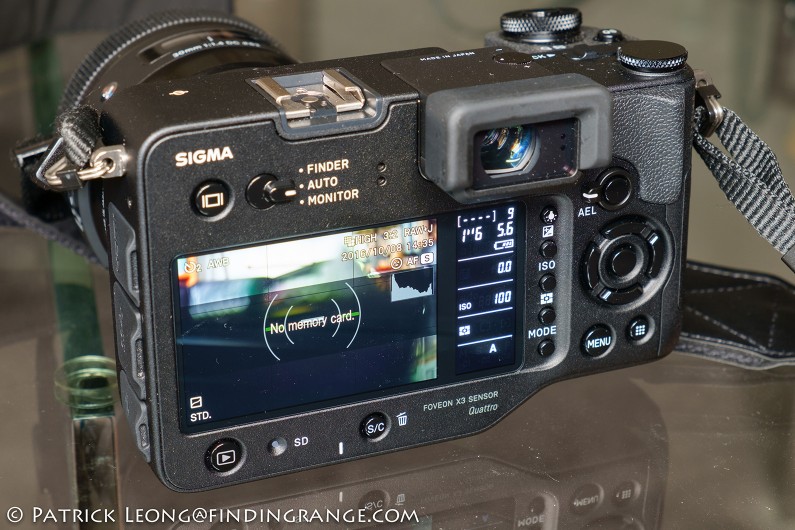 ↑ There are actually two screens on the back of the sd Quattro.
Now, the electronic viewfinder sounds pretty decent as well in terms of specs.  It's a 2,360,000 dots color LCD monitor, and for the most part, that pretty much is on par with the competition.  But here's the thing: it felt like I was looking through an EVF that was several generations old.  I actually haven't seen an EVF like this in a long time.  There is noticeable lag when you compare it to other current mirrorless cameras with EVFs.  It's also not as clear, as easy to see through or offers the same realism as something that you would expect from today's tech.
Just like many other cameras with EVFs, you can choose from having the image display only through the viewfinder, the monitor or automatically display in the viewfinder, when you lift the sd Quattro to your eye, and that's done from a switch that's right next to the EVF.  I like this switch a lot.  It's sturdy, stays in position, and it's much more direct than say going through some sort of menu.  I have one piece of advice though.  If you plan on using the EVF for the majority of the time (which is what I did), leave the switch on Finder mode.  When I had it set on Auto mode, it took quite a while for the image to switch from the LCD screen to the EVF, when I lifted the camera to my eye.  The viewfinder actually blacks out for a considerable amount of time, and I found that to be rather annoying.
Sigma sd Quattro Mirrorless Camera Autofocus:
In terms of autofocus, the Sigma sd Quattro employs both phase and contrast detection AF.  There are a total of 9 AF points, and you can only choose them one at a time.  You have Single AF mode, which is basically for everyday photography, and Continuous AF for focusing on a moving subject.  There is Free Movement AF that allows the user to precisely select the focus frame.  There's also Face Detection AF, and an AF assist light for low light conditions.
Now, the autofocus doesn't sound too bad but in reality, it is pretty slow.  It can take a couple to even a few seconds to focus on a subject depending on the lighting conditions.  People who posed for me, and are normally used to today's fast autofocus systems sometimes grew a little impatient.  I was reviewing the Fuji X-T2 while I was reviewing this camera, so I was using them back to back, and when I was taking pictures of someone modeling for me, we both definitely felt the pace change every time I switched cameras.  I found moving subjects to be difficult to focus on as well.  I tried Face Detection, and it worked but it wasn't nearly as reliable as I would've liked.  The good news is that when the sd Quattro does lock on, it is very accurate.  Even portraits shot at f1.4 show tack sharp eyes.  Sigma boasts that the sd Quattro can shoot up to 3.6 fps in high quality for up to 14 frames, which is okay but truthfully, this is not the kind of camera that you'll be firing off shots left and right.  It's a camera that you are going to really have to be deliberate as to what you are photographing.  But I'm sure those who are reading about this camera know this already, and it's really about the image quality, which is what we will talk about next.
Sigma sd Quattro Mirrorless Camera Image Quality:
So, the Sigma sd Quattro may not quite have the same level of electronics as some of today's top mirrorless cameras but it sure makes up for it in terms of image quality.  At the heart of this camera is Sigma's Foveon X3 Quattro sensor, which captures 100% of the data for blue, green, and red in each of its three layers.  This is different than something like a traditional single layer Bayer filter sensor, which is made up of 50% green, 25% blue, and 25% red.  The Foveon X3 Quattro sensor does not need interpolation nor does it need a low pass filter, so according to Sigma, you get a sensor that produces much better colors, and sharper images when compared to other sensors at the same resolution.  The APS-C size sensor in the sd Quattro produces 19.6 MP but because of its unique structure, Sigma states it has the resolution equivalent to 39MP.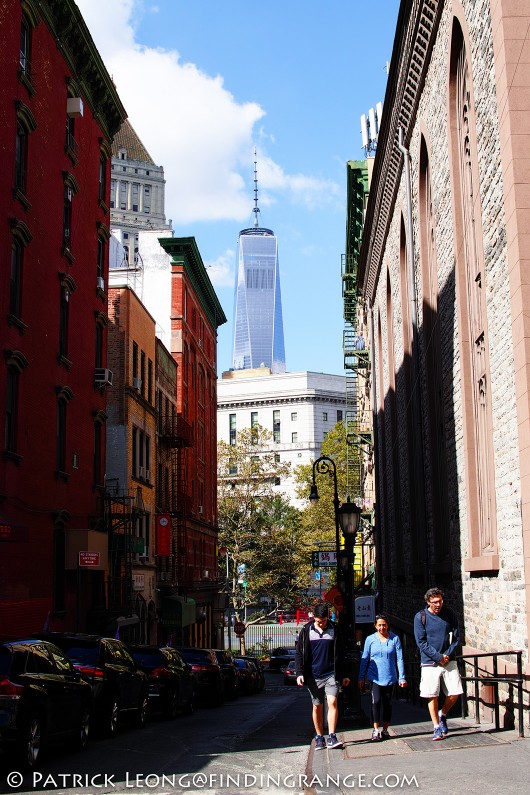 ↑ The sd Quattro renders colors beautifully, and it produces such sharp images.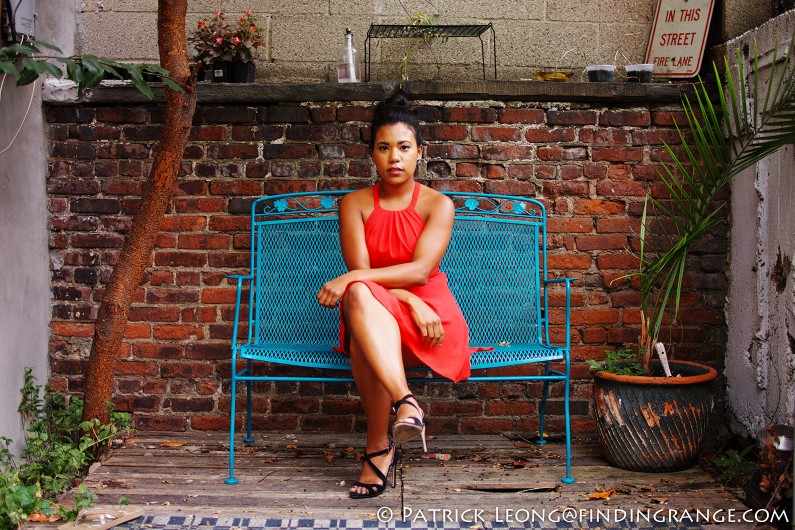 ↑ Again, I just love the colors.  This was taken at f1.4 with the 30mm f1.4 Art lens.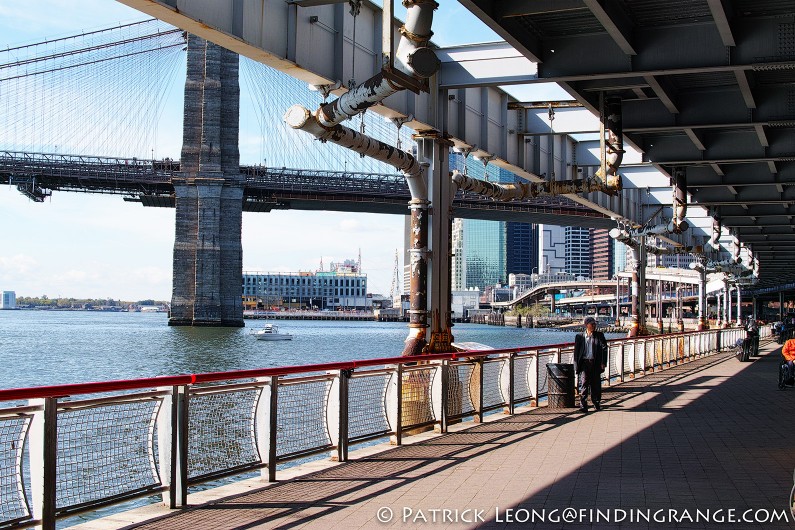 ↑ Love the sharpness and clarity.  This was taken at f8.
Basically, all this translates into a camera that really does produce some of the best image quality that I've seen so far, and I'm talking about even when I compare it to full frame.  What surprises me most is that the Sigma sd Quattro really does have a level of image quality that is sometimes associated with medium format.  Even with its shortcomings, because of the image quality, I am literally completely floored by this camera.  The clarity is brilliant and so is the micro contrast.  Colors are so rich and distinctive but at the same time, they look so close to real life.  For instance, sometimes an intense color like red is hard to photograph because of the saturation but the sd Quattro just nails it.  The realism is there.  If the red is paint, you can see the little details in the texture of the paint.  In a way, images just don't have that digitized look.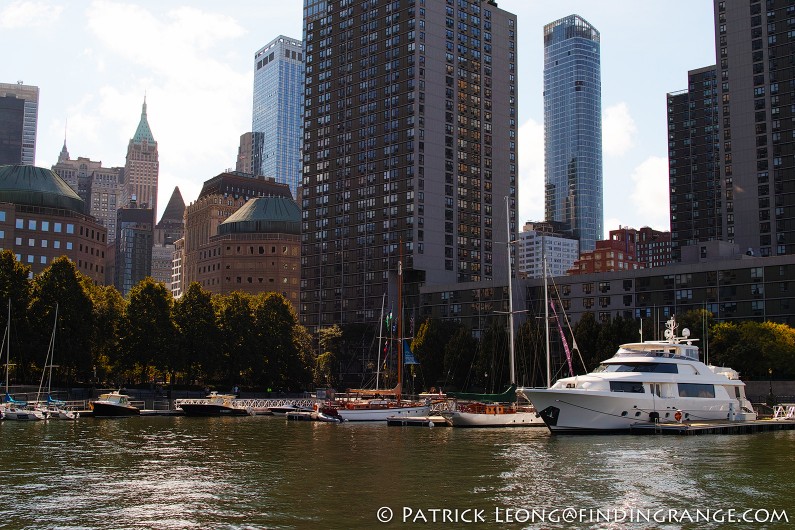 ↑ This was taken at f8.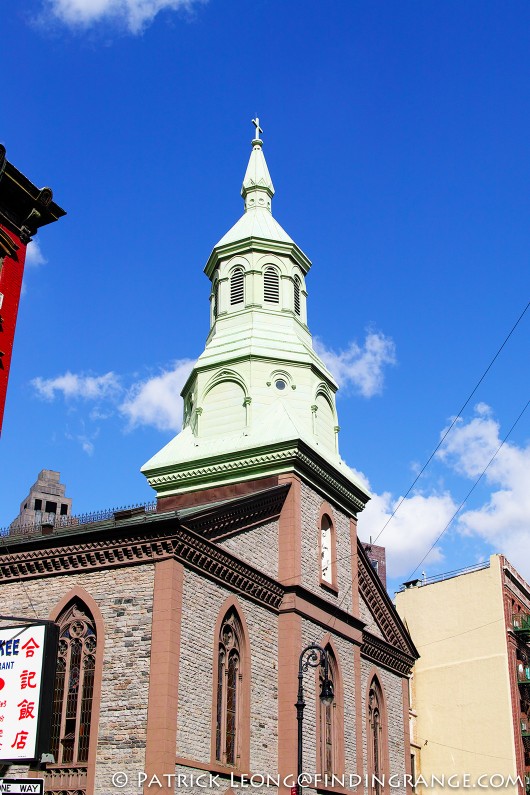 ↑ I just love the blues in this photo.  This was taken at f6.3.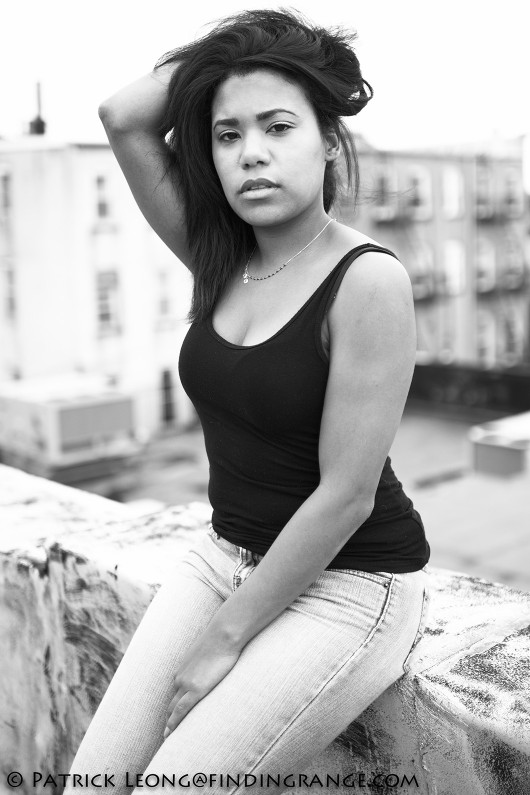 ↑ Here's an image taken at f1.4 that I converted to black and white using Sigma Photo Pro.
Then of course, there's the sharpness, which is out of this world.  The way this camera resolves detail is on another level when compared to so many cameras out there yet it doesn't look unnatural.  Since I have to upload compressed files, which basically won't give you the full picture, I've also enclosed 100% crops just to demonstrate the level of detail this camera can retrieve.  The funny thing is, at Sigma Photo Pro's default setting, it's already incredibly sharp but there is a setting where you can adjust the crispness or smoothness without making the photos look overdone.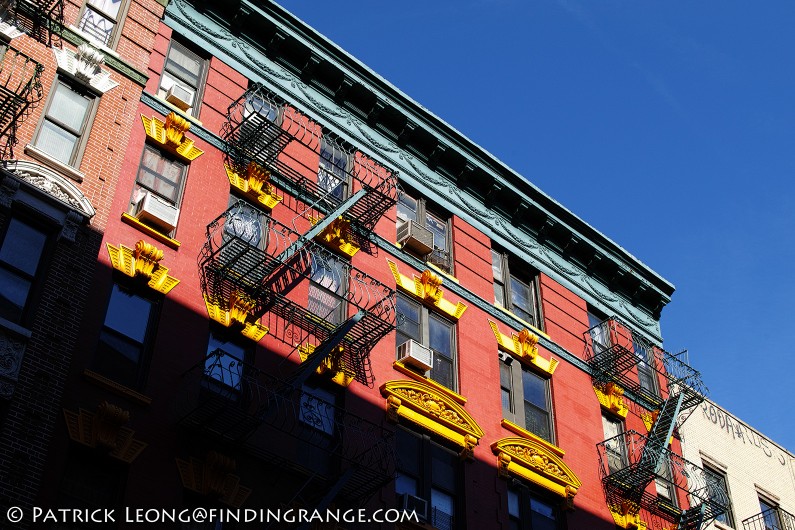 ↑ Don't want to repeat myself but look at the colors and the incredible sharpness!  This was taken at f5.6.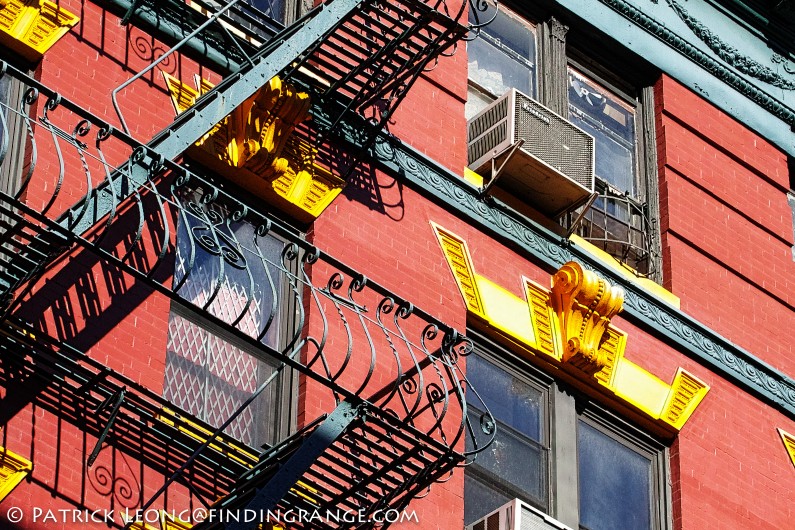 ↑ Here's a 100% crop of the photo above.  You can even see the painted over rust on the fire escape.
↑ This was taken at f5.6.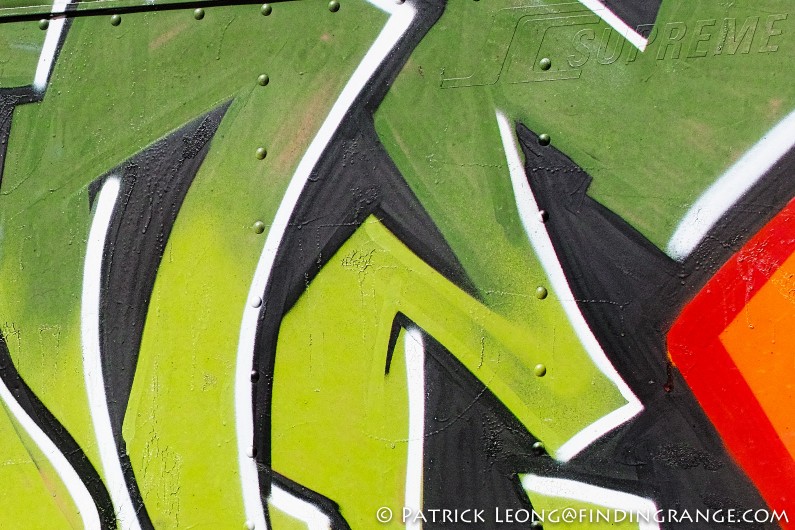 ↑ Remember how I said you can adjust the smoothness and crispness in Sigma Photo Pro?  This is at max setting.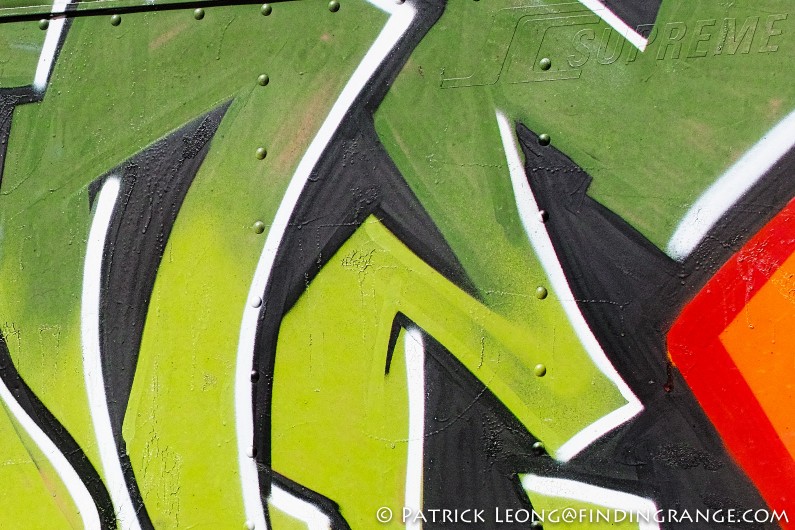 ↑ This is default, which is still extremely sharp.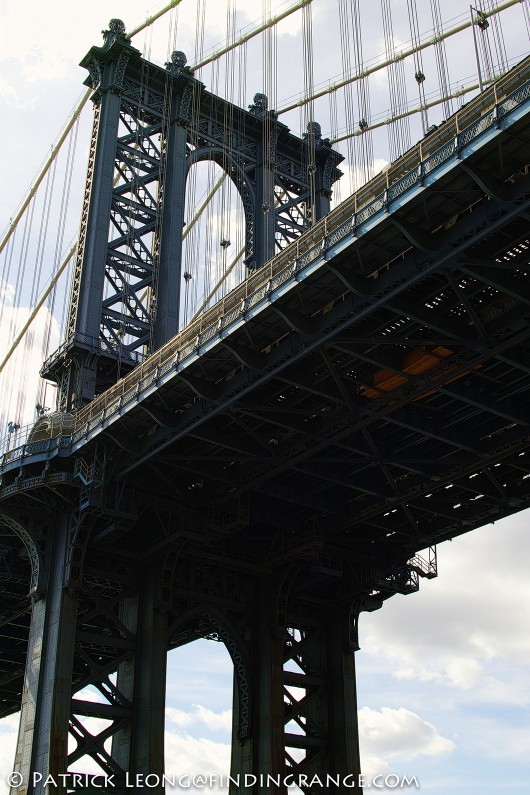 ↑ Here's another example of sharpness taken at f11.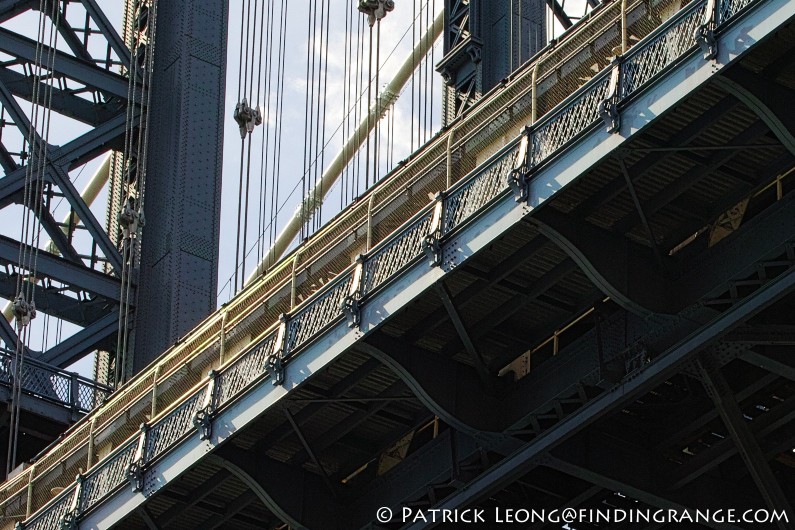 ↑ Close up with crispness set at max.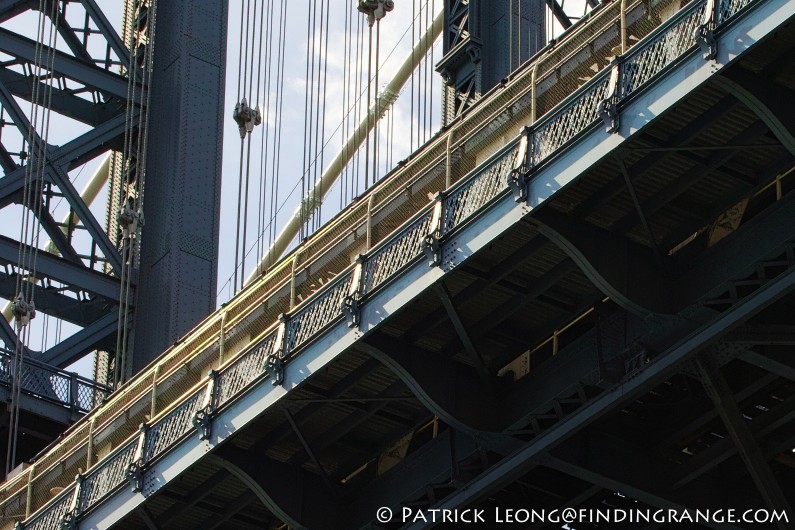 ↑ Here's another crop with the default setting.
Sigma sd Quattro Mirrorless Camera SFD Mode:
Now, if you really want to see what the Sigma sd Quattro is capable of, try the Super-Fine Detail exposure mode or SFD mode.  Basically, the camera takes seven images at different exposures creating a rather large RAW file.  This helps reduce noise, and extends the dynamic range.  This is a great feature for a camera like this but keep in mind that you'll need to mount the sd Quattro on a tripod to prevent camera shake.  I tried it, and it does what it's suppose to but my advice is to bring a large capacity memory card, and maybe even an extra battery.
Sigma sd Quattro Mirrorless Camera ISO Capabilities:
So, let's discuss a bit about ISO which ranges from 100-6400.  Now, I talk about all this great image quality but there is one caveat: All this great image quality is found in the lower ISO ranges.  At base ISO, it is excellent but you'll start seeing noise at 800, although the file is still completely useable.  However, noticeable desaturation does kick in at 800 ISO, if you're just shooting jpegs, so I suggest you shoot RAW files.  Files around 1250 ISO not only lose more saturation, the coloring itself in the photos gets kind of funky.  While the sd Quattro has a decent ISO range, 1600 ISO is about the cut off point for me.  At 1600 ISO, you'll get the increase in noise, and banding starts to appear but in my opinion, it's still useable depending on what you're shooting, and how carefully you expose the photo.  But keep in mind that you are pushing it.  If you hit speeds like 3200 ISO or even 6400 ISO, others may disagree but I just don't think you'll get a decent, useable file.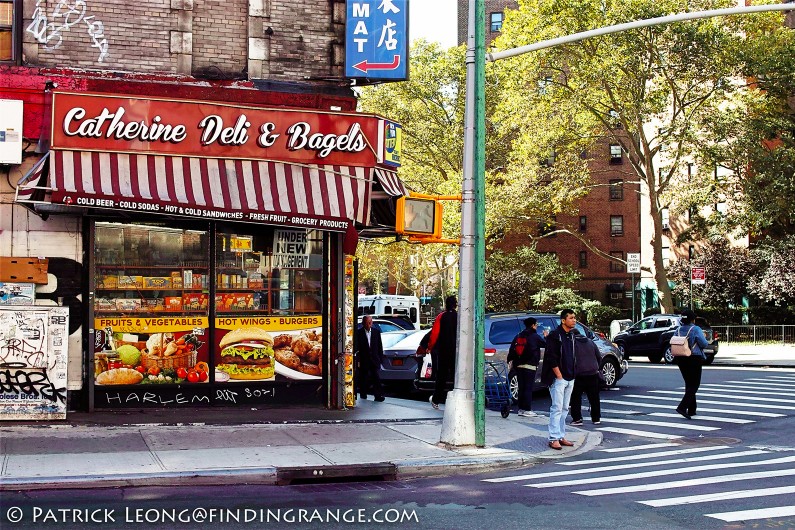 ↑ This was taken using 800 ISO at f5.6.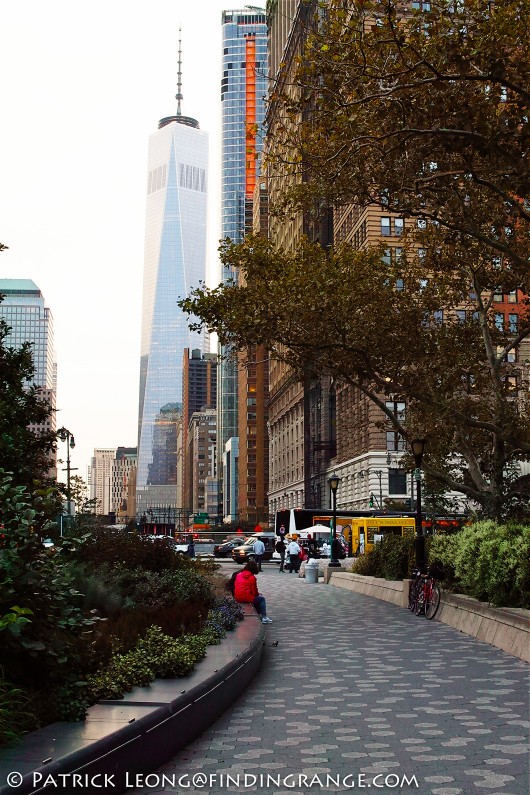 ↑ This was taken at 1250 ISO using f8.  This was processed from a RAW file but the out of camera jpeg was very desaturated.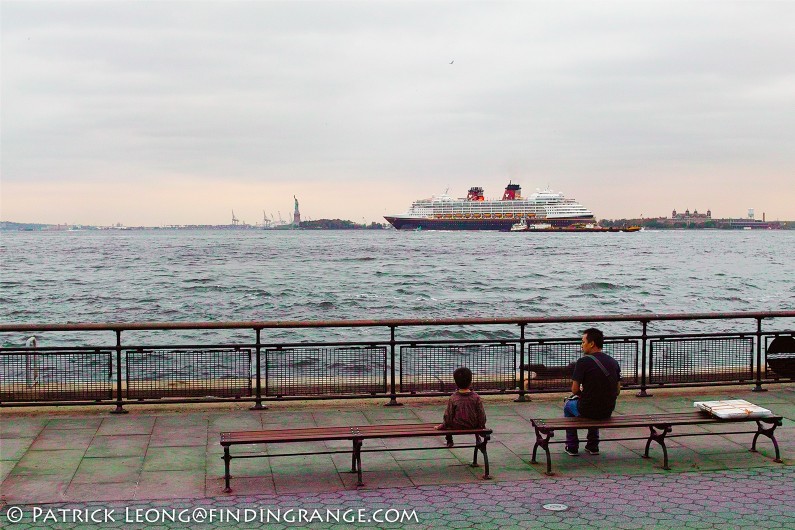 ↑ Here's an example taken at 1250 ISO using f5 with all noise reduction set at the lowest possible setting in Sigma Photo Pro.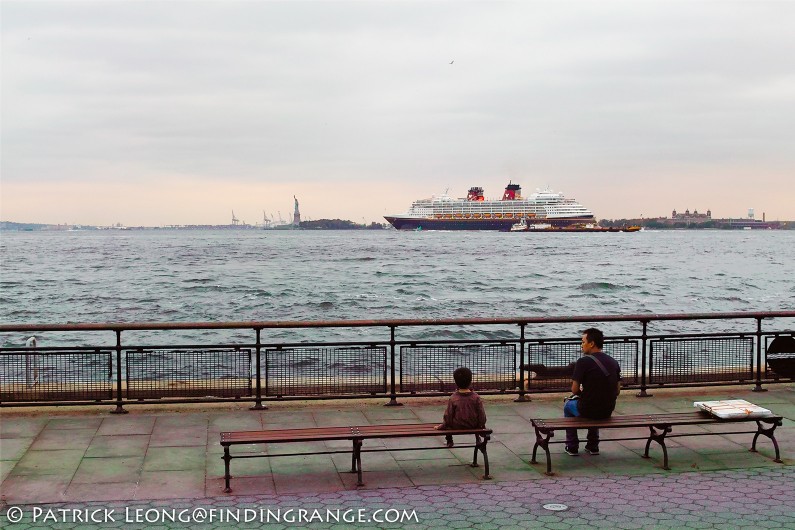 ↑ This photo was processed with the default noise reduction setting.  I actually prefer the noisier version.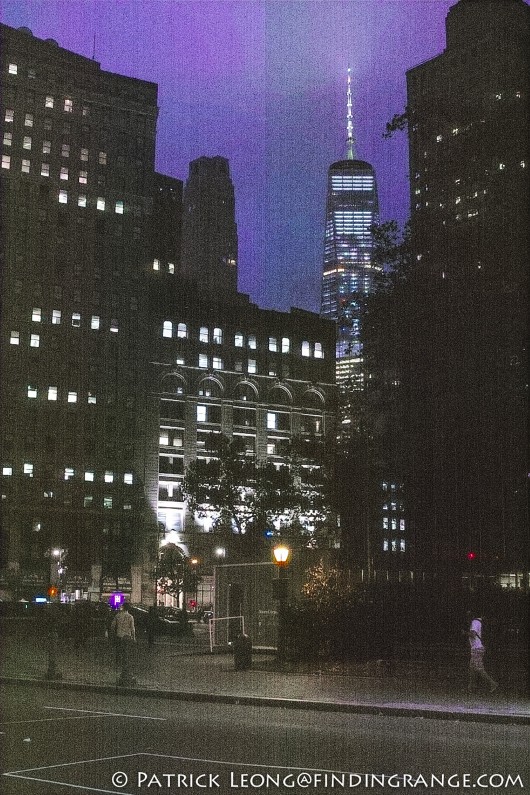 ↑ Here's a photo taken at 6400 ISO using f4.  The noise reduction set at the absolute lowest in Sigma Photo Pro.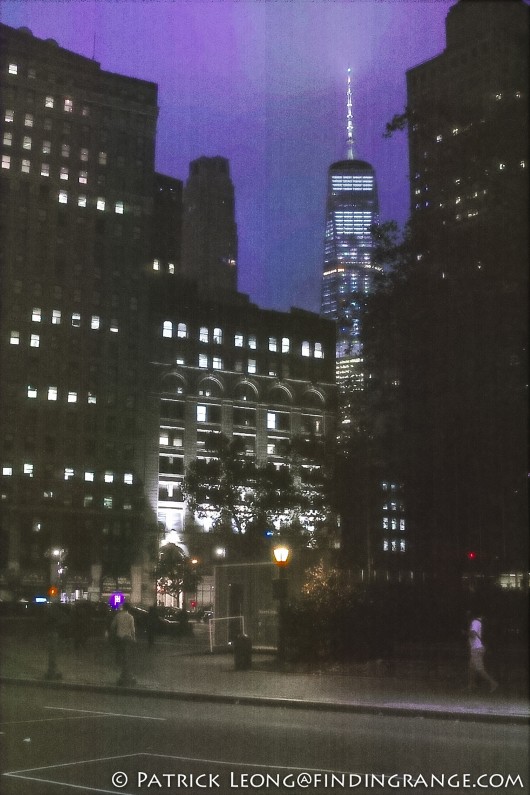 ↑ Here's the same photo with the noise reduction set at default.  I definitely prefer the noisier one.
Still, you have to keep in mind that a camera like the sd Quattro is really built for specific purposes.  It's a niche camera.  It's not going to be as flexible as say a Fuji X-T2 but it's not designed to be.  If you're doing things like landscape or portrait for example, where you can keep the ISO low, it's really hard to beat in the image quality department.  For me, the sd Quattro would be a second camera as opposed to my only camera.  It just doesn't have the flexibility of my X-T2 but at the same time, the image quality is truly exceptional.  It's one of a kind in that way.  It's not just sharp; it produces a different look that I've grown really fond of over the time that I was using it.  It's absolutely addicting in that way, and the truth is, the fact that the electronics are not quite up to the same standard as some of the more popular mirrorless cameras actually makes me put more effort into my photography.  Every shot starts to count, and therefore, you're always thinking, and planning your next photo while you use it.  In this way, it can be really rewarding.  It forces you to take back a little more control than say some of the cameras coming out nowadays that have auto everything.  It's like shooting with medium format or in some ways, it kind of reminds me of shooting with the Leica M9.  As I'm typing this, and looking back at the photos I took with it while I had it here, I genuinely miss it.  The Sigma sd Quattro is for those days when you can really dedicate yourself to photography, and you have a specific purpose because you will be rewarded with truly exceptional image quality in the right conditions.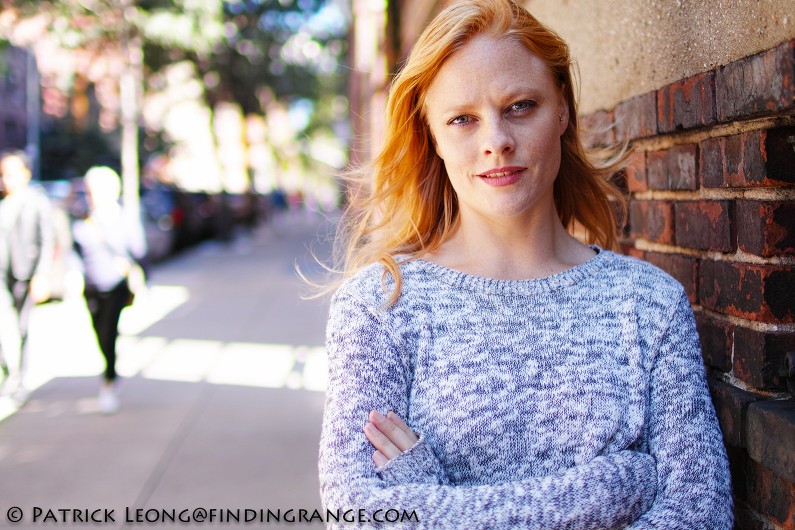 ↑ The bokeh from the 30mm f1.4 Art lens is fantastic in my opinion.  This was taken at f1.4.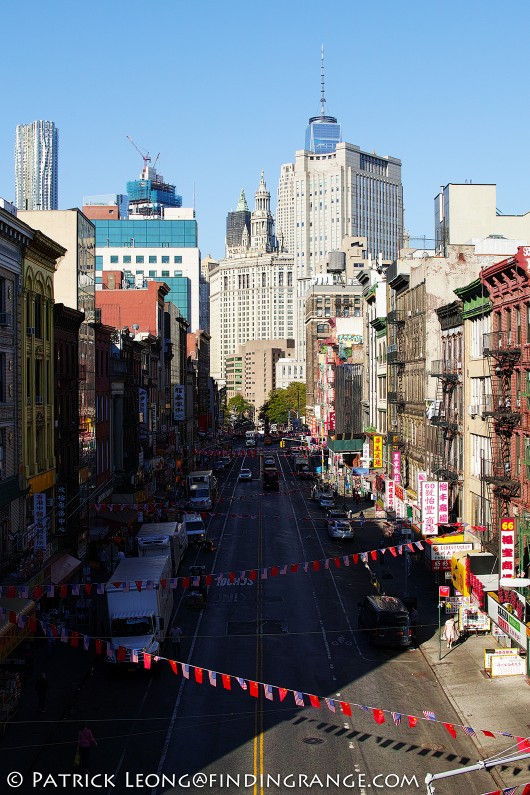 ↑ This was taken at f6.3.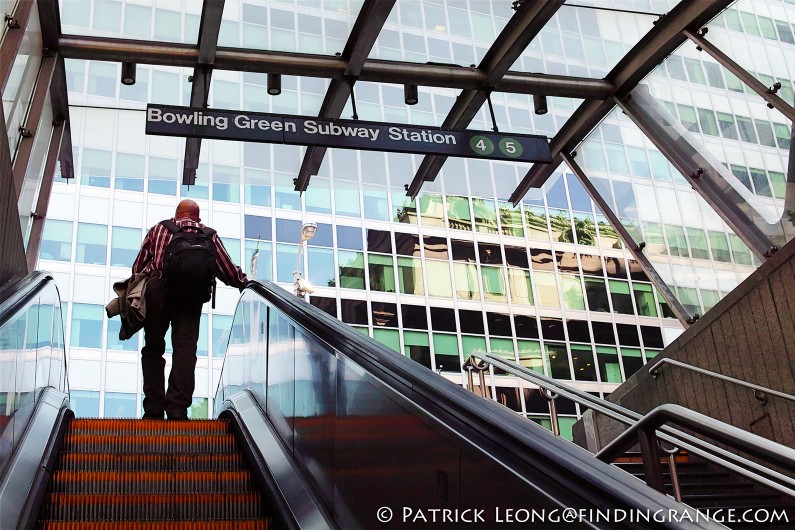 ↑ This was taken at f5.6.
Sigma Photo Pro Processing Software:
So, obviously to get the most out of the sd Quattro, you should shoot in RAW.  But the only way to process the files is to use Sigma Photo Pro, which is free.  I'm not too happy about this mainly because I like using Adobe Camera Raw.  Plus, the last thing I want to do is learn how to use new processing software.  It's also a little more tedious, since I don't find it as efficient or as fast as Photoshop but it's doable.
Sigma sd Quattro Mirrorless Camera Pros And Cons:
Sigma sd Quattro and 30mm f/1.4 Art Lens Kit Pros:
Superb build quality.
Comfortable to hold.
Image Quality is incredible.  Truly addicting.
Decent price for what it can produce.
Sigma sd Quattro and 30mm f/1.4 Art Lens Kit Cons:
Large for a mirrorless camera.
Dated LCD display and EVF.
Autofocus is slow.
High ISO is not good.
Sigma sd Quattro Mirrorless Camera Verdict:
To me, Sigma sd Quattro is definitely not the kind of camera I would take out for casual use or to a party with friends.  It also isn't a camera for everyone because it just doesn't quite have the same flexibility as some of the more popular mirrorless cameras.  Of course, it makes no apologies for it either.  This is a camera that is designed for the photographic purist, and for those who want incredible image quality, which are both attributes that I really love about it.  This is a truly special camera, and I'm not just trying to sell you on it.  If you have the right conditions, if you're patient, and if you're willing to put a little work into it, this camera is pretty darn spectacular.  The sd Quattro can be very rewarding to use, and most importantly, it will produce some of the most unique, and wonderful images out there.
Thanks for taking the time to read my review!  If you're considering purchasing the sd Quattro, and my review helped you decide, please help support this site by purchasing from any of the links in this review.  It will not cost you anything extra.  Thank you for your support!