Canon EOS M5 Mirrorless Digital Camera Up For Review Soon:
Sorry for the lack of posts recently.  It's been a very busy holiday season for me.  I will be posting my Sony RX100 V review very soon.  I will also be posting some pics from my Leica 50mm Summilux-SL soon.  But now, I want to talk about something new that I'm currently testing: the Canon EOS M5.
In the past, Canon's mirrorless system didn't really attract me all that much because personally, I didn't feel like they were fully committed to it.  Other systems, in my opinion, seem to give me more value for my buck.  For instance, some offered better autofocus systems, and/or even a better lens selection.  But when I heard about the Canon EOS M5, there were definitely a lot of new features that peaked my interest enough that I wanted to get a copy in to review.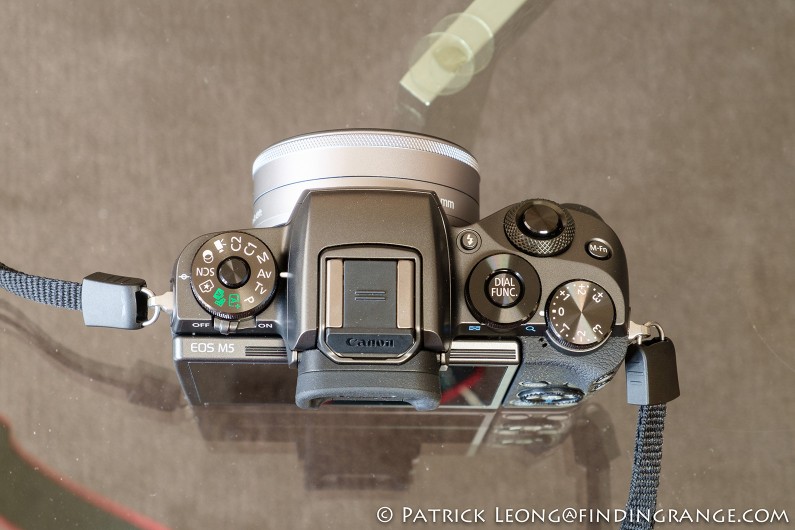 ↑ The Canon EOS M5 has a nice layout.  It's simple and direct.
Since what I'm writing now isn't a review, I am just going to mention a few features that I really love about this camera.  These are my initial impressions.  For one, when I first opened the box, I couldn't believe the size of the EOS M5.  This camera is tiny!  I believe it's smaller than the Olympus OM-D E-M5.  What's really amazing is that Canon was able to fit a lot of great features in the EOS M5 as well.  For example, there's a tilting 3.2 inch 1,620,000, which is also touch screen by the way.  Furthermore, it comes with a 2.36m dot EVF, which is pretty much a standard in the industry at this point.  So far, the EVF is definitely decent to use.  It's clear, and the refresh rate is excellent.  It feels a little more cramped than say my X-T2 but we have to remember that the Canon EOS M5 is also significantly more compact than my Fuji.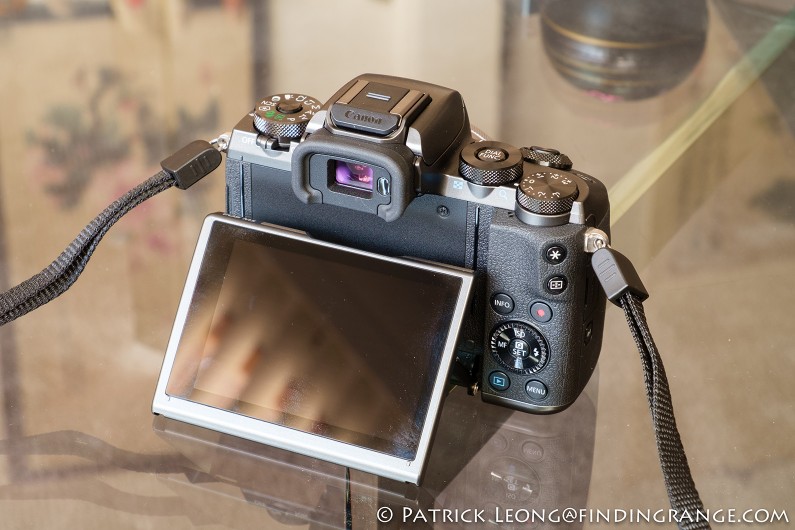 ↑ The EOS M5 also has a tilt screen, which comes in handy.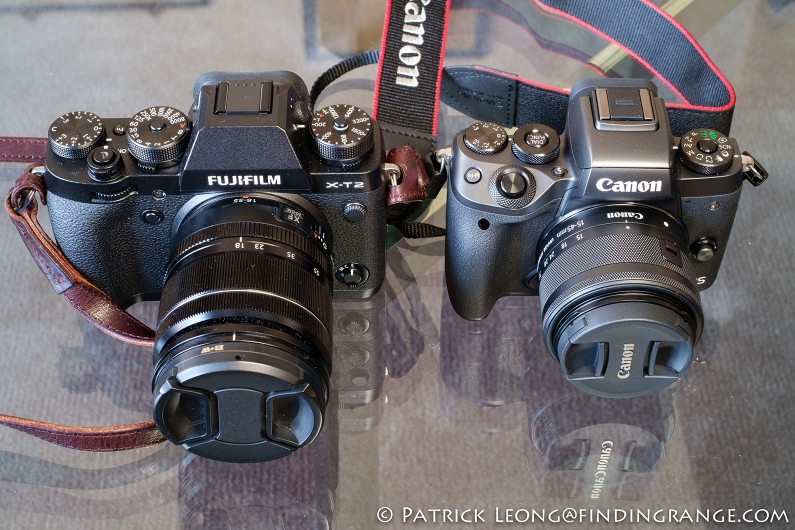 ↑ Has you can see, the Canon is pretty compact even when compared to the X-T2.  Both cameras have their kit lenses mounted.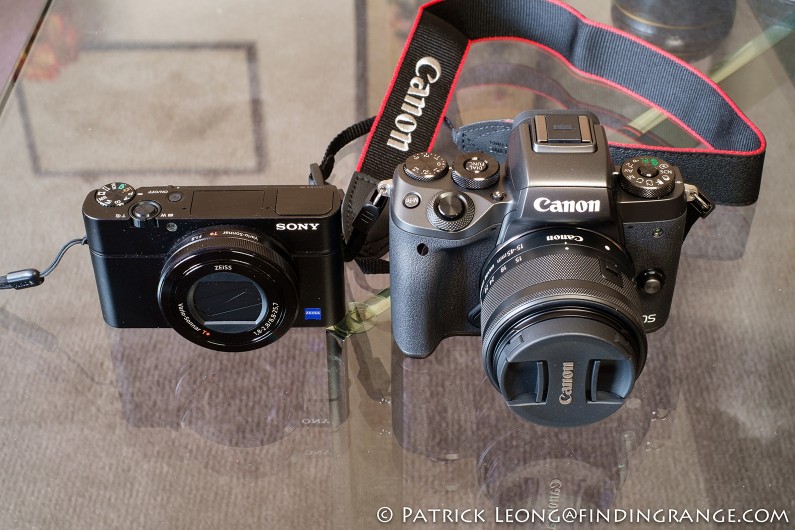 ↑ The Canon is so compact that I thought I'd show all of you how it measures up in terms of size with the Sony RX100 III.
In addition to these features, Canon was able to fit a 24MP APS-C sensor in this compact body, which definitely helps it compete with cameras like the X-T2.  There's a flexible ISO range of 100-25,600.  You can shoot up to 7.0 fps (9.0 fps with AF lock).  However, there is no 4K, which might bother some.  Personally, the lack of 4K doesn't bother me so much because I haven't gotten into the whole video world yet, so I'd be perfectly okay with no video.  The EOS M5 does come with full HD 1080p though.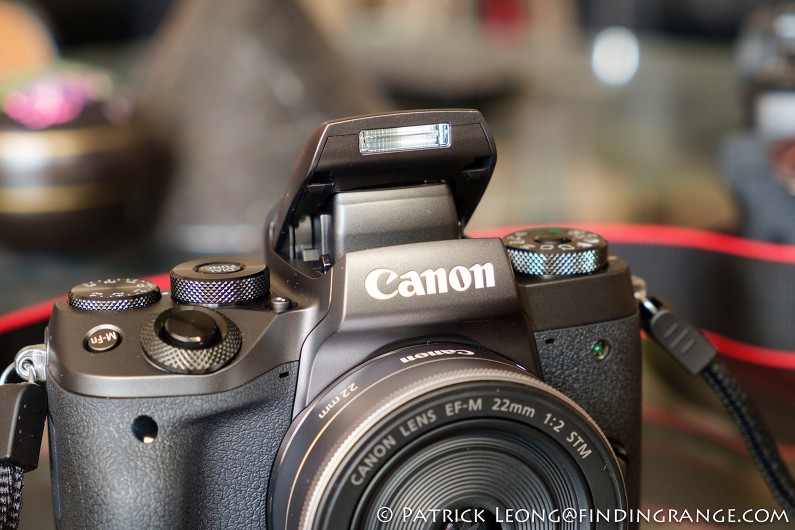 ↑ The Canon EOS M5 even comes with a pop up flash.
As for optics, I still think Canon need to expand in this area but the lenses that they do currently offer match the body size really well.  Take for instance, the photo below this paragraph.  That's the Canon EF-M 22mm f/2 STM lens mounted on the EOS M5, and it's a 35mm equivalent.  In my opinion, the EOS M5 with this lens makes a fantastic street set up.  If you do want more lenses, you can also get the Canon EF-M Lens Adapter Kit, which allows you to mount Canon EF/EF-S lenses to the EOS M5.  I think this is actually really cool, and I'm glad Canon did this.  I have the adapter on loan as well, and if you give me a little time, I will write up a comparison between this camera with a pretty cool EF L lens, and something with my X-T2.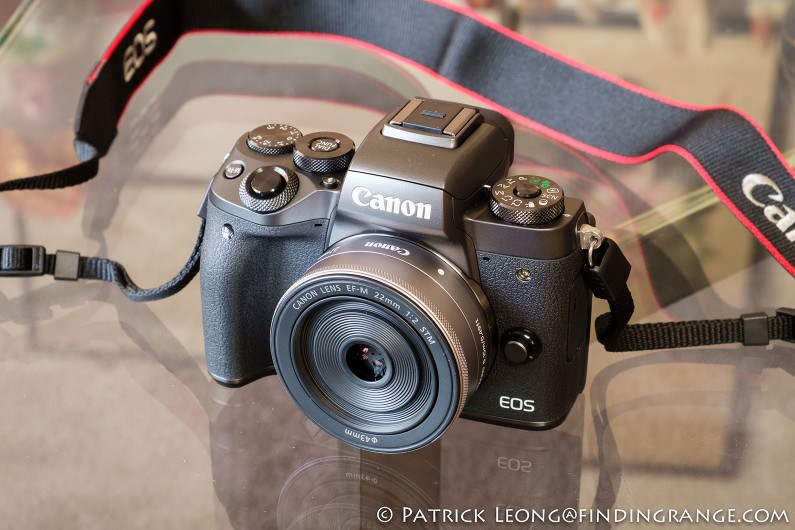 ↑ The EOS M5 and the 22mm f2 make a great combo.
I still need more time with the EOS M5 before I write up a full review but from what I gathered so far, this camera has definite potential.  I love the size, and it has features that are definitely competitive with its rivals.  So, stay tuned, and thanks for stopping by!
B&H Photo has the EOS M5 in stock, if you want to take a closer look: