Sony RX100 V Digital Compact Camera Review:
The Sony RX100 series has always been popular in the high end compact camera world because it's pretty much perfect in its class to a lot of photographers.  It has tons of useful features, the image quality is excellent, and all of this is stuffed into a body that is compact enough to fit in one's pocket.  To top it off, Sony currently sells previous versions of the RX100 along with the latest version, so this makes the RX100 series available to a broader range of customers.  So, with a camera this good, it's hard to imagine Sony actually making a worthy upgrade but apparently they have with the new RX100 V, which is what I'm reviewing today.
Sony RX100 V Digital Compact Camera Build Quality:
At $998, the Sony RX100 V is definitely not cheap but that's because it's no ordinary point and shoot camera.  For one, you're getting a camera that is built really well.  The buttons have excellent tactile feel, and there are no signs of creaking or inferior workmanship.  In fact, I would argue that this is one of the better built cameras in its class.  It feels more solid than my Leica D-Lux Typ 109, which is one of its competitors.  Part of why it feels so solid is that it's built on a metal frame, which also makes it more durable.  However, at 299g with battery and memory card, it's light enough to carry everywhere.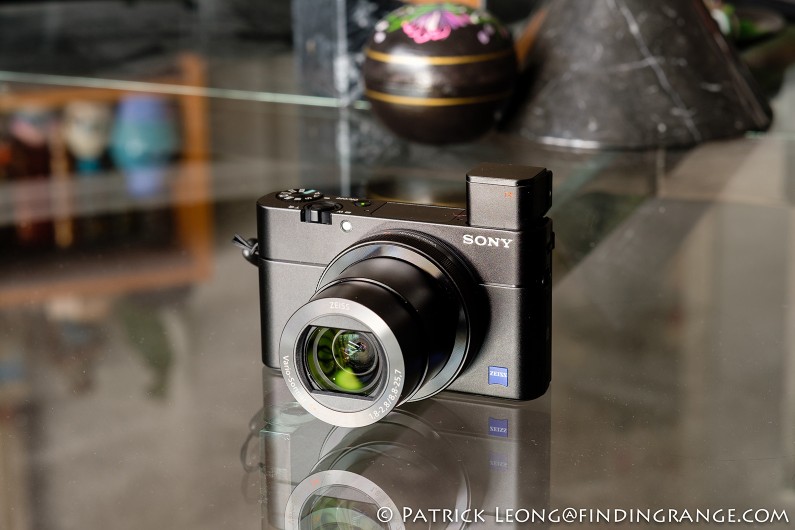 ↑ The Sony RX100 V.
Another reason why you'd probably want to carry this camera everywhere is because it is very compact.  In fact, what's pretty amazing is that even though the electronics have been vastly upgraded over the years, the overall size, and shape of the RX100 hasn't changed much.  The overall layout and controls makes sense, and Sony knows it, which is why they left them alone for the most part.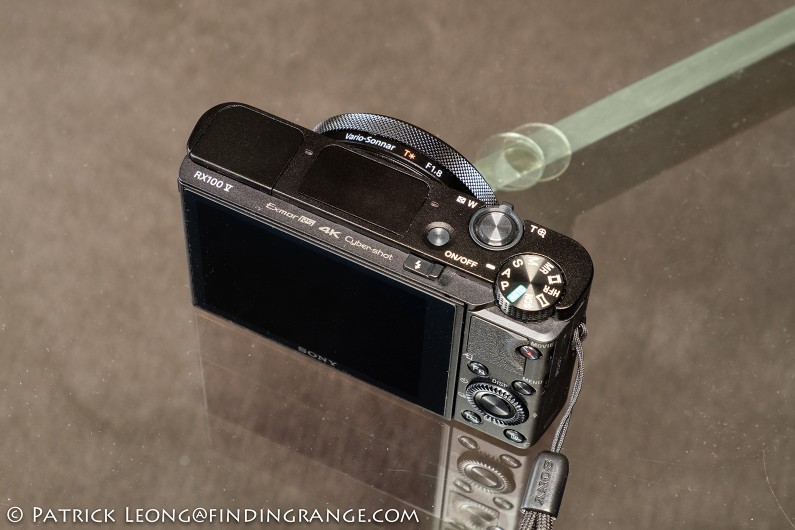 ↑ The top plate of the RX100 V.
I think what's important is that Sony never loss sight of the RX100's main purpose, which is to offer the user an excellent performing camera in a very compact form.  It's suppose to be a point and shoot, and it's something that is meant to be easily portable.  Many manufacturers in this class seemed to have loss sight of this because their cameras get bigger with each new iteration that is released.  Take for example my D-Lux Typ 109.  I love the camera but it's much larger than my older D-Lux models.  It doesn't even come with a flash built in unlike the RX100 V, which has a pop up one.  I know the D-Lux has a micro four third sensor in it, and one of the reasons I did buy it was because of the larger sensor but at the same time, if the body gets any larger, I think I would be better off just going to something like a Fuji X-T10.  While the Fuji and a zoom may be bigger, the D-Lux with its zoom isn't exactly that compact either.  But with the Fuji, I'll definitely get more flexibility.  So personally, I love the fact that Sony have stayed true to the original design of the RX100.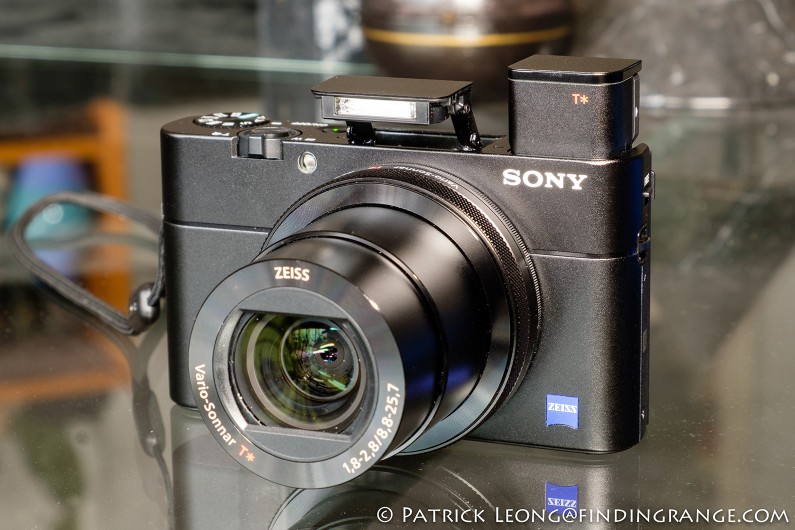 ↑ Despite being so compact, the RX100 V also has a pop up flash.
For those with larger hands, this may be a problem but truthfully, there is no way any camera manufacturer can design a camera that fits everyone's hands perfectly.  However, Sony have done a good job trying to make the camera comfortable to hold.  For one, there's a rubber thumb grip on the back of the camera, and I find it really helps secure the camera in my hands.  In fact, the rubber thumb grip, and the supplied wrist strap actually work together to make for a very secure hold.  If you still feel like you need more support, Sony does make the AG-R2 Attachment Grip.  It's about $14, which is totally reasonable given what some grips can cost nowadays.  It also matches the body very well.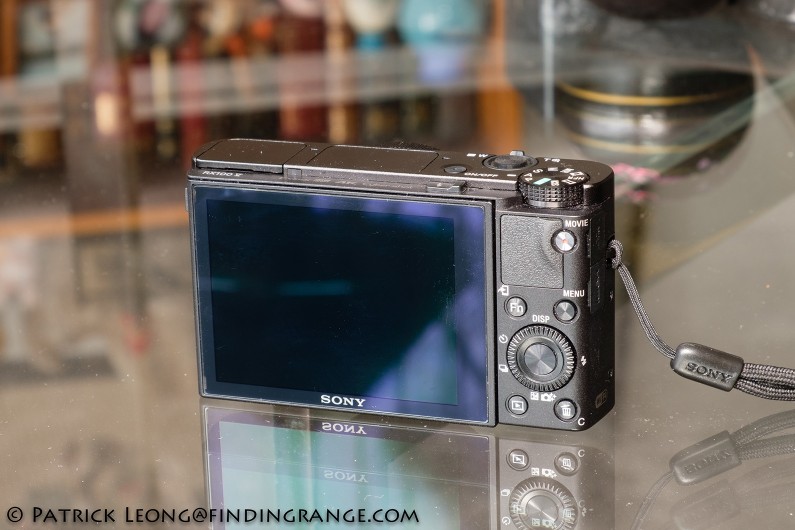 ↑ There's a rubber thumb grip, which helps hold the camera.
The build quality overall is great with only one complaint that really concerns me, and that is the charging port.  You can actually charge the RX100 V without removing the battery, which makes it more convenient but to gain access to the charging port, you have to open this small plastic tab, which is just one of those pieces that feels like it'll break off over time.  Since this is a review sample, I don't get to keep the camera for months, so it may not be an issue for some users who've used previous RX100s but I personally do not like this small plastic tab.  This is a beautifully made camera, so I can't see why Sony doesn't just come up with something else more fitting for this kind of quality.  It takes some effort to unsnap, and I wouldn't be surprised if one day I used too much force, and bent it or worse.  Personally, I would buy the Sony Battery And Charger Kit.  Most likely, you'll buy a spare battery for this camera which is already $32.99.  The charger costs $50 but it includes a spare Sony branded battery as well.  So basically, you'll be paying a little less than $20 extra for a charger.  With this charger, you'll have to take the battery out of the camera to charge it but it's only a minor inconvenience.  It'll also fully charge your battery in 90 minutes.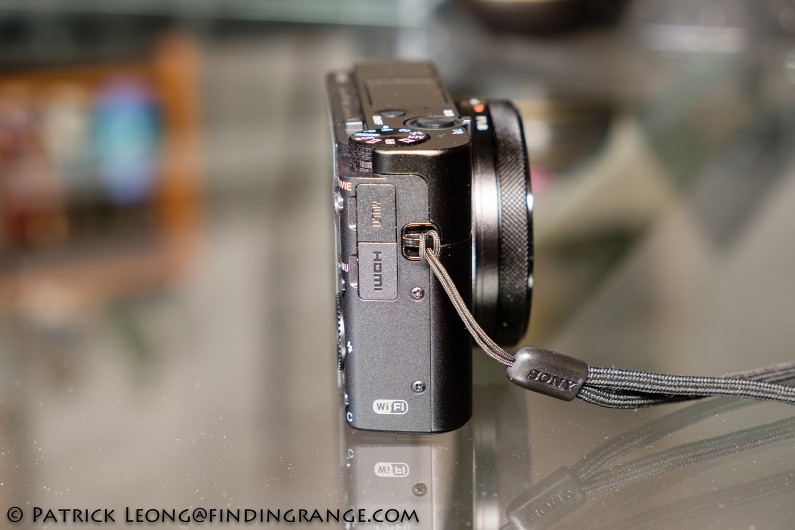 ↑ The power cord plugs into the port that is covered by the "multi" plastic cap.
Sony RX100 V Digital Compact Camera Features:
Now that we've discuss the build, let's talk about some of the great features of the Sony RX100 V, and some that even sets it apart from its predecessors.  For one, I think it's pretty incredible that Sony was able to fit a 2.36m dot OLED EVF in such a compact camera.  At first, I wasn't really sure how I'd feel about a pop up EVF but now that I've had time to use it, I absolutely love it for this camera.  You get to basically keep the RX100 V the same overall size as say the first RX100 but have a viewfinder handy whenever the time requires it.  Overall, this is not just some cheap add on or afterthought.  This is a quality viewfinder.  It's smooth and lag free for a camera in this class.  It's also very clear and offers decent contrast.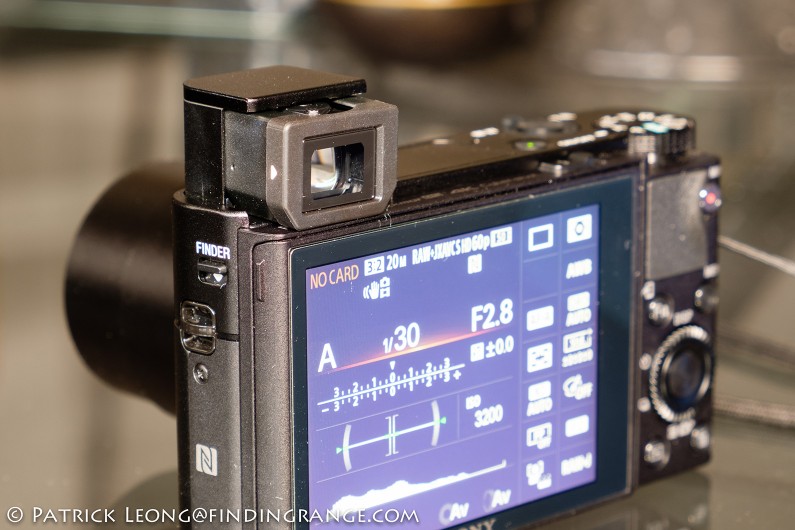 ↑ Instead of making a larger camera, Sony gave us a pop up EVF.
In addition to the EVF, there's also a nice 3.0″ LCD rear screen (1,228,800 pixels) that has a tilt function.  The screen is decent, and it's even relatively easy to see in daylight.  Of course, if it gets to bright out, you always have the EVF.  I think the fact that the RX100 V's screen has the ability to tilt 180 degrees is important as well.  It's a point and shoot, and in addition to serving has a camera that can take serious photos, it needs to be a camera that you can take out when you just want to record the fun times.  For example, if you're going to a party with a bunch of friends, you want to be included in the photos, and having the the screen tilt 180 degrees, so you can do selfies is great.  But there are a couple of issues I would like to talk about.  For one, I'm not a big fan of the menu system.  At least for me, I sometimes find it a bit annoying to navigate through, especially when compared to some of the systems currently out from other manufacturers.  You do get used to it over time but I still don't think it's as efficient as it can be.  Also, what I think this screen is sorely missing is touch capability.  A touch screen would add so much to a camera like this one because in addition to making it easier to navigate through the menu, it'll also help with the new autofocus system.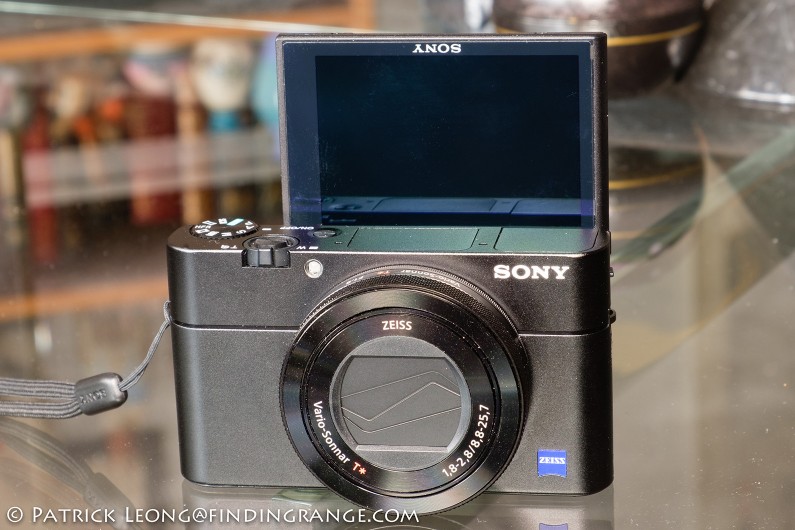 ↑ The tilt display is also great for selfies.
Speaking of the autofocus system, unlike its predecessor, the Sony RX100 V comes with a new hybrid autofocus system containing both contrast and phase detection AF.  Incredibly, there are 315 AF phase detection points that cover 65% of the sensor.   There are many modes to choose from, such as, Wide, Center, Flexible Spot, Expandable Flexible Spot, and Lock-On AF.  There's even eye and face detection.  The face detection can detect a smile as well.  The flexibility that this autofocus system offers with all of its modes and AF points, is downright impressive even by some larger, and more professional camera standards; truthfully, it's even a little overkill in my opinion.  Yet surprisingly, even after making such a complex autofocus system, there's no touch screen to help you along with it.  A touch screen would be so useful with the autofocus system in this camera.  But other than that, the autofocus system is absolutely superb.  The specs say that it can lock focus in as little as 0.05 seconds, and it can shoot up to 24 fps for up to 150 jpegs with AF/AE tracking or 71 RAW files.  After using this camera, I don't doubt any of these statements at all.
In practice, the autofocus is blazingly quick.  It locks on in a blink of an eye, and it's also very accurate.  I found the face detection in the Sony RX100 V to be excellent, and very accurate.  As for tracking, the RX100 V does an amazing job, and it's something that you really need to see in person to believe considering the RX100 V is only a point and shoot camera.  The autofocus in this camera is essentially drama free.
Of course, with such a great hybrid AF system, it's only going to help the RX100 V's 4K capabilities.  Personally, I don't use the video function much on cameras yet but for those who do, you're in for a real treat.  The RX100 V uses full pixel readout without pixel binning to minimize moire.  Other features include Picture Profile, S-Log2/S-Gamut, and 120p HD Full HD.  You can also select a frame from a video and save it as a still file in 4K (which will give you an 8 MP file), and HD (2 MP file).  It can also record in slow motion at up to 960 fps for twice as long as its predecessor.
Now, even with all these features, the Sony RX100 V still uses the same battery, which is good if you've owned a previous RX100, and have spare batteries but not so good if you consider that the new features are going to tax the battery more.  At full charge, you have approximately 220 stills when using the monitor versus the RX100 IV, which gave 280 stills.  With that said, I'm actually glad Sony stayed with the original battery.  The camera would probably be larger with a bigger battery, and I love the size of this point and shoot.  But just be prepared to maybe buy an extra battery or two.
Sony RX100 V Digital Compact Camera Image Quality:
One of the hallmarks of past RX100 cameras is the excellent images that they can produce.  This is no different with the new RX100 V.  Image quality comes from the familiar 20.1 MP 1″ sensor, and 8.8-25.7mm f1.8-2.8 Carl Zeiss Vario-Sonnar (24mm-70mm equivalent).  The RX100 V produces essentially the same image quality as its predecessor but considering how exceptional the RX100 IV is already, I'm completely fine with that.  With the Sony RX100 V, you're going to get nice, crisp images that aren't flat; instead, images exhibit plenty of depth and clarity to them.  It's also worth mentioning that the dynamic range is great for a point and shoot, and I actually find the jpegs that this camera produces to be quite pleasing.  Colors are pretty accurate.  This is good because not everyone who's going to use this camera is going to shoot RAW files.  However, if you do shoot RAW, the files are great to work with.  All these files in this review were processed from RAW files.  Overall, image quality is truly excellent even somewhat beyond point and shoot standards.  It's not going to replace a larger, and more professional system but at the same time, the RX100 V will still produce images that you will be proud to print or even use professionally for when you can't take your larger rig with you.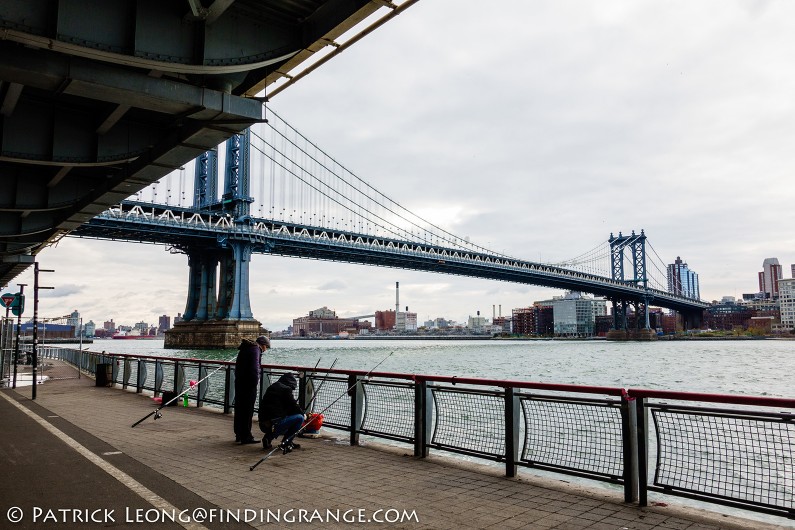 ↑ f5.6 125 ISO.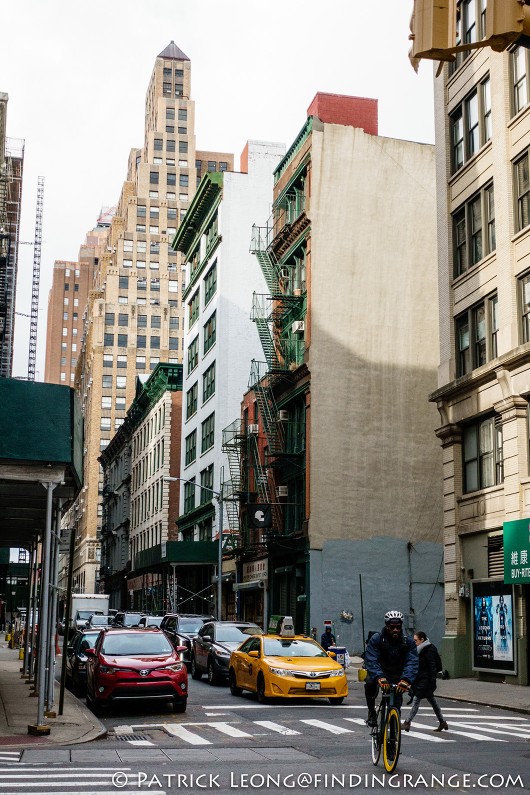 ↑ f2.8 800 ISO.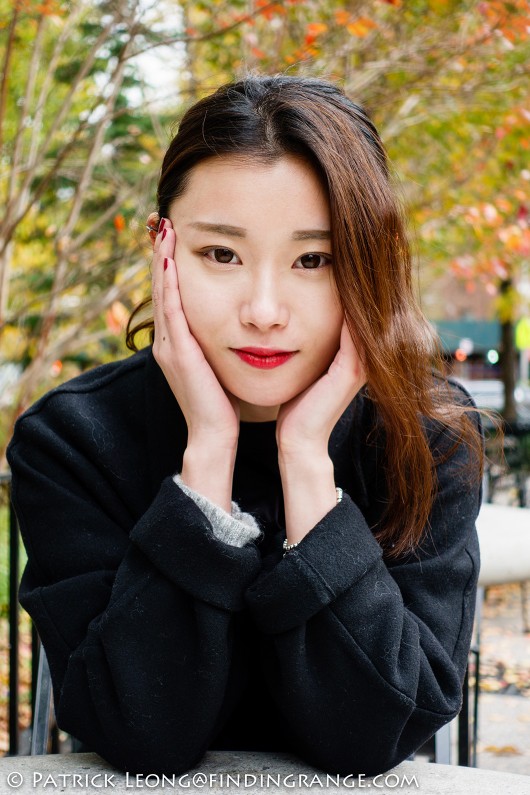 ↑ f2.8 125 ISO.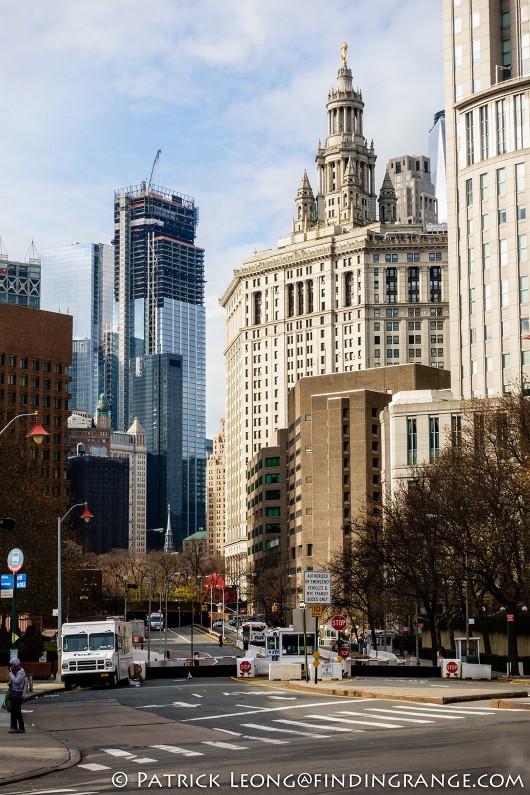 ↑ f5.6 125 ISO.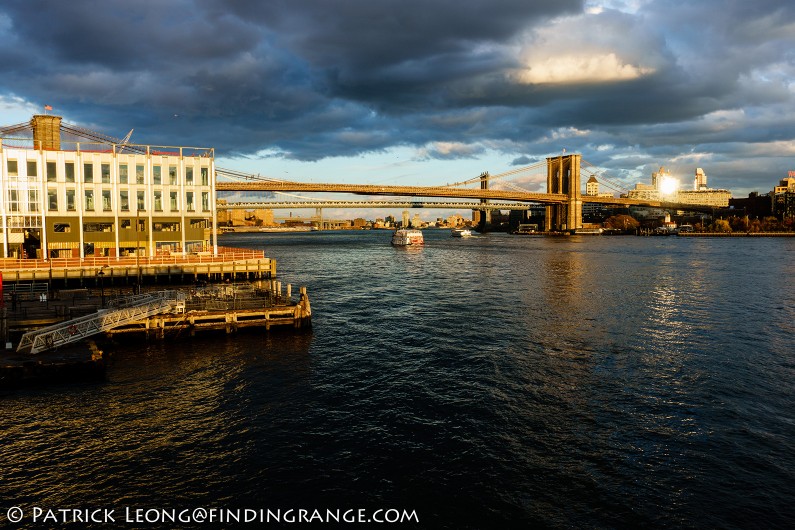 ↑ f5.6 125 ISO.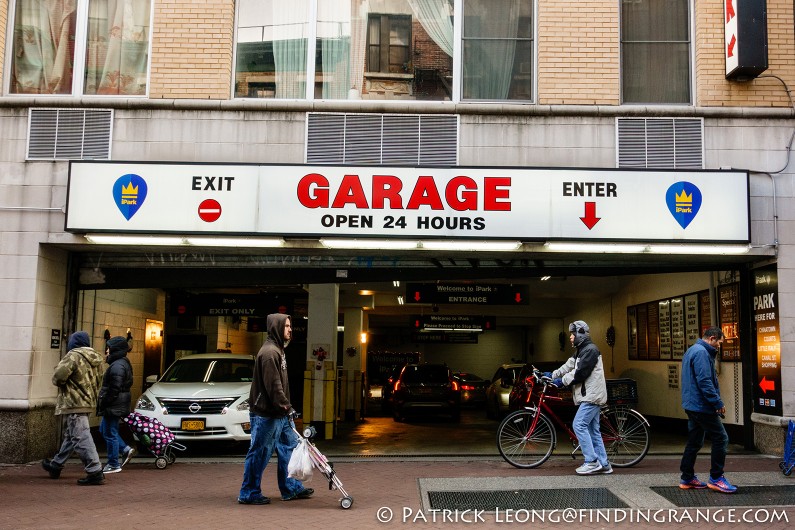 ↑ f2.8 800 ISO.
As for the Carl Zeiss Vario-Sonnar, it does a great job in producing images that are plenty sharp.  I found the overall range of the zoom to be good enough for me but I'm in a crowded city.  The wider end of the spectrum is more important to me but some may feel the need for more reach than the 70mm equivalent offers.  Still, with 20.1 MP, you do have the ability to crop.  As for the maximum aperture range of this zoom, you should have no problems using f1.8-2.8 in bright daylight because while the mechanical shutter goes up to 1/2000s, the electronic shutter goes all the way up to 1/32,000s.  With such a fast lens, this camera is also great for low light shots. However, if you're finding yourself needing just a bit more light, don't worry because the Sony RX100 V high ISO capabilities are excellent.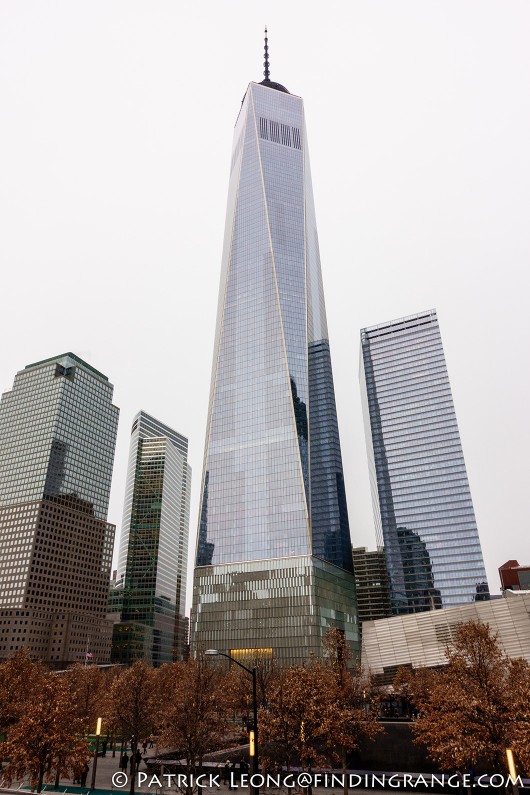 ↑ f8 160 ISO.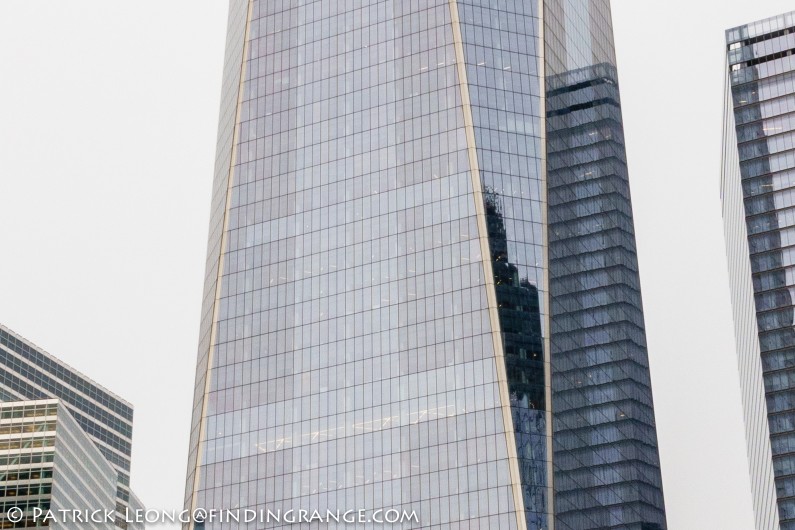 ↑ Here's a 100% crop of the photo above (1590 x 1060).  This Carl Zeiss zoom is plenty sharp.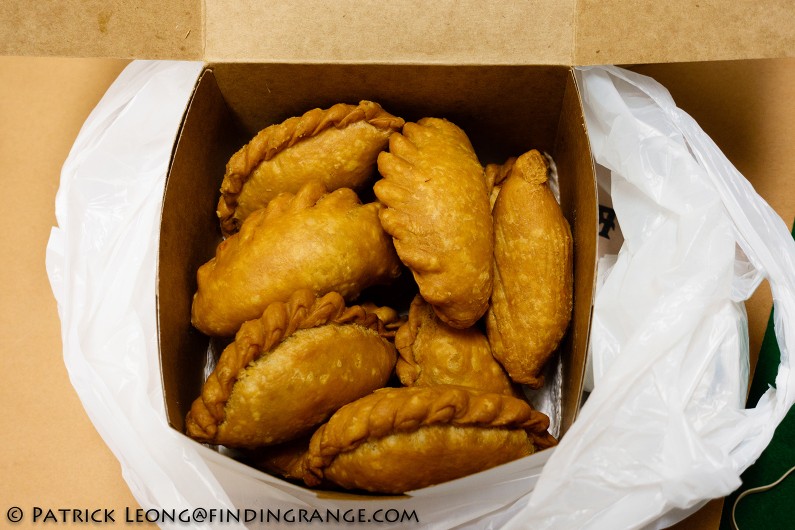 ↑ A good point and shoot is meant to photograph a variety of subjects.  In this case, I took a pic of this yummy goodness :).  f2.8 500 ISO.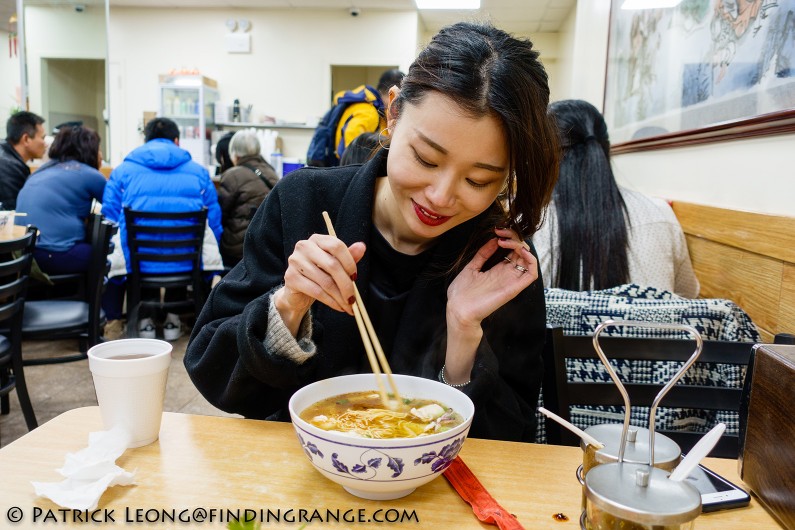 ↑ The Sony RX100 V is so great to carry along because it's so compact, and the image quality is so good.  It's great when you're hanging out with friends.  f2.5 125 ISO.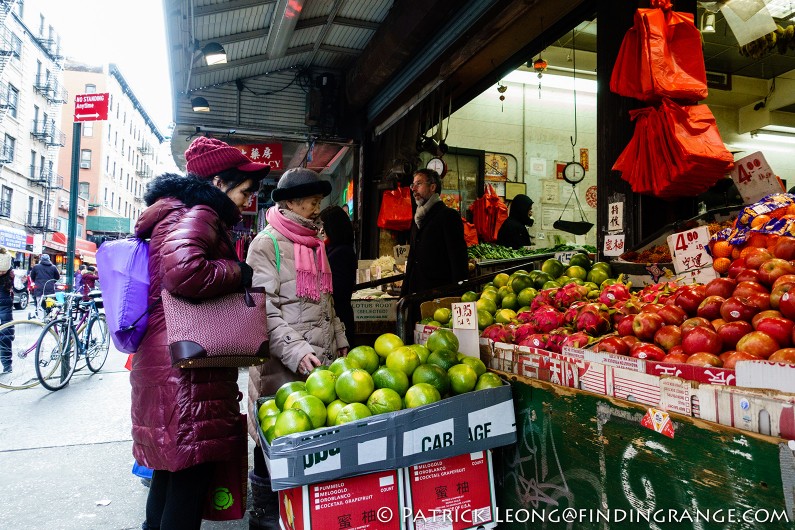 ↑ f2.8 800 ISO.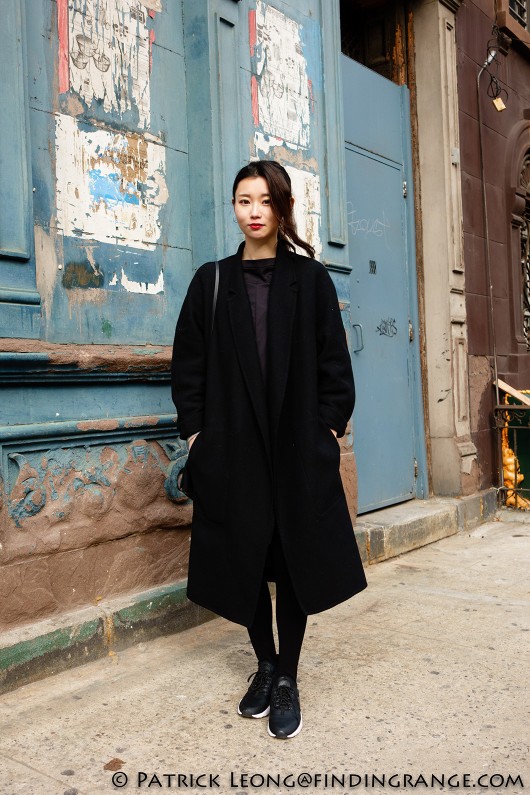 ↑ The image quality is really nice.  f2.8 125 ISO.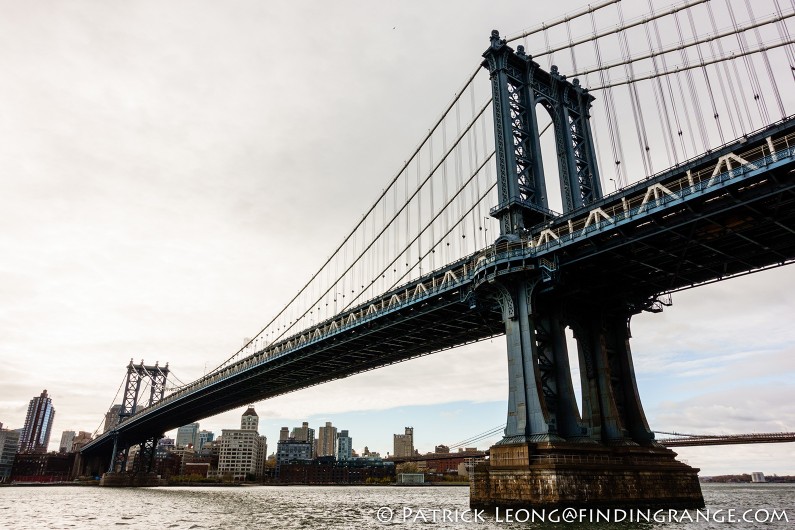 ↑ The 24mm focal length is very useful.  As you can see, the Carl Zeiss zoom is very sharp.  f8 125 ISO.
I'm actually very impressed with the high ISO capabilities of the Sony RX100 V.  Noise does start creeping in a bit at 800 ISO but you would have to be pixel peeping to really see anything substantial.  The truth is, I was shooting this camera comfortably up to 4000 ISO.  Of course, noise steadily increased, and so did a bit of desaturation but there's nothing here that's unexpected.  Once you hit around 6400 ISO and above, that's when the quality starts to noticeably suffer.  10,000 and 12,800 ISO, for example, are settings I wouldn't use much unless I really had to.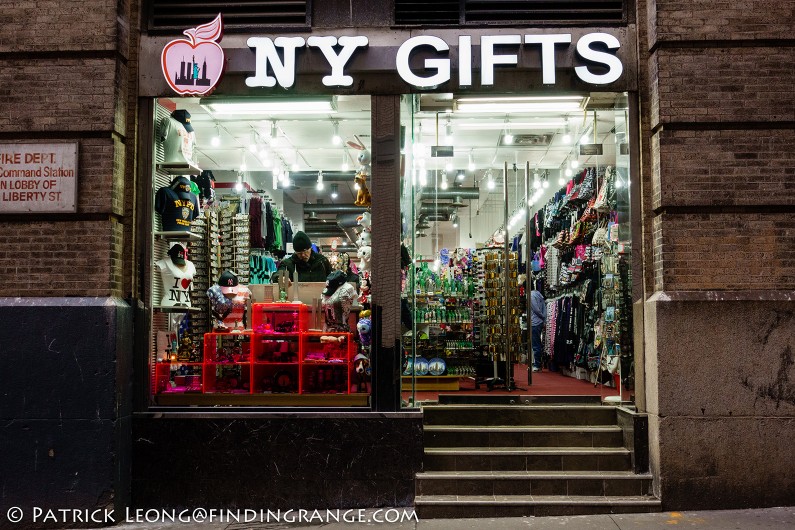 ↑ f4 800 ISO.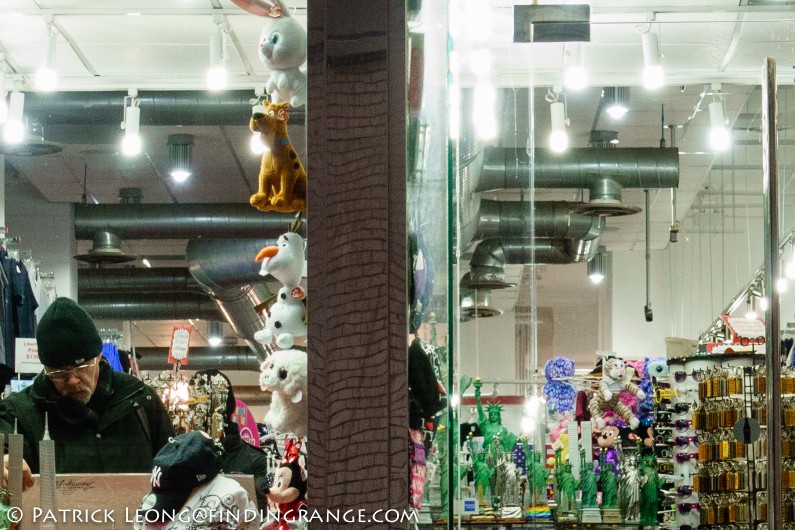 ↑ Here's a 100% crop (1590 x 1060) of the photo above to give you an idea of the noise levels at 800 ISO.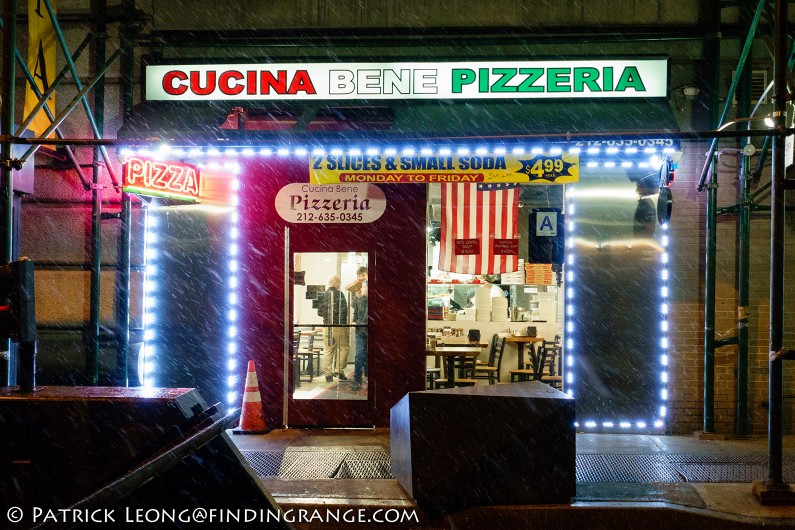 ↑ Even at 2000 ISO, the quality is very good, and totally useable.  f2.8.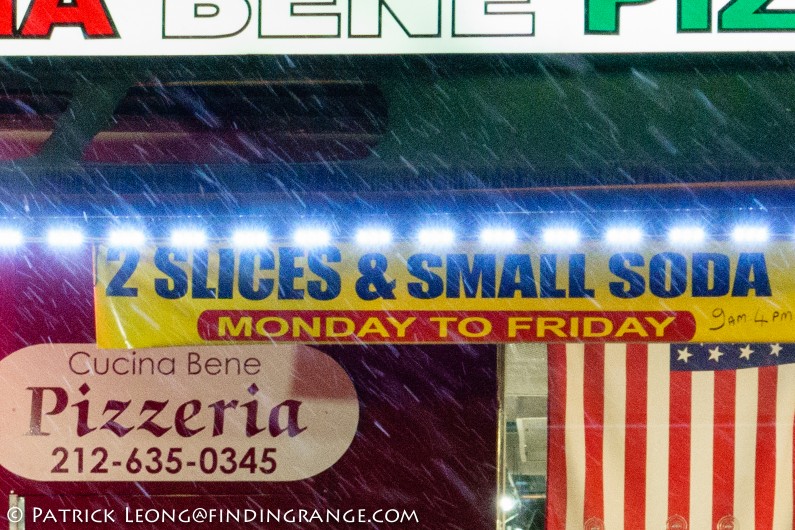 ↑ Here's a 100% crop of the photo above (1590 x 1060), so you can see the noise levels at 2000 ISO.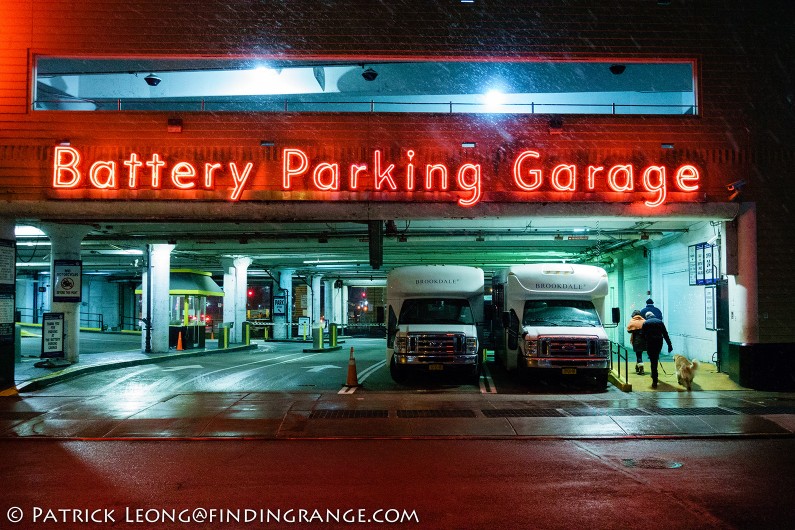 ↑ Here's a photo taken at f2.8 3200 ISO.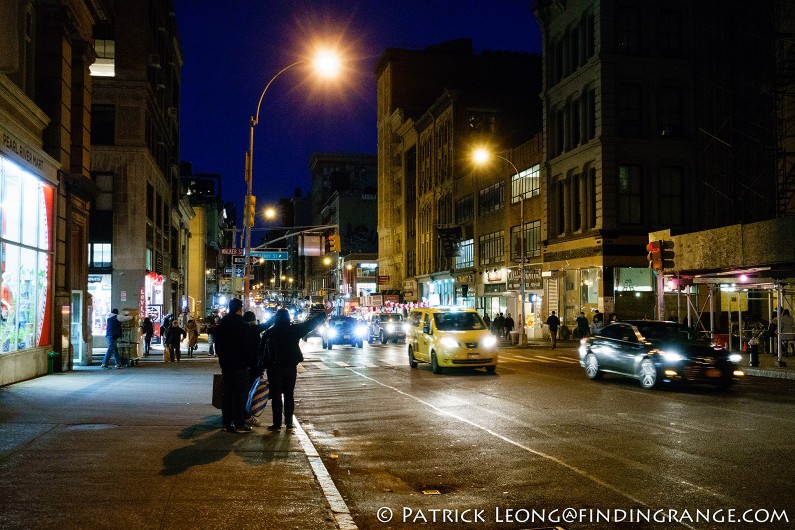 ↑ This was taken at 4000 ISO f4.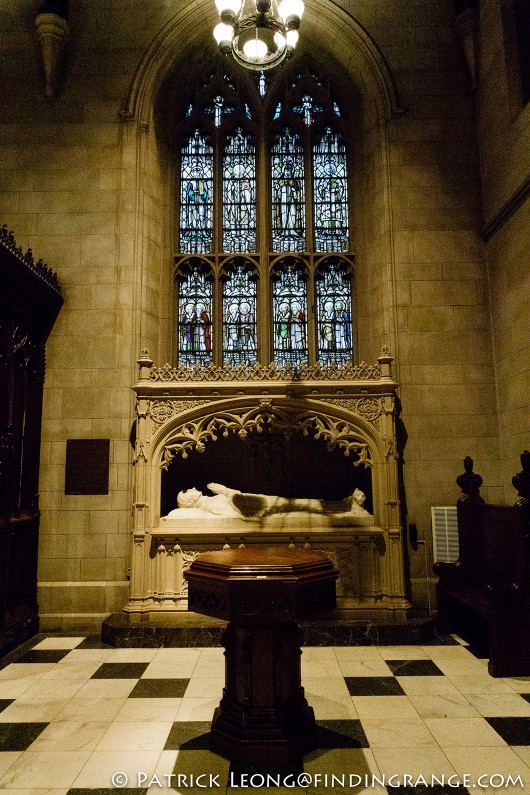 ↑ Here's an example at 10000 ISO f4.5.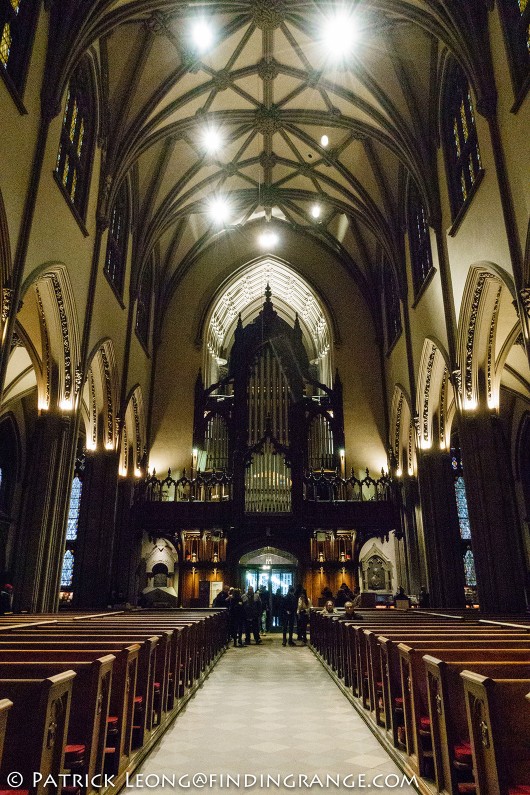 ↑ Here's a photo taken at 12800 ISO f5.6.
Sony RX100 V Digital Compact Camera Pros And Cons:
Sony RX100 V Digital Compact Camera Pros:
Exemplary build.
Ultra compact.
Pop up EVF.
Tilting LCD display.
Blazingly fast autofocus system with excellent tracking abilities.
4K recording capability.
Superb image quality.
Fast lens.
1/32,000s electronic shutter.
Decent in-camera jpegs.
Great high ISO for a point and shoot.
Sony RX100 V Digital Compact Camera Cons:
The plastic tab that covers the charging port could be built better.
Menu isn't as straightforward as I'd like it to be.
No touch screen.
With the new features comes a reduction in battery life.
Sony RX100 V Digital Compact Camera Verdict:
The truth is, I found the RX100 IV to be such a great camera already that it was hard for me to believe that Sony could really improve upon it enough in such a short amount of time that it would be worth purchasing a new version.  But they really did it in my opinion.  The Sony RX100 V is a pretty incredible feat of engineering if you think about it.  The RX100 V has all the hallmarks that made its predecessor such a good camera, and adds a host of new features that are not only useful but make it a benchmark in its class.  To top it off, all of this is packed into essentially the same pocket-sized body.  The body size is probably the most amazing part to me.  I love how with each iteration,  Sony is just perfecting, and perfecting the RX100 series.  At this point, I think as a high end point and shoot camera, it's nearly perfect.  It's just missing that touch screen for me :).  I don't usually care that much for a touch screen but I think in this case, it would really complete the package for me.  Other than that, if you're looking for a decent point and shoot that is not only small enough to take anywhere but will also produce superb images, the RX100 V is definitely one of the best choices currently out.
Thanks for taking the time to read my review!  If you're considering purchasing the RX100 V, and my review helped you decide, please help support this site by purchasing from any of the links in this review.  It will not cost you anything extra.  Thank you for your support!