Billingham Hadley One Camera Bag First Look!:
For those who frequent my site, you probably know I'm a huge fan of Billingham bags.  I absolutely love their bags, and I've been using them for many, MANY years.  So, when I received a message from Billingham asking me if I wanted to review the new Hadley One, considering I don't even think the bag is sold in the US yet, and therefore, I probably wouldn't be able to get my hands on one for a while, I jumped at the chance.  I actually received it today, and I just wanted to write up a quick post about it, and to show all of you some pictures of it.  Better pictures will follow but right now, I want to make my bus :).  I'll write up a more detailed "first impressions" post soon, and of course, I'll be writing up a full, hands on review as well.
For now, I'm just going to go over real quick the differences between the Hadley One, and the Hadley Pro.  For one, the Hadley One is designed to fit a laptop, tablet, and your camera gear.  How much camera gear you might ask?  Well, it can fit anywhere from a decent mirrorless or rangefinder kit to a mid-sized DSLR kit.   The Hadley One does have an internal built in 13 inch laptop holder.  Considering how many emails I received in the past asking me if the Pro can fit a laptop, I think this is a great idea.  There are also a lot of cool ways to set up this bag, thanks to the three different inserts that I received (Although the full size insert is a prototype for now).  The handle has also been re-engineered for better comfort versus the one on the Hadley Pro.  In addition, the shoulder strap is not only fully adjustable but now it is also removable as well.  Lastly, there is a rainproof zip enclosure back pocket for documents, and they are also coming out with side pockets that can attach to the Hadley One.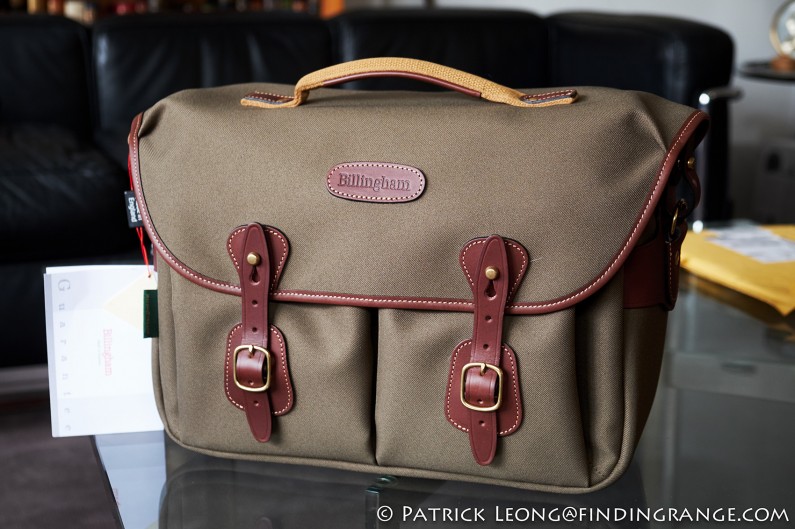 ↑ On the outside, the Billingham Hadley One looks essentially like the Hadley Pro.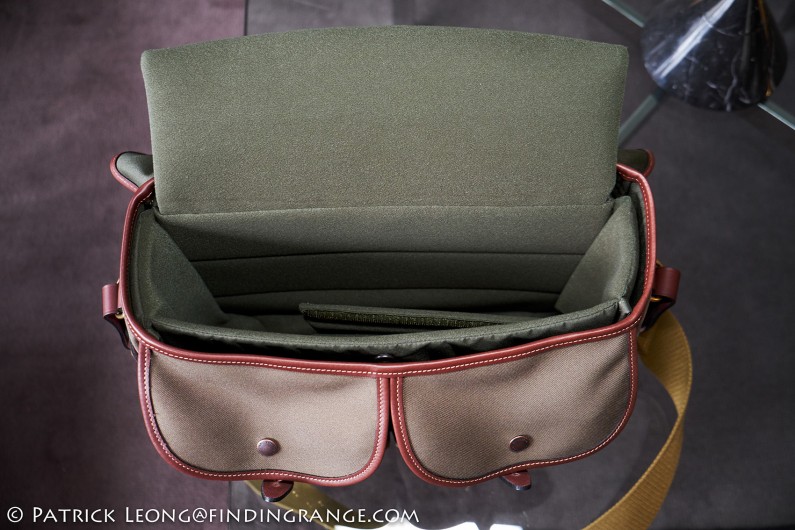 ↑ The full size insert, which is a prototype for now, looks essentially like the one from the Hadley Pro.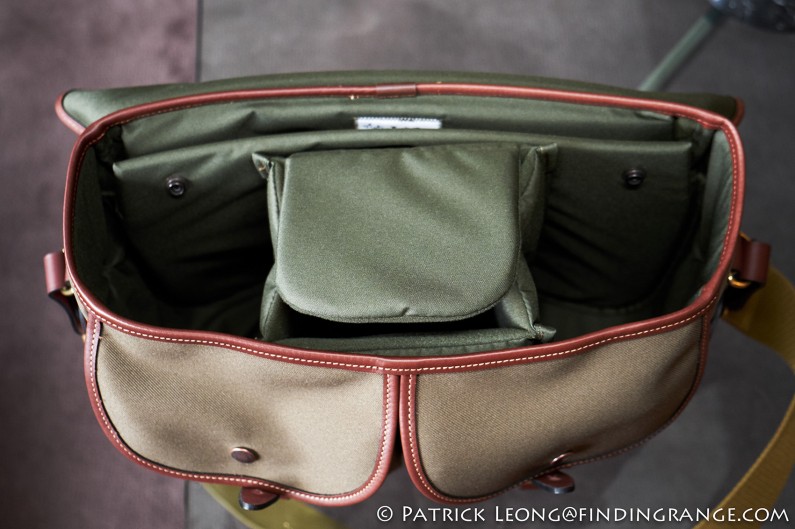 ↑ What I like is this new type of insert; it allows you to use the rest of the bag for non-related photo gear.  As you can see, there's also a slot for a laptop.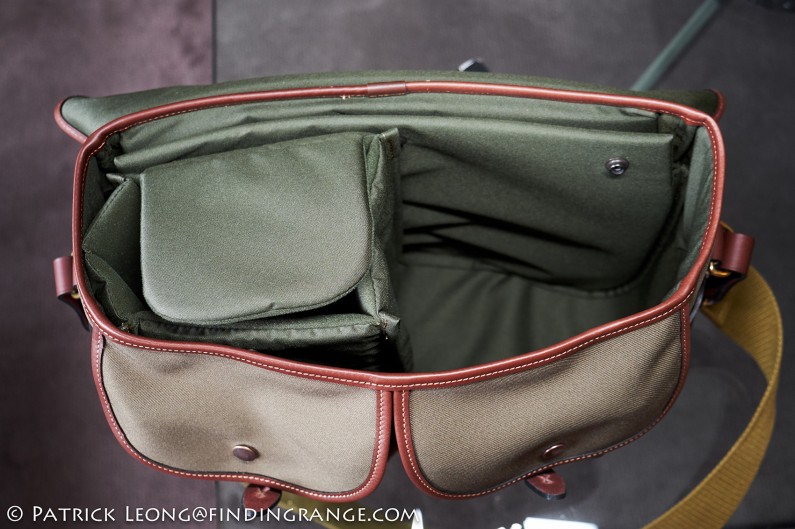 ↑ You can even move the insert around.  It attaches to the bag with a front and back button, so the insert will stay in place.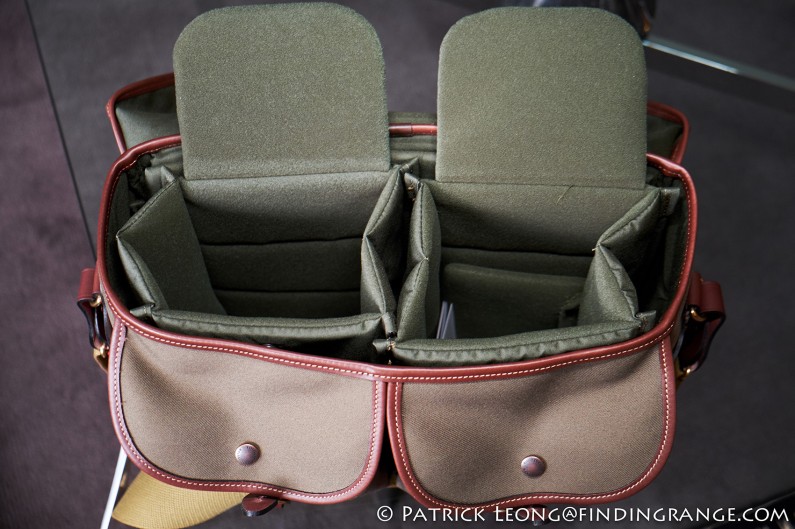 ↑ I have two right now.
In terms of colors, it comes in black/black leather, tan/chocolate leather, and sage/chocolate leather.  These days, I generally like to shoot with black bags but I just couldn't resist the sage and chocolate leather combo.  I reviewed the Billingham S2 , a while back in the same exact color combination, and loved it.  The color combo isn't super bright or anything like that, so I still have no problems being discreet.  On a side note, if you are looking for a small kit bag, the S2 is awesome.  Check out my review.  Getting back on topic, the Hadley One is made exclusively with Billingham's FibreNyte material.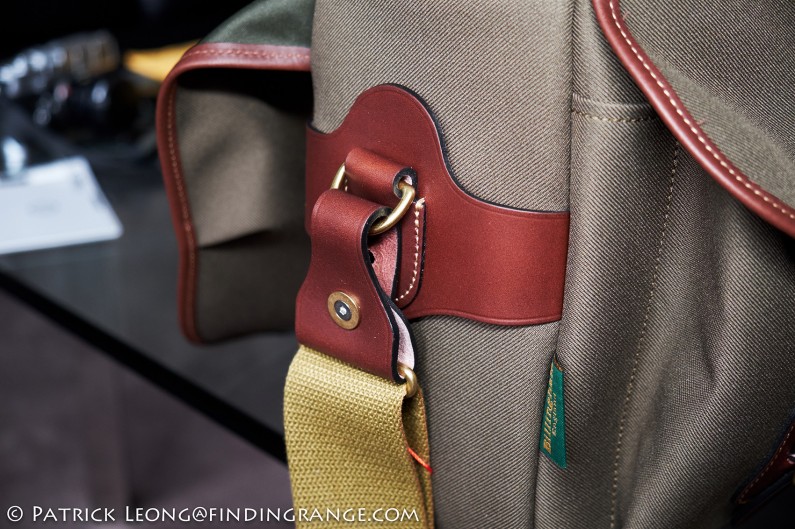 ↑ The shoulder strap is removable.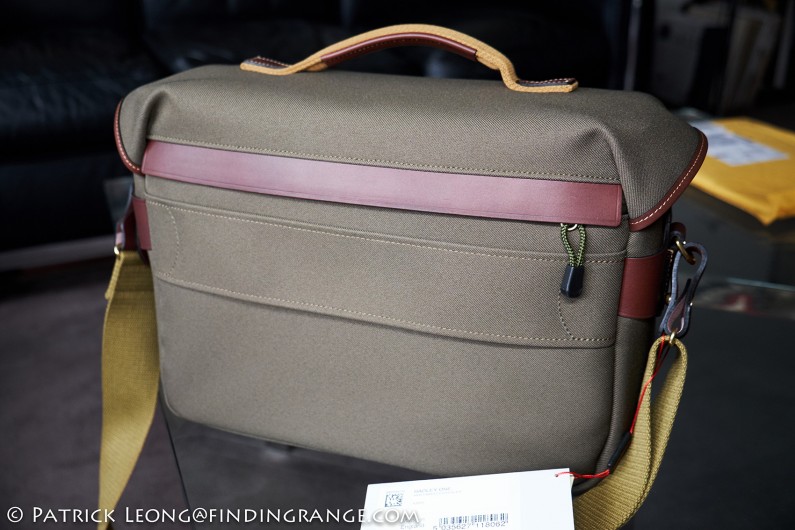 ↑ There's a zippered back pocket.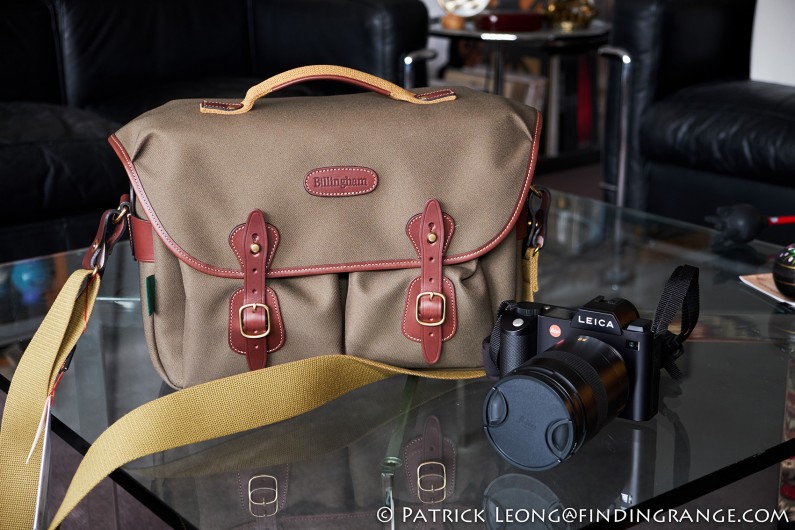 ↑ The Billingham Hadley One with the Leica SL.
So, I'm actually going to take this bag out right now to do some night shooting :).  I'll also be using the Hadley One exclusively for the next few weeks to get a real feel for it, and I'll report back soon.  Also, stay tuned for my review of it.  As always, if you have any questions about this bag that you would like answered, leave me a comment, and I'll try my best to answer them:).  Thanks for stopping by!
For more info, you can also take a look at Billingham's Hadley One page.