4V Design ALA Camera Leather Neck Strap Review:
If you want a premium leather neck strap, there are a lot of great manufacturers out there to choose from.  One of these manufacturers, 4V Design, comes all the way from Italy.  They have many different styles to choose from depending on the type of look you're after, and the kind of camera that you're using.  One neck strap that 4V Design makes is the ALA, and thanks to them, I was able to get a sample one in to review.  Here are my thoughts on it.
4V Design ALA Camera Leather Neck Strap Build Quality:
As with anything that we deem a premium product, the manufacturing, and types of materials chosen are very important.  The good news is that everything about the ALA neck strap is up to par with what is expected from a top end product.  For example, the leather chosen for this strap is excellent, and if you love the smell of genuine leather like I do, then this is a strap you should definitely take a closer look at.  The vegetable tanned original Tuscany Cuoio leather is soft yet it also holds its shape well.  4V Design even went to the trouble of hand painting the edges for a better visual appeal.  The leather is not only anti-allergenic, it is also certified by the Tuscany Association.  There are no chemicals employed in its centuries old production process either.  It's worth mentioning that I've been using this strap for a few weeks now, and it's held up quite well, so durability is great.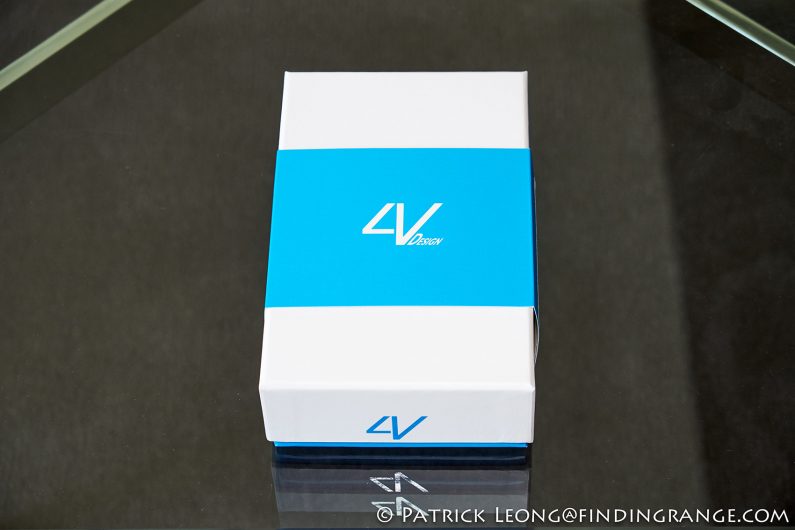 ↑ The ALA neck strap comes in a this box.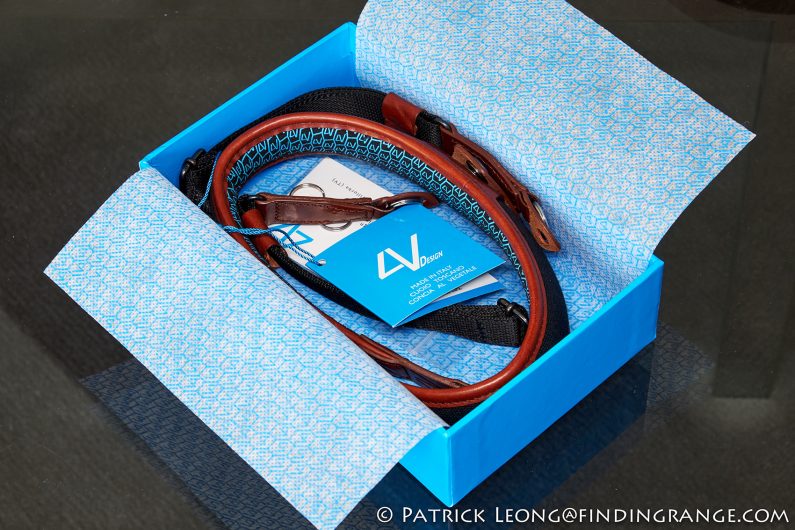 ↑ Here's the whole kit.
There are other parts of ALA neck strap that are really great as well.  For instance, everything is done in a very neat way with no uneven cuts or excess materials leftover.  Just take a closer look at the photos I've provided.  The stitching, for example, is perfect.  Unlike a lot of leather straps, the ALA's length can be adjusted.  There are also two camera connection choices: a metal spring ring attachment like the ones in these photos or a universal 10mm aramid with reinforced bands with the Fit Kit.  Lastly, the ALA neck strap even comes in several different color combinations.  You can choose from black/black, brown/brown, green/brown or black/brown like one you see in this photo.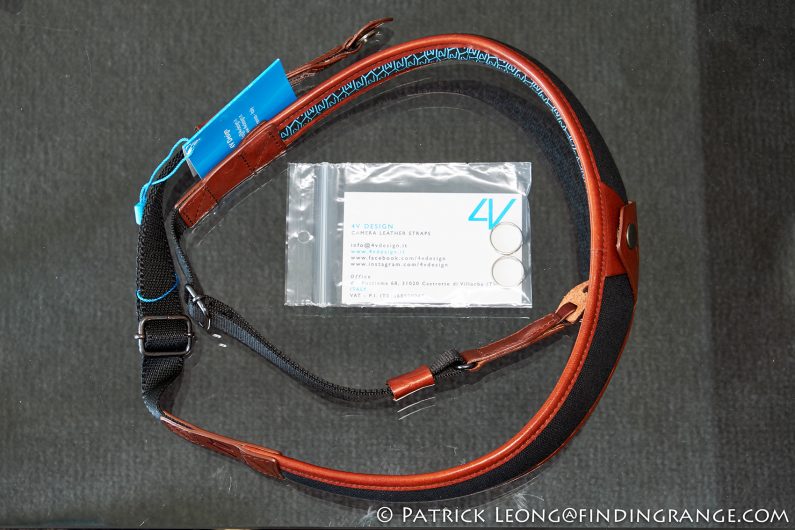 ↑ The 4V Design ALA leather neck strap.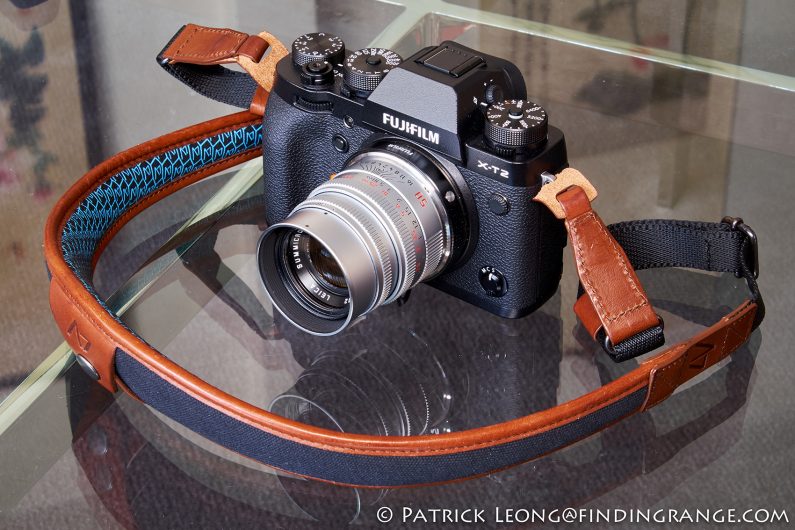 ↑ Here's the ALA neck strap with the Fuji X-T2.
Another feature that the ALA neck strap has is a great pad.  It actually takes up most of the strap.  The pad is made from a combination of the leather mentioned previously, and cotton canvas.  On the outside of the pad, there's a buttoned top flap that allows you to fold, and shorten the ALA strap into it, which is a great option for when you don't want the length to be bothersome like when you're either using a tripod or packing up your camera.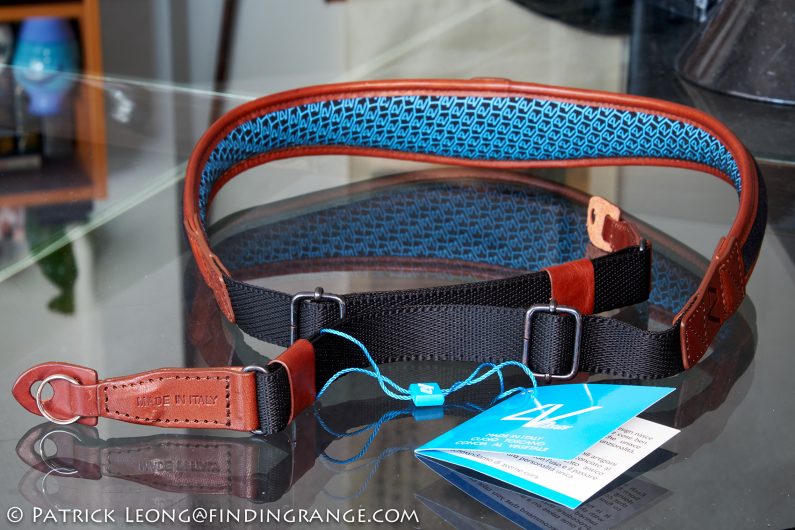 ↑ The ALA neck strap is made from premium grade materials.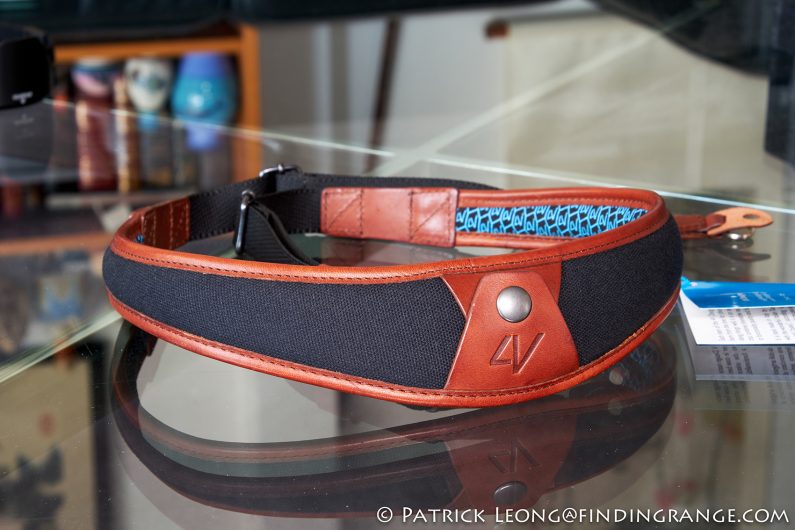 ↑ Here is the buttoned top flap that allows you to fold, and shorten the ALA strap.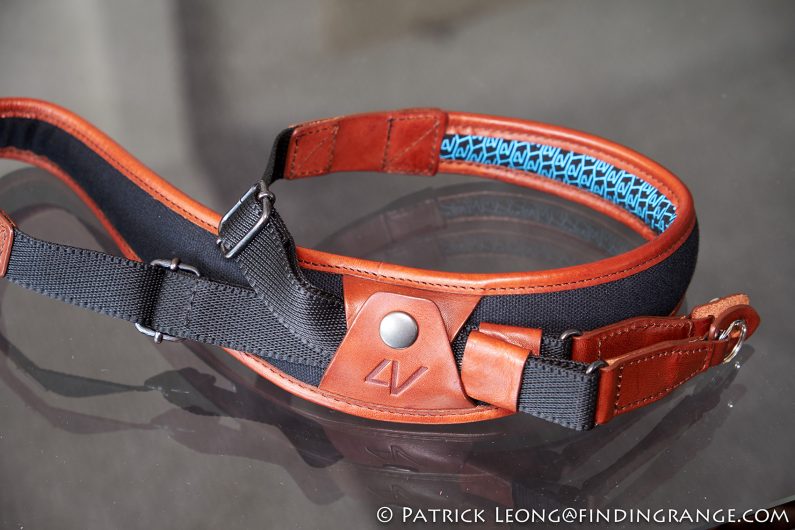 ↑ Here's a better picture to show you how the button flap can be used.
Now, if you really want something comfortable, then you have even more of a reason to take a closer look at the ALA neck strap.  This has been seriously one of the most comfortable neck straps that I've had the pleasure of using.  The comfort has a lot to do with the pad.  The inner part of the pad is lined with soft suede, which first off, does a great job at keeping your camera on your shoulder.  It has just the right amount of grip, and in no way is it slippery.  But besides that, it's just plain out comfortable.  It honestly feels like this neck strap was custom moulded to my own neck.  It has just the right amount of padding, and if you look at the pad, it actually has what 4V Design call a Pre-Curved cut, which really helps in the comfort department.  I mostly used this strap with my Fuji X-T2 but the support that this strap provides is also beneficial for larger cameras.  On a side note, I also like the 4V Design logo repeatedly printed in cyan on the inner pad.  The strap is relatively conservative in appearance but the blue writing adds just a bit of flash to make it interesting to me.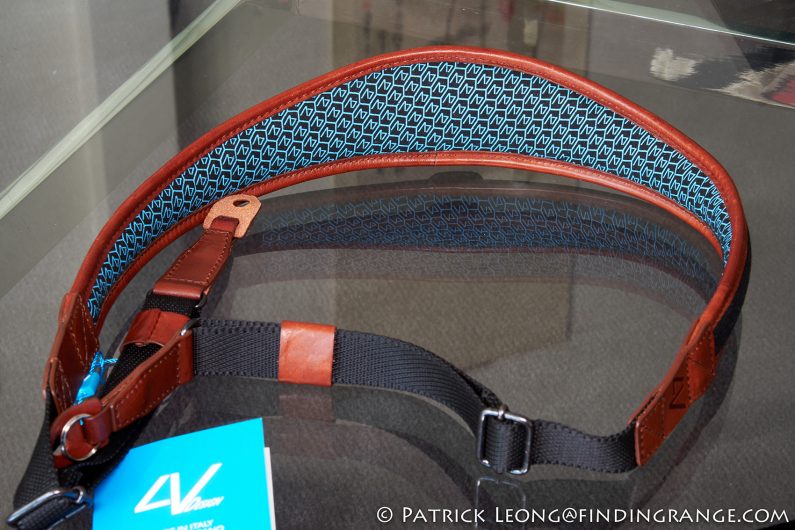 ↑ The inner part of the pad is lined with soft suede.  The logo written in cyan is a nice touch.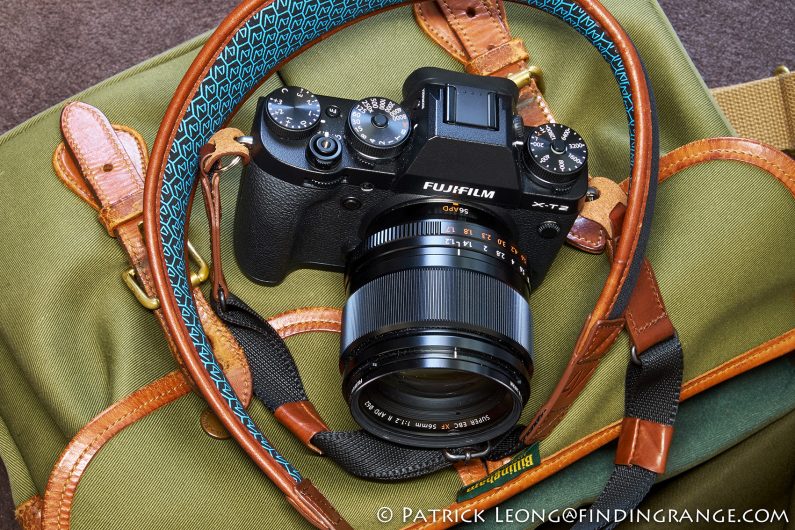 ↑ Another picture of the ALA neck strap with the Fuji X-T2.
4V Design ALA Camera Leather Neck Strap Verdict:
There are plenty of neck straps to choose from for your camera these days, and because of that, the decision isn't always easy.  The ALA neck strap by 4V Design makes it a little easier because in addition to being a quality made product, it has a lot of innovative features that make it particularly distinct.  After using this strap for several weeks, it's clear to me that real, honest thought went into designing this strap; it wasn't just a copy of another manufacturer's idea, and they didn't just half-heartedly slap together high quality materials just to sell an expensive product.  The amount of thought that went into making this product is what makes it especially appealing to me.  Things like the button top flap on the pad are small ideas yet are very useful to the photographer.  The comfort level is something I just have to mention one more time because it seriously scored a lot of points with me.
Now, the price for all of this isn't cheap; it currently costs 109.90 Euros, and while there are some leather straps that are cheaper, there are also some high end straps out there that cost around the same if not more.  So, the ALA is in line with its competition.  Bottom line is, if you want a high quality leather strap that also has innovative features, the 4V Design ALA neck strap is something you should definitely consider.
If you want to purchase the ALA, you can find it on 4V Design's website.  Enter discount code, 4V-FINDINGRANGE-10 for 10% off.  They ship fast too.