Samyang 85mm f1.4 Aspherical IF Lens Review Fuji X:
Let's say you want to up your portrait game, and you're looking to expand your lens collection.  Maybe you're looking for a decent telephoto for more compression.  Well, if you are, you're probably going to come across some pretty expensive glass, especially if you're looking for something with a large aperture.  Since I am a Fuji user, I'd probably look at the XF 90mm f2, which is one of my favorite lenses but unfortunately, carries a price to match it's awesome abilities.  If however, you don't mind a little manual focusing, you might want to check out the Samyang 85mm f1.4 Aspherical IF lens.  Factoring in the crop factor, you'll get a 127.5mm equivalent, which is similar to the XF 90mm.  The large f1.4 aperture means you'll get ultra shallow depth of field, and the best part is it's priced at a very reasonable $279.95 (currently $229 with a $50.95 rebate at B&H Photo).  Let's take a closer look at this lens.
Samyang 85mm f1.4 Aspherical IF Lens Build Quality:
I have to say, the price is really kind of shocking to me considering what you're getting here.  There was a little of me wondering what I'd be getting here but I've always been generally happy with the Samyang lenses that I've used.  When I first opened the box, it looked like I'd be happy with this one as well.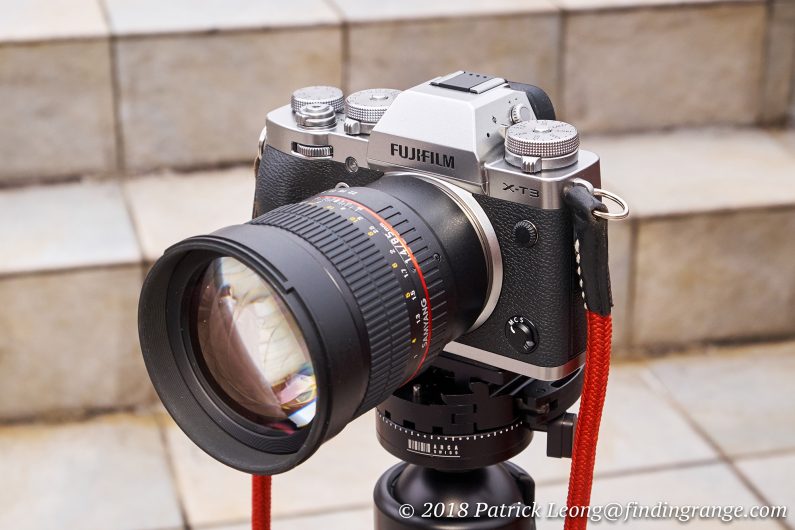 ↑ The Samyang 85mm f1.4 Aspherical IF mounted on my Fuji X-T3.
First off, it's a solid and hefty lens.  In some ways the Samyang 85mm f1.4 Aspherical IF feels better than some Fuji branded lenses.  It's made of a combination of mostly metal and plastic.  It is a bit front heavy but it's not something unexpected.  The Fuji XF 90mm is front heavy as well.  There is a metal mount, and while this review copy is for the Fuji X mount, you can also get it in Canon, Nikon, Pentax, Sony E-mount, and Micro Four Thirds.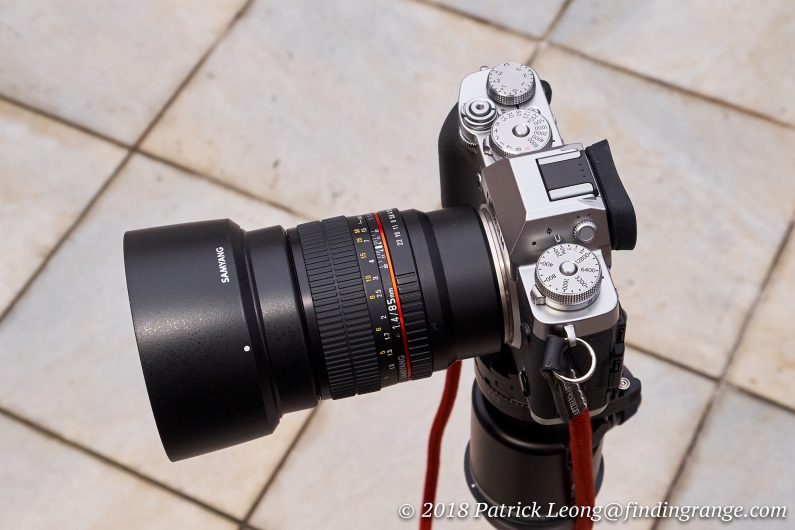 ↑ Here's a top view of the lens with the hood.
As for the functions and controls, the focus ring is nicely damped and smooth.  However, with a large aperture lens, I'd prefer a little more resistance in the focus ring for better and more precise control.  That's just my own preference.  The aperture ring clicks solidly as you rotate it, and in the chosen position.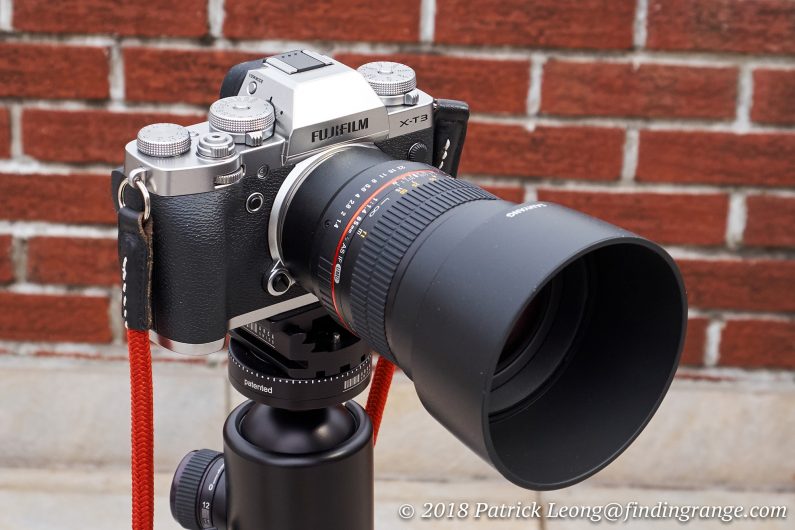 ↑ Here's another view of the lens mounted on the X-T3.
The Samyang 85mm f1.4 Aspherical IF also comes with a pretty standard lens hood that locks into place with a quick turn.  It's reversible to help you save space in your bag.  The lens gets a little big with the lens hood on, especially when it's mounted on my X-T3, which is a pretty compact camera, so there were many times when I just left it at home.
I was quite happy with this lens' overall build quality.  It didn't feel like a fast tele costing less than $300.  It felt professional in the sense that you didn't have to baby it.
Samyang 85mm f1.4 Aspherical IF Manual Focus:
As I said earlier, the Samyang 85mm f1.4 Aspherical IF is not autofocus.  For the most part, focusing wasn't too difficult on the Fuji X-T3.  I specifically used focus peaking.  For more precise focusing, I used the dual display mode in my X-T3.  That's when there's a large full-frame window, and smaller one for a magnified look of the focus area displayed together (You gotta love EVFs 🙂 ).  It's one of the best features in the camera if you ask me.
Overall, the focus throw didn't feel overly long, so in that sense focusing wasn't too bad but I sure don't miss manual focus lenses :).  When you're trying to focus say a person's eyes at f1.4, it's not always that easy, especially given the focal length.  The depth of field can be quite shallow, so even a slight shift in either the model's body or yours can affect the focusing.  While the focus ring was very smooth and felt nice, as I mentioned before, I did wish it offered a little more resistance just because that makes it easier for more precise focusing.
Samyang 85mm f1.4 Aspherical IF Image Quality:
I have to say, I'm pretty impressed by the image quality from this lens.  Even if you take away the asking price, I think it's pretty awesome.  Is it perfect?  No, and I still think the XF 90mm by Fuji is a better optical performer.  With that said, I think this lens would make a lot of people happy and completely content.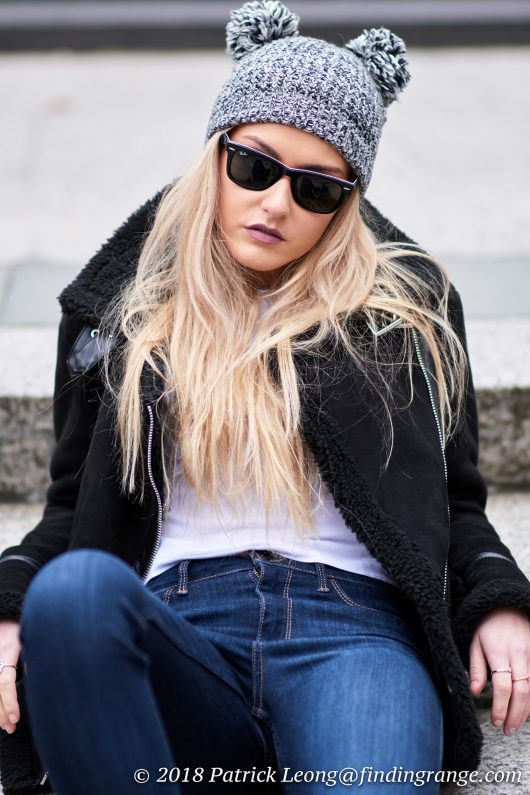 ↑ This was taken at f1.4.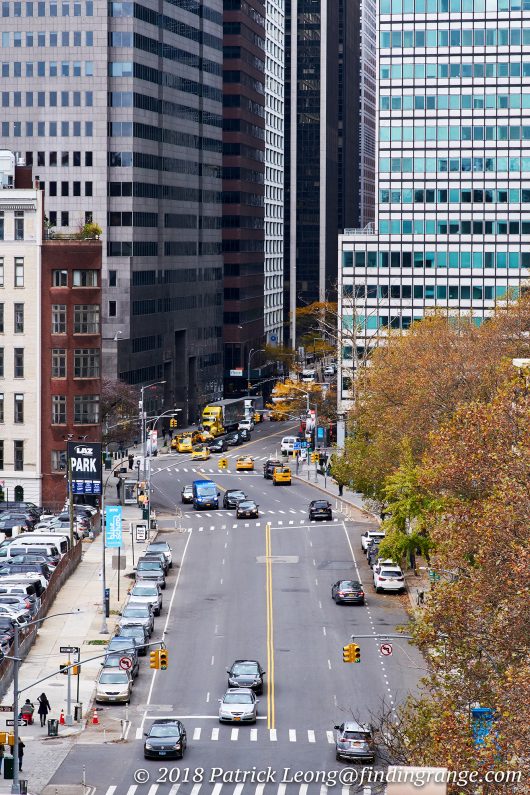 ↑ Downtown Manhattan.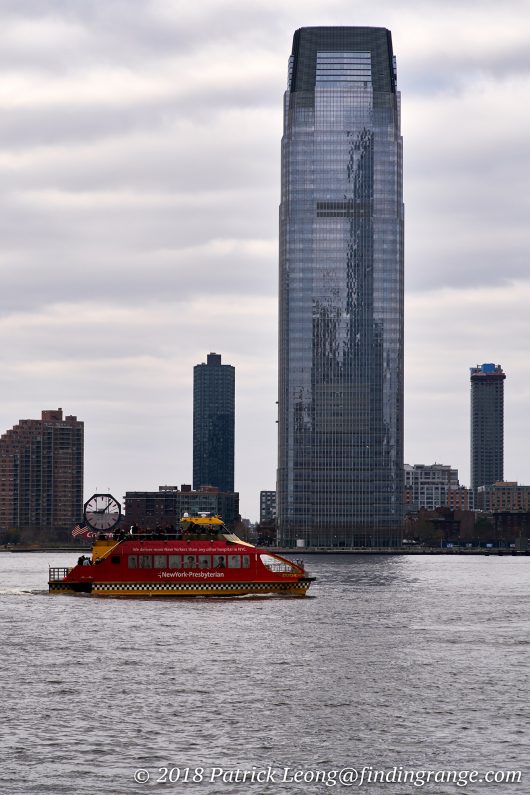 ↑ View of Jersey.
This is obviously a lens that people will be using at f1.4, and in terms of sharpness, it's very good at this setting.  I've seen sharper at f1.4 but it is definitely not dull, and perfectly suitable for taking portraiture, which is what this lens is obviously designed to shoot.  There is a little softness in the corners and edges but I didn't find it a huge issue.  As you stop it down, the lens gets quite sharp with the edges and corners getting sharper as well.  It's actually difficult for me to even see any softness at the edges and corners by f2 and f2.8 but keep in mind that I'm also shooting on a crop APS-C sensor versus a full frame.  I'd say f5.6 to f8 is where you'll find peak sharpness.  A lot of the pics in this review were taken around f5.6 to f8, and at least to me, I couldn't ask for more.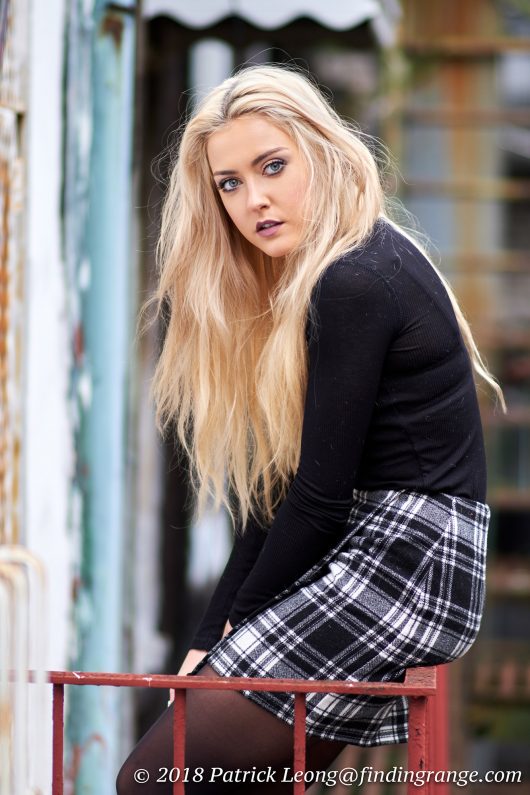 ↑ Here's another photo taken at f1.4.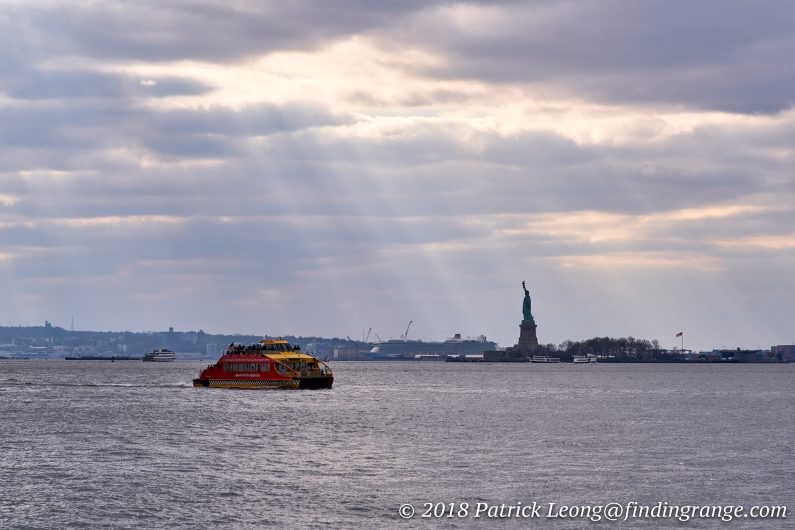 ↑ The view of the Statue of Liberty.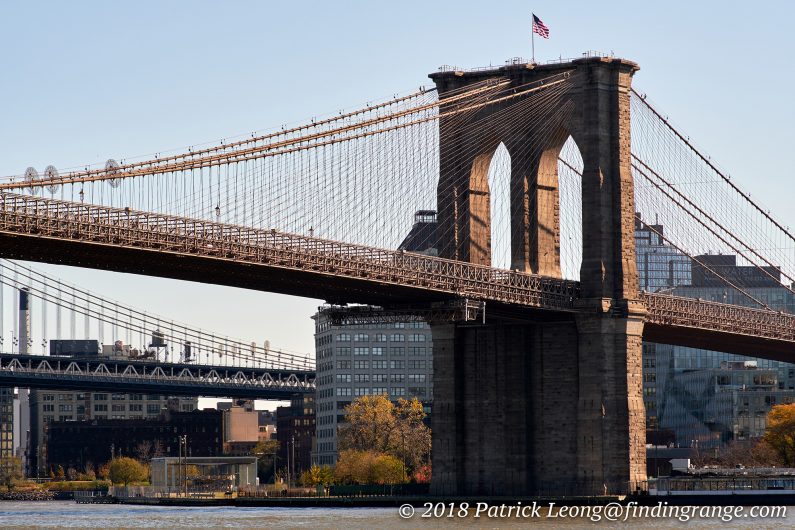 ↑ This was taken at f8 or f11.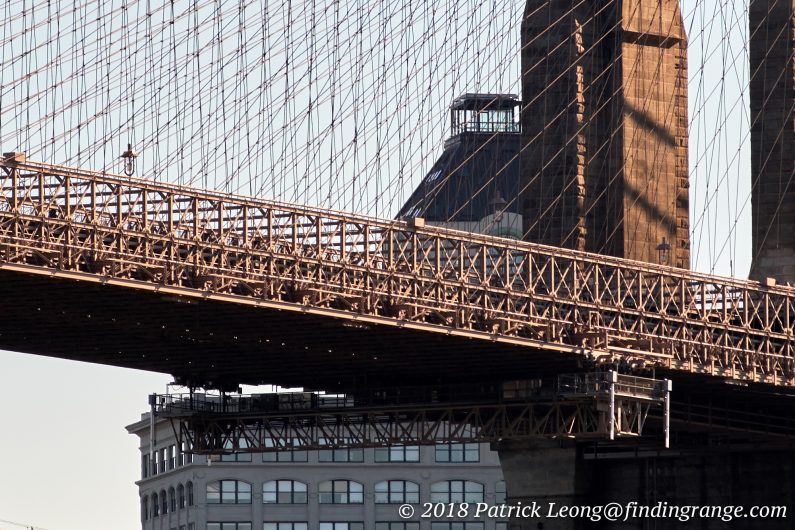 ↑ Here's a 100% crop of the photo above.
There are attributes other than sharpness that I found great about this lens.  For example, I didn't have any issues with flare.  There is some vignetting at f1.4 but it's nothing out of the ordinary.  Nearly all of it clears up by f2.  Some of these cheaper lenses don't necessarily have the greatest color and contrast rendering but I found these characteristics to be really nice with the Samyang 85mm f1.4 Aspherical IF.  All the photos were processed from RAW files in Capture One with minimal adjustments.  The only ones here that took a little more work were the portraits, which I did in Photoshop CC after my RAW processing in Capture One.  I also found the bokeh to be very smooth and inviting.  Nothing here was harsh, at least to my eyes.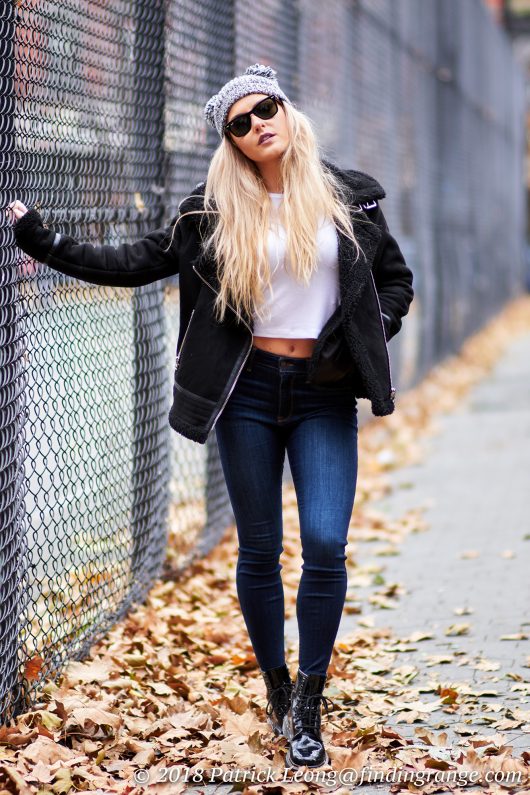 ↑ Here's another photo taken at f1.4.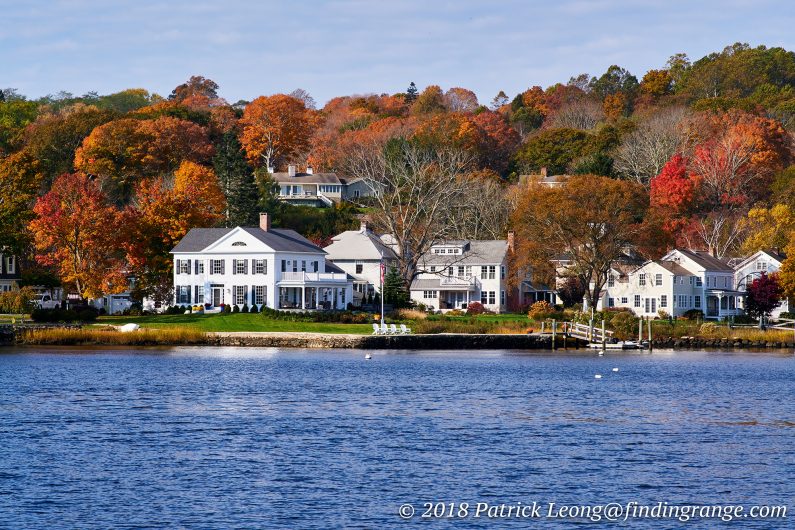 ↑ This is not NYC :).  This was taken in Connecticut.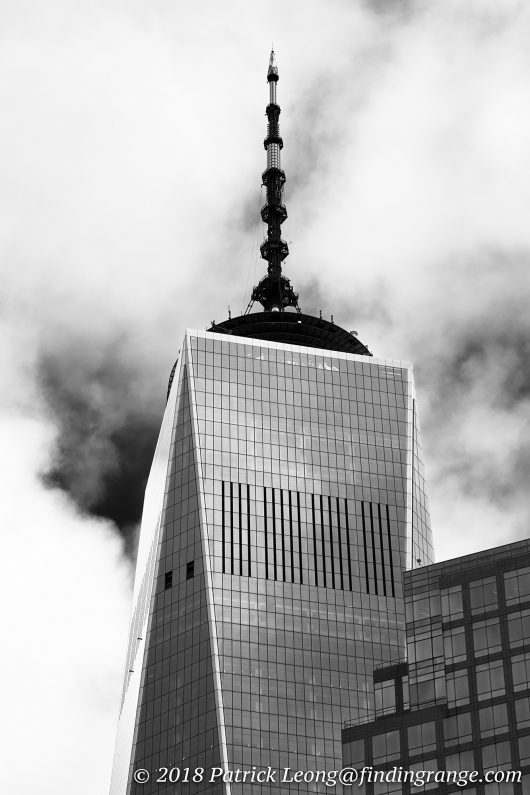 ↑ Here's a close view of the WTC.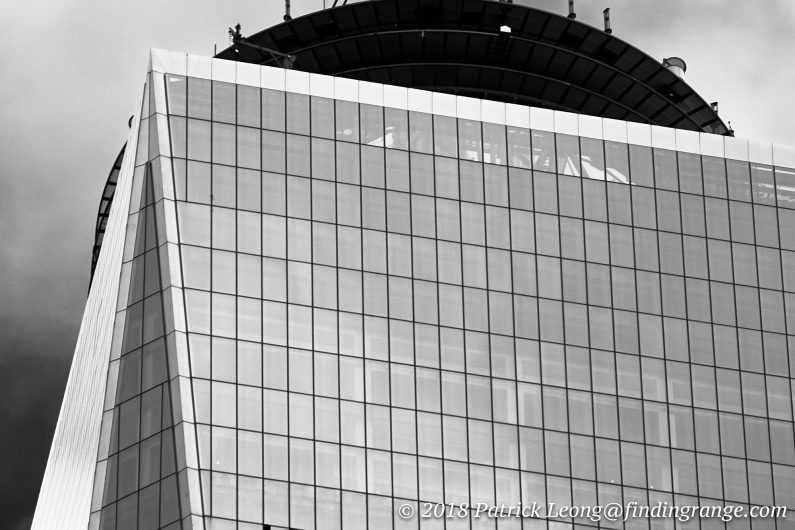 ↑ Here's a 100% crop of the photo above.
I seriously did not feel like I was using just a $200-300 fast telephoto.  I don't normally use a focal length this long, so while I love the XF 90mm, I just wouldn't buy it (even though I came very close one time) because I don't want to spend the money.  I feel like I could use the money for something that would serve me better.  The Samyang 85mm f1.4 Aspherical IF in this review is a loaner but I was seriously considering buying one for myself because it wouldn't be that bad to spend $200-300 on a lens that I may not use as much but will still nevertheless, have some times when it is the perfect focal length choice.  Plus, I feel the image quality here is better than what I would normally expect from a lens (of this focal length and speed) in this price range.
↑Here's another photo taken at f1.4.  My focus is actually a little off here.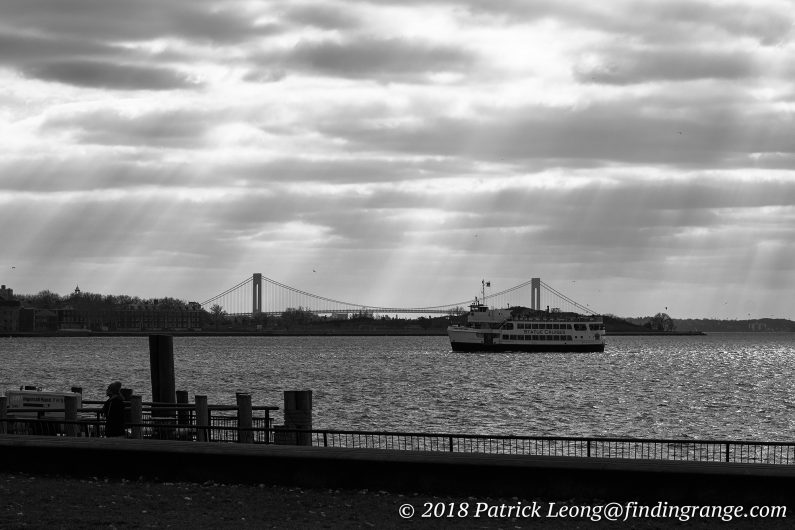 ↑ View of the Verrazzano Bridge.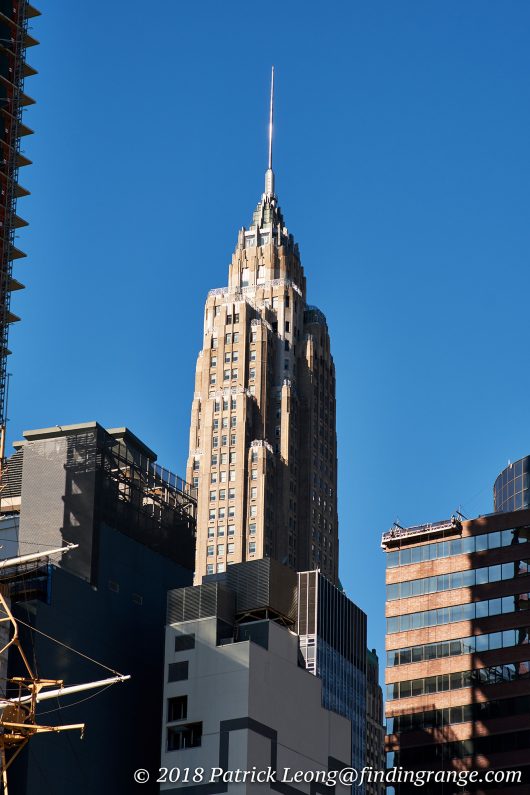 ↑ This lens is quite sharp when you stop it down a bit.
↑ I was actually quite impressed by the optical quality of this lens considering the price.
Samyang 85mm f1.4 Aspherical IF Lens Pros And Cons:
Samyang 85mm f1.4 Aspherical IF Lens Pros:
Well-built and solid.
Comes with a lens hood.
Fast f1.4 aperture.
Great image quality.
Low price.
Samyang 85mm f1.4 Aspherical IF Lens Cons:
Manual focusing this lens at f1.4 takes a bit of time given the focal length and the extremely shallow depth of field.
Samyang 85mm f1.4 Aspherical IF Lens Verdict:
I honestly think the Samyang 85mm f1.4 Aspherical IF is a great lens.  You're getting a lot here for the price.  It's well-built, and feels very solid.  The controls like the aperture ring and the focus ring feel excellent, and best of all, the image quality is great.  I'm sure many will compare this lens to the Fuji XF 90mm, and while I find that lens to be better optically, and it has autofocus, you could essentially buy three Samyang 85mm lenses for the price of that one Fuji lens.  If you can live without autofocus, and you want to save some money but still want a lens that feels great in the hands, and produces high quality images, I highly recommend this one.
Thanks for taking the time to read my review!  If you're considering purchasing the Samyang 85mm f1.4, and my review helped you decide, please help support this site by purchasing from any of the links in this review.  It will not cost you anything extra.  Thank you for your support!