Fujifilm X-Pro3 Mirrorless Camera First Impressions:
I know it's been a while since I wrote about Fujifilm but I hope all of you Fuji fans will be around this month, and next because I have a couple of Fuji products that I'm currently reviewing.  One of them is XF 16-80mm lens, and the other is the new Fuji X-Pro3, which I will talk about extensively for the next few weeks.  Right now, I'm going to get started with my first impressions of it.
(On a side note, I hurt my back moving furniture around, so I just stayed around my area to shoot as opposed to going all over the city.  My back is much better but it still hurts quite a bit sometimes when I'm walking or in general, moving a lot.  Even sitting in this chair typing hurts a bit haha.  So, not many pics in this first impressions but I promise a lot in the review though 🙂 ).
When you first look at the new Fuji X-Pro3, not much looks like it changed.  On closer inspection however, there are some significant differences between this one and its predecessors.  I'll talk more extensively about all the changes in my review but let's go over some of the basics by starting off with the exterior.  Like its predecessor, the X-Pro3 is weather sealed, and it still comes in black.  However, it now comes in Duratect black, and Duratect silver finishes as well, which is a coating that goes over a titanium finish for the top and bottom plates.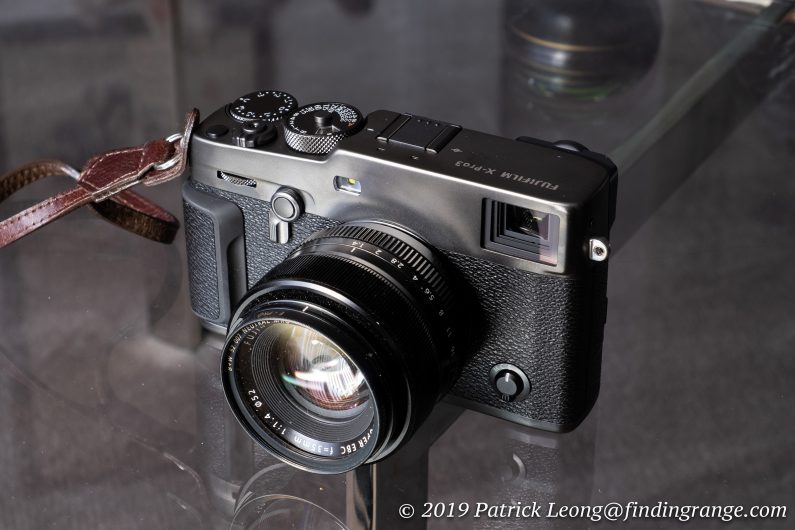 ↑ The Fuji X-Pro3 in Dura black with the XF 35mm f1.4 R lens.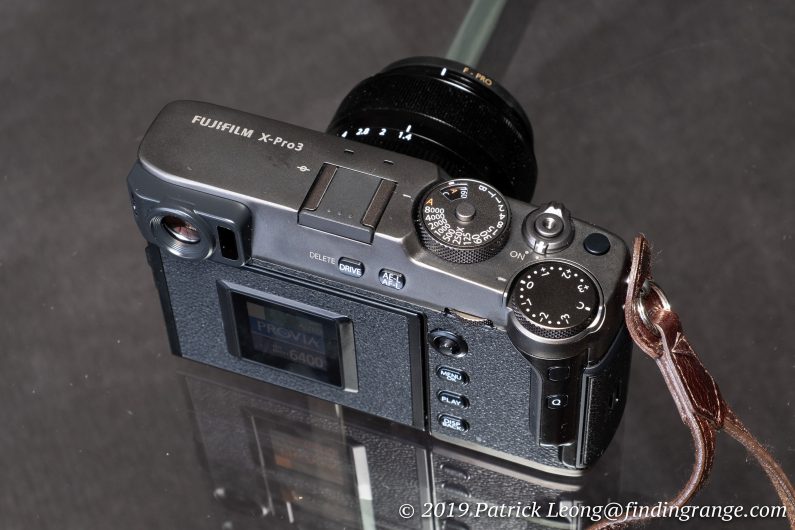 ↑ Top plate of the X-Pro3.
Those finishes make the X-Pro3 $200 more than the standard black finish bringing the price up to $1,999.  But the finish does make the camera much more highly resistant to scratches although it does seem to fingerprint more.  Plus, it really looks nice in person.  Honestly, I'm an X-T3 user but the finish alone makes me want one :).  Right now, the copy I'm reviewing is the Dura black version, and I absolutely love it.  I know for some, an extra $200 for a finish doesn't seem like a great deal nowadays, especially when you consider the lifespan of a digital camera before it's replaced by a successor but I feel it's worth it in this case.  I hope the next X-T4 comes in this finish.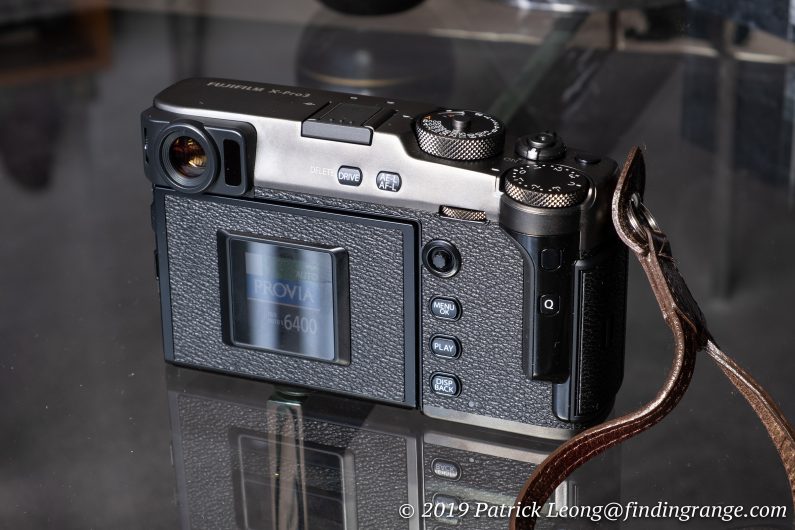 ↑ The new 1.28″ color monitor on the back.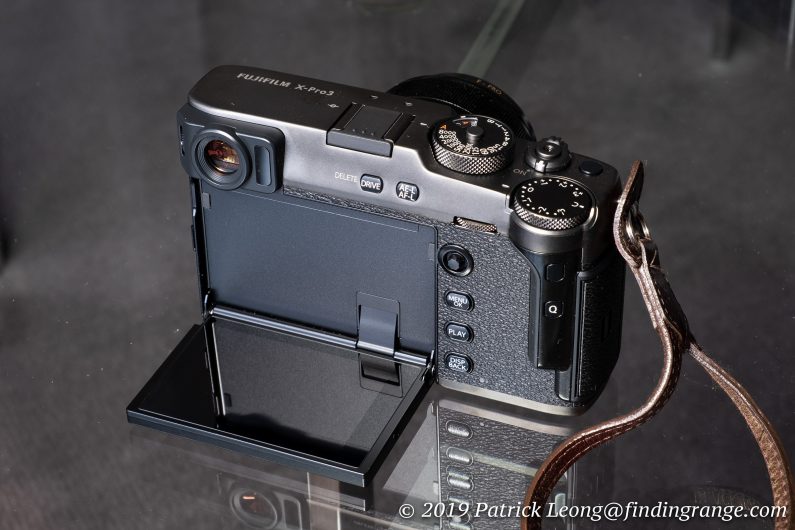 ↑ To access the LCD display, you have to fold it down.  It'll fold down 180°.
The other big change with the Fuji X-Pro3 is what Fujifilm did with the back LCD display.  As you can see in the photo, the screen is actually hidden.  Instead of a typical LCD display showing on the back, you get a 1.28″ color Memory LCD monitor that will display shooting settings regardless of whether the camera is turned on or off.  I have to admit, it's kind of cool, especially when you have it set on Classic mode, which displays the Film Simulation mode that you selected.  It definitely does remind me of old film cameras that have that slot in the back to put the film's box label in, so you don't forget what you're shooting with :).  You can also set the screen to Standard mode which displays shutter speed, aperture and other shooting settings.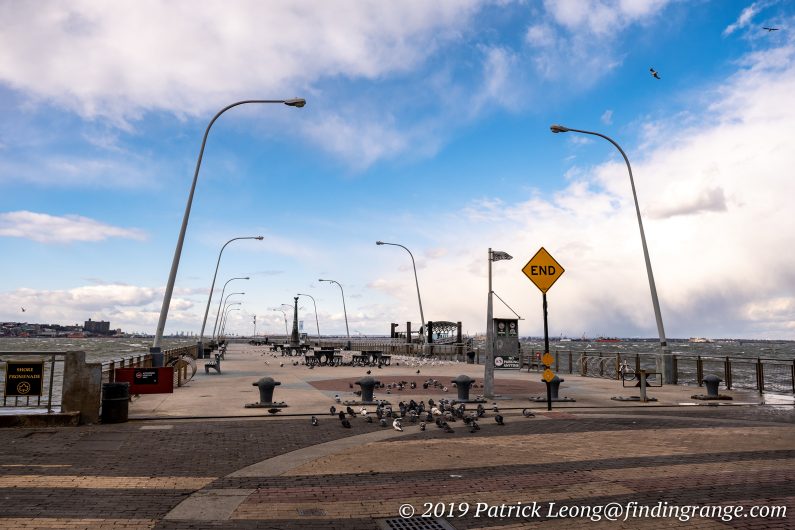 ↑ This was shot with the X-Pro3 and XF 16-80mm f4, which is what I am also currently reviewing.  The settings were f5.6 and 160 ISO.  Focal length was 19.2mm.
If you want to see the actual LCD display, you have to fold the little color LCD monitor down.  Now, the whole point of this is to encourage a more traditional way of shooting by concentrating on composing with the viewfinder.  I can understand why they did this, and honestly, this is downright kind of brave of Fujifilm to include this feature in one of their most popular models.  It's also a unique and creative twist.  I'm sure some will like this; one of my friends thought it was so cool.  It also sounds good on paper but in practice, I'm just not a big fan.  I don't frame much with the LCD display, and I always encourage people to use the viewfinder more!  But the X-Pro3 is a digital camera; I still have to use the menu system, which means I either have to flip the screen down each time I want to access it or look through the evf.  Looking through the evf to go through the menu system, isn't always convenient either.
↑ This was such a windy day.  Lens of choice was the XF 16-80mm set at 21mm.  Settings were f8 and 320 ISO.
In practice, folding down the screen just seems like it takes up more time, and it kind of breaks my flow or rhythm of shooting.  As some of you know, I'm a big Fuji fan.  I've been shooting with Fuji X Series cameras since the original X100 but I'd just rather have a more traditional flip screen but to each his own, right?  I'll talk about this more in my review.  This is just my first impressions.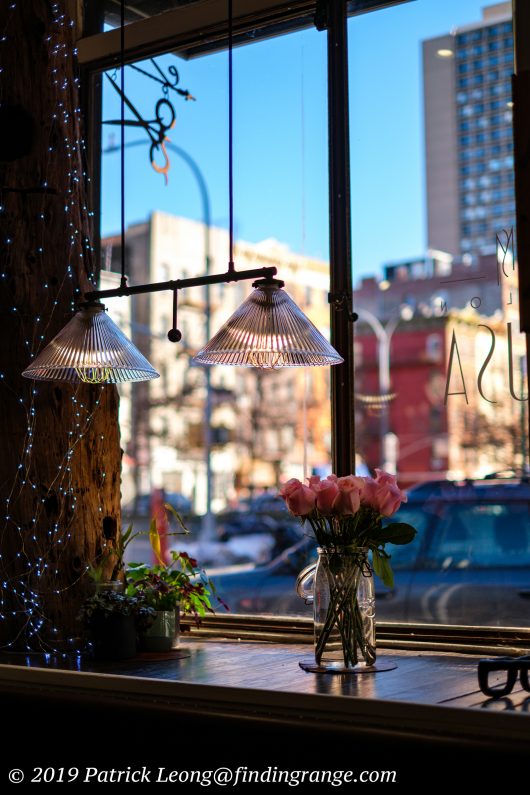 ↑ This was taken with my XF 35mm f1.4.  Settings were f1.4 and 160 ISO.
Now, since this is an X-Pro series camera, it does come with the hybrid viewfinder, which means you can change from an optical viewfinder to an electronic one with a simple flip of a switch.  How cool is that?  I must admit, it took me a little while to get used to an OVF again, since I've been pretty much using EVFs exclusively for so long now but it's kind of nice to have the option again :).  The one in the X-Pro3 is excellent although I will admit that I now use the EVF more.  EVFs are fantastic these days, and the one in the X-Pro3 is definitely no exception.  The EVF uses a 3.69-million-dot organic EL panel.  There is also the Smoothness priority mode, which gives you smooth vision equivalent to approximately 200fps.  This is perfect for tracking fast moving subjects.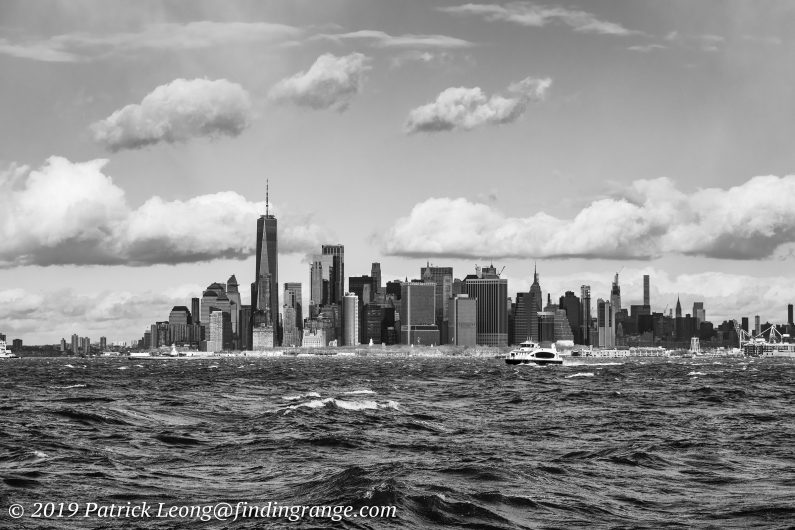 ↑ Here's a shot taken with the XF 16-80mm set at 80mm.  Settings were f8 and 160 ISO.
As for the rest of the details, the Fuji X-Pro3 now comes with the back-illuminated 26.1MP X-Trans CMOS 4 sensor and the X-Processor 4 image processing engine that can also be found in the X-T3 and X-T30.  I've owned the X-T3 since its release, and I reviewed the X-T30 a while back (review here); I feel this is a great sensor.  Autofocus wise, the X-Pro3 does have phase detection AF.  It can now focus as low as -6 EV, which is close to pitch darkness.  So far, the X-Pro3's autofocus has been excellent as expected: it focus blazingly fast and it's accurate.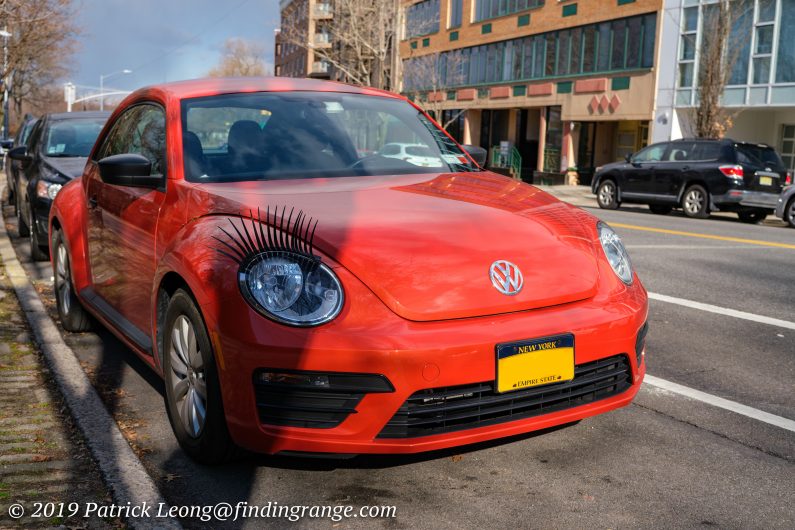 ↑ This was also taken with the XF 16-80mm set at 26mm.  The settings were f4 and 250 ISO.
So, that's about it for my first impressions.  Overall, I'm loving the new Fuji X-Pro3 :). There was always something a little special about the X-Pro series, and that has clearly not changed.  In fact, so far, I feel the new camera is better then ever because of the newer tech yet what I love is for the most part, it still feels like that X-Pro1 I bought years ago.  Like I said before though, I'm not so much into the new screen design but it's like one thing, and it's not even a huge deal.  I love the rest :).  I definitely give Fujifilm credit for being brave enough to apply this new screen design to a camera that is not only one of their flagships but also has a huge, loyal following.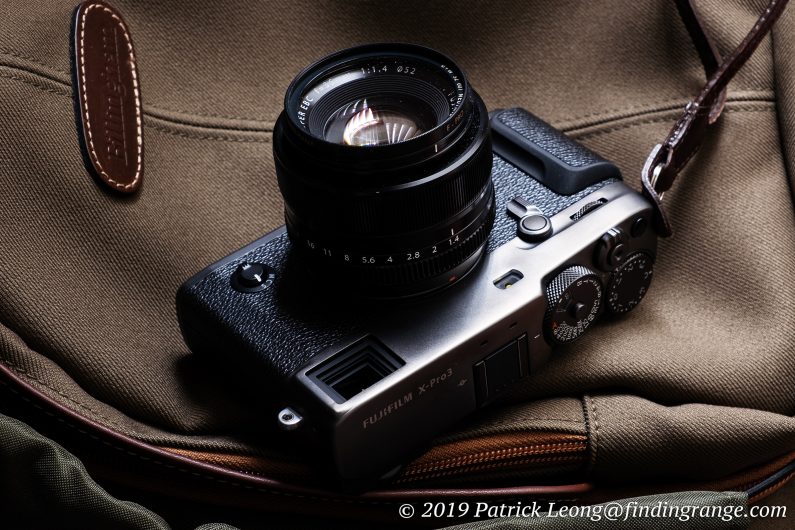 ↑ Here's one more pic of the new Fuji X-Pro3.
Anyway, I'll have the X-Pro3 for a while, so I'm also thinking about writing up different articles with it besides the review.  Maybe I'll do a portrait shoot with it or try it with a bunch of my older Leica lenses.  Thanks for stopping by and stay tuned!
For those interested in purchasing the X-Pro3, you can check out the links below:
Fuji X-Pro3 Black at B&H Photo
Fuji X-Pro3 Dura Black at B&H Photo