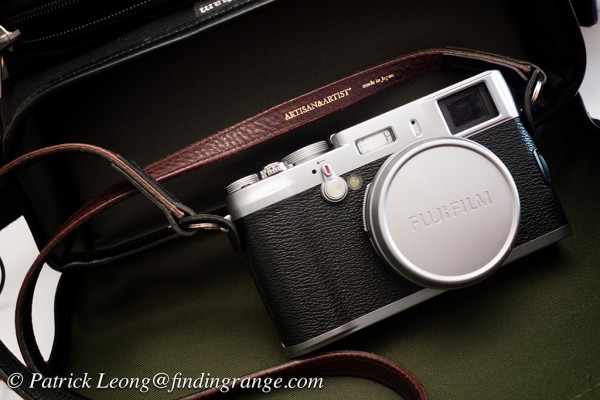 Artisan & Artist ACAM-280 Kobe Strap:
I'm not going to lie.  Part of the reason why I love Leicas so much is that they are kind of retro.  There is something nice about using a camera that looks, operates, and feels like my Leica M3 (which was made in 1954 or 1956?) but is equipped with technology of today.  When I first received my M3, I wanted a leather strap for it so badly because I wanted the look it had when the M3 first came out in the '50s.  However, during that time, there weren't many options so I just bought the regular Leica M strap.  Nowadays, there are many, MANY different options to choose from, and one of these is the Artisan & Artist ACAM-280 Kobe strap.
Build Quality:
The ACAM-280 Kobe strap by Artisan & Artist is made with fine Italian leather with edges that are shaved and polished.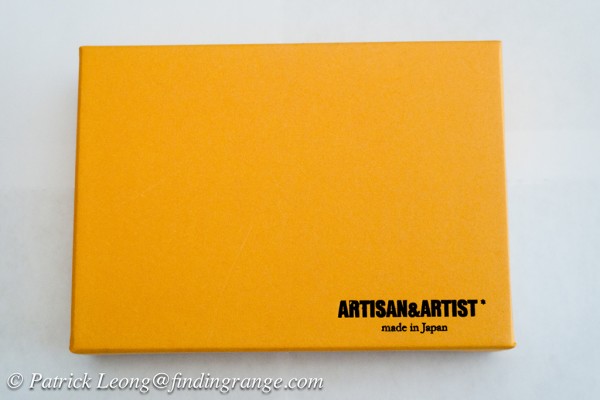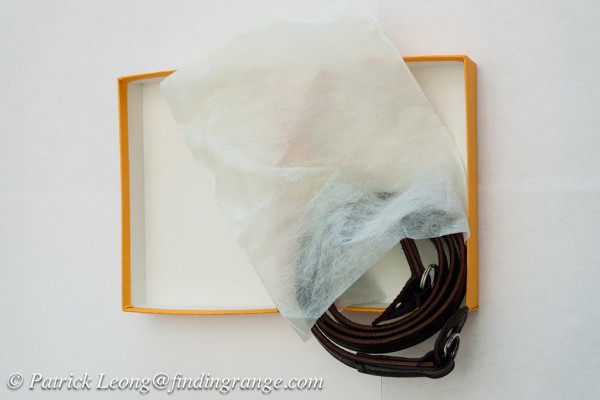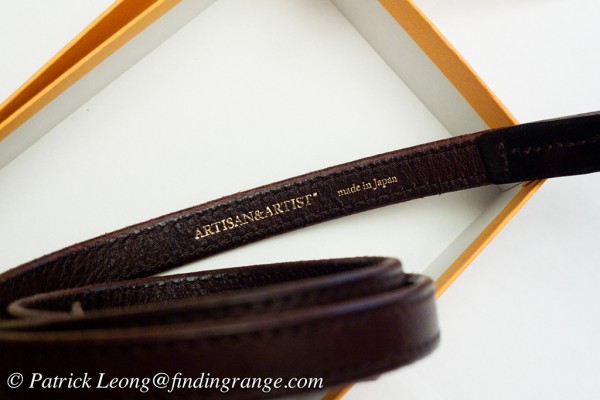 It is thin and rather flexible for a leather strap, and it is comfortable all day.  The stitching is excellent, and the doubled sandwiched ends assures that your camera is safely suspended around your neck.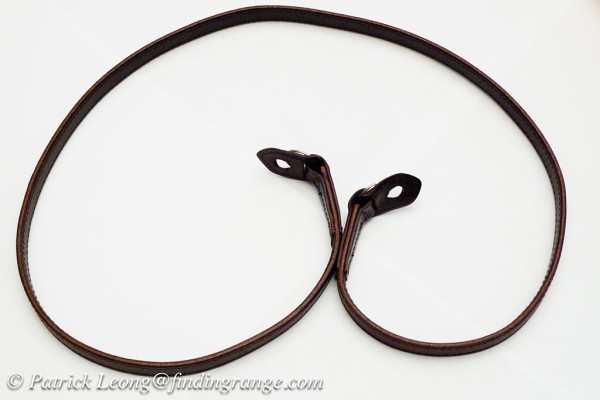 And don't worry about causing any damage to your camera with this strap.  There is no metal on this strap to cause scratches except for the steel rings that attached to the lugs of your camera, and those are covered with leather lug protectors.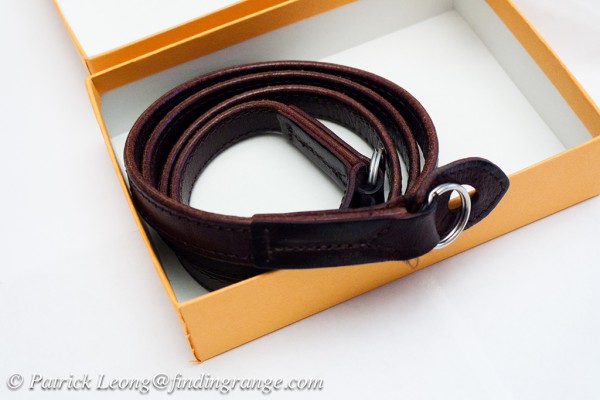 This is the cognac brown example.
Artisan & Artist has really made a nice strap here, and they come in colors such as cognac brown or coal black with cognac interior.
What I Think About The ACAM-280:
These straps are beautiful.  Out of all the leather straps made out there by people such as Luigi Crescenzi from Leicatime, these are my favorite leather straps.  However, nowadays I use the strap that comes with my Leica M9 for several reasons.
First off, I found the Artisan & Artist ACAM-280 Kobe strap a little to short for me.  During the winter in New York City, I find it's a little bit of a hassle to get the strap over all the layer of clothing that I usually wear.  I love my M9 because it isn't cumbersome, and in that way, I feel that it is.  It would be nice if the strap was adjustable.
The other thing is that while the leather is soft, I find that it is kind of annoying trying to wrap the strap around my wrist while I walk around on the street.  The Kobe strap makes me put it around my neck, which sometimes I don't like because I don't want my camera sticking out of my chest.  Also, since the leather is a little stiffer than the nylon strap that the Leica M's come with, I find it bothers me a little in hot weather.  I should have bought the one with the neck pad…I think it's called the Artisan & Artist ACAM-250 Neckpad Strap.  I know someone who has this one, and the leather is a little softer.  Plus the neckpad is very comfortable, and it does come in a longer version (ACAM-252).
The last thing is that I saw some threading coming loose near the leather lug protectors when I first received my Kobe strap.  It continued to come out but I don't think it was anything serious because the strap NEVER gave me any indication that it was falling apart or loose in any way.  Plus it could have been just my copy because I know a few people who have bought straps from Artisan & Artist, and have no problems whatsoever with them.
Conclusion:
The Artisan & Artist ACAM-280 Kobe strap is beautifully made, and would make a great addition to any camera.  The quality is amazing, and the price isn't that bad if you shop around.  IMO, they make the best leather straps out there for your camera.  My father uses one on his Fuji X100 and it looks great on it.  The Kobe strap has a very classic look backed by superior craftsmanship.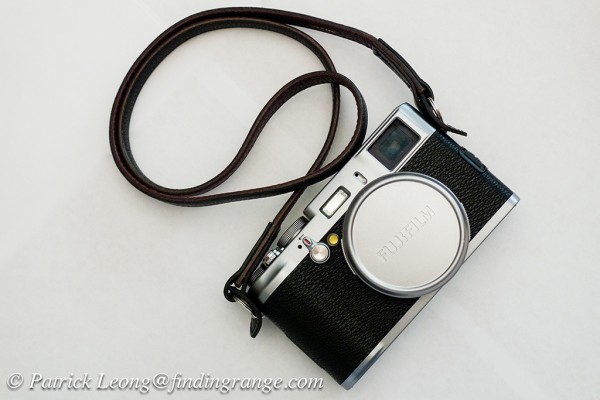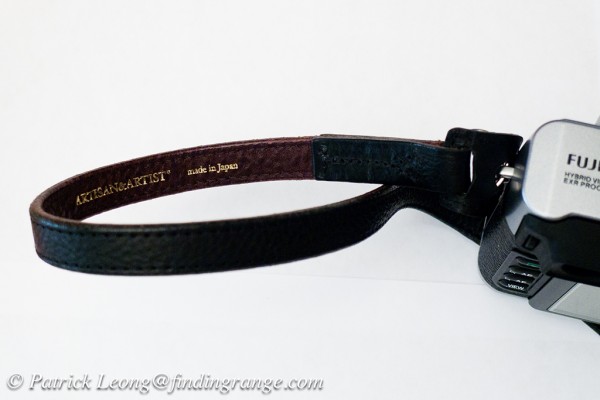 This is the coal black example with the cognac interior.
However, for those with Leica M's: If a beautiful strap is what you want, more power to you.  All of the Artisan & Artist straps look great with Leicas, and they are built extremely well.  But please don't discount the strap that originally came with your Leica M.  The Leica M strap is strong, really functional, and discreet.  The nylon is extremely flexible, and feels really comfortable around my neck.  And since it's adjustable, it ends up fitting around my neck better.  Furthermore, I can actually wrap it around my wrist with great ease.  Lastly, It's really cheap, and even many people who DON'T own Leicas buy them because of how functional they are.  Check out the reviews on BH Photo if you don't believe me.  Again, I LOVE the Artisan & Artist straps, and I really believe that they make the most beautiful and functional leather straps.  I myself bought one.  If you're in the market for a leather strap for your camera, IMO, I wouldn't look any further because these straps are beautifully made, and look like they will last.  They will also develop a nice patina look over time.  But for me, I don't need a leather strap, and I find the Leica M strap to be a bit more functional.