The 28 Elmarit ASPH:
As I said many times before, my Leica M9 really renewed my interest in photography, and really gave me a new outlook on photography itself.  The M9 (which I review here) has really helped me explore the digital medium in more depth especially since I was shooting more film during my pre-M9 days.  Since I was in an exploring mood at the time that I bought the M9, I decided to try out a new focal length that I've never tried with a Leica before: the 28mm; particularly the 28 Elmarit ASPH.  I used 16, 18, 21, 35, 50, 75, and 90 focal lengths before but never a 28 because I guess I thought that it was too close to a 35 to justify me buying one.  But at the time, I had a new camera, and I was itching to buy a new lens: enter the Leica 28 Elmarit ASPH.  I couldn't resist mainly because of the price.  For $1995 I could get an aspherical lens made by Leica.  Plus, since I never tried a 28mm before, I said what the hell! 🙂
How the 28 Elmarit ASPH is Constructed:
Construction of this lens is excellent.  I find that my 35 Summicron ASPH does focus smoother, and feels slightly more robust but there are no complaints in terms of build quality with this Elmarit.  The 28 Elmarit ASPH is definitely built up to Leica standards even though it is one of the cheaper lenses that Leica produces.  Plus it is built better than the Summarit series (which I actually love for their small size and great image quality).  One thing that I was hoping Leica would do is offer a chrome version as I love the feel and weight of the brass lenses.  They did issue them before but it came with the M8 safari kit.
As for accessories, this lens comes with everything that is included with its higher priced siblings: leather case, two lens caps, and lens hood but the one thing that I absolutely love about this lens is that it is small!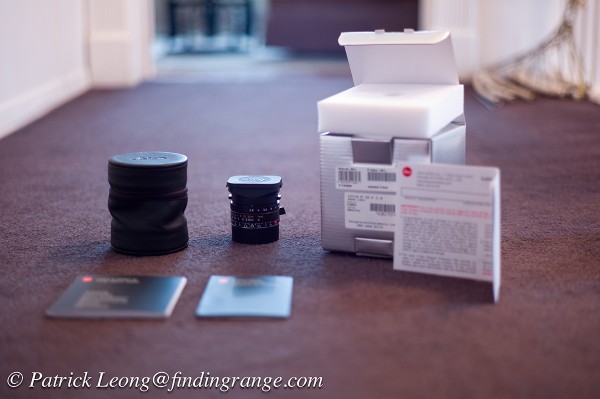 ↑Here's a pic of what is included with the 28 Elmarit Asph.
At only 180 grams, this lens reminds me of Leica lenses from the past…particularly the 35 Summicron version 4 (Bokeh King), which I love and still use quite often.  I sure miss those small lenses that Leica use to produce.  When you have the 28 Elmarit ASPH on a Leica body, you get a very compact, and solid unit that will offer you amazing image quality.  It's a really nice feeling in your hands.
Image Quality of The 28 Elmarit ASPH:
As for image quality, the 28 Elmarit ASPH produces images with plenty of detail and good contrast.  Images are practically distortion free.  I know this lens was originally designed with the M8 in mind but I've had no problem at all with this lens on the full frame Leica M9 even at all apertures.  It never goes soft even at the corners, and I couldn't get the lens to flare.  This lens is not only solidly built up to Leica standards, image quality is also up to Leica standards.  You will definitely get that three dimensional quality that Leica lenses are so famous for as well.  Images also have that really smooth and creamy look that Leica fanatics love.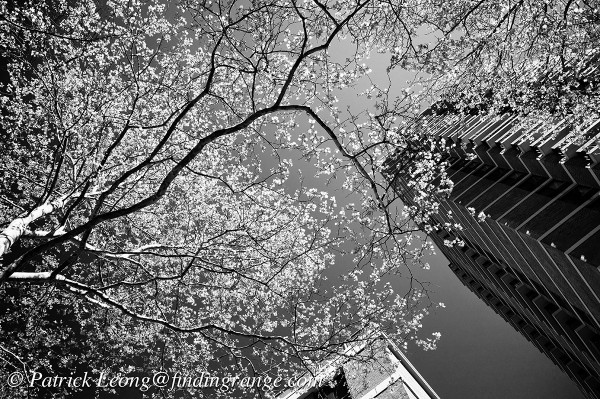 ↑I shot this near Pace University, which is right next to the Brooklyn Bridge.
↑This photo was shot in Bayridge, Brooklyn.  I was trying to demonstrate to you all the wide open effect of the 28 Elmarit Asph.
28 Elmarit ASPH vs. 28 Summicron ASPH:
How does it compare to the 28 Summicron ASPH you may ask?  Well IMO, I find that the Summicron renders more smoothly, and the color is slightly better.  Something about the higher priced Leica lenses always looks better :).  However, I could not see the difference in sharpness.  In fact, I knew someone who traded his Summicron in for the Elmarit because of its small size.  In many ways, I can't blame him.  If you ever see the Summicron in person, it's like the size of a 50mm.  Plus the lens hood is huge.
What I'm trying to get at is that while the Summicron is slightly better, if you don't need the extra stop, if size is an issue, and if you want to save $2000, you're not losing much in terms of image quality if you buy the Elmarit.  You'd really have to look closely to see the differences in a photo between the Elmarit and the Summicron, and even then, I don't think that you would see much of a difference if at all.  And if you're spending all that time trying to see the difference, you're not really enjoying photography itself IMHO :).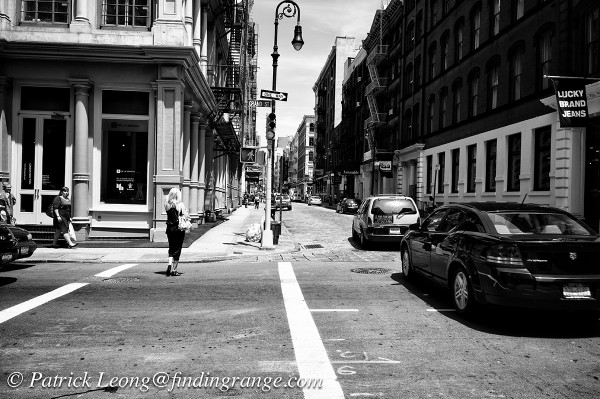 ↑I shot this walking around Soho after getting a haircut.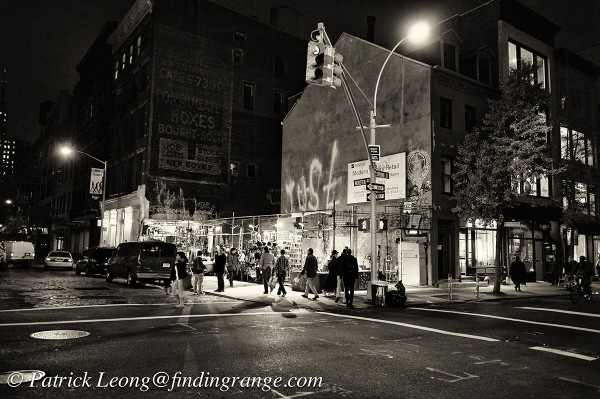 ↑This is another photo from Soho.
Bottom line is that this lens is definitely up to the high standards of Leica in every way.  If you're in the market for a 28mm, I urge you to take a look at this lens.  It's really handy because it's so small, the price is great for a Leica lens, and it offers outstanding image quality.  If you're in the market for a used M8 or M8.2, this is a great lens to consider.  the 28mm focal length becomes a 37mm because of the crop factor, and since it's about the size of the 35 Summicron, it offers you that classic Leica size combo.  Because of size, it makes a better everyday lens than a 28 Summicron ASPH IMO.  Also, if you don't want to spend so much money on a first lens with your M8 but want a Leica lens, this is a great entry lens to consider.  But don't get me wrong about it being an entry level lens.  Anyone can use this lens for years and years like any Leica lens, and be completely happy with it in every way.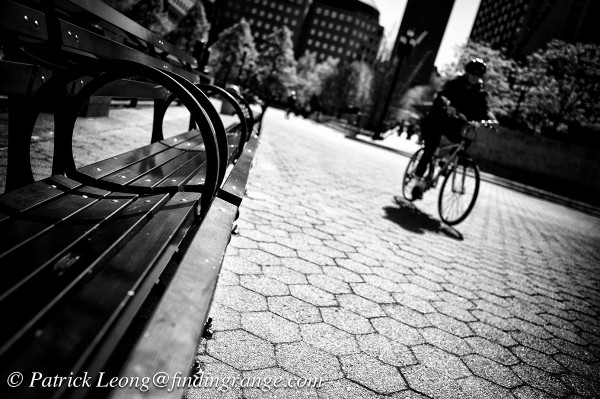 ↑I was walking around after class one day, and ended up here in Battery Park City.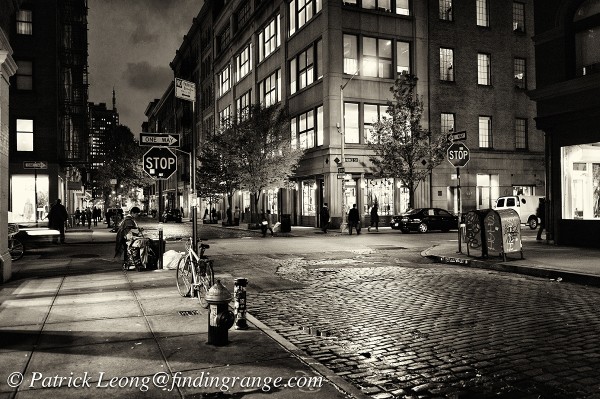 ↑Here's another from Soho.  I'm always walking around downtown…I barely go uptown.
The 28 Elmarit ASPH is a Great Lens But Did I Keep it?:
While 28 Elmarit ASPH is a great lens, I did end up selling it.  I didn't sell it because it was bad in any way.  I sold it because as I said before, I always thought that a 28 was too close to a 35 for me.  I realized that I didn't use this Elmarit much.  I tried too…trust me on this…but I ended up using my 35 Summicron ASPH whenever I thought that I needed a 28mm.  For me, I probably should have bought a wider lens such as a 21mm or a 24mm if a wide angle was what I needed.  This is the big reason for why this review is so short, and there are only a few examples of what this lens can do.  I never used it.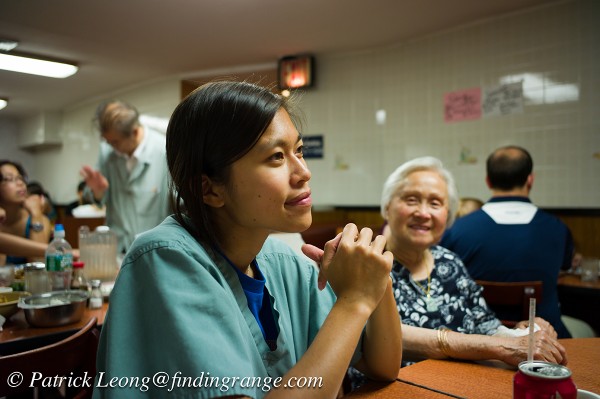 ↑Here's a portrait shot with the 28 Elmarit Asph.  This was shot in a restaurant called Hop Kee.  If any of you visit New York City, and want good authentic Cantonese style food, this is the place to go. 
Also, there were a couple of reasons for why I didn't like this lens.  One thing that I don't like about the 28 Elmarit ASPH was that I felt at times that I couldn't get close enough to my subjects.  Plus, I like shooting at night so I did miss the extra stop.  This is another reason for why I took my 35 Summicron ASPH.  It was about the same size as my 28mm but it offered an extra stop.  Plus, to me, I don't see that much of a difference between the 28mm and 35mm focal length.  Lastly, be prepared to buy another lens cap since it seems to come off easily at times.  But these reasons have nothing to do with the quality of the lens or what amazing images that this lens can produce.  It's just a lens that did not fit my type of shooting but it may be perfectly compatible with you.
So if you're in the market for a 28mm, you should definitely check this lens out.  It's a great everyday companion with the Leica M7, MP, M9 or any Leica M, and it will give you years of outstanding images.  Thanks for reading, come back soon!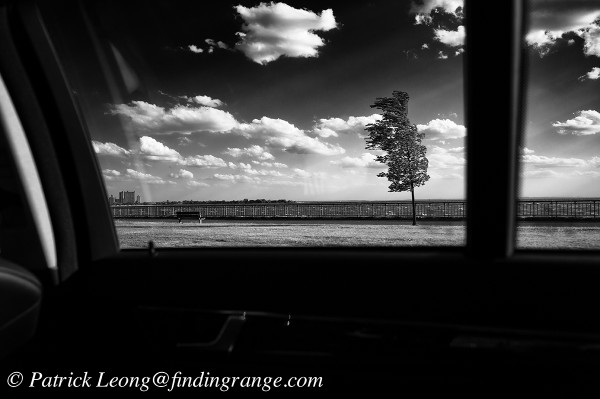 ↑I was in the car on the Belt Parkway in Brooklyn, and I thought the clouds were kind a cool.  The wind also had a nice affect on the tree.