Introduction:
I've been asked a couple of times about how I'm able to shoot wide open with a ƒ1.4 lens (such as my favorite, the Leica 50 Summilux ASPH) so I thought I'd mention it here.  Many people here know what a neutral density filter is but for those you who don't, a neutral density filter reduces the amount of light that goes through the lens.  By doing this, you're able to shoot with wider apertures in daylight.  Benefits of this?  Well, you can shoot with a shallow depth of field to isolate your subject in bright daylight.  It can also help you blur something like a stream or a river in broad daylight (by helping you shoot at a lower shutter speed).
So today I'll be talking about the B+W neutral density 0.9 filter (which can be purchased at Amazon or Adorama).  The reason there's a 0.9 is because it allows someone to shoot with a difference of three stops.  They have a 0.6 and a 0.3 also (two stop difference and one stop difference).  I shoot all my lenses at all apertures but let's be honest; there's something about shooting a Leica lens wide open, especially something like a Summilux :).  And if you want to shoot wide open in broad daylight, especially at 1.4, then you most definitely need a neutral density filter such as the B+W one here.
↑ The B+W neutral density filter.
Build Quality:
The filter ring of the B+W neutral density 0.9 filter is made out of brass.  Why is this significant?  This is significant because brass rings are less prone to jamming.  Furthermore, because of the brass, the seal between the glass and the ring is stronger.  Don't forget, brass is a great metal because it does not contract or expand over time.  In other words, it's a very stable metal.  As for the glass, it is made out of high quality Schott glass.  Together, they combine to make a relatively heavy filter but definitely a high quality feeling one.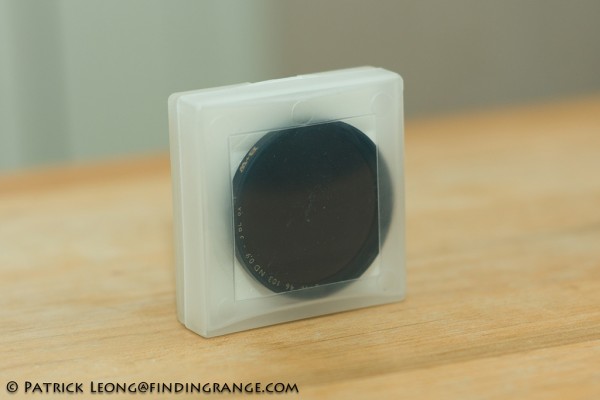 ↑ The B+W neutral density filter in its case.
How B+W makes its filters is that they drop the glass into the rear of the filter ring, and then seal it with a threaded retaining ring.  There are several advantages to this method over other methods, such as, using a spring clip to hold the glass in.  One advantage is preventing rattling and another is keeping the filter glass as parallel and flat to the lens' glass as much as possible.  I like B+W filters a lot because IMO, they're the best third party filter maker out there.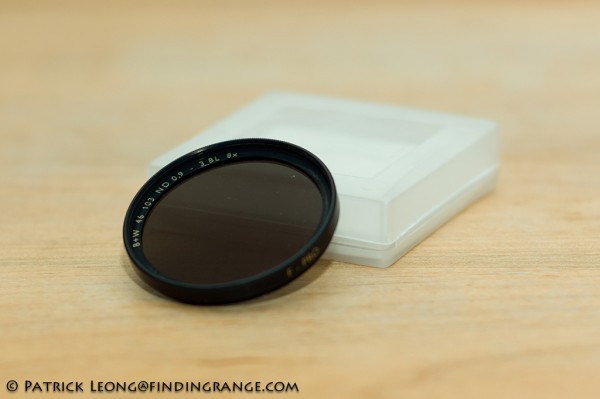 ↑ The B+W neutral density filter itself.
Usage:
Well, there's not much to say except for that it works :)!  It's extremely useful in daylight.  While neutral density filters are gray, and reduce the light approaching your sensor or film, they have no effect on color balance.  All it does is reduce the light going into your lens.  I use this filter a lot for portraits in the daylight because it allows me to shoot wide open with my Leica M9 and 50 Summilux ASPH.  As I said before, I have the 0.9 version which means that the filter will reduce the light coming into my lens by three stops.  They make neutral density filters that reduce more or less light but I find the 0.9 to be perfect for my needs.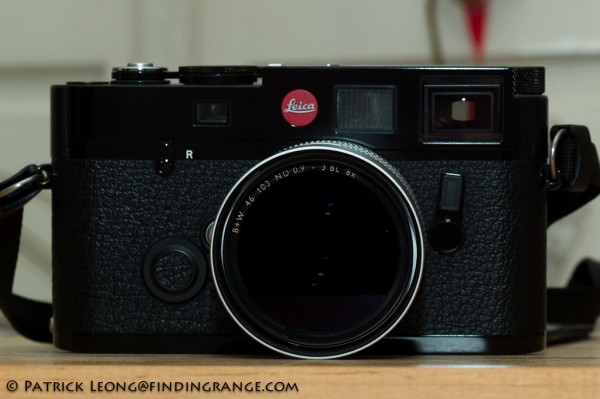 ↑ Here's how the B+W neutral density filter looks like on a camera: Leica M6 TTL Millennium and 50 Summilux ASPH
Conclusion:
If any of you like shooting wide open to get that shallow depth of field effect, then a filter like the B+W neutral 0.9 filter is probably going to be really essential.  You can purchase one here at Amazon or here at Adorama.  This wasn't really meant to be a review because it's only a filter.  It was just meant to offer any info to anyone who might want to know about neutral density filters or B+W neutral density filters.  I wrote more than I thought I would but then again, I guess this is the purpose of a blog, right?  You just write what you're thinking at the moment :).  Take care.