Multi-Part Series of Japan With The Fuji X100 (Intro by Patrick Leong):
Hey everyone, I have a few photos from a trip my dad took to Japan last month.  He used nothing but the Fuji X100 for the entire trip.  No Leica M9, no zooms or anything.  IMO, that says a lot about the Fuji X100 and it's capabilities especially for a 2 week trip.  He took a lot of photos while he was in Japan, so I will be posting these photos in a multi-part series in no particular order.  It all depends on how many I can get done in one sitting (I'm doing all the processing for him).
Man, as I'm processing all of these photos, I am amazed at how some of these photos came out.  I love the Fuji X100, especially it's high ISO capabilities.  Fuji did a great job when they built this camera.  I really hope all of those rumors about Fuji coming out with cameras similar to the X100 are true.  There are a couple of issues that I do have with the X100 but overall, this camera is awesome.  As I said before in another post, the Fuji X100 reminds me of a Leica CL.  It's so compact yet so capable.  Yeah it's only got one fixed focal length but who cares?  As most of you Leica M users know, a 35mm can cover pretty much everything…at least for what this camera was made for.  Enough talk from me, check out the photos below, and hear what my dad has to say about the X100 and Japan.
Japan With The Fuji X100: By Vincent Leong: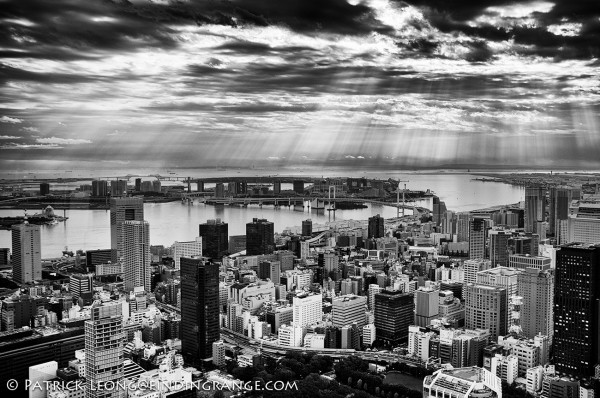 ↑ Taken from the window of my hotel room.
I love Japan, and try to go there at least once a year for vacation.  What's not to love about Japan?  The food is amazing, the people are friendly, and the culture over there is beautiful.  Since I did not go to Japan primarily for photography, I didn't really take any "street photos".  But for any of you who are visiting Japan, there are many, many opportunities for street photography.  People in Japan are friendly, and for the most part, they don't mind that you take photos of them.  There are also many camera connoisseurs so they appreciate unique cameras, such as, the Fuji X100 that I was using.  And for Leica users?  There are stores that sell new and used Leica equipment everywhere.
My Experience With The Fuji X100:
I was a Leica user before my son was even born.  However, as I grew older, I did less photography (my other hobby Hi Fi became more important to me), and I had to send my kids to school, so I couldn't justify the price anymore.  I still think Leica makes the best stuff on earth but I wanted a camera primarily for vacations and family events.  I know that my son got bit by the photography bug (primarily the Leica bug), so I gave all of my Leica equipment to my him.  I ended up buying many of the Leica D-Lux series of cameras and I was perfectly happy with them.
But as time went on, I started to really miss the optical viewfinder.  How does anyone properly compose a photograph without an optical viewfinder?  I bought one of those attachment viewfinders for my D-Lux 4 but it never felt the same.  In fact, it felt like more of an inconvenience because it took away from the ergonomics of the camera.  So when I heard the news about the Fuji X100 from my son, I jumped at it.  I put my name down for one, and I received the X100 a couple of weeks after the release date.  The Fuji X100 had all the manual features that I missed so much, and it had a real optical viewfinder!  It reminded me of my son's Leica M9 but at a much cheaper price.  My son also suggested I buy the Leica X1 but again, I wanted a real optical viewfinder, not an attachment for the hot shoe.  I've seen some photos from the Leica X1, and while they are sharper and more contrasty with that Leica signature, the Fuji X100 has the manual features that I love, and sorely missed.  It reminds me of a "real" camera, not just another point and shoot.
My experience with the Fuji X100 in Tokyo was very good.  I don't care about getting my camera bumped or scratched so I am glad that the X100 is made out of metal.  I have the camera around my neck everyday as I never carry a bag with me.  It was light, and small making it easy for me to enjoy my experience in Japan.  After all, I was on vacation, and who wants to be burdened with camera equipment?
My favorite lens for my Leicas was always a 35mm so I am extremely glad that Fuji decided to put a 35mm equivalent onto the X100.  It's a great little lens, and it's fast.  The ƒ2.0 came in very handy at night, and if you wanted to use it in the daylight, it's perfectly usable thanks to the built in ND filter.  I'm not a big fan of shooting wide open but my son seems to like it, and he says the ND filter comes in very handy.  What else is there to say about the lens?  Well, there is a built in leaf shutter which is very quiet.
The last things that I want to mention is that the high ISO capability, and the optical viewfinder of the Fuji X100 are simply amazing.  I like shooting at smaller apertures, and thanks to the high ISO capabilities, I'm able to do so at night.  I shot many of my photos in Japan at ISO 6400 with excellent results.  The viewfinder is also excellent as well.  It's brighter than my older Leica M's, which is extremely helpful as my eyes are not what they used to be.  The optical viewfinder is very clear as well.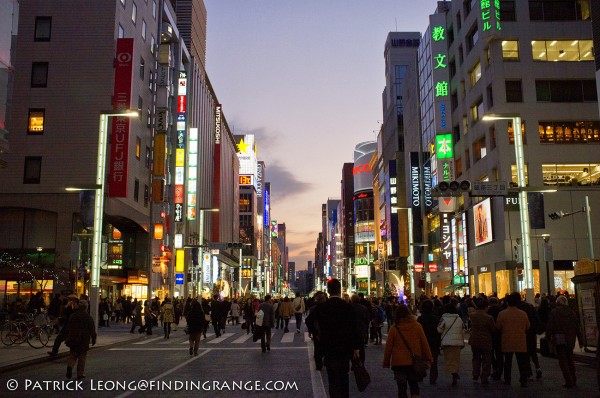 ↑ A very clear shot of Ginza taken at ƒ5.6 using 6400 ISO.  They close the main street during weekends so people can walk through it.
Overall, I had a great experience with the Fuji X100.  While this post was not meant to be a review, I hope that it has help those who wanted to see how a person from an older generation of photography thinks of the camera.  All the features that are the Fuji X100's selling point are not just hot air.  I just hope that other manufacturers see how amazing this little camera is, and design their future cameras accordingly.  Below are a selection of photos that I took during my trip to Tokyo Japan.  The photos were all processed by my son.  I hope you enjoy them.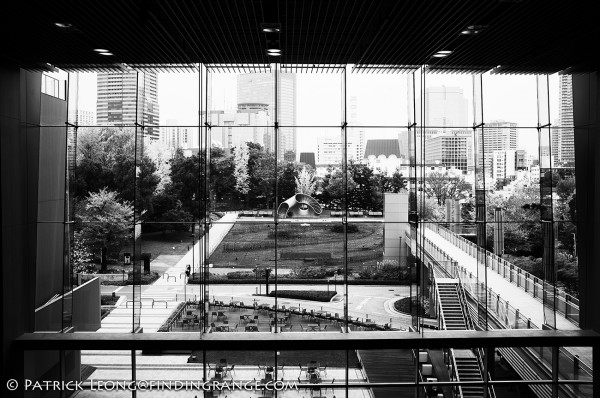 ↑ Taken from inside the Tokyo Midtown Mall.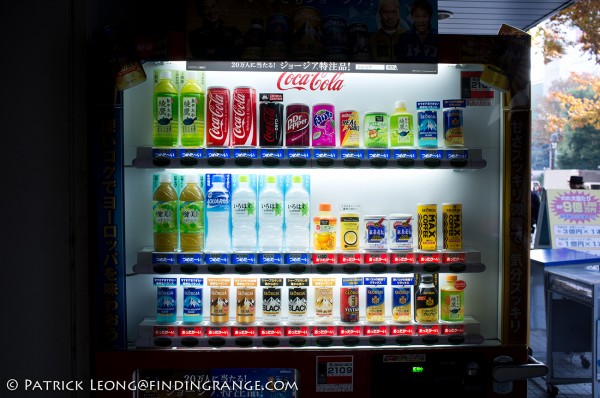 ↑ There were a lot of unique vending machines all over Tokyo.  This one was from Shibuya.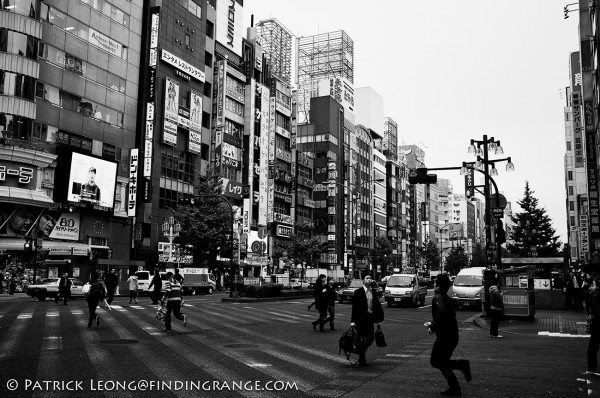 ↑ A busy Roppongi afternoon.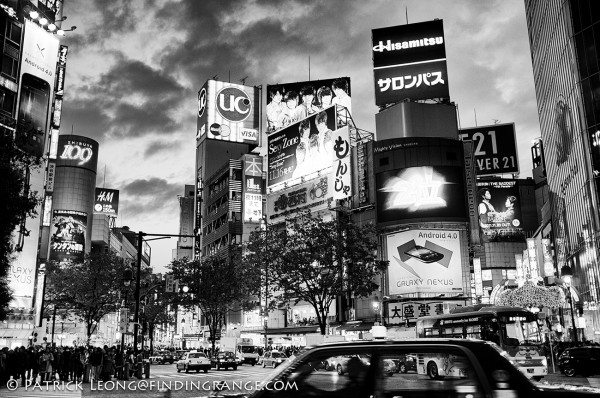 ↑ Shibuya at night.  This was shot at 200 ISO thanks to the vibration free leaf shutter of the Fuji X100.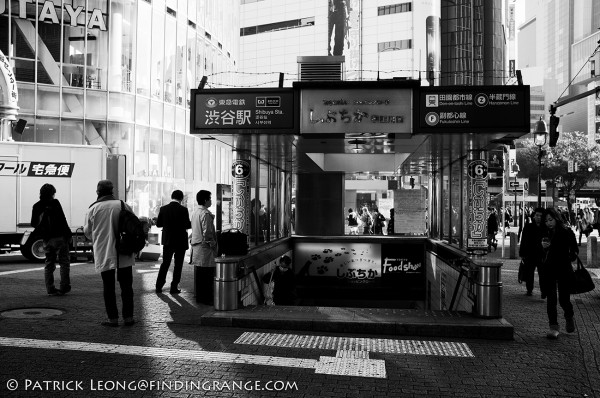 ↑ Shibuya station.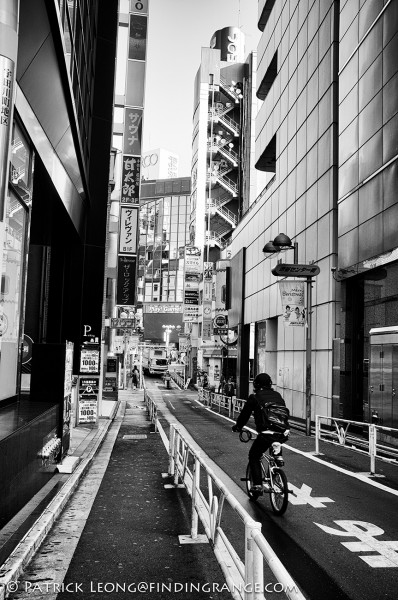 ↑ Another photo of Shibuya.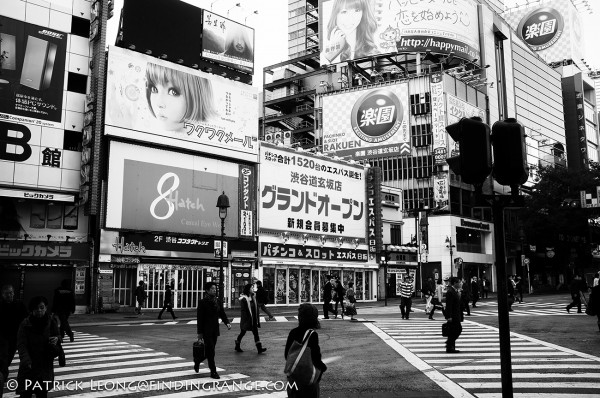 ↑ One last photo of Shibuya.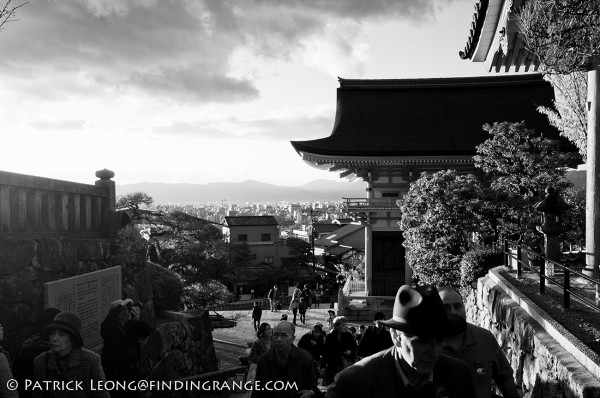 ↑ Kiyomizu Temple in Kyoto.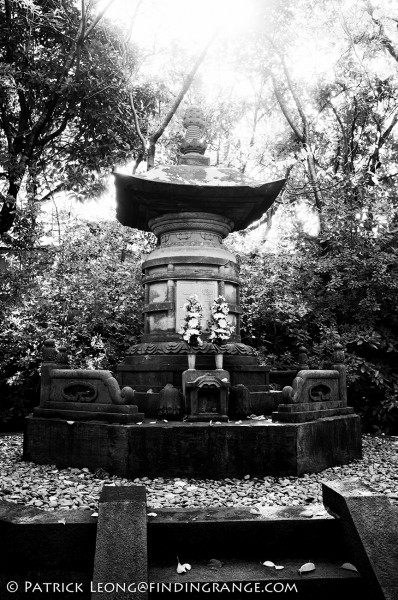 Zojo-ji Temple.