The Leica Handgrip M For The Leica M9:
When Leica first released the M9, people for the most part, were glad that Leica was able build a rangefinder camera with a full frame sensor while also keeping the same basic shape and design for the body as previous Leica M cameras.  Plus we get to use all of our old M lenses :)!  Compare an M9 and a film Leica together; Other than the M9 being a little more plump, both look pretty much the same, and feel pretty much the same.  But notice that I said pretty much the same.  One thing that many miss is the film advance on the film Leicas because many who use to own a film Leica used the film advance to help support the camera.  Leica took notice of this with the Leica M8, and released the Leica Handgrip M.  Later on, Leica did the same again when they released the Leica M9.  The Leica Handgrip M, the Leica M9 Handgrip, The Leica M handgrip, the Leica Handgrip for the M9…whatever you may call it…It is Leica's answer to the film advance that many missed when they went digital.
 The Leica Handgrip M Ergonomics:
The Leica Handgrip M is definitely built up to Leica standards.  No need to worry about this solid brass baseplate feeling like a cheap aftermarket accessory or an afterthought because there are no creaks, no rattles…there is nothing that would make you think that this is a cheap product…not even the price, which btw, is pretty high for something like this.  But hey, you're buying something Leica…something built for the Leica M9 so high price is to be expected but rest assured, high quality is also there.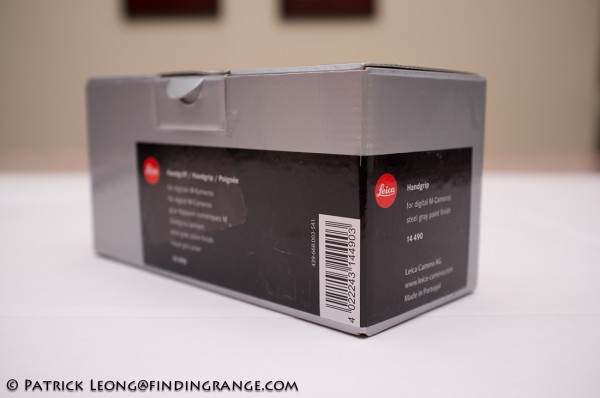 ↑ The box.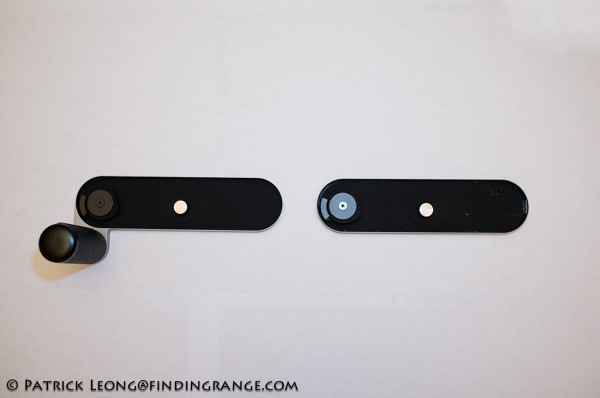 ↑ The Leica handgrip is just as solid and sturdy as the original baseplate…in fact, it's the same thing but with a grip built in.
In terms of size, the Leica Handgrip M is a bit bulky.  I can understand why some people don't really care for this handgrip.  When I first bought my Leica M9, my dealer had one in stock, and he let me play around with it.  It felt massive on my M9.  Moreover, aesthetically, it takes away a little from the the beautiful lines of the M9.  I honestly didn't like the Leica Handgrip M at the time but maybe I should have given it more of a chance.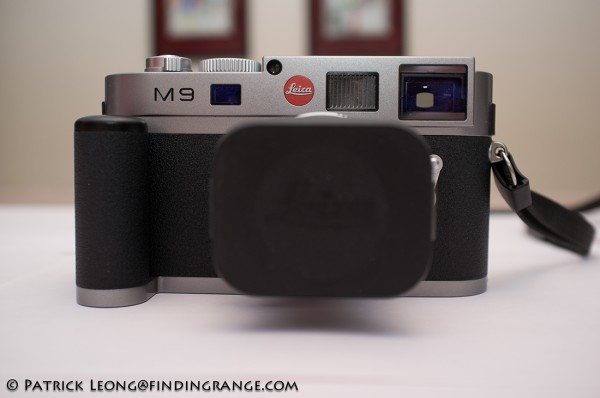 ↑ A front view of the Leica handgrip on the M9
The Leica Handgrip M in Use:
I should have given the Leica Handgrip M more of a chance because it turns out that I actually love this thing.  It really does a good job in helping me support the camera a bit better.  Don't get me wrong; I actually had no problem handling my M9 the way it comes straight out of the factory.  I have no Thumbs-Up grips, no soft shutter release buttons, etc. and I have no issues with shooting hand held at low speeds such as 1/8 of a second.  But the Leica Handgrip M makes it so much easier.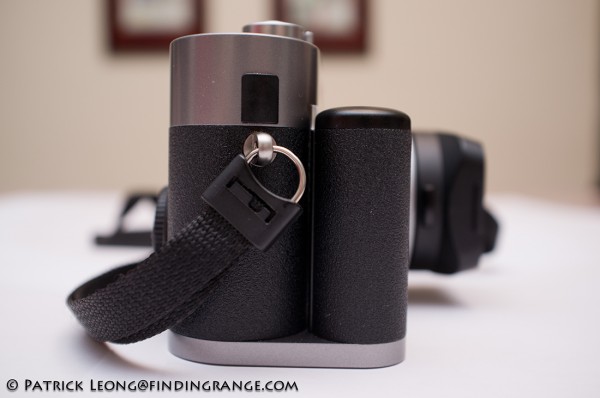 ↑ The Side profile of the handgrip while on the M9.
First off, with the handgrip, the M9 actually feels like it weighs less.  I don't think it's actually lighter but I do believe that I'm actually using less strength to grip the camera especially at lower shutter speeds (the leatherette on the grey steel M9 doesn't help but I love the grey steel color so willing to sacrifice 🙂 ), which gives me the perception that my camera outfit is lighter.  Sometimes, I can feel how much I'm squeezing the camera at lower shutter speeds just to make sure that my M9 is steady, and it doesn't slip (especially in the winter).  With the Leica M Handgrip, this is less of a problem because the handgrip really helps stabilize the camera a lot better and makes it easier to hold by giving you more grip.  Even when I don't use my M9 at low shutter speeds the Leica handgrip still helps.  It definitely makes it easier for me to hold my M9 vertically to take pictures.  Furthermore, the camera is made out of brass and so are most of the lenses that I own.  It gets heavy after a day of use, and my wrist doesn't feel as tired holding the camera at the end of the day when I have the handgrip on.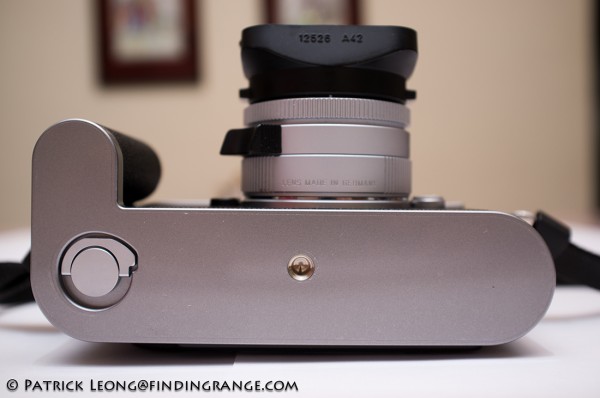 ↑ Bottom view of the handgrip.
Another thing that's good about the Leica handgrip?  It makes me feel a whole lot more secure when I hold my M9 with one hand.  I understand that using a Leica M is usually a two handed operation but when I walk around on the street, I usually hold my M9 with one hand at the side of me so that I could be a little more discreet.  I must admit that there were times when I was afraid of having the M9 slip out of my hands but with the handgrip, I feel a lot more secure.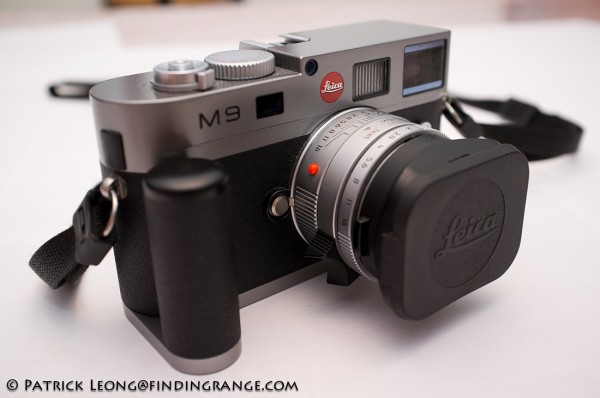 ↑ The Leica handgrip does make the camera a little bigger but it also offers a lot more grip.
In terms of bulk, while the Leica Handgrip M does make my Leica M9 look and feel a bit more bulky, once I'm outside shooting pics, I forget about it.  So in practice, I find that it's actually not so bad, and in fact, i would argue that the benefits are far greater than the negatives.  I really love my Leica Handgrip M.  It makes shooting so much easier, and while I didn't have any problems before I receive this handgrip (from my girlfriend for Christmas), I don't think I will be using my M9 without the handgrip.  It's kind a like one of those things…you know, you're perfectly happy with something, and feel like you don't need anything better until you actually try something better.  I was perfectly happy with my M9 without the handgrip but once I actually tried it in practice (and I don't mean just at the store), I found that I really don't want to use my M9 without it.
Pros vs. Cons of the Leica Handgrip M:
Here's a summary of what I thought were the pros and cons of the grip.
Pros:
Increased stability in low light shooting/low shutter speeds.
Increased stability when using telephotos, such as the 75 Summilux (which I review here).
Makes it much easier to hold your M9 vertically.
Since the handgrip offers much more stability and grip, you feel a lot less tired after a full day of shooting, especially since Leica equipment can be heavy.
A much more secure grip when holding the Leica M9 with one hand.
Cons
Can be a bit bulky for some.
Takes a liitle of the aesthetics away from the Leica M9 (this is only an opinion of course).
Price can be high for some.
Would I recommend the Leica Handgrip M for the Leica M9?:
I would wholeheartedly recommend the Leica Handgrip M for the Leica M9…even for the Leica M9-P, M8, and M8.2.  It can be a bit bulky for some, and in some ways, awkwardly shaped but functionally, it is awesome.  It really makes handling the M9 much easier.  I feel like I can hold my M9 even better than I did without the handgrip, and it feels much more secure when holding my M9 especially with one hand (which I often do when I'm walking around).  The Leica handgrip is one of those things that you really need to try out to determine whether or not it's right for you, which I made the mistake of not doing in the first place a couple of years back.  I've been using Leica M cameras since I was 12, and the traditionalist inside of me prevented me from giving this handgrip a fair chance :).  I'm glad that I gave the handgrip a second chance because it's definitely a keeper.  If any of you are interested, you can find the the black one here, and the grey steel one here at Adorama or black one here, and the grey steel one here at Amazon.  I've bought many things from both places before,and both offer great customer service.  If you own a Leica M9-P, you can find the black one here, and the chrome one here at Adorama or the black one here, and the silver one here at Amazon.  I hope my review of this grip helped anyone who was thinking about purchasing it.  Thanks for checking out my review, and stay tuned for a 50 Summicron review along with some other cool stuff :).