The 75 Summilux:
Let me start out by saying that this IMO is one of the most temperamental lenses in the Leica catalog but also one of the greatest! The 75 Summilux, the 75 lux, Dr. Mandler's pride and joy…whatever you may call it…it's big, cumbersome, has focusing issues, and it was one of the most expensive lenses back in its day but when all is well with this lens, it can give you spectacular photos. I've been waiting a long time to write a review of this lens because I wanted to do this lens justice.
History of the 75 Summilux: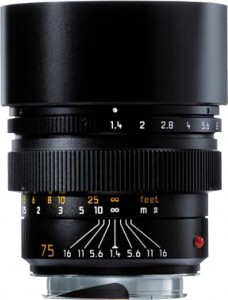 The 560 g Leica 75 Summilux was created in 1980, and features 7 elements in 5 groups. It was manufactured in Canada and later in Germany. Thanks to Dr. Walter Mandler (whose specialty was designing Double Gauss lenses), this lens has been pushed to the limits in non-aspherical Double Gauss design. This quality has allowed the 75 Summilux to stay in the Leica catalog all the way up till 2008. That's a full 28 years before this lens was finally retired. And for those who don't know, Dr. Mandler designed over 45 lenses for Leica. In fact, he helped Leica create the first ever 35 ƒ1.4 lens for any 35mm format. Dr. Mandler also designed the 50 Summilux, which was unsurpassed and remained in the Leica catalog for 40 years until new aspheric fabrication techniques allowed for improvement. Lastly, the design of the 75 Summilux derives from the classic Noctilux, which only adds to this lens' legendary status.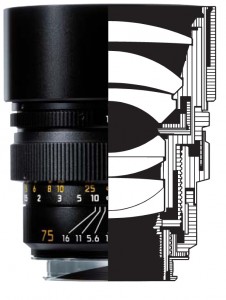 What else adds to the legendary status of the 75 Summilux? As stated before in this post, the 75 Summilux was Dr. Mandler's favorite lens. The 75 Summilux may not be as sharp as some of the newer aspherical Summilux lenses at ƒ1.4 but it's still extremely sharp, and will definitely offer better image quality then other camera manufacturers even to this day. But sharpness is not the only quality that one looks for when purchasing this lens. The smooth bokeh and three-dimensional affects are other major qualities of this lens. You want that classic oil painting effect that many older Leica lenses are famous for? Well, this is the king when it comes to that.
Ergonomics And Build Quality of the 75 Summilux:
There is no getting around it: This is one big lens for the Leica M system. When the 75 Summilux is on your Leica M, your camera falls completely forward around your neck. The length of the 75 Summilux is 80 mm, and the largest diameter of this lens is 69 mm. Furthermore, the 75 Summilux uses an E 60 filter, which is pretty big for an M lens. This is the reason for why Leica created the 75 frame line for the Leica M. If they made a 90 ƒ1.4, the lens would obstruct the viewfinder more than it already does with the 75. IMO, one can not fathom how big this lens truly is on a Leica M body until one holds a copy in his or her hands.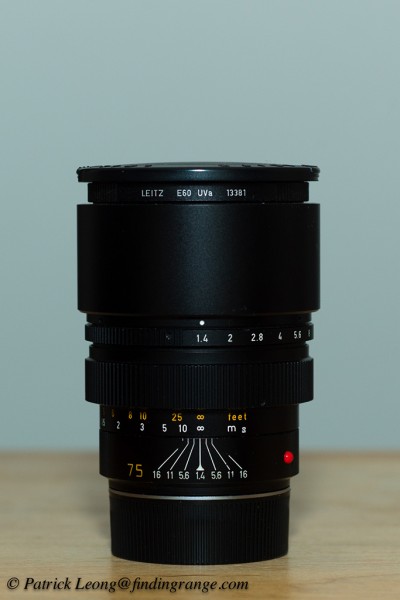 ↑ Here's a photo of my 75 Summilux.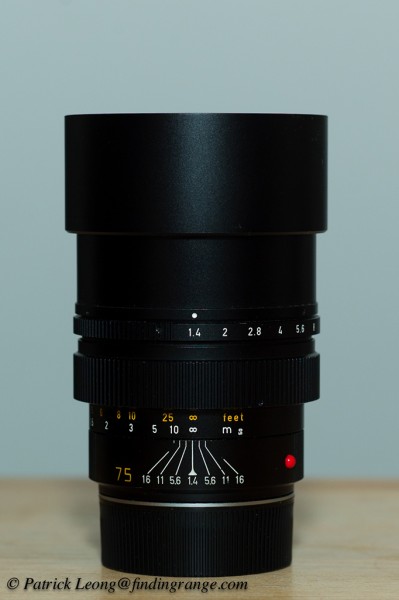 ↑ Here's a photo with the hood pulled out.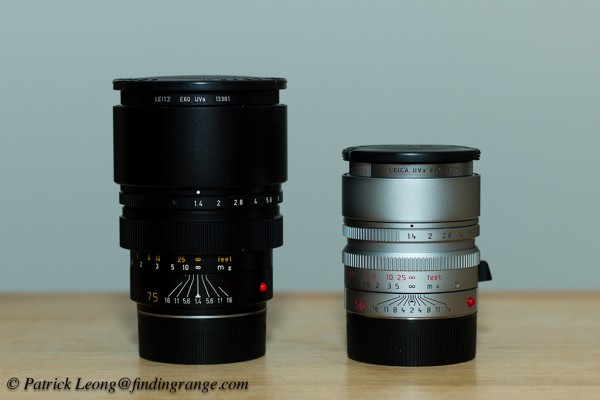 ↑ Here's a size comparison between the 75 Summilux and the 50 Summilux ASPH.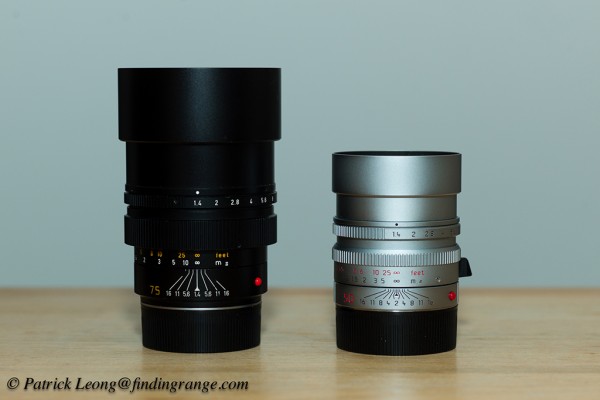 ↑ Here's a size comparison between these two lenses with the hood extended.
Because of its size, I find it sometimes difficult to take candid shots with the 75 Summilux. It's sometimes funny if you think about it: You have this nice and thin Leica M body, and then you have this huge piece of glass sticking right out of it. Don't get me wrong; the 75 Summilux is one big impressive piece of glass but this lens is pretty big on an M body.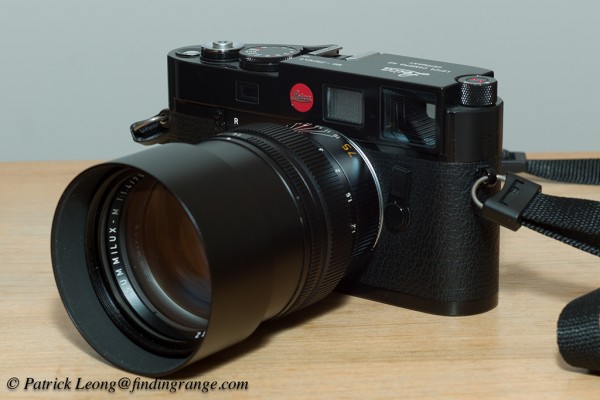 ↑ Here's a photo of the 75 Summilux on a Leica M6 TTL Millenium.
↑ Here's a top view of the 75 Summilux on my Leica M9.
In terms of build quality, a Deutsche bank vault come to mind when I think of the 75 Summilux. There is no expense spared when Leica built this lens; it is second to none. The 75 Summilux has a retractable lens hood that stays in place, and the aperture ring clicks with authority. The focusing ring is a little tight but my guess is that the stiffness probably helps with focusing more accurately. This is a beast of a lens, and you can tell this lens was built with pride. In fact, I find that this lens is built better than some of the newer lenses.
75 Summilux Focusing Issues:
Because the depth of field at ƒ1.4 is so thin, the 75 Summilux has a long focus throw making quick focusing sometimes a challenge. But in all honesty, I find you get use to it after some practice. I have used this lens at ƒ1.4 in several fast paced events before, and have had no issues with it. My copy has focus shift issues too.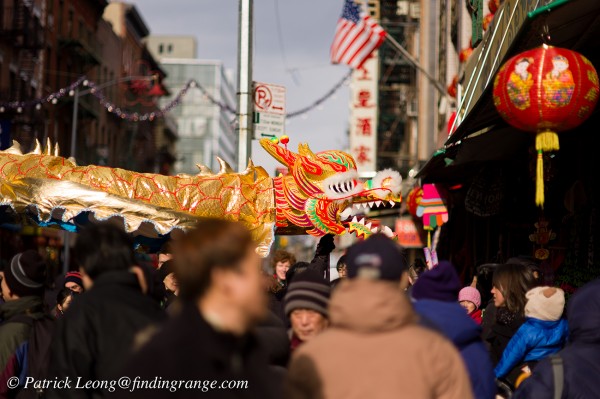 ↑ This was shot at the Chinese New Year Festival. This dragon was moving at a very fast pace but with practice, the 75 Summilux can be easily focused at ƒ1.4 on fast moving subjects.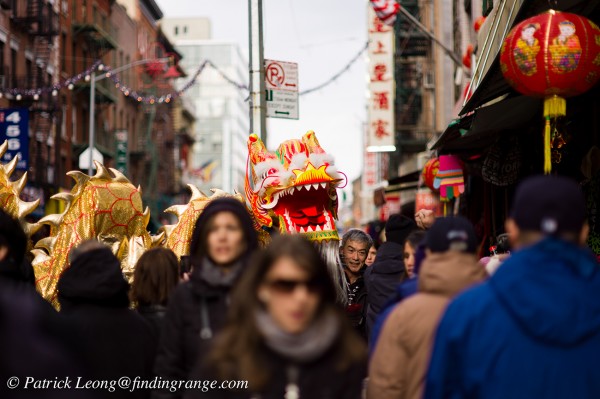 ↑ Here is another example at ƒ1.4. Notice how the guy holding the dragon just pops out of the photo.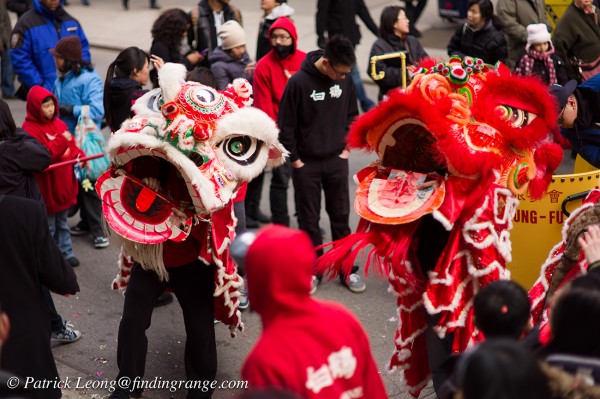 ↑ In this photo, the lions were moving very rapidly. This photo was shot at ƒ1.4 as well.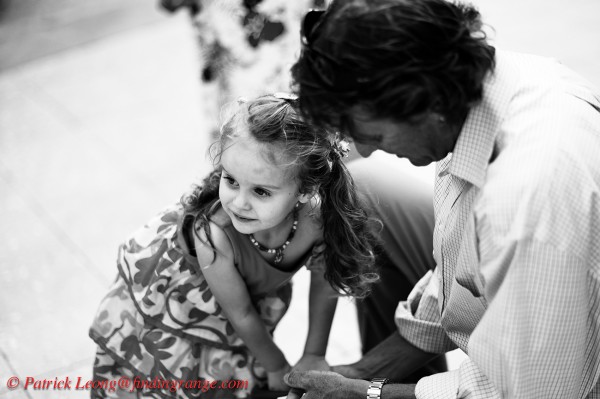 ↑ This little girl could not sit still

.
Yes…the dreaded focus shift…my lens definitely has issues focusing when used with my Leica M9 (which I reviewed here). It's sometimes extremely annoying, especially when you know the amazing potential that this lens has to offer! There are many shots that I've missed because of it. You could send this lens along with your Leica M9 back to Leica to have them calibrate it but for me, I couldn't part with my camera for that long. I just learned to live with it.
Besides, from what I heard from several sources, this lens is actually pretty difficult to calibrate (I think my dealer told me that it was the most difficult to calibrate correctly), and one source even told me that the camera and lens would need to be sent back to Leica Germany. Who knows…I also heard that there are some very good people outside of Leica services that offer awesome servicing for your Leica equipment but again, I just learned to live with it

.
Image Quality of the 75 Summilux:
If you can get over the size of this lens and its focusing issues, you will be rewarded with images that are utterly beautiful with a very organic feel to them especially combined with the Leica M9. I absolutely love how this lens renders. At full aperture, this lens produces high contrast across the entire image area. Coma is not visible even wide open, and you would have a very difficult time trying to find any distortion. Resolution and detail are amazing at full aperture also. Obviously vignetting is inherent in a lens like this at full aperture but it's extremely minimal for a lens with this aperture. Stopping the 75 Summilux down a bit only increases its qualities.
While it is true that the 75 Summilux may not be as sharp as some of the more recent aspherical designs at ƒ1.4, it's is not dull either. It's already extremely sharp at ƒ1.4 like most Summiluxes, and you have to be crazy to want more. If you stop down a bit, you will definitely have trouble finding any fault with the 75 Summilux's sharpness as it compares extremely well to Leica's more recent telephoto designs. Plus you get ƒ1.4, and as of now, there are no Leica M telephotos with a faster aperture than ƒ2.0. My only advice if you're having problems focusing the 75 Summilux for optimal sharpness is to either get the lens checked by Leica or get a Leica magnifier. You can get the Leica magnifier 1.25x here, and the 1.4x here.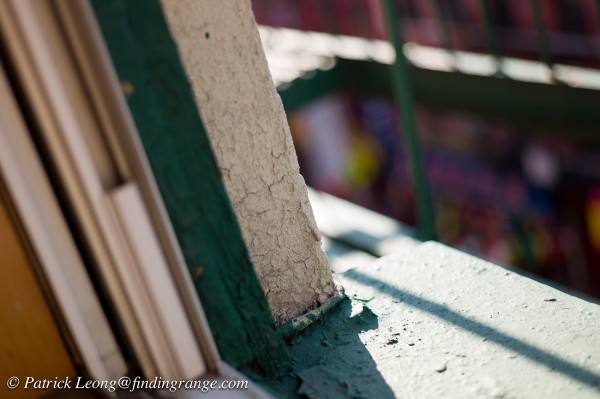 ↑ Here's just a random shot of my window. At ƒ1.4, this lens is very sharp where you want it to be sharp but also offers that creamy smoothness classic Leica lenses are famous for.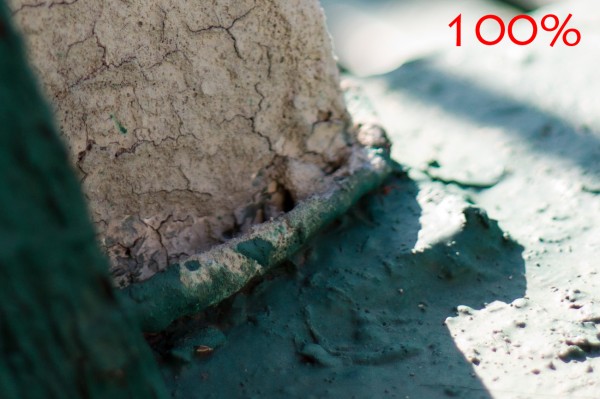 ↑ Here's a 100% crop of the photo above.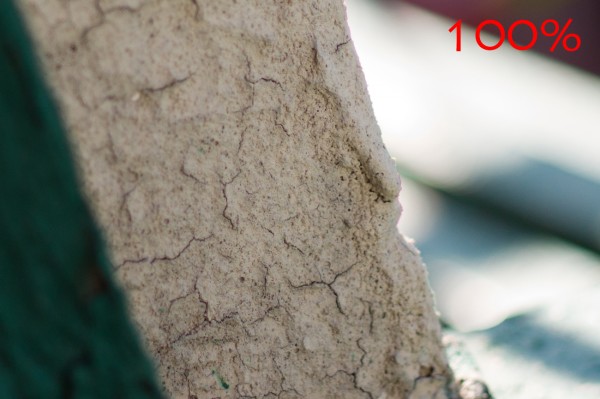 ↑ This is another area of the same photo cropped at 100%.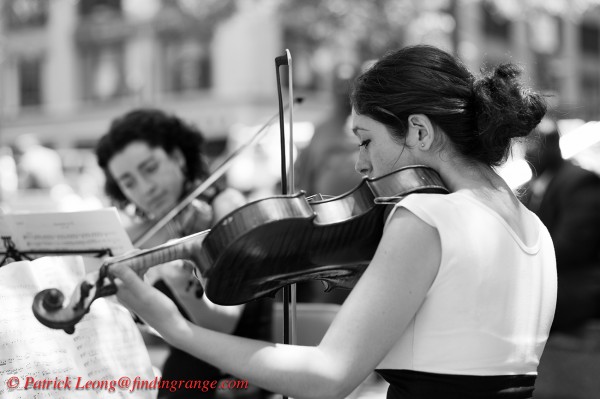 ↑ I shot this at ƒ1.4 near Trinity Church in downtown Manhattan.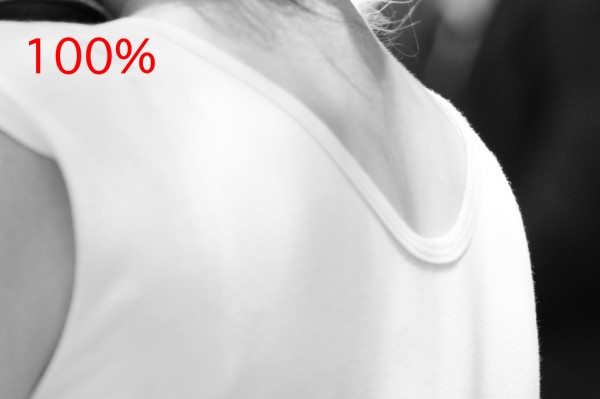 ↑ Here is a 100% crop of the image above demonstrating how much detail this lens can get. If you look at right of the image, you can see the threading from the violist's shirt. The 75 Summilux is a very sharp lens.
So this lens is pretty sharp but let's be honest; most of us aren't just looking for sharpness when we purchase a lens like this. We're looking for the way this lens draws…the bokeh. Wow, wow, wow!!! As stated before, the 75 Summilux has a way of producing photos with a beautiful oil painting effect. If bokeh and that oil painting effect is what you're looking for, then don't look any further. You have found your dream lens. Speaking of dreams, your images will have such an amazing dreamy effect. This lens has that super classic Leica look we all crave. Words like creamy, smooth, sensual, rich, and velvety come to mind when I look at images produced with the 75 Summilux and Leica M9.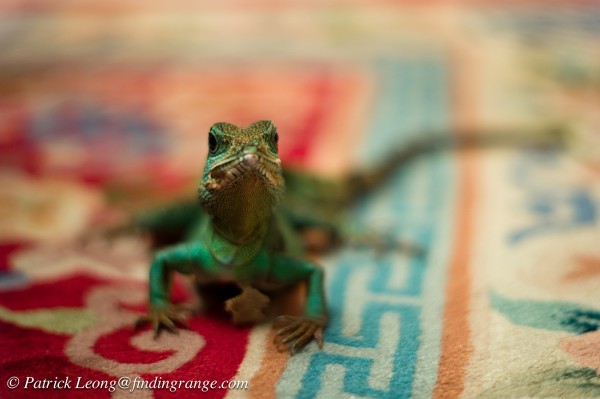 ↑ Here is another shot of my Chinese Water Dragon named Hagrid at ƒ1.4.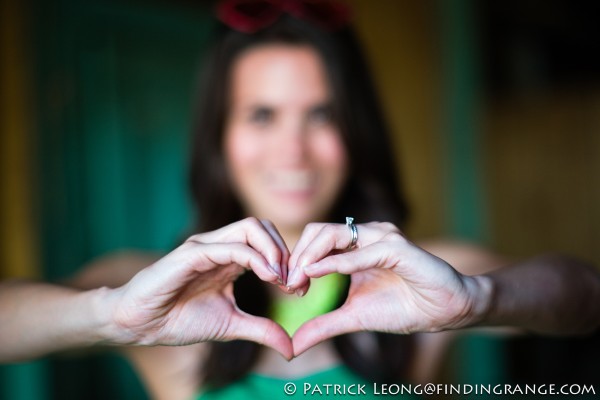 ↑ Here is a shot I took with my Leica M 240.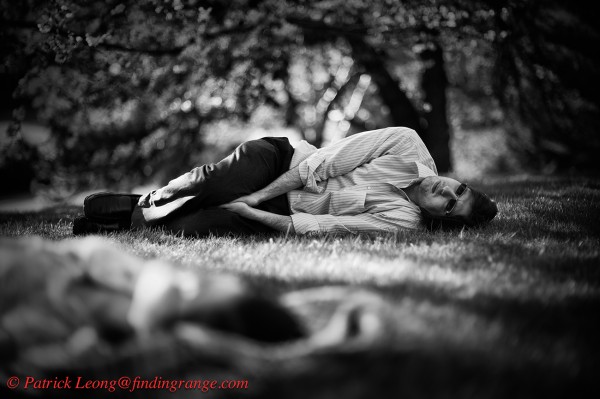 ↑ I firmly believe in using all apertures in a lens but I must admit that most of the time, shooting the 75 Summilux at ƒ1.4 is extremely hard to resist. Here's an example of the classic Leica swirl. This photo also demonstrates how three-dimensional photos can be with this lens.
Yes the M9…I mention this because this lens' full potential is unleashed when combined with the full frame Leica M9. This is my guess for why this lens has finally become popular again. It's almost as if Dr. Mandler himself went into the future, and knew that Leica was going to create the M9. Seriously, even if you don't buy this lens for your M9, you should definitely take some photos with it to experience the perfect relationship that this lens has with the M9. They are kindred spirits; a match made in heaven. My father bought this lens new a long time ago, and while the 75 Summilux produced amazing images on film, I couldn't believe how good the images looked when I first attached this lens onto my M9. On a side note, that's what I really love about Leica lenses. Even older lenses are so good that you don't lose any quality when you attached them onto you're Leica M digital cameras. Getting back to the smoothness, I just love how this lens transitions so smoothly from the main subject to the background. The transition is so gentle yet so distinct. It's an incredibly delicate balance that the 75 Summilux does flawlessly.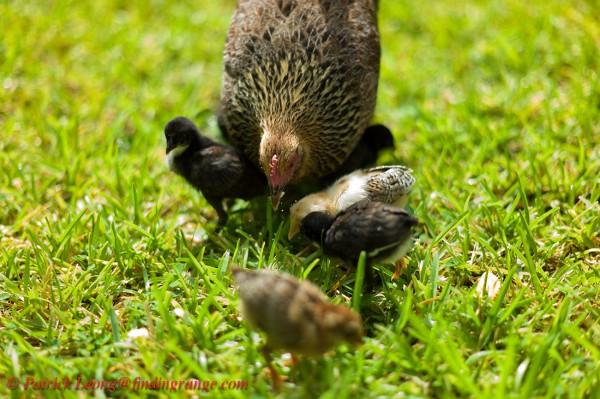 ↑ This was shot at ƒ1.4 in Grand Cayman at the condo that I was staying at for a wedding.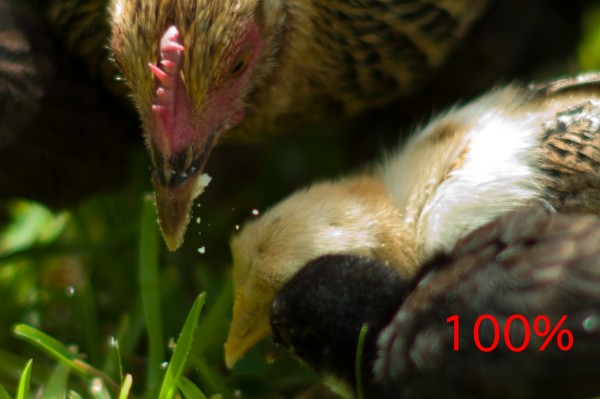 ↑ Here is a 100% crop of the image showing the little details that this lens can pick up. As you can see, it's no slouch. You can see the little crumbs from the piece of bread I was feeding the chickens. Notice how the feathers of the yellow chick blend gently into the background.
The sharpness, the smoothness, the bokeh, and the narrowly thin depth of field combine to help make the 75 Summilux a very versatile lens for various types of images. One type of image that this lens is good for is portraits. Correction: great at portraits! The lens is sharp enough to absorb all the detail you could possibly want but it is also smooth enough to flatter your subject. You combine that with the narrow depth of field, and that creamy bokeh (a 75 Summilux has a shallower depth of field than a Noctilux at ƒ1.0), you end up getting images that are simply breathtaking especially if you are planning on printing your photos above 11×14. And don't forget; you can shoot closer than you can with a Noctilux making sure you can really isolate your subject.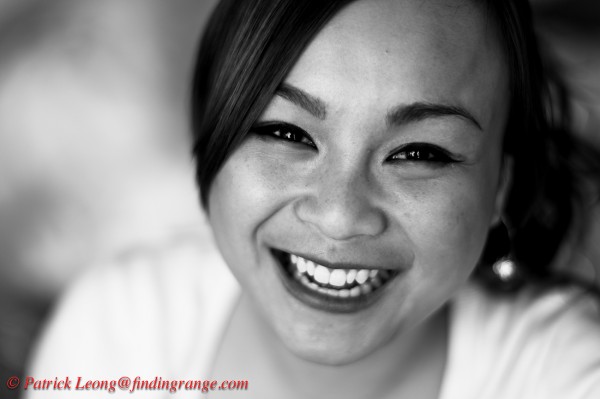 ↑ Up close and personal: This is a portrait that I shot at ƒ1.4. The eyes are extremely sharp but I just love how the rest of the subject blends delicately back into the background.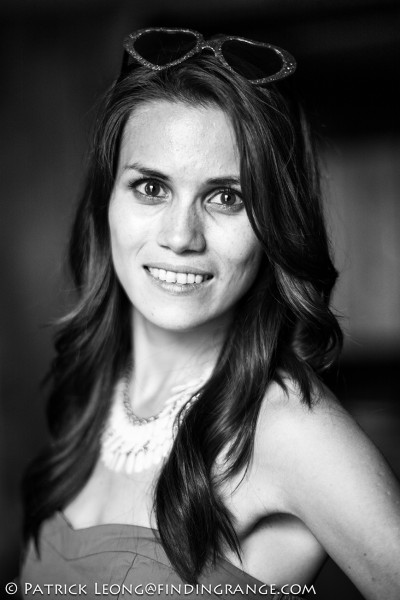 ↑ Here's another shot with my Leica M 240.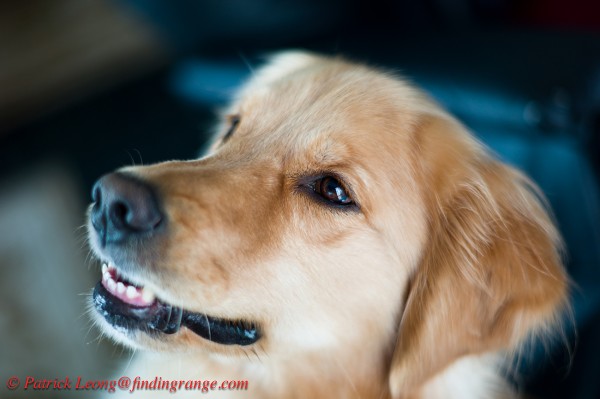 ↑ Here is another photo of a golden retriever named Kopi shot wide open.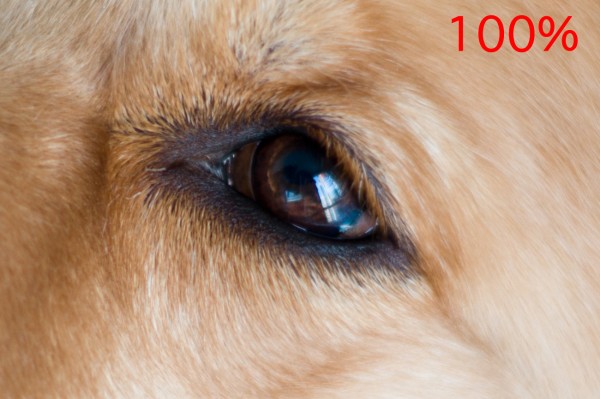 ↑ Here's a 100% crop of the photo above.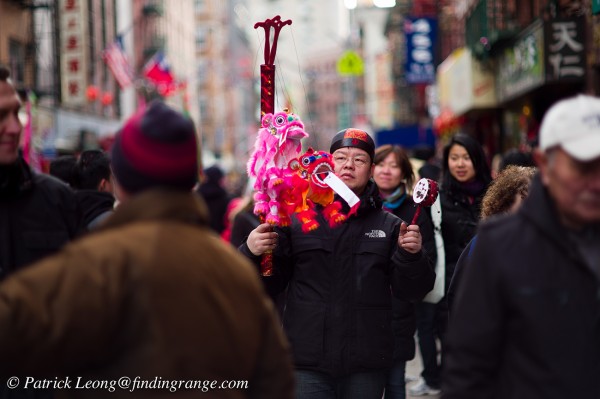 ↑ The 75 Summilux is the perfect lens when you want to isolate someone from the crowd. This was shot wide open during the Chinese New Year Festival.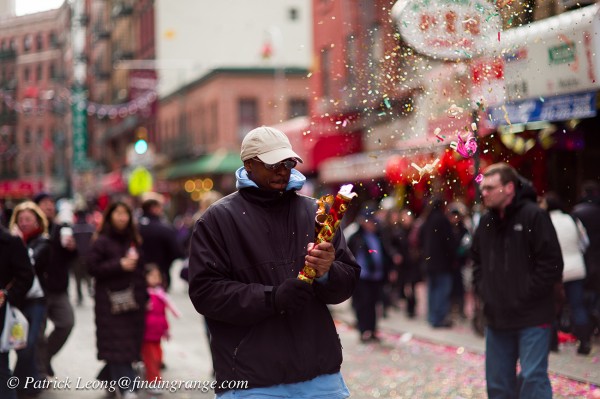 ↑ Here's another one shot wide open during the Chinese New Year Festival. Too bad New York City doesn't allow real firecrackers anymore. Yes, they were kind a scary but I think a lot of the magic was lost when firecrackers were banned.
↑ Here's a picture of the bride (my sister) during a wedding rehearsal at the Ritz Carleton in Grand Cayman.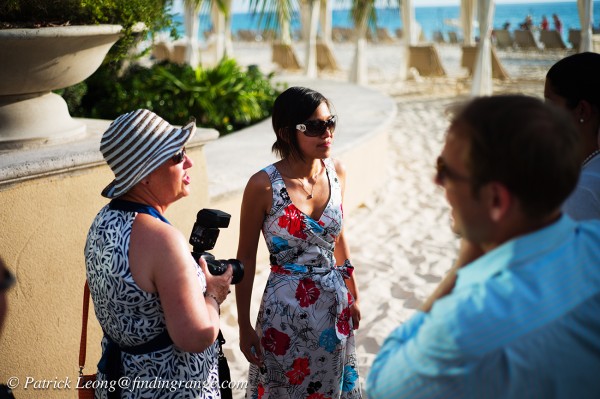 ↑ Here's a color version.
↑ Like any telephoto lens, the 75 Summilux is great when you need to keep some distance away from your subject. Combine that with the unobtrusive qualities of a Leica M9, and you can some nice candid shots from a distance.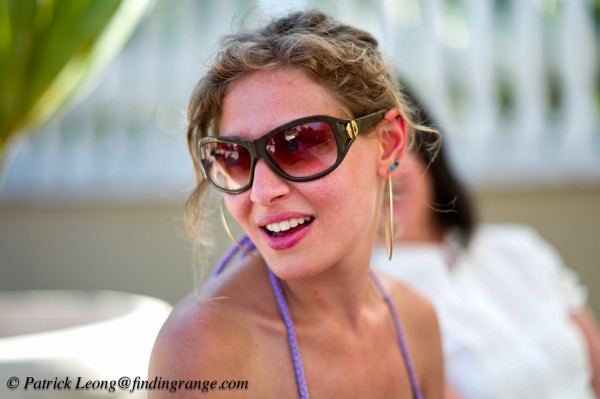 ↑ Here's a portrait of the maid of honor.
This lens is also good just simply walking around on the street. Everything is so three-dimensional with the 75 Summilux, and photos really have an organic feel to them. This is one reason why I love Leica digital cameras so much. The photos don't look digitized. They don't look flat, and they really do have that organic feel that makes them look alive…it's a very film-like quality, and we have lenses like the 75 Summilux (and the Leica sensors in general) to thank for it. This lens and the Leica M9 really help create photos with life and soul in them. BTW, I just noticed that I shot most if not all my photos for this post at ƒ1.4. I am normally a firm believer of using all apertures on a lens but I'm going to be completely honest: The 75 Summilux's wide open capabilities are truly exceptional and they are hard to ignore.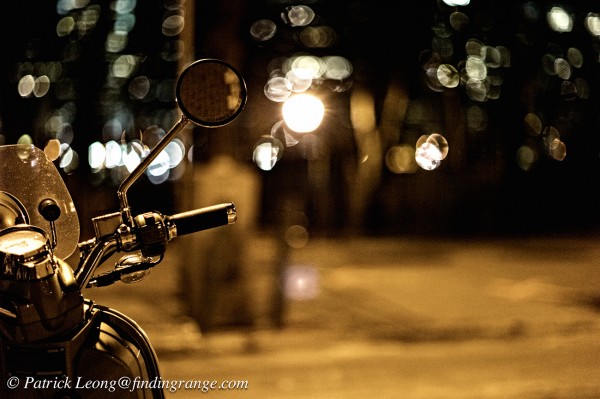 ↑ This photo was shot wide open in an area near the Promenade in Brooklyn Heights. Those nice bokeh balls are lights from Manhattan.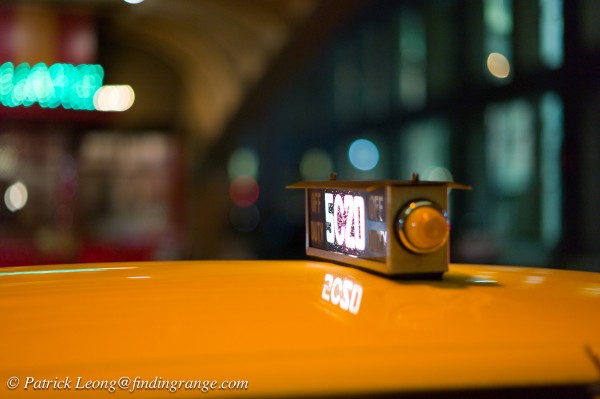 ↑ Love them or hate them…sometimes it feels like there are a million of these: Here's a New York City Cab shot wide open near Penn Station.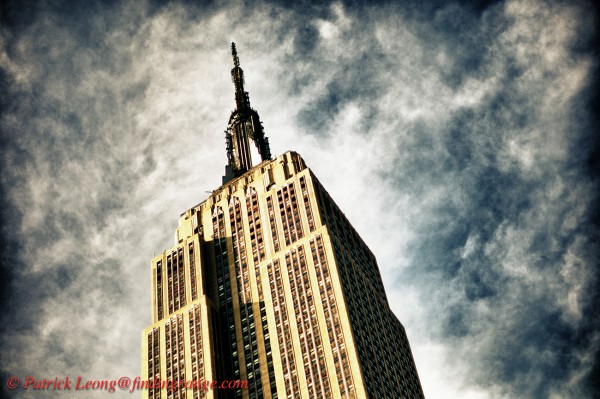 ↑ This is probably my favorite building in New York: The Empire State Building. You can check it out here. To me, this is how classic New York City buildings look like.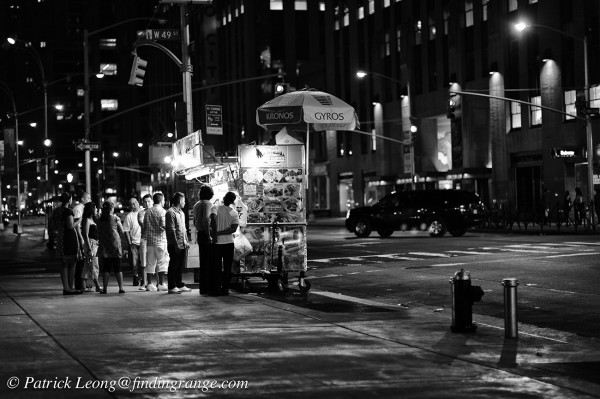 ↑ Food vendors galore: This is how New York eats at 3 am (That's if there's no Gray's Papaya around

).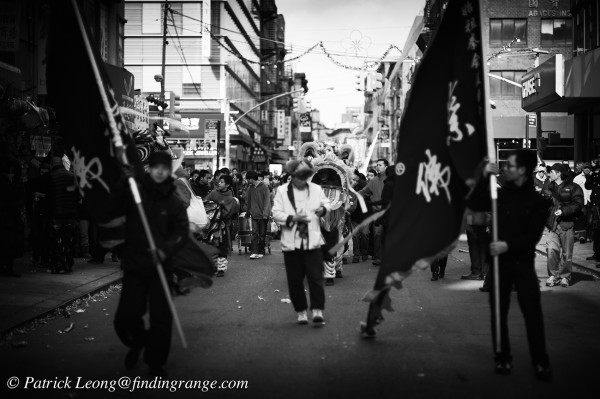 ↑ This was shot wide open in Chinatown during the Chinese New Year Festival. I had to focus rather quickly because they were marching right towards me pretty fast.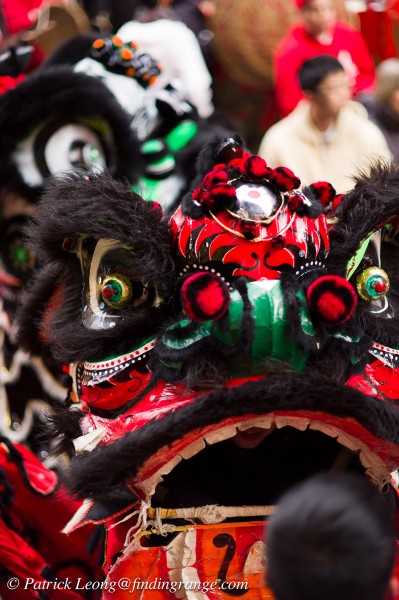 ↑ Here's another during the Chinese New Year Festival at ƒ1.4.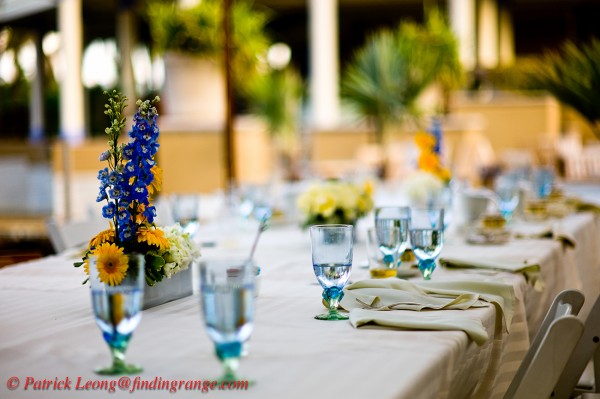 ↑ Here is yet another photo shot wide open. This was shot in Grand Cayman's Ritz Carleton during a wedding rehearsal.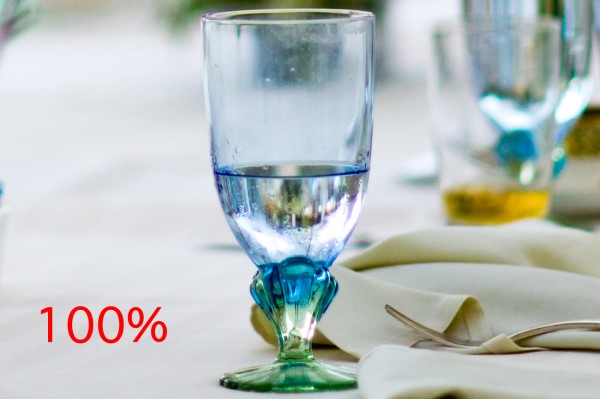 ↑ Here is a 100% crop of the image above. Notice how you can see the lipstick stains on the glass.
The 75 Summilux vs. the 75 Summicron ASPH:
I have not used the 75 Summicron ASPH yet so this section will be basic and incomplete. I just want to offer my opinion on what differences that I see between the two lenses. From what I've heard and seen, the 75 Summicron ASPH is extremely sharp, and offers the photographer the modern Leica look. This makes sense too since the 75 Summicron ASPH design is based on my favorite lens, the 50 Summilux ASPH. Peter Karbe (head of Leica optics design) kept everything pretty much the same as the 50 Lux except he removed one lens element in the first doublet behind the central ASPH element used to correct for aberrations caused at ƒ1.4 (thank you Thorsten Overgaard).
The 75 Summilux offers the more classic Leica look, and to me, the photos look more dreamy and sensual. The ƒ1.4 doesn't hurt with that either

. The 75 Summilux draws like the classic Noctilux, which makes sense since it's design is based on the older Noctilux. Don't get me wrong, I love the modern Leica look and would kill for a 75 Summicron ASPH. I just don't want two 75′s, and I love my 75 Summilux too much to even think about selling it.
In terms of size, the 75 Summicron is surprisingly small. I played with one at my local camera dealer, and was actually amazed at the size of this lens especially compared to my 75 Summilux. It's only a little bigger than the 50 Summilux ASPH. If size is an issue when choosing your 75, than you should definitely consider the 75 Summicron ASPH. I found it extremely handy, and it offers a very nice balance when attached to the Leica M9. Definitely a better balance than the 75 Summilux that's for sure.
Maybe it's the size but to me, I find that the 75 Summilux is slightly better in terms of build quality…maybe by like 0.5% if at all

. Don't get me wrong; the 75 Summicron ASPH is built very solidly (in fact, it feels like a 50 Summilux ASPH). It is definitely built to Leica standards, and it is definitely one of the best built lenses. I just found that the 75 Summilux was slightly more solid feeling to me. I also felt like the Summilux had a smoother focusing ring. But I did like the locking lens hood on the Summicron. I think that's a great idea that Leica came up with, and I'm glad that they have implemented that idea into other lens designs. Either way, you can't go wrong with either in terms of build quality because both are extremely solid, and built to last several generations without any hiccups.
Using a 75 Summilux on Another Camera Other Than a Leica M:
While this lens was meant for a Leica M, the 75 Summilux also offers spectacular results for other systems, such as for the micro 4/3 mount. I know that many of you know you can use M lenses on other systems but I ran into this video on Youtube the other night, and thought it was kind of cool. The owner of this video (n1231) uses a 75 Summilux (which becomes a 150 because of the 2X crop) and an Olympus E-P1 to make a short video, and it looks awesome. You can see the nice smooth bokeh that comes out of this lens. The same can obviously be done with the newer Olympus EP-3 or the Olympus EP-2. You would also need an adapter for your micro 4/3 mount, such as the Voigtlander Micro 4/3 Adapter for using M Lenses on Micro 4/3 Cameras.
Again, I thought this video was really cool, and if I had a camera that I could attach M lenses onto and shoot video, I'd definitely jump at the chance. I'm not a big video guy but every time I see this video, it makes me want to buy a camera that I can shoot video with (especially with my M lenses)

. It's just most of my money goes to my M system, although I will definitely buy one of these 4/3 cameras one day. Some of those new fixed focal lengths that they come out with nowadays look awesome.
You can click on the little Youtube button on the lower right hand side if you want to go to this person's Youtube page.
The 75 Summilux Pros vs. Cons:
So here's a list of the pro's and con's of the 75 Summilux.
Pros:
Build quality is second to none
Fast ƒ1.4 aperture for a Leica M telephoto
Sharp and Contrasty
Stopping down produces images that rival newer aspherical designs
Images produced are very three-dimensional
Beautiful, smooth, sensual, and creamy bokeh
Beautiful oil painting effect
Classic swirl look Leica lenses are famous for
This lens still amazes after 28 years especially on the Leica M9
Absolutely a stunning lens for portraits
At ƒ1.4, this lens has a shallower depth of field than the classic Noctilux at ƒ1.0
Smooth transition from subject to background
Cons:
Big, awkward, and heavy
Long focus throw
Focus shift issues
Sharp at ƒ1.4 but not quite as sharp as some of the newer aspherical Luxes
Getting more expensive on the used market, especially with the popularity of the Leica M9, and the shortage of new lenses
The 75 Summilux is a Gorgeous Lens:
If any of you want to see what classic Leica bokeh is, do not hesitate to buy this lens.  I bought my 75 Summilux new a while ago from Bob at Bergen County Camera.  I don't get anything for mentioning them, they're just a really good local Leica dealer that my whole family has been buying from for 30 years.  To get back to the lens, there are definitely negatives to the 75 Summilux, such as, being over-sized, and difficult to focus correctly. However, when all is well, images produced from this lens are outstanding, and exhibit great character. I believe that everyone should try this lens at least once in their lifetime. With bokeh so smooth and velvety, pictures shot with this lens look as if they almost came out of a dream.