Fuji X-Pro1 Hand Grip HG-XPro1:
Hey everyone.  I hope all of you had an excellent weekend.  It has been raining here in New York City for quite some time now.  I have been very busy photographing with some new toys, and while my review of the XF 60mm F2.4 R Macro lens is not here just yet, I do have a mini review for all of you here today.  I was at Bergen County Camera the other day, and my dealer gave me the Fuji X-Pro1 hand grip (officially called the Hand Grip HG-XPro1) to try out.  For all of you who are not quite comfortable with the feel and handling of the Fuji X-Pro1, you might want to give this a try.
Fuji X-Pro1 Hand Grip HG-HG-XPro1 Fit And Finish:
First off, fit and finish are great.  The Fuji X-Pro1 hand grip is made from a combination of sturdy metal, plastic and rubber.  Aesthetically, it matches perfectly with the X-Pro1.  Weighing around 100 grams, the X-Pro1 hand grip mounts securely to the bottom of the camera with a half turn of a recessed key, similar to the way a baseplate is mounted to a Leica M camera.  There's also a tripod hole placed along the optical axis of the lens (or in the middle) for better convenience.  Just to remind you, the tripod hole on the X-Pro1 is actually closer towards the battery door, so it is not completely centered.  Once the hand grip is mounted, the Fuji X-Pro1 and the handgrip combo feels like one solid unit.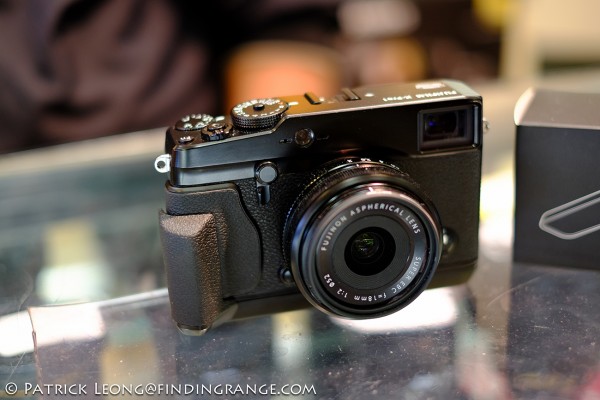 What I think of the Fuji X-Pro1 Hand Grip:
Overall, The Fuji X-Pro1 hand grip fits nicely, and anyone wanting a little more grip should seriously consider it.  The grip itself is not too big so it's never cumbersome.  In my opinion, it's actually just right in terms of size.  Plus, it does make the X-Pro1 really comfortable to hold.  Lastly, it adds a little bit of weight to the X-Pro1, which in my opinion, makes the X-Pro1 feel and handle a bit better.  Don't worry though because that slight bit of weight is not much at all, so it's not too heavy.
While the grip feels decent and very comfortable to use, I myself prefer the X-Pro1 without the grip on.  While the HG-XPro1 hand grip adds less than half an inch to the bottom of the camera, it still adds to the overall height.  I like the size of the X-Pro1 by itself, and I prefer to keep it that way.  Also, the X-Pro1 by itself does have a mini grip, and for me, it works perfectly.  I don't ever feel the need for more.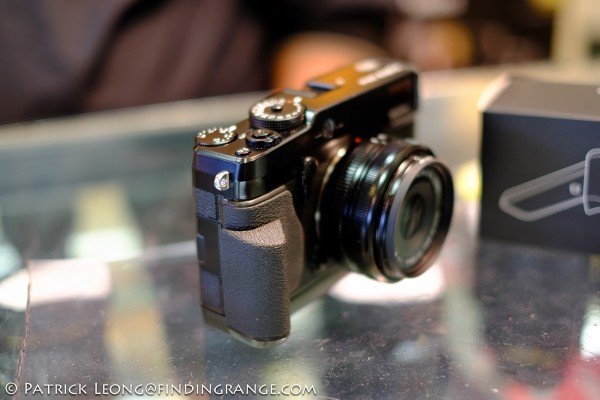 But keep in mind that this is my case, and maybe not yours.  Some may find that they do need a bit more support for the X-Pro1, and if that's the case, then I definitely recommend this hand grip wholeheartedly.  I like the fact that the HG-XPro1 hand grip is not oversized, and it really does go well aesthetically with the X-Pro1.  It's very light yet it still adds a bit more welcomed heft to the camera.  Plus, the great thing about this grip is that the tripod hole is actually in the center of the camera.  It's so much more convenient.  Lastly, the grip will help you stabilize yourself a bit more especially if you have to shoot with one hand or when you're going to use longer focal lengths such as the new XF 60mm F2.4 R Macro lens or whatever Fuji decides to come out with in the future.  The hand grip should also help you if you decide to mount Leica M lenses onto your X-Pro1 because the Leica lenses are so heavy.
The only thing worth mentioning that may go against the X-Pro1 hand grip is that you have to take the grip off in order to gain access to the battery port.  This may seem like a hassle but in in reality, it is only a small inconvenience.  If any of you are Leica M users, you're all probably use to removing the baseplate on your M's anyway.
Fuji X-Pro1 Hand Grip HG-XPro1 Final Words:
At about $100, the Fuji X-Pro1 hand grip may seem expensive to some but in my opinion, it's well worth the price, especially since it really does add some nice support, and comfort to the camera.  If you want a crazy expensive hand grip, check out the Leica's: for the price of the Leica M9 hand grip, I can buy almost three of the X-Pro1's :).
If you are  interested in the X-Pro1 hang grip, you should be able to buy it soon in all camera stores that stock Fuji products.  Right now, I noticed that some places still do not have the Fuji X-Pro1 hand grip in stock yet, and the places that do, seem to be charging a little more than list price.  You can call Bergen County Camera at (201)-664-4113, and ask Bob if he still has some left in stock.  They will ship anywhere, and they charge list price not some inflated one.  I hope this review helps, and thanks for taking the time out to read it.  Stay tuned for more to come shortly, and thanks for stopping by!