Fuji X-E1 Vs. Olympus OM-D E-M5 Part 1:
The Fuji X-Pro1 has always been compared to the Olympus OM-D with good reason: Along with different cameras from other manufacturers, such as, Sony, they're at the top of the mirrorless class.  However, the problem with the X-Pro1 was that it was always priced way to high to compete fairly with the OM-D.  To remedy this, Fuji created a camera with similar traits as the X-Pro1 but at a price that was more competitive with the OM-D: enter the Fuji X-E1.
The X-E1 and the OM-D are natural competitors for several reasons.  First off, they're both mirrorless cameras, and they both fit perfectly into their respective niches.  Both bodies are not only priced about the same, even their kit packages are priced about the same.  Furthermore, both cameras offer a beautiful choice of lens, which helps them achieve exceptional image quality, and are built extremely well.
So what makes these two cameras different enough so that some people are diehard OM-D fans, and some people swear by Fuji?  Well, in my opinion, I really think that both of these companies have different approaches to what they believe makes the best mirrorless camera.  Both these cameras definitely have different strengths but they also have different weaknesses.  I was fortunate enough to borrow an OM-D for quite some time, and I believe that some of the results are expected while there are some that were quite surprising.  I was also able to borrow the Panasonic 25mm F1.4, which I'm going to compare to the XF 35mm F1.4 R lens in part two of this comparison.  There might be a part 3, which will compare the two kit zooms.  So let's get started with this comparison :).
Build Quality of The Fuji X-E1 And Olympus OM-D: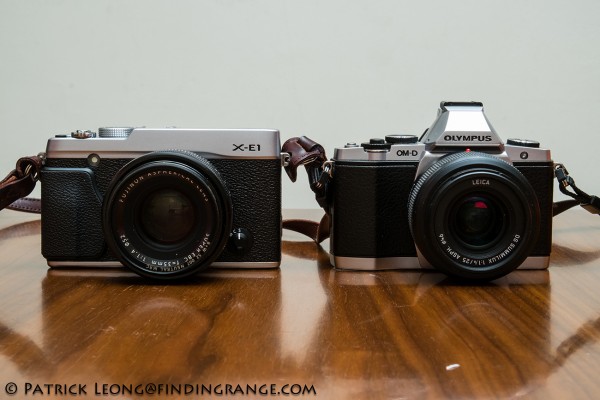 ↑ The Fuji X-E1 or the Olympus OM-D E-M5…which one do you prefer?
Whether you decide to get the X-E1 or the OM-D you will be glad to know that both cameras are built very well.  There are no complaints here as both offer solid construction, and in my opinion, are great looking cameras, which is always a plus, right? ;).  The OM-D does feel a bit more solid and dense to me, but you can't go wrong with either camera.
The one thing that's kind of useful with the Fuji is that because it does not have the hybrid viewfinder of the X-Pro1, it has space for a pop up flash.  The Olympus does not have one.  There are definitely limits to what the flash or any pop up flash can do but, nevertheless, it is still a very useful feature.  I used it once or twice :).
LCD Screen Quality of The Fuji X-E1 And Olympus OM-D:
↑ A view of both these cameras' LCD screens.
I don't put too much weight on having the best LCD screen out there when deciding to purchase a new camera but there is no denying the fact that the OM-D definitely has a better screen than the X-E1.  It's a beautiful 3.0 inch OLED screen with touch capabilities.  Furthermore, the screen can tilt.  I'm personally not a fan of tilting LCD screens because I'm a bit old school, and feel that having a solid unibody would be more beneficial.  Plus, parts get loose over time but the OM-D's is built really well, and the person I borrowed it from has had it since it's release with no issues at all.  He's been all over the world with it, and the moving parts still feel just as sturdy as they did when he first opened the box.  Now, let's talk about the touch capabilities of the OM-D.
When I first got the chance to use the Olympus OM-D, it's "Ipod like" touch capabilities really impressed me.  You can "pinch" and expand images very smoothly.  You can scroll through images with your fingers very smoothly.  You can also shoot by just touching the screen.  It really works well (definitely better than my old Blackberry 🙂 ).  You simply look at your screen, and use your finger to tap on the area in which you would like the OM-D to focus and shoot.  Simple as that.  Choosing the focal point so conveniently is one thing I really like about the OM-D.  With the X-E1, if you want to change the focus point, you have to manually adjust it through the menu, and then shoot.
One thing I should mention about the touch screen is that it can sometimes be a bit sensitive when snapping a photo . I guess it's really a combination of sensitivity, and the fact that the screen is so big for such a small camera.  I snapped quite a few photos by accident because I touched the screen accidentally.  It can be slightly annoying.  Plus, since the touch screen is so easy to use to take a photo with, sometimes I just snap away because I know I can get away with it.  Everything is a bit slower on the Fuji but I find myself sometimes taking a bit more time to compose a photo, which I like.
EVF Quality of the Fuji X-E1 vs. Olympus OM-D:
As many of you know, both of these cameras have electronic viewfinders instead of optical viewfinders.  You can't go wrong with either camera because both cameras have excellent EVF's.  In my opinion, it really comes down to preference.  The OM-D's viewfinder has pretty much no lag, which is definite plus.  There isn't necessarily a significant lag with the Fuji but the OM-D's EVF just feels smoother.  However, there is slight lag with Fuji's EVF in darker settings.  But some of this could also be caused by the fact that the viewfinder of the X-E1 is a 2.36 million dot OLED vs. the OM-D's 1.44 million dot.
The OM-D viewfinder also reacts a bit faster.  For instance, sometimes when I take the lens cap off my X-E1, it takes a bit of time for the EVF to adjust to the light.  But a way that I speed this up is just by depressing the shutter button slightly.
So why do I prefer the X-E1's viewfinder over the OM-D's?  Well, I honestly don't feel the differences between these two excellent viewfinders to be too great.  Again, this is my opinion, which might differ from yours.  In the end, I prefer the colors in the Fuji viewfinder over the Oly's.  I get quite a few emails from photographers who have never used an EVF asking me if I can truly live with just an EVF on the X-E1.  Well, the answer is that both of these EVF's work very well, and I often forget that I'm even using EVF's instead of optical viewfinders.  I never have any trouble looking through either the Fuji's or the Olympus' electronic viewfinders.
Image Stabilization Effectiveness on The Fuji X-E1 And Olympus OM-D:
Out of these two cameras, only the OM-D has image stabilization built in.  The image stabilization on the Olympus OM-D is fantastic.  You can shoot at insanely low shutter speeds hand held.  Google OM-D shots, and you'll find these photographers shooting at crazy low shutter speeds.  It's really true.  The only way to get image stabilization with the X-E1 is to purchase the zoom.  The zoom's image stabilization is quite good but it isn't quite as good as the Oly's in-camera stabilization.
Weather Sealing, None on The X-E1?:
Unlike the X-E1, the OM-D is weather sealed, which can definitely come in handy.  I wouldn't suggest throwing a bucket of water on it to test it but it can definitely add a bit of confidence when you want to go out in the rain to take some photos.  However, keep in mind that not all lenses for the Olympus are weather sealed, so just make sure you choose accordingly when you decide to test your OM-D out in wet conditions :).
Fuji X-E1 vs. Olympus OM-D Feel And Handling:
Feel and handling are both very important when considering a new camera.  The truth is, you have to be comfortable with what you're shooting with because if you're not, you probably won't be using it as much as you were hoping to.  Then you'll be checking out the web for a quick replacement, which sucks :).
The Olympus OM-D is a bit smaller than the X-E1, which is definitely a plus.  Small size is one of the reasons why so many love mirrorless cameras.  But in my opinion, the smaller size of the OM-D makes it feel a bit awkward in my hands.  I don't have particularly big hands but the OM-D definitely did not feel as comfortable in my hands as the Fuji X-E1.  The X-E1 fits my hand like a glove.  It almost feels like a Leica Mp or M6 pre-TTL.
Yes, I prefer the feel of the X-E1 in my hands over the Oly but how about some of the general controls?  Well, one of the biggest reasons why I chose to purchase my X-E1 is because the layout and controls are very minimalistic.  All the main controls are out there, and easy to get to.  For instance, I love how the shutter speed dial is mechanically adjustable, and can be accessed with ease from the top of the camera.  Also, the aperture adjustment is done by moving the aperture ring on the Fuji lenses.  Overall, in my opinion, the X-E1 just gives me more of an analog feel, which I prefer.  Its analog feel is really one of the biggest selling points of the camera, and that's why it is often compared to a Leica.  The X-E1 really fills a certain niche for photographers without having to spend $7,000 for an M camera.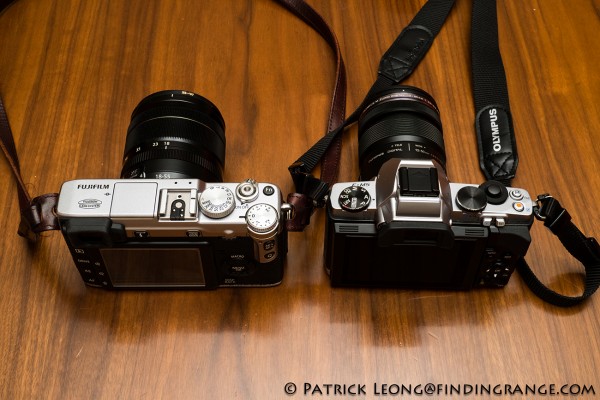 ↑ Here's a top view of both of these cameras.
With the OM-D, aperture and shutter speed are adjusted electronically by playing around with scroll wheels on the camera.  When I'm walking around taking pictures, I want to adjust aperture and shutter speed quickly, and I often do it before I lift the camera up to my face.  Maybe adjusting shutter isn't as important as back in the day because now we have aperture priority mode but adjusting aperture is something I'm always thinking about.  In my opinion, the phrase, "if it ain't broke, don't fix it" applies here because being able to mechanically adjust my aperture and shutter speed simply work without any fuss.  In my opinion, some things just don't need to be high tech but cost probably came into consideration for Olympus as well, since adding mechanical features can often increase production costs. Again, this is really preference, and therefore, may not apply to you.
In terms of the menu system, I definitely find Fuji's simpler and more basic menu easier to navigate.  But again, this is my preference, and it may differ from others.  To me, the Leica M9 still has the best menu system in my book because it's just very simple, basic, and straight to the point.  Electronically, the OM-D has so many features, which can make one feel like they're really getting their money's worth but at the same time, it will definitely need some time to get used to.  In all honestly, it's probably one of the most highly configurable cameras out there.  For many, that's a huge plus.  But for me, I just prefer a simpler system only because I find it allows me to concentrate more on the photography.  I don't even do any customization in my Fujis.  It's one of the reasons for why I love the Fujis and the Leicas.
Also, I find the buttons on the Olympus OM-D a bit fiddly and small, which might cause a bit of frustration if you have larger hands.  Furthermore, the buttons on the Fuji have a nicer feel than the squishy feeling buttons of the Olympus.  Another issue I have with the OM-D is the shutter button, which to me, feels a bit too sensitive.  The one thing that I get from using the OM-D for quite some time is that it can feel like a speed demon.  Everything is fast on it from the autofocus to the viewfinder, which virtually has no lag.  But to me, the shutter button almost feels like a nervous race car driver who was too eager, and leaped off the starting line before the green flag was waved.  There were several times when random shots were fired by accident, when my hand accidentally brushed over the shutter button.
The Fuji wasn't perfect either though.  I find that sometimes you end up hitting some of the buttons by accident when you're shooting with it particularly the ones near your thumb.  I know several other people who have X-E1's or X-Pro1's who feel the same way.  But the shutter button is more deliberate, and it has a better feel than the OM-D's.
 Autofocus Capabilities of the Fuji X-E1 and Olympus OM-D:
There is not a doubt in my mind that the Olympus OM-D autofocus is superior to the Fuji's.  The autofocus on the Oly is very fast and accurate.  It almost feels telepathic, seriously lol.  It is also very quiet.  I tried it in all conditions, and there really don't seem to be any issues with the focusing.
The X-E1 on the other hand just can't keep up with the autofocus speed of the OM-D.  I knew what I was going to get when I purchased the X-E1, and I really believe the X-E1 has many other key features that make it an excellent camera.  But the autofocus is really quicker and more accurate on the OM-D than it is with the X-E1.
It is true that if you have the new zoom for the Fuji, the autofocus is a lot quicker.  That's part of the reason for why I like the XF 18-55mm F2.8-4 R lens so much.  The focusing is also quieter.  But even with that lens attached to it, it's still not quite as fast as the OM-D.
Fuji X-E1 And Olympus OM-D Image Quality:
Both cameras are in the top tier of the mirrorless class in terms of overall image quality.  I am very, VERY happy with the results from both cameras, and you honestly can't go wrong with either one.  But there are many who believe that the Fuji does beat the Olympus in image quality because of several reasons (one being sensor size).
After shooting with both cameras for quite a bit of time, I have to say that I agree with them.  Olympus lovers, please don't send me hate mail, but to my eye, I definitely see the edge the Fuji has, and it's one of the reasons why I along with many other people chose to purchase the Fuji X-E1.  To me, images from Fuji have slightly more "pop".  Everything looks a bit richer; similar to what a medium format sensor can produce vs. a full frame sensor.  There is slightly more clarity to the images.  This does not mean that the OM-D is bad in any way.  I've seen some fantastic work shot with the OM-D (check out some of the amazing shots posted on the Olympus Facebook page), and anyone should be completely content with what the OM-D can produce.  In fact, I've loved the Pen line, and am amazed at how far Olympus has pushed the four third sensor.  It's just that to my eye, I prefer the Fuji's image quality.
How about the bokeh?  Is there really a big difference between the shallow depth of field of these two cameras?  Well, the Fuji has a bigger sensor, which means it should be capable of producing a shallower depth of field, and it definitely does.  Yeah, you could put the Olympus 75mm F1.8 lens on your OM-D to get really beautiful bokeh but you'd be shooting essentially a 150mm lens.  Some situations just don't require that much telephoto power.  I will discuss more on bokeh in part two of this comparison when I compare the Panasonic 25mm F1.4 and the XF 35mm F1.4 R lens.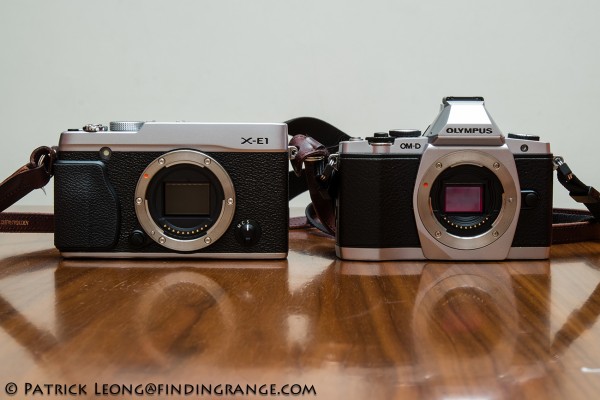 ↑ The sensors of the X-E1 and the OM-D.
Fuji X-E1 And Olympus OM-D ISO Capability:
Again, both cameras excel in the high ISO capability department but I do believe the X-E1 has a slight edge over the Olympus.  But credit needs to be given to Olympus for making a small sensor that can produce such great high ISO results.  Below, I provided OOC jpegs for you.  The cameras were set to their standard settings with auto white balance on.  In each photo, the left side was shot with the X-E1, and the right was shot with the OM-D:
The jpegs should back up what I'm saying but in the real world, the differences are more apparent.  You can really crank up the X-E1, and it will be pretty hard to tell you're not shooting at a much lower ISO speed.  With the Olympus, you can do the same thing but you don't get quite the same results.  You lose a little bit of vibrance.  To my eye, I'm impressed with what the OM-D can achieve but at the same time, it feels like it loses a little bit more versus the Fuji.
Lens Choices of the Fuji X-E1 And Olympus OM-D:
In terms of lens choice, the OM-D definitely has the upper hand.  I always thought that it was so cool to be able to use Panasonic lenses on Oly cameras or vice-versa without adapters.  But it doesn't just stop there.  There are many other companies, such as SLR magic, and even Voigtlander (for instance, the Voigtlander 25mm F0.95) who make lenses for the micro four thirds system.
The Fuji X series interchangeable lens system is still relatively new, and therefore, has a much smaller choice in what lenses you can buy for it…at least for now.  The good news is that Fuji has a lens lineup that they're sticking too, and even Zeiss has jumped on board in producing lenses for the Fuji X Series system.  But still, you can't beat the lens choices for the Olympus.
However, let me ask you all something…how many lenses are you really going to buy?  Personally, I don't have a huge lens collection because I honestly don't need it.  I prefer primes, so I pick a general wide angle, a standard lens, and maybe a short telephoto.  I also have the zoom when I feel like just using a zoom.  Yes, maybe you have more choices of 50mm's with the Oly but how many 50mm's do you really need? 🙂
However, you could also argue that by offering more choices, Olympus is allowing more people to get into the game because more choices means more lenses with a variety of prices.  Fuji branded lenses start at about $600, and the anticipated prices for the Zeiss lenses are going to be over $1,000.  That's a huge chunk of change, especially for someone who is starting out or is entering into a new system.  Also, the great thing about the Oly compatible lenses is that they also work on lower priced cameras, such as the Pen line.  This means that if you're upgrading from a Pen, you can use your existing Pen lenses on your OM-D.
 So What's The Verdict?  The Fuji X-E1 or the Olympus OM-D?:
In my opinion both Fuji, and Olympus have different approaches as to what they believe is the best type of mirrorless camera.  To me, the OM-D is at the zenith of high tech gadgetry, where as the X-E1 is all about bringing back the basic foundations of photography.
Electronically, the OM-D is simply awesome.  It's fast, it's incredibly customizable, and the autofocus is top notch.  Taking photos with it is just so easy in a good way.  The X-E1 concentrates more on the analog feel.  The X-E1 is a no-nonsense camera that has actual manual controls that can really help you concentrate on what's important: the photograph.  It's slower, which in a way slows you down a bit making you more methodical and concentrated on finding a good photograph.  Both offer superb image quality so it really comes down to preference.  You shouldn't be thinking about which camera is best but more about which camera fits your personality and style of photography the best.  You really can't go wrong purchasing either one of these awesome cameras.
If you're a reader of my blog, you'll know what I chose: the Fuji X-E1.  I bought it when it first came out here in the U.S because of my wonderful experience with the X-Pro1.  I've used it since its release, and I have no regrets at all about purchasing it.  I just love the manual controls (I really do), and analog feel.  Plus, I'm in love with the image quality.  The only other camera that I can think of that feels like this is probably my old M9 (which has an even more analog feel) but purchasing a new Leica M-E or even the Leica M will set you back $5,500 to 7,000.  The X-E1 is no rangefinder but for $1,000 bucks it's probably the closest you'll get to what a digital rangefinder will feel like.
Yes, the autofocus is definitely slower than the OM-D's but I think it's perfectly fine.  I've been shooting with Leicas forever, and hey, they're all manual focus cameras.  Even with the OM-D I still take my time when I take pictures.  It's just my style.  Yes, the X-E1's electronic wizardry is not up to the OM-D's but that is precisely why I chose the X-E1.  It's a no-nonsense camera that concentrates on the essentials of photography.  I love that purity, which I think is quite lacking these days in photography.  Honestly, I find a lot of the electronic gadgetry in cameras these days a little too much for me.  It's one of the reasons why I still buy Leicas.  But again, THIS IS MY PREFERENCE, WHICH MIGHT DIFFER FROM YOURS :).  But that's ok because it's the 21st century, and in this century we have so many choices in everything we buy.  Look at cars nowadays…we even have four door coupes :).  Luckily, whatever camera you decide to choose, there is no wrong choice because both will give you years of joy…until the updated versions come out, and you have a GAS (Gear Acquisition Syndrome) attack ;).
Thanks for taking the time to read my comparison.  Remember, this is only part 1.  Next up will be part 2, which basically compares both the Panasonic 25mm F1.4 and the XF 35 F1.4 R lens.  Take care, everyone!