If you've already read my Leica M Typ 240 Review, then you'll know that I'm planning on expanding my review into different, more in-depth parts over time to give readers a better overall user experience.  This is "part 2" of my review.  
Leica M Typ 240 Review
Leica M Typ 240 Review Part 2: Leica EVF2:
I've been using the Leica M 240 for quite some time now, and so much of it feels like every other M I've used before yet so much also feels completely new.  The M 240 has a list of expected upgrades, such as, better high ISO capability, more megapixels, and a better screen.   But Leica took it a step further by introducing new features never before seen on an M.  Some of these new features include, a CMOS sensor, movie mode, focus peaking, and R-lens compatibility.  The other big surprise is the ability for the M to use an electronic viewfinder called the Leica EVF2.
The Leica EVF2:
So, here are the details of the Leica EVF2: it comes with a leather case, has a resolution of 1.4 megapixels, and a 90° swivel action, which allows you to shoot in unusual angles.  The screen will display all important details, such as, exposure, focus peaking, and zoom/magnification capability.  It's essentially like using the live view feature on the M.  If you use the R-Adapter with the EVF, you'll essentially get a new age Visoflex: Your M will basically become an R camera minus the mirror.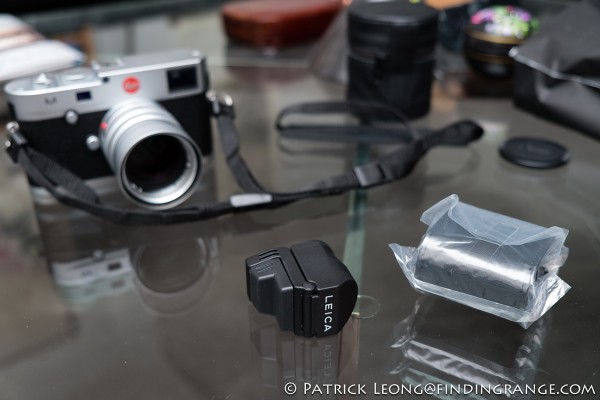 ↑ Leica EVF2 and leather case.

↑ The EVF2 leather case up close.
Is the Leica EVF2 Worth It?:
When I first bought my M, I wasn't really considering buying the EVF2.  I didn't think I would have any use for it, and I also bought the M for it's analog feel and functions.  Plus, I have the M adapter for the Fuji X Series cameras, and sometimes it's pretty difficult to manually focus my lenses while looking through an EVF.  But after using the M since March, I began embracing a lot of the new features and technology, especially the focus peaking.  I started using focus peaking with the live view, and it worked really well.  I started to think that maybe the EVF would be a good accessory to use in combination with my 75 Summilux, which is the lens I have the most trouble focusing.  My 75 Lux never focused correctly with my M9, and while it's a lot better with my M 240, it's still a hit or miss sometimes.  So, I decided to buy the EVF2, and so far, it's been a great decision.  Focusing with the EVF while using focus peaking is both fast and accurate.  One thing that I especially love is that you can set the M up so when you turn the focusing ring on the lens, it automatically magnifies the view in your EVF just like on the live view.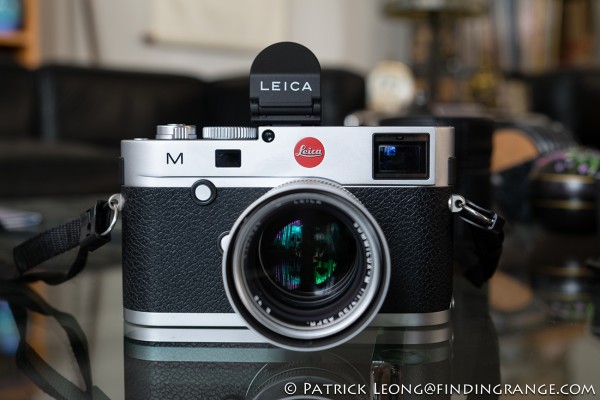 ↑ Front view of the Leica M with the EVF2 attached.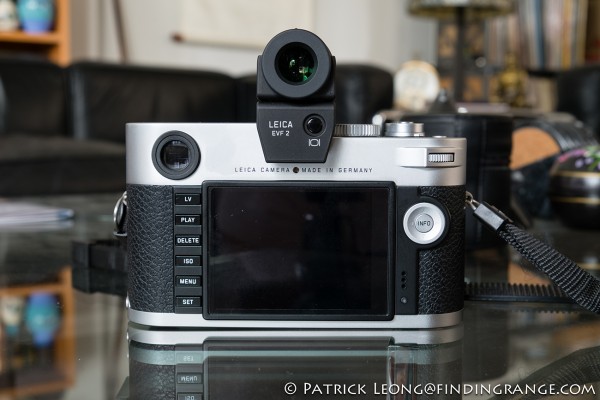 ↑ Back view of the Leica M with the EVF2 attached.
Another great feature with the Leica EVF2 is it can make shooting in different angles much easier with its 90° swiveling action.  I can shoot at so many different angles so much more easily, and it's quite fun to use.  Some say that it might have been a better idea if Leica gave the M 240 a hybrid viewfinder like the X-Pro1 but personally, I really like the swiveling viewfinder.  It's great, especially if you have a particularly big lens on (for instance, the 75 Summilux), which can be awkward, and heavy to hold in certain angles.  Plus, in my opinion, a hybrid viewfinder might take a little bit of the analog charm away from the M.  I think Leica chose wisely when they decided to make an optional EVF because I know there are some who just want a bare bones M.  In this respect, the people who want more tech in their M, and the people who don't are essentially both satisfied.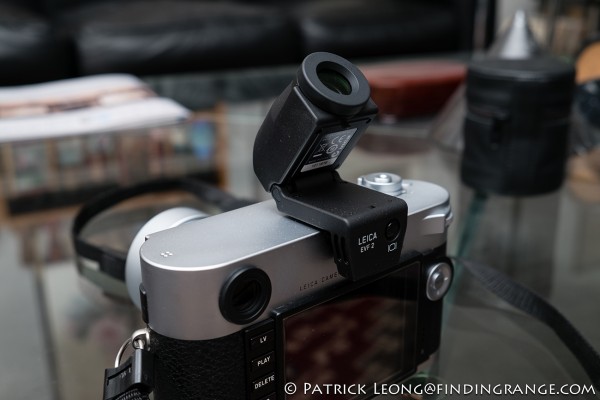 ↑ The Leica EVF2 can swivel 90°.
The only bad thing about the EVF2 that I can think of is it'll  cost you $500 to $600.  Some people purchase the Olympus Vf-2, which costs around $250.  I have not used the Vf-2 but many have, and it seems to work fine for them.  But whether you decide to buy the Leica version or the Olympus version, the EVF is a great way to actually save you some cash in the long run if you have several wide angle lenses.  While Leica optical viewfinders are beautifully made, they cost around $800 to $900 a piece.  If you have different wide angle focal lengths, you'll need to buy several different optical viewfinders.  It's lighter just to carry this one EVF, and it'll also be cheaper since the EVF2 works with all of your M lenses.  Plus, you can focus by looking through the EVF versus using the built in viewfinder to focus, and then composing with the attached optical viewfinder.
Leica EVF2 Final Thoughts:
I personally believe the Leica EVF2 is a great accessory to get for the M, and I highly recommend it.  It's expensive for what it is but at the end of the day, the EVF2 just makes the new M even more fun to use.  It really does :).  It also helps you focus a lot better with fast glass.  I'm really glad I gave the EVF2 a chance.  I understand that for some M users, this may be a little more tech than they would prefer.  I'm a traditionalist myself when it comes to my M but I have to admit; a lot of the new tech in the M 240 is really nice to have, and it's definitely enhancing my M experience.  The great thing about all of this tech is that if I don't feel like using it, I can turn everything off, so in that way, my M will shoot just like my old M9.  The only difference is that I will get better image quality, and a mechanically more mature camera with the M 240.  Using an EVF on an M is a completely new experience for M users but one that is totally worth embracing.
If you want to see some images with the Leica M, EVF2, and the 75 Summilux, you can check out this post.
Leica M Typ 240 Review