Anker Astro Mini 3000mAh Review:
These days, we rely on our smart phones more than ever.  When I'm away, I don't always bring my laptop with me, and often times, I rely on my phone to search the web, check my email, work on blog-related business to even showing my pictures to whoever is interested.  But since I use my iPhone so much, the battery usually doesn't make it to the end of the day.  So, what are my options?  Well, I could shut some of my apps down or I could simply use my phone less.    I can also bring my wall charger, and pray I'll find some place to charge it during the day.  None of these options really sounded good to me.  That's when I started looking into portable chargers, and that's how I came across the Anker Astro Mini.
Some of you may be wondering what the Astro Mini is doing here, since it's not a full fledged photographic piece of gear but the truth is, a smart phone plays an integral part in a photographer's kit.  It can help find locations or order some film in a hurry.  It can show your portfolio to someone, and it helps you keep in contact with your clients.  You can even download a free handheld meter app that actually works quite well.  The phone itself can actually be someone's camera, and there's plenty of cool post-processing apps to support those photos.
So why did I pick the Astro Mini?  I've been wanting to get a portable battery charger for a while but I didn't want to spend too much money.  I also didn't want to carry something bulky and huge.  I searched Amazon and found some chargers for around $13 to $15, and while they did have high ratings, I ultimately went for the Anker Astro Mini because not only did it have high ratings, it had over 5500 reviews as of today, and many mentioned Anker has great customer service, which is always a big plus in my book.  Best of all, at around $20, the Astro Mini is priced very reasonably.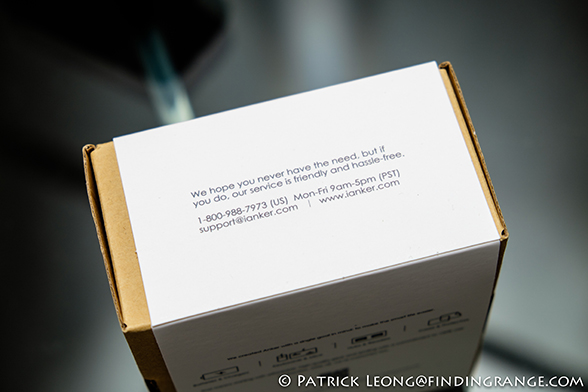 ↑ Any problems?  Customer service info written right on the box.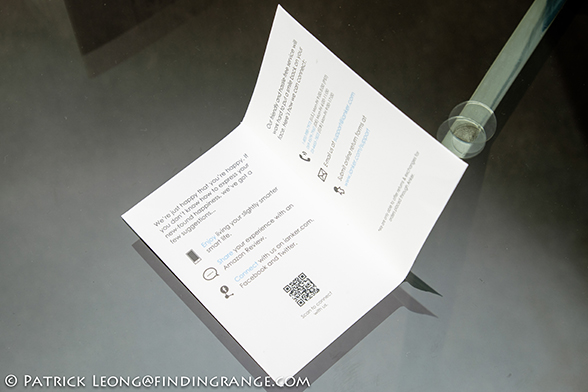 ↑ There's even a small pamphlet for customer contact info.
Anker Astro Mini 3000mAh Build Quality:
So, what do you get for less than $20 and free one day shipping?  Well for one, build quality is excellent.  True, the Anker Astro Mini is basically just a battery with a case but you'd be surprised at how some companies can actually mess that up.  The Astro Mini is sleek and understated.   The shell is beautifully crafted out of aluminum, it uses Samsung Grade A cells, and measures 3.7 x 0.9 x 0.9 inches making it wonderfully compact.  At 2.8oz. it's not that heavy either.  It comes in pink, blue, and black.  If you don't want the PowerIQ technology, which helps each port intelligently identify your device and seeks to maximize its charging speed, then you can also get it in silver and save $3.  The Astro Mini only comes with a Micro USB cable, so iPhone users will have to use the cable that came with their phone.  But again, it's less than $20, and I'm perfectly fine with using the cable that came with my iPhone.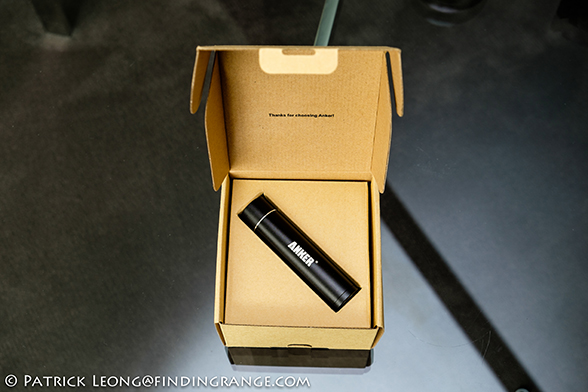 ↑ The Anker Astro Mini 3000mAh.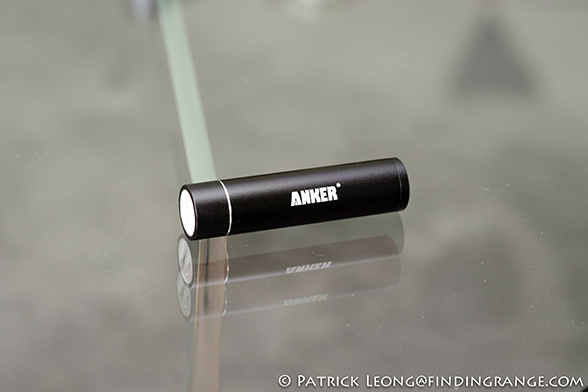 ↑ The Astro Mini is very compact.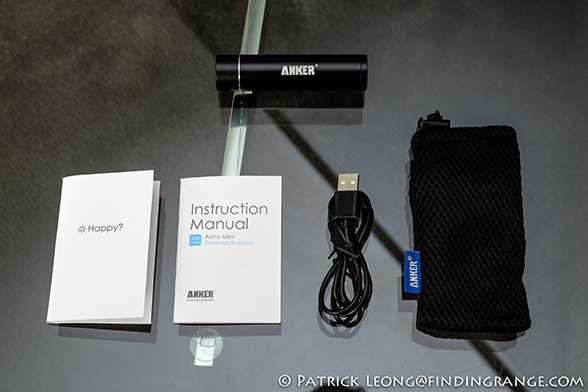 ↑ Here's what's included if you buy an Anker Astro Mini.
Anker Astro Mini 3000mAH in Daily Use:
The Astro Mini operates seamlessly in daily use.  When I get home it takes me maybe three to four hours to completely charge it with the power adapter.  While the Astro Mini is charging, a yellow light turns on.  Once the light is off, the Astro Mini is fully charged, and ready to go.
There are two slots on the Anker Astro Mini; one micro USB port and one regular USB port.  To charge a device, simply connect the Astro Mini to the device with the supplied micro USB cable or iPhone cable.  After you plug the charger into your device, press the small button on the Astro Mini, and a steady green light indicates that charging is occuring.  When the device is fully charged, unplug the charger.  The green light will begin flashing, if there is only 2% capacity left.  If you ever need to check if you still have charge left in the Astro Mini, simply press the power button once, and if there's still charge, the green light will turn on for five seconds.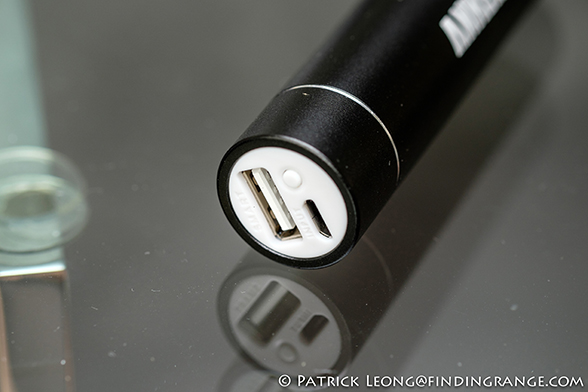 ↑ There's one micro USB port and one regular USB port.
Here are the charging results that I got: With my iPhone's power down to 25%, it takes about one and a half to two hours to charge it back to 100%.  I think it depends on how much the device is in use while it's charging and what apps are running.  I've actually charged my phone from 25% back to full charge, then drained it back down to 19%, and still got another full charge out of it.  When that full charge dropped down to 45%, the Astro Mini still had some juice left, so I attempted to charge it again, and my Astro Mini finally died when my phone reached 69% charge.  That's not bad at all, especially for a charger that is really designed to help you make it through at most, a couple of days and not the week or longer.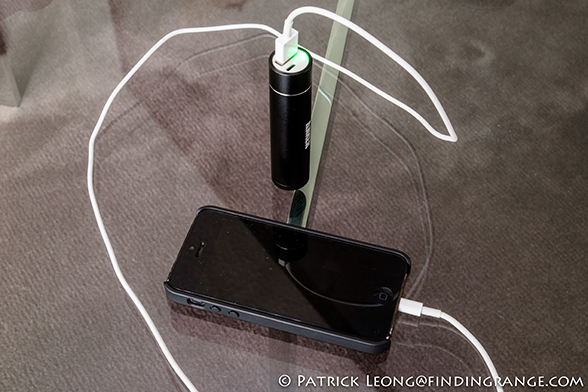 ↑ The Anker Astro Mini as it charges my iPhone.
So far, the Anker Astro Mini has met all of my expectations if not exceeded them.  Are there portable battery chargers with more charging capabilities?  Sure there are but they're more expensive, and more importantly, they're larger and heavier.  Remember, this charger is meant to be small and extremely portable.  For me, the compact size of this charger is one of the most appealing aspects of the Astro Mini.  I often walk all day when I'm out taking pics.  Every little bit of weight that I can knock off is important.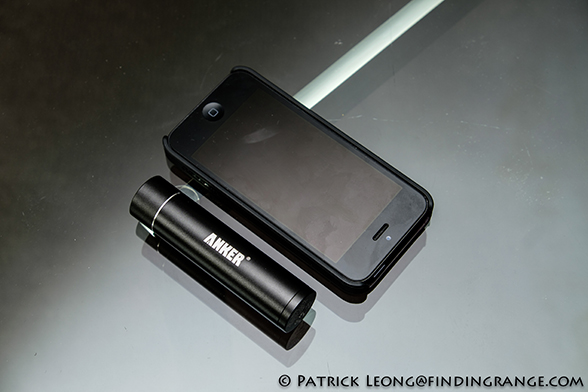 ↑ How the Anker Astro Mini compares in size with my iPhone.
There might even be some chargers that are cheaper but with the same amount or greater charging capabilities but from what I've been experiencing so far, this charger is reliable and well built.  If my phone is running low in power, I just plug it into my Astro Mini and throw it in my bag.  It's that simple.  It does what it's supposed to do, which is to keep my phone going for the day or maybe even a weekend.  Therefore, for what it's designed to do, it's perfect.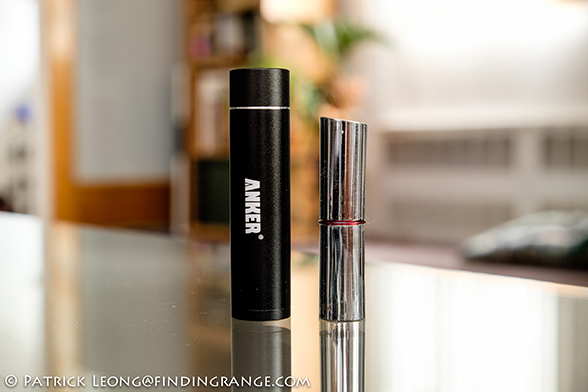 ↑ The Astro Mini is not much bigger than a lipstick tube.
Anker Astro Mini 3000mAH Verdict:
As you can probably tell, I'm quite happy with the Anker Astro Mini.  There are products out there that sometimes make me think that maybe I shouldn't have wasted my money (even if it is only $20) but the Astro Mini is totally worth it.  It's reliable and does exactly what it's suppose to do: keep my phone going for a couple of days.  It's simple to use, it's beautifully designed, it's priced very reasonably, it feels heavy duty, and it makes things more convenient.  I never have to worry about my phone dying.  I highly recommend this product to anyone who needs a good portable charger for the day or even a weekend but doesn't want to be burdened with bulkiness, extra weight, and a hefty price.