Note from Admin: Here's a excellent review of the Filson + Magnum Harvey Messenger bag written by professional photographer, Marco Sobrevinas.  He's been a photojournalist for years and is currently a fashion photog.  Check out his new site, Eyebeam Images, when you get a chance.  He definitely knows his stuff.  Enjoy!
The Search for the Ideal Street Photography Bag
Like Patrick, I've also been a long-time user of Billingham bags.  I bought my first Billingham 20 years ago (an original Hadley), and my Hadley Pro, which I still own, is old enough that I don't remember the year that I purchased it (maybe a decade ago, during its first year of production?).  I also use a 335 for professional location work.
The Hadley Pro is nearly the ideal street photography bag for a couple of rangefinder style bodies with lenses mounted, and perhaps a third lens stored by itself.  Its insert is fantastic.  Light padding with an interior that allows Velcro dividers to be placed anywhere on the inner walls, so an infinite combination of space division can be created, based on whatever load-out I happen to be using that day.
The bag is silent to open, using two Clog Balls on leather straps.  There's a handle on the top flap so I can grab the bag quickly off a table or the floor, or use it as an alternative to shoulder strap for hauling it around.   That latter feature, a secondary grab handle, is sufficiently important to me that, over the decades, the only camera bags or satchels that I keep are the ones that have some form of secondary carrying handle.
There's a useful back pocket for tickets, papers, slim note pad, etc.  And as Patrick has mentioned in his reviews of various Billingham products, the Hadley Pro is built to last.  Other than worn (and replaceable) strap closures, the bag still looks like it's in great shape and doesn't look like it's over a decade old.
With all of that said:  after over 10 years of use, there were a few design aspects of the Hadley Pro that I thought could be improved.
First of all, was the grab handle.  Like the Domke F-802 and F-803 satchels, the grab handle is solidly attached to the  satchel's top flap.  The handle is rigid, so it allows easy control of the Hadley Pro through a crowded subway – but only if the top flap is closed securely.  Without the Clog Ball straps secured, the flap flips open if you grab the carry handle.
I much prefer handles that can be used regardless of whether the top flap is open or not.  When I'm shooting on the street or on location, I don't always secure the top flap each and every time I access the bag.  So I like using the carry handles on bags such as the original Domke F-2, and the Artisan & Artist 7200.  You can pick up those bags via that strap without having to worry about whether the top flap is securely closed or not.
I'd also prefer a single closure for the top flap, similar to a Domke satchel.  The double straps on the Hadley Pro isn't necessary, in my opinion.
There are no really small pockets to hold today's spare batteries and SD cards.  The front pockets on the Hadley Pro are quite large for those items.  It would be nicer to have smaller, discrete pockets to hold those items.
Although I'm usually a suit or blazer guy, on a hot summer day, there's no way I'm wearing a jacket while baking on a city street doing candid photography in the sun.  That means I need to secure my wallet and mobile phone in my camera satchel instead of a jacket.  The Hadley Pro has two out pockets, but their ready access also makes them vulnerable to easy theft.  I suppose I could just tuck my wallet and cell phone in the slim, zippered pocket at the bag of the Hadley Pro, but I wanted a good balance of security and fast access to the mobile phone, in particular.
Speaking of sun, over the years, I've finally gotten smarter and started to wear a hat virtually every time I'm outdoors.  If it gets really cloudy out or I step indoors, I like to remove my hat immediately.  My Hadley Pro is a decent size, but it's just a touch too small to store my hats without really squashing them in there.  That's OK for one of my hats (an ancient Tilley), but my other packable hats aren't meant to be rolled or folded.  Their crowns collapse, but I need a bag that's large enough to store the entire outer circumference of the hat's brim.
For me, I've found the Hadley Pro's overall size is great for carrying camera-only gear, but a bit too small for the other "everyday" items one needs to be comfortable while walking city streets for an extended time period.  When I'm out for a half or full day of shooting, it's not just cameras and lenses that I'm carrying.  I'd like the bag to be large enough to store the aforementioned hat, perhaps a thin, packable shell, or even a wrapped sandwich that I might happen to buy while on the street.
When I bought the Hadley Pro ten years ago, I was using Macbooks that were 17" or even 20" in size.  Big enough that I always required a dedicated laptop briefcase for them, separate from my camera satchel.  In recent years, the Macbooks I've been using have been getting smaller.  My current one is 13" which can "sort of" fit into the Hadley Pro.  But it's really not ideal, nor is there a padded insert to provide some shock absorption.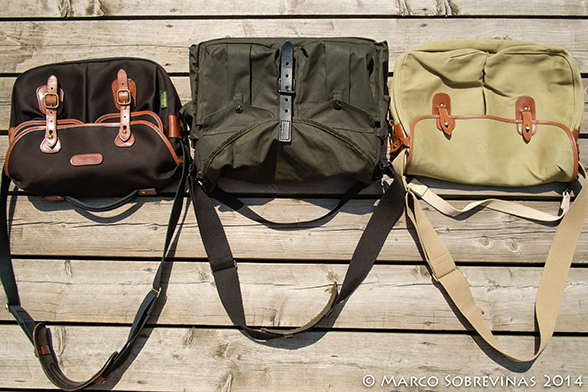 ↑ Left to Right: Hadley Pro, Harvey Messenger, Brady Gelderburn
The Hadley Large is not an option because it's missing the grab handle and back pocket of the Hadley Pro, two features which are essential to me.  I have an old Brady Gelderburn fishing bag with an attached carrying handle (the retailer who sold it to me had attachment loops sewn in) and a convenient back pocket, and the bag is about the right outer dimensions, but the bag has an annoying zipper to the main compartment.  I've tried placing in other manufacturer's inserts and that zipper makes access truly inconvenient.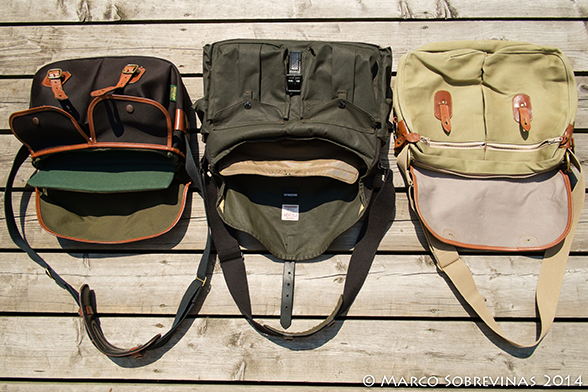 ↑ Left to Right: Hadley Pro, Harvey Messenger, Brady Gelderburn
Filson + Magnum Harvey Messenger
Luckily, this past May, Filson released their new line of camera bags at their NYC store, four of which were designed in collaboration with noted Magnum photographers David Allan Harvey and Steve McCurry.   The bags would not be available online until June, but I already had a trip planned to visit New York City.  So a call to the new Filson store with a credit card secured my choice – the Harvey Messenger bag.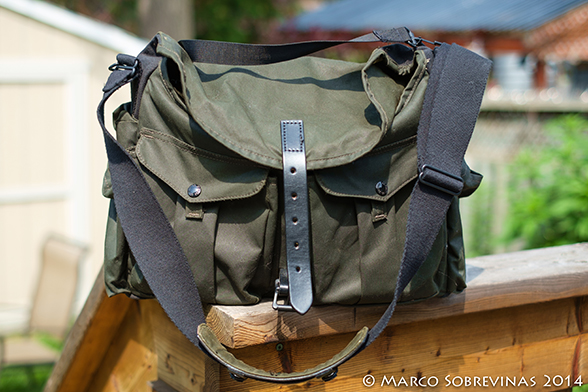 ↑ Filson + Magnum Harvey Messenger Bag
In late May, when I went to pick up the new bag, I arranged to meet Patrick in person at Filson's.  This is a shot of us, made by my wife, while we were admiring David Allan Harvey's photography on the wall.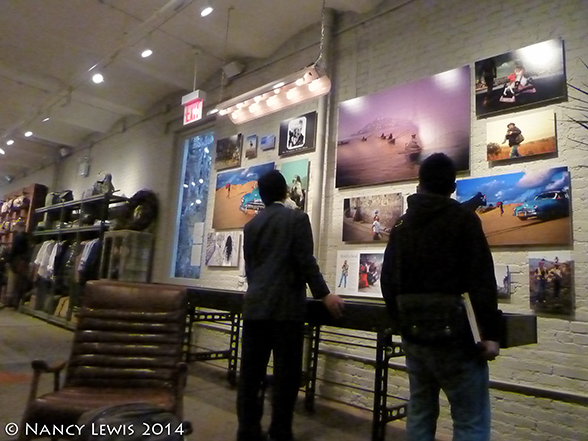 ↑ Marco of EyeBeamImages & Patrick of FindingRange @ Filson NYC. Photo by Nancy Lewis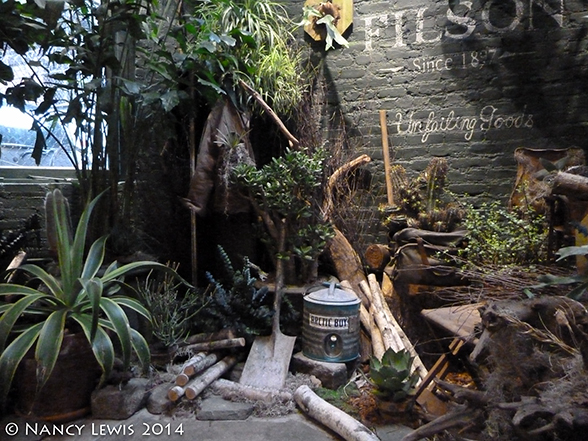 ↑ Filson's Living Wall at the rear of the NYC store. Photo by Nancy Lewis
The Harvey Messenger is obviously named after Mr. Harvey, and looks like it's an extensive modification of Filson's Game Messenger bag.  Some might criticize Filson for not creating a camera bag from the ground up, but I disagree.  A lot of Filson's bag designs are years or decades old.  They're proven pieces of kit, so it makes sense to me that it's better to take an existing, functional design and get feedback from an experienced Magnum shooter like Mr. Harvey, to optimize it for photography.
The Outer Material: Light Weight and Water Resistant
I'd already read a couple of reviews about the Harvey Messenger bag.  One mentioned that the cloth was lighter in weight than other Filson briefcases and bags.  Comparing it to their other bags on display at their NYC shop, I would agree.  The cotton is treated and highly water resistant, yet it's a lot thinner than Billingham's multi-layered material that they use on their satchels and bags.  Time will tell if the Harvey Messenger will have the same longevity as a Hadley Pro.
It didn't take long for me to test out its water resistant qualities, however.  During the week in May that I was in NYC, there were a couple of flash flood warnings and I got caught outside both times.  Despite the heavy downpour, the Harvey Messenger kept the interior of the bag completely dry.  I could see the treated cotton shedding the water and not absorbing the rain at all.
Size
The Harvey Messenger is wider than a Hadley Pro, which measures at 13.8" W, x 11" H x 4.8" D.  Its closer in size to the Brady Gelderburn fishing bag (16" W x 12" H x 5'" D), which is what I was looking for.
Filson's stated measurements of 16.5" Width (including its end pockets – it's about 14.5" without those measured) by 11" High and 4.5" Deep is about correct.  Keep in mind these figures are always going to be approximate, as the Harvey Messenger is very soft structurally, and expands or can be compressed depending upon the volume you place inside it.
Although it's slight larger than the Hadley Pro, the Harvey Messenger is softer so it wraps around my torso better than the Hadley, so it doesn't feel larger.  I've also found the secret to ease of use with a larger satchel (like my old Brady and now, the Filson) is not to fill it to capacity for street use.  Keep the load light, and keep extra room for clothing you might want to temporarily shed (e.g. a hat or vest).
Unlike the Gelderburn, the Harvey Messenger doesn't use a zipper on the main compartment, so the large, unobstructed opening provides easy access.  It also has the all-important carry handle and slim back pocket, two features missing on the Hadley Large.
It was easy for me to tuck in a packable hat in between the removable camera insert and the permanent laptop sleeve.
Laptop Sleeve
The permanently sewn in, laptop sleeve is ideal for my Macbook Pro 13" which I have housed in an aftermarket, protective hard shell.  The sleeve could probably fit a 15" without a protective shell.  There's a single press fit button to keep it secured in the laptop sleeve.  It's great that new designs from many bag manufacturers are including a laptop insert, almost as a matter of course.  Digital photography goes hand-in-hand with the use of a laptop for most pro shooters now.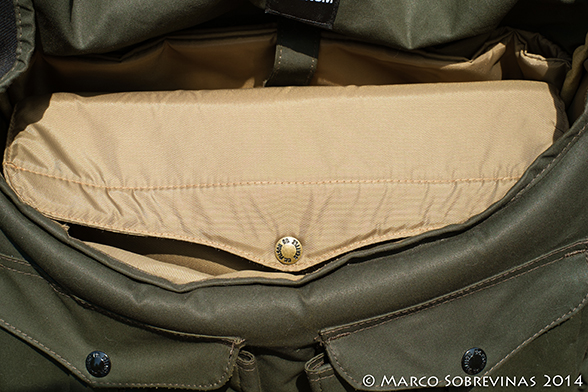 ↑ Photo Insert's Flap in Closed position. At rear is the permanently sewn in padded Laptop Sleeve
Press Buttons
Regarding the press fit buttons – ALL of them (on the front pockets, the laptop sleeve, the camera insert and the mobile phone pocket) are sewn securely into a finger loop.  As pictured, it's very easy to slip one's index finger in the loop and then press the button securely shut with the thumb.  A truly one-handed operation.  It's fast and easy – much quicker than Billingham's Clog Ball closures or Domke's steel spring clips.  Unlike the Velcro closures on my A&A bag, it's a nearly silent operation too.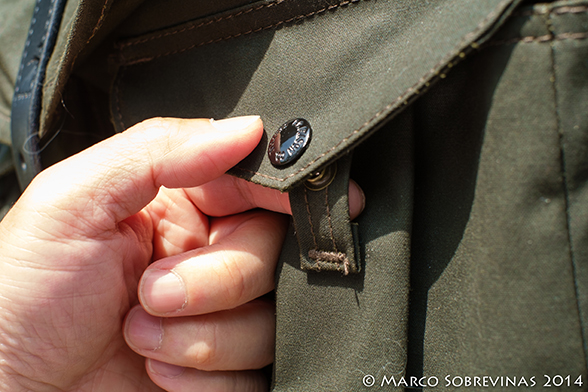 ↑ Easy to use Press Button on Finger Loop
Pockets
Over the past month I've used the Harvey Messenger, I've found the front pockets handy for important but not overly valuable items, such as lens caps or body caps, blower bulb and micro fiber cloth.  As I mentioned, these pockets, like on the Hadley Pro, F-803 and Brady Gelderburn, are probably the most vulnerable to theft when shooting on the street, so I've learned over the years to put items in them that I can afford to lose.
Missing on all of my previous satchel bags are end pockets.  Certainly, it's possible to attach accessory pockets on the Billingham and Domke bag systems.  In the case of Billingham, I find these added pockets attached to a Billingham 335 essential when I'm carrying a full, professional location load-out on location.  But they're overkill for a street photography satchel.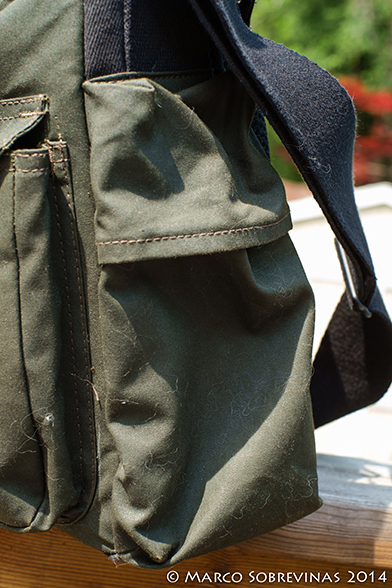 ↑ Slip side pockets with rain cover at top
The slim pockets with rain covers on the Harvey Messenger are perfect for my needs.  I'll drop in a couple of extra batteries and perhaps a back-up SD card in them.  The pockets are small enough that those tiny items don't get "lost" or "swim" around, which can happen in a larger compartment.
On the back, is a mesh pocket that spans the entire width of the bag.  This is great for carrying papers such as print outs for flight or hotel reservations.  Hidden by those papers, I'll also slip my passport and boarding pass in there, for handy access as I go through the different checkpoints at an airport.  Once through, I'll move the passport to a more secure location – but it's certainly convenient to have my passport and boarding pass in that easy to access back pocket.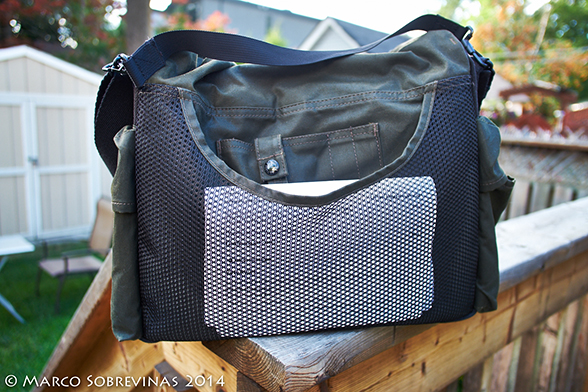 ↑ Mesh pocket can hold printed travel itineraries.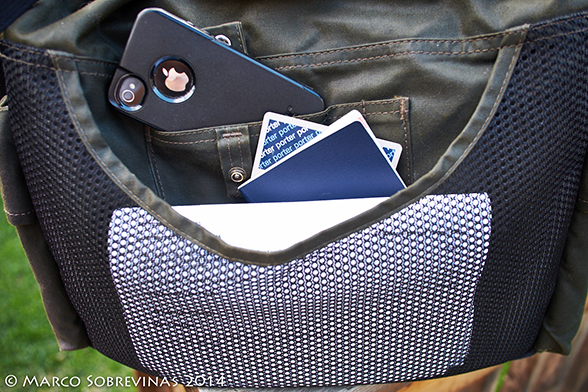 ↑ Passport & boarding pass can be hidden behind paper for easy access while travelling through airport security. Phone is also easy to access in its own pocket.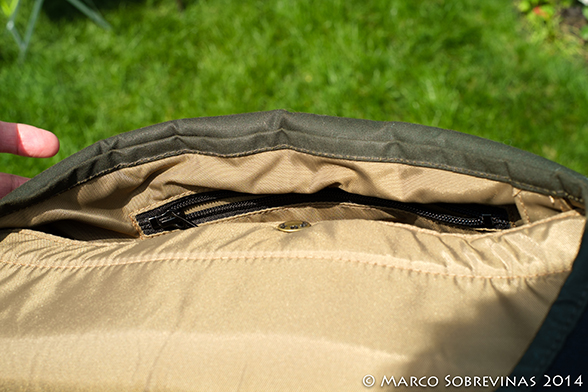 ↑ Zippered Pocket hidden inside the main compartment
Two penholders are great for filling out customs forms in airports or jotting down notes.  And I really like storing my iPhone in the mobile phone holder, if I'm not wearing a suit jacket or blazer.  Again, there's an easy to use press button with finger loop to keep the phone secure.  It's also easy to hear the phone ringing, as it's not buried deep inside the bag.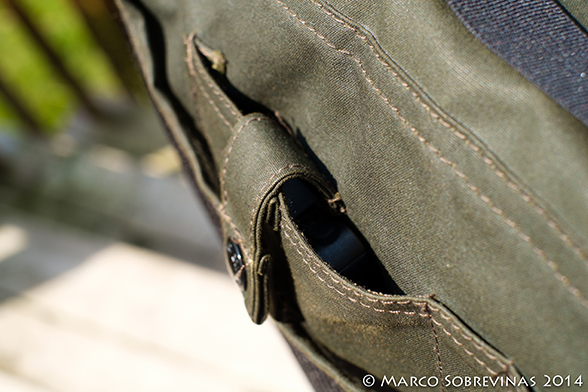 ↑ Back pocket storing iPhone with Press Button closure. Pen holders to the right
There have been one or two comments on the web that the button on that back pocket could be annoying against the user's torso while carrying the Harvey Messenger.  I have a similar button closure on my Brady Gelderburn bag that I've used for 12 years and have never noticed it, nor does it wear down or pill my clothing.  I've only used the Harvey Messenger for over a month, but it too, is not annoying in the least.
Shoulder Strap & Carry Handle
Up top: there's the main shoulder strap and the grab handle.  I can lengthen the strap so that it fits cross body, with or without a suit jacket.  I prefer that style of carrying a satchel on the streets, for security.  For the brief moments that I'll throw the bag over a shoulder only, its shoulder pad has sufficient grip that it doesn't slip off my sloping shoulders.  In contrast, the aged pad on my Billingham Hadley Pro is so slippery now that I've had a couple of close calls with the bag nearly dropping to the pavement.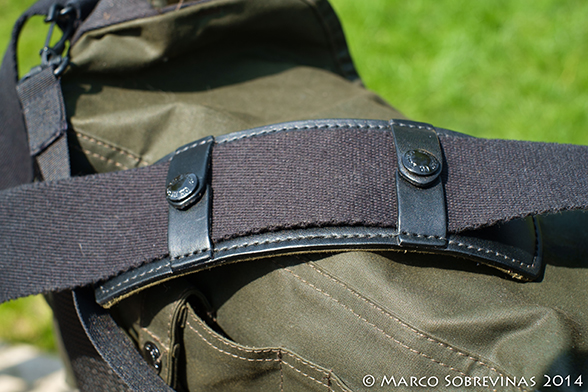 ↑ Removable Shoulder Pad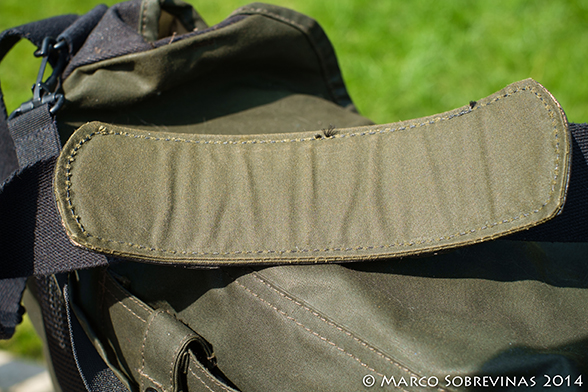 ↑Underside of Pad provides sufficient grip on shoulder
The grab handle is similar in arrangement and design to what's still used on the Domke F-2 bags.  As mentioned before, I find this the most functional of grab handles.  The Domke and Filson grab handle works whether the top flap is secure or not, and the soft strap handle is easy to grasp when pulling the bag out of a car or taxi, as veteran AFP photojournalist, Robyn Beck, pointed out to me decades ago.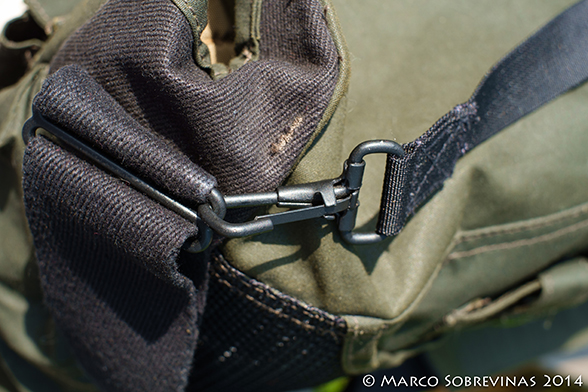 ↑ Grab Handle's attachment point
Even though the grab handle doesn't have its own, dedicated attachment rings (it's simply clipped to the d-rings of the shoulder strap) and therefore, clips on asymmetrically, curiously, the Harvey Messenger still hangs straight down when hauling it by the grab handle.  This doesn't occur when I use a similar arrangement on the A&A 7200 bag, for example – that one makes the bag hang at an annoying tilt.
Buckle Closure Strap
Since the Harvey Messenger, including the top flap, is adapted from an existing design, Filson's Messenger Game bag, it uses the legacy strap from that bag.  This is a beautiful piece of bridle leather that is secured with a buckle closure.  Unlike the Hadley Pro (with its quick release Clog Balls) or Domke F-803 (with its metal spring closure) or A&A 7200 (Velcro), there is no quick release opening of this main buckle.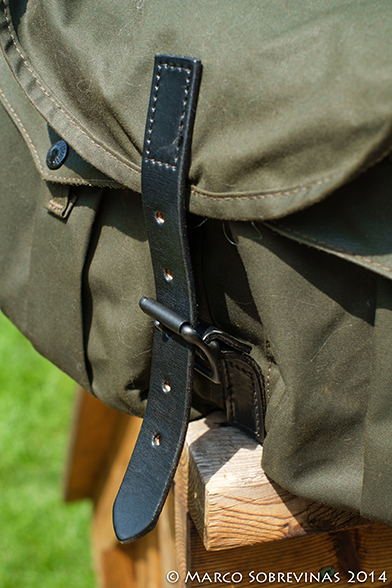 ↑ Leather Strap partially buckled engaged
On the surface, this would seem to be a major design flaw for street photography use and a non-starter out of the gate.  After using it daily for a month, I've found that this isn't the case at all.
The reason is, the true security for the items within the main compartment are actually inside, and not dependent on the outer flap and its slow, buckle closure.
The main compartment, when the camera insert is used, has three distinct storage areas, all of which have their own closures.
The laptop sleeve  has a press button, which keeps the computer secured within.
There is a permanent zippered pocket on the inside front wall of the main compartment.  This is the ideal spot to store my wallet.  Out of sight, plus slower access due to the zip.
The camera insert has a removable cover flap.  When in place, the flap has a convenient press button, which keep your cameras hidden from view.  As mentioned before, it can easily be opened or closed with a single hand, and unlike the Hadley, with its dual straps, the single button secures the flap, further speeding up the closure process.
In all three cases, I've found there's enough security (relatively speaking) when using the Harvey Messenger bag on the street, that I don't ever feel the need to fully do up the outer flap's buckle closure.  I'll either leave the buckle completely undone, or perhaps just slip the strap through the buckle without fully engaging it.  The only time I have fully secured the buckle, was when I was boarding a plane, had no intention of accessing my cameras.
Padded Camera Insert
Curiously, the camera insert is quite a bit smaller than the main compartment, which is a contrast from the form-fitting inserts within a Hadley Pro or A&A 7200.  In actual use, I actually like this – I can stuff extra items on either end outside the insert, or slide the insert to one side and stuff a larger item at the other end.
There's been some criticism that the insert is not secured to the Harvey Messenger via a button (like the Hadley Pro) or Velcro (like on a Domke), and attempts to lift equipment out of the insert would result in the insert being lifted out as well.  In practice, I've not found this to be the case – if the Harvey Messenger bag is slung cross shoulder on me.  Working out of the bag from the floor or a table could be another matter.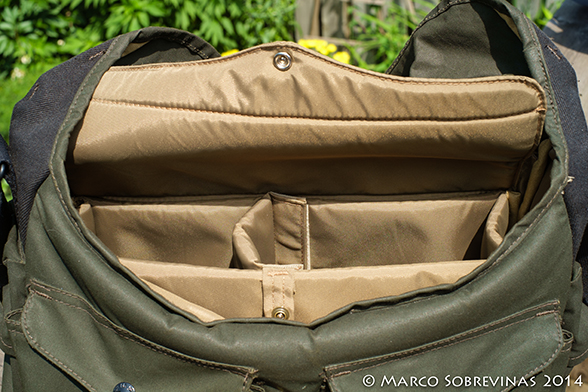 ↑ Photo Insert's flap in Open position. The flap can be completely removed from the insert
The Harvey Messenger is an extremely soft bag, structurally.  Far softer than an A&A 7200 or Hadley Pro with their inserts, and a bit softer than a Domke F-803.  Out of the satchels in my personal collection, the only bag that is softer than the Harvey Messenger is my Brady Gelderburn.  But the Brady has no padding and no insert whatsoever, so it's an extremely structure-less bag.
When wearing the Harvey Messenger bag cross-body and pulling equipment out, the soft construction allows the bag to conform one's torso.  That's more than enough for the internal compartment to grip the insert, so that pulling out cameras and lenses means the insert stays in place.
I also use small cameras – two Fuji XPro1 bodies with lenses attached.  Mr. Harvey also uses Fuji X cameras, and before that, I believe he was a Leica M user as well.  The dimensions of Fuji X and Leica M cameras with their prime lenses are generally smaller than most pro DSLR's.  Since it was Mr. Harvey's input that went into the bag, it makes sense that these cameras fit into the insert without any issue.
The Harvey Messenger is really ideal for rangefinder-style cameras with small lenses, rather than carrying pro-size DSLR's and their accompany zooms.  But that's true with the Hadley Pro and the Domke F-803 too.  I only carried Leica M's in those bags.  Whenever it was time to carry large SLR's and then DSLR's, I gravitated towards much wider bags such as the Billingham 335 or the Domke F-2.
So far, it sounds like the Harvey Messenger is the greatest street photography bag ever made for Leica M or Fuji X cameras.  I would say that is almost true – but there are a couple of flaws that I can't ignore.  This is a review, after all, and not advertising copy.
Insert Issues
I've only found one circumstance, so far, where attempting to lift my camera out of the insert, also lifted the insert out of the bag.  If the Harvey Messenger Bag is on the floor or a table, and the outer bag isn't "gripping" the insert the way it does when the bag is worn cross body, plus I use a bulky zoom on my camera body, then it sometimes becomes an issue.  In that circumstance, a larger Fuji X zoom (in my case, the 10-24mm) on an XPro1, the camera and lens will inadvertently draw the insert out of the bag when the bag is on the floor.
The other issue with the insert:  It has a Velcro divider that can attach to only ONE location within the insert.  The insert can be divided into two, evenly spaced compartments, or made into one large space – but that's it.  While this is better than a permanently fixed divider or no divider at all, it seriously limits how one can sub-divide the insert.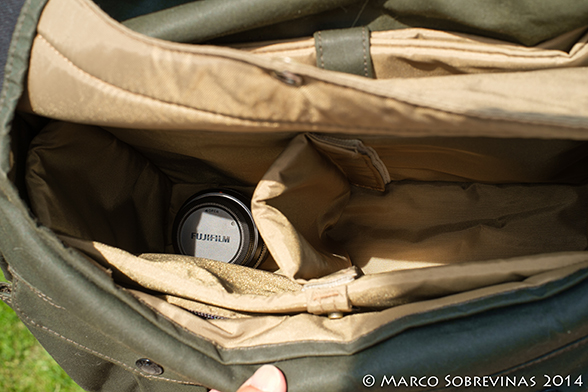 ↑ The Photo Insert with its single location for the divider wall
As two evenly divided compartments, the insert fits two Fuji X-Pro1 bodies with fixed focal length lens, both large and small (e.g. the 60mm Macro with its hood in place, all the way down to the tiny 18mm) perfectly.   The majority of the time, I carry nothing more than two Fuji X-Pro1 bodies with an 18mm (27mm equivalent) and 35mm (50mm equivalent) mounted on each of them.  When it's that combination, the Harvey Messenger bag is perfect.
I also sometimes just carry a single body with the 18mm) on the X-Pro1 and the 60mm (90mm equivalent) or 35mm in the other half of the insert.  That works fine too, although the lens tends to slide around in its half of the compartment, since I can't divide the space asymmetrically.   So it's not as ideal as the first scenario.
But what happens if I want to add another lens to that combination, or perhaps bring a single body but three lenses?
One solution is to have the third lens sitting outside the insert, and within the main compartment.  But that means there's no padding around it.  And remember, the cloth of the Harvey Messenger is very lightweight and thin.
Another way around it is to use padded inserts or silos from another camera bag manufacturer and place them inside or to one side of the insert.  If I'm carrying two bodies with lenses mounted plus a third lens, I'll place the two complete cameras inside the insert with its single divider, and the third lens inside a Domke silo outside one of the insert.
Single body with a lens and two lenses?  The complete camera goes in one half of the insert, the two lenses in the other, with one wrapped inside the Domke silo.
Considering the price for the Filson Harvey Messenger, it's unfortunate that I've had to execute a workaround solution, using another brand's inserts, to simply subdivide the insert and main compartment once I'm using more than two discrete pieces of photo gear.   It's strange that Filson didn't incorporate Velcro along the entire length of the insert's inner walls, since they did that with their own camera bag design (not developed with Magnum), the Camera Field Bag.
If Filson had added similar Velcro strips to the Harvey Messenger's insert, plus provided one extra divider to create three compartments, the function of this bag would be nearly ideal.
I do understand that the Filson + Magnum photo bags have only just been released.  As with any bag system, it takes months and years for additional accessories to be added and for the features to be improved.
With all of that said – I really love the rest of the features and benefits of the Harvey Messenger bag.  Out of a score of 10, not including the insert's flawed divider, I'd easily give the bag a 9.5.  I like it that much.
The insert itself is quite good too – I really like it's removable security flap, its overall shape, its padding and the fact that it's sized to be smaller than the main compartment.  With small, rangefinder style cameras, the fact that the insert isn't secured within the bag is usually not an issue.  But the one position divider – that's a big fail that requires a workaround, as I described above.
Overall, the great design and benefits of the bag outweighs its insert's serious divider flaw.
Verdict
The Filson + Magnum Harvey Messenger is ideal for a compact Leica M or Fuji X set-up with room for extra items to make a day of walking on city streets comfortable.   It has quickly eclipsed my other satchels as my favorite bag, for that specific use.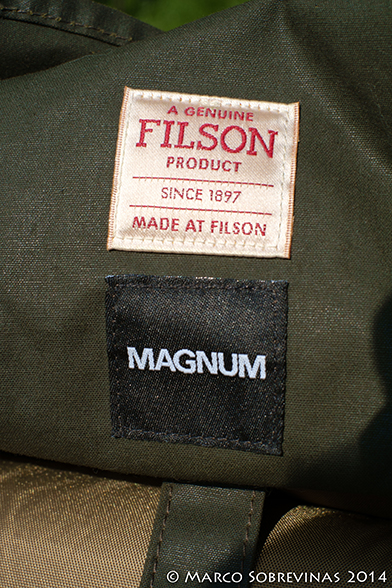 With such a minimal load out, you'll have plenty of room in the rest of the bag for minor accessories, space for a packable hat and perhaps a thin shell, and dedicated, secured pockets for your wallet and mobile phone.  Perfect for walking in a big city.
The Harvey Messenger bag can also be used to attend professional meetings where one has to haul a Macbook Pro, with its dedicated laptop sleeve.
Not the ideal bag for carrying a large volume DSLR with a big zoom, or carrying a lot of addition lenses, unless a workaround solution such as what I described for the latter, is acceptable.
Note from Admin: I'd like to thank Marco for sharing with us his experience, and thoughts on the Filson Magnum Harvey Messenger bag!  If you want to see more of his work, check out his new site, Eyebeam Images, which also contains a slightly different version of this great review.  I hope he decides to share more with us in the future!  Thanks again, Marco!