Fuji XF 56mm F1.2 R Lens Review:
A fast short-tele portrait lens is a "must-have" for many photographers, especially for those in the wedding and portrait industry yet for a long time, it was missing in the Fuji X Series lineup.  There are third party versions, and there's also the sharp, compact XF 60mm F2.4 but nothing made by Fuji, below the F2.0 range.  As of spring 2014, that changed with the release of the XF 56mm F1.2 R lens (B&H Photo/Amazon), an optic that many have been patiently waiting for.  With the crop factor taken into account, the 56mm F1.2 is approximately an 84mm equivalent, which is a preferred focal length for many portrait and wedding photographers.  Its fast aperture is also prized in this type of lens both for available light photography and for creating beautiful shallow depth of field or as some refer to as "bokeh".  So far, the details sound promising but does the XF 56mm F1.2 really cut it?  Is it worth its asking price of $999.00?  Was it worth the wait?  Let's find out.
Fuji XF 56mm F1.2 R Lens Build Quality:
As always, I like to start off talking about the build quality of the equipment that I review.  Being that this is one of the newer generation of lenses made by Fuji, it's built in the same fashion, which means it's built quite well.  In fact, build quality is similar to the excellent XF 23mm F1.4 R lens.  It is not weather resistant but there's no "hollow" or plastic-like feel that plagued some of the earlier X Series lenses.  The aperture ring clicks nicely and securely in third stops.  The lens is very solid, thanks in part to it's metal barrel, and it has a nice heft to it, which is partially attributed to all the glass that is used in this lens.  But for those photographers who are always on the go, fear not; the weight (405g) is really not a burden at all, especially for a lens of this focal length and large aperture.  Overall, this is clearly a very well-engineered lens that's built to last.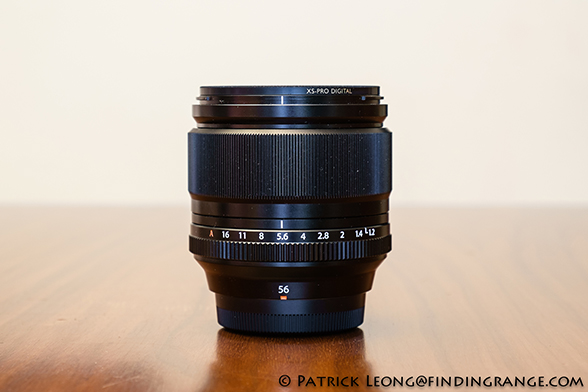 ↑ The XF 56mm F1.2 R lens.
When you see the XF 56mm F1.2 R lens in person, it does look pretty big; in fact it's one of the bigger lenses in the X Series system.  But let's face it; the fact that its largest aperture is F1.2, and it's a short-tele, the XF 56mm F1.2 is going to be big.  Maybe there are ways to make it smaller but I'm sure the lens will probably cost a lot more than its current asking price.  The laws of physics can not be changed.
With that said, I believe if you take into account its focal length and speed, the XF 56mm F1.2 is actually relatively compact.  In fact, what really surprised me was that I found this lens not only balances quite nicely on the X-T1, it also balances great on my X-E2, at least for me.  It felt good in my hands, and never once felt overly bulky when I was using it.  The 56mm F1.2 was easy and comfortable to lug around all day, which is saying a lot for a lens of this focal length and wide open aperture.  In fact, the XF 56mm uses the same filter thread as the XF 23mm F1.4, which many use as an everyday lens.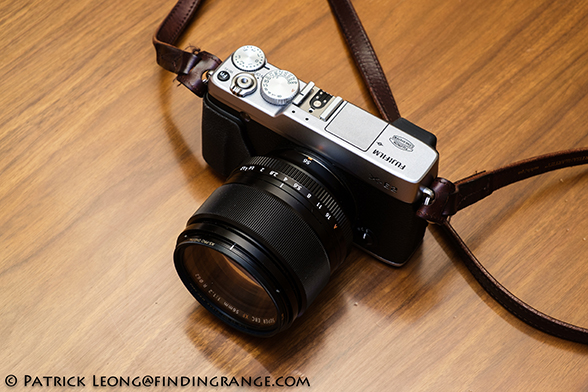 ↑ I found the XF 56mm F1.2 to be a great match with the X-E2.
The only complaint that I have with the 56mm F1.2 is the lens hood that comes with it.  I know that there's some complaints out there that the hood is plastic but personally, I don't mind it at all.  The only thing I don't like about it is the size.  The hoods that came with the first generation X Series lenses like the XF 18mm were great minus the lens caps that fell off pretty easily.  I felt the hoods were specifically designed for those lenses because I felt that the compact size of those lenses were taken into account.  In my opinion, the hood for the XF 56mm F1.2 just doesn't match with the relatively compact design of the lens itself.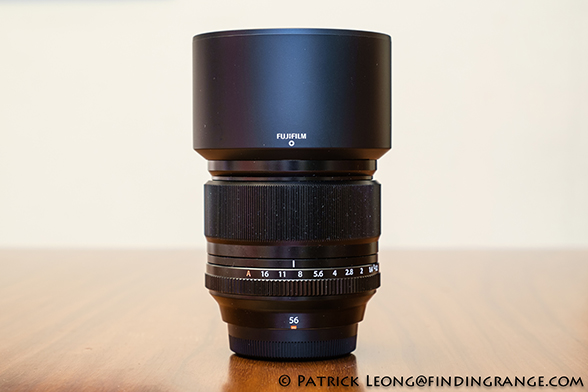 ↑ The XF 56mm F1.2 with its hood on.
Because of its size, I didn't use the hood much when I was shooting even though I'm a strong advocate of using lens hoods all the time in general.  But the good news is I didn't have any issue using the XF 56mm F1.2 without the lens hood.  Plus, the lens felt so much more compact.
For those who plan on purchasing this lens, and feel the same way but still want a lens hood, an alternative might be to search the web for a aftermarket hood.  From my XF 23mm F1.4 review, some of you commented that you also found the lens hood for that lens to be large and cumbersome but found decent ones for cheap on ebay.  Metal too.  If you choose to stick with the original lens hood, at least it can be reversed for easy traveling.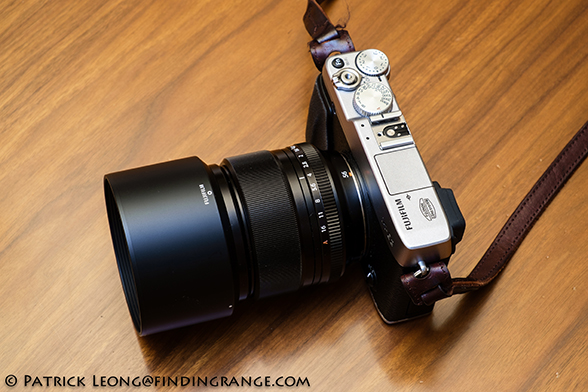 ↑ Here's a view of the lens and lens hood attached to the X-E2.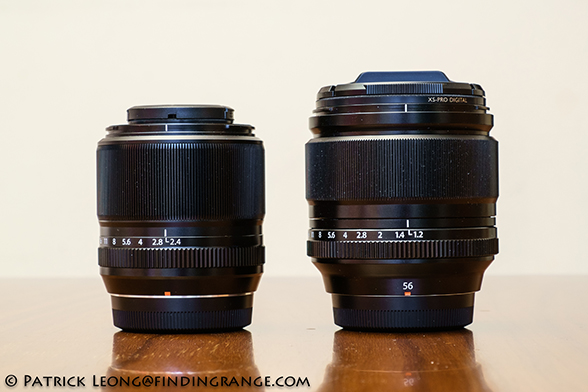 ↑ A quick size comparison between the XF 60mm F2.4 (left) and the XF 56mm F1.2 (right).
Fuji XF 56mm F1.2 R Lens Image Quality:
As far as image quality goes, the XF 56mm F1.2 R lens (B&H Photo/Amazon) definitely impressed me.  In fact, the XF 56mm F1.2 is my new favorite Fuji lens knocking down my old favorite to second place, the XF 35mm F1.4.  Like the XF 35mm F1.4, the XF 56mm F1.2 is razor sharp.  While many will buy this lens for its F1.2 aperture, know that you can pretty much use this lens at all F stops, and get fantastic results.  This is a well-corrected lens where you really don't have to worry about distortion, and vignetting isn't much of an issue even at F1.2.  There's also great color rendition.  I normally don't used lenses of this focal length that much but I was finding myself making stupid excuses just to use the XF 56mm F1.2.  I found the XF 56mm simply addictive; it made me want to shoot with it all the time because I just loved the results that I was getting from it.  Overall, I feel that this is probably the best Fuji lens currently out.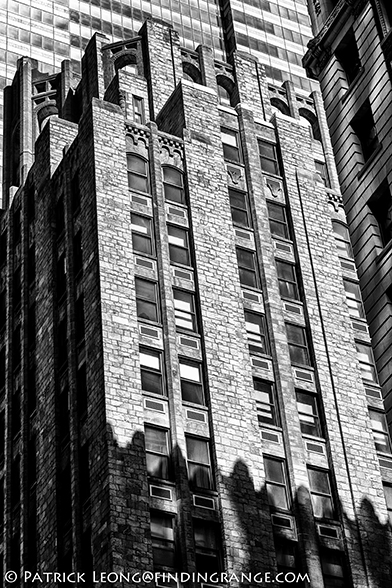 ↑ Stopped down, this lens is extremely sharp.  This was taken at F5.6.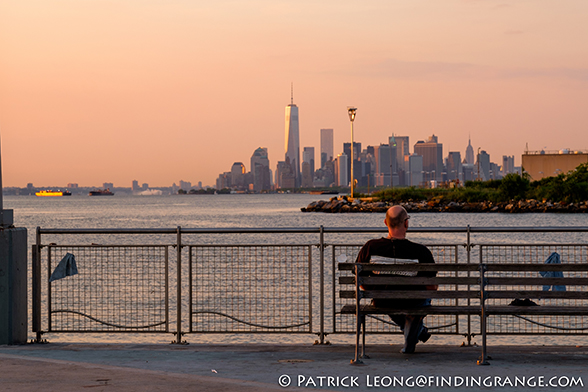 ↑ This was taken at F8.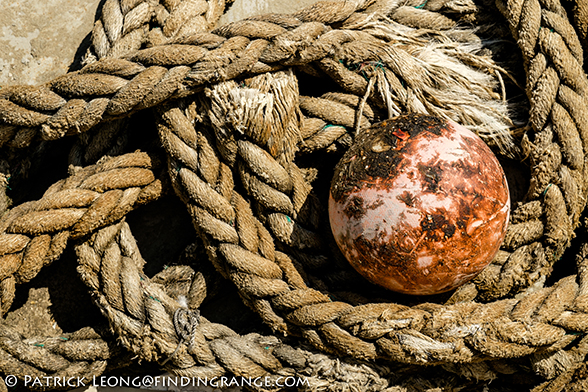 ↑ Here's another photo at taken at F5.6.
Like many, I love nice bokeh but not all photos are meant to be shot wide open.  I think in photography, you have to use the whole range of F stops.  Plus, if I'm paying big bucks for a lens like this, I want it to perform well at all apertures.  But with that said, I found it hard to resist shooting wide open constantly because the results from this lens when shot at F1.2 are breathtaking.  The XF 56mm F1.2 R lens delivers nice, smooth bokeh, which is expected for a first class lens like this one yet the subject is remarkably sharp.  Tack sharp.  For the most part, I found the shallow depth of field to be dream-like and buttery smooth.  There's really not much more that needs to be said.  All you need to know is that shooting wide open with this lens is a real pleasure.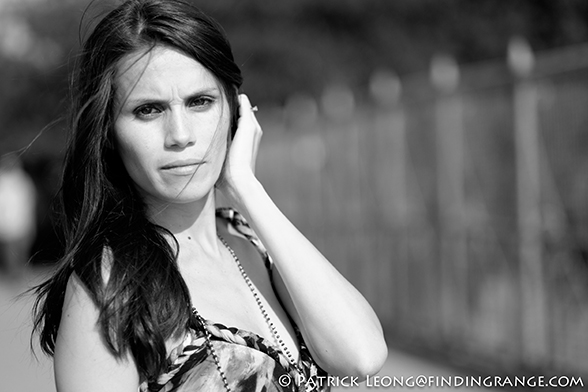 ↑ The bokeh at F1.2 is nice and smooth yet the subject is tack sharp.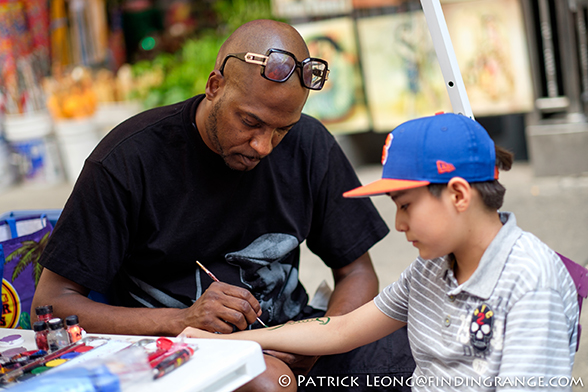 ↑ Here's another shot taken at F1.2.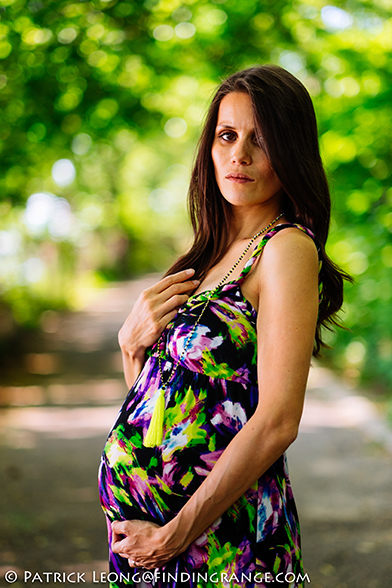 ↑ Shot at F1.2.
However, if you're going to shoot wide open a lot in daylight, a good ND filter is pretty much a requirement.  In fact, I was testing this lens on some very bright days, and found that I needed an ND filter that was able to reduce the amount of light passing through the camera by more than 3 stops.  However, the problem with using an ND filter that reduces light by so much is that it'll be difficult to shoot inside.  Therefore, this time, instead of going with a regular ND filter, I went with a B+W variable ND filter, which was great because it allowed a 1 – 5 stop exposure reduction.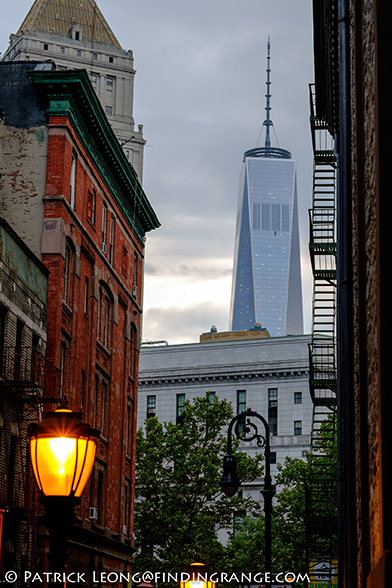 ↑ Here's a shot taken at F4.5.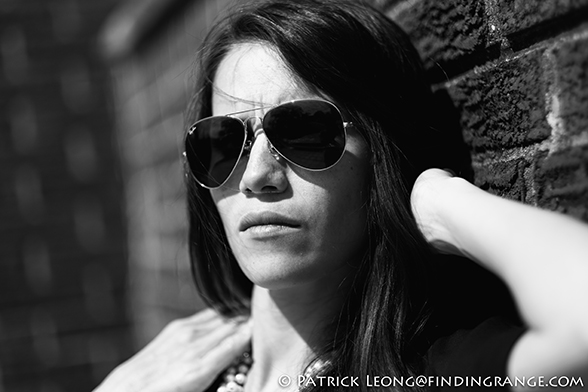 ↑ I just love how sharp this lens is even when shooting it at its largest aperture.
But if you plan on purchasing one, there are two problems with this filter: the first is its very pricey but there are alternatives from other manufacturers like Tiffen.  The second problem is you'll have to get a slightly bigger lens cap for the B+W ND variable filter.  I had to use the lens cap from my Zeiss Touit 12mm, which has a 67mm thread.  In this case, the supplied lens hood for the XF 56mm F1.2 will not fit on the lens.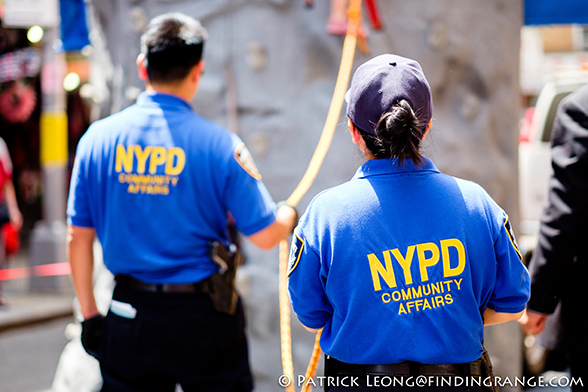 ↑ A rock climbing wall right in the middle of the street.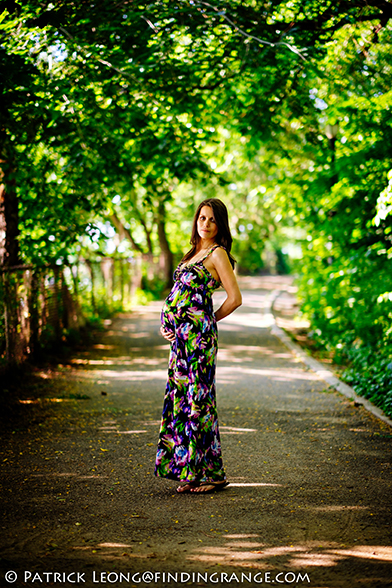 ↑ The XF 56mm F1.2 produces photos with nice depth.
Autofocus With The Fuji XF 56mm F1.2 R Lens:
Some might be wondering how the autofocus performs, especially at F1.2.  For the most part, the autofocus was fine for me.  It felt like one of the typical, newer generation X Series primes.  It's smooth, mostly reliable (with the occasional misfocus), and while it's not the fastest autofocus lens in the X Series lineup, I don't think anyone will really have an issue with it, especially for portraiture.  I found the XF 56mm did not focus as fast or as quietly as the XF 18-55mm zoom but it is also not as noisy as the XF 60mm F2.4.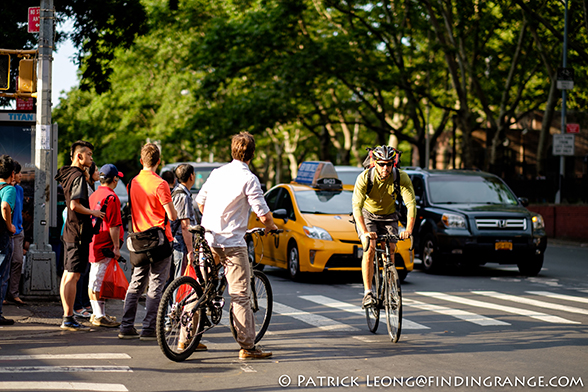 ↑ Here's a shot taken at F1.2. 
Fuji XF 56mm F1.2 R Lens Pros And Cons:
Fuji XF 56mm F1.2 R Lens Pros:
Very well built.

I believe it's relatively compact for a fast short-tele with such a large aperture.
I found it balanced nicely on the X-T1 and the X-E2.
Image quality is excellent throughout the entire aperture range.
Very sharp even at F1.2.
For the most part, bokeh is beautifully rendered.  It will be hard not to want to shoot at F1.2 all the time.
$999 may sound like a lot for a Fuji lens but it is well worth it, especially when compared to high end Canon and Nikon equivalents.
Fuji XF 56mm F1.2 R Lens Cons:
Some may not like that this lens is not weather sealed.

I found the lens hood large.

In my experience, autofocus will miss once in a while.
Fuji XF 56mm F1.2 R Lens Verdict:
Overall, the XF 56mm F1.2 R lens (B&H Photo/Amazon) is absolutely superb.  You're getting a pro level lens but what's great is you can shoot with something of this caliber on a small mirrorless camera like the X-E2 or even the X-M1.  At $999.00, the XF 56mm F1.2 might seem expensive for a Fuji lens, and in general, a $1,000 is a lot of money.  But in my opinion, I think it's reasonable, especially when you compare it to other lenses with similar traits.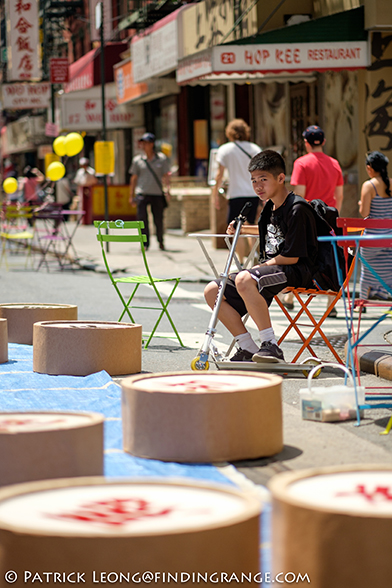 ↑ Here's a shot taken at F1.2 but from a distance.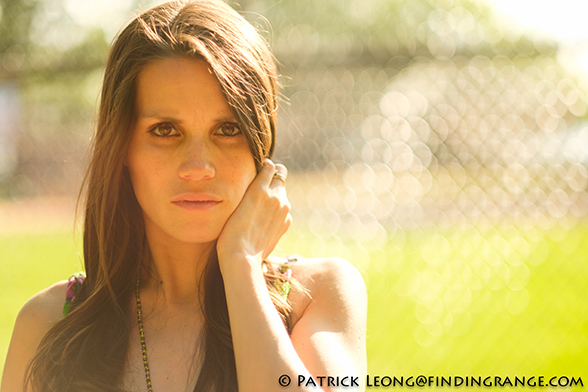 ↑ Another taken at F1.2.
For instance, let's compare it with lenses like the Canon 85mm F1.2 L lens or the Nikon 85mm F1.4 G.  Both of those lenses cost $1,500 to 2,200 each. There are differences, such as, depth of field but optically, the XF 56mm F1.2 R lens is excellent as well.  I honestly believe that no one will feel like they need more from this lens.  It's also lighter than the two full frame lenses I've mentioned.  This is not an attack on Canon or Nikon as I've used both of those lenses before, and they are excellent in every regard.  I do not want to get into a comparison of all these lenses here; all I'm saying is that I think for what you're getting, Fuji isn't being unreasonable with its pricing.  Lastly, I should also mention that it's a whole lot cheaper than the Panasonic Leica 42.5mm F1.2 Nocticron (priced around $1,600) for the micro four thirds system as well.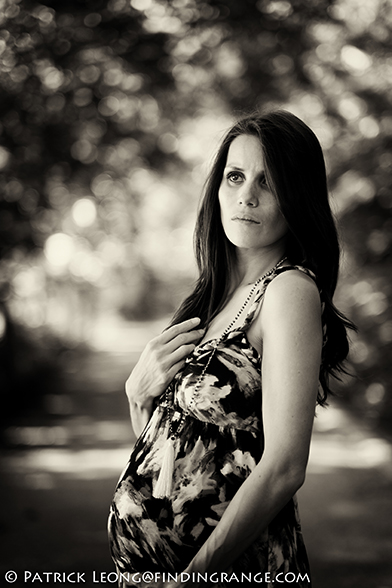 ↑ One more shot taken at F1.2.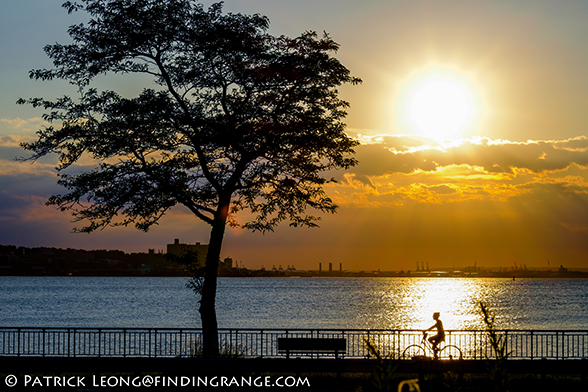 ↑ This was taken at F11.
The bottom line is this: If you need a short-tele lens, there is not a doubt in my mind that the XF 56mm F1.2 R lens is a "must-have" for the X Series system.  At F1.2, it's a very fast lens,which not only allows you to isolate your subject and surround it with a creamy background, it also allows you the flexibility of using a lower ISO setting in dim lighting.  But it doesn't stop there; the XF 56mm F1.2 performs superbly when stopped down, which only adds to its versatility.  The compact dimensions and it's relatively lightweight construction for a lens of this focal length and speed make it very easy to carry anywhere. Lastly, this is a very well built lens.  If you're in the market for a short-tele, don't hesitate to buy the XF 56mm F1.2.  In my opinion, I think this is seriously one of the best X Series lenses currently out.
That's it for my review.  I hope you enjoyed it.  If you want to follow this blog, in addition to Facebook and Twitter, you can now find me on Google+.  If you're considering buying the XF 56mm F1.2, and my review helped you decide, please help support me by purchasing from one of the links below.  Thank you for your support!
Fuji XF 56mm F1.2 R Lens from B&H Photo
Fuji XF 56mm F1.2 R Lens from Amazon