↑ The Harbor, Dubai.
Note from Admin: Today, we have an excellent GUEST POST written by Markus Gerhards.  The urban landscape photos that accompany his article are awesome.  They are unique and very imaginative.  He started a new site, http://gerhardsphoto.com/, and I urge all of you to check out!  Enjoy!
Creative Color Adjustments for Urban Landscapes by Markus Gerhards:
I spent a week in Abu Dhabi and Dubai in September 2014. If you love architecture, especially skyscrapers, you will love these cities.
To get a flight and hotel is not a problem at all and it is not overly expensive as well. It is slightly more expensive when you decide to visit the place in winter, the best time to be there. This is because it gets very hot in summer time. So hot that people avoid being outside at day time and even at night most restaurants, where its nice to sit outside in winter, are closed due to the heat in summer.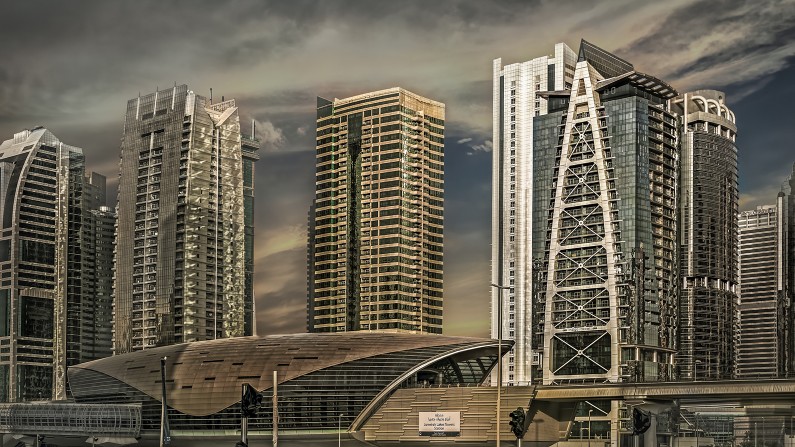 ↑ Metro Station, Dubai.
We had temperatures of 45°C (113°F) and a humidity well above 90 percent, so walking around and carrying heavy gear was not an option. To make things worse, on most days it was very windy causing sandstorms that had a major impact on visibility. Not the best conditions when you want to capture sharp and colorful images.  As a result many images looked dull, flat, boring. I was disappointed and my work in post did not help much. And while i was playing around with the sliders on my computer i decided to go a different route.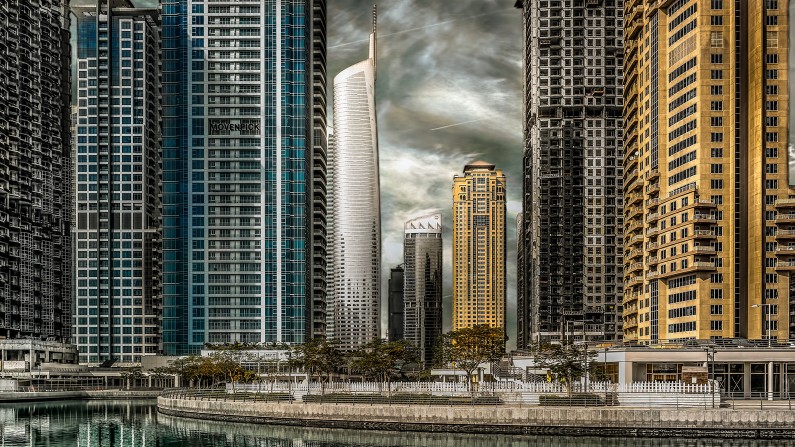 ↑ Icon II, Dubai.
I made a couple of virtual copies of the same image in Lightroom (a photo editing and organizing software from Adobe) and made different color adjustments. I played with the white balance and even did a black and white version to see what would work.  Next I imported all these different images into Photoshop (also from Adobe) as different layers to bring it all together. At first I edited each layer using the more refined color adjustments available in Photoshop. The different filters and blending modes Photoshop offers also helped to get the look I was after. I wanted the best possible details and colors that match.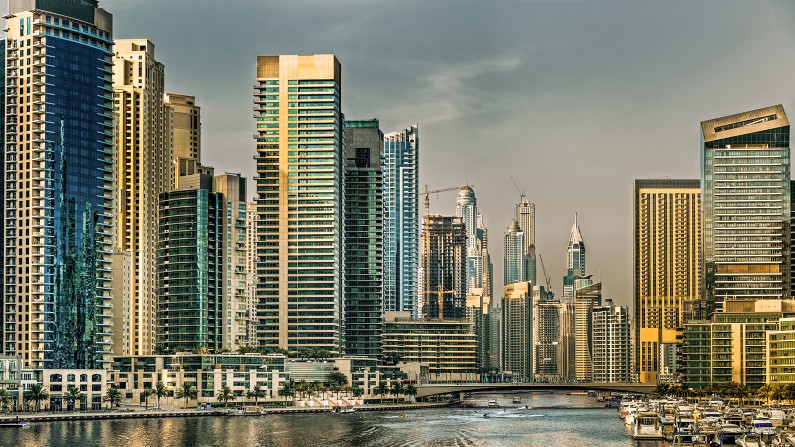 ↑ The Marina, Dubai.
In the beginning, it was more of trial and error but after finishing the first image, I got the hang of it and the following pictures were processed much faster. In the end I am quite happy with the results you can see here. I hope you like them.  I also want to mention that you don't need to use Lightroom or Photoshop to try this yourself. Any software that lets you do specific color manipulations will do. If you are unsure about what colors to alter, or what color scheme to use a color wheel is a great tool to help you find out.
Thanks for reading.
Note from Admin: I want to thank Markus for sharing his wonderful article and fantastic urban landscape photos with us!  Stop by his new site when you get a chance: http://gerhardsphoto.com/