Leica 35mm Summicron-M f/2.0 ASPH Review:
The 35mm lens is one of the most common focal lengths for Leica M shooters because the angle of view makes it very versatile and perfect to shoot a number of different subjects, such as, but not limited to environmental portraiture, street, landscape, and candid work.  Because this focal length is so popular, Leica currently makes three different 35mm lenses for the M system to suit a variety of needs, tastes, and budgets.  One of these lenses is the Leica 35mm Summicron-M f/2.0 ASPH, a lens whose lineage has reached legendary status, and considered by many as the quintessential lens for the M.
Leica 35mm Summicron-M f/2.0 ASPH Build Quality:
Like other M lenses,  one of the characteristics that makes the 35mm Summicron-M f/2.0 ASPH such an excellent lens in my mind is its build quality and mechanics.  To me, Leica lenses feel like they are built to last several generations.  I still own my 35mm Summicron IV, and it was originally purchased in the early 80's by my father.  It has formed a nice patina over the years but has never needed service, and it not only works on my newest M but in my opinion, it is still an excellent performer when compared to today's optics.  Plus, thanks to the variety of adapters on the market these days, many Leica lenses can be used on cameras from several different manufacturers, which only increases the viability and worth of these lenses.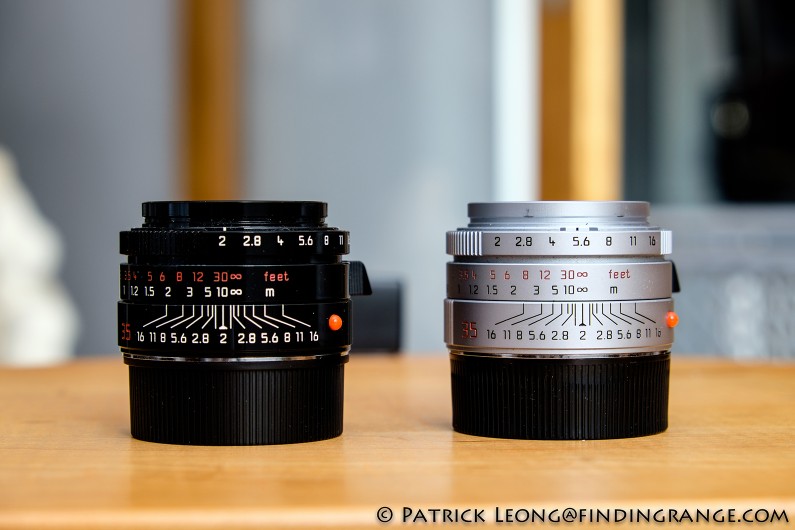 ↑ Examples of the black paint and silver chrome 35mm Summicron ASPH without lens hood.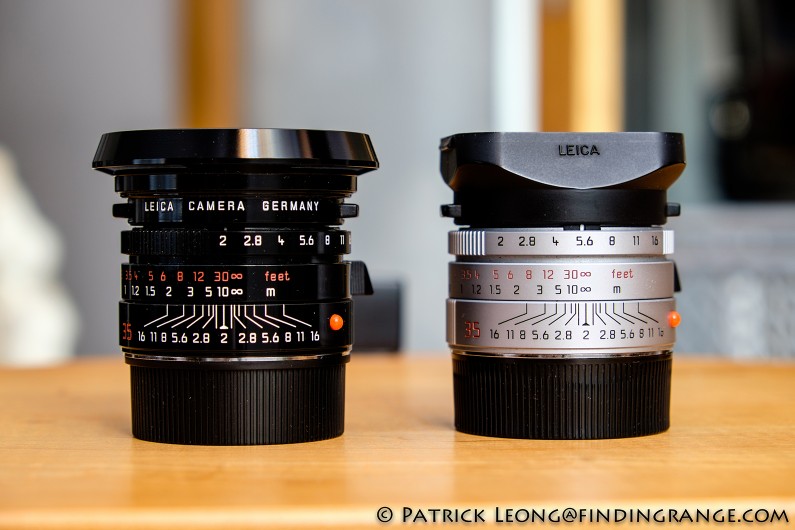 ↑ Examples of the black paint and silver chrome 35mm Summicron ASPH with their lens hoods.
The 35mm Summicron-M f/2.0 ASPH is a compact lens but don't let the size fool you; everything about this lens screams high quality and precision craftsmanship to the highest order.  It's a very solid lens with a nice, dense feel.  In fact, the solidity makes it feel like it was made out of a solid block of metal.  Like other M lenses, all markings on the Summicron are engraved and filled with paint.  The aperture ring has absolutely no play and clicks solidly in half stops.  There's a tab to adjust focus, which is ultra smooth in operation.  In fact, this lens has one of the smoothest focusing rings I've ever used beating in smoothness pretty much every other lens that I currently own.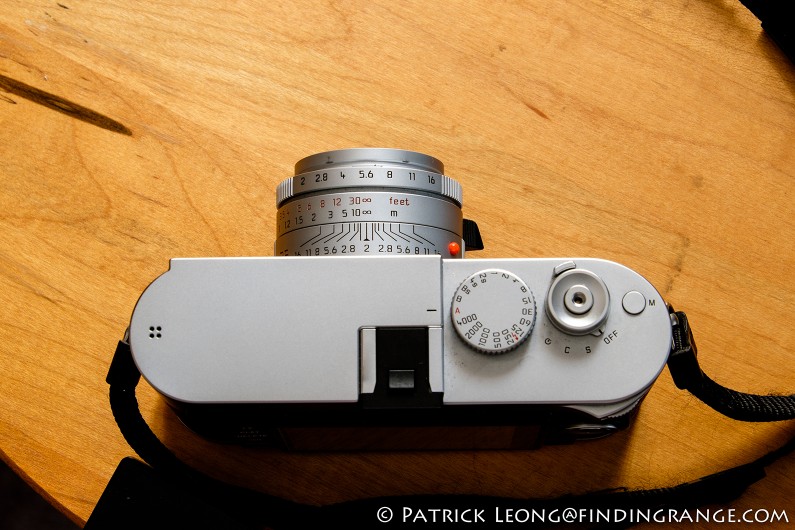 ↑ Top view of the M 240 with the 35mm Summicron ASPH without hood to give you a feel of the compactness of the lens.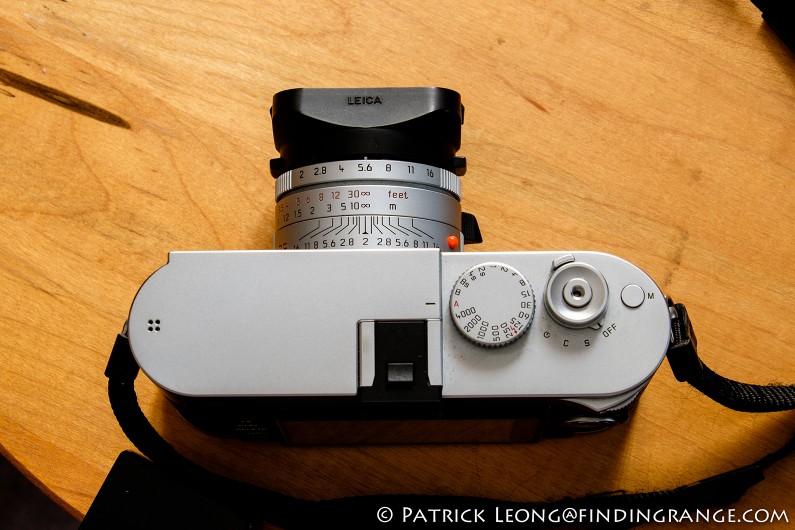 ↑ Basically the same shot as above but with the lens hood on.
The standard variants of the 35mm Summicron ASPH include a black anodized version, and a heavier chrome version where the barrel is made out of brass.  The weight of the black version is 255 g, while the silver chrome version weighs 340 g.  Generally, if there's a choice, I prefer buying the brass version of Leica lenses because they feel special to me; there's a slightly heftier and denser feel to them.  Plus, the silver chrome finish is impressive.  Some people don't like the extra weight but it's not such a huge difference that I feel burdened to carry it around all day.
Leica 35mm Summicron-M f/2.0 ASPH Black Paint Millennium Version:
I own the chrome version of this lens but later, I ended up purchasing the limited edition black paint version, which came out to compliment my M6 TTL Millennium.  At the time that I paid for it, it cost just a little bit more than the standard variant, so it was worth it to me, especially since I'm a big fan of the glossy black paint finished lenses Leica sometimes introduces as special editions.  If I remember correctly, there were only two lenses total introduced with the Millennium M6: the 35mm Summicron ASPH and a 50mm Summilux pre-ASPH.  If you wanted both lenses and the camera, you had to purchase them separately because they did not come as a set but you could still get the lenses and body with matching serial numbers.  For instance, my 35mm Summicron's serial number matches my M6 TTL Millennium's.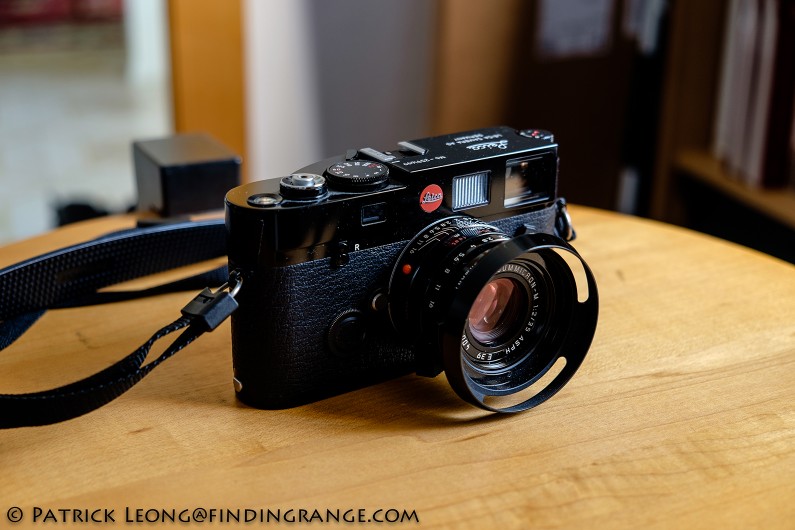 ↑ My Leica M6 TTL Millennium with the 35mm Summicron-M ASPH Black Paint.
Like the silver chrome version, the black paint version is also made out of brass.  Surprisingly, while both are technically identical except for finish, the black paint version feels slightly better assembled.  I've been using both of these lenses for years, and I found the focus ring is even smoother on the black paint version making it actually the smoothest focusing lens that I own.  The aperture ring clicks solidly in place like the silver version but it feels slightly damped to give it a nice smooth, high end feel.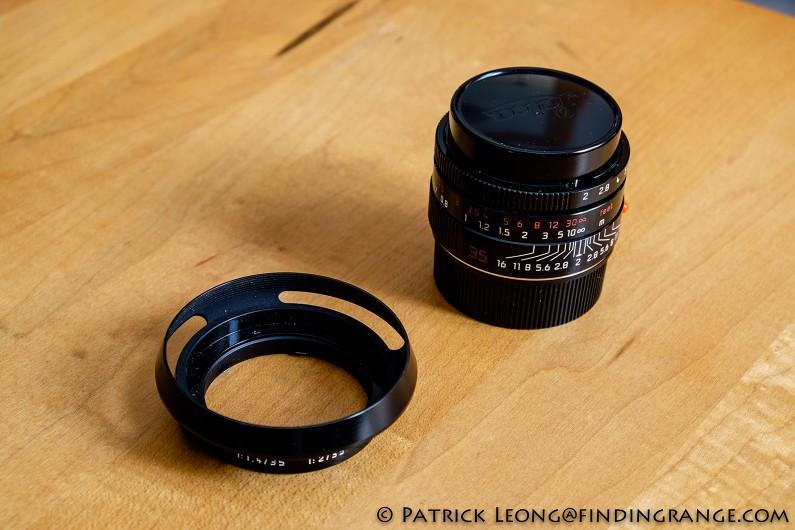 ↑ 35mm Summicron ASPH black paint with cap and lens hood.
Leica 35mm Summicron-M f/2.0 ASPH Black Paint vs. Standard Lens Hoods:
All the variants of the 35mm Summicron ASPH come with lens hoods that clip onto the front of the lens.  The standard lenses come with a rectangular shaped plastic hood while the black paint version comes with a classic "vented" round metal hood.  Like the lens, the hood has been painted glossy black.  I believe the hood is made out of brass because some of the paint on mine has worn over time, and I can see the bronze color glow.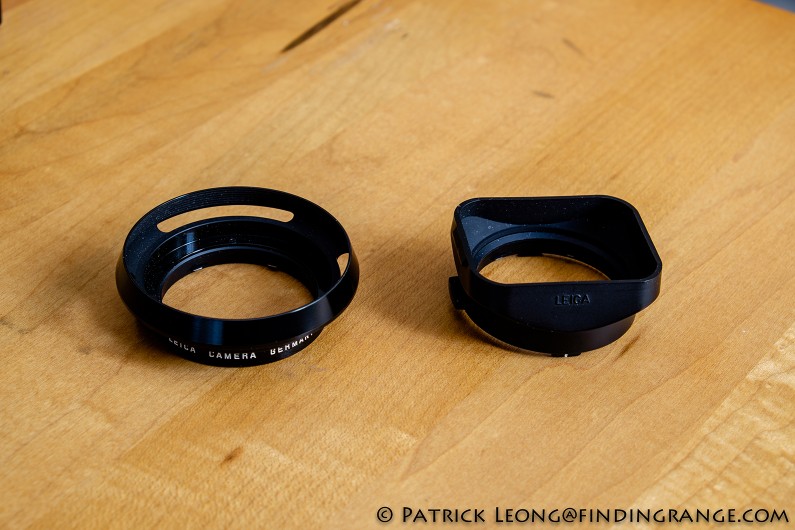 ↑ Lens hoods compared: the one that came with the black paint version of the 35mm Summicron ASPH and the one from the standard variant.
While the vented hood is rarer and more people seem to like it's appearance over the standard hood (even I prefer its appearance over the standard version), I sometimes prefer the rectangular hood because I find it a little more useful and practical.  With the rectangular hood, I can just leave it on the lens permanently because the rubber lens cap that's supplied with it actually clips right onto the front of the hood.  With the round metal hood, if I want to put the lens cap back on, I have to first remove the hood because the cap only fits on the lens.  Obviously, for those who don't use lens caps or even hoods and use maybe filters instead to protect their lens, this may not be an issue.
↑ Leica M Typ 240 with the 35mm Summicron ASPH black paint edition.
But another great thing about the rectangular hood is it's smaller, which makes the lens feel slightly more compact.  It blocks less of the viewfinder than the vented hood, which is why it does not need venting like the metal round hood.  Some might take issue with the fact that it's made out of plastic but I've been using one of these plastic hoods since my Summicron Version IV, and I've never experience ANY issues with it.  It's light, it's dependable, it's compact, it's convenient, and it does it's job.  It's not made out of cheap plastic, so it won't break easily.  With the square rectangular hood on the lens, the camera is always ready to shoot.  What more could anyone ask for?
Leica 35mm Summicron-M f/2.0 ASPH Image Quality:
Like the build quality, the image quality from this lens is superb.  I truly believe that this lens is up there with the best of them.  If you don't need the F1.4 aperture of the Summilux, in my opinion, you won't ever have to replace this lens.  Ever.  To me, it's that good.  The truth is, there's not much to say other than I've been shooting with the 35mm Summicron ASPH for years on film and digital bodies, and to this day I am still thoroughly impressed and amazed by the image quality that it produces.  This is an exceptional lens that produces beautifully constrasty, full, and rich images.  Distortion is so low, especially for a wide angle that there's really nothing to worry about.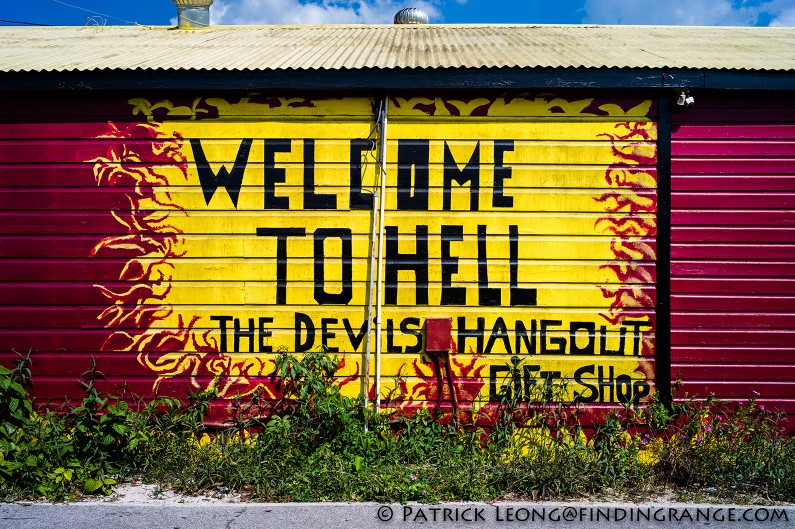 ↑ I remember this day being so hot and humid, it sure felt like Hell.  Taken with the Leica M9
↑ Walking around Tribeca: Leica M 240 and 35mm Cron ASPH.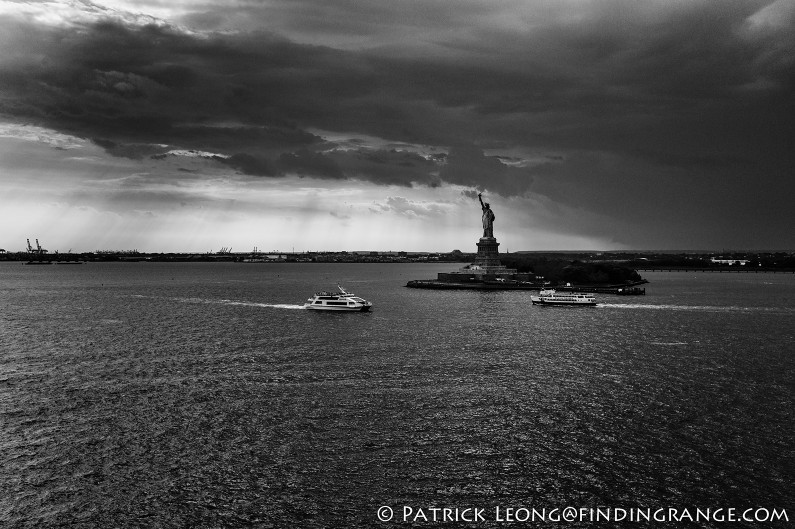 ↑ Statue of Liberty taken with the M9.
Furthermore, the 35mm Summicron-M f/2.0 ASPH is insanely sharp, and it's actually one of the sharpest lenses that I own.  It captures so much detail that it's downright scary at times.  In fact, I find this lens so wickedly sharp throughout the aperture range that you don't have to worry about what F stop you're shooting at because you'll always get superb results.  This is a very versatile and useable lens.  Wide open or stopped down, it does not matter; this lens will perform significantly well.  As I said before, I've own this lens for years, and to this day, I am still so impressed by what it can deliver in terms of image quality, especially on the newer M cameras like the M 240, which I find it matches particularly well with.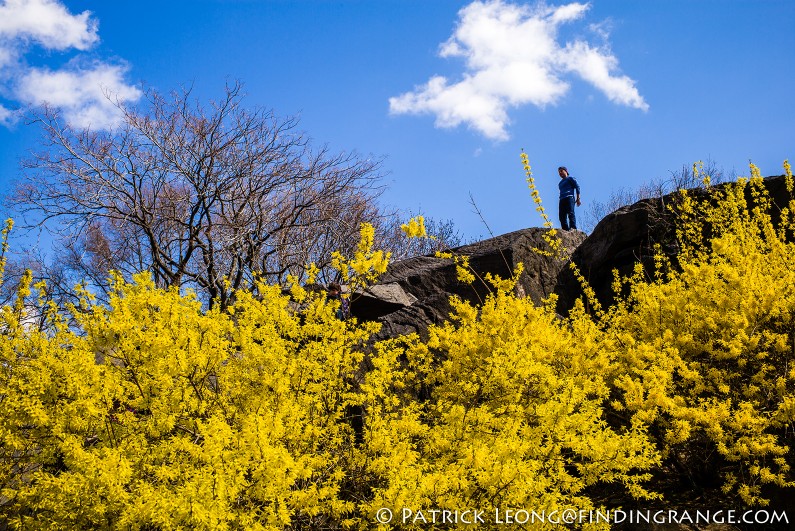 ↑ Spring time in Central Park shot with the M 240.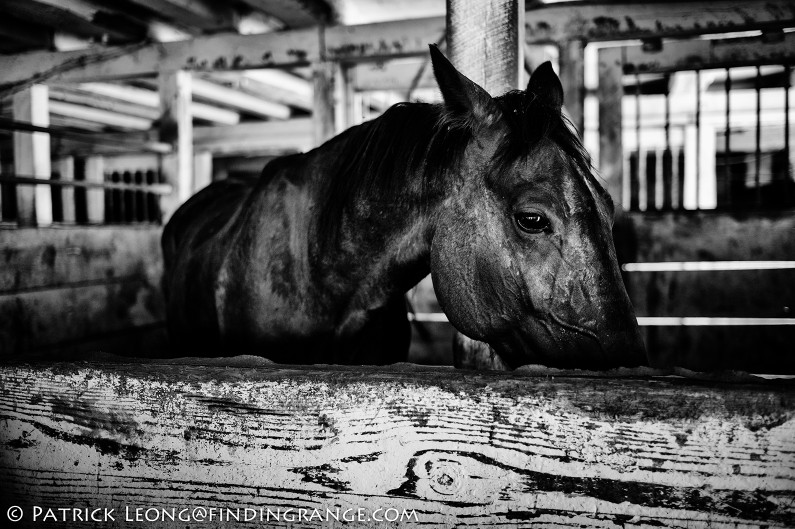 ↑ Taken with the M9.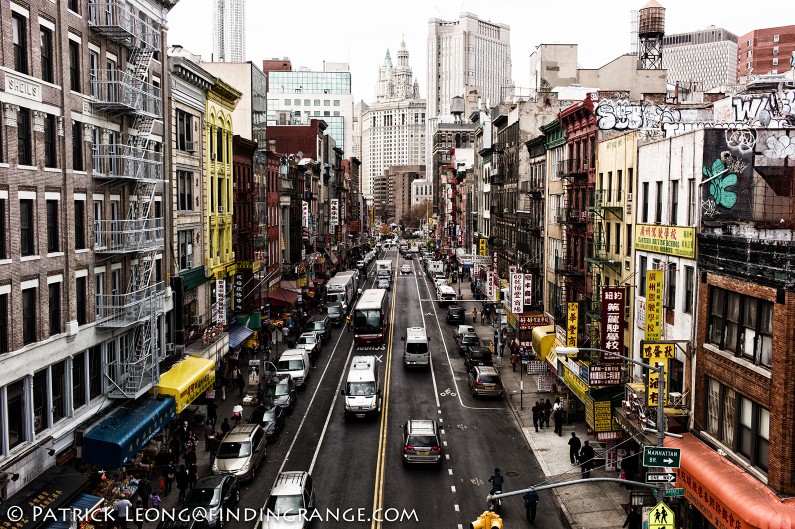 ↑ Chinatown with the M9.
But it's not just sharpness that makes me love this little lens so much.  The 35mm Summicron ASPH has character and it produces images that look very three dimensional.  There's this "pop" and clarity to the photos that make things look lifelike.  Photos are so vivid.  When I'm looking at a photo of mine, I almost feel like I'm in the scene.  In other words, things look organic; they look real.  Even at a smaller aperture like F5.6, the subject simply comes right out of the page and grabs you, and this is not something that you really have to try hard to see.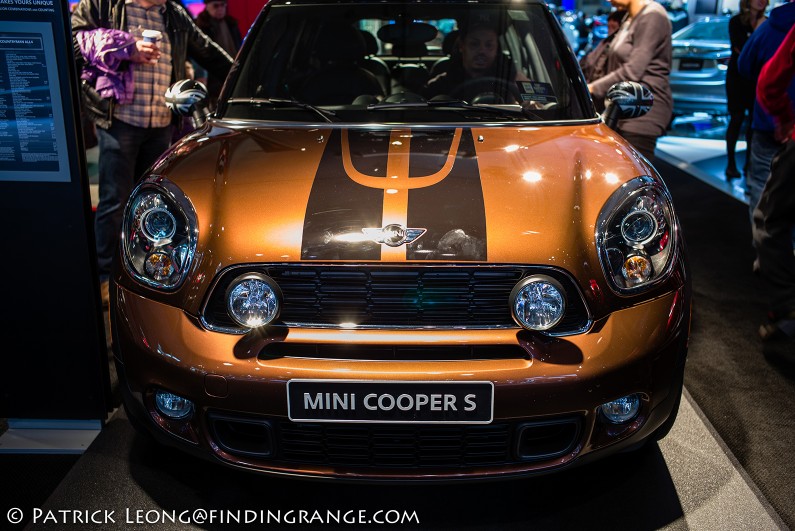 ↑ NY Auto Show shot with the M 240.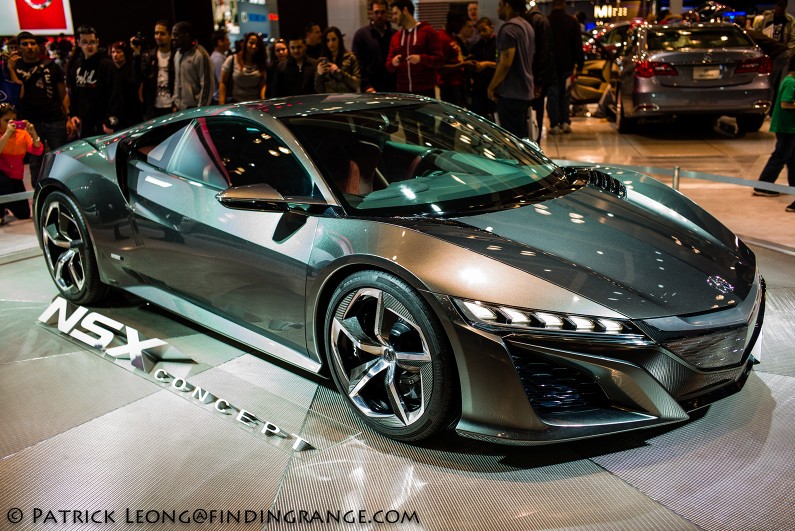 ↑ A Shot of the Acura NSX taken with the M 240.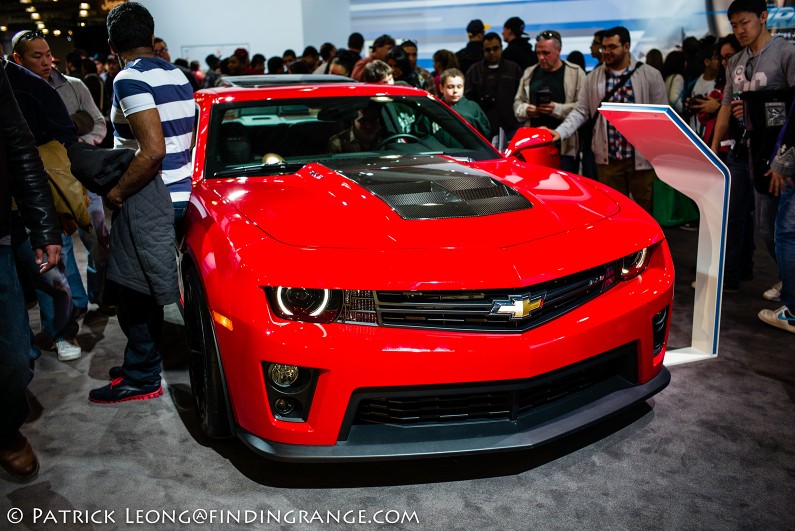 ↑ The Camaro ZL1 taken with the M 240.
The bottom line is I could sit here and nitpick the 35mm Summicron-M f/2.0 ASPH to death but the truth is, in my opinion, this lens just delivers the goods in every way.  I just love how this lens performs.  It never disappoints or makes me wish I had more.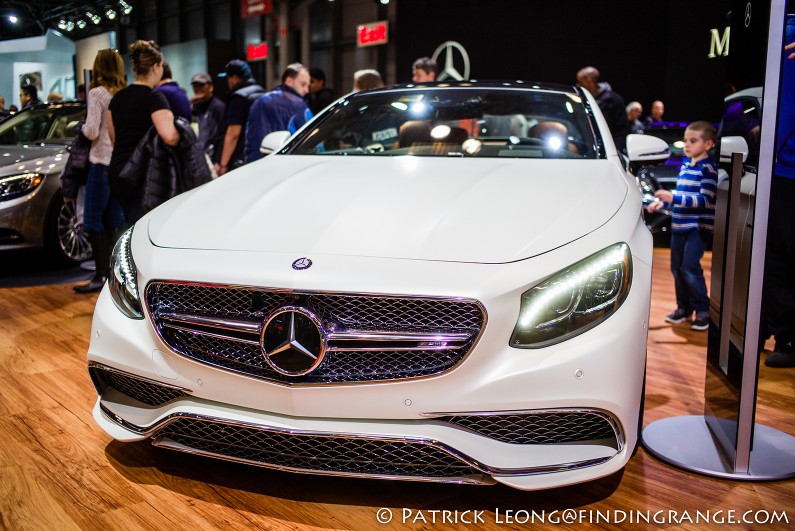 ↑ Here's some photos from the 2015 NY Auto Show.  Photos are so clear and vivid with this lens.  Look at how the car just pops out of the page.  All these photos taken at the 2015 NY Auto Show were taken at F2.0 and notice how insanely sharp this lens is wide open.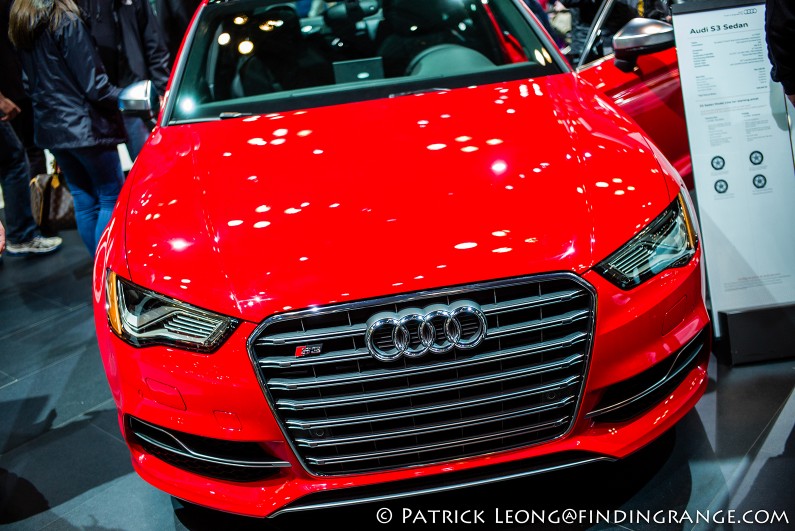 ↑ The red in this photo just pops out of the page.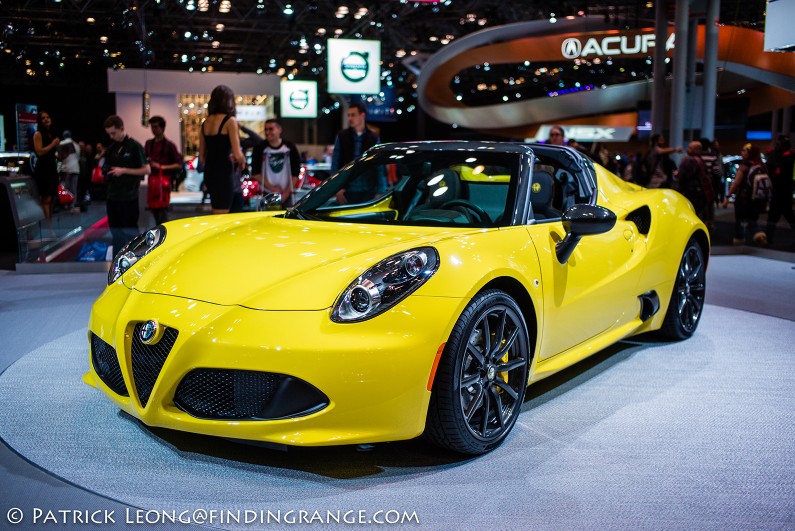 ↑ One of my favorite cars ever.
Leica 35mm Summicron-M f/2.0 ASPH Bokeh:
As for the bokeh, I found it to be quite pleasing for the most part.  It's obviously not going have the same dreamy effect as say a 50mm Summilux but it's still very smooth and inviting.  It can still produce a very nice "painting effect" in the right conditions and situations.  Bokeh is a personal preference, so others may disagree but as far as I'm concerned, the background melts away nicely when I'm shooting at F2.0.  In fact, I find the bokeh from the ASPH version to look nicer and smoother than the older Summicron Version 4, which I still own.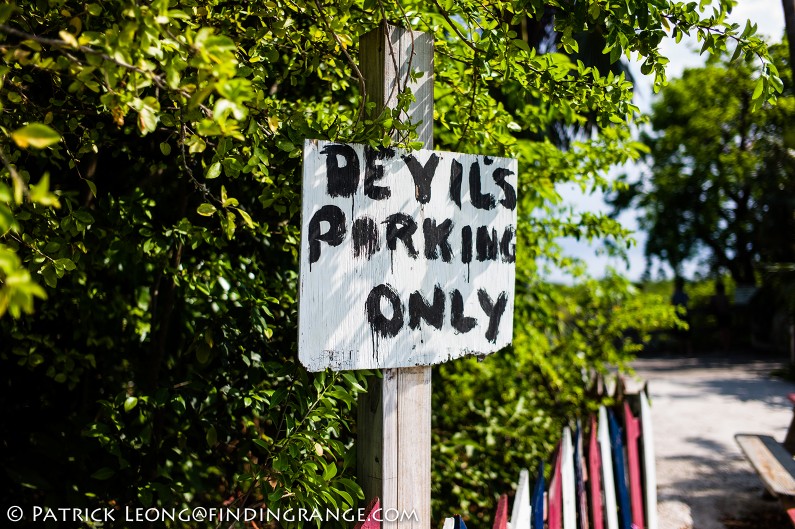 ↑ This was taken with the M9 and Summicron combo.
Leica 35mm Summicron-M f/2.0 ASPH Ergonomics:
Excellent build and image quality are generally what you need to make a great lens but there is one huge selling point that the Summicron has in combination with these two characteristics that make it in my opinion, a masterpiece of a lens regardless of manufacturer: the ergonomics are just about perfect.  It balances perfectly on an M body, it's just the right weight, the hood works great yet it's small, and the focus tab feels completely natural to operate.  Focusing is quick too because the focus throw is short, plus with the focus tab and a little practice, you'll be able to preset focus based on feel alone.  This lens' operations are a pure pleasure to use.  The form and functions will become second nature in no time.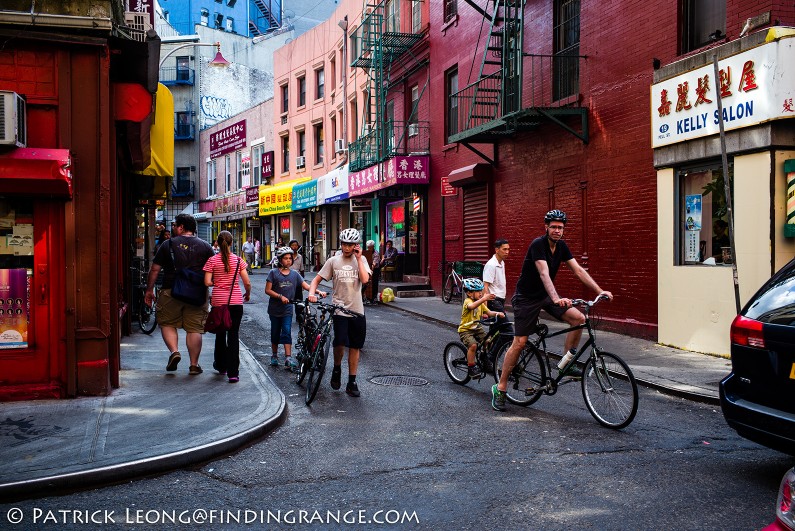 ↑ This was taken with the M 240.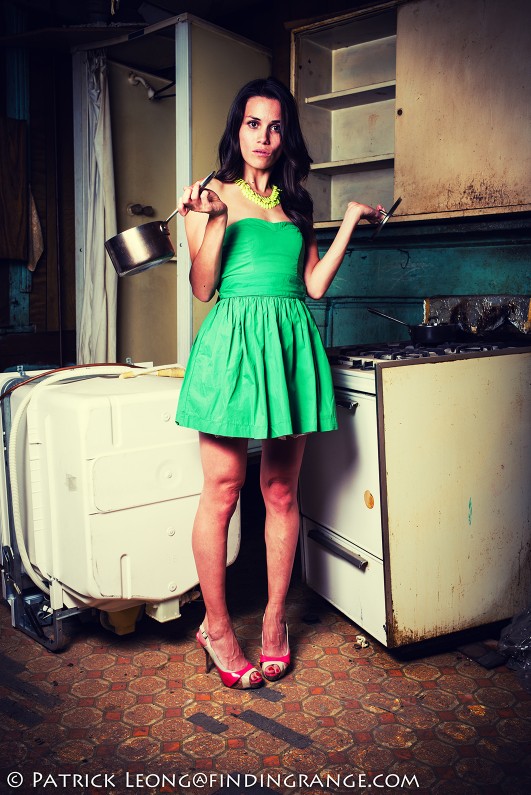 ↑ Another photo courtesy of the M 240.
A compact design such as this not only makes it easier for a photographer to lug it around all day, it makes the person more discreet.  With the Summicron mounted on my camera body, I not only get excellent image quality, I sometimes feel like I'm shooting with a large point and shoot rather than a full frame digital body.  I guess that's probably one of the best compliments I can give any lens.  Also, keep in mind that at F2.0, this lens still has high light gathering capabilities for shooting at night, yet it only uses a 39mm filter.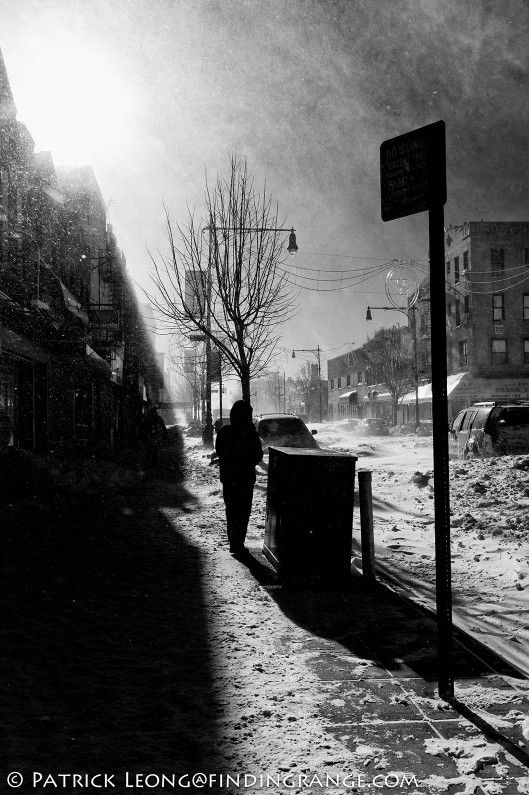 ↑ This was the biggest storm that I've ever experienced in New York City.  Cars and buses were abandoned in the middle of the streets for a few days.  This was taken with the M9.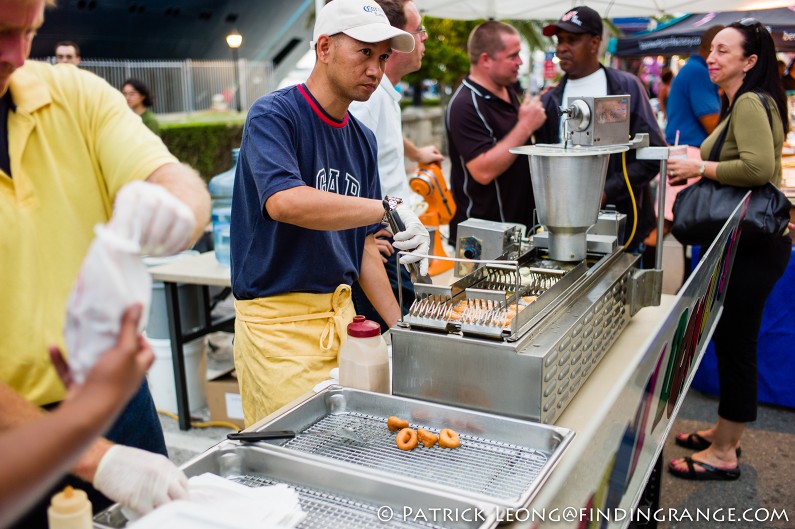 ↑ Who doesn't like freshly fried donuts ;)? M9 and 35mm Summicron ASPH combo.
Not only is the lens' size beneficial, since it is a 35mm, many shooters will find it very natural to use.  This only adds to its flexibility and adaptability.  You can shoot landscape, portrait, street, you name it.  That's why this lens also makes a great "first lens" for a photographer who is new to the M system.  Because it's a wide angle view, you can get in real close for an "in the action" shot but since it's not so wide, it does not have the severe perspective error usually associated with ultra wides.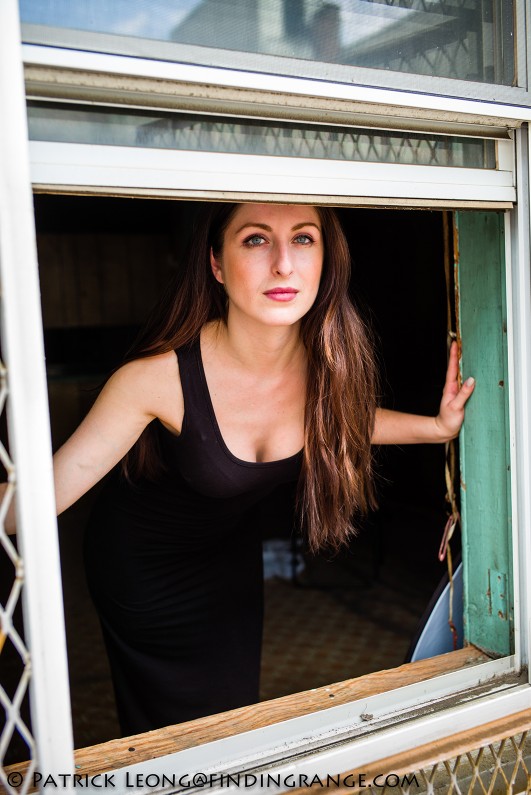 ↑ M240 and 35mm Cron ASPH combo.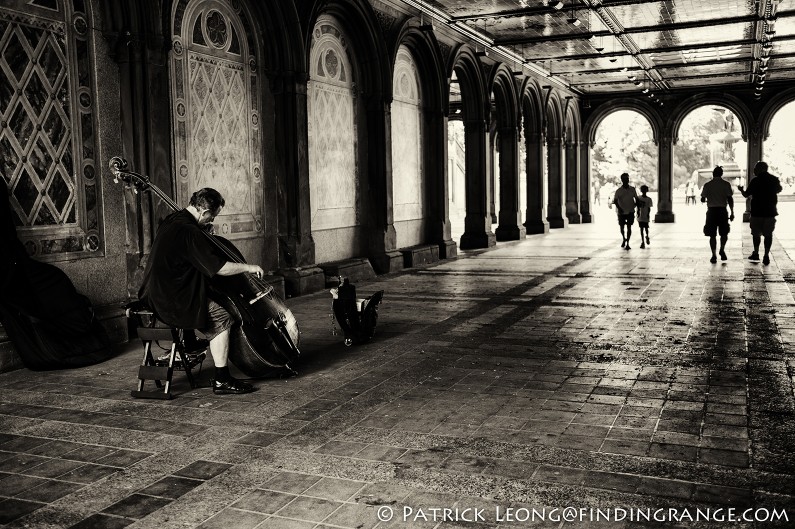 ↑ M9/35mm Summicron ASPH combo.
This is a lens that is design to go everywhere with you, and you'll likely take it everywhere because of its compact nature and versatility.  My preferred focal length is a 50mm although with my recent trend, it seems I've been gravitating more towards an 18mm as my focal length of choice ;).  But when I'm in new areas I've never photographed before, on vacation or if I need ultimate versatility because I'm not sure what I'm really going to run into photographic wise, my 35mm Summicron ASPH is mounted on my camera probably 80% of the time.  I know I'll get the great image quality, it's easy to focus, it's compact, so I don't feel like I'm lugging a ton of gear with me, and it has the flexibility to shoot a variety of subjects in many different environments.  In fact, it's so well at adapting to different situations, many shooters are perfectly content with using just the 35mm Summicron as a daily lens in a one lens system.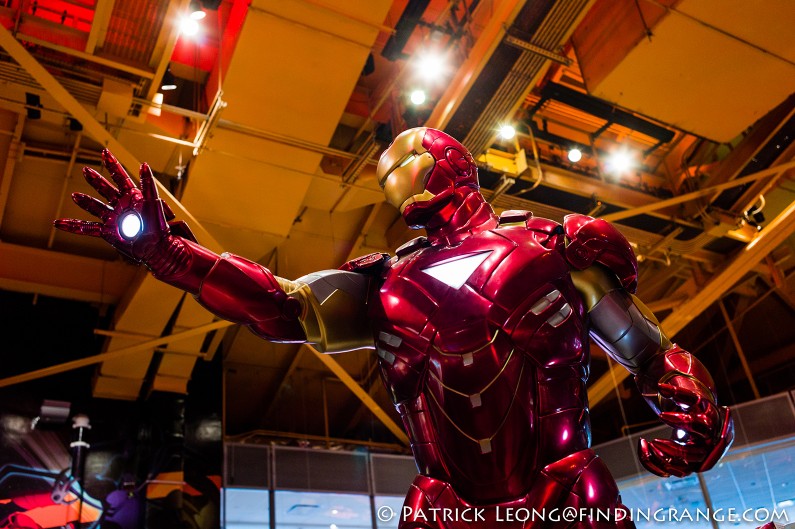 ↑ This was taken with the M9.
Minor Issues With The 35mm Summicron-M f/2.0 ASPH:
As you can tell, I am a huge fan of the Summicron but like everything else out there, it's not perfect (even though I don't see much wrong with it either).  As I mentioned before, there is a rubber lens cap that goes over the standard hood but while it's actually a great idea, I wished the cap clipped on better.  If you lose one, it will cost you over $30 to replace it each time.  Luckily, I've never lost one but I know someone who owns this lens as well, and he has lost a couple already.  I hope Leica will include a lens hood with similar characteristics to say the new hoods that are included with lenses like the 18mm Super Elmar in the next generation Cron.  The 18mm has a metal lens hood with a lens cap that slides over it.  This is both very secure and quick to remove.  The lens hood for the 18mm is also designed to stay on the lens better because it actually screws into the front of the lens.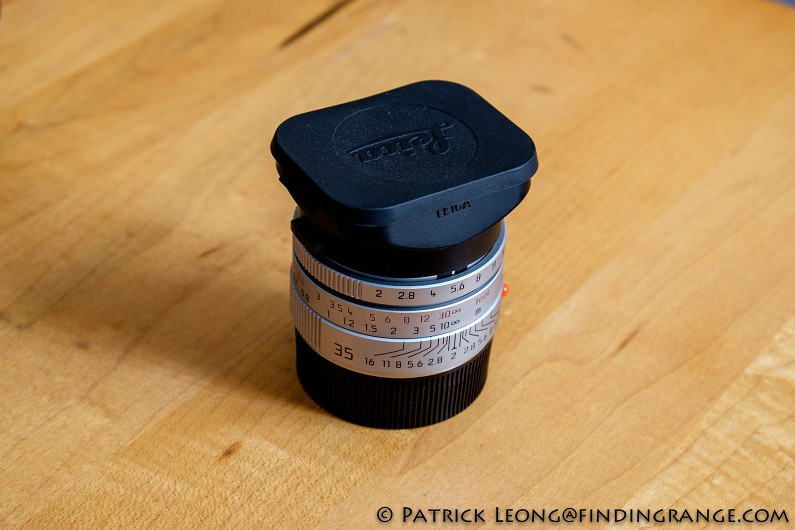 ↑ The rubber lens cap clips right onto the front of the standard lens hood making it very convenient and quick to remove.
Another issue I have with this lens isn't really a problem but more about my own preferences and wishes.  I find the 35mm Summicron-M f/2.0 ASPH is better optically than my previous Version 4 Summicron but in my opinion, it would've been nice if Leica could've kept the older Cron's slightly more compact design.  But this isn't such a big deal since the ASPH version is only a little bigger but in my opinion, produces better image quality.  The ASPH version is still extremely compact as you can see in the photos, and it is still one of the best lenses out there ergonomically; it's still currently one of Leica's most compact lenses.
35mm Summicron-M f/2.0 ASPH Verdict:
Overall, the 35mm Summicron ASPH is one of those lenses in the Leica M lineup that I believe every M shooter should try at least once.  It's not one particular trait that makes it such a great lens.  It's a combination of all its traits, such as, excellent build, ease of use, exceptional image quality, and a fast F2.0 aperture that makes it one of my favorites.  Best of all, these traits are stuffed into one of the most compact 35mm lenses out there.  All these characteristics work together to make this lens hugely versatile and dependable for capturing a variety of subjects in many different conditions.  This is a great first lens to purchase if you're new to the M system but it's also a lens that you can use for a lifetime and never get tired of.  In fact, many photographers still continue to use older generation 35mm Summicron lenses.  As I mentioned earlier, I still own my 35mm Summicron Version 4 or as some refer to it as the "Bokeh King".  It was originally my dad's, and I believe he purchased it in the early 1980's and now I'm using it.  I'm sure it will survive and be used by my children in the future.  Yes, the 35mm Summicron-M f/2.0 ASPH is expensive but you'll never feel like you'll need any more.
That's it for my review.  I hope you enjoyed it.  If you're considering buying the 35mm Summicron ASPH, and my review helped you decide, please consider supporting this site by purchasing from one of the links below.  Thank you for your support!
35mm Summicron ASPH from Amazon
35mm Summicron ASPH from B&H Photo