Billingham Stowaway Pola Review:
We live in great times because nowadays, more and more manufacturers are churning out compact cameras that produce first rate image quality.  Cameras that come to my mind right now are the Leica X, the Fuji X100, and some of the micro four thirds offerings.  The Sigma Quattro dp2 also intrigues me.  If you're using a camera with a permanently attached lens, you might not even need to bring along a bag with you but there are days when you might need to carry a little more than just the camera.  Maybe you need to bring a flash or even an extra lens if you're using an interchangeable compact camera like the Panasonic GM5.  What happens if you're traveling?  Maybe you need a small bag for a camera, travel papers like a passport and an iPod.  If any of this describes your needs, then you might be interested in the Billingham Stowaway Pola.
Billingham Stowaway Pola Build Quality:
The Billingham Stowaway Pola is currently the largest bag in the Stowaway series and like it's siblings, it's extremely well constructed.  Plenty of high quality materials are used to create this bag like Stormblocker dual-laminate water proof canvas, top grain leather trim, and hand finished brass fittings.  There's a well-made detachable shoulder strap that connects to solid brass D rings on each side of the bag.  The strap isn't attached by some cheap plastic buckle either; it's attached by a thick piece of leather and a brass clog.  The strap is detachable because there are two belt loops on the back of the bag, so you can attach the bag to your belt if you choose too.  Instead of just one, there is a double-puller zip that runs across the main compartment of the bag.  Speaking of the zippers, even the zipper tags are made to a higher standard: the tags are noticeably thicker and heavier than standard ones found on other bags.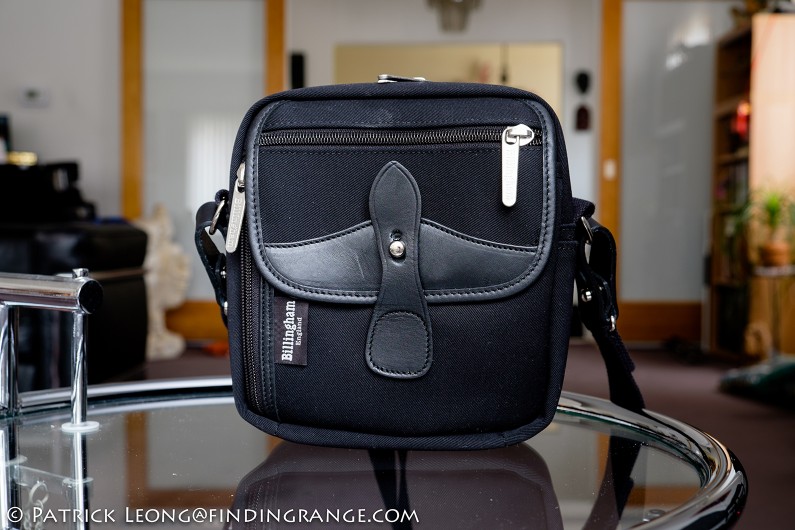 ↑ The front view of the Billingham Stowaway Pola.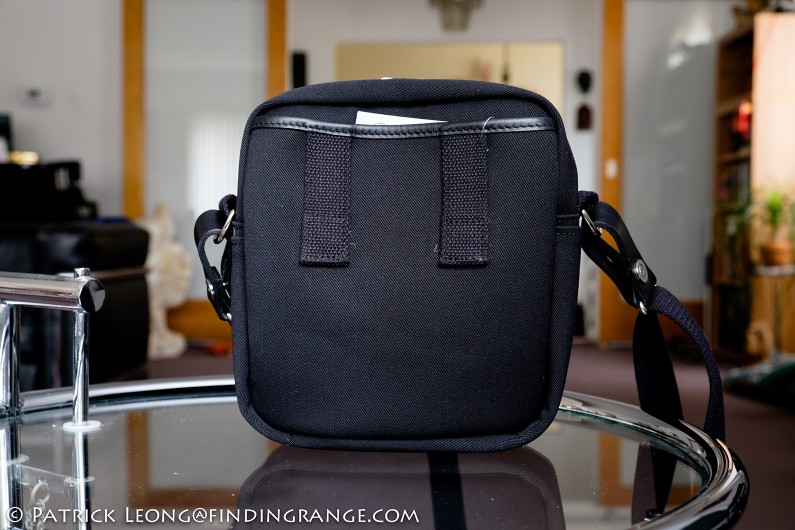 ↑ The back view of the Pola.  Notice the big pocket and the two belt loops.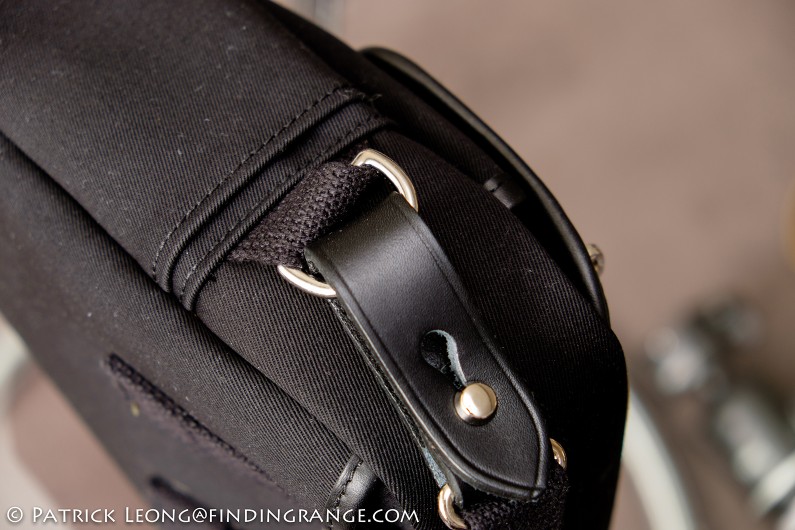 ↑ The shoulder strap is attached to the brass D ring.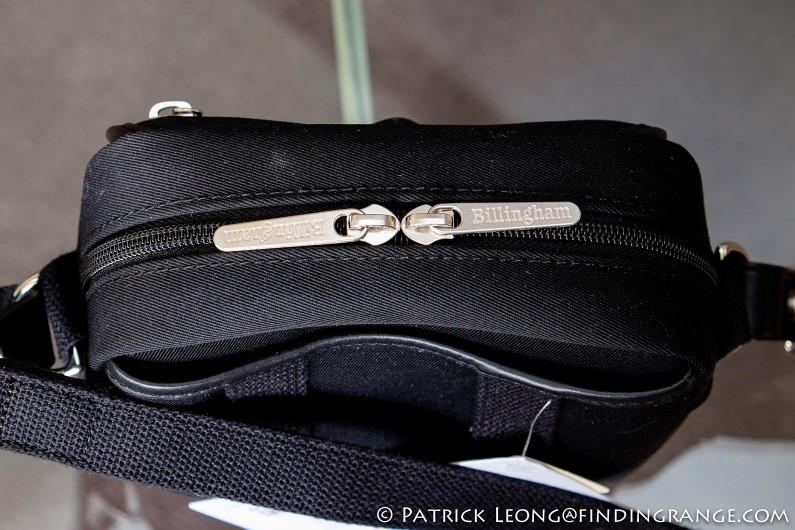 ↑ The double-puller zip that runs across the main compartment of the bag.
For peace of mind, there's also ample padding in the bag's main compartment to protect your camera.  I've been using this bag all over New York City for the past few weeks, and I never had to worry about my camera.  I've walked through crowded streets, rode the trains multiple times, been through some rain, and my camera was perfectly protected.  Also worth mentioning is that if you purchase the black and black leather trim version, it's a very inconspicuous bag.  Overall, even though the Stowaway Pola is a compact bag, it is in every way a true Billingham.  The Stowaway Pola costs a lot for a bag of this size but the quality and workmanship is clearly evident; this bag is designed to last a very long time and offer plenty of protection for your gear.
What Will The Billingham Stowaway Pola Fit?:
For a small bag, there is surprisingly some decent space in the Stowaway Pola.  For example, I was testing this bag with the Leica X (which as of this date, I am currently reviewing), and I could lay the camera down on its base instead of its side very easily.  In fact, along with the external EVF, I could fit a small flash and maybe an additional piece of gear.  In my Billingham Stowaway Compact review, I stated that an M9 could fit into the Stowaway Compact (I've put a Fuji X-E2 and kit lens in this bag as well).  Well, an M9 will fit in the Pola as well but more comfortably.  For instance, it's easier to pull the M9 out of the zipper portion because the bag is slightly larger than the Stowaway Compact.  If you have something as tiny as the Panasonic GM5, you could probably fit the camera along with multiple lenses.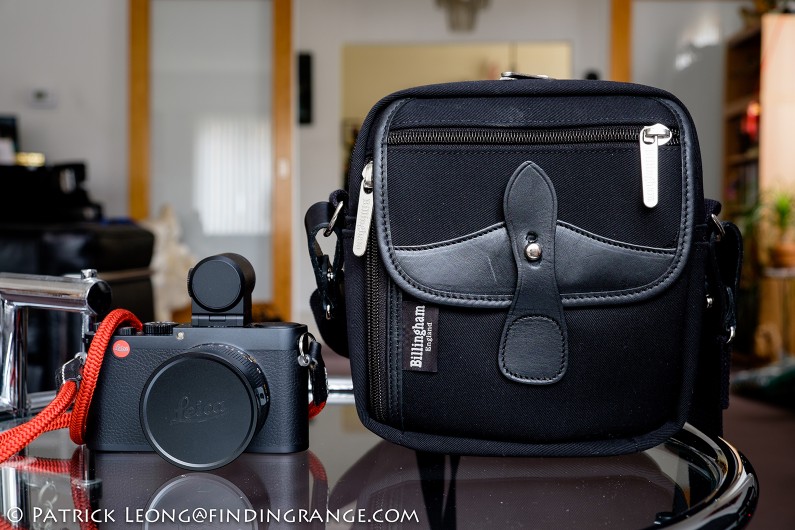 ↑ To give you a better understanding of the size, I thought I'd show you how the Leica X1 looks next to the Billingham Stowaway Pola.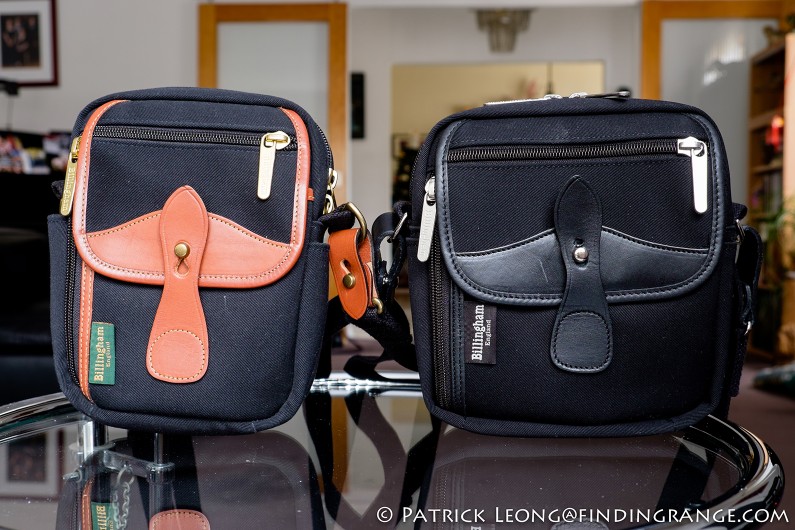 ↑ Comparison between the Billingham Stowaway Compact and the Stowaway Pola.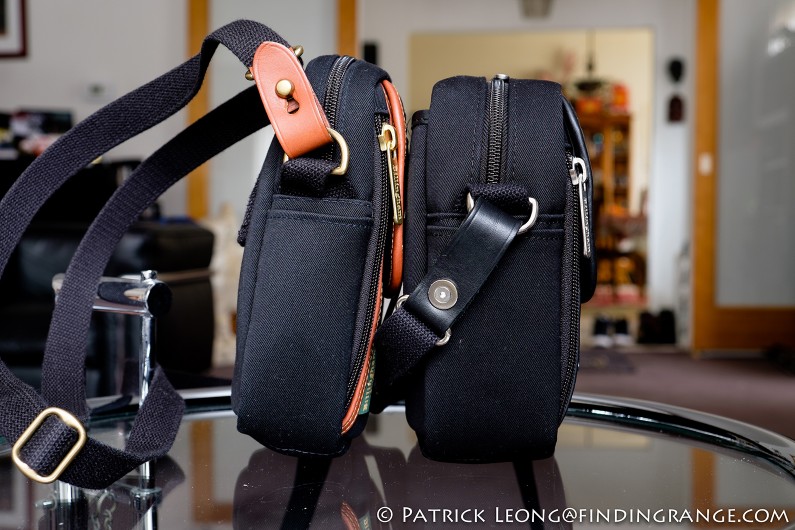 ↑ Side view comparison between the Stowaway Compact and Stowaway Pola.
However, while the main compartment is larger than the one in the Billingham Stowaway Pola, just like the Compact, there are no dividers included or areas where you can attach velcro dividers.  For those looking to divide the space in the main compartment, my advice would be to buy a divider from either Domke or Billingham, and customize it yourself to your needs for the bag.  I do this occasionally with my own bags and it's very easy to do.  For instance, if I owned the Stowaway Pola, I would probably buy a divider that wraps around gear (since there is no place to attach velcro) like one of those Billingham Superflex partitions, and cut it the way that I want to fit into the bag.  This way, maybe I can wrap a flash and put it on the bottom of the bag while I put my camera on top of it.  If customizing a divider is not something you want to do, you might want to consider purchasing a Domke Protective Wrap.  They come in all different colors and sizes and are very competitively priced.  But this is only a minor issue, and we have to keep in mind that this bag is really designed for the bare essentials.
For a bag of this size, there are quite a lot of useful pockets.  In front of the bag, there's a flap that covers a leather bound pocket that can fit a phone, travel documents or small accessories like a lens hood.  On the front of the flap, there's a small integral zipped pocket that can fit memory cards or a bunch of business cards.  Then there's also a zippered side pocket that can fit passports, small accessories, and travel papers.  On the back of the Stowaway Pola, there's a large pocket that's almost the size of the bag itself.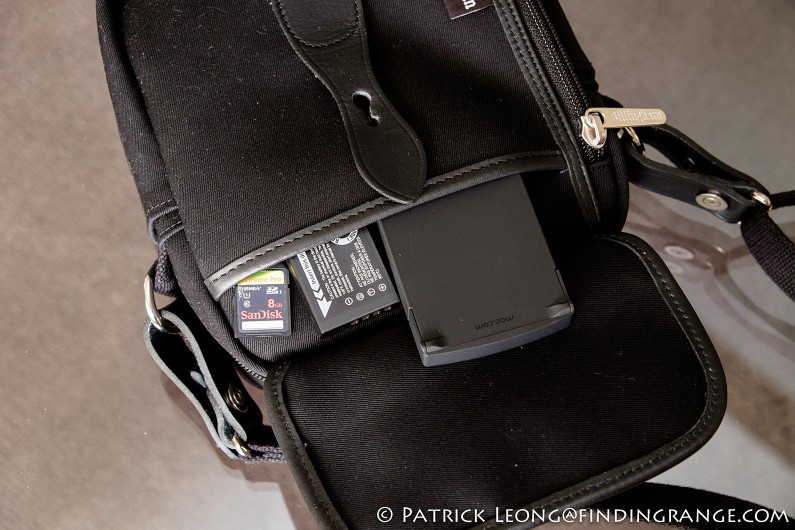 ↑ If you open the flap, there is a nice, big pocket that's well protected.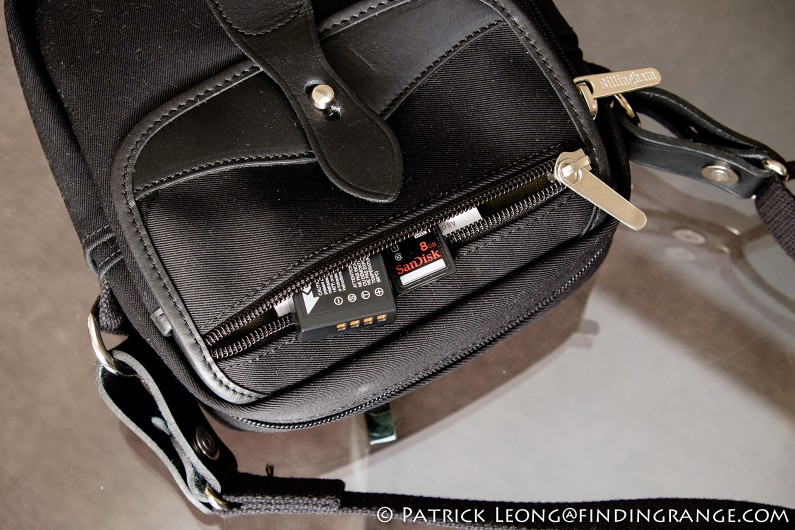 ↑ The little zipper pocket on the front of the bag is a great place to store memory cards and other little items.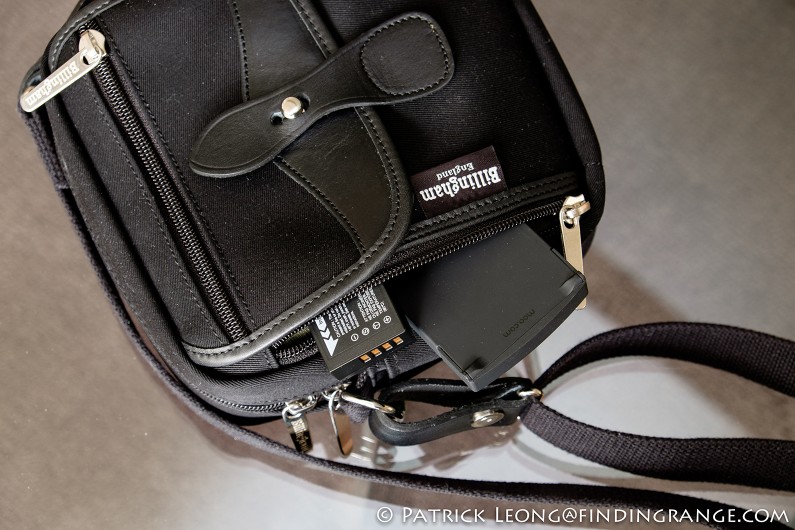 ↑ There's also a side pocket that's a great place to store spare batteries.
Billingham Stowaway Pola Technical Specifications:
External Dimensions: W220mm (8⅝") x D85mm (3⅜") x H220mm (8⅝")
Internal Dimensions: W190mm (7½") x D70mm (2¾") x H210mm (8¼")
Capacity: 2.25 litres (0.08 feet³)
Weight: 0.53 kgs (1.17 lbs)
Pockets: 4
Pocket Dimensions of the Billingham Stowaway Pola:
Zipped front flap: W150mm (5⅞") x D Nominal x H90mm (3½")
Front slip pocket: W160mm (6¼") x  D Nominal x H160mm (6¼")
Zipped side pocket: W170mm (6¾") x  D Nominal x H140mm (5½")
Rear, full-width, slip pocket: W180mm (7⅛") x  D Nominal x H180mm (7⅛")
Billingham Stowaway Pola Verdict:
If you're looking for a bag that will fit a compact camera or even a small system, the Billingham Stowaway Pola is a great choice.  If you're a reader of my blog, you know that I'm a big Billingham fan.  The reason is because their bags are extremely well-made, only top notch materials are used, and the bags offer truly excellent protection for my gear.  It's one of the few manufacturers who hasn't made a product yet that has disappointed me.  They cost more than some bags out there but they also last a lifetime.  These are bags that you can really count on.  I have an old Hadley that I still use almost daily, and I believe it's over two decades old.  It's been through so much abuse, and it still is up for pretty much anything I throw at it.  The best part is, the bag's only seems to get better with age because now it's better formed to my body.  After using the Stowaway Pola, I'm glad to say that even though it's a small bag, it has all the same characteristics of my Hadley, which makes it a true Billingham.