Note from Admin: This is a great article, especially for all of us East Coasters or people experiencing some brutally cold weather.  Here is another excellent and informative guest article written by Fuji X Series user, Jed Orme.  He discusses his reasons why he chose to bring only primes on his recent trip to the South Pacific and includes some fantastic photos (look at that photo above; it's perfect!).  If you would like to see more of Jed's photos, please view his Flickr page!  Enjoy!
South Pacific Sojourn – To Zoom or Not To Zoom (Part 1 of 2 Parts)
This is the first part of a two-part article about photography on a thirty day cruise, & related photo gear considerations as well as image capture experiences.
Not quite two months ago, while checking email on my computer, I received an incredible offer from our travel agent to take a last minute cruise from San Diego to Hawaii & then to seven islands in French Polynesia.  Places with far away names like Bora Bora, Raiatea, Tahiti, Moorea, Rangiroa & Nuku Hiva conjured up images for me that are a photographer's dream come true.  So my wife & I jumped at this opportunity.  This led to my next question of whether to take the most basic photo gear or a more capable but also more complex setup.  In my case, the former would be my Fuji X-E2 with its outstanding XF18-55mm zoom lens; the latter would be a selection of some or all of my prime lenses for this camera, with or without the zoom.  For me this is the XF-14mm, the XF-35mm, a Zeiss Planar 50mm, & finally a Leica Tele-Elmarit 90mm.  I provided a prior write up on this blog of my experiences in adapting these last two Leica M mount lenses to my Fuji X-E2 using the M adapter made by Fuji (see my two-part article on this blog titled "A Tale Of Two Lenses"). 
I suspect that almost everybody who might read this article has faced a similar dilemma:  This is primarily a vacation trip with my spouse, but to somewhere offering real opportunities for some good photography – Should I bring along only that gear which won't interfere with spending time with her/him & enjoying all there is to see; or is there some happy medium that will permit both a wonderful shared experience & still allow for some worthwhile photography.  In the past, with my Nikon D7000 kit, I basically took my two most frequently used lenses, a 35mm f1.8 that was my favorite, & an 18-200mm stabilized zoom that was next most often used.  But this was hardly either a small or lightweight kit.  In fact, the last long trip taken with it was the major impetus for me to exchange it for the smaller, lighter Fuji X system gear.  So I could literally take everything I now own, it wouldn't amount to half the weight or size of the prior partial kit assemblage, & with equivalent or better resulting image quality.
But I still gave serious consideration whether to zoom or not to zoom for the reasons mentioned of keeping my focus (no pun intended) on the trip experience rather than its photographic outcome.  The decision to take my XF18-55 zoom or not to do so was made harder by virtue of its outstanding performance.  It also has a much faster speed in all focal lengths than provided by most so-called "kit" lenses.  I thoroughly enjoy using it on my camera, & would have no problem relying on it to produce about as much as my eye is capable of both seeing, composing & creating.  So right up to the last minutes before departure, my plan was to bring the X-E2 with its zoom, my 5 batteries, 2 chargers, & 6 16gb high speed SD cards; all easily packed & carried in my recently acquired Billingham Hadley Small bag.  Nothing else – not my tripod, my monopod, my external Yongnuo flash, or anything more.
But at the last minute, I really starting thinking about two considerations: The first was that my favorite lens on the X-E2, like before, is the very compact but special XF-35mm.  As with my D7000, this lens is almost always on my camera & most of the photos I take are with it.  Part of it has to do with the fact that I just tend to see the world through 50mm aging eyes, & can better visualize a photo before looking through the viewfinder with this focal length lens than with any other I have ever used.  Also the image quality it produces is among the best of any lens made by Fuji.  It likely has something to due with the fact that this was the first prime lens designed & sold by Fuji to go with their first interchangeable lens camera, the exceedingly popular X-Pro1.  Or for me at least, it just seems like there is something almost magical in the glass that can't be explained.  Many reviewers of the little 35mm have compared it very favorably with some of the best 35mm's coming from Leica, Zeiss, Cosina Voigtlander & others.
The second thing that compelled me to decide on some combination of my prime lenses was the great joy I've experienced in the relatively short time I've been using the adapted Leica 90mm & Zeiss 50mm on my camera.  And they are more than capable of giving me the optimal results that I am able to create.  Manual focus (particularly with the viewfinder magnification & "focus peaking" features of the X-E2) also should not be a problem with the type of travel photography I had in mind for this trip.
So then I had these three great lenses, but maybe also should consider the need for a somewhat wider capability; something like what my relatively new XF-14mm could produce.  I am truly amazed at how sharp the images are from this lens.  And it seemed that there indeed would be a need for a wider angle than that provided by the 35mm.  So the decision really was whether to bring along the zoom, with its 18mm lower end, or to go a bit wider with the 14mm prime.  My final decision was that the prime's ultra wide capability was more beneficial than having a less capable zoom that also duplicates some of the focal lengths provided by my other primes.
After looking at my recent history of usage of the lenses that I possess, it suggested that, in order, the 35mm, 14mm, & 90mm would be the top three needed.  I also viewed (again no pun intended) that the longer telephoto capability of the 90mm would be more useful than the medium reach of the 50mm.  And both of these lenses are about the same weight & size.  So I loaded up my bag with my X-E2, these three lenses (14, 35 & 90) & the extras cited above to see how it all fit & how manageable it would be.  Turned out to be just fine – – & maybe there might even be some room leftover to drop in the petite 50mm!  This I did, – – & voila, – – everything still fit just fine & was still very manageable.  So the final decision was made to bring along all four of my primes: the 14mm, 35mm, 50mm, & 90mm; but not the 18-55mm zoom.
Then to further address this issue of zooming or not zooming, we need I believe to look both at how some of the images taken turned out, as well as the experience or reaction of the photographer in using only primes instead of a more flexible zoom.  I'll start by stating how I first adjusted to using this kit either on the ship or ashore during the first leg of this trip from San Diego to Hawaii & nearby ocean waters.  In a nutshell, the 90mm was not used at all when at sea, but very useful in port; however the 50mm, while very useful on the ship, was not as useful when in port.  The 35mm was the most useful of all both on the ship & in port, & the 14mm was also useful in both situations, but more so when in port.  This was my experience during the first phase of the cruise, which was five days at sea, four days cruising among three of the Hawaiian Islands, followed by almost four days at sea to Fanning Island, our first stopover on our way to the islands of French Polynesia.  Then it was two more days to Bora Bora, my gateway to the South Pacific.
We can also take a look at some of the images taken during this particular time frame & review the lenses used for such work.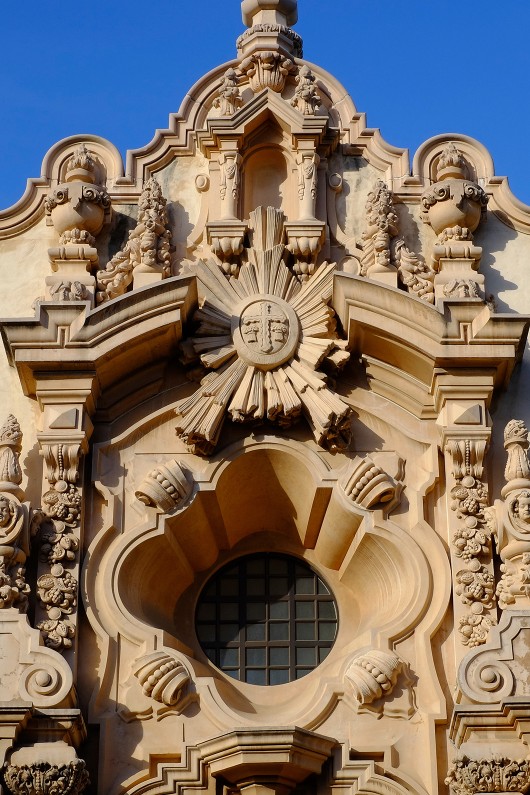 San Diego, California; Balboa Park architecture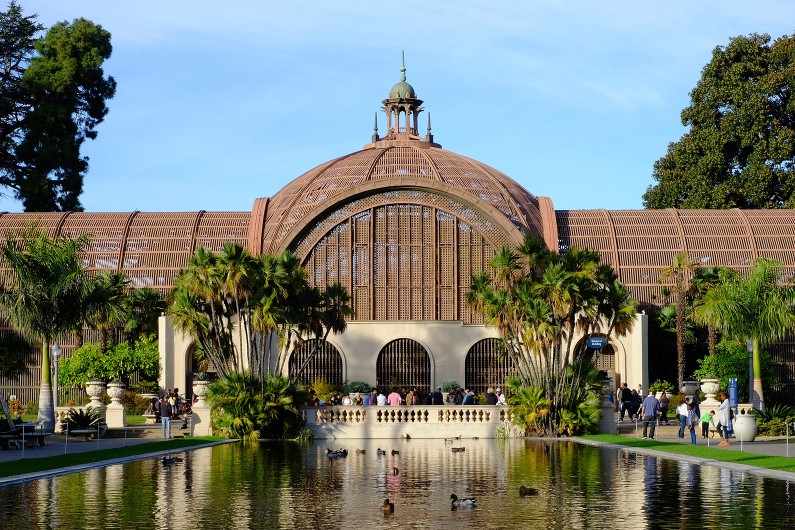 Arboretum at Balboa Park in San Diego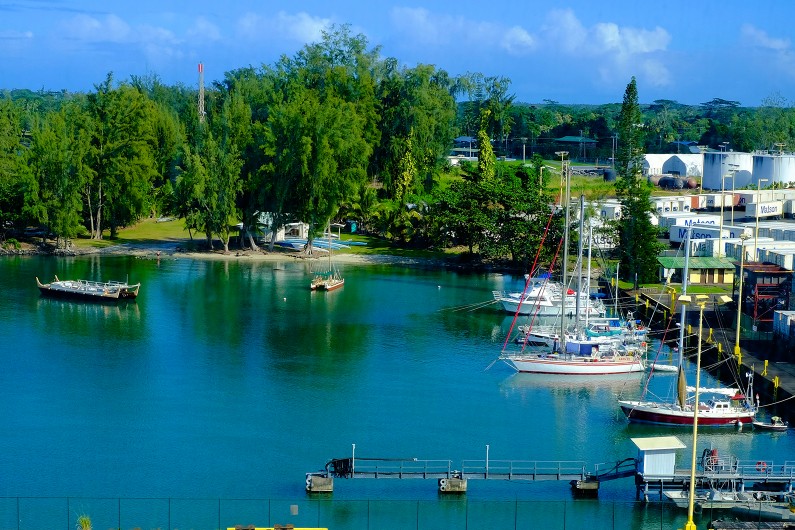 Hilo, Hawaii; Small boat harbor across pier where cruise ship docked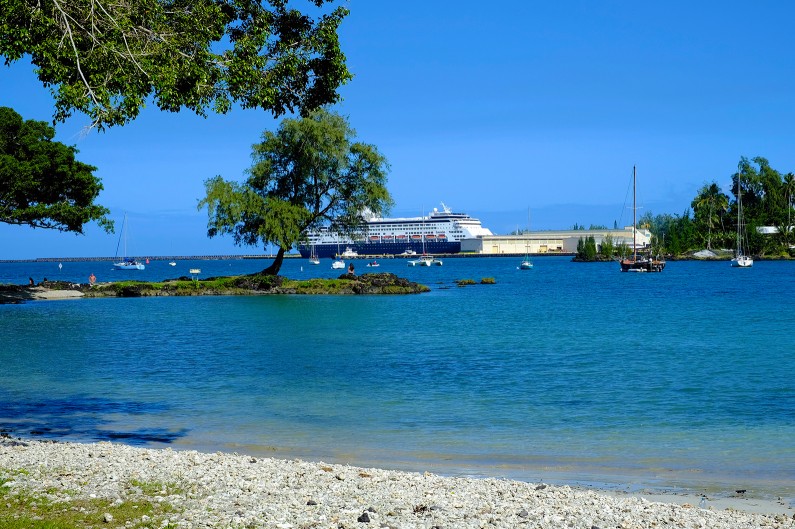 View of cruise ship from Hilo bay near downtown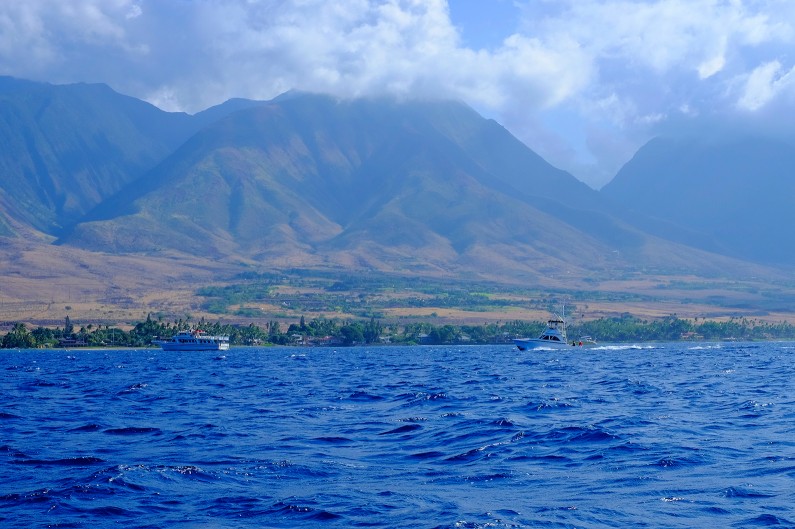 Lahaina, Maui, view of Iao Valley from anchorage
View of Lahaina Harbor taken from tender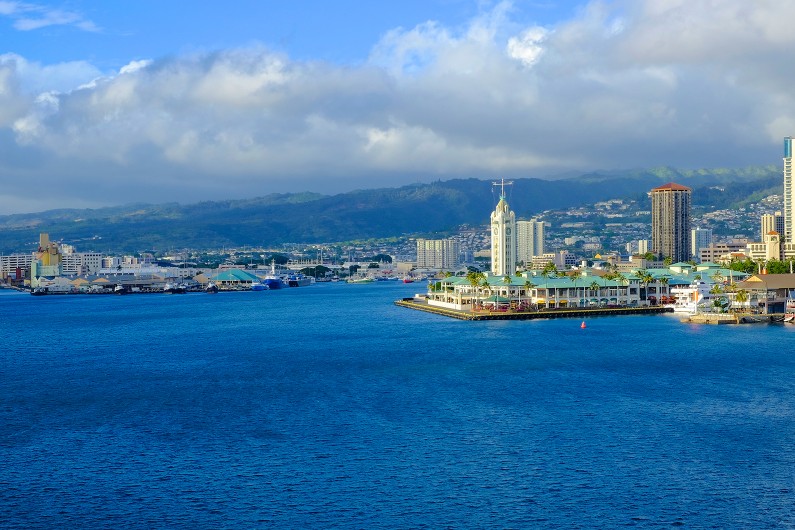 Honolulu, Hawaii; Aloha Tower from bow of cruise ship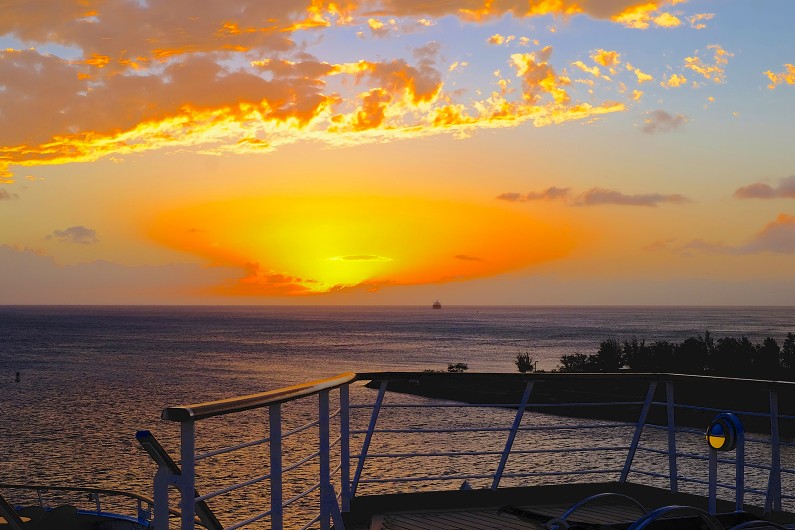 Honolulu; Sunset from stern of cruise ship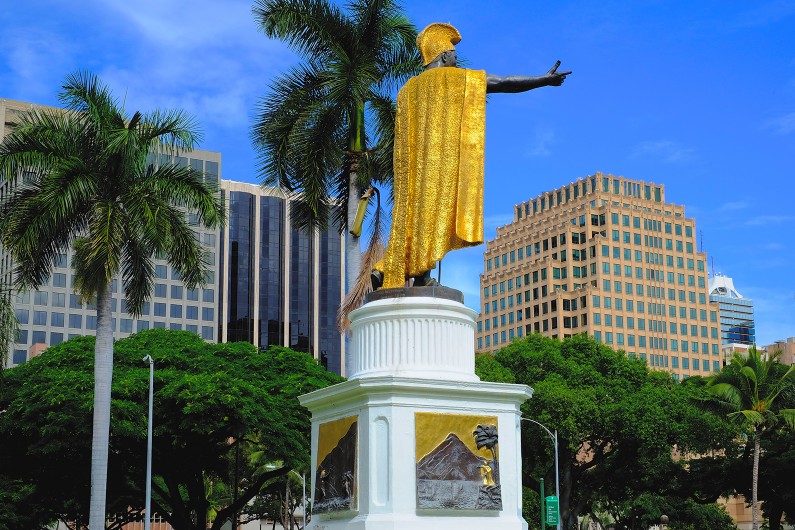 Honolulu; King Kamehameha Statue in front of Ali'iolani Hale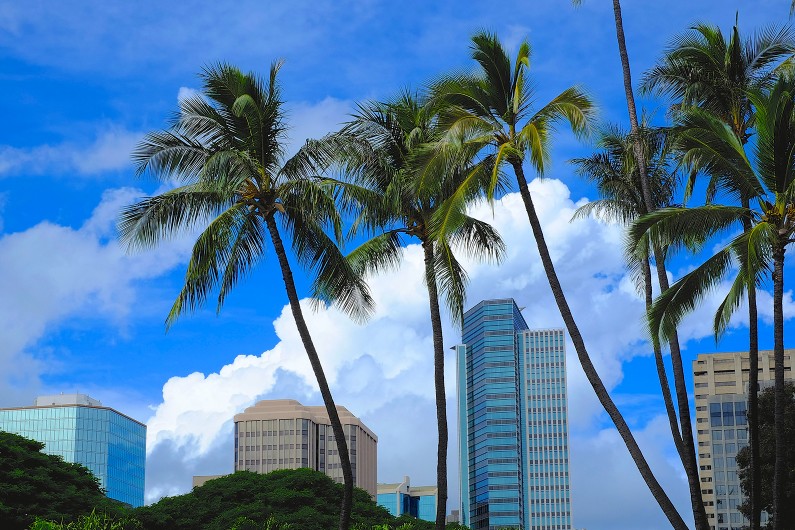 Downtown Honolulu skyline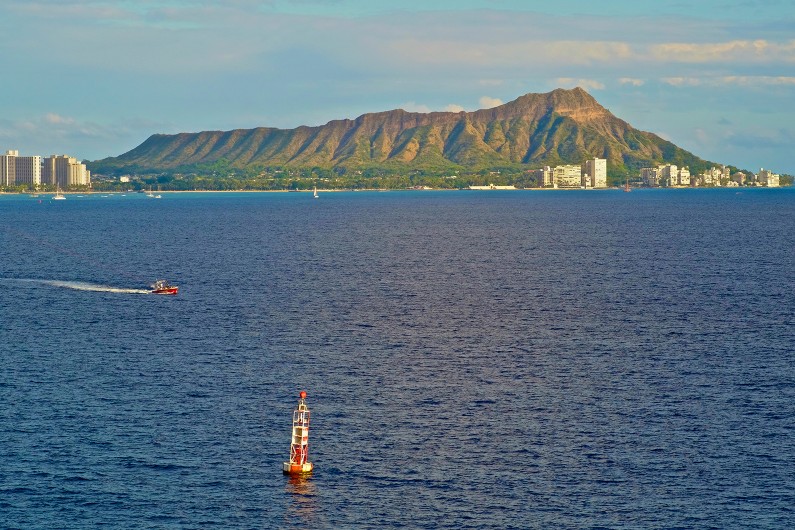 Honolulu; Sunset cruise ship departure view of Diamond Head & Waikiki Beach front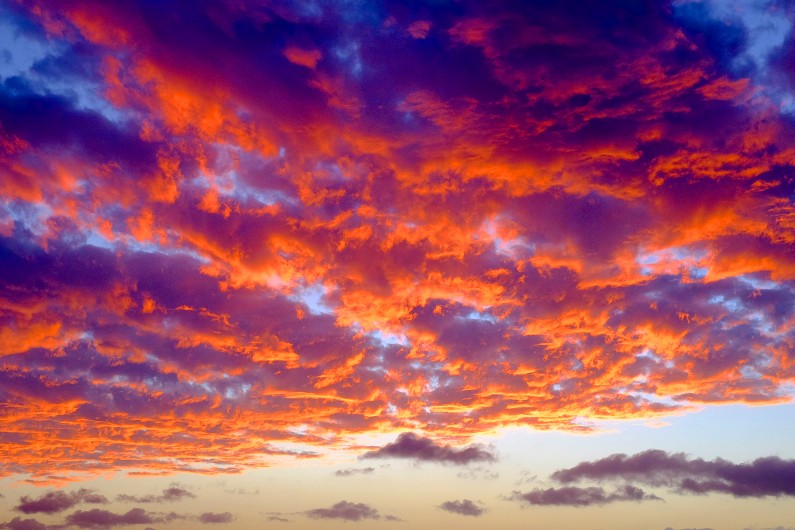 "Red Skies At Night, Sailor's Delight"
First I considered all of the images taken during the initial portion of the cruise to Hawaii, & then in the time in the Hawaiian Islands.  These total around 750, & almost two-thirds were taken with the XF35mm; the remaining third were fairly equally divided between the XF14mm & the Leica 90mm.  A small percentage was taken using the Zeiss 50mm, but almost all of these were taken on the ship at sea.  However when I select what I feel are the best images in this batch, some of which are shown above, the great majority (75-90%?) are taken with the 35mm, with the balance pretty even between the 14mm & 90mm.  Interestingly however, in the above photos (which I selected without checking which lens was used) all were taken with the 35mm excepting for the next to the last one of Diamond Head, which was taken with the 90mm.  Also the use of the 14mm was primarily on the ship at sea when roaming around looking for something that would merit its use.  Quite honestly, they came out fine in terms of IQ, but subject matter or their composition left something to be desired.
So let's see how this plays out during the next portion of the cruise from the Hawaiian Islands to Fanning Island & beyond.  Here again is a selection without any consideration of lens used, but only representative of what was seen on the trip & a view to showing what I feel are among the better photographs.  Our first leg of travel to the South Pacific was from Honolulu to Bora Bora, with a stop at an isolated atoll called Fanning Island, a fascinating place inhabited by almost 2500 people who live without any water or electricity.  The last photo was taken on the tender ride into the dock at Bora Bora after a lengthy delay clearing French Polynesian customs prevented our going ashore until almost dark (fortunately we were there for two days).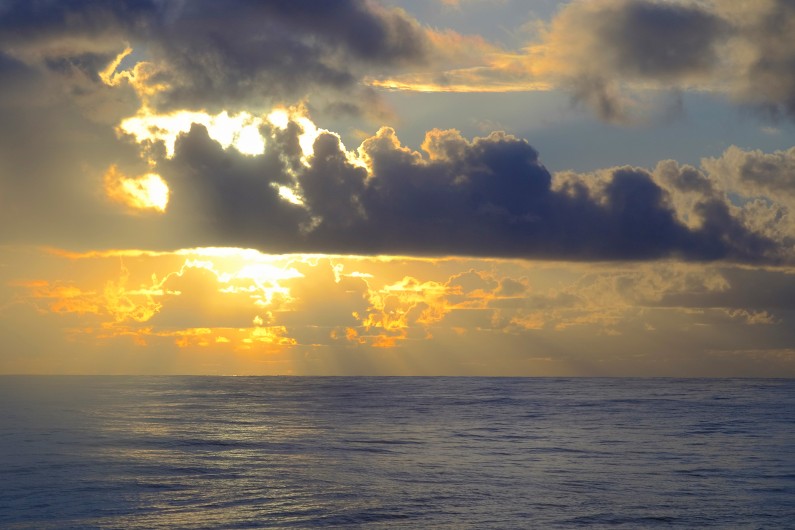 Sunset at sea between the Hawaiian Islands and the South Pacific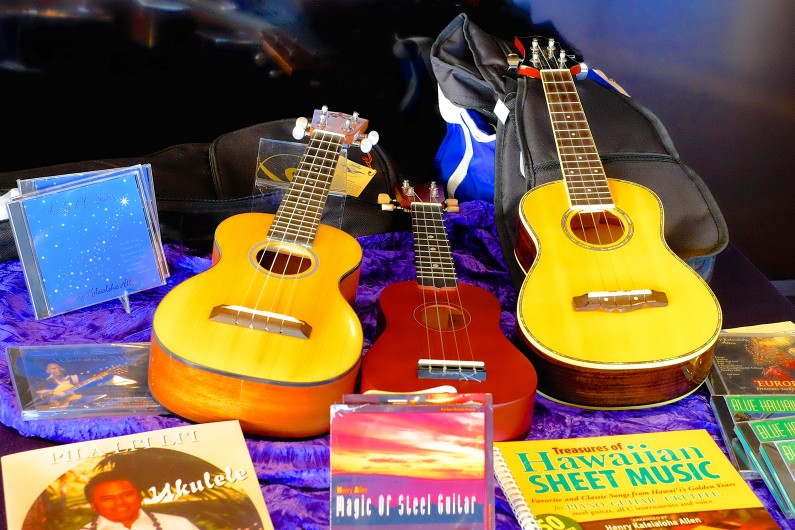 At sea; ukulele lessons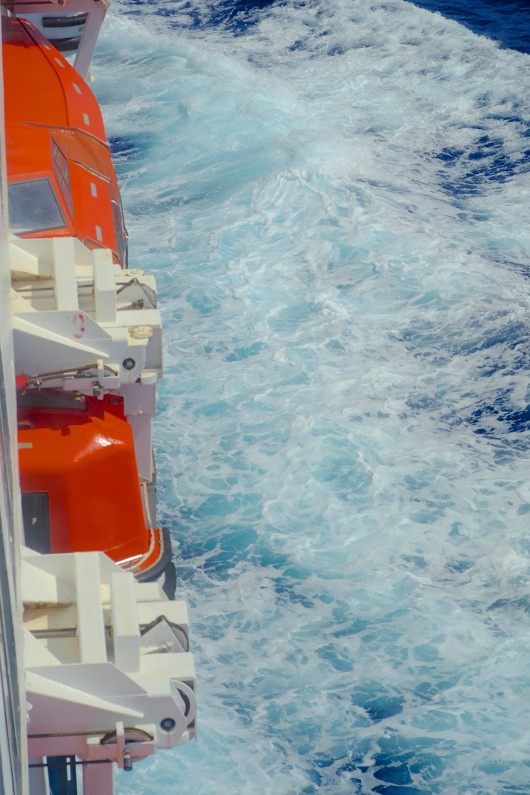 At sea; lifeboats & sea foam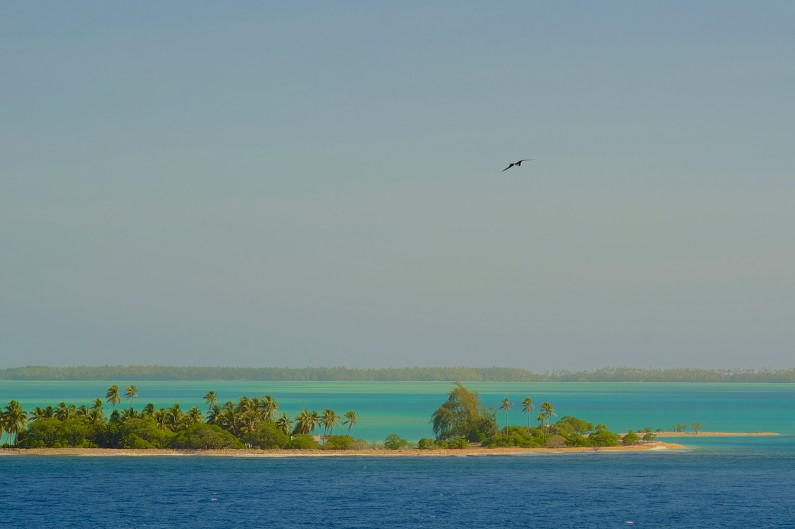 At anchor off of Fanning Island; Coral atoll with no water or electricity for 2500 island residents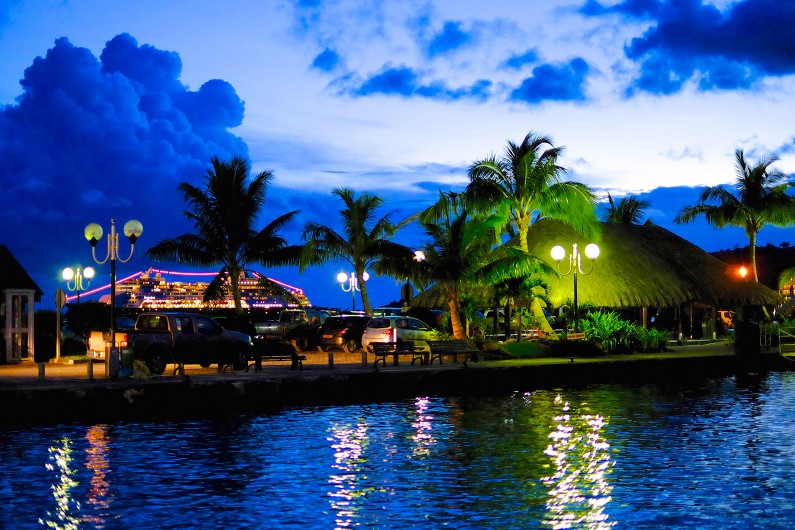 Bora Bora, Society Islands (French Polynesia); View from tender as it docks in Vaitapai
Here, as you might expect, the night shot was taken with the faster 35mm, as well as the ukuleles & the lifeboats over the ocean.  But the other two were both taken with the 90mm.  Again for these subjects, not much reason to consider the wide angle – little Fanning Island would just be a blip on the horizon with its three feet above sea level altitude (not visible at all without the palm trees & other vegetation).
But daybreak in Bora Bora commenced our experience with what is, & what we expected of, the South Pacific (I had even read James Michener's book "Tales of the South Pacific" during the sea days between Hawaii & Bora Bora to get in the right frame of mind).  However, due to the length remaining of this article, & the number of photos still to be seen, I'm afraid I am going to ask your patience until Patrick is able to post the second half of my tale about photography & South Pacific cruising.  So please return for what I hope will even be a more interesting conclusion to this wonderful experience & the photography related to it.
Aloha for now & Mauruuru Roa (Tahitian for "Thank You Very Much"),
Jed
Note from Admin: I would like to thank Jed for sharing with us his wonderful photos and this exquisitely written article of the South Pacific.  Stay tuned for part two, which should be up soon!  For now, if you would like to see more of Jed's photos, please check out his Flickr page!  I promise you won't be disappointed.