Sailor Strap The Lieutenant Review:
People like to personalize their cameras and one great way of doing this is simply by swapping out the OEM camera strap for an aftermarket version.  Unfortunately, sometimes it can cost a lot to get a decent one.  Well, a new camera strap manufacturer has released straps that promise both handcrafted workmanship, and a distinct look that separates them from the crowd.  That is no small feat, especially since there is a lot of competition in the camera strap world these days but on top of this, this manufacturer is also selling these straps for a very reasonable price.  How reasonable?  Well, how's $45 for the strap in this review sound to you?  Yes, $45.  This new company, located in Warsaw Poland, is called Sailor Strap, and they recently were kind enough to send me a sample of one of their products for me to review.  The one I chose is the Lieutenant strap.
Sailor Strap The Lieutenant Build Quality:
At first, I honestly didn't know what to expect mainly because of the price of the Lieutenant.  Don't get me wrong, I do not believe that every great product has to be expensive but let's face it: there are some pretty expensive camera straps out there.  I can also be a very picky person at times but I'm glad to say that my expectations for this strap have been met.  First off, while the Lieutenant strap looks great in the photos, I have to say, it's even more beautiful in person.
The color I chose was the black cord with the red vegetable tanned leather, and I absolutely love it.  I particularly like the red leather because to me, it is a really nice, rich red but still bright.  I feel the strap I chose looks understated but with just enough flash from the red to make it look distinctive.  If you prefer a different color, you're in luck because there are plenty of colors and color combinations to choose from.  Check out their website to see what I mean.  I tend to be a little more conservative but if you prefer something with a bit more flash, Sailor Strap has plenty of options and combinations that should satisfy your needs.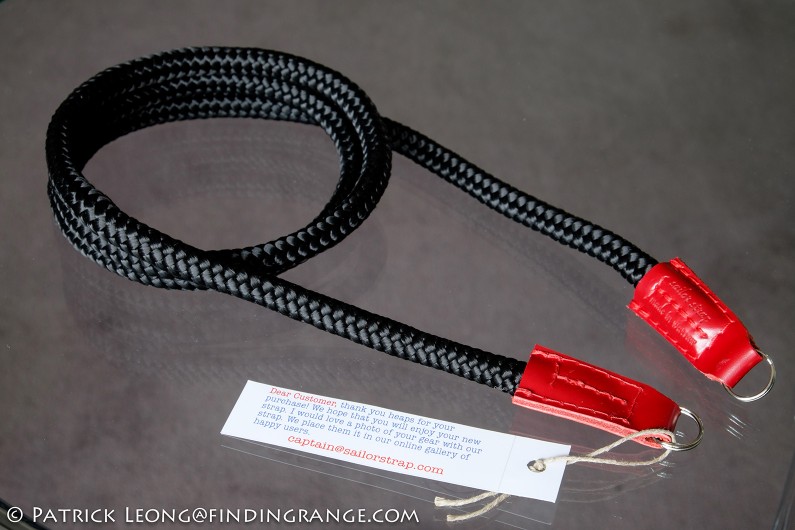 ↑ The Lieutenant strap in black silk cord and red leather.
In terms of length, the Lieutenant is about 130cm, making it longer than another popular cord type strap, the Artisan and Artist ACAM-301. You may or may not prefer this, and it will probably depend on your height and shooting habits.  But if you don't, I'm sure you could get a shorter version by simply emailing Sailor Strap because they will do custom work.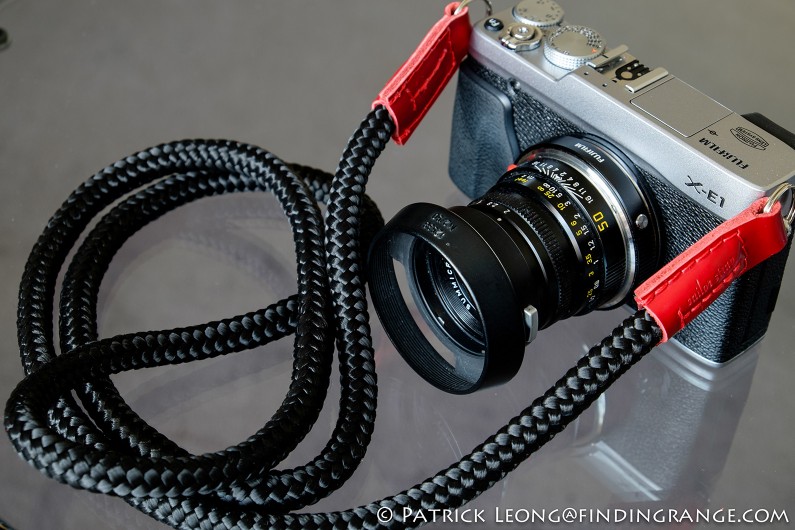 ↑ The Lieutenant strap with the Fuji X-E1.
Speaking of customization, I think the fact that Sailor Strap does offer this as an option is particularly nice of them considering there are straps out there that cost several times more and still won't give you this kind of flexibility.  In fact, I saw a question from someone on Sailor Strap's site asking them if they would make him a wrist strap, and from the response, it sounded like the people at Sailor Strap would.  While Sailor Strap concentrates on making camera straps for smaller cameras like mirrorless, Leica M, other rangefinders, and some smaller DSLRs, I saw questions on their site asking them if they would make a strap for the D800 or even a Hasselblad 500 and in both cases the response was a yes.  The point is, if you want something in particular, all you have to do is email them and ask to see if it can be done.  Obviously, there are some limits but the point is, some customization is possible, which makes them very unique.
Now, let's talk about the materials used to build the Lieutenant.  As the name of this company suggests, all the camera straps that Sailor Strap designs are made from braided sailing rope.  This means these polyester silk cords are very durable, will remain odorless for a very long time, highly resistant to the unfavorable effects of sun exposure, and water resistant.  In other words, these camera straps not only look good, they are built to last.  Think about it: if these cords were originally designed to be used in the brutal conditions of the ocean, they should easily handle whatever a photographer can dish out.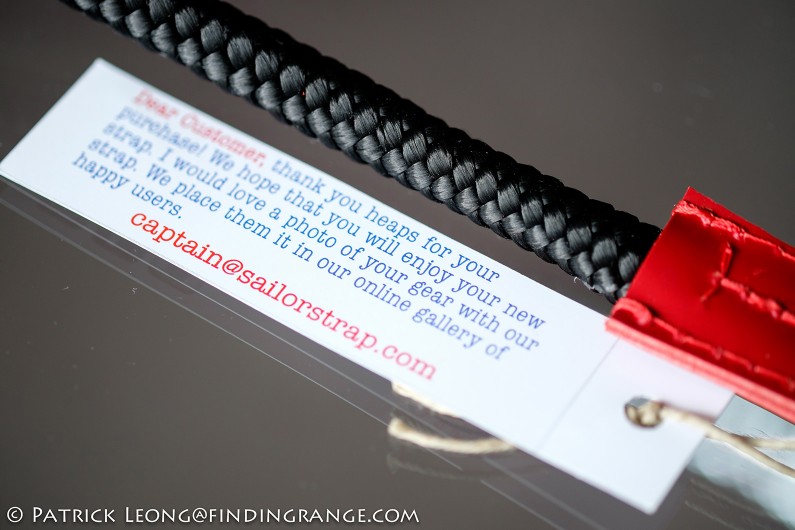 ↑ The silk cord is both strong and soft.
Furthermore, the other materials used to make the Lieutenant strap are also all high quality parts.  The leather is soft and the O rings appear to be just as high quality as the ones found on the Artisan and Artist straps, which is very important because I've actually seen some manufacturers skimp out on the O rings, which is definitely not good.  I've seen O rings on generic straps that have bent or stretched apart.  I definitely would not be happy about that, especially with how much camera gear cost nowadays.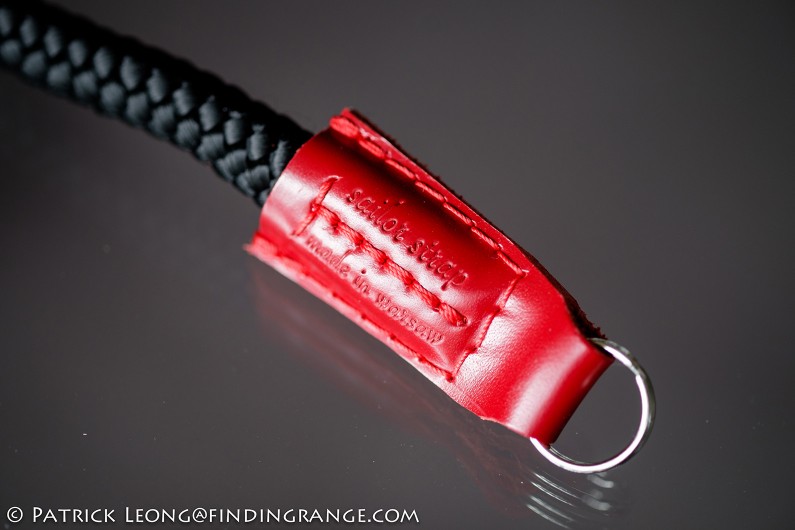 ↑ Here's a close up of the leather and the O ring.
In addition to using only high quality materials to make the Lieutenant strap, I found it to be also very well made.  In fact, this strap along with every other strap in the Sailor Strap catalogue is handcrafted.    This is pretty significant because not only are you getting high quality materials for $45, you're also getting a strap made by an actual artisan.  The combination of great stitch work and the fact that the Lieutenant strap is extremely strong because they use quality materials, gives me 100% confidence that this strap won't break under pressure.  In other words, this is a top quality strap.  Below is a video from their site demonstrating how they make their camera straps.
Sailor Strap The Lieutenant in Real World Use:
Now, just because a camera strap is built well, it doesn't necessary mean that it's a great strap to use.  It needs to be comfortable; otherwise, it's not worth buying no matter what the price.  The good news is the Lieutenant is actually quite comfortable to use on a daily basis.  First off, it's light, so it won't be a burden around one's neck at the end of the day.  It's also soft, so it's non-abrasive.  I've been using it on my Fuji X-E2 for a while now and it works great (the pictures show the strap with the X-E1 because I used the X-E2 to photograph all the pics here).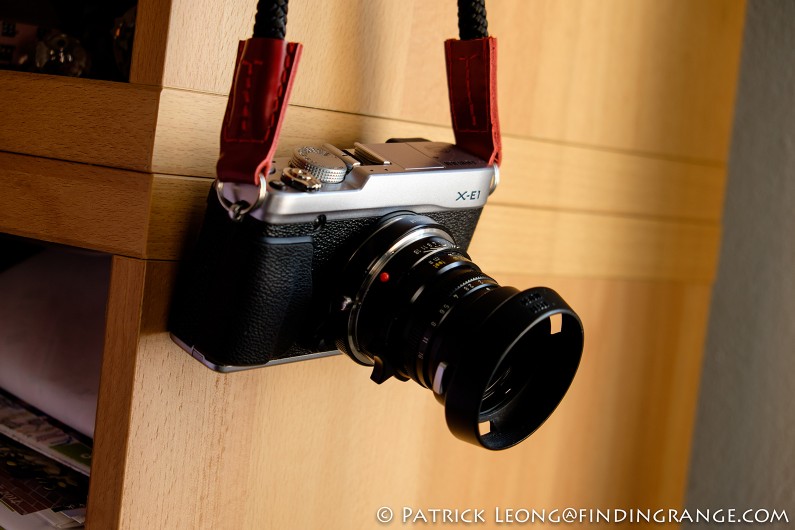 ↑ X-E1 with Leica 50mm Summicron and the Lieutenant strap.
When I look for a camera strap, one major thing that I'm always concerned about is the flexibility of the strap because I really don't like anything stiff but while the Lieutenant is a bit thicker than the Artisan and Artist ACAM-301, it's just as flexible.  In fact, it's so flexible that if you wanted to, you could easily make a knot with the cord.  This is particularly important for two reasons: first off, the flexibility just makes the strap more comfortable.  Second, I don't usually hang my camera around my neck or shoulders unless I need both hands free for something.  When I'm shooting, I usually just hold on to my camera, and wrap the strap around my wrist because I still want the security of a strap just in case I get accidentally bumped on the street.  The Lieutenant does this perfectly.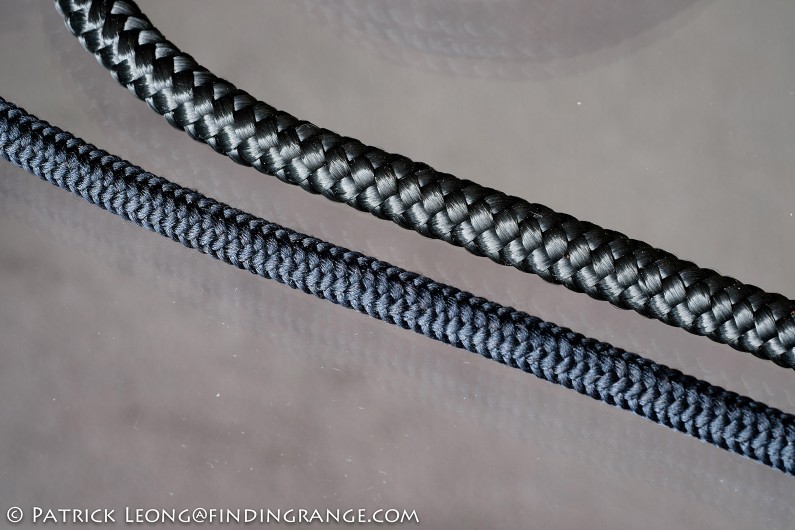 ↑ The Lieutenant strap (top) is thicker than the Artisan and Artist ACAM-301 (bottom) but it's just as flexible.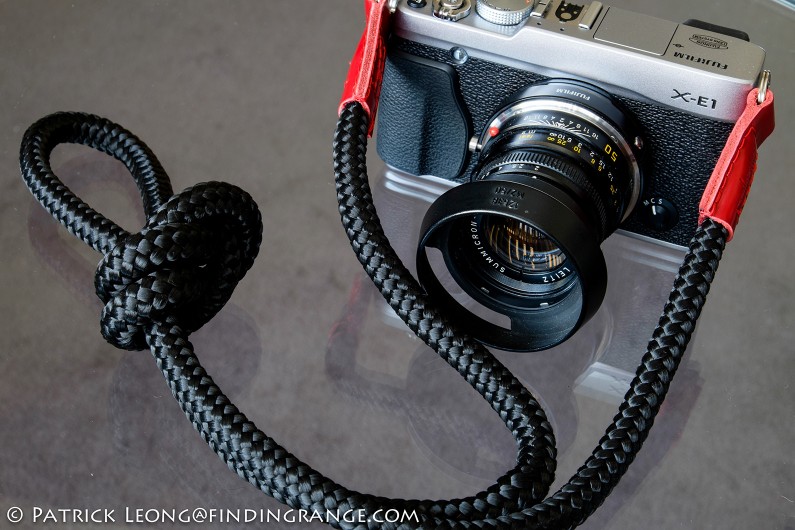 ↑ The Lieutenant strap is so flexible that I could tie a knot with it if I wanted too.
Sailor Strap The Lieutenant Price:
Another great reason why you should consider putting Sailor Strap products on your short list of straps to purchase is the price.  As of now, their most expensive strap, the Plexus, is only $52.  As I mentioned earlier, the Lieutenant is $45.  To put it all in perspective, that's about the price of a stock Leica M strap.  In fact, it's actually cheaper than some generic straps that I've seen on the internet and that can fall apart easily over time.  To me, this is almost unbelievable not necessarily just because of the lower price but because you're getting a handmade camera strap assembled with great materials for this price.  I've tested straps around this price range before with mixed results; some were excellent for the price and some were not so good.  But the bottom line is, I'm impressed by the Lieutenant.
Sailor Strap Different From The Norm:
I mentioned earlier that Sailor Strap makes products that can be quite different from the norm.  While I did not review the Plexus strap, I thought this was particularly unique, and I asked them to send me pictures, so you can all see it.  So, not only can you get some pretty distinctive color combinations with the Lieutenant, you can also get a strap that looks like the photos below.  Now that I think of it, while I like the Lieutenant strap, I kind of wished I asked them to send me one of these Plexus straps instead only because it's something completely different than what I'm used to seeing for a camera strap.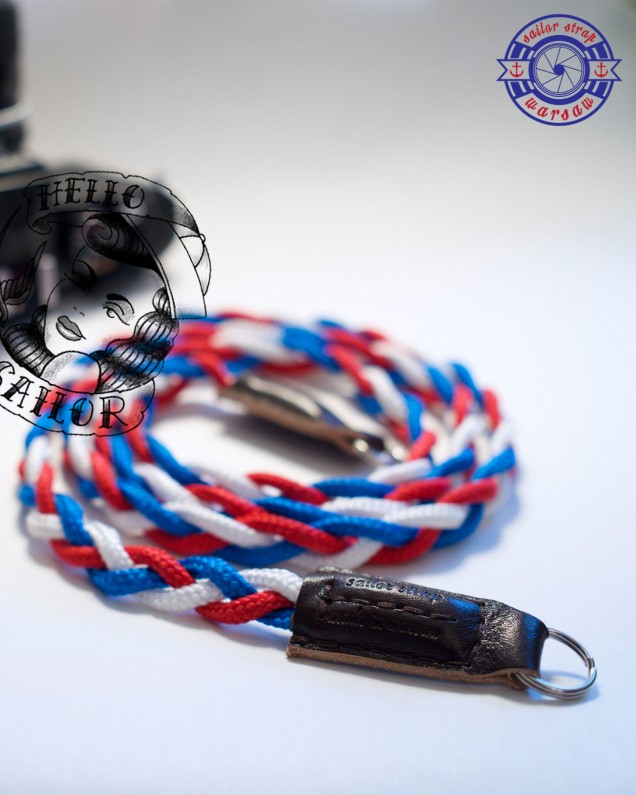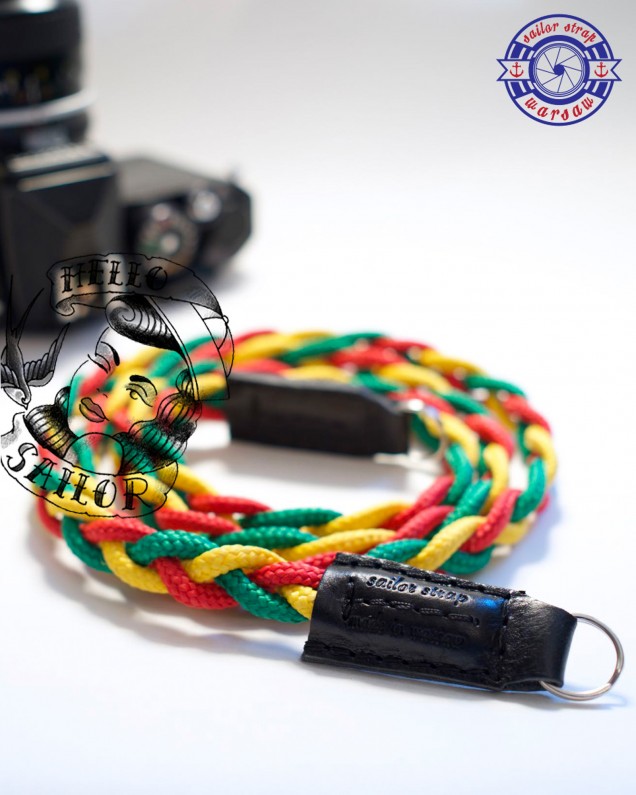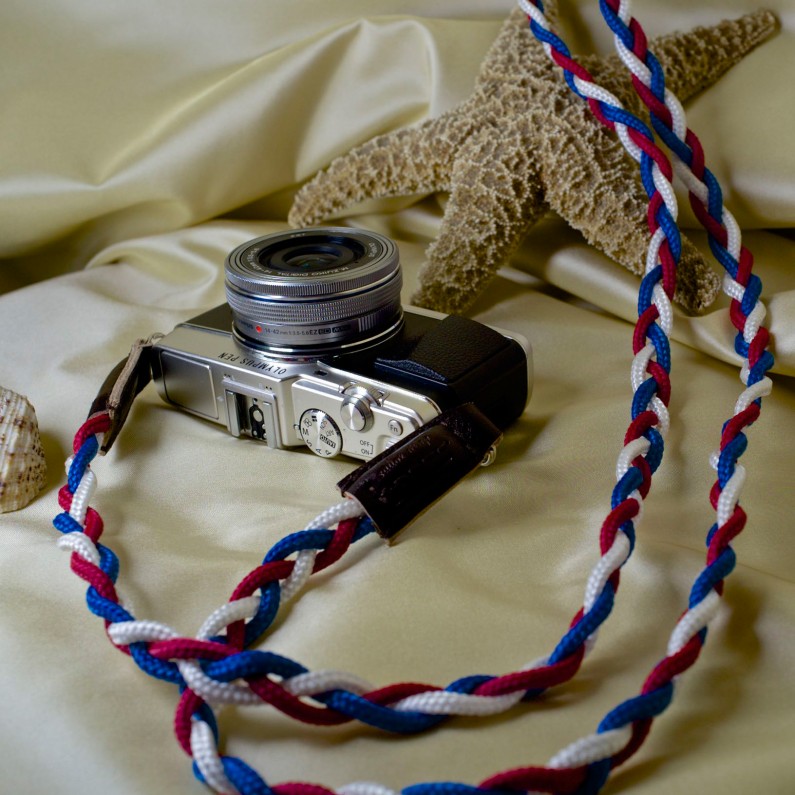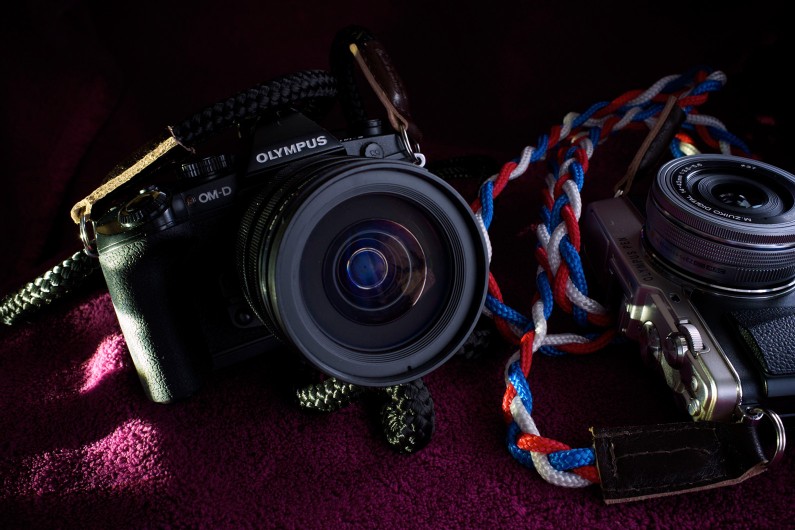 Sailor Strap The Lieutenant Verdict:
Overall, the Lieutenant strap has been one of the nicest straps that I've used in a long time, especially for one costing only $45.  The materials used are excellent and the workmanship is top notch.  With these qualities, I can see the Lieutenant competing with some of the more expensive straps coming from the bigger strap manufacturers.  I honestly think it will be quite hard to find a strap of this quality at this price point or even several price points above.  I could see the Lieutenant strap go for $100 but Sailor Strap is not charging that!  Overall, this is a fantastic product and in this day in age when every little accessory seems to cost an arm and a leg, a product like this, a product of this caliber, this quality, and at this price point is just plain out refreshing to see from a manufacturer.  If you're interested, I urge you to go check out Sailor Strap at their website.
↑ The Lieutenant is a great looking strap that is also very functional.