Billingham F-Stop 1.4 Review:
The Hadley Pro is one of Billingham's most popular bags not only because it's built well and offers excellent protection for photographic equipment, its size is also just about perfect for a broad range of gear.  It's a great bag for a Leica M system, a mirrorless system, a DSLR system, and even medium format gear all while still being compact enough that it's not a struggle to carry around all day.  But while the Hadley Pro is a very versatile bag, it's still not for everyone.  The size of the bag and what it can carry does appeal to a broad audience but some may want something that is configured a little differently.  For those who want another bag with similar traits, Billingham has introduced an alternative: the Billingham F-Stop 1.4.
Billingham F-Stop 1.4 Build Quality:
At first, I actually wasn't a huge fan of how the Billingham F-Stop 1.4 looked when I first saw it in photos.  Don't get me wrong, I thought it was a good looking bag overall and it definitely had an understated classic look to it that I liked a lot but it's also more rectangular in shape than say the Hadley and the leather tabs are a little long for my taste.  However in person, it is a completely different story.  The bag is absolutely beautiful.  In my opinion, this is actually one of the nicest looking bags that Billingham has released so far.  In fact, I prefer the look of this bag over many of the other Billinghams including the Hadley Pro.  The F/Stop 1.4 still retains the elegant and classic appearance that Billingham bags are famous for but in my opinion, it's just ever so slightly modernized.  It's a more minimalistic design but in no way does that mean it's inferior in terms of build quality.  In fact, I think the more minimalistic approach helps make this bag even more low key, especially the black one (the other color is khaki with chocolate colored leather, which is nice as well).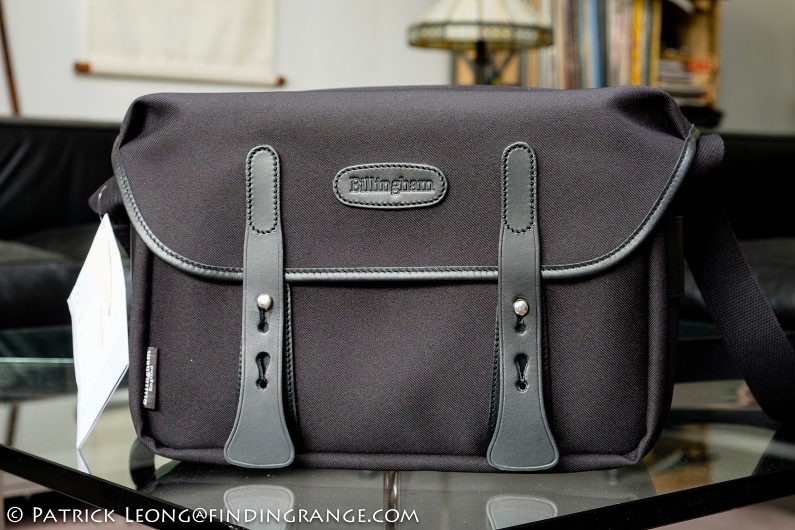 ↑ The Billingham F/Stop 1.4 in black and black leather.
Like other Billingham bags, the F-Stop 1.4 is a nice enough bag that one can take it to somewhere formal and fit right in yet it is also understated enough that it doesn't raise any eyebrows when you're walking home on the street or riding the subway.  Obviously, if it's brand new, people are going to look at it as much as any other new bag but once it wears in nicely, no one will take a second look at it.  I know this because that's what I experience with my older Billingham bags.  To me, it's similar to the Hadley Pro in that it also doesn't really look like a camera bag.  It can honestly past off as a work/office bag.  In fact, I've actually seen a few people on the subway using Hadley Pros as work/office bags.
Along with its decent looks, the Billingham F-Stop 1.4 is also extremely well made.  The F/Stop 1.4 is expensive but this is a bag that is designed to last a very long time, and in my opinion, this is what you're really paying for.  I've never been disappointed with Billingham's build quality, and it's a huge reason why I'm such a loyal user of their products.  The stitching is perfect and materials used to make the F/Stop 1.4 are the finest available.  All the metal on the Billingham f1.4 including the metal loops on the strap and the stud fasteners or ClogBalls as Billingham calls them, are made from nickel plated brass.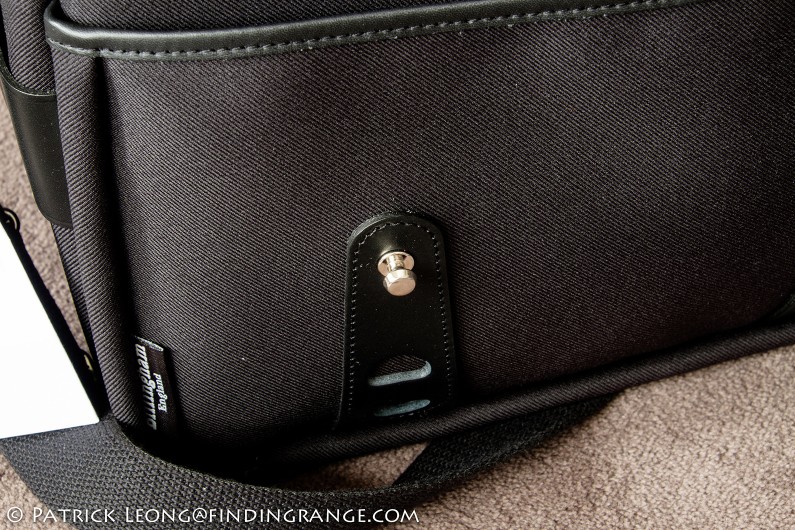 ↑ Solid nickel plated brass is used throughout the bag.
Unlike some of the other Billingham bags, which use canvas, the fStop Series is made exclusively out of a synthetic material called Fibrenyte.  Fibrenyte is similar to canvas but it's even more wear resistant and lighter.   This is true in practice because I have one other bag that is made from Fybrenyte and it is quite wear resistant, and the weight of the bag is noticeably lighter than the canvas version.  Even with this bag, I was surprised by how light it felt for its size when I first opened the packaging.  I also found that the Fibrenyte is more fade resistant than the canvas.  But I also own some Billingham bags made from canvas, and to me, the canvas is slightly softer to the touch but overall, I'm completely happy with both and I don't really have a preference between the two.
Whether you prefer canvas or Fibrenyte, Billingham bags have one thing in common and that is they offer incredible protection for your gear.  It's another big reason why I always end up buying Billingham bags.  There may be other bags that look better or have more bells and whistles but in my experience, Billingham bags offer some of the best protection for gear out there.
Once the flap of the F/Stop 1.4 is closed, the bag is not only water proof but my gear is also completely protected from the elements.  The main flap completely covers both the main compartment and the front pocket leaving absolutely no gaps.  The back zipper pocket has its own cover as well.  Trust me when I say that I do not baby my bags.  They get bumped, scraped, drenched, snowed on, left out in the heat and brutal cold, and even suffer through some sandy environments.  I'm an active person and therefore, I like to go out but I never leave my camera at home, so whatever conditions I have to go through, my bags have to do the same but also protect all my gear in the process.  I expect quite a lot from them but Billingham bags have always delivered.  I am so confident in how these bags protect my equipment that there's not even a little bit of me that worries about my gear once its in one of these bags.  That kind of peace of mind is priceless in my opinion, especially when gear is so expensive nowadays.  I've had puddles form on top of my old Hadley and M Combo bag from sudden tropical rain storms and my gear has always stayed completely dry.  All I do is brush off the water and continue on my merry way.  The material on the inside isn't even the slightest bit damp.  It's really quite amazing.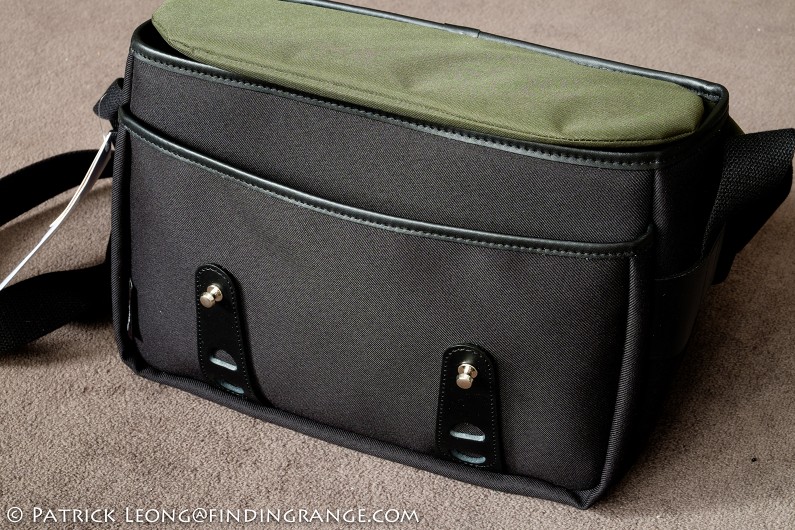 ↑ While there is no zipper for the front pocket of the Billingham 1.4, it is completely covered once the flap is secured.
The good news is that you can expect this kind of protection and quality on the inside as well.  To access the main compartment, there is a quick release system: the leather tabs have keyhole slots that engage with the ClogBalls.  It's a very quick, easy, and secure method for locking and releasing the flap.  It's also very quiet because there's no velcro or any type of metal that would make noise.  Speaking of the leather tabs, one note that I would like to mention about them is that they are not replaceable like the ones on the Hadley Pro.  But from experience, I've never had to replace the leather tabs on any of my Billingham bags yet.  After over 20 years of near constant use, the ones on my Hadley are worn but still function fine.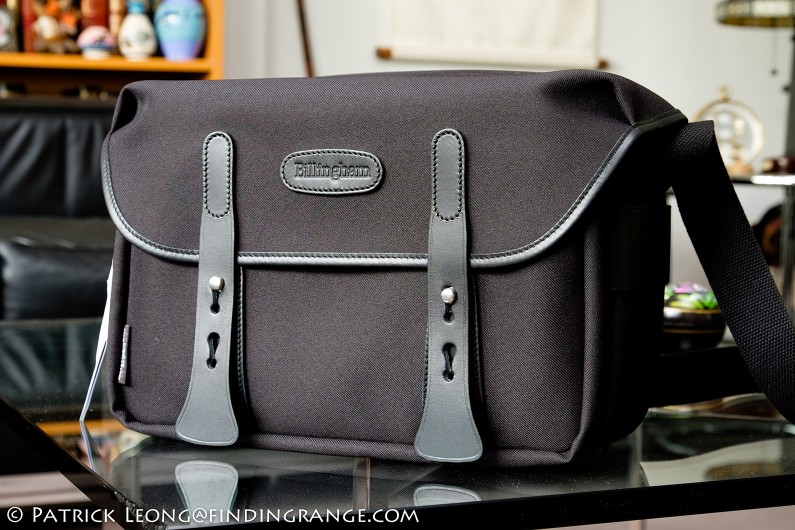 ↑ Solid nickel plated brass stud fasteners are used in combination with leather tabs to secure the main flap of the fStop 1.4.
Once inside the F-Stop 1.4, you're greeted with a fully padded main compartment, which also has a removable 25mm thick foam pad for its base (to me, it feels like there might also be a fiberglass stiffener in the pad as well; I know I have one in my M Combination bag).  Trust me when I say that it will take quite a lot to damage your gear with the amount of padding that is supplied in this bag.  Furthermore, there is plenty of velcro attachments in the bag, so you can fully customize it to your specific needs using the two supplied padded dividers.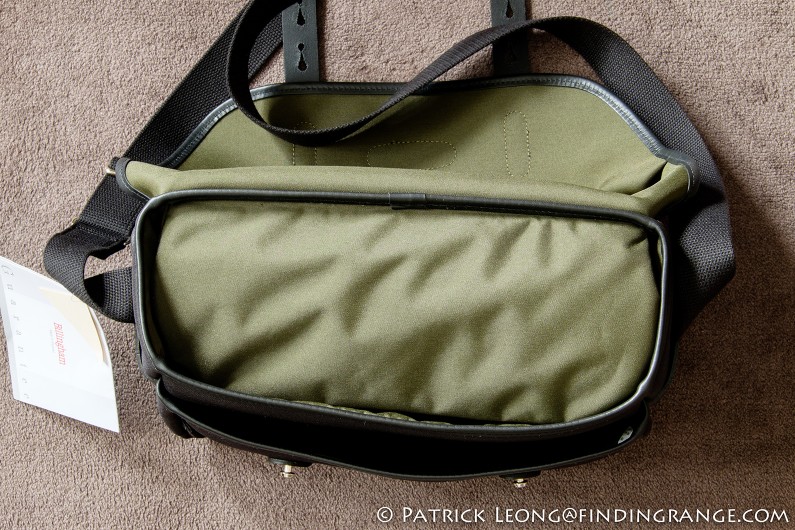 ↑ After lifting the flap, there is an additional foam cover that protects your gear.  This also helps protect your gear when your bag gets flipped over by accident.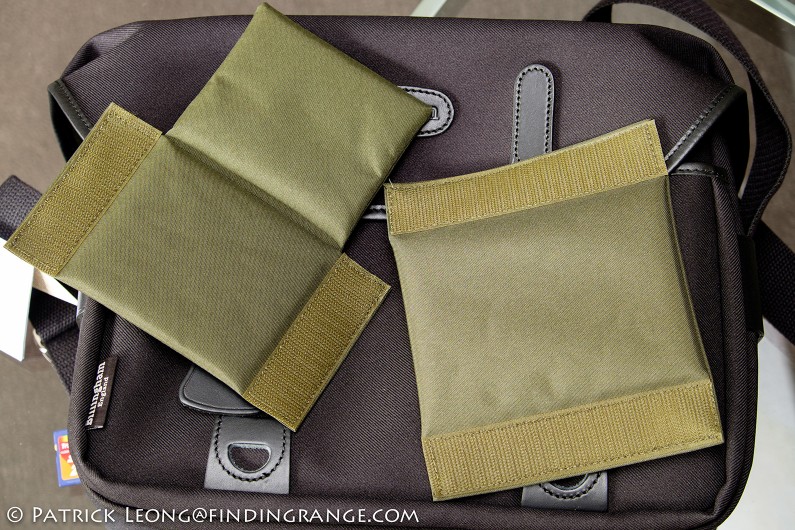 ↑ The two supplied dividers that come with the F-Stop 1.4.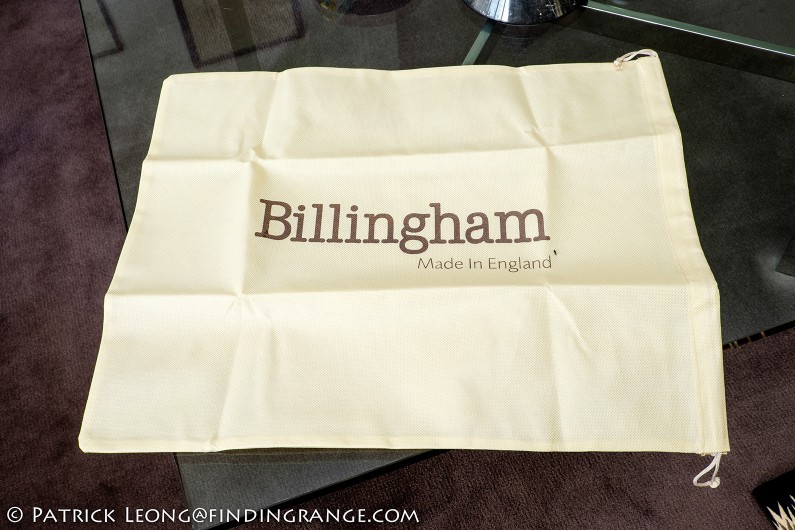 ↑ In addition to the dividers, the F-Stop 1.4 comes with its own bag.
Billingham F-Stop 1.4 Carrying Capacity:
Now, let's talk about carrying capacity.  Overall, there is actually quite a lot of space for a bag of this size.  As mentioned earlier, unlike the Hadley Pro, the fStop 1.4 has a more rectangular shape.  To me, the Billingham F-Stop 1.4 is kind of like a larger M combo bag, so if you're a fan of that bag, you'll probably be fan of this one.  Some may not like the F/Stop 1.4's more rectangular shape because they prefer a bag that wraps around their body a little better.  But after using Billingham f1.4, I found that the rectangular shape doesn't make this bag uncomfortable in the least bit.  In fact, I actually find the f1.4 a little more comfortable to carry around all day than the Hadley Pro.  There are several reasons for this: first off, because the Hadley Pro does hug the body a bit more, I found it harder to access my gear, especially when it is packed full where as with F/Stop 1.4's design, it's much easier because it retains it's shape better.  I don't have to put the bag down in order to gain easier access.  Plus, the flap on this bag opens so much more easily than with the one on the Hadley.  This is particularly important to me when I'm walking on the street because it's easier for me to keep walking while retrieving something from my bag.  Lastly, the F-Stop 1.4 just doesn't feel like it pulls me down as much as the Hadley, and I really believe the shape of the bag helps in that way.  It's also worth mentioning that even though the F-Stop 1.4 has a more rectangular shape than the Hadley Pro, it still looks very natural when it's hung on my shoulders.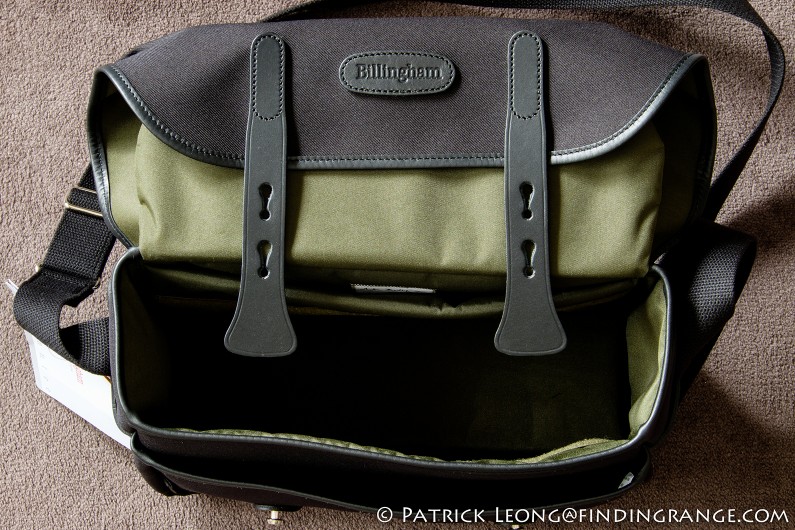 ↑ There is quite a bit of space for a bag of this size in the main compartment.
↑ Here's a comparison between the F/Stop 1.4 and the M Combination Bag.  In many ways, they have similar characteristics.  For one, they both use leather tabs that are not removable.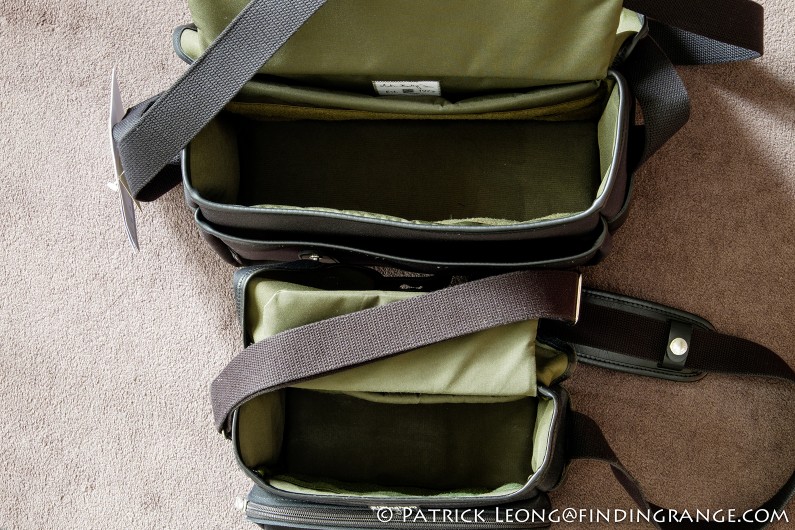 ↑ The insides of the F/Stop 1.4 (top) and the M Combination Bag (bottom).  The set up is pretty similar with the M Combo getting a zippered front pocket but no rear pocket.  What's a bit peculiar to me is the M Combo gets a shoulder pad but the F/Stop 1.4 doesn't.  I would've thought the F/Stop 1.4 would get a shoulder pad instead since it has the ability to carry more gear.
I bought this bag because I thought the rectangular shape would fit my Hasselblad 503CW Millennium better than something like the Hadley and it turns out that the F/Stop 1.4 is a perfect fit for it.  I'm really happy about this because I had some difficulty finding a bag that offered a combination of build quality, durability, and discreetness that not just fit a medium format camera like the Hasselblad but fit it comfortably as well.  In other words, I don't want to have to struggle to get things out or put them back in.  I also didn't want something that was a burden to carry around all day and it wouldn't hurt if I actually liked how it looked.  Finding all of these characteristics isn't so hard because there are plenty of decent bags out there but in addition to all these attributes, I also wanted something that was as compact as possible.  I grew up with rangefinder cameras and now I also use mirrorless gear like the ones in the Fuji system, so I'm used to carrying light gear.  I'd like to keep it that way.
I feel the Billingham F-Stop 1.4 gives me all of this.  It's absolutely perfect for my needs.  I couldn't ask for more in terms of the width because it is pretty much perfect for my 503CW.  The Hadley Pro is a great alternative if you have a Hasselblad system but the width of the main compartment just isn't as wide as the fStop's.  The slightly wider main compartment of the fStop 1.4 along with the fact that it retains its shape better just makes it easier for me to pull the 503CW out and put it back in.
So, as of now, I have my F/Stop 1.4 equipped to fit a small Hasselblad kit which consists of a body with lens mounted, and space for an additional lens.  If I wanted to, I could fit three Hasselblad lenses with one body comfortably by putting the camera with the lens facing down or the film back facing down.  Depending on the size of the lenses, I could probably fit more by stacking them.  As for additional rolls of film, business cards, cleaning cloth, and my light meter, I put them all in the front pocket but I like the security of a zipper, so it would've been nice if the pocket had one.  As of now, I don't use the pocket inside the main compartment but one could fit an iPad into it.  In the rear zippered pocket, I often have papers, documents, and even magazines.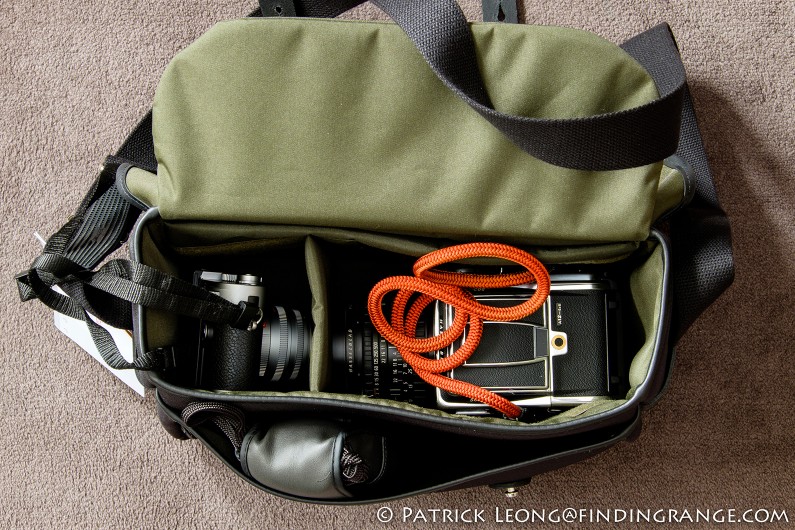 ↑ This is how I have my fStop 1.4 set up right now.  Notice that both my Hasselblad 503CW with 80mm Planar lens and my Leica M Typ 240 with 50mm Summicron lens fit comfortably in this bag.  If I want to use the Billingham 1.4 purely for my Hasselblad, I can just swap my M 240 out for an additional Hasselblad lens.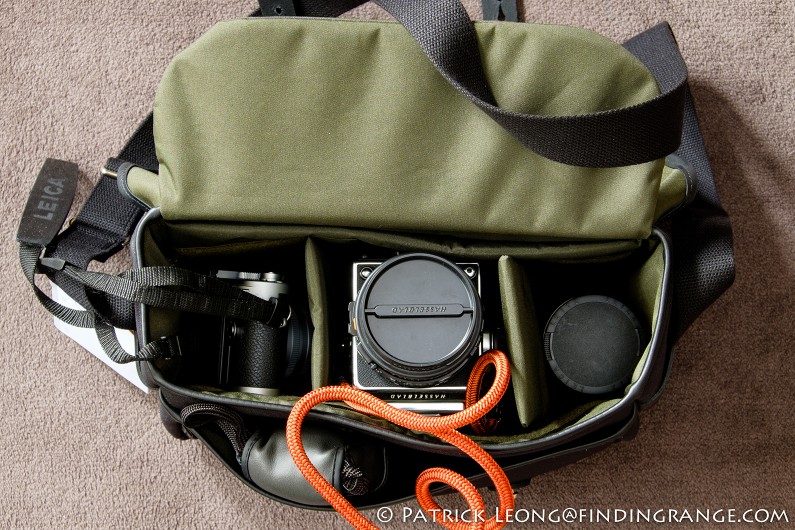 ↑ If I needed to carry a bit more, I can do that as well.  In this photo, I have my Hasselblad 503CW with the 80mm Planar, my Leica M 240 with the 50mm Summicron, and on the right, I have my 75mm Summilux.  Again, nothing feels or looks jam packed.  Everything has a comfortable place in the bag.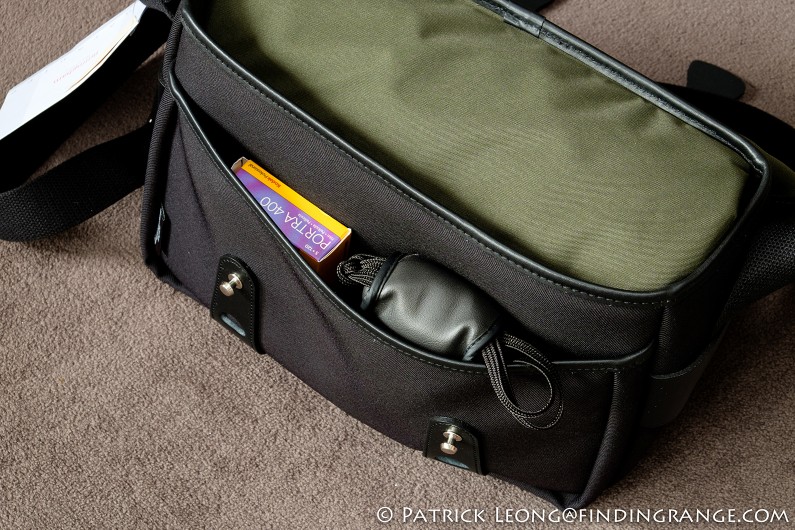 ↑ I'll store miscellaneous items like film and a light meter in the front pocket.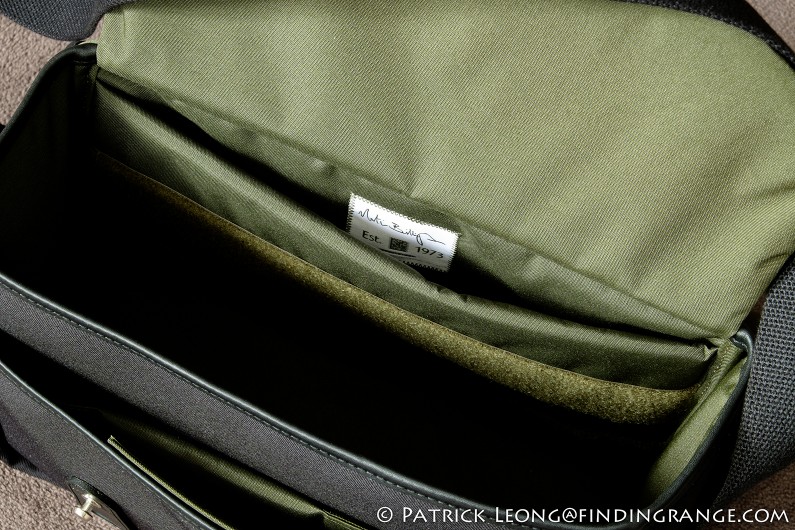 ↑ There's an additional pocket for items in the main compartment.
↑ I can store documents in the zippered rear pocket.
Some may want more room in the front pocket but in my opinion, it would ruin the whole point of the fStop F1.4; it's not suppose to be a large bag.  Anything bigger and I might as well buy the Billingham 107 instead but truthfully, I plan to use my Hasselblad as a daily camera, and I just don't want to carry a bag like the 107 on a daily basis.  The fStop 1.4 allows me to carry my Hasselblad comfortably without needing to jump another bag size.  If you're finding that you need a bit more room but you still want to carry the fStop 1.4 so you don't have to bring a larger bag, you can purchase the AVEA Pockets which fix securely to the sides of the bag via its solid leather straps.  I may buy one in the future to put my hand held meter in for quick access instead of having to unlock my bag every time I need to get my meter.  There's even D shaped holes located under the main stud fasteners where you can attach a tripod with straps.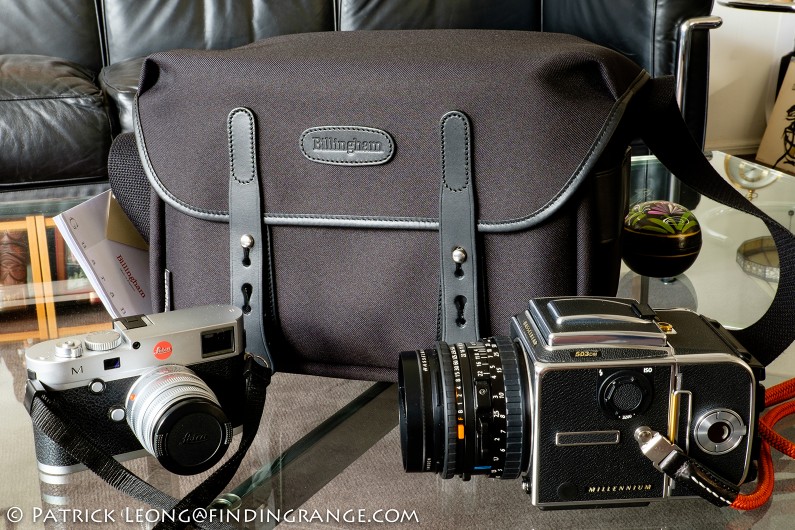 ↑ Here's a photo with my M 240 and 503CW next to the fStop 1.4 to give you a sense of size.
If you own a Leica or mirrorless system, the Billingham F-Stop 1.4 is also a great bag.  In fact, while I originally bought this bag for my Hasselblad, I'm finding that I actually like using the F/Stop 1.4 over my Hadley for my Leica and Fuji gear.  Don't get me wrong, the Hadley is a fantastic bag and I love it but as I said before, I find the fStop 1.4 is a little more comfortable to carry around all day.  The easy access of gear is a big plus for me, and while they can both hold about the same in the main compartment, the fStop 1.4 fits everything more comfortably because of its shape and width.  In other words, nothing ever feels like it's jam packed.  If you look at the photos, the fStop 1.4 isn't actually a wider bag than the Hadley either; I found that the fStop 1.4 has a wider main compartment but smaller front pocket, while the Hadley is the complete opposite.  So, it really comes down to what you need; for my set up, having a wider main compartment is more important and useful.  Furthermore, if you want to be precise, you're actually not just getting a bag around the Hadley Pro size but something even slightly smaller overall according to the specs, which is a good thing.  It's unfortunate though that Billingham only supplies you with just two dividers because if you have a Leica M system or mirrorless system, you can fit quite a lot of gear if you organize it properly.  The good news is Billingham does sell a variety of dividers but of course, it will cost you more.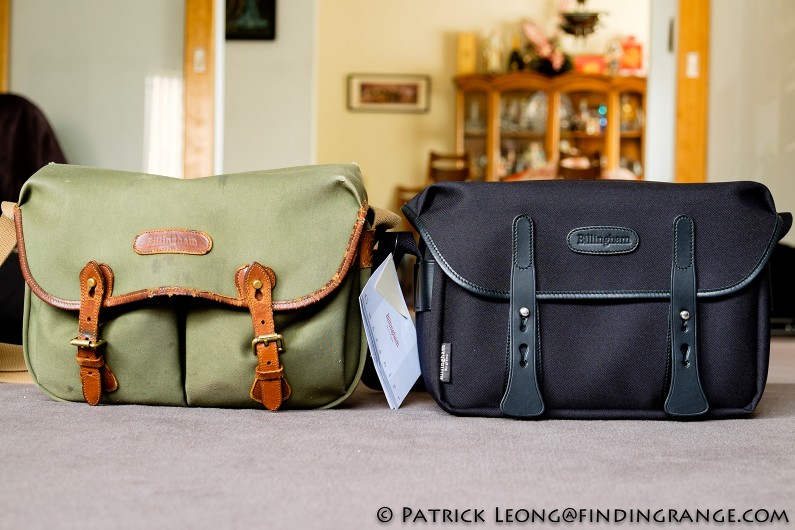 ↑ Here's a comparison between my old Hadley and the F/Stop 1.4.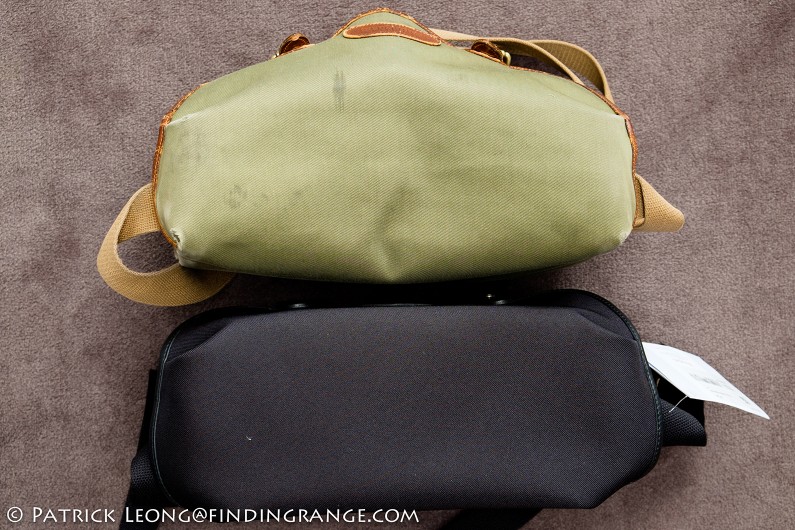 ↑ Here's a top view of both bags.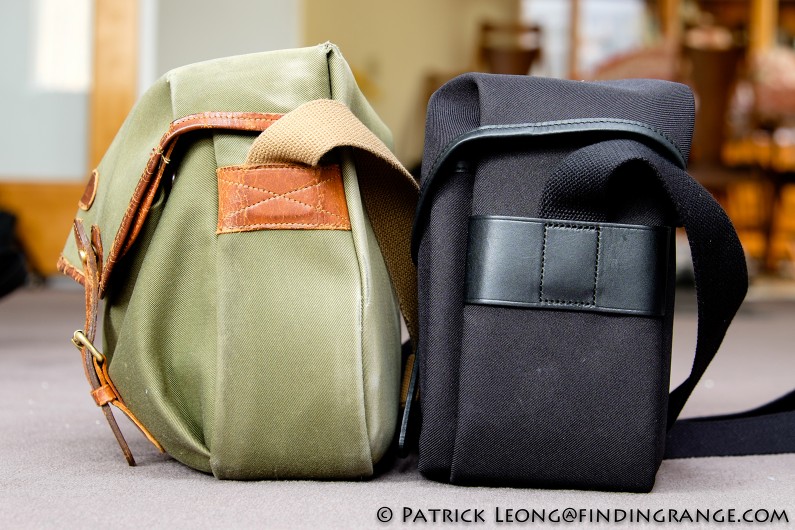 ↑ Here's a side view of both bags.  The front pockets are more useful in the Hadley but the space inside the main compartment of the F/Stop 1.4 makes it a lot easier to pull and put gear back in.
Billingham F-Stop 1.4 Verdict:
The Billingham F-Stop 1.4 is one of the most impressive bags that I've come across in a long time but at $250-275, it is at the upper spectrum in terms of pricing.  However, I use my bags until they no longer function, so I don't mind paying more for a bag that is perfect for me in every way.  I expect a lot from my bags and therefore, I want something that is built to stand the test of time.  The $250-275 asking price is not much in the long run for a bag that has the capability of lasting as long as say my Hadley, which it looks like it will.  Plus, bags from all manufacturers have steadily increased their prices.  Compared to the competition, I don't think Billingham is asking for an unreasonable amount of money, especially when they put so much into making such high quality camera bags.  The F-Stop 1.4 is beautifully designed, it offers superior protection for your gear, and it's built to last using only the finest materials.  To top that off, the F-Stop 1.4's combination of size and shape not only allows it to hold a lot gear for its size, it also has the flexibility to be configured to hold a variety of gear from a mirrorless system, a rangefinder system, a DSLR system or in my case, even a medium format system.  This bag is designed to appeal to a broad audience.  The best part is the F-Stop does all of this while also being quite comfortable to use on a daily basis.  In other words, the Billingham F-Stop 1.4 is extremely dependable, versatile, and one that should definitely be on anyone's short list of bags to consider.  In my opinion, this is really one of the best camera bags that you can buy regardless of price.
That's it for this review, I hoped that you all enjoyed it.  If you're considering buying the F/Stop 1.4, and my review helped you decide, please help support me and this site by purchasing from one of the links below.  Thanks!
Billingham F-Stop 1.4 from Amazon: Black with Black Leather or Khaki with Chocolate Leather