iDeaUSA 11000mAh Portable Power Bank Review:
I like power banks for one simple reason: When I'm out taking pictures, I just don't like to stop somewhere to look for an outlet to charge my devices.  I love walking; I love staying mobile.  With that said, I'm starting to use larger capacity power banks these days because not only are the batteries in my devices getting larger, I'm also finding myself having more devices that need charging.  The only major problems with using bigger capacity power banks is that they are often larger, cost more, and are more inconvenient to carry around.  So, I'm always looking for something that can keep these problems to a minimum.  One large capacity portable charger that I've recently tested is the iDeaUSA 11000mAh Portable Power Bank.
iDeaUSA 11000mAh Portable Power Bank Build Quality:
Overall, the iDeaUSA 11000mAh Portable Power Bank is built nicely.  There is a bit of a hollow feel to it when you press the power button, but it's still solid.  I've had this charger for about a month and used it continuously with no issues at all.  It has a brushed silver finish and with 11000mAh capacity, it makes sense that there are two USB ports, so you can charge two devices simultaneously.  There's also a micro USB port for charging the power bank itself.  Lastly, there are five blue LED lights that act as a power gauge and some may or may not like this but they are very bright.  Personally, I found them a little too bright.  If this power bank was charging in my bedroom at night, I would definitely have some trouble sleeping.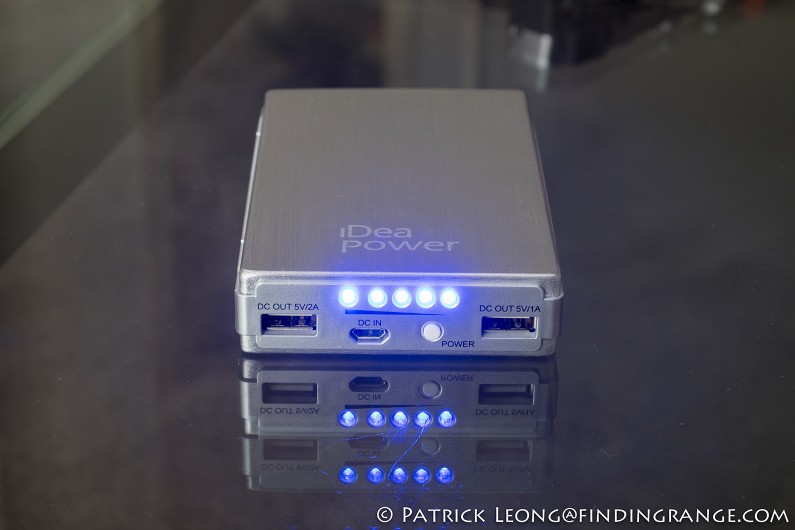 ↑ The power gauge is measured by the five blue LED lights.
In terms of weight, the specs say that this power bank is less than a pound.  This may still seem heavy to some but the reality is if you're looking for a power bank with a large battery, it's going to be somewhat heavy, at least when you compare it to smaller capacity portable chargers.  But considering it's enormous battery size, the weight is actually not that bad.  I had no problems carrying this around all day with me in my camera bag.  While it's obviously not going to be as light as something with less capacity, it's perfectly fine for traveling to work, vacation or short trips, which is what I've been doing with it.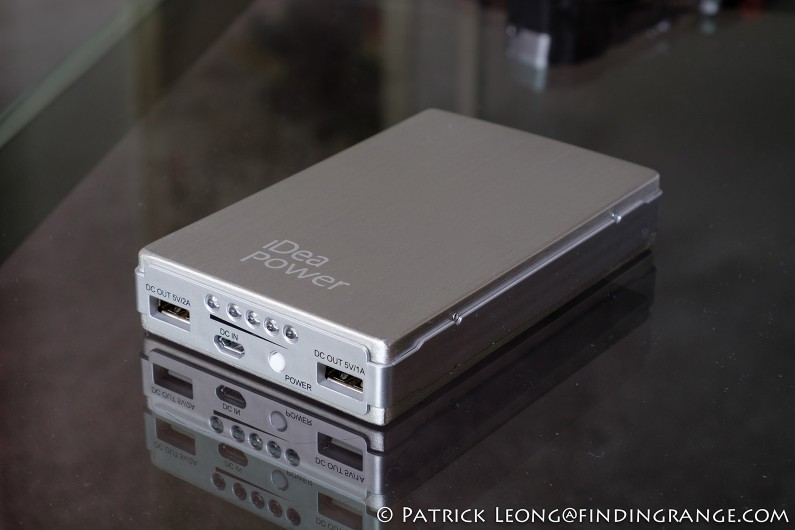 ↑ The iDeaUSA power bank has two USB ports to charge two devices simultaneously.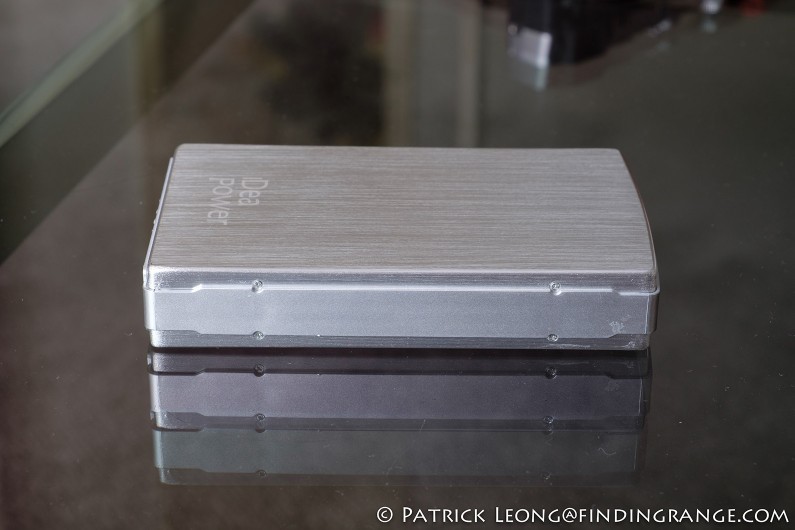 ↑ A side view of the iDeaUSA 11000mAH power bank.
There are a lot of power banks out there and they all do the same basic thing, which is to charge your devices but I think what really separates this power bank from the rest is the accessories that are included.  You get a micro USB cable but it also includes 6 plug attachments.  Keep in mind that this power bank costs less than $20!  If you were to buy each plug attachment with a power bank of this size, you could easily go past the $20 mark.  There seems to be an adapter for almost every type of device!  There are even plug attachments for older iPods.  The only one that is missing for me is the lightning adapter.  However,  I can't really fault this power bank considering what it does come with and its price.  I am perfectly fine using the charging cable that was supplied with my iPhone.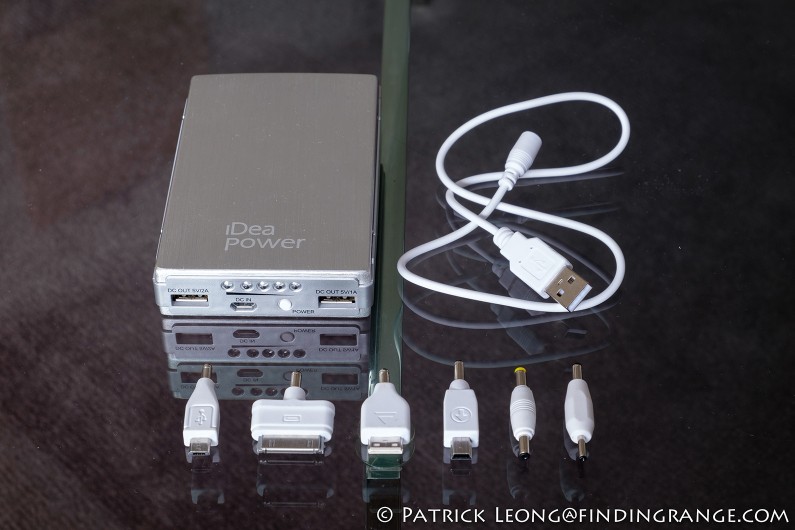 ↑ The iDeaUSA power bank comes with several different plug attachments, which is very convenient.
iDeaUSA 11000mAh Portable Power Bank Charging Capability:
With an 11,000mAh capacity, you're getting a lot of charging power.  According to iDeaUSA, this power bank has the ability to charge a smartphone up to four times and a tablet device up to two times.   But instead of charging the same phone four times or my iPad two times, I was a little more random as to mimic how I would normally used a power bank like this one.  Here an example of what I was getting out of this portable charger:
The iDeaUSA 11000mAh Portable Power Bank with a full charge:
Charging two devices simultaneously: iPhone 6 Plus with 55% charge left and an iPad Mini with 13% charge left – Full charge
iPhone 6 Plus with 36% charge left – Full charge
iPhone 6 Plus with 7% charge left – charged up to 12% then power bank needs recharging
Keep in mind that charging times might vary depending on the devices to how many emails, calls, and texts one is receiving while charging.  It also depends on the apps in each device as well since some will be running in the background.  Some will even have more apps than others.  With that said, this power bank did a great job.  iDeaUSA states that this power bank can charge up to four smart phones,and while it didn't quite charge my fourth device completely, keep in mind that I did throw in an iPad, which has a larger battery than my iPhone.  Plus, my iPhone 6 Plus has a large battery as well, so the fact that the iDeaUSA 11000mAh Portable Power Bank could charge a little over three times during my little test before it needed charging itself is impressive.
iDeaUSA 11000mAh Portable Power Bank in Everyday Use:
To some, this may be a fairly large power bank but as I mentioned earlier, if you need this much capacity, it's going to be relatively large.  With that said, the iDeaUSA 11000mAh Portable Power Bank is still compact for its battery size and it fits nicely in one's camera bag, laptop bag, purse or even a larger pocket, such as, in a coat.  It also doesn't feel that heavy.  I take a very minimalistic approach when I'm photographing areas around New York City, so I don't like to carry a lot of extra accessories.  Often times, I carry one prime lens or at most, two.  I've been carrying this power bank around New York City for the past month, and there are times I even forgot I had it with me.  To top it off, the power bank has no sharp corners, so it is comfortable to carry around and you won't have to worry about it puncturing anything like your bag or pockets.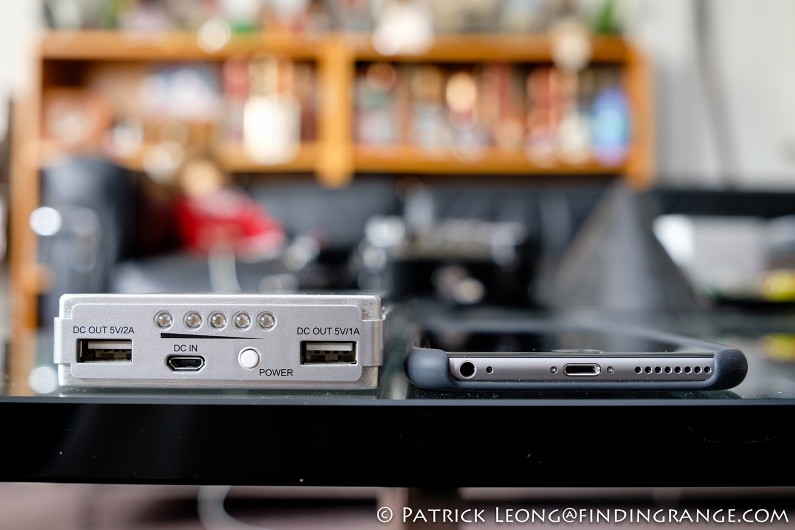 ↑ The power bank is a little over two times the thickness of my iPhone 6 Plus.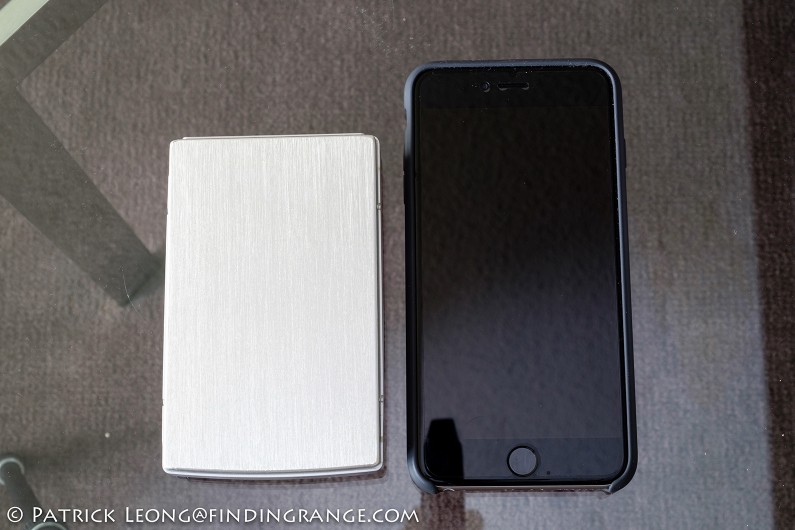 ↑ Here's another comparison photo between the iDeaUSA 11000mAh power bank and my iPhone 6 Plus.
Plus, it is pretty awesome to have this kind of charging capacity, especially for a person like me, who likes to stay mobile.  Like many others, I've grown reliant on my phone.  It's part of my photographic kit.  Power banks are great because often times, I can keep my phone charged while I'm out taking pictures or if I'm doing a photo session without having to stop somewhere to find an outlet.  But unlike smaller power banks, with something of this capacity, I can keep not just one but several devices charged while never having to stop somewhere to find an outlet.  For instance, I've been testing the Olympus Air for a review, and its built in battery can only be charged through a micro USB port.  This is perfectly fine because I can use this power bank to charge it.
However, a drawback with something of this capacity is that it can take a long time to charge it.  It took me about 11 hours to charge this power bank from o to 100%.  But I just plug it in overnight, and the next day, it's fully charge.  This is one of the inconveniences of choosing to buy any large capacity battery not just this one but the major benefit is the amount of use you can get from just a single charge.
iDeaUSA 11000mAh Portable Power Bank Verdict:
Overall, if you are looking for a decent large capacity power bank, the iDeaUSA 11000mAh Portable Power Bank is a great choice.  I had it for about a month, and through its constant use, it never gave me any problems.  Plus, if you own several different devices, this is a fantastic option because chances are, there is a plug attachment that will fit your needs.  If you're with family or friends, and everyone has a different device, the plug attachments can come in very handy as well.  In other words, you won't have to bring several different cables with you, which can be quite inconvenient at times.  For less than $20, this power bank is really an excellent deal.