Fuji X-T10 Review in Walt Disney World:
This is a great time to get into the The Fuji X Series System.  There are more lenses than ever before, the tech is getting better, and there have been some recent big announcements, such as, the release of the long-awaited Fuji X-Pro2.  But not everyone wants to shell out almost $1,700 for a camera body, especially if they just want to give the X Series a try.  Luckily, Fuji also produces cameras that are more budget friendly.  One of these cameras is the Fuji X-T10, which has always intrigued me because it's essentially a stripped down version of the X-T1 (a camera that I own and love).  I just never got around to trying one out but my recent trip to Walt Disney World seemed like the perfect opportunity to do so.  Disney is a great place to visit but it can be very crowded.  The lines (even with their new Fast Pass system) can be excruciatingly long, and there is a lot of walking, so it's best to travel light.  The X-T10 is not only light, it is more compact than the X-T1.  While it doesn't have all the features of the X-T1, it does have the ones that count like the same sensor.  In other words, this camera delivers essentially the same image quality as it's bigger sibling.  It also has some features not found in the X-T1 that are aimed at beginners, and intermediate users.  Combine the X-T10 with a lens like the XF 27mm F2.8 (which is the only Fuji lens I brought to Disney), and one could potentially have really decent camera system to use when enjoying one's vacation with family and friends is more important than being burdened with a lot of gear.
Fuji X-T10 Build Quality:
In terms of the build quality, the Fuji X-T10 (B&H Photo/Amazon) is a very solid camera that compares favorably to the other X Series bodies.  It may not be weather sealed like the X-T1 and only it's top and bottom plates are made out of magnesium but there are absolutely no creaks or rattles of any kind.  In fact, the X-T10 feels just as solid to me as the X-T1 yet at 331g (without accessories, battery, and memory card), it's also lighter.  It comes in silver and black.  It has a tilting LCD screen just like the X-T1 although at 920K dot, the resolution is slightly lower than the 1.04 million dot LCD screen on the X-T1.  It has dials that are milled from an aluminum block and it's worth mentioning that the fit and finish are noticeably better than the similarly priced X-E2.  Unlike the X-T1, the X-T10 also comes with a built in flash but it's very easy to forget about it because of how seamlessly the flash fits back into the camera.  Several people I showed the camera to didn't even know there was a flash until I popped it up.  Also, the pop up flash is a lot sturdier than the one on the X-E2.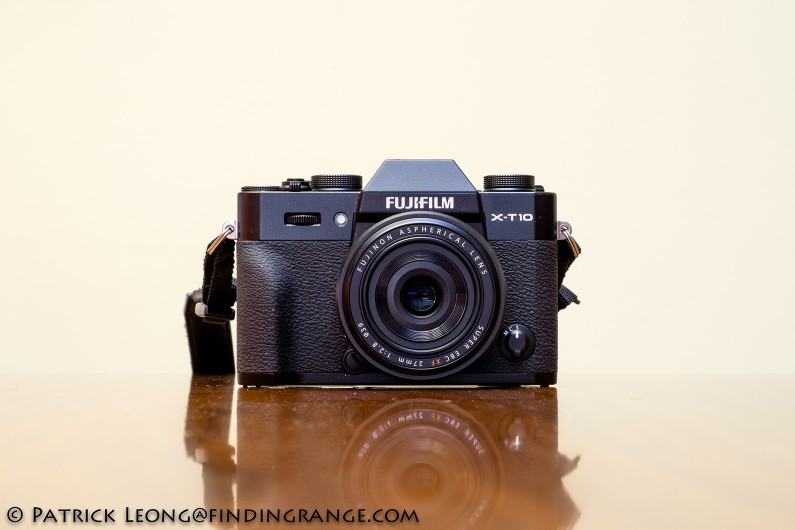 ↑ The Fujifilm X-T10.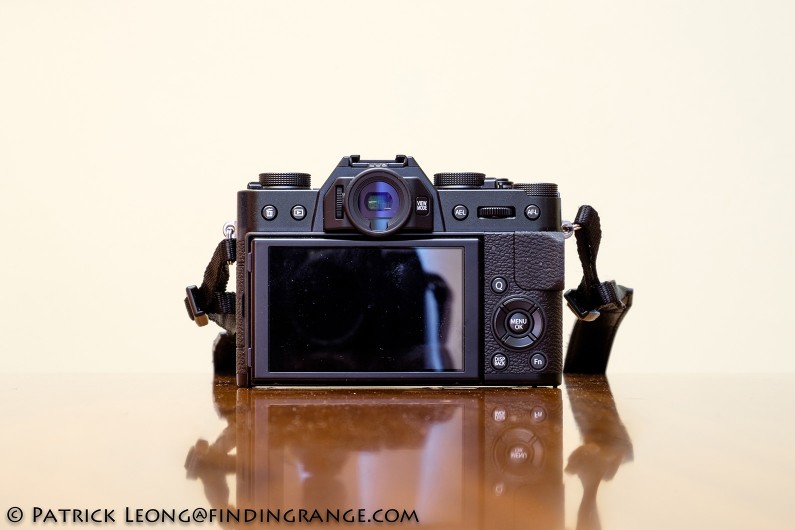 ↑ The back of the X-T10.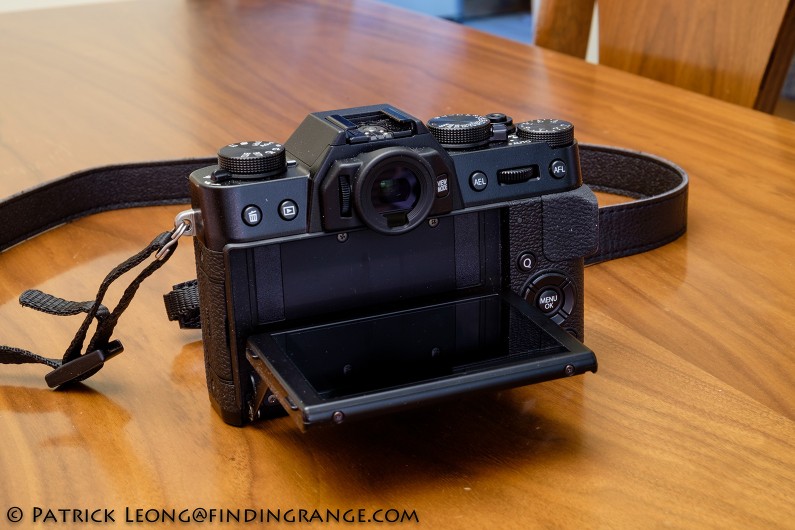 ↑ The X-T10's tilting LCD screen.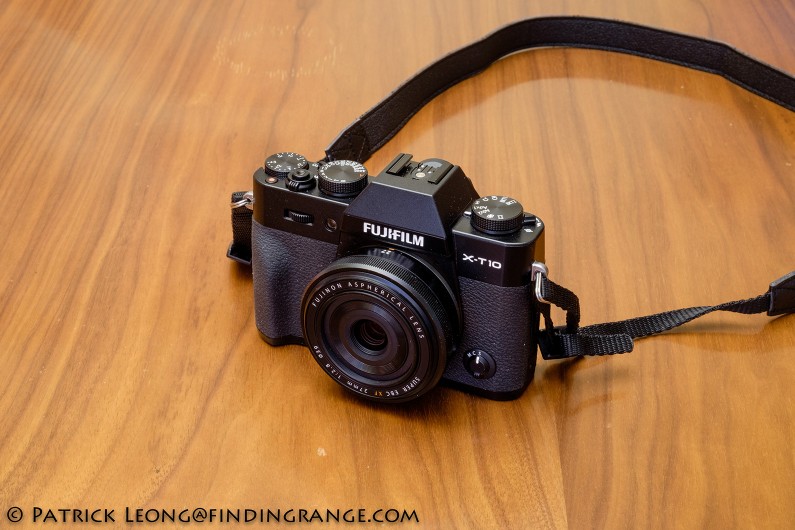 ↑ The X-T1o with the flash retracted…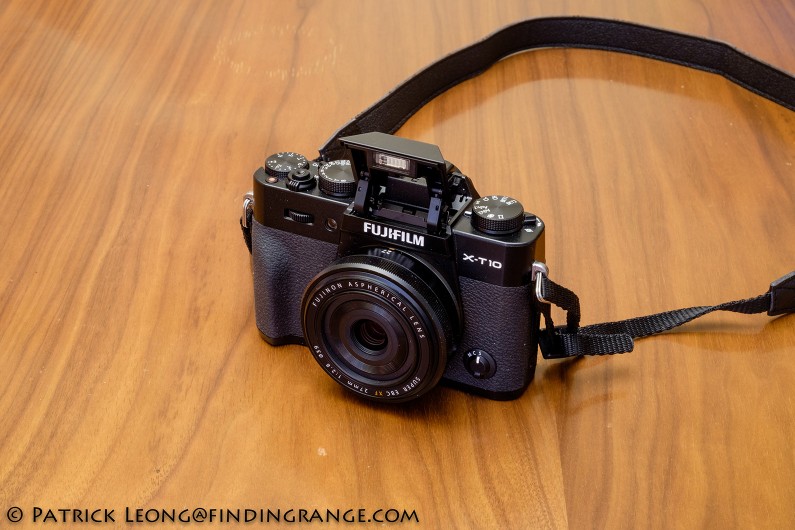 ↑ The X-T10 with the flash popped up.
Besides all of that, I just really love the compact body.  It is actually more compact than the X-T1 and the X-E series of bodies.  The X-T10 may not seem much smaller than the X-T1 spec wise but in person, it definitely feels like there's a huge difference in size.  In fact, the X-T10 almost feels like an OM-D although I believe the OM-D is still slightly smaller.  Still, if you're comparing the X-T1o to the OM-D, the X-T10 has a larger sensor, which is pretty incredible to me considering how similar in size these two cameras are to each other.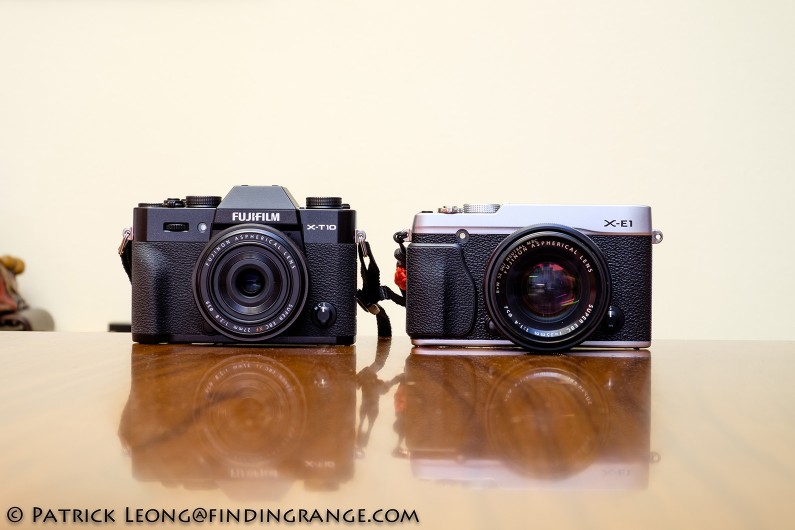 ↑ Comparison between the X-T10 and the X-E1.  As you can see, the X-E style body is actually larger than the X-T10.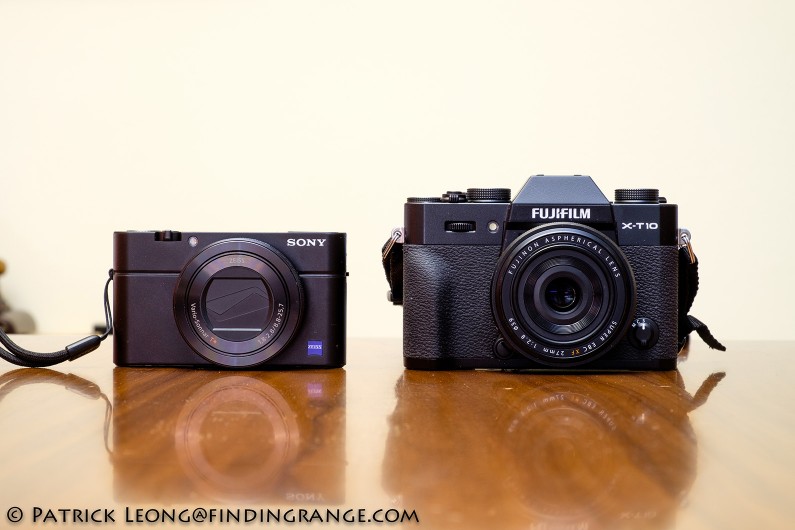 ↑ The X-T10 is so compact, I thought it would be great to show how it compares to something as small as the Sony RX100 III
The compact nature of this camera makes it a perfect match for the XF 27mm F2.8 (B&H Photo/Amazon).  When I was walking around all day, the camera and lens combination never gave me any problems; I barely felt this combo around my shoulders because of the weight and the small size.  I absolutely loved it and I love how I was able to get essentially the same image quality as my X-T1 all in a form factor that was small enough where I could actually enjoy my vacation as opposed to stressing out about carrying more gear.  To me, the focal length, size, and weight of the 27mm makes it an absolute "must have" for the X-T10.  They are literally a match made in heaven.  As for the X-T10, the only downside that I can think of with having a camera this compact is if you use a lot of long and/or heavy lenses, the camera tends to feel a little off balance.  I think the larger body of the X-T1 would be a better fit then.
Fuji X-T10 Functions And Controls:
The great thing about the Fuji X-T10 (B&H Photo/Amazon) is it really is designed to appeal to broad audience, and a lot of this has to do with it's controls and functions.  For instance, if you're someone who takes photography very seriously or you really want to learn more about it, you can control all the main functions, such as, aperture, shutter speed, and focus, easily with your fingertips because this camera has good old analog controls and dials.  This is one of the main reasons why I love using Fuji X cameras.  This may not be true for everyone but to me, analog controls are a tried and true method of changing settings on a camera.  It's just easier and more intuitive to do a simple adjustment with a dial or a knob than either going through a menu or looking at the LCD screen.  Personally I think it's also easier for a beginner to learn the basics of photographer when things are tangible and can be manipulated physically.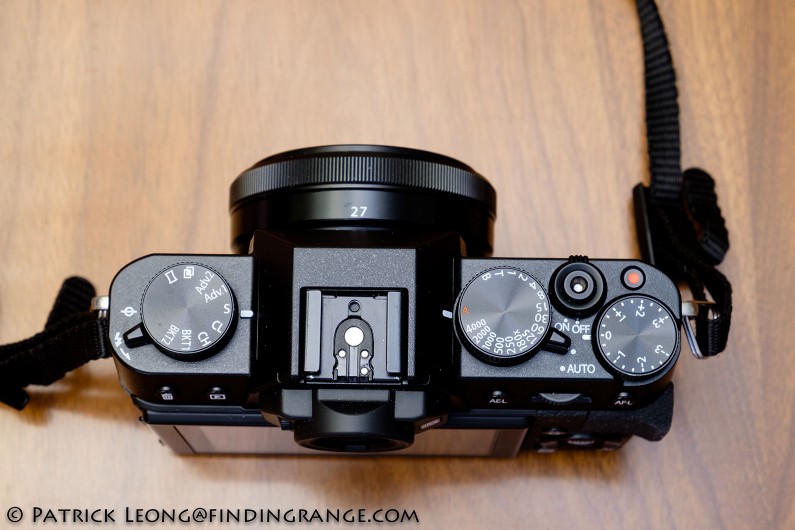 ↑ The top plate of the X-T10.  All the main controls are easily accessible.
But the beauty of this camera is you don't have to pick either going completely manual or completely auto.  It's not that black and white; you can partially control some of the functions, and therefore, you can really learn at your own pace.  This is what makes the Fuji X-T10 such a great camera in my opinion.  You can shoot in Program (P), Shutter Speed Priority (S), Aperture Priority (A) or go full Manual (M).  You can also use the exposure compensation dial, which uses 1/3EV steps, to get more precise exposure control.
But let's just say you want great photos but you either are a casual user or you are simply in a situation where you don't want to be bothered with adjustments.  Let's be honest; there are many times when we'd rather just have fun and record those memories than worrying about camera settings.  Then you can switch to Auto Mode.  This will allow the camera to select the shooting settings from 58 pre-set settings it thinks is best.  It will also allow the camera to select the best AF mode.
Fuji X-T10 Electronic Viewfinder:
I think viewfinders are extremely important if you really want to take your photography to the next level, and the Fuji X-T10 (B&H Photo/Amazon) does not disappoint in this area.  In my opinion, Fuji X Series cameras have some of the best EVFs in the industry.  Just like the X-T1, the X-T10 also comes with an electronic viewfinder.  At 0.62x, it does not have the same large magnification ratio as the X-T1 but at 2.36 M-dot, this EVF does have the same resolution as the X-T1's EVF.  Lag time to me is insignificant as I didn't feel like the EVF ever prevented me from getting the photo that I wanted whether in bright sunny days or dimly lit areas.  Even Fuji's specs report a 0.005 sec lag time, which is what they claim to be the world's shortest lag-time.  The viewfinder is nice and contrasty, and it has automatic brightness, which is extremely useful.  This basically ensures that you'll have a clear view whether you're in a brightly lit area or a dark one.  Plus, you will see whatever Film Simulation mode you choose through the viewfinder (I talk about Film Simulation a bit more below).  However, if you prefer to see the scene the way you would see it through the naked eye, you can turn this feature off as well.
Fuji X-T10 Autofocus:
The Fuji X Series has vastly changed in the autofocus department from the days when the X-Pro1 first appeared on the scene.  Autofocus is a lot quicker and accurate than ever before, and the X-T10 is no exception.  It may not be as quick as something from Olympus but for the most part, I have no complaints.  Autofocus is brisk, and is very accurate even in dimly lit situations.  As you can see from my photos, I shot in many different situations, and I had no trouble with it.  I even did some action and it never missed.  It also doesn't hurt that the camera can shoot up to 8 frames per second.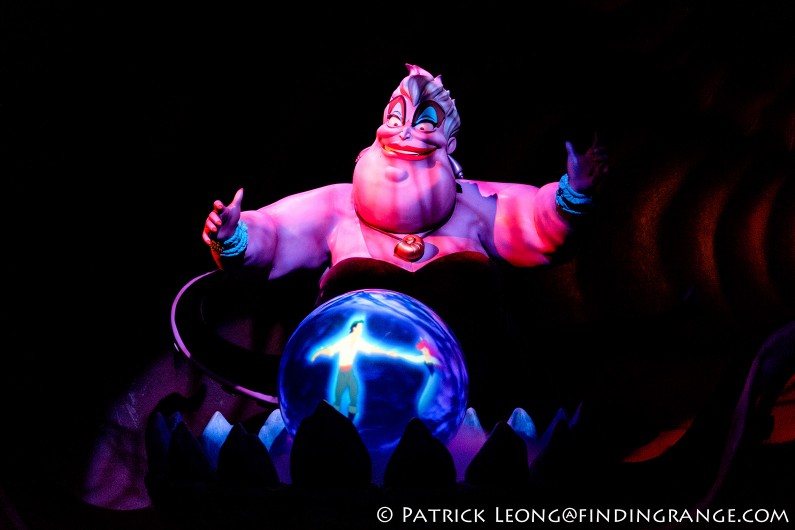 ↑ This was taken while on a ride (so it was moving) in near total darkness yet the X-T10 still locked on.
The Fuji X-T10 six different AF modes.  They are: AF-S + Single Point, AF-S + Zone, AF-S + Wide/Tracking, AF-C + Single Point, AF-C + Zone, and AF-C + Wide/Tracking.  You can also activate Face Detection to automatically detect human faces, and focus with Eye Detection AF.  Lastly, there's Auto Macro AF which eliminates actually pressing a button for macro mode.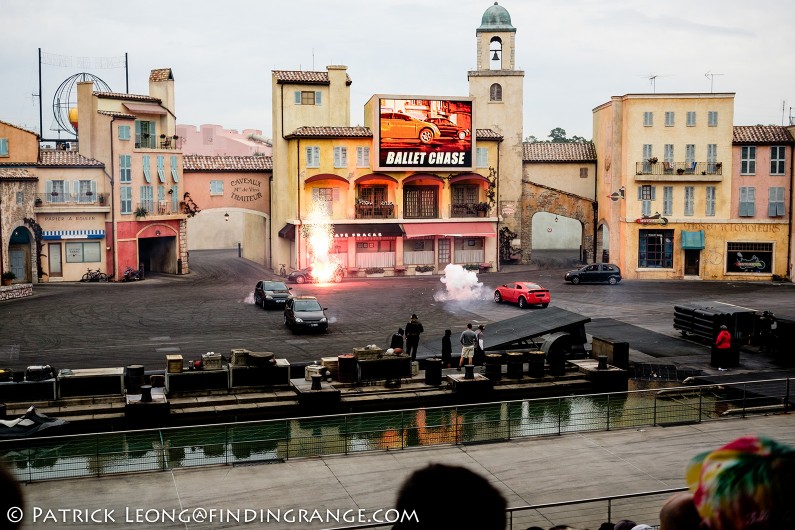 ↑ Unfortunately, I didn't have a longer lens but as you can see, the X-T10 will capture action.  This was taken with the XF 27mm at F2.8.
Fuji X-T10 Image Quality:
As I mentioned earlier, even though the Fuji X-T10 is primarily aimed at intermediate users, it has the same 16.3 megapixel X-Trans CMOS II APS-C sensor as it's older sibling, the X-T1, which means you will get superb images out of this camera.  You essentially get the same image quality as the X-T1, especially since you also have full access to the whole line of X Series lenses.  I seriously love the results that come out of the X Series, which is why I've been using this system since the X100 was first released.  Like the X-T1, you can shoot raw files from 200 to 6400 ISO.  The ISO range is also expandable down to 100 ISO and up to 51,200 ISO if you don't mind just shooting jpegs.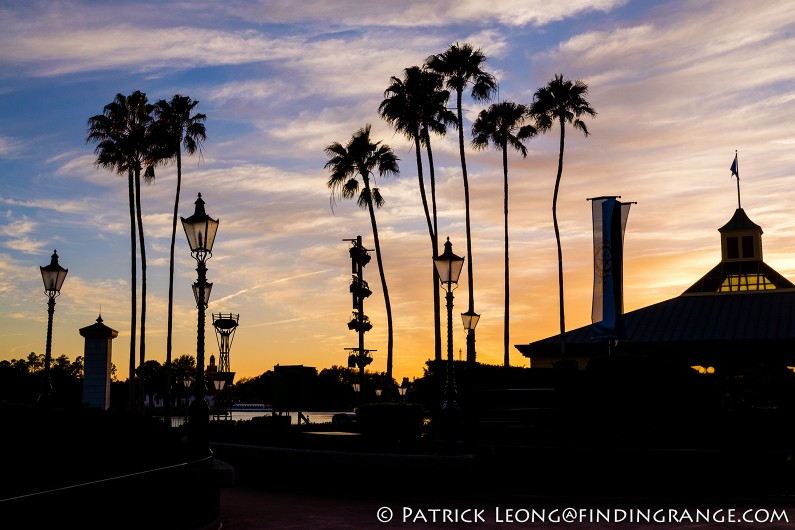 ↑ I was lucky to get a couple of days with sunsets like this; most of the time, it was very cloudy.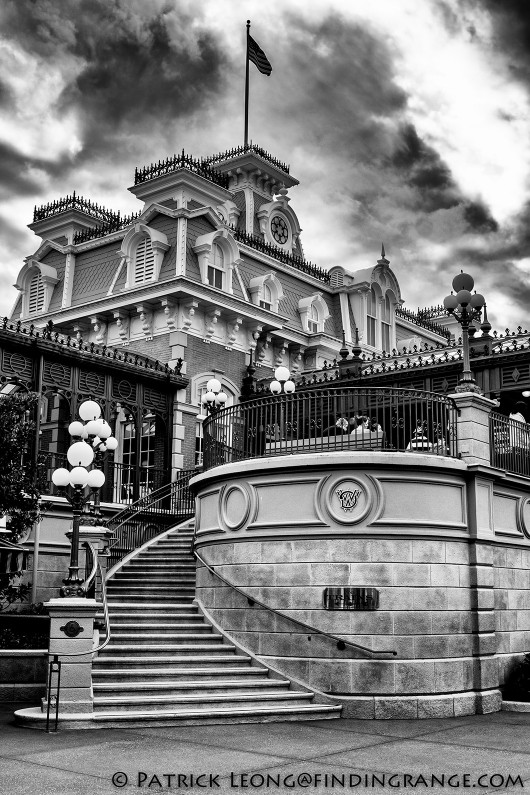 ↑ The X-T10 can capture an immense amount of detail, especially when paired with Fuji glass.
Speaking of ISO, obviously the lower range is great but the high ISO image quality is also fantastic.  There's some noise at 3200 and slight desaturation but nothing that will affect image quality in a way that makes the images unusable.  Shooting at 6400 ISO also produces images that are completely useable.  This ISO capability just adds to the versatility of the X-T10.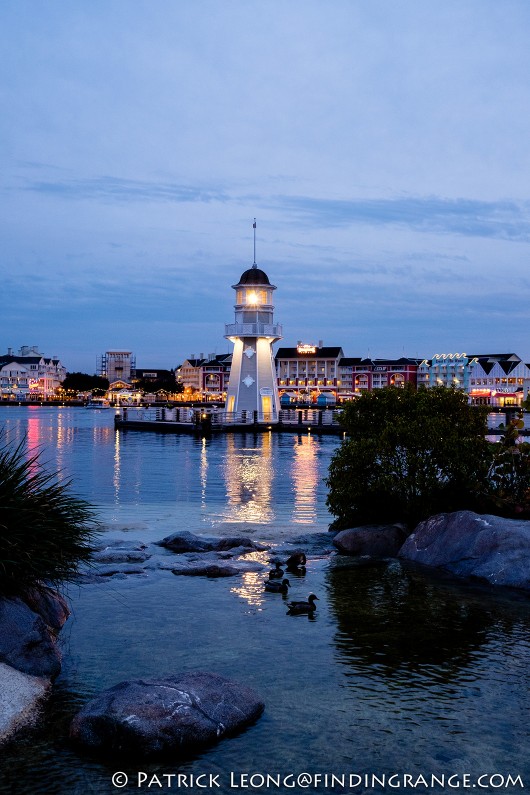 ↑ This was taken at 1250 ISO.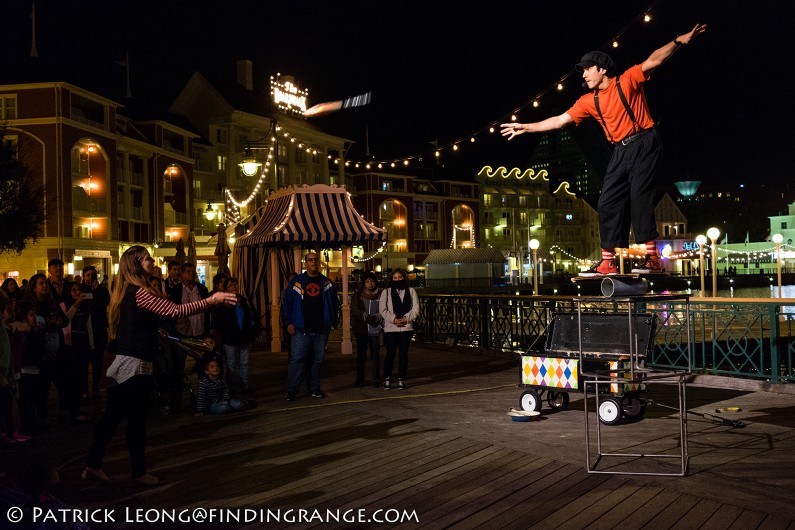 ↑ This was taken at 3200 ISO.
↑ This was at 2000 ISO.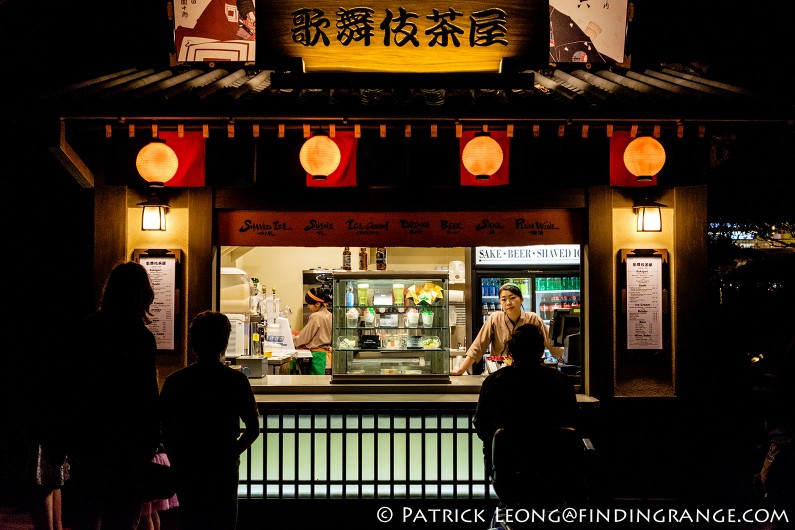 ↑ Here's one more taken at 3200 ISO.  The ISO capabilities of the X-T10 are excellent.
Another feature that makes the X-T10 so flexible is that it can shoot in raw and jpeg.  If you're an experienced photographer, and you want full control of your images, then you can shoot raw and process your own images.  All the photos in this review were processed from raw files but if you don't want to bother with shooting raw, you can shoot in jpeg only, and choose from the many different Film Simulation modes that the X-T10 has to offer.  Here is a list of Film Simulation modes: Classic Chrome, Provia/Standard, Velvia/Vivid, Astia/Soft, Sepia, Monochrome (+Ye / R / G FILTER), Pro Neg. Std, and Pro Neg Hi.  Fuji out of camera jpegs are fantastic and are therefore, not just for the casual user.  I know many people who actually just shoot in jpeg mode with the X Series cameras.
↑ This I converted to sepia with Nik Software.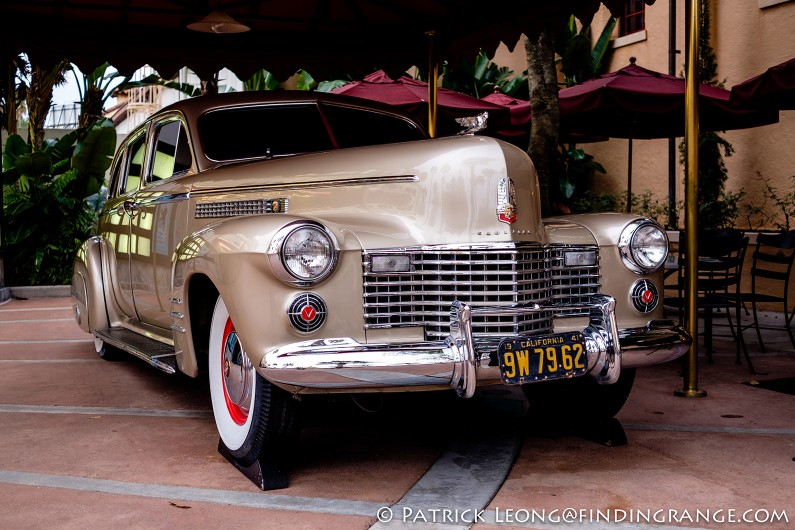 ↑ Here is the color version.  The colors are vibrant but not to the point where they are unnatural.
Fuji X-T10 Pros and Cons:
Fuji X-T10 Pros:
Very well built.
Many of the same features as the X-T1.
Compact.
Versatile – great for beginners, casual users or the more experienced.
Same sensor as it's older sibling, the X-T1.
Image quality is fantastic.
High ISO excellent.
Out of camera jpegs are superb.
Access to all of Fuji's excellent lenses.
Price.
Fuji X-T10 Cons:
Physically, the design may not appeal to some; I find it less attractive than the X-T1.
Compact size is great but if you use longer or/and heavier lenses, a larger body may feel better balanced.
Fuji X-T10 Verdict:
I wasn't too detailed about every feature of Fuji X-T10 (B&H Photo/Amazon) because the truth is, it gets kind of boring and this is a user review; it should be about the overall experience with the product and not just me re-hashing specs anyone can find on the manufacturer's website.  Plus, I'm sure many of you already know all about the features.  I also don't think every feature is that important but this goes for all cameras.  Cameras these days are filled with what feels like an endless amount of features.  The truth is, what's most important to me is if I can control the main functions: aperture, shutter speed, focus, and ISO.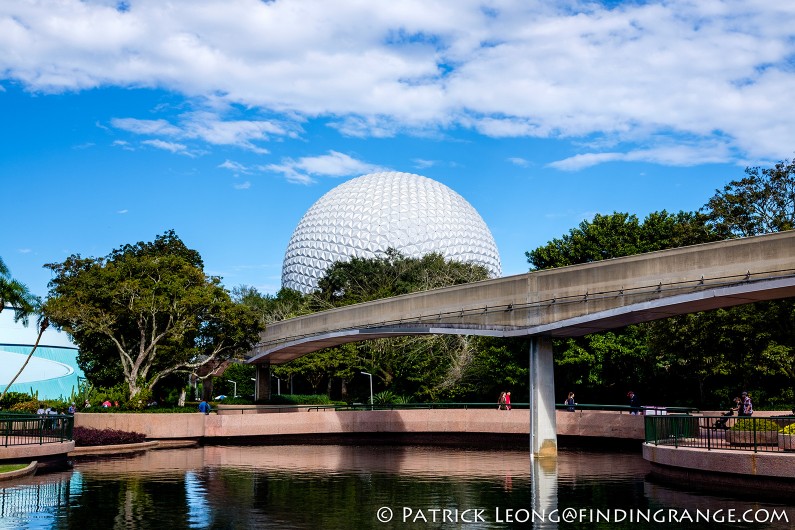 ↑ The nice, Fuji blues.
I think what one should really take away from this review is that the Fuji X-T10 is not just a great starting point for the budding photographer, it is also a great camera for the experienced photographer.  It's extremely versatile and in a way, one could consider it a jack of all trades.  Put the camera on full auto, and you will get great results with little fuss but if you want to start growing as a photographer, you can experiment with all the different control modes.  If you're already an experienced photographer and you like to control every aspect of the camera, you simply put it in manual mode.  In other words, this camera has huge capabilities but it's also very user friendly, and will allow the user to grow at his or her own pace.  In that way, it is also worth every penny in my opinion.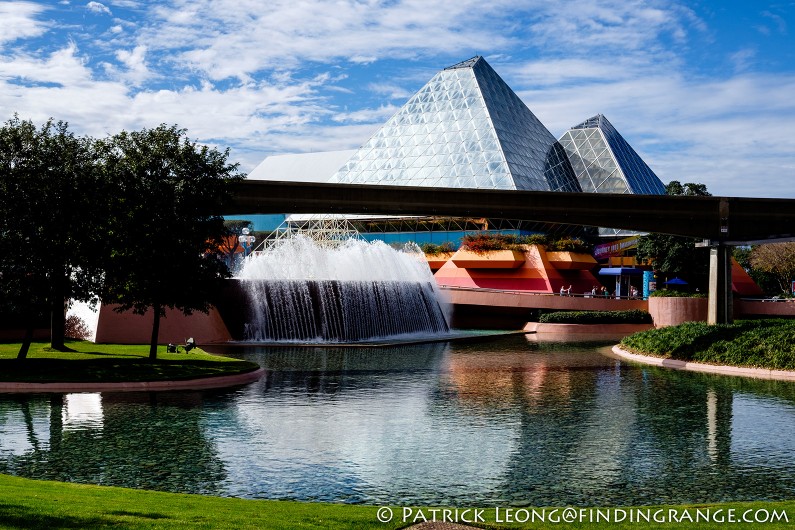 ↑ Color, sharpness, and overall rendering are superb.
I own the X-T1, and I can tell you that I would have no problems switching to the X-T10.  Overall, I didn't feel like I was losing much when I was using this camera instead of my X-T1.  Part of me was actually wondering why I would pay more for the X-T1 when I am so happy with the X-T10.  In fact, I preferred the smaller size of the X-T10.  I definitely love my X-T1 but in my opinion, the X-T10 is just that good where some might be quite content with saving the few hundred dollars and buying a lens with the money instead.  In fact, that may actually be a better decision for some.  Think about it; for $799, you're getting a camera with many of the same features as the X-T1, is more compact than the X-T1, and because of the sensor and lenses, it will essentially produce the same image quality as well.  If you're just starting out and experimenting, for $899, you can get the X-T10 with the XC 16-50mm kit zoom.  I've used this kit zoom before, and while it may not be built as well as the XF series lenses, it is still darn good optically.  Trust me, you will be impressed with what comes out of this combo.  But if you do want a better zoom, you can get the X-T10 with the XF 18-55mm kit zoom for about $1,100.  I absolutely love this zoom, and while I am usually only a prime user, I made an exception with this one lens (check out my review of it).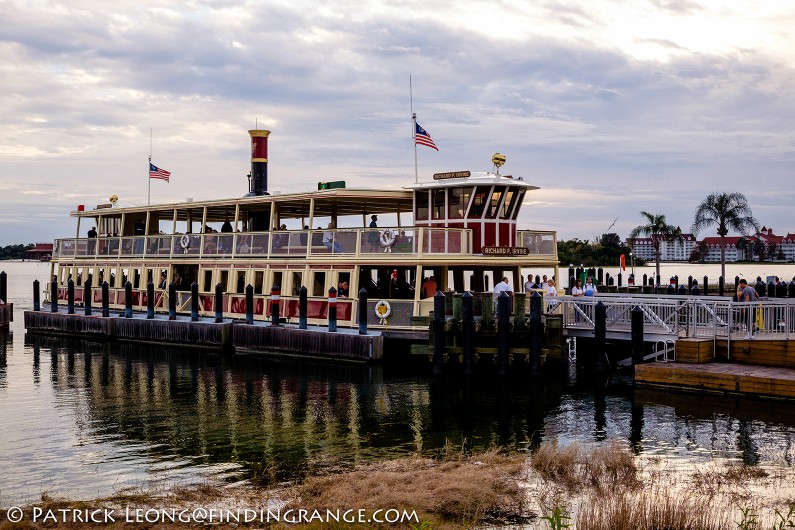 ↑ The colors are excellent and I love the contrast.
So, I definitely recommend this camera not just for someone who is a casual user or just learning photography but also to the experienced user who wants something compact that will produce impressive results.  This is also a fantastic camera for someone who has always wanted give the X Series System a try but doesn't necessarily want to break the bank doing it.  For those who are already invested in the X Series System, the X-T10 would make a great second body or even a replacement for an older body.  The combination of versatility, price, size, and quality that it can produce make the Fuji X-T10 one of the best X Series bodies to date in my opinion.
Thanks for taking the time to read my review.  If you're considering purchasing the Fuji X-T10, and my review helped you decide, please help support this site by purchasing from any of the links below or around this site.  It will not cost you anything extra.  Thank you for your support!
Fuji X-T10 at B&H Photo: black or silver
Fuji X-T10 at Amazon black or silver
Fuji X-T10 at Adorama black or silver
Thinking about purchasing the X-T10 or already own it?  Feel free discuss it down below in the comments section!