Domke F-803 Camera Satchel Bag Review:
Most of the bags I've reviewed on this site have been made by Billingham.  I can't help it, I'm a big fan; I use a lot of the bags myself because they simply last forever.  But as we know, Billingham isn't the only manufacturer that makes good bags, so I thought this time, I would review an old classic, the Domke F-803.  Like many of the Billingham bags, the F-803 has been around for ages, and since not much of it has changed over the years, is the F-803 still relevant considering how much in photography and photographic gear actually has changed?  I was definitely curious, and here is what I concluded from my time with this bag.
Domke F-803 Camera Satchel Bag Build Quality:
You really have to respect a bag like the Domke F-803.  It's a no-nonsense, no-frills type bag for the photographer that is serious about their craft.  Every part of this bag uses high quality materials not necessarily designed just to look good but designed more for durability and function.  The F-803 employs a thick waterproof cotton canvas, which is rugged enough to handle its fair share of abuse and last for years.  It comes in several different colors, which are black, sand, and my favorite, olive drab (also pictured here).  For those who want a slightly different version, there's even a Waxwear version (brown) where the bag is treated with waxes and oils to give it a more distressed and weathered look.  The treated fabric also gives the bag better protection in bad weather, while still retaining the breathability of cotton.  Ointment is included for when you want to return the bag to its original appearance after you've used it for a while.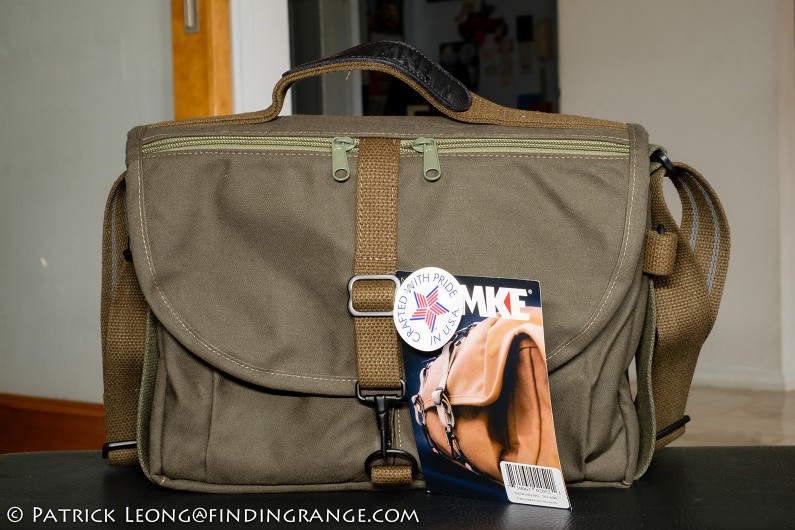 ↑ The front of the Domke F-803.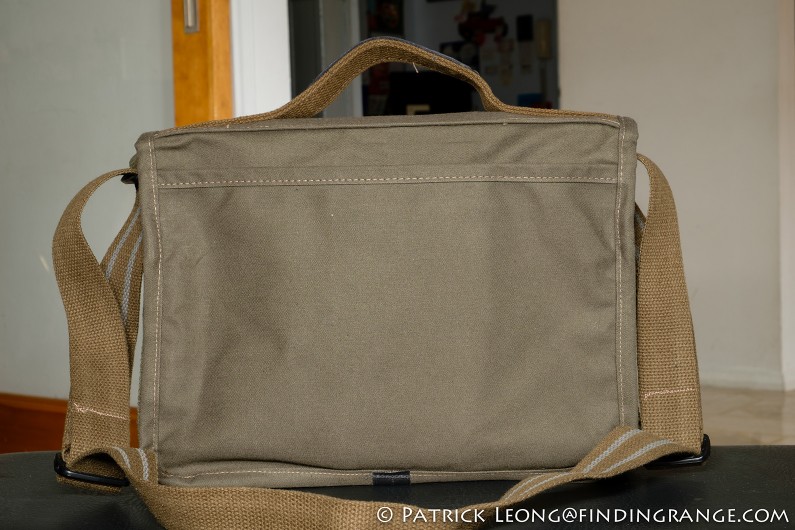 ↑ The back of the F-803.
Part of what makes this bag so great are the features.  In addition to being tough, the shoulder strap has two rubber strips that are embedded into the threads of the strap to give you that extra grip to help it stay in place on your shoulders.  For the times that you don't want to lug the F-803 around your shoulders, there's also a handle on top of the bag.  What I particularly like about the handle is that it doesn't feel like it was simply an afterthought.  It's well integrated into the bag's overall design.  In addition to the handle, the top of the bag has a stiff plate inside, so it helps the bag keep its shape, helps secure the handle, and offers more protection.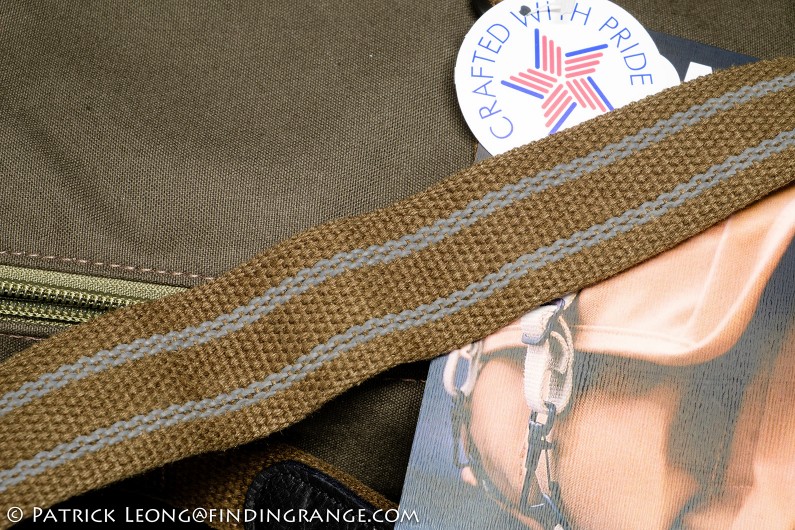 ↑ Rubber strips are embedded into the threads of the strap.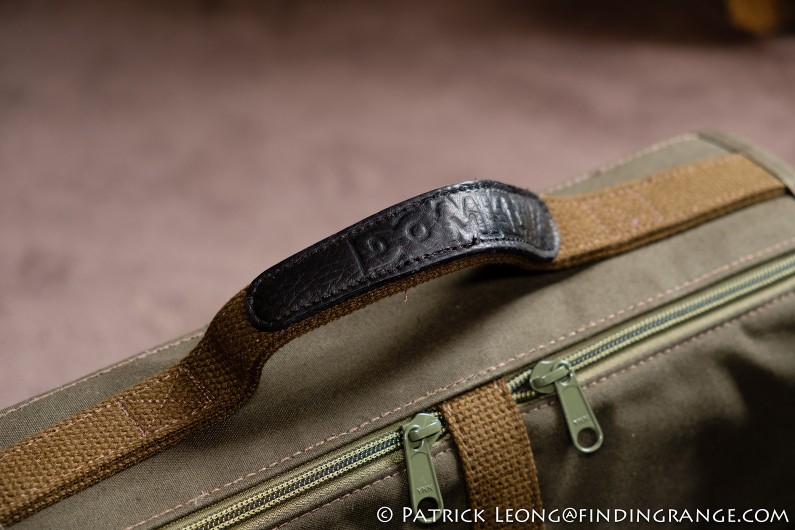 ↑ The Domke F-803 comes with a handle.
There are five pockets total.  There are two zippered ones on the front flap that can fit lens cleaning cloths, SD cards, some film, and other small miscellaneous items.  There's also a back pocket that can fit papers, magazines, an iPad, and even the new thinner Apple Macbook although there is no closure device like a button, zipper or a flap.  Personally, I think the back pocket would benefit from some type of closure system but it's not the end of the world.  Lastly, when you open the flap, there are two pockets that are held by velcro.  These pockets can hold larger items like chargers, film, and even a flash.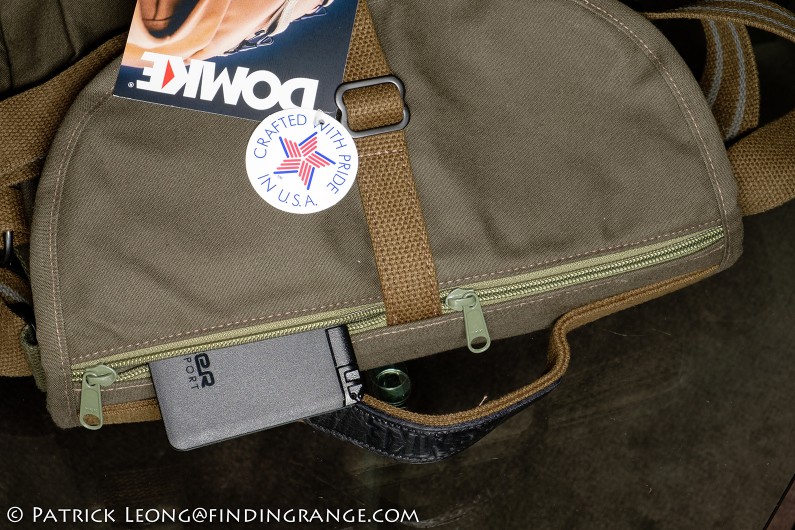 ↑ The front zippered pockets can hold smaller, thinner items.  They are large enough to fit my X-rite Color Checker Passport.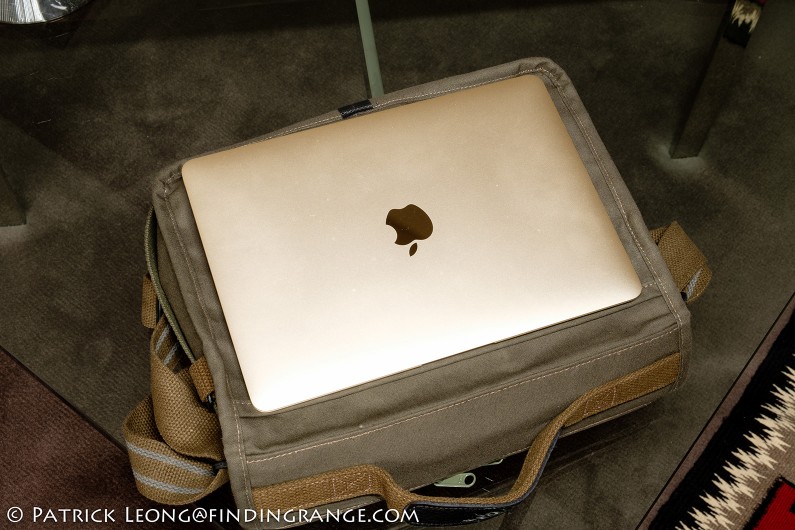 ↑ The Macbook fits perfectly into the back pocket.  It almost feels like the bag was designed specifically for this computer but of course, that's not true considering the bag was first introduced many years ago :).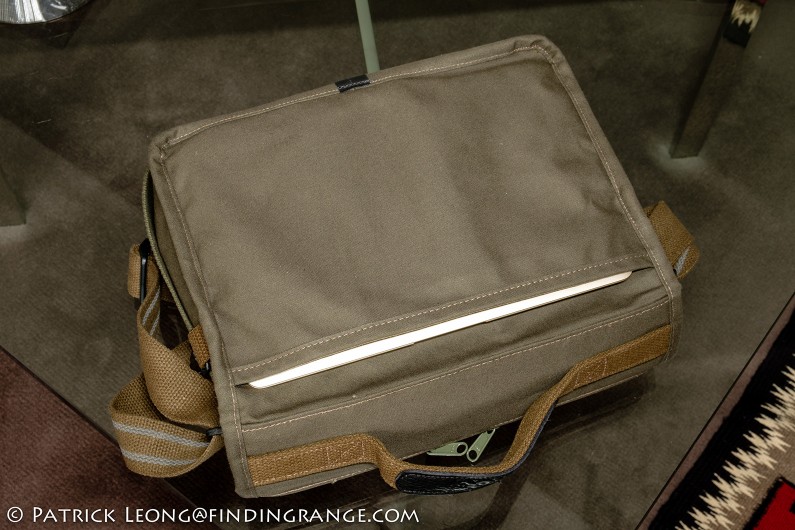 ↑ A flap would be nice to have to secure the back pocket.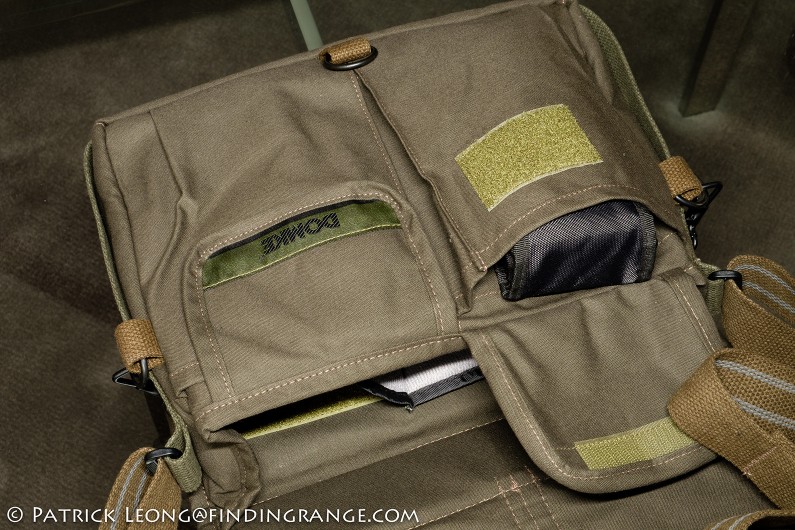 ↑ The two velcro pockets can fit larger items.  I have my Leica SF-58 flash in one of the pockets.
To access the bag, you open the main flap, which is actually something I wanted to discuss for a second.  For the most part, the flap does its job in terms of protecting your gear.  I actually owned this bag a long time ago, and never encountered any major issues but just keep in mind that it's not going to give you the same total encasement that something like a Billingham Hadley Pro would give you, for example.  On a bag like the Billingham, the edges are covered as well, which really gives you the ultimate protection.  When it is closed, nothing gets in it.  I've been in tropical rain storms where I had so much rain landing on my bag that it would leave a small puddle on top of the flap but nothing inside was wet.
As for how it is secured, the main flap employs a metal clip.  Having one instead of two, for example, makes access to the main compartment a lot easier and faster.  As for the metal clip, it has been around for a long time, and it's something that I imagine is tried and true, which is why Domke has kept it.  But sometimes I feel like they should maybe go a different route.  Nowadays, there are some plastic clips that are very durable.  Some are on backpacks used for mountain climbing and other extreme sports.  I say this because first off, the clip can be somewhat difficult at times to unclip.  Sometimes it can pinch.  You also have to be careful with it because it can hit your gear and damage something.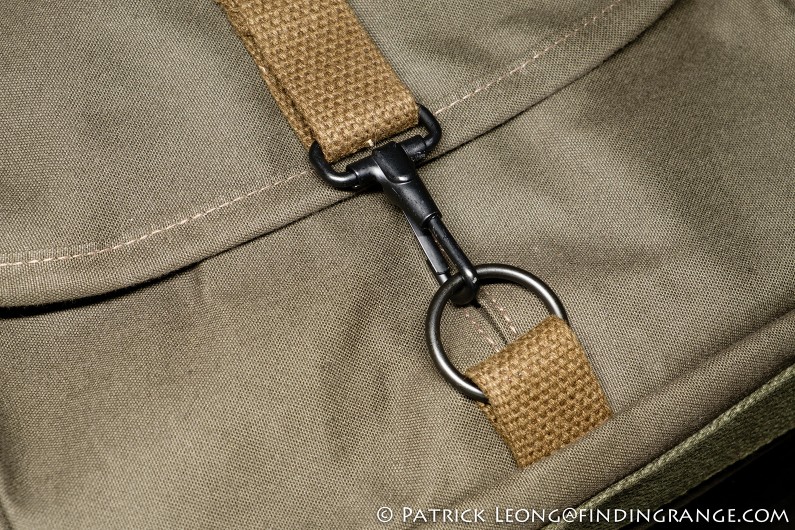 ↑ The F-803 uses one metal buckle to secure the flap.
Once inside the F-803, you are greeted with a decently sized compartment for a bag of this size.  This bag is perfect for a rangefinder or mirrorless system with three lenses.  You could possibly fit a couple of more lenses in depending on their size by stacking them because the bag is also fairly deep.  But in my opinion, it feels best with three lenses max.  The only thing that some may take issue with is the lack of padding; a lot of the protection comes from the thick cotton canvas, and the rest comes from the thin padding on the sides and bottom.  There's also padding from the rectangular shaped FA-280 compartment mini insert that is included.  I haven't had issues yet but I personally would like more padding, and if I owned this bag, I would definitely purchase the Domke FA-230 3-Compartment Insert.  The whole insert is completely self-contained, so you can remove and move the insert without having to empty it first.  It also fills the whole bag, so you will essentially be adding padding around the entire bag.  It comes with two dividers.  The added protection is definitely worth the $22 and change, and in my opinion, it should've been included or at least chosen over the FA-280.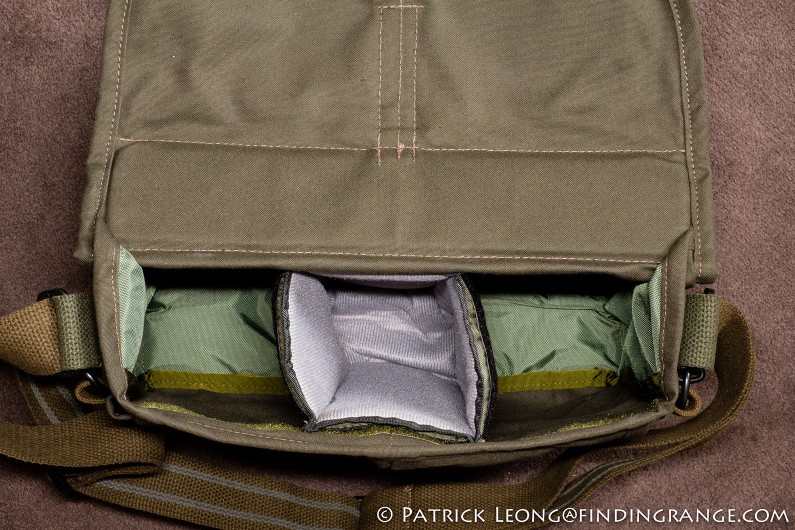 ↑ The interior space of the F-803 when it is completely empty.  Notice the thin padding on the sides and bottom.  The front and back is just the thick canvas.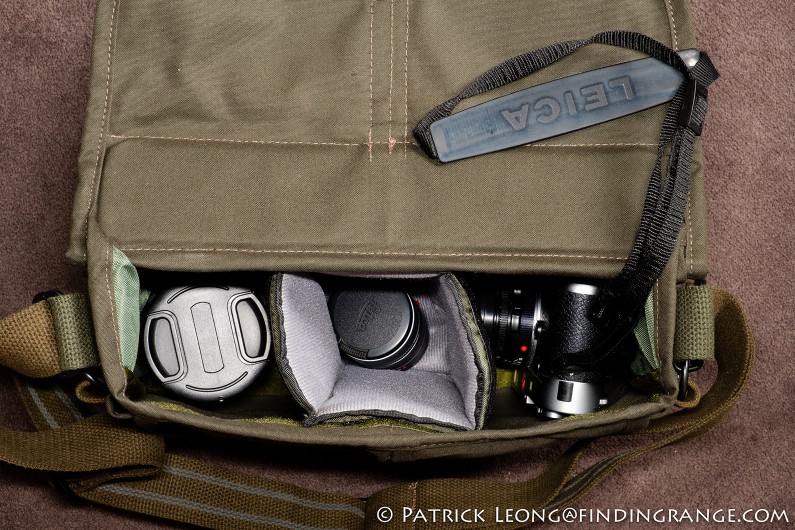 ↑ The interior space has plently of space for three lenses and a body.  In this photo, I have my Leica M 240, 35mm Summicron, 50mm Summilux ASPH, and 18mm Super Elmar in the bag.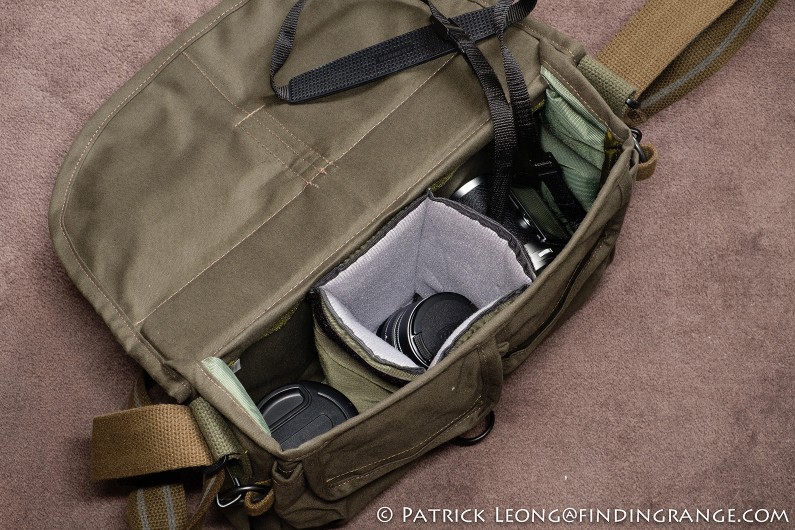 ↑ This is a photo taken at an angle to show you the depth of the bag.  If you wanted to, you could stack a couple of lenses.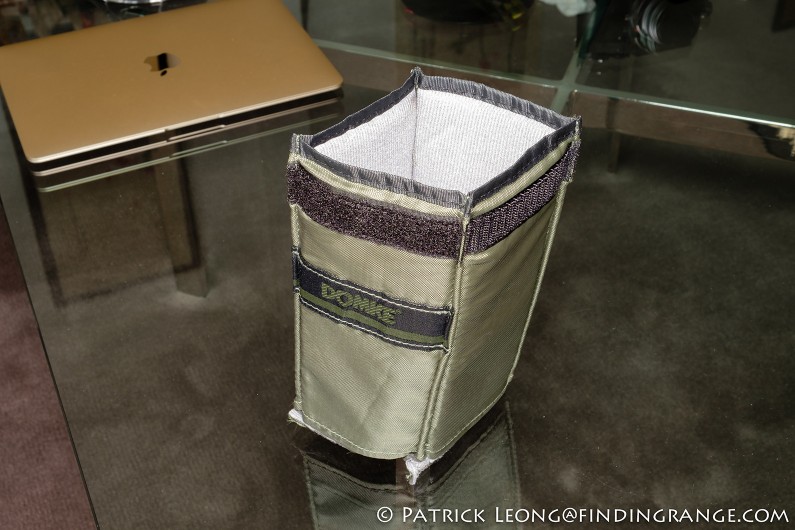 ↑ Here is the FA-280 insert that is included.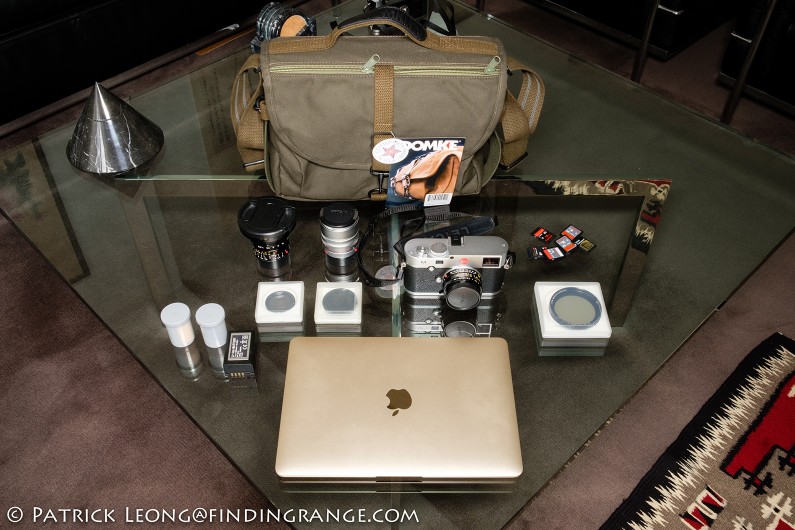 ↑ Here's what you can fit give or take a couple of items; for instance, you should be able to fit a few more memory cards.  In addition to everything here, I could actually even fit a flash but it will be tight.
Domke F-803 Camera Satchel Bag in Use:
The Domke F-803 is a great day bag because it's one of the most comfortable and perfectly sized camera bags that I've ever used.  First off, it's light.  Second, it's compact; not only does this bag have an overall small footprint, it is very slim which I absolutely love.  You just don't get that bulging feeling like you would from a traditional camera bag.  It also allows the bag to wrap around your body better.  All of this adds up to a bag that makes it a lot easier to weave around the busy streets of New York City.  As I said earlier, you can fit a rangefinder or mirrorless system with three lenses but if you wanted to carry as little as one camera and one lens, you don't need to purchase a smaller bag because the F-803 will still feel just as comfortable.  It never feels big and cumbersome.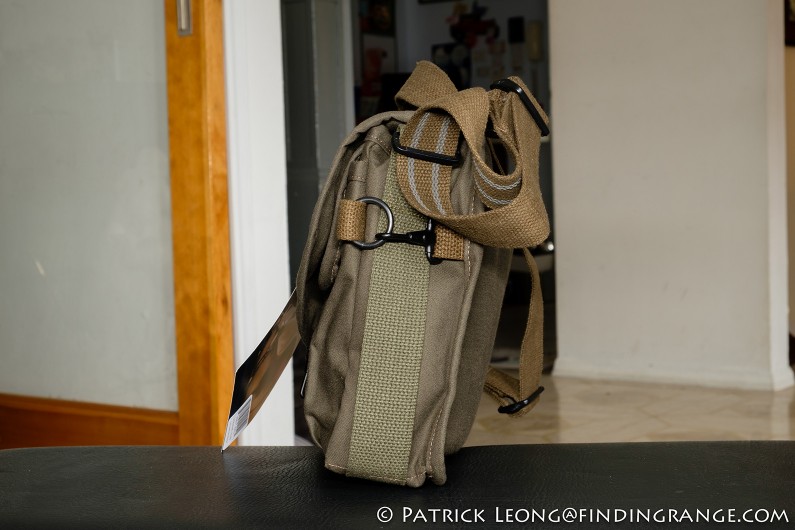 ↑ Here's a side view to demonstrate the slimness of this bag.
In addition to it's compact size, the F-803 is extremely discreet.  When the canvas material wears in, it will look even more low-key.  There are no name tags on the outside of the bag announcing to the world its manufacturer.  In fact, it doesn't even look like a camera bag.  The F-803 looks like a regular messenger bag, and the beauty is it can be, and often is used as a regular messenger bag by many of its users.  As I mentioned earlier, I owned this bag before, and used it as a school bag at one point.  My dad had one as well, and used it as a work bag.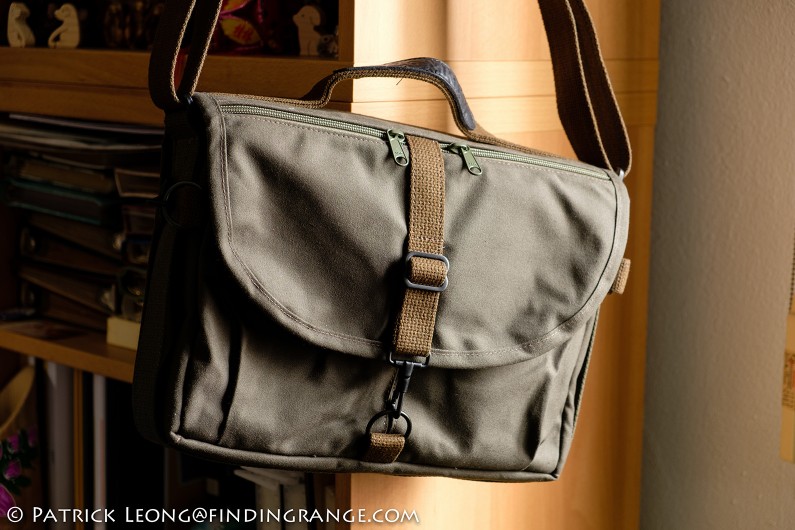 ↑ The F-803 is a very attractive bag, and I especially love the olive drab color.
The beauty is the Domke F-803 can be purchased for the price of around $100-140 depending on color.  To me, that's a very competitive price considering the comfort, discreetness, flexibility, and durability that this bag offers.  There's a reason why Domke bags have enjoyed such a high reputation around the world.
Domke F-803 Camera Satchel Bag Verdict:
Choosing a camera bag can be difficult because there are so many out there, and in general, it's a very personal choice.  But in my opinion, if you're looking for a bag that can fit three lenses with a mirrorless or rangefinder body, the Domke F-803 should definitely be something for you to look at.  Many regard the F-803 as a a legend in the camera bag world and with good reason.  It really has the perfect combination of size, function, comfort, and durability that make it a benchmark in its class of bags.  The F-803 just hits that sweet spot that many of us are looking for in a bag, and that's why the F-803 has been around for so many years essentially unchanged.  In my opinion, the F-803 is one of the best bags that you can buy for your money, and I highly, highly recommend it.
Thanks for taking the time to read my review.  If you're considering purchasing the F-803, and my review helped you decide, please help support this site by purchasing from any of the links below or mentioned in this review.  It will not cost you anything extra.  Thank you for your support!
Domke F-803 at B&H Photo: Black, Olive Drab, Sand, and Waxwear