ONA Bowery Camera Bag Review:
For a long time now, I've been looking for a small camera bag that fit's truly the essentials.  What I mean by that is a bag that fits about two lenses, and a camera but also feels comfortable carrying just a camera and a lens.  At least for me, it's always been kind of hard because I also want a quality bag, and one that is at least relatively decently priced.  ONA must've read my mind because their Bowery bag seems to fit exactly what I want.  It's tiny, comes in several different color and material combinations, and doesn't look half bad.  In fact, it's quite attractive, and at $149 (at least for the waxed canvas version), it isn't exactly cheap but it won't break the bank either.
ONA Bowery Camera Bag Build Quality:
ONA has developed a reputation of making high quality bags, and it's clearly evident even with one of their lower priced bags, the Bowery.  The stitching is neat, all the metal on the bag like the buckle for instance, is made from brass, and the leather trim around the bag looks great.  As I said earlier, it comes in several different colors, and you can choose between a waxed canvas version (which is water resistant) or a leather version.  The canvas goes for $149, which isn't so bad when you consider the quality of this bag but if you want a Bowery made out of leather, it'll set you back $249.  For this review, I asked for the waxed canvas Smoke color because I prefer canvas over leather for my camera bags.  I also found the canvas to be nice and thick.  It's definitely durable, and it should have no problems lasting for many years.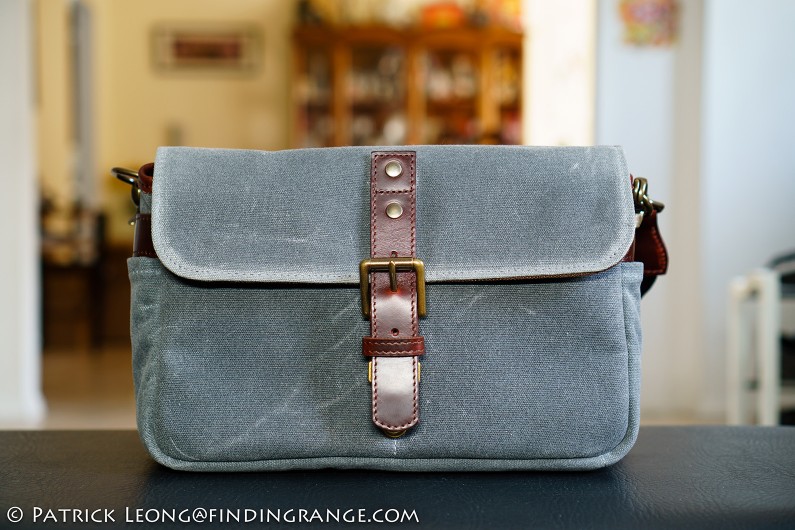 ↑ The ONA Bowery in Smoke color.
In terms of the outside, there are tiny pockets on the side of the Bowery that can fit smaller items like memory cards or even business cards, and a larger pocket in the back for papers or possibly a tablet depending on the size.  Most likely though, part of your tablet will be sticking out.  Remember, this is a compact bag, so it's not necessarily designed to carry a ton of gear.  If you purchase a leather Bowery, you'll get a leather shoulder strap.  Otherwise, you'll get a strap that kind of resembles a seat belt from an airplane, which I'm not exactly a fan of.  Either way, the shoulder strap is detachable; if you remove the strap, the Bowery can function as a protective camera insert or as an organizer inside a larger bag adding to the Bowery's versatility.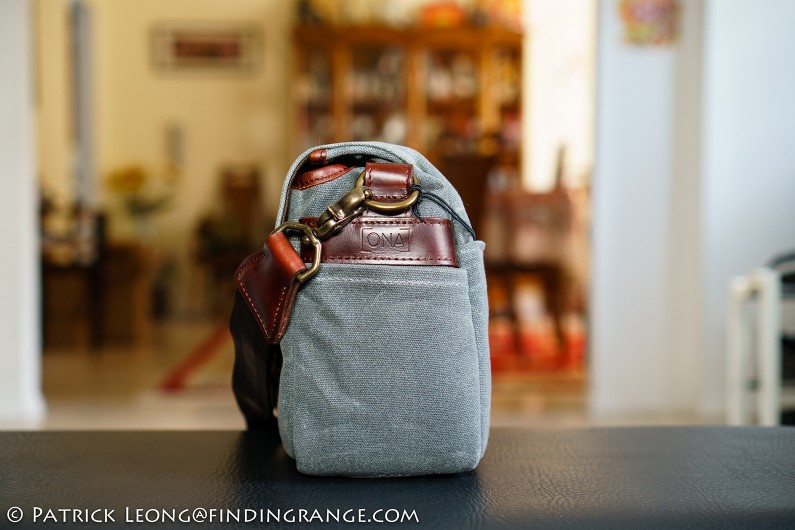 ↑ On each side of the bag, there is a small pocket right under the ONA label.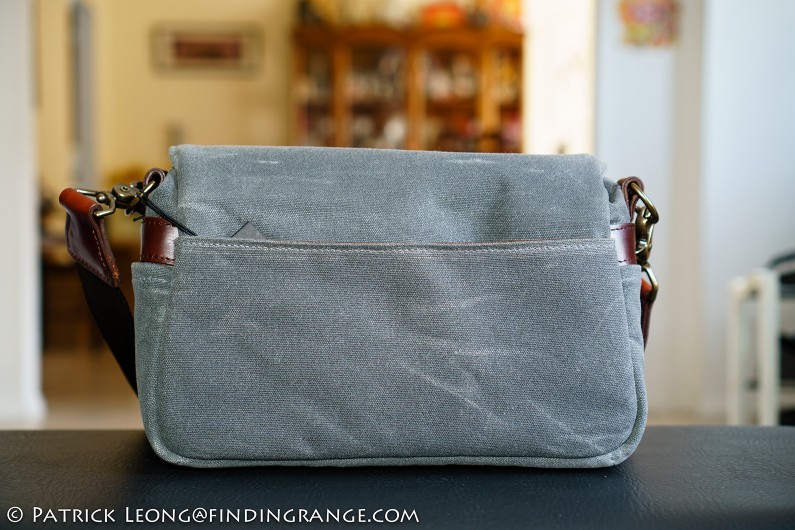 ↑ You could slid a small tablet into the back pocket.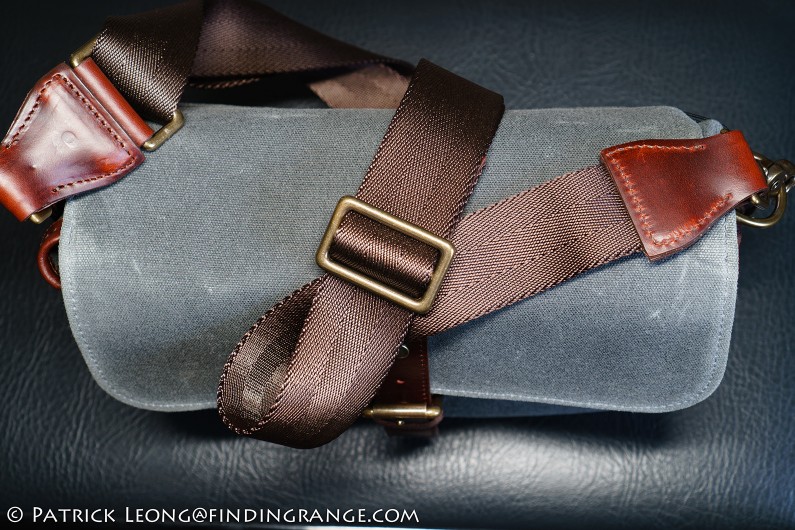 ↑ This is the seatbelt-like shoulder strap that comes with the waxed canvas version of the Bowery.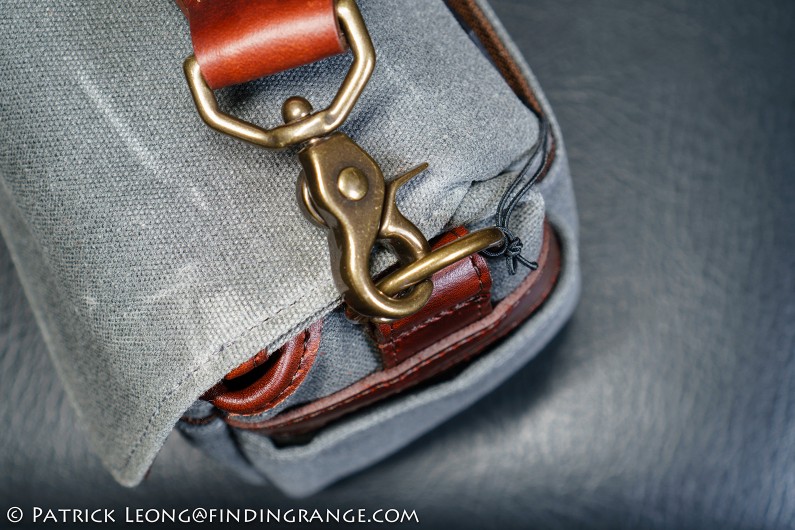 ↑ The shoulder strap is detachable increasing the versatility of the Bowery.
The main flap of the ONA Bowery is held by a single buckle, which is all that is really needed considering the size of the bag.  The thing is, I have mixed feelings about the buckle, which is also found on other ONA bags.  It serves it's purpose, it's definitely high quality, and it is relatively easy to lock and unlock but it's unnecessarily heavy if you ask me.  I try to be a little more careful with this buckle because I wouldn't want to knock it against any of my lenses.  Plus, it will make clanking noises, if you don't attach the buckle to the latch.  I usually do but there are occasions when I find it easier to just leave the flap of my bag unlocked.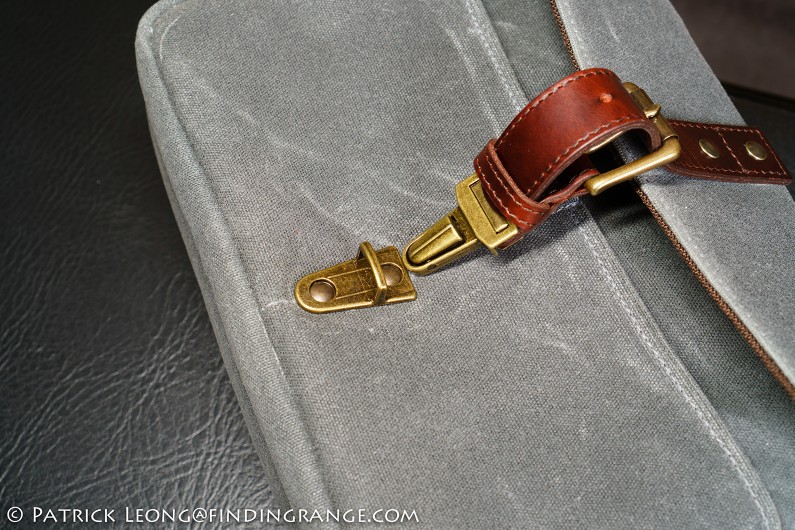 ↑ Here is a close up of the buckle and latch.
Once you open the main flap, you can see the side flaps that help protect the contents of your bag from the elements.  You also gain full access to the main compartment, which is very well-padded.  There is one padded divider that is included, and it feels like there is a thin piece of fiberglass or plastic inside the divider to help it keep its shape, which is a really nice touch.  Opening the main flap also gives you access to the two front pockets.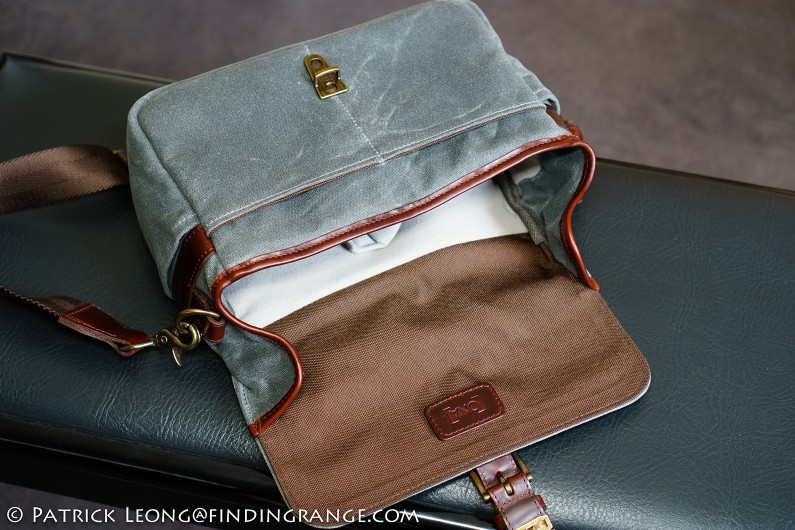 ↑ In addition to the weather resistant canvas, the ONA Bowery also employs flaps on the sides for further protection against the elements.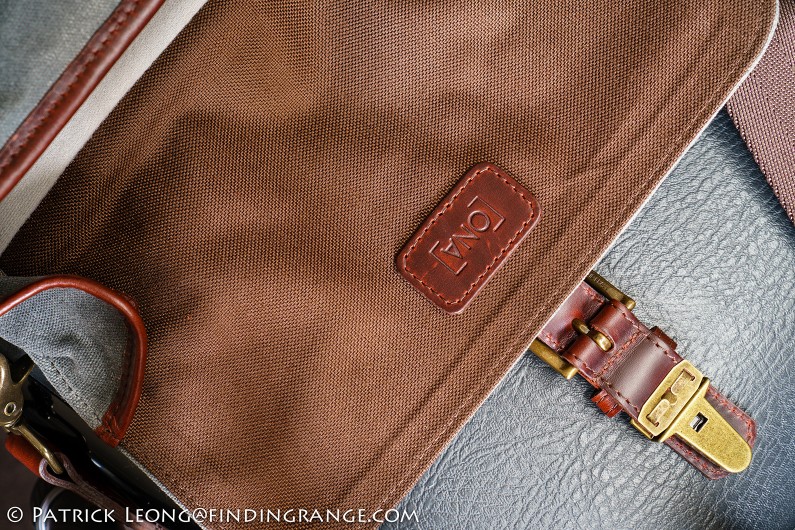 ↑ The stitch work is excellent.
In terms of what the ONA Bowery can fit, I was actually surprised because it definitely has enough room for even a DSLR and two lenses (reasonably sized lenses not large ones).  If you're using a rangefinder or mirrorless system, the lenses are compact enough that you could fit an extra lens in, especially if you purchase another divider.  As for the front pockets, they can fit miscellaneous items like filters or an extra battery.  What would made the front pockets better is if there was a closure system for them.  I don't normally put my bag down when I grab stuff out of it.  I don't even stop walking, so I would hate for something to fall out of one of those pockets by accident.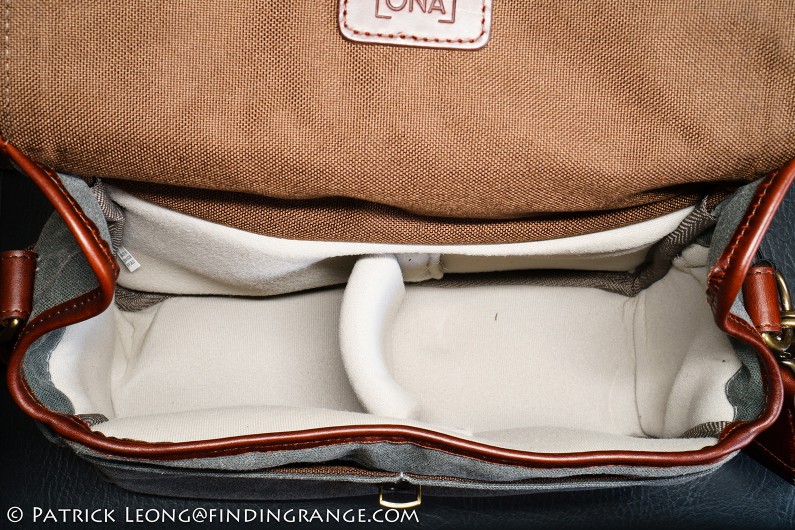 ↑ Here is a photo of the main compartment without anything in it.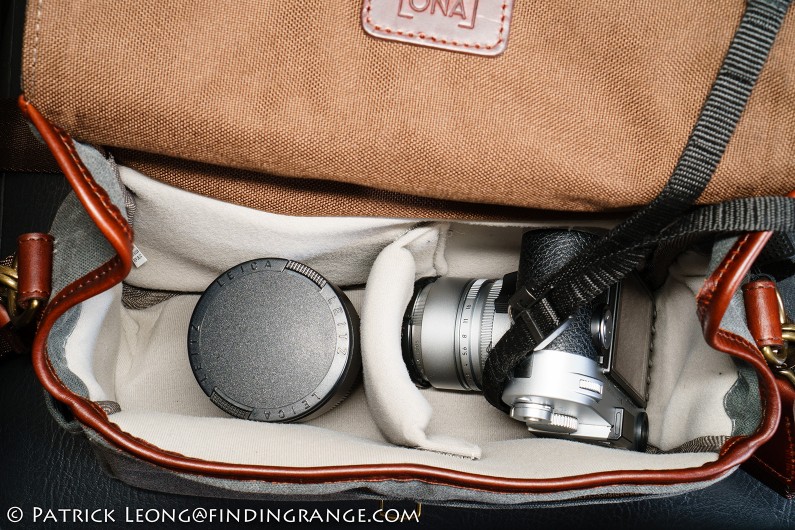 ↑ Here's a photo with my Leica M 240, 50mm Summilux ASPH, and 75mm Summilux.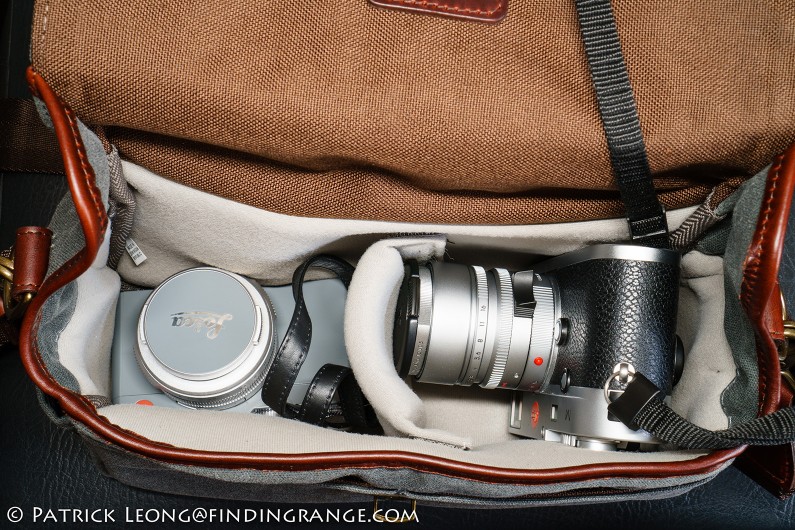 ↑ Here's a photo with my M 240, 50mm Summilux ASPH, and D-Lux Typ 109.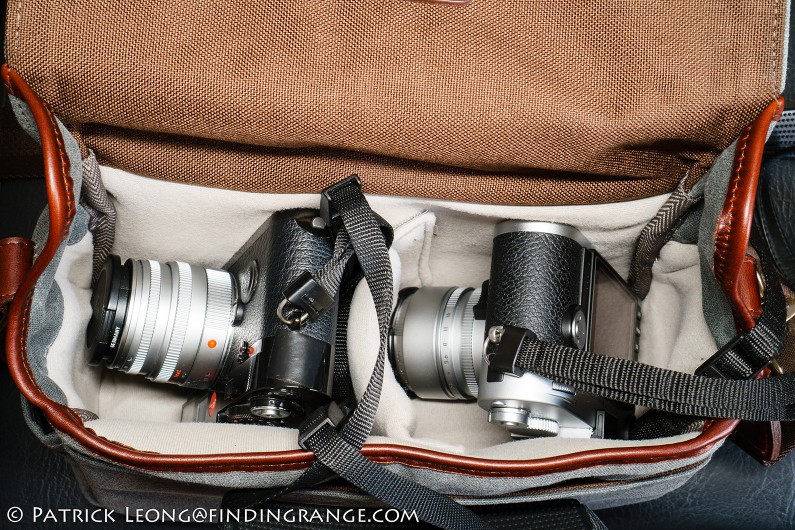 ↑ Here's a photo with two M cameras: my M 240 with 50mm Summilux ASPH, and my M6 TTL Millennium with 50mm Summicron.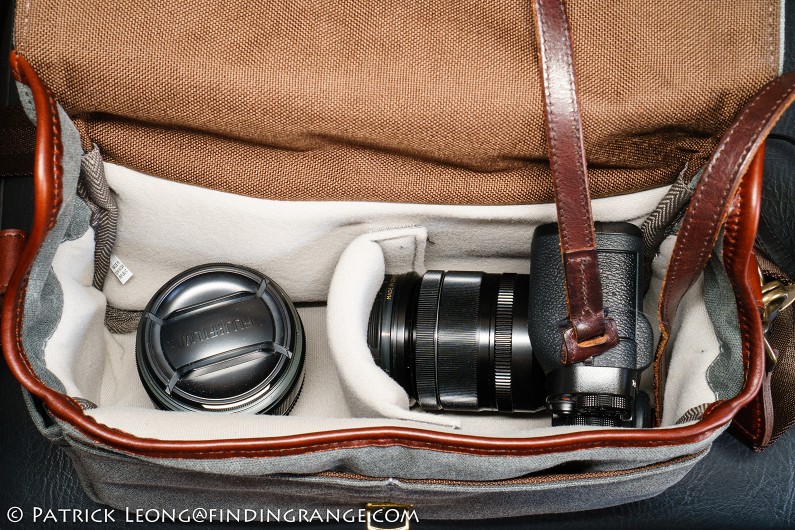 ↑ Here's a photo with my Fuji X-T1 with XF 18-55mm, and my XF 56mm f1.2 APD.
ONA Bowery Camera Bag in Use:
I have to say, the ONA Bowery is absolutely one of the most comfortable bags that I've used in a long time.  Yes, it is small, which definitely helps in the comfort department but it's not just that; the Bowery seems to have this amazing ability to hug my body very well yet also maintain its shape.  It also feel equally comfortable whether your carrying a fully loaded bag or just a camera with one lens.  Besides the minor issue I have with there being no closure system for the two front pockets, I was amazed at how easy it was for me to retrieve and put gear back into the Bowery even while walking.  Furthermore, it's slim shape makes this bag perfect for the often crowded streets of New York City.
It's also a great looking bag overall, and it will only get better looking as it ages with use.  The Bowery is something that you can use as your daily day bag but at the same time, it will feel equally at home if you decide to go to a fancy restaurant, business meeting or an event.  Since it doesn't have that traditional camera bag appearance, it's not going to attracted unwanted attention either.  Unless you encounter a person that actually knows what an ONA bag is, most will probably think it's just a small messenger bag.
ONA Bowery Camera Bag Specs:
Exterior Dimensions: 10.5″L X 7″H X 4″D
Interior Dimensions: 10″L X 6″H X 4″D
Weight: 2 lbs
ONA Bowery Camera Bag Verdict:
The ONA Bowery is really one of the nicest bags to come out in a long time.  I have really grown fond of this bag, and while this is a review sample, I may actually purchase one myself.  To me, ONA really got all the key features that I want in a compact camera bag.  The padding is excellent, so there's no need to worry about your gear once it's in the bag.  It's weather resistant.  The Bowery is great looking but at the same time, it doesn't shout camera bag.  Furthermore, it's versatile, and quite comfortable to wear for long periods.  To top it all off, it's manufactured extremely well, so it should last many years.  Overall, if you're looking for a compact bag with all these qualities, the Bowery may just be the bag for you.
Thanks for taking the time to read my review!  If you're considering purchasing the Bowery, and my review helped you decide, please help support this site by purchasing from any of the links in this review.  It will not cost you anything extra.  Thank you for your support!